ON SEPTEMBER 27TH, Prime Minister Narendra Modi addressed the UN General Assembly (UNGA) for twenty minutes without mentioning Pakistan and Kashmir. His Pakistani counterpart, Imran Khan, did little other than rant about Kashmir and India for fifty. Modi, according to the domestic consensus, spoke like a statesman. Khan persisted with the clown act, as per the obverse of the same consensus. No surprises there. And just five days earlier, Modi had received a welcome accorded to rockstars by the 50,000-plus Indian American crowd at the 'Howdy Modi' event in Houston, with US President Donald Trump at his side. Some surprise there perhaps, but Houston, too, was post-Kashmir and Modi was pulling off the biggest show of his new term on foreign soil.
The support extended to Pakistan by Turkey and Malaysia at the UNGA has been much commented upon. But little notice has been taken of three brief meetings Modi held with three little-noticed individuals on the world stage. Modi assured the President of Cyprus, Nicos Anastasiades, of India's support for the independence, sovereignty, territorial integrity and unity of Cyprus. The Prime Minister also held talks with Kyriakos Mitsotakis, the new Prime Minister of Greece, and Armenian Prime Minister Nikol Pashinyan. These meetings took place at a time when three victims of historic or persistent Turkish wrongs—invasion and occupation (Cyprus), gun-boat diplomacy over hydrocarbons and territorial dispute (Greece), genocide (Armenia)—are drawing ever closer together, having formed a bloc of sorts to contain an aggressive Ankara. Without raising a stink about the Turkish delight sweetening Islamabad and Ankara's playing host to quite a bit of anti-India activism these days, New Delhi has been quietly cementing its ties with three of Turkey's closest neighbours and staunchest adversaries. Such canny confidence usually characterises a diplomacy that correctly reads the strategic map and accurately locates tactical pressure points. It may be too soon to say that Indian diplomatic manoeuvring has jettisoned its diffidence but it has certainly wedded pragmatism to risk-taking, neither a longstanding attribute of Indian foreign policy.
After five full years at the helm of India's global campaign, Modi's new term must be spent consolidating the gains made in his first and leveraging the same—even as some are lost and some new made—to deal with challenges getting bigger and closer. The resounding mandate that heralded Modi 2.0 will help, but geopolitics is unstable and subject to too many influences not in any individual state's control. The pillars, departures and contours of Modi's foreign policy were determined in his first term. Now, these will be tested and asked to adapt, nowhere more so than in India's most important bilateral relationships.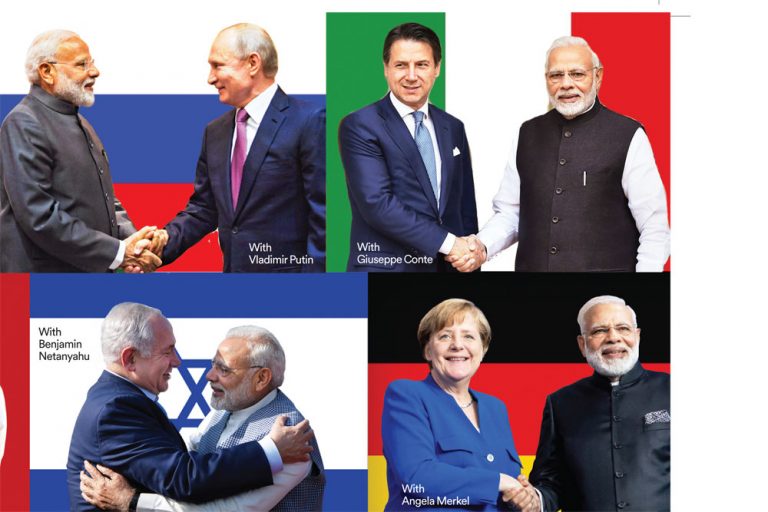 And India's most important bilateral relationship is testing Modi. Strategically, India and the US have never been closer. But there's a distance that has opened up over trade—and to some extent, immigration—which, if allowed to widen, could confine the two to a transactional booth. Given the 'domestically oriented political content' at Houston's 'Howdy Modi', Alyssa Ayres of the Council on Foreign Relations wrote that '[f]oreign policy took a back seat.' Yet, her colleague from the Centre for Strategic and International Studies, Richard Rossow, has pointed out that US President Donald Trump's presence was a 'tacit acknowledgement' that Kashmir will not adversely affect India-US relations. It also signalled that disagreements over trade will not escalate into a trade war. India-US bilateral trade crossed $142 billion in 2018, 2017 having witnessed double-digit growth in their Foreign Direct Investment (FDI) in each other's economies. Pushing to sort out trade, Modi and Trump indicated that neither is willing to let the figures slide but, for now, it's difficult to see beyond limited measures targeted at resolving sticking points, such as the withdrawal of the Generalised System of Preferences (GSP). In other words, a fully fledged agreement on trade is not in the immediate offing. Milan Vaishnav of the Carnegie Endowment for International Peace, who otherwise gives a thumbs up to Modi's US visit, tells Open: 'The one clear negative was the inability of the US and India to conclude an admittedly modest trade deal. Given the relatively small concessions being discussed, this is a harbinger of a continued rocky road ahead for bilateral economic ties.'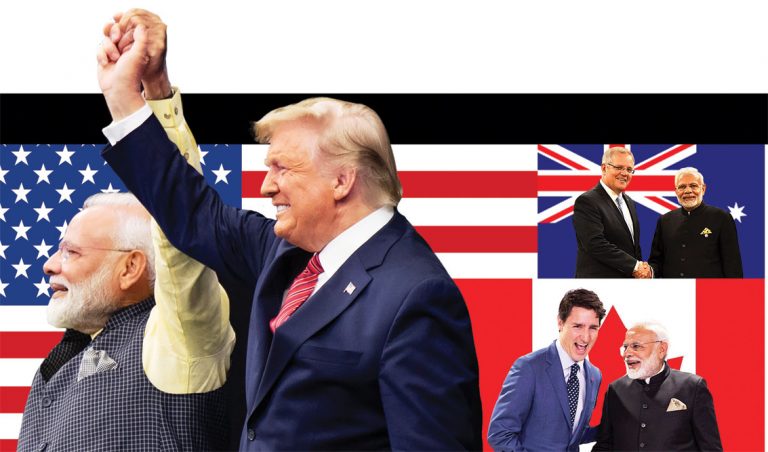 Under the circumstances, it might help to put a buffer between the strategic partnership and the bickering over trade. Modi's Government, never hostage to the Congress' ideological baggage, has expanded defence ties with Washington, boosting defence trade—at $18 billion today from $1 billion in 2008—and force interoperability. The Defence Technology and Trade Initiative (DTTI) seeks collaboration, emphasising co-production and co-development to guide India away from the 'buyer-seller' dynamic of its defence deals. In 2016, India and the US signed the Logistics Exchange Memorandum of Agreement (LEMOA), enabling mutual logistics support, and in 2018, the Communications Compatibility and Security Agreement (COMCASA), with legal safeguards distinguishing it from the generic agreement Washington signed with key allies. India conducts most of its military exercises with the US and the Quad with Australia and Japan has been revived.
None of that, however, means a complete strategic convergence. Political scientist Rahul Sagar of New York University tells Open: 'There is a fundamental mismatch in geostrategic preferences. The US wants India to openly balance and confront China. India wants the US to punish Pakistan and contain China. Unless one or the other side gives way, the relationship will hobble along, with matters like trade and climate change causing low-level friction.' Iran, too, is a subject that complicates the relationship but, so far, Delhi has balanced its interests well. Strategic analyst Harsh Pant of the Observer Research Foundation tells Open: 'While the US feels that Iran is a big issue, it is very clear that even under Trump India has managed to maintain a steady ship with the US. This is in stark contrast to some of the closest allies of the US.'
Changes in America's domestic political scene, too, are shaping up to impact ties. In a recent column in The Indian Express, strategic analyst C Raja Mohan wrote: 'Many of Trump's trade concerns in relation to India resonate with the left wing of the Democratic Party that is gaining ground.' While calling Modi's Houston show and UNGA address 'masterful displays of public diplomacy', Sagar warns, 'There is, however, cause for concern in so far as the Indian diaspora is changing. Second-generation Indian Americans tend toward the Democratic Party, which is becoming increasingly left leaning and hostile towards India and Hindus in particular. Sadly, the future of the India-US relationship cannot rely on, and may eventually be hurt by, the diaspora in the West—once first generation immigrants dry up.'
But Modi's biggest challenge will remain China. In his foreword to Values in Foreign Policy: Investigating Ideas and Interests (edited by Krishnan Srinivasan et al, 2019), Robert D Kaplan writes: 'Foreign policy is ultimately the extension of a country's domestic condition: that is, the foreign extension of its domestic hopes and dreams and fears… And foremost among those domestic hopes and fears is an idea about the world that the state in question hopes to put forward. A state's values are not just part of its foreign policy, but they are paramount to it.' This is as true of Modi's India as it was of Nehru's. But China is its foremost exemplar. Those surprised when China and India began cooperating at multiple fora—BRICS, New Development Bank, Asian Infrastructure Investment Bank, or on protectionism—had approached the Sino-Indian relationship through history's constrictions. Yet, India and China appear to have stopped coming closer together. Much of it has to do with how China sees itself and the world—a world that must more and more resemble itself. For Beijing, the Belt and Road Initiative (BRI), and even the China-Pakistan Economic Corridor (CPEC), are strategic weapons to leverage geo-economics to change the world. When India opted out of the BRI, Delhi had looked isolated. Today, when the EU and Japan ink their infrastructure cooperation pact to counter the BRI—pointing out the danger in everybody becoming dependent on one country and calling for environmental and fiscal sustainability in infrastructure projects that don't burden states with debts that can't be repaid—India stands vindicated. It had taken courage to stay away from the BRI but the gamble seems to have paid off, demonstrating once more the newfound canniness in Indian foreign policy.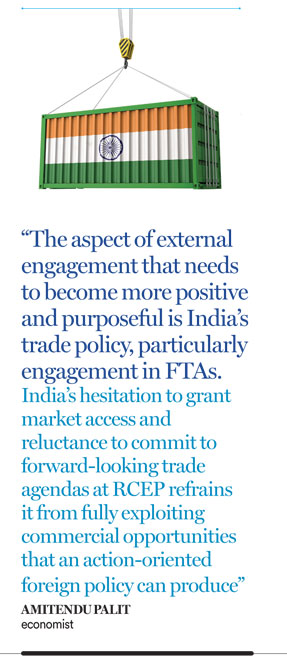 Full of contradictions, Sino-Indian ties pull in opposite directions. India can cooperate with China in criticising US trade practices at the Shanghai Cooperation Organisation (SCO), but the US-Australia-Japan-India Quad's overt objective is to promote a rules-based Indo-Pacific against Chinese maritime aggression. Closer home, the longstanding border dispute may provoke more Doklam-like face-offs, since Delhi and Beijing have very different imperatives. And after Kashmir, Beijing is much more adversarial now than in recent years. Above all, it's trade that unmasks China. In 2017-2018, the bilateral trade deficit stood at $63 billion. Notwithstanding its fall to $53 billion in March this year, India remains just a market for China. Beijing will do nothing to reduce the trade imbalance.
When Chinese President Xi Jinping visits India this month, little of this is likely to surface for all to see. But Delhi will be tried by Beijing. How Modi deals with China is a work-in-progress but it might help to keep the lessons from Kashmir, Doklam and BRI in mind. India took exception to China's raising Kashmir at the UNGA, a response as strong as its right of reply to Pakistan. Delhi had given the world a fait accompli on August 5th and it isn't off the mark to say that the negative media coverage abroad, as well as the reaction in Beijing and Islamabad, are both signs of desperation—but not a desperation that should make Delhi complacent. Sagar says: 'The more anxious China and Pakistan become, the more reason there is to conclude that Modi and [Foreign Minister] Jaishankar are doing something right,' before adding that 'China only respects actions, not words.' The Chinese government and the People's Liberation Army (PLA) have a symbiotic relationship that draws from a broader political reality. The PLA studies wars fought by others very closely, but mostly at the 'high operational to strategic levels… where politics most inserts itself' (Chinese Lessons from Other Peoples' Wars, edited by Andrew Scobell et al, 2012). Citing the Falklands War, Scobell et al conclude: 'Chinese strategic planners place a high priority on an accurate pre-conflict strategic assessment… If the contingency or crisis involves the United States, then the Chinese will take a very careful measure of how committed and capable the United States is for the fight. And so, demonstrating the type of commitment and capabilities that convey resolve becomes a very necessary element of deterrence precisely because the Chinese pay so much attention to it.' If that's so, India had got its Doklam response spot on. Modi has to astutely manage perceptions of India's power gap with China, since the Sino-Indian relationship is defied by asymmetric threat perceptions caused by that gap.
At Delhi's Raisina Dialogue in January this year, Foreign Secretary Vijay Gokhale had said, "India has moved on from its non-aligned past. India is today an aligned state—but based on issues." A singular achievement of Modi's foreign policy has been the burial of non-alignment and seeking strategic and tactical alliances wherever possible. The realisation that walking away, or pretending to walk away, from partnerships did not serve the national interest had dawned on Delhi long ago. Yet, the political will to sell the reprioritisation of strategic objectives at home was absent. Ties with both the US and Israel, for example, suffered as a result. After making the right noises, India also fell back—because of its fear of China—from what has now been renamed the Indo-Pacific. In the years immediately preceding Modi, it had even seemed that India's original enemy, geography, would prevail, with Delhi's help. India's natural boundaries (and protectors) were also points of vulnerability as the subcontinent's history has proved all too often. But post-1947 political boundaries made India more vulnerable, despite putting distance between Delhi and the Great Game territory. India had to defeat the map, both on land and sea. Modi seems to have understood that geography.
Rory Medcalf, head of National Security College, The Australian National University, tells Open: 'Some of the Modi Government's big achievements have been in foreign policy, positioning India as an active power in the Indo-Pacific. The Modi Government, especially through the strategic diplomacy of [Subrahmanyam] Jaishankar, has defined India as a credible and capable partner for other democracies such as Japan and Australia.' At the IISS Fullerton Lecture in Singapore in July 2015, Jaishankar, then Foreign Secretary, had asserted: "The transition in India is an expression of greater self-confidence. Its foreign policy dimension is to aspire to be a leading power, rather than just a balancing power. Consequently, there is also a willingness to shoulder greater global responsibilities." India, the argument goes, doesn't seek to protect its strategic autonomy now by staying out of partnerships but by joining them and preserving its room for manoeuvre. Medcalf agrees: 'So far India has managed to successfully reconcile a new kind of strategic autonomy with a more reliable sense of partnership with others, in quadrilateral and trilateral arrangements. Doklam was a turning point—a demonstration that India could not only manage pushback against China, but do so in a way that did not inflame tensions further.'

For the first time, India has put together an integrated Indian Ocean strategy that looks to not only protect its interests but also seek deeper economic and security cooperation. Maritime neighbours are at its core but a telling example of India's understanding of the regional geography and history was the invitation of BIMSTEC leaders to Modi's swearing-in this year. BIMSTEC is not an artificial, new construct. It's a revival, or attempt at revival, of a past integration and a lost collective identity. As Constantino Xavier of Brookings has argued, a little more than a half century ago, the Bay of Bengal was a very closely integrated area. However, it's not enough to talk about economic cooperation when India's lack of adequate economic openness is an obstacle. Speaking to Open, Xavier says, "As of now, the economic slowdown in India has forced it to reconsider its traditional reluctance to economic openness. Unfortunately, this could have been done 20 years ago." Xavier has earlier argued about the need to push a BIMSTEC Free Trade Agreement (FTA) and reposition the bloc as a trade or economic grouping. However, the will to manage the domestic political fallout of economically integrating India with Southeast Asia is still missing.
Economist Amitendu Palit of the Institute of South Asian Studies, National University of Singapore, paints the broad picture for Open: 'Asia-Pacific and Southeast Asia have been important points of engagement in India's proactive foreign policy. This is visible from the progressive upgrading of Look-East Policy to Act-East Policy. The quality of the engagement has been effective with India's political and economic ties with Asia-Pacific countries like Australia, Indonesia and Vietnam increasing manifold. However, the aspect of external engagement that needs to become more positive and purposeful is India's trade policy, particularly engagement in FTAs. India's hesitation to grant market access and reluctance to commit to forward-looking trade agendas at RCEP [Regional Comprehensive Economic Partnership] refrains it from fully exploiting commercial opportunities that an action-oriented foreign policy can produce.' India, having understood the geopolitical imperative in the Far East, has not yet been able to match its words with action on trade. Palit sums up: 'A meaningful trade policy aiming to expand India's exchanges and economic connections with the rest of the world would perfectly complement its foreign policy when geopolitics, trade and connectivity are enmeshing through emergence of powerful strategic constructs like the Indo-Pacific, where India is poised to play a very significant role.'
Modi has understood geography to India's east, although there are other challenges facing him there apart from China. Looking to India's west, he has again read the map correctly, to say nothing of security, energy and economic imperatives. The Middle East is the strongest case of recasting foreign policy in a non-ideological mould. India is that rare state balancing its relations with Israel, the Arab nations and Iran. For decades, India appeared 'more Arab than Arab states' in the Middle East but couldn't elevate its ties above transactional hydrocarbon relationships. The Organisation of Islamic States was hostile to Delhi and was Pakistan's playground. Post-Kashmir, both Arab states that Modi visited in August—the UAE and Bahrain—had already given unambiguous support to India. Barring Turkey, Malaysia and Pakistan (none Arab), there has been little criticism of Delhi's action from the governments of significant Muslim-majority countries. The UAE—which Modi has visited thrice in five years after three-plus decades of no Indian prime ministerial visit—in particular helps understand what Modi has achieved with the Gulf Cooperation Council states. India's third-largest trade partner (bilateral trade was $60 billion in 2018-2019) and fourth-largest crude supplier, the UAE as a strategic partner is a beacon to other Arab states who see India as a counter to a China-Pakistan axis they are growing wary of. The Gulf also has a large Indian diaspora whose concerns are finally being addressed by their hosts. But in diplomacy, even the smaller gestures assume significance. After last month's attack on Saudi Arabia's Aramco, Riyadh—a strategic energy partner for Delhi—went out of its way to assure India that its needs would be met.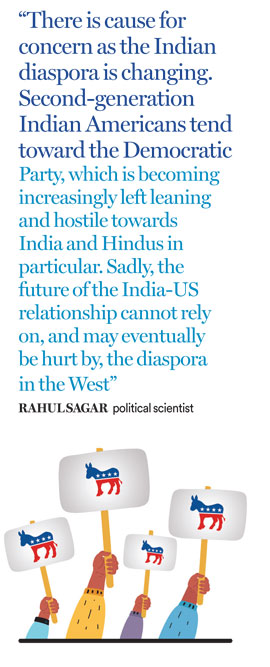 The most remarked upon departure in the Middle East, however, was bringing the Israel-India relationship 'out of the closet'. Modi is the first Indian Prime Minister to visit Israel, returning the favour India silently owed the late Ariel Sharon—the first Israeli Prime Minister to visit India—who had nudged Delhi towards a bigger global role than it had ambitions for. Indo-Israeli defence and security cooperation was the worst-kept secret on either side, yet the Congress could never muster the courage to sincerely acknowledge the robust ties. In shying away from overt engagement with Israel, India was not reading the Arab world right either, which tends to respect candidness and resolve. And India still couldn't anticipate the Arab uprisings. But the Israeli partnership expands much beyond defence and security to technology, trade and harnessing India's potential in agriculture, water treatment, skills, etcetera. Modi's visit in 2017 helped remove any lingering doubt. Anat Bernstein-Reich, Chairperson of the Israel-India Chamber of Commerce, offers Open a snapshot of how things have surged ahead: 'There is a very clear thrust in the business relations between the two countries. PM Modi's visit to Israel in July 2017 created a very strong buzz in the Indian business community, and during the past two years, the majority of the business associations and the business houses have visited Israel, and are pursuing collaboration. Only last week, we hosted here over 10 delegations from India including FLO-FICCI [FICCI Ladies' Organisation] with 62 businesswomen. With FLO, we established a special council to promote women's business collaboration between the two countries.'
Looking north from Delhi, India has revamped its ties with Central Asia, harking back to the ancient civlisational and socioeconomic linkages with the region. After the collapse of the Soviet Union, India's failure of imagination couldn't see Central Asia as a single geographical entity. Modi has correctly identified it as the heart of Eurasia where a deepening Indian presence is also a geopolitical imperative. With Russia, however, it's perhaps time to recognise that things have changed, largely due to factors neither Delhi nor Moscow can alter, or would like to. India's growing geopolitical proximity to the US and Russia's own increasing dependence on China are both imperatives in the respective capitals. Modi, who enjoys an apparent personal rapport with Russian President Vladimir Putin, has done well by periodically adding ballast to a relationship that remains important nevertheless. The S-400 Triumph ADMS deal was a crucial signal with which India re-emphasised the value it attaches to Russia and demonstrated its strategic autonomy, especially since it came with the threat of US sanctions. Moreover, Russia is contracted to build 12 nuclear plants in India. Moscow, too, still needs Delhi. Its push for India's entry into the SCO indicated its desire to use India as a counterweight against China, to whom Russia is now the junior partner.
AFTER KASHMIR, INDIA'S foreign policy finds itself—and will continue to—if not on uncharted then certainly on choppy waters. The US and UNGA was Modi's biggest foreign trip after the decision to change Jammu & Kashmir's status. There has been no major shift in attitudes since August—most states who offered India support then have continued to do so, some of those who criticised India then have become more strident since, and the media has remained mostly hostile. The US, in particular, is trying to balance its own objectives. Pant says: 'The Trump Administration has no time for issues like Kashmir, but given their tactical priorities vis-a-vis Pakistan, they have to offer something to Imran Khan.' A telling comment came from Alice Wells, Acting Assistant Secretary for the Bureau of South and Central Asian Affairs, at a media briefing: "…we have shared and expressed our concerns over the human rights situation in Kashmir. We welcome improvements in that situation. I would like to see the same level of concern expressed also about Muslims who are being detained in Western China, literally in concentration-like conditions. And so being concerned about the human rights of Muslims does extend more broadly than Kashmir…" (emphasis added).
A specific worry for India, and connected to Kashmir, is the predicament of its friend Afghanistan, which held its presidential election on September 28th. India will need to engage with all the players there to protect its interests. But as Dhruva Jaishankar had pointed out in an article in Hindustan Times earlier this year, India's tremendous goodwill in Afghanistan may not be enough. The Afghan situation, whether the US settles with the Taliban or not, may soon revert to Delhi's gravest security concern.
In connecting with Southeast Asia, Modi had built another bridge in his first term—India's ancient civilisational ties with the region, primarily through Buddhism, which he brought to the foreground with ASEAN. Cultural ties constitute one of the pillars of Modi's foreign policy and his UNGA speech did not neglect the topic. Modi touched base with most of his primary concerns in talking about terrorism, trade, culture and climate change on September 27th. The immediate future of renewable energy may be uncertain but India's assumption of a leadership role on both renewables and climate change is not in question.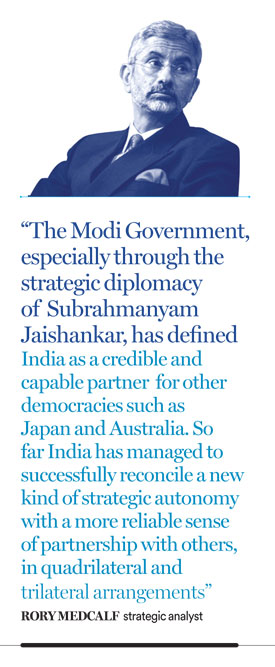 Foreign policy is a breeding ground of clichés and the debate over morals is one such. In his essay 'The Cold War Culture War' (American Affairs, May 2018), James Carden wrote: 'The problem comes in when moralistic impulses begin to intrude on the execution of a reasonable, responsible, and rational foreign policy, which is where we are today.' While moralistic impulses had certainly hindered Indian realpolitik for long, nothing would be further from the truth in claiming India is only pursing its permanent interest today. Pragmatism, as demonstrated by Modi's foreign policy, need not be devoid of the moral impulse, as long as one's clear about what it means. It's about balancing one's permanent interests with the permanent greater good, something closer to the idea of 'enlightened self-interest'. For instance, India's extension of a $150 million line of credit to the Pacific group of islands is not a lot of money but a necessary gesture that's not patronising but evidence of India's own acknowledgment of the 'Indo-Pacific'. Promoting a rules-based order in the global commons is as much in the Indian interest as in others'. If the rest of the world was surprised by Modi's ready acceptance in Europe, the India-France relationship perhaps best exemplifies a convergence of shared values, worldview and strategic interests. France was among the earliest vocal backers of India post-Kashmir, just as it had extended support to an isolated India post-Pokhran II in 1998. In his first term, Modi had given the bilateral relationship the top billing it deserved, given that the multi-alignment sought by his foreign policy is best understood in Paris which also shares Delhi's concerns about the need to shape the post-Cold War geostrategic order by building multilateral coalitions. Neither national interest nor moral impulse is missing here.
If India has largely been successful in managing the reactions of most governments after the abrogation of Article 370, it isn't merely because of the 'muscularity' of its action. What India is doing across the map of the world is also taken into account. But Imran Khan wasn't addressing the wall at the UNGA and the cheers would seem to confirm that. If India is heard, so are its supposed adversaries. The world may turn out to be more demanding, and dangerous, in Modi's second term, now that the energy and tempo of his foreign policy hold no surprise. A domestic (and global) economic slowdown will not make things easier either. Friends will expect; foes will irritate. But without chaos, we wouldn't appreciate order; without challenges, we would be indolent. As Marguerite Yourcenar wrote, 'Catastrophe and ruin will come; disorder will triumph, but order will too, from time to time' (Memoirs of Hadrian, 1951).