A YOUNG DELHI-BASED Congress leader quotes the late English-American public intellectual Christopher Hitchens to suggest what her leader Rahul Gandhi ought to do if he wants to reverse the fortunes of the party and to build a standing as a leader who talks sense and is seen as a contender: "Take the risk of thinking for yourself." That is the advice from a well-wisher to the Nehru-Gandhi scion, especially in relation to his comments on the asset monetisation programme of the Narendra Modi Government, a decision announced in the Union Budget earlier this year.
The young party leader's concern stems from the need for her leader to be taken seriously in the "Indian electoral firmament" and to slowly "develop" himself, despite numerous failures in the past, as a person who can revive the party to be able to play the pole position to attract anti-Bharatiya Janata Party (BJP) forces and pose a challenge to BJP heavyweight Modi in the run-up to the 2024 Lok Sabha polls. "He has to become a centripetal force for the opposition. Otherwise, the dreams of meaningfully taking on BJP at the national level will not come true," says another leader who rues that although he hopes that his party is capable of a revival, "people with an initiative and drive" are frowned upon or despised as power-hungry. For those familiar with Newtonian physics, centripetal force is what pulls things towards the centre and prevents objects from falling away tangentially. "The initiative has to come from the top. They must at least realise that their leadership has never been under attack in the entire history of the party," he adds matter-of-factly, emphasising that the recent exit of former lawmaker and All India Mahila Congress president Sushmita Dev to join the All India Trinamool Congress (TMC) is proof that "people leave when they have nothing to do here".
While a sense of optimism is what most of these Congress leaders want to flaunt, the tone of pessimism in their words is stark considering the highly overrated nature of Congress' latest coordinates after multiple efforts to revive itself to be able to play the role of a challenger.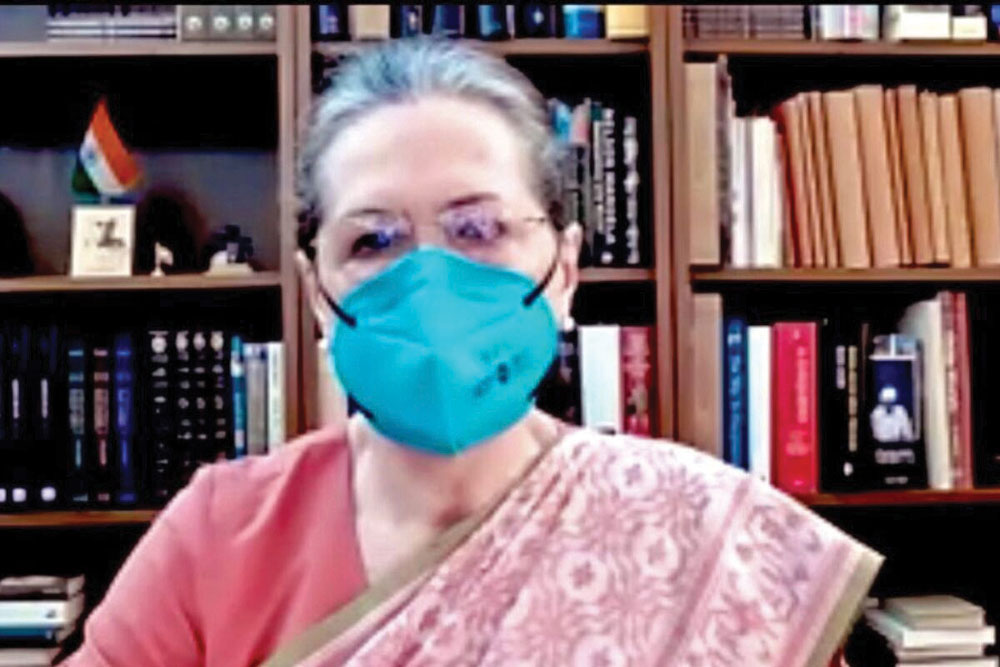 On August 20th, Sonia Gandhi, Congress' interim president, met leaders of 19 other parties virtually, launching yet another move to project her party as a viable alternative to BJP provided non-BJP parties came together to back her. She told the meeting that the ultimate goal was the 2024 Lok Sabha polls, which needed systematic planning with the "single-minded objective" of giving the country a government that "believes in the values of the freedom movement and in the principles and provisions of our Constitution". She added: "This is a challenge, but together we can and must rise to it because there is simply no alternative to working cohesively together. We all have our compulsions, but clearly, a time has come when the interests of our nation demand that we rise above them."
Attractive words indeed. But even before the meeting began, it was clear that any effort to cobble together an alliance of non-BJP parties would be a non-starter because the gaps were obvious and there were too many missing links that made a workable coalition against the incumbent a washout.
Historically in India, a formidable incumbent at the Centre has fallen only when arithmetic as well as perception favoured the opposition force. For instance, in the elections of 1971—which were held several months before India Gandhi's victory in the war with Pakistan and the creation of an independent Bangladesh out of East Pakistan—the campaign against her fizzled out in the absence of a pan-Indian entity to lead the charge against the prime minister who headed a Congress that had split two years earlier. The grand alliance against her—led by K Kamaraj, Samyukta Socialist Party, Praja Socialist Party, Swatantra Party and Bharatiya Jana Sangh—bit the dust although the polls were held prior to the war, which would only bolster her supremacy. The campaign failed despite the Left and the Right coming together with the hope of battering the ruling party.
However, in the 1977 General Election, when the public perception against Indira Gandhi's misrule had gained in momentum towards the end of Emergency and the arithmetic favoured the Janata Party combine, especially due to infighting within the Congress fold, the ruling party was trounced badly. The 1989 General Election also proved just that—a challenging front must have not only mathematics in its favour but also the chemistry of popular mass discontent against the ruling coalition or party.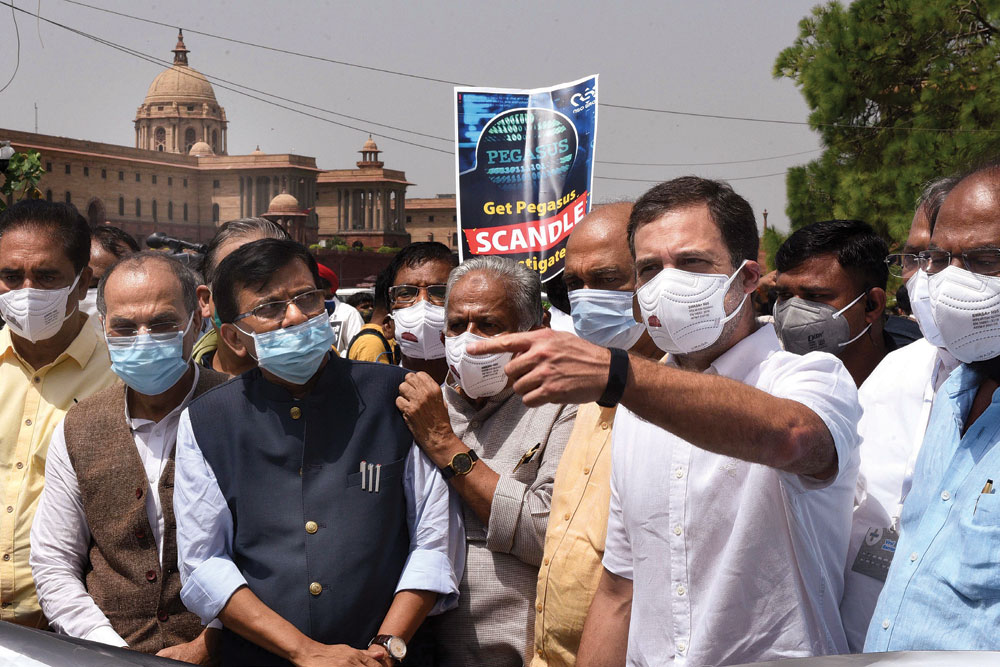 As of now, in the run-up to the Assembly polls in key states and the 2024 Lok Sabha elections, arithmetic and popular appeal do not favour non-BJP forces, especially in the absence of a national party with a pan-Indian appeal, and due to a series of factors, including the reluctance of regional entities to share power with Congress, which continues to shrink rapidly. Regional parties as well as the Left do not want Congress to cannibalise their vote banks. On the other hand, there is no regional party with a leader charismatic enough at the national level to help an opposition alliance pull in votes beyond its turf. Tamil Nadu Chief Minister and Dravida Munnetra Kazhagam (DMK) leader MK Stalin is a leader to reckon with in that state, but not even in the neighbouring states. Similar is the case with most other non-BJP parties, including TMC's Mamata Banerjee whose vote-catching abilities are largely confined to her state of West Bengal where she won handsomely in the fiercely fought state election this year. Delhi's Chief Minister Arvind Kejriwal is in a similar predicament; despite successive wins in the state of Delhi, his Aam Aadmi Party's (AAP) attempts to establish a national footprint have not yielded fruit so far.
Notably, Akhilesh Yadav, the leader of the Samajwadi Party (SP) and former Uttar Pradesh (UP) chief minister, did not turn up at Sonia Gandhi's virtual meet saying that although he had wished to attend the e-conclave, he could not do so because he was travelling. Much to Congress' relief and that of the Left parties and other regional parties that attended, the SP leader informed them that he agreed with the statement jointly issued by the parties. Yet the message from the leader of the SP—which is expected to play a big role in the electorally significant state of UP that sends 80 members to the 543-member Lok Sabha, the largest from a single state—is more or less clear. Akhilesh Yadav had tried an alliance with Congress in the 2017 Assembly polls in UP, which will go to polls again early next year. He had burned his fingers and his father Mulayam Singh, the SP patriarch, publicly stated after the results came out that the SP-Congress alliance was the reason for the party's poor performance because, according to him, "nobody liked" Congress. BJP won a thumping victory winning 312 seats and more than a two-thirds majority in the 403-member House. SP won 47 seats and Congress only seven, while the Bahujan Samaj Party (BSP), which contested separately, won 19.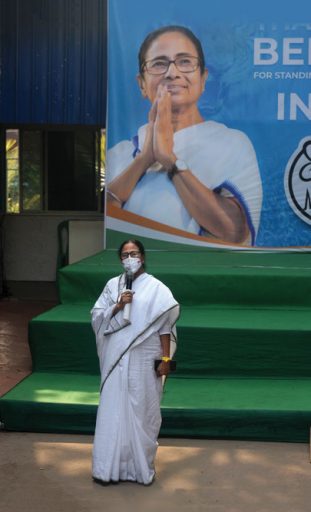 Akhilesh's reluctance, therefore, to attend a virtual meet—which can be attended from anywhere even when one is travelling upcountry—has to be seen in the context of his worries about what is in it for SP. From his position, with the Congress era in UP a distant memory, an SP-Congress alliance would only mean allowing the latter to eat into the former's vote base. And with the vote base shrinking for both parties in the state, with BJP successfully continuing to make rapid outreaches to Hindu caste groups left out in the post-Mandal politics, both Congress and SP would end up sharing whatever is left—mostly the Muslim vote. Again, with BJP attracting Dalit as well as Brahmin votes, Mayawati's BSP also does not want to allow her vote bank to shrink further.
To observe and understand such hesitation on the part of UP's regional parties—to share a platform with Congress—is not rocket science but a matter of simple logic. Although Sonia Gandhi spoke of a 2024 alternative to Modi's rule, the contours of an alliance are sure to become clear ahead of the crucial elections next year and the year after. UP and Uttarakhand will go to polls in February-March next year. So will Goa and Manipur. All four are states where BJP is in power. Then there's Punjab where Congress is in power. Elections in Gujarat and Himachal Pradesh, both BJP-ruled states, will take place towards the end of 2022.
What makes potential allies anxious is the disaffection and internecine wrangling within Congress thanks to the unsettled leadership issue and the fact that opinions of senior leaders are not taken seriously while more cadres are up in arms against the Nehru-Gandhi family. Again, the issues raised by the 'G-23'—23 senior Congress leaders—last year, asking for a massive overhaul of the party so that it becomes battle-ready from being battle-weary, are as relevant as ever, especially after the resounding drubbing in the 2019 Lok Sabha elections. But such issues are often brushed under the carpet by the leadership. Voices of dissent, however, are only gathering momentum within Congress, and Dev's decision to join TMC is an indication of the losing grip of the first family which seems to be in a perpetual denial mode.
The demand for an organisational rejig in the wake of the party losing crucial leaders in various states, including Madhya Pradesh (MP), UP and elsewhere, to other parties, has only intensified over time. When Congress leader Kapil Sibal hosted a dinner earlier this month, 45 leaders of 15 parties attended but some of them, including SP and the Shiromani Akali Dal (SAD), which snapped ties with the National Democratic Alliance (NDA) over the farm bills, appeared averse to the Gandhis' leadership. The meltdown of Congress and its leadership's passive response to calls for change were brought up by many leaders at various meetings, including the one with Sonia Gandhi when National Conference leader Omar Abdullah spoke about the absence of a pan-Indian party to lead a joint opposition.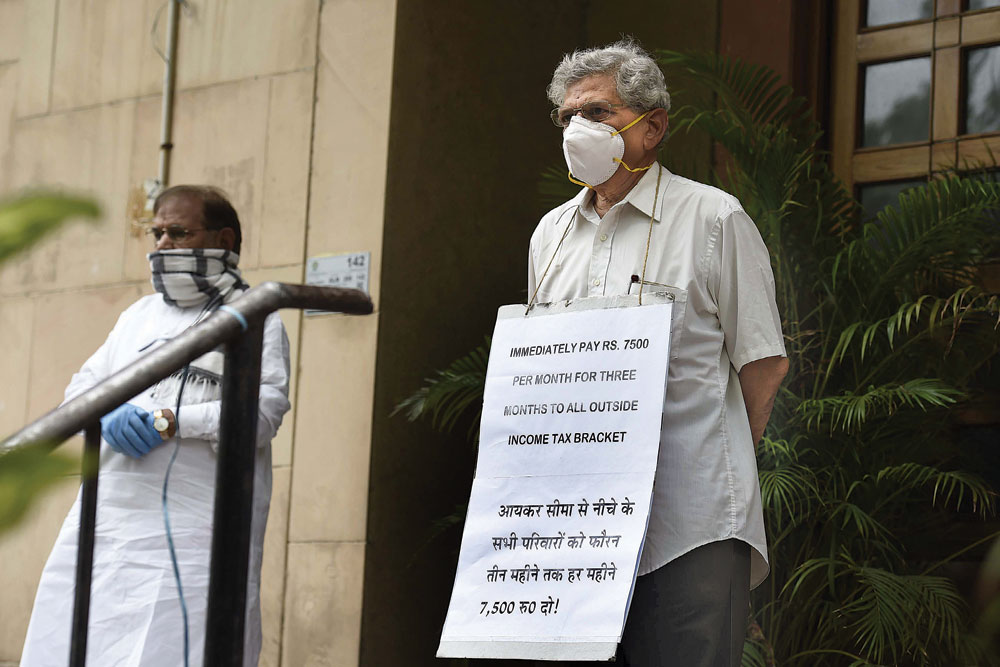 LET US NOT FORGET that it was its easy access to funds that had made the 'first family' powerful within Congress—and having been out of power for long has not been good in terms of that grip on money. Donors and industrialists can no longer be pushed to the ropes to secure monetary control over the organisation. Open had earlier written about a study by University of Virginia Professor John Echeverri-Gent on the long sway of money in Indian politics. In a paper titled 'The Economy, Business, and India's 2014 Parliamentary Elections', he had argued that the Nehru-Gandhi clan had managed to retain its hold on Congress primarily because of its sole access to campaign funds, especially during polls. "Why has the Nehru-Gandhi family been so influential? Inflow of campaign finance allows the family to centralise control. They [the family] tend to have more access and control over this funding. Centralised campaign funding is a key feature of any dynastic political party," he had opined. Such associations with wealthy businesses, Echeverri-Gent notes, had over the decades helped Congress' central leadership eliminate the role of affiliated mass organisations, such as the Indian National Trade Union Congress (INTUC) and even regional satraps, especially at the time of polls. "Because the family has access to these funds, it reduces the party's incentive to build organisations or affiliates that connect with segments of civil society," he had said.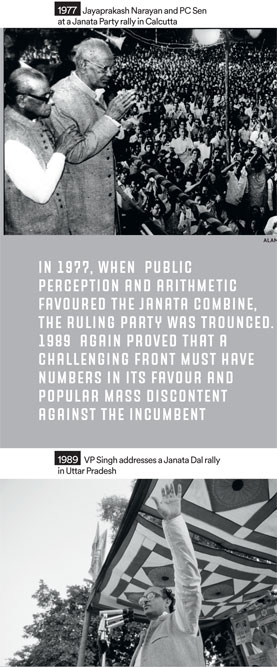 But all that is now a thing of the past with Congress losing election after election in states and at the Centre and getting reduced to its lowest tally ever in Indian electoral history.
A case in point is the family's failure to put an end to factional feuds all over the country despite Congress' dwindling organisational presence and even in a state where it is in power like Punjab.
Public statements by state Congress president Navjot Singh Sidhu against veteran Chief Minister Amarinder Singh have led to endless chaos and confusion within the ranks of the party not only in the state but also in other regions where fears of infighting taking a toll on electoral prospects are forcing workers to shift loyalties and even defect to other parties.
As for Rahul Gandhi, many leaders are upset with his apparently frivolous comments and criticism for the sake of criticism, with him targeting his energies even at transformative policies and in the process inviting ridicule. The morale in Congress is so low that even senior party leaders fretfully confide in secret that many of their lawyer colleagues who turn up in court as part of their professional work do not make a similar effort in Parliament to safeguard their party's interests. There was a time when the likes of Indira Gandhi could rein in dissent and strong regional contenders—and even make preposterous statements and get away with them. Those days are long gone and yet it has not sunk in among those on the top rung, regret several Congress leaders Open spoke to.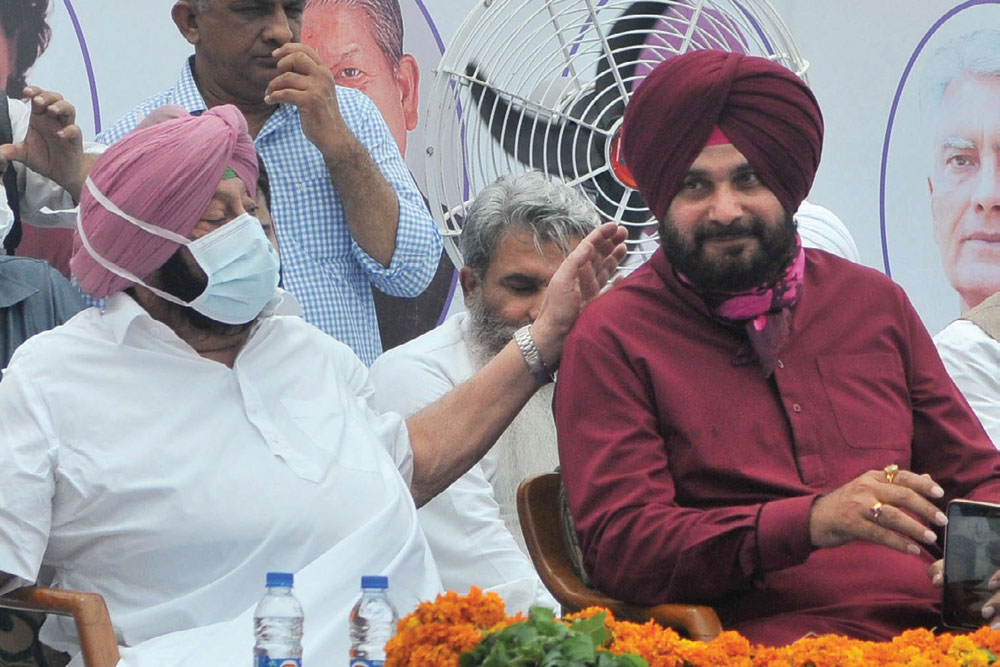 Now, for parties such as DMK, YS Jagan Mohan Reddy's YSR Congress and the Left, besides others, any understanding with Congress on their respective turfs other than making the Grand Old Party a junior partner would be problematic, and they are fully aware of the situation. For the Left, in the only state where it is in power, Kerala, its main opposition is Congress, and it knows only too well that projecting Congress as its coalition leader would usher in its own political demise earlier than otherwise. Communist Party of India-Marxist (CPM) chief Sitaram Yechury may be friends with the Gandhis, but party strongmen in Kerala plan to fight tooth and nail any move to align with Congress prior to polls as they have done in the past. Similarly, there is no love lost between AAP and Congress in Delhi. Suspicions of each other are high when it comes to Congress' ties with most non-BJP parties, including the Biju Janata Dal (BJD) of Naveen Patnaik, the Akali Dal and others. As regards Sharad Pawar of the Nationalist Congress Party (NCP), his abilities are widely exaggerated by the media and confined to mere pockets of Maharashtra. Thus, any public posturing of a unit is short on substance and action.
The absence of a nationally popular leadership and the lack of fire in the belly in Congress' top slots are compounded by comments unmindful of popular sentiments. While regional leaders don't have the bandwidth to pull in votes or mobilise forces outside their turf, the main opposition party's failure to capitalise on opportunities and keep its flock together has added to pessimism among potential allies.
From being an ineffective opposition that appears to take on the Government only to disrupt parliamentary proceedings to failure in consummating campaigns against the ruling party, be it over Rafale or Pegasus, Congress has hastened its own slide in public perception. It was also absent from efforts to fight the Covid-19 pandemic as key players in BJP were active at the grassroots level, further distancing Congress leaders from the party's own cadre and from the people. The freelancer attitude of the second-rung leadership also makes Congress appear moribund even as infighting and power tussles multiply in states where it is fast losing its organisational strength. The failure to address Amarinder Singh's concerns that Sidhu's criticism of his government was not good for its smooth functioning and made a bad impression in the public domain is just one instance of myriad errors of inaction expected to cost Congress dearly.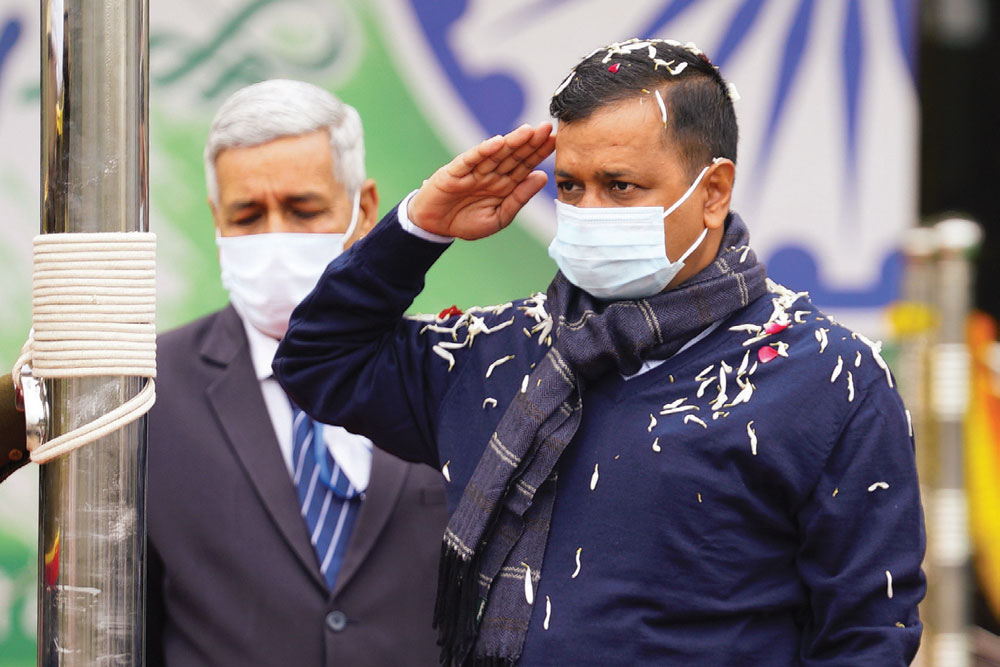 INSTEAD OF KEEPING leaders with institutional memory and campaigning skills closer, Rahul Gandhi, who famously tasted defeat in the family pocket borough of Amethi and had to find a sanctuary in Kerala, relying on an ally to secure himself a Lok Sabha seat in 2019, has allowed also-rans to run the affairs of his party that increasingly looks anaemic as a result.
Since 2014, Congress has lost organisationally and electorally, as obvious from the migration of cadres to BJP and other parties that could be contenders against BJP in their respective states. Such losses cannot be undone in a short time, and yet the leadership is not inclined to make any course correction.
What's worse, Congress, which is meant to play the pole position in any anti-BJP formation, is seen as an irritant, with its leaders making ill-considered remarks even about policies the party had launched. For a party that went ahead with the privatisation of airports, it is now attacking the Government over its asset monetisation programme aimed at generating ` 6 lakh crore and also for its goal of building world-class infrastructure and generating employment. Certain expressions Congress leaders lately employ to attack the ruling party sound incongruous and appear to come from the Left's playbook: "neo-liberalism", "corporate loot" and "authoritarianism".
The young Congress leader who spoke to Open says that while BJP is like a laser, Congress is like a candle in the wind. "My biggest regret is that time is slipping by, and so is the ground beneath our feet," she notes. In the absence of an organisational rejig, lack of political drive and constructive criticism to attract popular appeal, Congress is alienating the new generation of voters besides those nostalgic about its glorious past. Revulsion at Congress' style of leadership is not something a non-BJP entity tries to hide anymore, adding to its woes in terms of collecting allies. Which is why, opposition unity in India might currently sound like a great idea in theory, but falls apart on practical considerations. If the ongoing turmoil within Congress ranks in Punjab—with senior leaders taking potshots at one another notwithstanding directives from the party high command—where it is in power and ahead in the polls is any indication, the first family of a party that once remote-controlled its cadres without fail is heading towards the sunset of its long reign. On the other hand, much to the anguish of the Congress leadership, BJP's handling of political issues remains smart, forceful and disarming.
The year 2024 is still a long way off, but ambition without motivation seems to be the precarious situation Congress finds itself in. At this point, without first having set the house in order, aching to mount a horse and forge ahead looks quaintly quixotic.