SITTING IN THE front seat of an SUV, wearing a Sambalpuri sari, two nosepins, kumkum in her grey hair and a dozen bangles in each hand, Pramila Bisoi is trying to make it to her next public meeting on time. When the Biju Janata Dal (BJD) gave her a ticket to fight the Lok Sabha election from Aska in south Odisha's coastal Ganjam district, her grandchildren had jumped with joy. She took her family and first headed to Puri to "take Lord Jagannath's blessings". They are in tow now too as she hits the campaign trail.
Fifty years ago at the age of 20, she had started off as a grassroots worker. At the time, contesting the Lok Sabha election wasn't even a dream. Naveen Patnaik, Odisha chief minister and BJD chief, chose her for the Aska seat, from where he himself, then a political greenhorn, fought his first Lok Sabha election.
Bisoi is careful with her words, which often refer back to the chief minister. If elected, she says her priority would be "to press for 33 per cent reservation for women in Lok Sabha and assemblies, and women's empowerment in line with the chief minister's commitment to Mission Shakti". She won't comment on her opponent or Prime Minister Narendra Modi. Fulsome praise for Patnaik is however unreserved. Their campaigns are also intertwined. The constituency from where Patnaik is contesting for the fifth time is Hinjilicut, an Assembly segment in Aska. Roads here are lined with the BJD's green-conchshell banners. Along the divider are also larger-than-life portraits of Modi and BJP President Amit Shah.
Ironically, Doon School-educated Patnaik did not speak Odia when he first stood from Aska, while Bisoi, who has studied till class three in Karmori village, converses only in Odia. In choosing Bisoi, Patnaik surprised many but also sent a strong message of women's empowerment. "It will be personally very heartening for me to see [a self-help group] leader like Mrs Bisoi bring her grassroot leadership experience to the hallowed halls of Parliament," says Patnaik, in a written interview to Open.
"Patnaik has done a lot of development here. His candidate will win," says Harihar Panda, who runs a cement shop in Hinjilicut. Next to it, chairs are being laid out under a pandal for a public meeting by Union Minister Dharmendra Pradhan, BJP's most likely chief-ministerial candidate. A few metres away, standing next to Modi's poster, Anil Mahankuda, a young travel agent, says it is time for change even if the BJD has done good work. Naya Sahu, a fruit seller, finds the youth "for Modi" but older people "for Naveen Babu". Nobody talks of the Congress in a state where the party held sway till the mid-90s.
In the Saraguda Assembly segment of Aska, 10 men wait for a bus. They want a fresh face for Odisha. These men, who go to Surat in Gujarat to work in textile mills, say benefits of Patnaik's schemes for the poor did not reach the real beneficiaries because of corruption. "After 19 years, don't you think there should be a change?" one of them asks.
Patnaik has been ruling the state since 2000 but is now witnessing a formidable challenger—the fight for Odisha is clearly between Modi and Patnaik. They are undisputed leaders of their parties but with personalities that are a study in contrast. Patnaik is a man of few words, his limited knowledge of Odia accentuating his reticence. Modi is a master of zealous oratory. There are many firsts for Patnaik in this election. He is contesting from two seats— Bijepur in Bargarh district and Hinjilicut. He also did a roadshow for the first time. Patnaik's rath is in keeping with his character, a suave but simple white, air-conditioned bus with large glass windows that has just his image on it, and is bereft of frills, flowers or fanfare. Wearing his white collarless kurta, he waves to people from atop the bus or through the window. The sound of folk music plays in the backdrop as the vehicle passes through Berhampur's streets which are lined with people on both sides.
Waiting for the cavalcade to pass by, SK Patnaik, chemist shop owner, echoes an oft-heard opinion: "Naveen Babu is fine for the state, but at the Centre it should be Modiji." Two others— Dasrathi Nayak and Vishnu Panigrahi— argue against the BJD's choice of candidate in Berhampur. Former Union Minister Chandra Sekhar Sahu had lost twice in the past here to BJD's Sidhant Mohapatra, who has been dropped this time. The BJP had won the seat in alliance with the BJD in 1999. That was post-Kargil. Now, its State General Secretary Bhrugu Baxipatra, who is contesting from here, is reportedly banking on the Balakot air strikes to woo voters.
There is only a trickle of Congress banners. Berhampur had been a Congress stronghold for a long time. It even won the 1977 post-Emergency election and was considered so safe that in 1996, former Prime Minister PV Narasimha Rao chose to contest from there. The Congress has now fielded V Chandrasekhar Naidu, an industrialist from Delhi with ancestral links there, hoping to get Telugu votes in a region that borders Andhra Pradesh.
It is from Kanisi, a village in his home district of Ganjam, that the chief minister kicks off his election campaign. On a cloudy afternoon, a large throng of mostly women pour into the sprawling maidan. "He has done a lot to empower women. There should be some politician who does something for women," says B Kalavati, a middle-aged housewife waiting in the crowd. As the chief minister's helicopter nears, women stand on their chairs and start waving in a riot of colour. As soon as he is welcomed on the dais, some start leaving. "He speaks very little. He is comfortable with English and looks at the crowd here. How many will know English? He will wave and leave," says P Sitarao, stating not an accusation but a fact about a chief minister he supports.
Patnaik, however, did read out a speech in Odia. Without naming anyone but alluding to Modi, he spoke of politicians who did not come to the state following the destruction caused by cyclones Phailin, Hudhud and Titli, or during droughts. He added that it was he who was always there for Odisha's 45 million people, his family.
The BJD is banking on the support of women voters. The party has given tickets to them for a third of the state's 21 Lok Sabha seats. Under Mission Shakti, over 7 million women work as members of women's self-help groups (WSHGs) across Odisha. In January this year, Patnaik announced interest-free loans of up to Rs 3 lakh for WSHGs. "Naveen Patnaik's greatest strength is schemes for women and self-help groups. Women have an income and feel empowered. It's the only party in the state with strong grassroots organisation," says political analyst Rabi Das.
He does point out that by changing 30 per cent of its candidates, who then moved over to the BJP, the BJD has ceded space. "Development has taken place. People are happy with schemes like a kilo of rice for a rupee and pension increase from Rs 300 to Rs 500. But the BJD has failed to develop an ideological base. Patnaik didn't allow debate within or outside the party. There are no slogans and no stand on issues like federalism, secularism, lynching. He is depending on bureaucrats. When officials manage politics, there is a crisis," says Das. Modi, meanwhile, is seen as a symbol of masculine leadership who can take on Pakistan and the election. It has now become a personality war between him and Patnaik. However, Das says the chief minister still has a hold over the downtrodden.
IN POLASARA SEGMENT of Aska, Hima Swain, who runs a lamination shop, praises the welfare measures rolled out by both Patnaik and Modi. He has never heard Congress President Rahul Gandhi's speeches. "Development will happen if there is competition. If the same party keeps winning, inertia sets in," he says. Two commonly uttered views by those supporting the BJP are 'Modi is doing good work' and 'Modi has given a befitting reply to Pakistan'. Those supporting Patnaik say 'Naveen Babu is good for Odisha'. Those switching loyalties from the BJD to the BJP cite reasons like candidate, gas connections, public toilets, post-Pulwama air strikes, Modi's spell—or all of these. But, more than anything, it is a craving for change. Anti-incumbency finally caught up with states like Tripura, Madhya Pradesh and Chhattisgarh, and earlier in West Bengal, where chief ministers had held on for three-four terms. It is the biggest threat to Naveen Patnaik now.
As one moves west from Ganjam towards Sambalpur district, across miles of sparsely populated terrain are tiny hamlets, where people have gone indoors with the afternoon sun beating down at nearly 40°Celsius. Siba Pradhan, who runs a dhaaba on the highway at Radakhol, says the election will be a tough one between the BJD and the BJP. The BJD has held the Sambalpur Lok Sabha seat since 1998.
Outside a dwelling in Golamaal village, Tribal men playing cards quip they will vote for any party that gives Rs 1,000 per voter. Pushpa Sondha, a middle-aged woman wearing dark glasses, says the village had voted for the BJP last time, but this time it has decided to support the BJD. She says the chief minister has provided them rice, water and toilets. Nearer to Sambalpur city, a youth says he supports Modi because he has given gas connections and taught Pakistan a lesson.
The BJD's Lok Sabha candidate for Sambalpur, Nalinikanta Pradhan, had been a nominee director of Odisha State Police Housing and Welfare Corporation and director of Odisha Construction Corporation, an office of profit. The BJP had complained but, much to the BJD's relief, the returning officer rejected it.
"The BJD is highly centralised, managed by one or two people. There was no major challenge to it. Now there is a real contender. There will be a dramatic turnaround from the status quo," says Jay Panda, BJP candidate and former BJD member
South of Sambalpur is Bargarh district, the state's rice bowl. At Saranda village, weavers of Sambalpuri saris sit on the looms that occupy most of the small rooms lit by bright bulbs. The village has around 50 houses of weavers, several of whom resent the Goods and Services Tax (GST) imposed by the Modi Government because it increased the prices of threads and dyes. The BJD government gave them solar lights. Dayanidhi Mehar, a weaver, says no matter who comes to power their lives won't improve. A sari takes eight days of work, from morning to night, and involves four people of the family. Ramkrishna Mehar says they make a profit of just Rs 2,000-2,500 per sari.
As polling nears for the four-phased simultaneous Lok Sabha and Assembly elections, the war of words between the BJD and BJP is getting fiercer. "On one side is a corrupt, lethargic and stagnant state government and, on the other, the Prime Minister's high credibility," says Dharmendra Pradhan, the 49-year-old BJP minister who had won from Pallahara Assembly in 2000 and Deogarh Lok Sabha in 2004. The BJD was an ally then. He rejects the possibility of split-voting—Patnaik for state and Modi for Centre— saying it has never happened in Odisha and that there is anti-incumbency against the BJD. He says Patnaik's decision to fight from two seats indicates his fear of defeat.
On BJP President Amit Shah's roadmap for 2019, Odisha had been identified as one of the priority states, where they hoped to make major inroads to compensate for losses in states where it had peaked in 2014. Among those who joined the BJP this year are five BJD MPs and six of its MLAs.
BJD's Pinaki Misra, a three-time MP from Puri, agrees that the voting pattern for Assembly and Lok Sabha candidates has always been in sync, claiming his party will emerge victorious in both. "When Assembly elections are held with Parliament polls, local issues and flavours are so predominant that they impact the choice of Lok Sabha candidates. The fabric of a village is tightly strung and it votes together," he says. He dubs the BJP's campaign as having no traction beyond consolidating the committed Modi vote.
The BJP has fielded its national spokesperson Sambit Patra against Misra from Puri. Last time, the BJD won 523,161 votes, and the Congress and BJP together scored less. In Puri, a couple of shopkeepers near the 12th century Jagannath temple say they want change. One of them, however, pledges support to the Congress, a party for which his family has traditionally voted. Bataga village on the outskirts of Puri is divided between the BJD and BJP with most of the women backing Patnaik and some men saying a change would give a push to development.
Odisha had ducked the Modi wave that swept the north and western Indian states in 2014, with the BJD peaking in performance, winning 20 of the 21 Lok Sabha seats and 117 of the 147 Assembly constituencies. BJP's tribal face Jual Oram, who is again fighting from the Sundargarh seat, was the only non-BJD candidate who won the Parliament election. The BJD's Lok Sabha vote share was 41.1 per cent, while the Congress slid to 26 per cent and the BJP got 21.5 per cent. In the state Assembly, the BJD got 43.5 per cent, followed by the Congress at 25.7 per cent and the BJP at 18 per cent.
Like in Tripura, where the Congress, the ruling Manik Sarkar regime's main rival, had dissipated from the political discourse, the BJP is hoping to do the same with the Patnaik government. The disquieting signals and the BJP's aggressive campaign with a combative Modi planning nearly 10 rallies in the state and Amit Shah having made an average of three visits annually over the past five years have pushed the 72-year-old chief minister to alter his otherwise subdued style of campaigning. The party even put out a video of him exercising at his house, possibly to send out a message that he was hale and hearty to rule the state for a fifth term. Patnaik is blaming Baijayant 'Jay' Panda, the BJD MP and Patnaik's old friend who has moved to the BJP, for spreading rumours about the chief minister's ill health. Panda has rejected the charges.
According to Panda, who is fighting as a BJP candidate from his Kendrapara seat, the BJD is no longer able to suppress rebellion.
"The BJD is highly centralised, managed by one or two people. There was no major challenge to it. Now there is a real contender. There will be a dramatic turnaround from the status quo," he says.
Odisha is a BIMAROU state and driving through its changing landscape and temperatures, one wonders about the magic endearing its people for two decades to a man who mostly keeps to himself and can just about speak the local language. Panda, who had been with the BJD since Patnaik became chief minister, says he came as a breath of fresh air after the corruption of the Congress and its leader JB Patnaik. "He was seen as a clean leader in contrast to previous Congress regimes. He established an image against goondaism and thereafter was seen as someone to whom there was no alternative. But the BJD too started sheltering goondas. Patnaik kept his image clean and distant from it, but that too has fallen apart."
Das describes Patnaik as shrewd and untainted and that welfare schemes which reached the poor gave him considerable sway over the downtrodden. He draws a distinction between Tripura and Odisha saying unlike the CPM, the BJD has the monetary muscle to fight the BJP. Besides, some Congress leaders have moved to the BJD as well. He does think that a large number of Congress votes, which is targeted against the BJD, could go to the BJP. "The Congress has totally slipped. It doesn't exist in many places. Its manifesto suits the people of Odisha but it has failed to convey it to the people."
If Patnaik wins another term, he could be joining the league of India's longest-serving chief ministers like Pawan Kumar Chamling in Sikkim and Jyoti Basu in West Bengal. A farmer in Sambalpur, Pramod Kumar Purohit says, "As long as Naveen Babu is there, the party will be there. After that, it will dissipate." For the moment though, temperatures are rising in Odisha and Patnaik is feeling the heat.
Interview with Naveen Patnaik
'Congress has weakened and BJP is trying to occupy that space'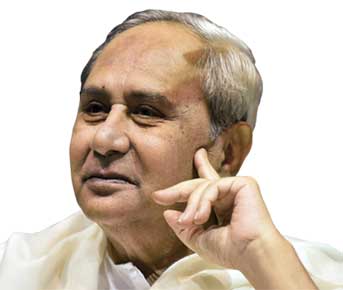 On Congress' prospects and BJP claiming Odisha will go the Tripura way: One cannot write off Congress. At the same time, I am confident that the BJD will do well.
On BJD leaders joining BJP and if it has given the latter more muscle: I don't think so. They were mostly those who were unsure of getting tickets from BJD. It has rather created more confusion among the cadres in BJP.
On what has changed since 2014 when despite a Modi wave, the BJP failed to capture space in Odisha: Vis-à-vis 2014, Congress has weakened and BJP is trying to occupy that political space.
On what could have been done differently looking at the past 19 years: I don't really look at it that way. Every decision has to be seen within a particular time frame and the given set of circumstances.
On voting for him at the state level and for Modi in the Lok Sabha: This is not a widespread phenomenon. BJD will win a majority of seats for a record fifth time.
On this being a Naveen-versus-Modi election: I don't think elections should be seen as a clash of personalities. We go to the people with our performance and so should they.
On fielding a grassroots worker in Aska: Pramila Bisoi, a self-help group (SHG) leader in Nalaghanta village and president of Sata Sankha SHG, has had long years of experience in the movement. Widely respected, she is a grassroots leader in her own right. She has used her leadership to influence and create awareness on issues like sanitation, vaccination, institutional delivery, environment protection and literacy.
Biju Babu [Patnaik's father and party founder Biju Patnaik] was one of the pioneers of women's empowerment. He introduced 33 per cent reservation for women in the Panchayati Raj. We increased it to 50 per cent. Today, we have thousands of women in Odisha as ward members, sarpanchs and zilla parishad members doing a remarkable job. If Odisha has had an improvement in socio-economic indicators, the credit goes to these grassroots women leaders and the 7-million strong Mission Shakti SHG movement of the state.
BJD, in a first of its kind decision by any political party in the country, has provided 33 per cent reservation for women candidates to the Lok Sabha. It will be personally very heartening for me to see an SHG leader like Mrs Bisoi bring her grassroot leadership experience to the hallowed halls of Parliament.
On what would be his priority, given another term: Governance is a continuous process. A record 8 million people in Odisha have been lifted above poverty. We will work hard to reduce poverty to below 10 per cent.
Also Read
Other stories of General Election 2019