THE ROOTS OF THE KASHI VISHWANATH TEMPLE IN Varanasi go back millennia where myth intersects history but the one that stands today has a precise date to it. Its construction began in 1780, a century after Aurangzeb had destroyed an earlier temple. It would be the last in a series of destructions. The present temple was built by Ahilyabai Holkar, queen of Indore, one of the main limbs of the Maratha empire then. Only the structures changed, the deity remained the same. In her book Banares: City of Light, the religious scholar Diana Eck, wrote: 'For at least a thousand years, Vishvanatha has been the pre-eminent Shiva linga in Kashi.' But, even though named after him, Shiva is not the only god in the temple. Eck describes it thus: 'In addition to the linga of Vishvanatha there is an array of other subsidiary shrines in the courtyard of the temple. To the left as one enters is an image of Vishnu, who must be worshipped here along with Vishvanatha. Near Vishnu is the image of Avimukta Vinayaka, the Ganesha of the old Avimukteshvara Temple. And in a shrine to the far right as one enters is the linga of Avimukteshvara… Elsewhere in this courtyard are the images of Nikumbha, Mahakala, Dandapani, and Virupaksha—all lingas bearing the names of former yakshas who are said to have come to Kashi long ago in the entourage of Shiva.'
It takes a lot of devotees to propitiate so many gods but there was no want of them. Ordinarily, the temple is bursting at its seams by a neverending throng of pilgrims and tourists. On March 22nd that changed. Covid-19 had entered India and the temple emptied out after the lockdown was imposed. Only rites and rituals by priests continued. But the gods did not find themselves bereft of devotees because the temple took them directly to homes. "We started this live darshan facility, through television and internet. Now the sanctum sanctorum and Lord are visible to the whole world all the time. Live darshan is available on our app also," says Vishal Singh, CEO, Shri Kashi Vishwanath Temple Trust.
The lockdown nevertheless took a toll. A temple is also an economic ecosystem. Singh says almost 60 per cent of those living around the Kashi Vishwanath temple—from shops to hotels to hawkers—are dependent upon it for livelihood. Prasad distribution stopped. Which in turn meant that the suppliers from whom the Prasad items were sourced, were affected. "The economic impact of the temple closing down is huge. But we are trying to maintain the spiritual experience of devotees by posting the live feeds of aartis and other rituals on social media handles of the temple trust," says Singh.
The temple earned close to Rs 1.5 crore daily from ticket sales of rites and people donating money and belongings inside. Both revenue streams stopped completely. Now the temple earns between Rs 5 lakh to Rs 10 lakh. In a facility there, they feed needy people, like stranded daily-wage earners, and donations are solicited for such charitable activities from crowdsourced fundraising sites like Ketto and GoFundMe. "We have already fed more than three, three-and-a-half lakh people," he says.
An ancient religious institution of India has now pivoted to a modern technology like social media for its continuance because of the pandemic but Singh believes religion will actually do two pivots—one technology and the other, spirituality. "Visiting a particular place, yes, it is important because of the basic philosophy of Sanatana Dharma that Indian temples are not just a building but have been made at a place because of the energy field around it. It is important to visit those places, but at the same time, the basic tenet of religion is also to feel it inside. The role of religion will change in people's lives. It will become more accessible, they can do it at their convenience wherever they are. I think very soon you will see all the temples of the country will basically be available online." This, he says, was already happening. But the lockdown has propelled it forward because of the conditions it set up for places of worship and worshippers.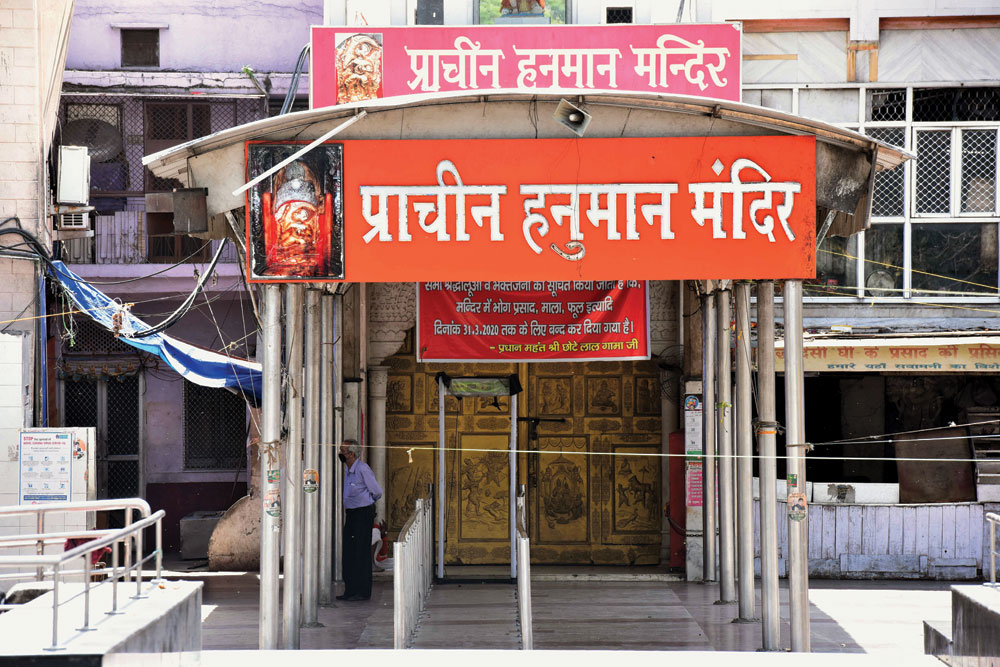 Religions the world over are struggling to come to grips with the pandemic. During times of social anxiety, people turn even more towards god for solace. But this pandemic does not allow that. If religions are essentially large grand narratives that stitch a group together, and a temple or church or religious festival a site of congress, where large masses come together, then the pandemic hits religion right at its heart. Doors of temples, churches and mosques are shut. Public festivals celebrating gods are becoming smaller intimate affairs now, taking place entirely indoors. As the pandemic grows unabated and with no end to the lockdown, it is possible that worship might have to be re-imagined entirely. Sometimes this can take interesting forms.
On a recent weekday, Father Warner D'Souza appears in front of an iPhone camera at his home in Mumbai. Like many other priests across the world, D'Souza too has taken his sermons online. Today, the priest in charge of St Jude's Church in Mumbai's Malad East area says he will teach from the fifth chapter of the Gospel of Matthew. "'When Jesus saw the crowds, he went up on a mountain and sat down…'," he reads from a hardbound copy of the Bible. "…'His disciples came to him'." As he stresses upon the word, D'Souza puts the book down now and, looking straight into the camera, explains: "Straightaway we [those reading the Bible today] know we have identity because we know we are not anybody—Jesus calls us 'his' disciples. We get identity. Now hold to that thought." He needs to turn his attention elsewhere. "I'm just going to put in these prawns. It's going to sizzle a bit," he says.
For, the room he is giving the sermon from is his kitchen, and amidst all the chopping boards and tiny plates and bowls filled with ingredients is a frying pan that has now become warm over a stove. D'Souza is doing a food-cum-exegetical show, what he calls his "Food for the Soul" programmes where he marries Bible discourses with that other passion in his life, cooking. And today, he is teaching the fifth chapter of the Gospel of Matthew while preparing a dish made of prawns and cluster beans.
D'Souza first had the idea of doing a show that combines cooking with exegetical sermons when he was approached by a group of Christian youths to do a one-off discourse over a Zoom conference call. "The night before I had been watching a TV show where they said food was the No 1 topic for youths. So I thought why not?" he says.
That discourse—where he cooked a chicken barbecue meal—worked so well that he decided to continue this format as a series of programmes on his YouTube channel. D'Souza was training to be a chef, working at one point at a five-star hotel in Mumbai, before he turned to religion. He had been blogging about his experiences both in the kitchen and his faith for several years. He started his YouTube channel just before the lockdown. He had anticipated, he says, that some form of stay-at-home orders were going to be introduced, and that he needed to find a way to remain connected with his parishioners, especially given how difficult the period might prove to be.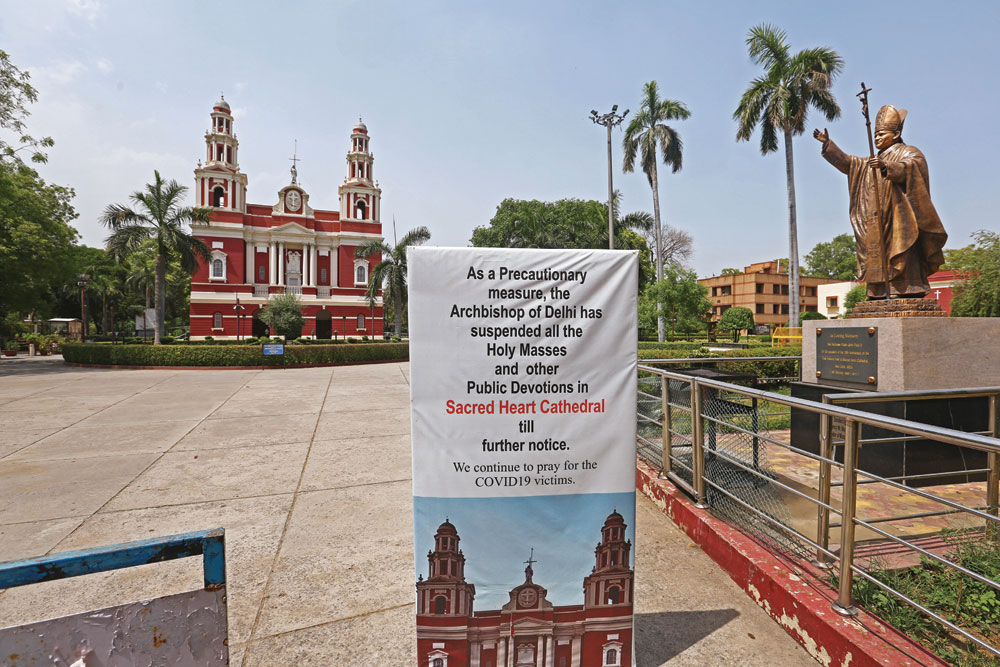 His YouTube channel is a mix of things, where he conducts daily online mass and discussions from the church formally, a square of the white clerical collar always visible. His Food for the Soul programme is more informal, with D'Souza always wearing an apron over a black T-shirt (which usually reads the name of his blog, 'Potty Padre') and a pair of jeans. D'Souza's videos are shared across social media platforms. He gets comments and emails almost every other day on his blog. "I never expected it to blow up this way," he says. "Just the other day, an old lady wrote to me saying she tried out one of my recipes."
Most of the meals in his food programmes are simple dishes. Many of the ingredients come from his kitchen garden. "I want to tell people that they must cook what they have," he says. He has made fish and egg curries, vindaloo and dals. For his next meal, he says he plans to prepare a beetroot dish. For the next half hour, as he cooks a prawn and cluster bean dish, D'Souza moves from the Bible to the meal on his stove and back again, reflecting not just on the text, but also giving little tips along with the recipe, from the right way to chop capsicums to deveining prawns.
"For me, I have realised the pulpit can be anywhere, my kitchen too," he says.
According to D'Souza, there is a lot of anxiety currently among people. He worries about people losing their jobs, and a larger breakdown of law and order. "Some will turn to god. Some will go further away," he says. "Right now, I don't look at myself as a priest. But someone trying to give comfort. If I can do that, I think I'm doing my job."
Several kilometres away, in the town that has grown around the temple of the famed 19th-century fakir Sai Baba, the situation is direr. There are about 800 hotels and lodges in this small town, estimates given by the temple's spokesperson Mohan Yadav and a number of other ancillary service providers, such as shopkeepers and taxi drivers. The temple's trust itself provides over 2,500 rooms and dormitories for the hundreds of thousands that pour into this small town every week. Now, the entire economy of the town and the temple has come to a grinding halt.
"Lakhs of people visit the temple every week. It takes six hours in a queue on most days to even get a darshan," Yadav says. "Just think what it is like now…The whole town is like a ghost town. I've never seen anything like this in my life."
The temple has been telecasting daily pujas on a TV channel and on their website for several years. Once the lockdown was announced, they also hurriedly launched a mobile app that could do so. These services also allow for offerings or donations. But these donations, Yadav says, have been minimal. "It's not even worth writing about. It's like Rs 1.5 crore [of online donations] so far. And our monthly outgoing [in salaries and the running of the numerous associated institutions] is between Rs 17 to 18 crore," he says. "We haven't delayed salaries to our staff or anything like that. But it's getting very tough."
When a famous temple gets established, over time it becomes akin to the establishment of a large corporate industrial hub. Train stops and bus stations are introduced, sometimes an airport comes up, the town prospers, and a vast array of ancillary businesses mushrooms around the troop of devotees. With the lockdown, this economic engine has come to a stop.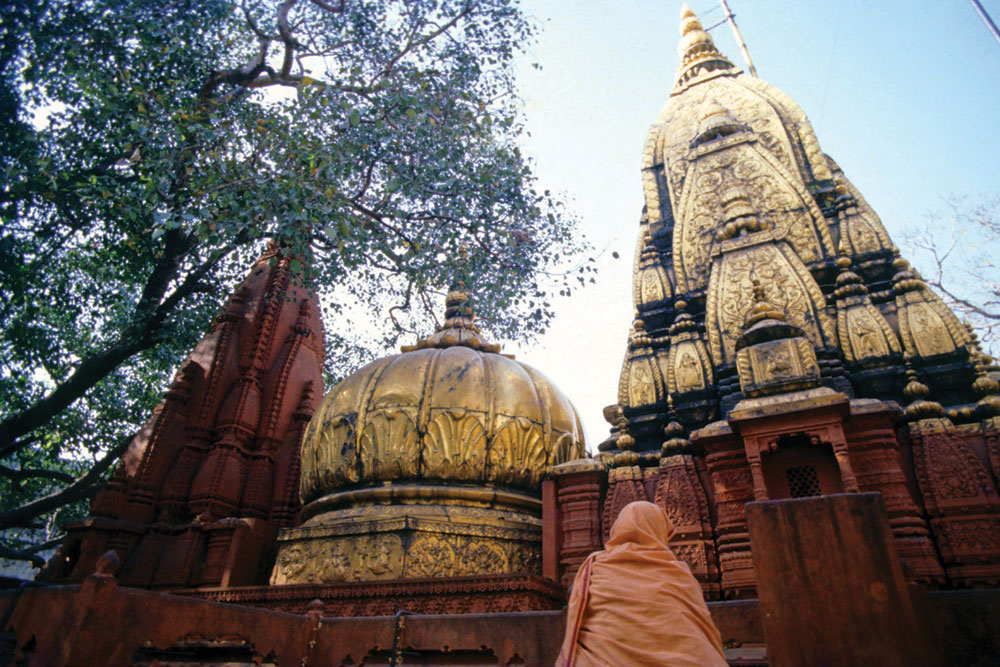 The finances of Tirumala Tirupati Devasthanam—probably the richest temple trust in the country that manages the affairs of the famous Lord Venkateswara temple in Andhra Pradesh—is believed to be especially badly hit. The trust runs an array of institutions with a staff of over 21,000 employees. According to reports, the trust is now finding it hard to pay salaries, although it denies that. It is currently selling the famous Tirupati laddus at half the original price (from Rs 50 to Rs 25) and, last month, laid off around 1,300 workers employed via an external agency for jobs like housekeeping, sanitation and serving at guesthouses run by the trust. A few days ago, the trust announced that it will be auctioning several immovable properties it owns across the country. The state government has, however, issued directions telling them not to do so.
Sumeet Ponda, a Bhopal-based follower of Sai Baba who runs a number of schools and other educational institutes in the city, says the lockdown has been a tough time for both religious institutions and their devotees. Ponda has been visiting the shrine in Shirdi at least once every month for nearly three decades. He also holds discourses over the saint's teachings both online and, before the lockdown, in physical venues across the country. He visited the shrine last in February and had been planning to visit again the following month when the lockdown was imposed. "My visit was due. But then this [lockdown] happened. So you can imagine I have been really yearning to return," he says. Now Ponda instead follows the pujas on TV and on his iPad.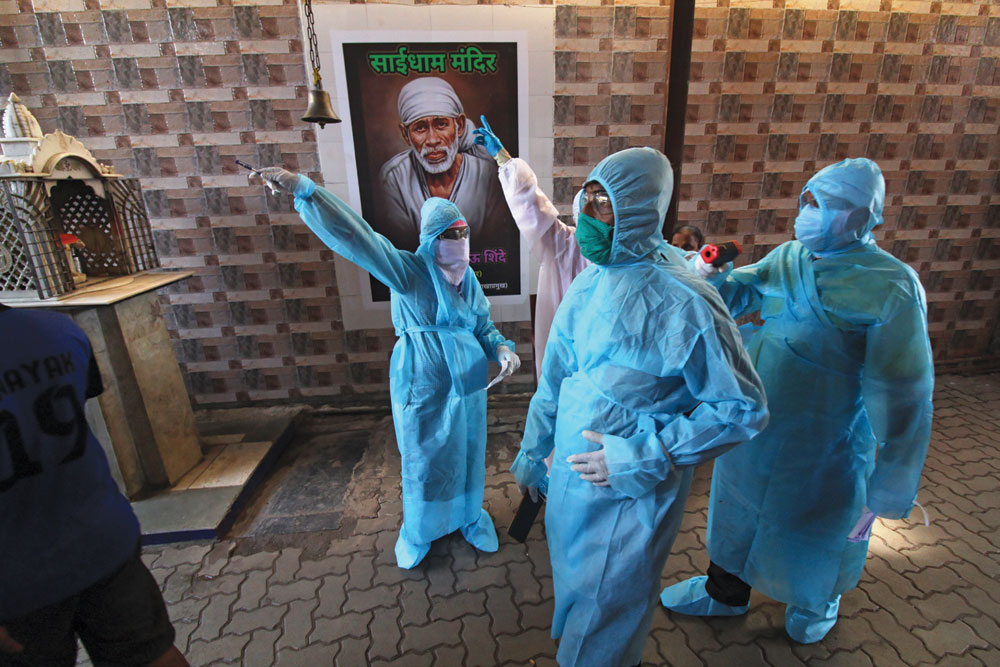 "It has been a really introspective time for us followers of the Baba… The shrine has always been like a power point. You go there, charge yourself and come back," he says. "But, in a way, this period has been a rare opportunity. You feel it's going to be okay. You realise God resides not in the temple but in our hearts. You will come out of this period with your faith stronger."
The isolation of the lockdown—the doing away of physical space of common worship and acts and rites mediated through the agency of priests—has meant people are examining their faiths and experiencing god in a new way. Each devotee has had to individually look inward. Religion for many has become less communal and more personal.
Sabir Sayed, a socially active member of the Muslim community and a member of the group that runs the popular Mahim dargah in Mumbai, has had as difficult a Ramzan as one can imagine. During the lockdown, he became associated with relief work. As part of a group associated with the Mahim dargah, he began to raise funds (for instance, taking the help of Amitabh Bachchan and later chef Vikas Khanna) and providing meals for those suffering, including giving footwear to labourers returning home.
Sayed moved about carrying an essential services pass for these tasks which kept his mind off the day-long fasts, which many Muslims found especially tough to maintain this year because they were indoors all the time. Access to fresh fruits became difficult. About two weeks before Eid, a doctor living on the same 11th floor of Sayed's building tested positive for Covid-19. The entire floor was sealed. A barricade of bamboo sticks was put up in the common area, and no one was allowed to step outside. Every time something had to be delivered, the watchman would inform them over the phone, and placing the parcel on a stool in the lift, press the button for the 11th floor.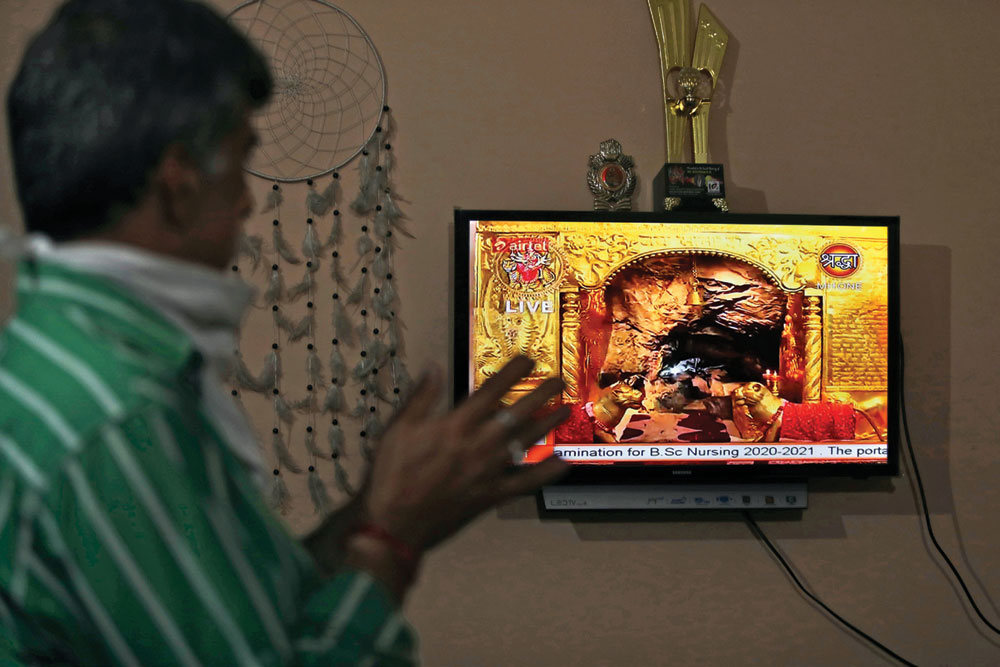 "It was just a very traumatising experience, waking up every morning and opening the door to find that barricade of bamboo sticks," he says. "I was mentally prepared to celebrate Eid inside a barricade this time."
A few days in, a neighbour on the same floor who suffers from dementia passed away. He had lived there with his wife while his children were in Dubai. The task of arranging for the death certificate fell on Sayed. "I called up so many doctors using my network [of contacts], but no doctor was willing to give that certificate. Finally I found one who agreed to come to the floor, examine the situation and give the certificate," he says.
Just a few days before Eid, the doctor who had turned positive was discharged and brought home. The barricade was also removed. On the day of Eid, Sayed shared the biryani prepared at his home with his neighbours. The lady who had lost her husband began to cry. The doctor, who had been ostracised since he tested positive, also broke down.
"For me, this Eid was tough. Because I have never done an Eid like this where you didn't even have new clothes," he says. Sayed has two young daughters, and he recounts with fondness how they would have three sets of new clothes each for a single day of Eid. "But you know what I think about it now? The whole practice of Ramzan is about sacrificing even when you have plenty. And what is the lockdown if not that?"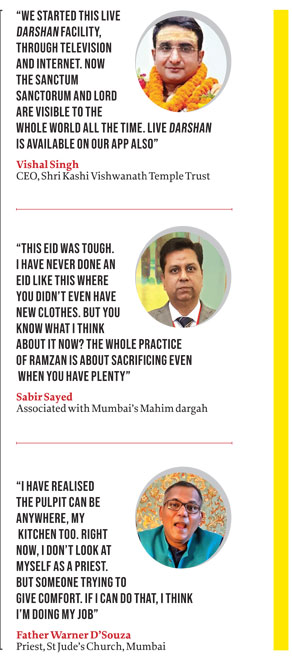 Not just Eid. Several religious festivals have taken place entirely indoors in the last few months of lockdown. Father D'Souza speaks of how depressing Easter was for him, giving sermons online instead of before a large congregation of parishioners. "The worse thing is you have to smile through it all. Because you don't want your listener feeling miserable," he says.
A big challenge will be conducting the 10-day-long Ganpati Chaturthi, one of the biggest public festivals, scheduled to begin on August 22nd. Even after the lockdown, until a vaccine or treatment is available, it will be impossible for it to be permitted in the usual manner. The most crowded Ganpati pandal in Mumbai tends to be the one in Lalbaugcha Raja. Here, queuing up to touch the deity's feet for a few fleeting seconds before you are shoved aside can sometimes take an entire day before your turn arrives.
The members of the committee that organise the Lalbaugcha Raja event are loath to answer queries about whether the festival can take place. Balasaheb Sudam Kamble, the current president of the committee, admits there are challenges but he says they will only take a call in the next one-month time. "Right now, we are only focusing on relief work. We still have time. Why worry now?" he says anxiously. In usual circumstances, preparations for the festival begin sometime in April.
There are several problems currently. Artisans claim there is a severe shortage of raw materials to make the many colourful and large statutes of the deity they are accustomed to. There is also a shortage of labour, with many those who helped out in workshops in cities like Mumbai, now having left for their hometowns. One pandal organiser—the Goud Saraswat Brahmin Sarvajanik Ganeshotsav Samiti, which organises a popular pandal in Mumbai's Wadala area—has announced that they will defer the Ganpati celebrations to February next year. "We have lakhs of people visiting our pandal. With the guidelines that are in place, we know it will be difficult to manage the crowds," Ulhas Kamat, president of the organising committee recently told a media outlet.
The isolation of the lockdown-the doing away of physical space of common worship-has meant people are examining their faiths in a new way. Each devotee has had to look inward. Religion has become less communal and more personal
All the centres of Vipassana, a form of Buddhist meditation popularised in India by the late SN Goenka, dotted across the country are now closed. Here, intense 10-day meditation sessions were done in total silence, cut off from the outside world. Since the lockdown, they are encouraging meditators to do the same 10-day sessions isolating themselves in a room in their residences. Messages are sent through WhatsApp groups specifying the dates on which everyone could do this unusual form of group meditation together.
Another community—so small and microscopic that one often forgets to notice it—also had a particularly challenging time during this lockdown. Jews in India, estimated by some to have about 4,500 members in their community, mostly live on the western coast in Mumbai and nearby areas. The Jewish faith has strict dietary rules. When the lockdown was announced, kosher food suddenly became difficult to source. For instance, the only shop in the area of Thane that served kosher mutton closed down. The problem became exacerbated when Passover approached last month.
"So we had to work around it," says Ezra Moses, a prominent member of the Jewish community in Thane who was also a former member of the committee that ran the only synagogue in this area.
The community organised for a mutton and a chicken shop to provide kosher products. They arranged for lamb blood required during Passover. (Jews mark their doors with a handprint of blood from the lamb, a tradition that comes from the story of how by such markings the Angel of Death would pass them over while bringing down the plague on the Egyptians for refusing to free Jews from slavery.) They also had a vegetable vendor supply enough lettuce and celery. (These 'bitter herbs' placed on Passover Seder plates are meant to symbolise the harshness of what the Jews endured in ancient Egypt.)
But not all of it went smoothly. The synagogue served as the nodal point for all these activities and many lived far away. "They couldn't do all this. So they improvised," says Moses. Some people put A4 sheets on their doors handprinted using chicken blood. Others, unable to source celery and lettuce, settled on potatoes, onions and karela.
"What can you do?" Moses says. "You just had to adjust."