St James' Court, once an almshouse and now a Taj hotel, is a stone's throw from Buckingham Palace and a stroll away from the Big Ben and Trafal­gar Square. Occasionally, swish London­ers can be found savouring their gin and tonic by the cherub-adorned fountain in the courtyard of the Victorian property, and rich Indians who visit the UK make it a point to stay here at least once. In no way does any corner of the 121-year-old property resemble a deal hub, which is what came of it most of December as the nearly year-long talks involving Air India, aircraft manufac­turers Airbus and Boeing, and engine-makers like GE, Rolls-Royce and CFM International, in­tensified within the four walls of the hotel.
On the table was Air India's desire to look spiffy and cut the flab, place an order for a new breed of aircraft that would cater to all arms of the airline's merged entities. The carrier placed its faith on two rookies who had never cut their teeth in aviation deals—Chief Commercial Officer Nipun Aggarwal and Head of Acquisition Yogesh Agarwal, a Shri Ram College of Commerce alumnus. The duo didn't disappoint. They struck a hard bar­gain with the sellers over negotiations that often stretched into the night. It culminated in the mother of all aviation deals as the Tata-owned carrier signed letters of intent with aerospace majors to order a mix of new narrowbody (short and medium-haul) and widebody (long and ultra-long-haul) aircraft—470 in all—for an estimated $73.55 billion, as list prices suggest.
The order encompasses 70 widebody aircraft—40 Airbus A350s, 20 Boeing 787s, and 10 Boeing 777-9s, alongside 400 nar­rowbody planes—210 Airbus A320/21 Neos and 190 Boeing 737 MAX single-aisle aircraft. Altogether, the airline has opted for 250 planes from the Airbus consortium and 220 aircraft from Boeing.
"Air India's induction of fifth-generation aircraft, the Airbus A350XWB, will help the airline operate with improved efficien­cy, reliability, less groundings dovetailed with 35 per cent lower operating cost, and over 28 per cent of lesser carbon emissions," says Mark Martin, founder and CEO, Martin Consulting.
It doesn't end there. In a LinkedIn post on February 15, Nipun Aggarwal confirmed that the airline also has the option to pur­chase 370 additional jets over the course of 10 years. Along with the option, Air India's new fleet order stands at an astounding 840 aircraft. But as an aviation hack quickly pointed out, in the business of flying, "option" means nothing when price negotia­tions have not been worked out, and delivery remains opaque. Industry insiders also claim the new orders will replace a chunk of Air India's old flying machines.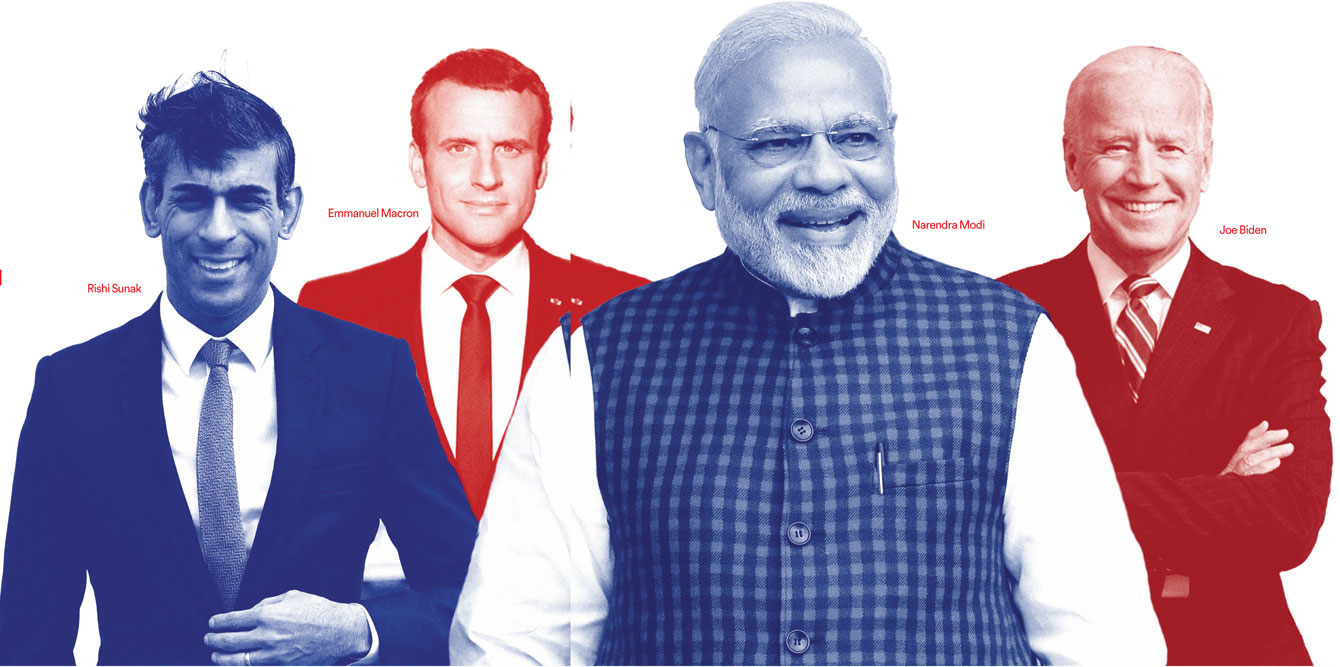 In late-2023, the first lot of aircraft, as per the deal, is slated to be deployed in the Air India fleet. But the bulk will really start arriving from mid-2025. The airline seems to have factored in the lull and started taking delivery of 11 leased Boeing 777s (widebody) and 25 A320 (narrowbody) aircraft. In Air India CMD Campbell Wilson's words, the move "will restore Air India to its former glory."
The deal now sits as a first in aviation history having surpassed American Airlines' 460-aircraft order in 2011. Alongside, Air India's dealmeisters maintained their composure and even snapped up the Power-By-Hour (PBH) agreements with engine giants GE and Rolls-Royce, which bind the engine manufacturer to offer maintenance and replacement for which the airline pays on utilisation basis. The practice had been stopped by engine makers worldwide but considering the size of the order and the profile of the Tata group, the duo managed to pull this one off as well. After closing the deal, the stakeholders had a hearty Indian dinner at the hotel's Michelin-starred Quilon restaurant that serves coastal food from the Konkan and Malabar regions.
The deal was unveiled before Prime Minister Narendra Modi and French President Emmanuel Macron over a video call on Valentine's Day. That very day, US president Joe Biden spoke to Modi as well, putting faith in the deal and said all Boeing planes part of the order will be made in the US and provide a million jobs. Even British Prime Minister Rishi Sunak hailed the 'landmark deal' Air India sealed with Airbus and Rolls-Royce
The scope of the deal goes beyond business. It has deep diplomatic implications. Though the deal was struck on February 10, Chairman Emeritus of Tata Sons Ratan Tata, Tata Sons and Air India Chairperson N Chandrasekaran, Air India CEO and Managing Director Campbell Wilson and Airbus CEO Guillaume Faury chose Valentine's Day to unveil it before Prime Minister Narendra Modi and French President Emmanuel Macron over a video call. The virtual meet was also attended by Minister of Commerce and Industry Piyush Goyal and Civil Aviation Minister Jyotiraditya Scindia. Significantly, Prime Minister Modi found this to be an ideal platform to yet again pitch for homegrown manu­facturing. "Many new opportunities are opening up in aerospace manufacturing under India's 'Make in India—Make for the World' vision," he said.
That very day, US President Joe Biden spoke to Modi as well. He put faith in the deal and said all Boeing planes that were part of the order will be made in the US and provide a million jobs across 44 states, and many will not require a college degree to take up these jobs, hinting at job-worthiness by bypassing high tuition fees in the US.
Even British Prime Minister Rishi Sunak hailed the "landmark deal" that Air India sealed with Airbus and Rolls-Royce, and said it will create highly skilled jobs in Wales and Derbyshire. "With wings from Broughton [Wales] and engines from Derby, this deal will support jobs all around the country," he tweeted.
It is in this context that Modi's 'Make in India' pitch resonates.
"India will need over 2,000 aircraft in the next 15 years. Under 'Make in In­dia', several new opportunities are aris­ing in the field of aerospace," he said.
In 2021, Boeing announced the ad­dition of a new production line under its joint venture Tata Boeing Aerospace Limited (TBAL) to manufacture com­plex structures for the 737 airplanes; Safran Group, a French multinational aviation company, has started setting up its largest and first aircraft engine MRO (maintenance, repair and over­haul) facility in India with an initial investment of $150 million, and setting up of a private manufacturing unit for Airbus' C-295 military aircraft, which will be jointly manufactured by Tata and Airbus out of Gujarat.
In India, the Air India acquisition alone is likely to create 200,000 direct and indirect jobs going by about 400 jobs for narrowbody aircraft, and 600-700 jobs for widebody beasts. Every aircraft would need at least 10 pilots and 50 others, including crew, maintenance engineers and ground staff. The airline is learnt to have stepped up on the gas by some aggressive hiring too. It is even pay­ing some B-777 captains (pilots) ₹2 crore annually. According to the sal­ary break-up of the role, Air India will pay $21,000 to the selected candidates every month, which annually works out to more than ₹2 crore per year. "It [the move] is audacious since Air India is trying to corner pilots [with huge pay] in a country which is al­ready reeling under a shortage of trained pilots," says an industry insid­er, requesting anonymity, and hinting at a deleterious impact on the sector with a supply-side crunch. The Ministry of Civil Aviation claims a total 744 commercial pilot licences were issued during 2019, which came down to 578 in the 2020. But it increased to 862 in 2021, and a record 1,081 licences in 2022. However, experts claim that the number of commercial pilot licences issued in recent years is hardly enough to meet the rising demand.
With India's 1.4 billion population, 65 per cent of whom are under the age of 35, air travel has a longer runway than else­where. With more people choosing to fly than ever before, India is today the third-largest domestic aviation market in the world, after the US and China, and the ambition is to pivot the country to the third position in the international arena over the next de­cade. Again, data from the Directorate General of Civil Aviation (DGCA) shows that air passenger traffic has risen by 47 per cent (factoring in the Covid blip) to 123.2 million in 2022 compared to a year ago. Now, according to a KPMG projection, that number could touch 1,124 million by 2040. It is then natural for the 137 airports in the country today to keep pace with such footfalls. "We have set a target of building 220 airports in the country by 2025," Jyotiraditya Scindia said in a recent interview. By 2040, that figure may also double. Accordingly, the number of com­mercial aircraft in India will grow from 700 today to over 2,500 by 2038, going by a Boeing report.
Air India's transformation plan outlined a three-phased approach—fixing the basics and readying itself for growth (taxiing phase); building for excellence (take-off phase); and, establishing scale to become an industry leader (climb phase)
Amidst the momentum, there is already talk of Delhi being dolled up as an international aviation hub, said Scindia in the interview. More hubs are also under review. To this effect, "con­sultations between airlines and airports have already started, and airports are exploring technologies like Automated People Mover Systems and intelligent solutions for congestion manage­ment, and improving infrastructure to reduce the Minimum Connection Time," says an aviation expert in the know.
Given the uptick in the Indian skies and a push by the gov­ernment, Air India's 'landmark' order is bound to boost its car­rying capacity significantly. "This order is an important step in realising Air India's ambition, articulated in its Vihaan.AI transformation programme to offer a world-class proposi­tion serving global travellers with an Indian heart. These new aircraft will modernise the airline's fleet and onboard prod­uct, and dramatically expand its global network. The growth enabled by this order will also provide unparalleled career opportunities for Indian aviation professionals and catalyse accelerated development of the Indian aviation ecosystem," N Chandrasekaran told Open.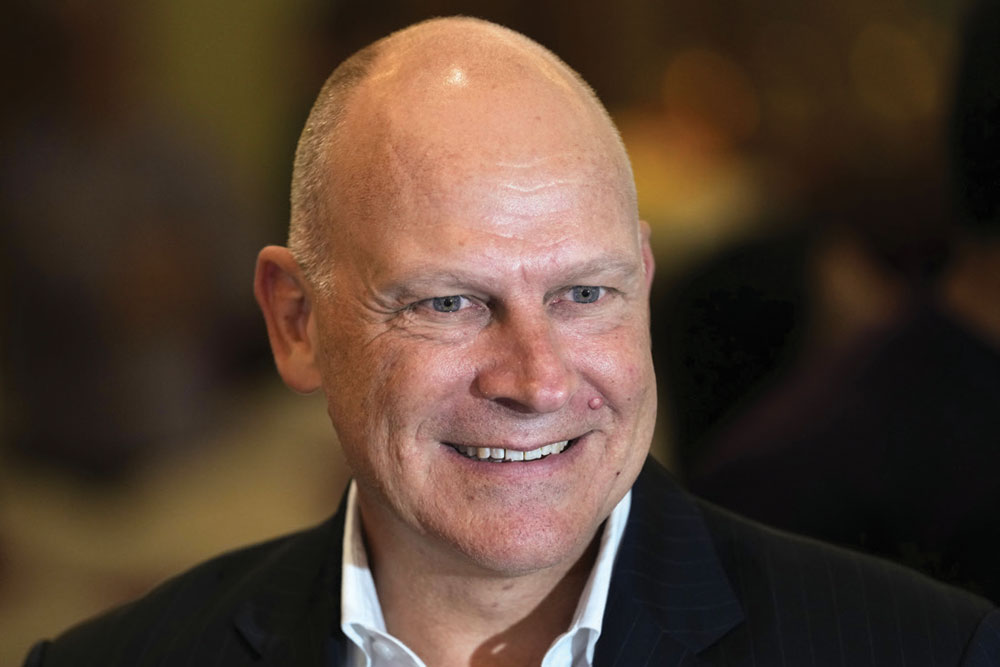 It was in September last year that Air India had launched its Vihaan.AI transformation plan with identified objectives for the airline over the next five years. Of course, considering how the airline was floundering as a public-sector enterprise for nearly seven decades with unwieldy cost struc­tures and mounting customer grievances, the transformation plan was like a breath of fresh air. So, after the Tata group bought back Air India (the Jawaharlal Nehru government had taken over Air India in 1953) in January last year, within seven months, the plan rolled in. It rested on five pillars—robust operations, exceptional customer experience, industry-best talent, industry leadership, and commercial efficiency and profitability. And to achieve its objectives, the plan outlined a three-phased ap­proach—fixing the basics and readying itself for growth (taxiing phase); building for excellence (take-off phase); and, establish­ing scale to become an industry leader (climb phase). Back in September, Air India's Wilson outlined the vision, saying, "Our fleet expansion will involve a combination of both narrowbody and widebody aircraft to cater to varied network needs."
It is in this light that Air India's new order book should be browsed. Vihaan.AI, partly the brainchild of dealmeister Yogesh Agarwal, though seems to have "torn a page from the Lufthansa Group AG's global strategy," says Martin, adding that the strategy with Air India's 470 aircraft order bears an "eerie resemblance" to Star Alliance's playbook. Star Alliance is the world's largest global airline alliance with Air India as its mem­ber. More than being a much-needed imperative, Air India's fleet expansion falls sneakily in line with the Star Alliance gameplan of offering global connectivity right from India being the hub, bypassing other regional hubs such as Dubai, Abu Dhabi, Doha, and Bahrain, says Martin. So does the fleet order, which bears an uncanny resemblance to Lufthansa's fleet, especially the Airbus to Boeing fleet imbalance, he adds. "Air India's broader gameplan, with the eventual induction of Airbus and Boeing aircraft, will be to act as a critical catalyst with furthering the global reach of Star Alliance—the long-time arch-nemesis of Gulf carriers Emirates, Etihad, Qatar Airways, and Gulf Air."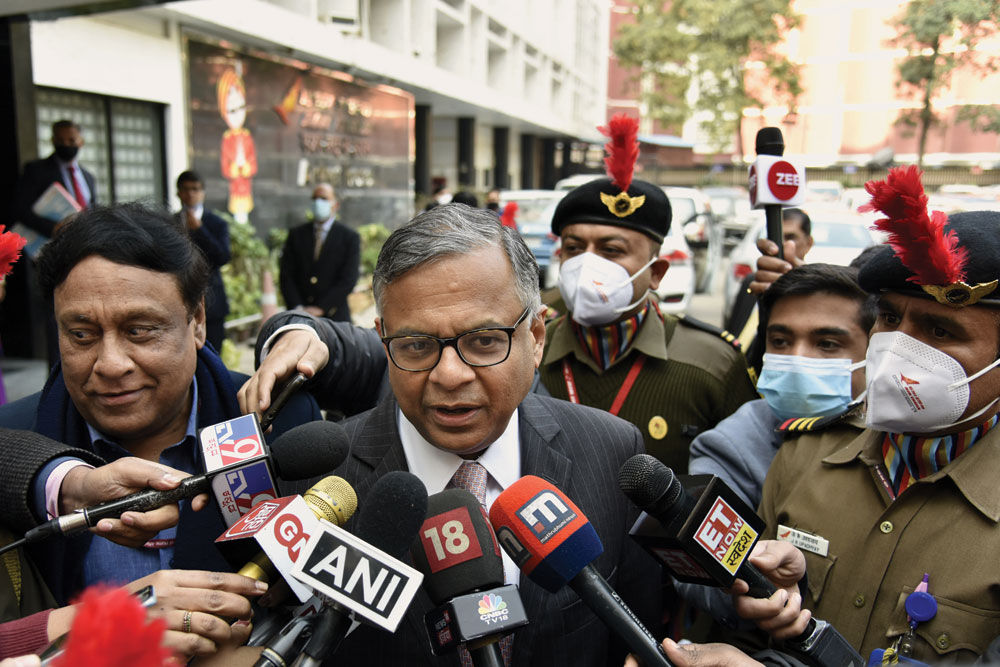 Back home, with the 70-odd widebody, twin-aisle airplanes, Air India will hope to take the place that per­haps Jet Airways had left behind. Jet Airways was declared insolvent under the Insolvency and Bankruptcy Code, the first airline in the country to get that tag, and had to suspend opera­tions in April 2019. So far, Vistara, the joint venture between Tata Sons and Singapore Airlines, has not breached that turf because "while Vistara may have had the money, they did not have the [international] slots. Air India had the slots but they did not have the planes," says the industry insider. In the coming months, Air India and Vistara are slated to merge and the new order may help the combined entity with both slots and planes.
Down the line, considering India indeed becomes an aviation hub, Air India could wage a war on four fronts, claims the insider. "They [Air India] will take on the might of the three big Middle Eastern carriers—Etihad, Emirates and Qatar Airways; Singapore Airlines and Cathay Pacific in Asia; Air France, KLM and British Airways in Europe; and Delta, American and United in the US."
In domestic skies, though, low-cost carriers (LCCs) clearly call the shots. As of January 2023, market leader Indigo had 54.6 per cent market share, followed by Air India (9.2 per cent), Vistara (8.8 per cent), GoFirst (8.4 per cent), AIX Connect, which was Air Asia India until December last year (7.4 per cent), Spicejet (7.3 per cent), Akasa Air (2.8 per cent), and others (1.5 per cent). Here, the cost-conscious Indigo model clearly soars above the competi­tion with about 300 aircraft in its network. It is way more than the 98-odd narrowbodies Air India, save Vistara, currently has in its arsenal to take on the domestic skies despite being around for decades. Indigo had probably crossed that number a decade ago in its 17-year existence. "All this is not entirely because of bureaucracy but due to the unsustainable cost structure of the airline [Air India]," says the insider.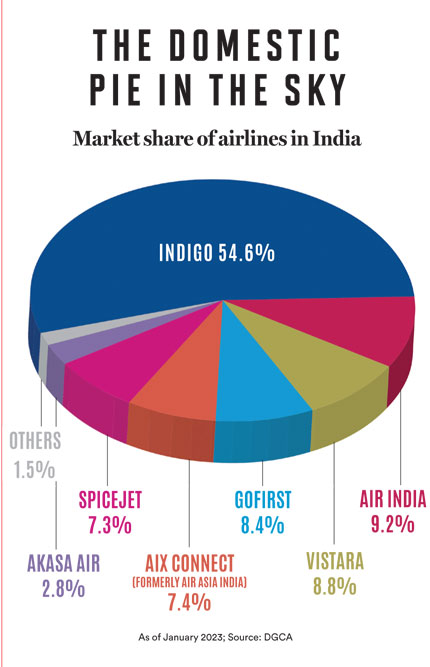 Another industry expert, Nitin Sarin, managing partner at Sarin & Co, a law firm specialising in aviation leasing and fi­nance, dubs Indigo "ruthless" when it comes to managing costs. "On average, Indigo keeps an aircraft operational for six years while Air India does so for 10-12 years. Indigo keeps its fleet fresh and fuel efficient, and works on standardisation of processes. It is disciplined."
After acquiring Air India last year, the Tata group, too, is seeking some of that old-fashioned discipline which the airline had lost over years of inefficient handling. Is that the route to win over the domestic sky?
Already, AIX Connect has started to take over some of the stations—Surat and a few northeastern cities—from Air India which has stopped operating in these places. Moreover, the Tatas have gone on record saying that they will follow a two-pronged approach domestically, with both full-service and low-cost carriers.
It is pertinent to see where full-service airlines lose money in the domestic sector. "It is when they operate aircraft configured in premium cabins during daytime," says Vinamra Longani, Head of Operations, Sarin & Co. It implies that when the aircraft flies either in the morning or evening, there is ample traffic to fill up business or premium economy classes. In the afternoons, the same aircraft flies largely with leisure travellers who don't cough up as much as the business traveller does. According to Longani, this is where Air India may score over Indigo, with its frequent flier programme. Indigo is yet to have one. He says that if Air In­dia operates 10 flights a day between Delhi and Mumbai, once its airlines are aligned, the morning flights may be operated by Air India with premium cabins, and the off-peak afternoon flights may be operated by Air India Express or AIX Connect—doing so will ensure premium capacity in those aircraft deployed on routes where they may make more money than deploying them on routes where there is little demand for them. "What could happen is there might be a frequent flier programme of the com­bined Air India-Vistara entity, and the prudent thing to do is to create a frequent flier programme to earn miles for Air India Express or AIX Connect, too, which is when you tie people in to your larger frequent flier programme. Once you're tied into a frequent flier programme, you will want to fly with Air India abroad as well," Longani says.
Longani also claims Air India's gameplan could be to add capacity overseas and ensure those routes are operated. "In or­der to feed those routes, you need a domestic network, which is where domestic capacity comes into play. So, domestic feeds into international, and vice-versa," he explains.
Only time will tell which way the wind will blow. As far as Air India is concerned, it is still a work-in-progress, perhaps still in "the taxiing phase", as its transformational Vihaan.AI docu­ment envisages. Even with the gigantic aircraft orders, "the Tatas are not going for profit today, but to fix what is wrong," says Longani. After all, the father of Indian aviation and the longest-serving chairman of the Tata group, JRD Tata, once flew a world-class airline.