This Budget session everybody missed the presence of former Finance Minister Arun Jaitley. But the good news is he is recovering from his ailments. He is staying in his own house in Kailash Colony where doctors have now given him permission to see visitors gradually. He meets four persons daily and there is a long waiting list. Jaitley has also started blogging, having just written a post praising the Budget. He also talks to people over the phone but with restrictions from doctors. The Prime Minister is said to be in frequent contact with him.
The Frenemy
Even though the BJP campaigned aggressively against Naveen Patnaik in the elections, he managed to easily beat the Narendra Modi wave and became chief minister for five more years. He seems to be harbouring no bitterness as was evident in him recently coming to Delhi to make a courtesy call on the Prime Minister. Even more tellingly, he gifted a Rajya Sabha seat to the BJP candidate Ashwini Vaishnav, a former secretary to Atal Bihari Vajpayee. Two Biju Janata Dal Rajya Sabha candidates won without a contest. So there seems to have been a deal done. To the media, Patnaik said that the Prime Minister requested for Vaishnav's Rajya Sabha seat and he thought he should respect it. Also interestingly, when Patnaik was in Delhi one of those who went to visit him in Odisha Bhavan was Petroleum Minister Dharmendra Pradhan, who had been projected by the BJP as their chief ministerial candidate in the state. They had a long meeting and Pradhan said Odisha's development and projects were discussed.
Double CM Hopeful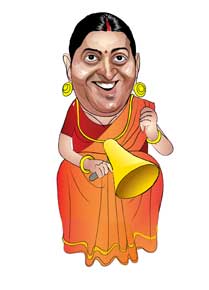 After defeating Rahul Gandhi in Amethi, Smriti Irani is getting a large number of request from party units in different states to visit them. Recently, a few BJP leaders from West Bengal requested the party to send Irani as a chief ministerial candidate against Mamata Banjerjee. Their reasoning was that Irani's mother is a Bengali whose surname was Bagchi and she can speak the language fluently. She is very popular in the state as was evident in crowds thronging to her rallies. But in Delhi, there is also another gossip making the rounds, of making Irani the chief ministerial candidate against Arvind Kejriwal. She has a strong Delhi connection having fought her first election from Chandni Chowk after joining BJP.
Advisor Vacancy
President Ram Nath Kovind's media advisor Ashok Malik is leaving after completing his two-year tenure. July 31st will be his last date in Rashtrapati Bhavan. He used to write all the speeches of the President and as someone close to Modi and Jaitley, was a silent bridge between the Government and Kovind. Malik used to be with the Observer Research Foundation and it is possible he will return there in addition to writing articles and making appearances on news channels. But Kovind would like Malik to continue for three more years given that his tenure so far has been without any media constroversy. The post has been historically held by Indian Foreign Service officers, like today's Foreign Minister S Jaishankar. The diplomats' lobby want it to go back to the IFS. The Government will now have to decide whether to have a political appointee or a bureaucrat to replace Malik.
Resignation Dilemma
Several Congress leaders are resigning following the footsteps of Rahul Gandhi but they run into a curious issue. Because there is no Congress President now, who will accept the resignations? West Bengal Congress President Somen Mitra had to give the hard copy of his resignation to someone, so he sent it to Gaurav Gogoi, who is the party's in-charge of Bengal. But Gogoi asked Mitra to continue since there was no President.
Sudden Interest
Parliament this session has been unusually crowded. There is a huge line of visitors, which security personnel say is rare. The public galleries of Lok Sabha and Rajya Sabha, the reception and canteen are daily full of students and tourists. But what is the reason behind it? One security officer said this time more than 300 members of Parliament are new and a lot of party workers and people seeking jobs are coming from their constituencies. BJP supporters are also said to have suddenly developed an interest in Parliament as part of their new-found nationalistic spirit. Luckily, because of BJP's majority, there are no walk-outs happening and so visitors get to see a working Lok Sabha without frequent adjournments.
New Hitlist
Amit Shah recently hosted a dinner in honour of the just-retired Intelligence Bureau director Rajiv Jain, and Research & Analysis Wing secretary Anil Dhasmana. But Shah managed to insert some work too into the dinner and is said to have sought a new hitlist of terrorists active in Kashmir who must be finished in 2019. Officials are finalising the list and two Pakistanis reportedly feature in it.