IN THE MID-1990S, in the salad days of the craft beer revolution in the US, Anheuser-Busch (AB), the makers of Budweiser beer, deployed a smart tactic by flooding the American market with their version of 'craft' beer, naming it Ice House. It was actually a lager they had positioned as craft with no indication anywhere on the pack that it was a Budweiser product. It wasn't long though before people called their bluff and the product was pejoratively dubbed 'crafty' beer.
The American craft beer rush of the '90s is being mirrored in India today with 200-plus microbreweries dotting the country. It has taken over a decade but a vibrant craft beer culture seems to have taken root, particularly in Bengaluru, home to almost 60 of the 200 brewpubs (a restaurant with an on-site brewery), and is visible in Gurugram, Pune, Mumbai, Goa, Kolkata, Hyderabad and even in Ludhiana and Jalandhar. Discerning customers and connoisseurs apart, the mushrooming of microbreweries has led to a livewire ecosystem peopled with beer entrepreneurs, microbiologists, technologists and underground homebrewers.
It has also taken the international troika of Heineken, AB and Carlsberg by surprise. After all, together they account for 90 per cent of India's beer market. No surprises then that the Heineken-controlled United Breweries (UB) and AB have more than doubled their efforts to take on craft players. AB recently set up 7 Rivers Brewing Co and launched two very local-sounding wheat beer varieties, Machaa and Veere, which they started vending in Mumbai in November. "UB will be bringing out its craft-like beers by year-end," a UB representative says.
For the burgeoning tribe of beerpreneurs and beer pilgrims, such insolence is nothing short of heresy. They know their craft from the volume-driven industrial lagers, which dominate the market with 85 per cent 'strong' beers where the alcohol content hovers around 8 per cent by volume. By definition, craft beer dispenses smaller volumes but a larger variety using the best ingredients and traditional methods of production, avoiding anything artificial that can be classified as industrial beer.
With the foray of the beer biggies in the trade, craft beer makers question the very tenets of brewing quality beer by players with 80 or 100 times their capacity per brewery. Gaurav Sikka, Managing Director of the Bengaluru-based Arbor Brewing Company (ABC), reveals: "The offering of the industrial beer makers is akin to 'gateway craft', something between commercial mass beers and craft beers. In India, Bira, Simba and White Owl have popularised that category," he says, referring to some crafty, me-too endeavours that are, again, not quite there.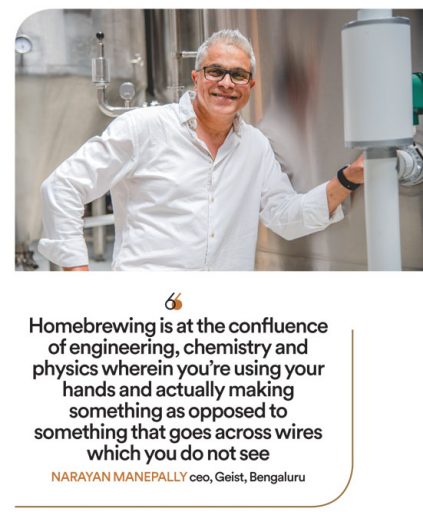 AS BEER EVANGELISTS, Sikka, Narayan Manepally (co-founder and CEO of Geist), Sibi Venkataraju (Director and co-founder of pH4 Food and Beverages that owns Toit breweries and taprooms), Aditya Challa (brew master and co-founder of Susegado) and Ishaan Puri (founder and Director of Himalayan Pale Ales, the makers of White Rhino beers) and a handful of others are pioneering a craft beer revolution in India. At times, they are lobbying with state governments for more voice and a separate category for craft, educating the market by spreading awareness about the virtues of the organic guzzle, innovating with regional herbs, fruit and spices and infusing a certain nativity to the taste and aroma of beers, and now, stepping out of their microbreweries by kegging and canning their beers for the market at large, even exporting them to alehouses in the UK. Unlike stiff competition among industrial beer makers, the craft frat revels in collaboration brews. Just like when Sikka took a batch of his brew from ABC to Pune's Great State Aleworks and made a stout from Pune's locally sourced sarsaparilla root; Great State also reciprocated with its own variety. Similarly, in 2014, when a community of homebrewers came to ABC, discussions resulted in its popular Beteljuice Pale Ale, a combo of lemongrass and betel nuts.
In 2010, Sikka lobbied hard with the Karnataka government for licences and kicked off with the ABC brewpub in Bengaluru. Last year, ABC set up a distributing unit in Goa, from where it kegs and cans three of its beers to 250-odd retail locations, along with a taproom with eight beers on tap. The company is planning to enter Bengaluru's retail market soon with two varieties: an India Pale Ale (IPA) and a Hefeweizen wheat beer.
Now there's a thing about wheat beers as 'gateway' to craft. Apart from being considered healthy, they are gently hopped, so the bitterness is reduced considerably. Besides, they have extremely approachable taste and aromas, claims Manepally, a technologist-turned-brewer who relocated to Bengaluru from the US at the turn of the millennium, ran helter-skelter for a licence to open a microbrewery, got rejected and eventually took his wheat beer recipe to Belgium and imported it to India as Geist beers. He was the first off the block to launch wheat beers in India. In 2011, soon after a few brewpubs showed up in Bengaluru, he too got into microbrewery, investing in two brewpubs in the city and vending almost 20,000 litres of beer a month.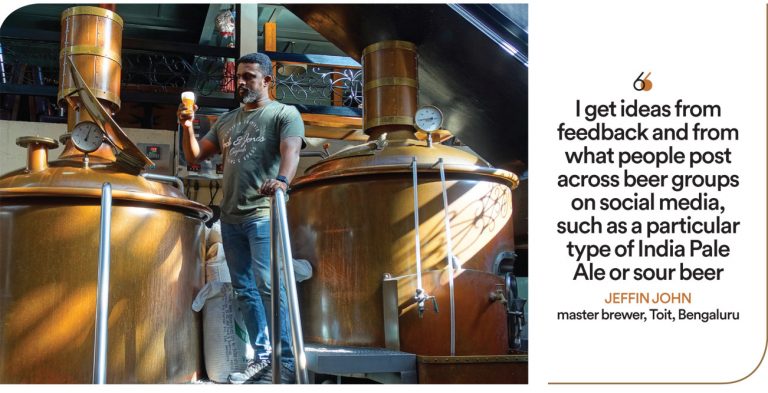 Now, Manepally has set up a brewery over two acres on Old Madras Road from where 20-litre and 50-litre kegs leave in cold trucks every other day, supplying 11 varieties of 40,000 litres a month to 90-odd venues across the city. He wants to take his beers to other cities without affecting the quality of the product too much. He's also willing to wait it out for the next leap in brewing innovation, be it in science, distribution, logistics, warehousing or packaging. "There will be innovation in microbiology where a lot of experiments are happening in yeast, yielding new results," says Manepally, citing the example of Belgian Wit Beer, infused traditionally with curacao orange peel and coriander. "I've done some study of how some yeast cells are being genetically modified now to release esters that actually have orange flavour in them and so when you add yeast through fermentation, you can produce the orange effect naturally." It doesn't end there. Hops too need a different climate and soil and research is on in Pune to produce them indigenously. Such innovations may change the market fundamentally by reducing costs (most yeasts and hops used to produce beer are currently imported).
Innovations in the supply chain too are underway. After investing in a brewery in Goa with cold chain technology even at the distributor's warehouse, Sikka faced a conundrum as retailers began sending his 'chilled' beer back. "They wanted warm beer as they didn't want to invest in cold storage. For craft, cold-warm-cold is better than warm-warm-warm," says Sikka, explaining the supply chain from the manufacturer to the retailer to the consumer. These also happen to be unfiltered beers and, hence, unpasteurised. They need to be stored in cool conditions, heat and the tropical sun being the biggest deterrents. For this reason, while Sikka is managing with just-in-time delivery so that his beers are fresh, 38-year-old Challa of Susegado is yet to get into bottling or canning and supplies only kegs to retailers. For the latter, it's the muscle power of larger players that is skewing the market. "Bottling can be expensive and at every outlet, we have to equip [retailers] with a fridge and hope they use it, which the bigger players anyway do with ease. Besides, in Goa, a lot of bars and establishments are waiting to see what they get next from brewers in terms of freebies," he says, adding that getting 53 cases a month free is not unheard of in Goa and many larger players actually oblige.
Apart from Goa, Challa owns breweries in Hyderabad and Kolkata, though he is awaiting a licence in Kolkata. Though it's a longer burn trying to set up a brewery in each state, he feels it pays off more than sending beers across states. "If we brew just in Goa and sell in other markets, it's not easier than getting a licence to brew in those states, as there is always a risk of retaliatory taxes interstate," he says. For instance, since alcohol is out of the Goods and Services Tax (GST), while Karnataka taxes domestic wines lightly, Maharashtra retaliates by imposing such stiff taxes that it is almost impossible to sell wines made in the former state there. Challa fears beer also carries the same risk, so he sets up small breweries in each state. Prior to setting up his Goa brewery, Challa ran a brewery in Singapore for five years but returned as he was unable to keep up with the high Singaporean taxes, which makes him wary of the tax structure in this country too.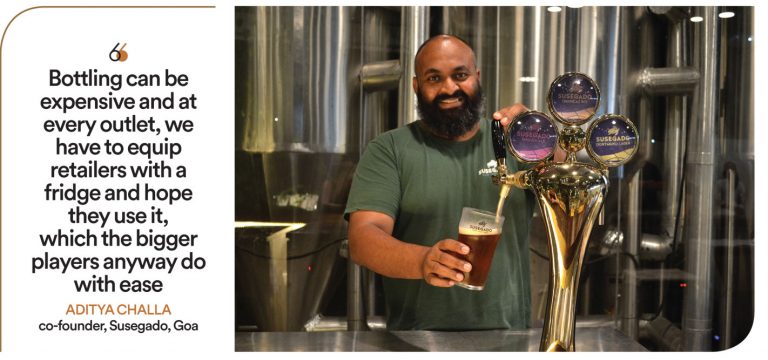 Sibi Venkataraju too worked in Singapore and used to frequent the iconic Brewerkz microbrewery on Clarke Quay there. That got him hooked to craft and in 2011, he started Toit in Bengaluru, the eighth brewpub in the country. In 2017, he opened a brewery in Pune with a capacity of 250,000 litres a year, from where he kegs his beers to both Mumbai and Pune. He's also building a brewery with a 3-million-litre capacity outside Bengaluru from where he plans to keg and bottle across the country—for which he has applied for a commercial brewery licence, like all large players. "Unfortunately, microbrewery licences in our country are restrictive since in certain states, like Karnataka, they don't allow you to keg and bottle outside your premises," says Venkataraju, adding that with such capacity, they are targeting multiple markets across states, as well as exports. Manepally's Geist and Sikka's ABC are also believed to be in possession of such a commercial licence. So is Ishaan Puri of White Rhino, with which he has set up a 3-million-litre capacity brewery in Malanpur outside Gwalior in Madhya Pradesh—"almost in the middle of India from where you can reach any market in a short time, key to maintaining quality of craft beer", Puri says.
At the moment, White Rhino has four offerings—a German-style Bavarian lager, a Belgian Wit Beer, an IPA and a pale ale—and Puri is of the firm belief that whatever he brews should hold ground in any market of the world. He is the only craft beer exporter in India with a growing footprint in the sophisticated UK market. "I don't have any plans to set up a brewery in the UK and we'll keep shipping our produce, so that we'll have complete control over quality."
After having spent years in the US studying and working in New York, Puri returned to India and, in 2011, signed up for a six-month diploma course at Brewlab in the UK. Next, he roped in James Grastang, a brewer at London's popular Kernel Brewery. That's how White Rhino came into being in 2016 though Puri is quick to admit that craft beermaking relies essentially on passion and constant innovation, leading to a stream of products in small batches unlike the one-size-fits-all industrial lagers.
SUCH INNOVATION COMES naturally to Jeffin John, master brewer at Toit, who infuses beers with local fruit and vegetables, like jamun, jackfruit, mango, mosambi, pumpkin, chilli, basil and even passionfruit. Even 31-year-old Koushika Viswanath, a homebrewer-turned-head brewer at The Grid brewpub in Kolkata, has experimented with local flavours and come up with winners in Gondhoraj (local kaffir lime) Pale Ale and Gobindo Bhog Rice Beer, a local grapefruit IPA and a bel (fruit from the bel tree) beer that bagged an award in Pune. The Grid is the largest brewpub in Kolkata producing 7,500 litres a month and wants to keg it soon once the licence is ready. Its owner, Gaurav Karnani, has ambitious plans to take his brand pan-India: to Hyderabad first, then to Delhi, Mumbai and Goa, in that order.
Viswanath has a microbiology background and started with homebrewing as a hobby with a pot for daily cooking using wheat or barley from the local grocer. After several unsuccessful batches, his beers got a body and, egged on by connoisseur friends, he got a Masters in brewing from Scotland. As a head brewer at The Grid, he knows that the east has a sweet tooth and even improvised on the bitter stout by crafting a sweeter milk version.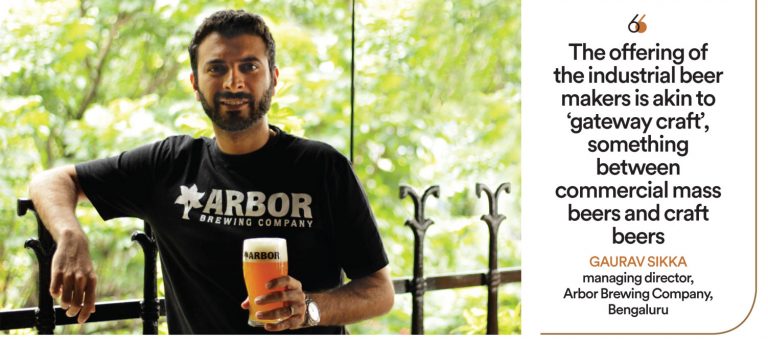 Homebrewing is not for the faint-hearted. Though Facebook and WhatsApp groups for homebrewers have surfaced in the recent past, many don't want to reveal their names as they're scared of the law catching up with them. Nebulous liquor laws in India have created a sense of ambiguity whether making beer for personal consumption is legal. Elroy Carlos Figueiredo is a member of a Facebook network called 'Friends of Froth', which boasts 8,000 members, making it the biggest beer community this neck of the woods. It is a community of like-minded craft beer lovers who regularly meet to discuss styles and aromas, tastings and trivia. But Figueiredo admits that some members in his group are diehard homebrewers and claims their tribe is growing with access to brewing equipment online for as little as Rs 15,000 a pop. But Anudeep Reddy, brand ambassador for the Bengaluru-based Byg Brewsky Brewing Company, claims that while the basic kit won't pinch, "to brew all beer styles, you need a cooler setup, which requires heavy investment". To understand what really makes homebrewing so addictive , Manepally reasons, "Homebrewing is at the confluence of engineering, chemistry and physics wherein you're using your hands and actually making something as opposed to something that goes across wires which you do not see."
As the craft brew movement gathers momentum, the global beer biggies are finding newer ways of making a dent in the market. They may eventually buy out some of the homegrown microbreweries, just as some of the biggies have done in the US and elsewhere, but will never be able to fit into the time-tested definition of brewing craft. A shorter shelf life and greater variety is what makes the new beer economy so frothy. Maybe, our beerpreneurs have taken a leaf out of Edward Abraham Dyer (father of Colonel Reginald Edward Dyer, the British officer responsible for the Jallianwala Bagh massacre), who in 1830 set up India's first brewery in Kasauli, which later shifted to Solan near Shimla, from where Dyer Breweries used to roll out Lion Beer in the 1840s, an India Pale Ale that changed in the 1960s to a lager. Lion roared as the eminent beer in India for over a century and has earned a place in history as Asia's first beer brand. Probably, it's time for an encore.