EVEN AS LATE AS 2013, Sachin Pilot—who has now raised a banner of revolt in the Congress citing irreconcilable differences with Rajasthan Chief Minister and seasoned politician Ashok Gehlot—was not among those colleagues Gandhi family scion Rahul Gandhi considered friends or close associates. This is notwithstanding his age and lineage: he was 36 then, an alumnus of Wharton and St Stephen's and the son of the late Congress stalwart, Rajesh Pilot. Pilot, of course, had everything going in his favour for close to a decade then: in 2004, he became the youngest Member of Parliament (MP) at 26, winning from Dausa, his father's constituency from 1991 until his death in 2000. He became a minister in the Manmohan Singh Government in 2012. But he was yet to make it to Rahul Gandhi's close circle of young Congress leaders.
Gandhi was then friends with many others, though, including, interestingly, Pilot's brother-in-law Omar Abdullah, who was a family friend of the Gandhis. Abdullah had all the right credentials: he was an opposition leader and didn't pose any threat to Gandhi's leadership. He was also well-educated, almost of the same age group, and had all the required social and cultural credentials. Among his own party colleagues, Gandhi hung out with the guitar-playing Milind Deora and his brother when in Mumbai, a family with deep connections with corporate houses and industrialists. Gandhi, though, had few obvious close friends. And, as it transpired soon enough, even fewer experienced and shrewd political advisors to guide him through what to him must have been a maze of mirrors.
The equations that Gandhi had with Pilot were destined to change very soon. In fact, in a matter of months. After the resounding drubbing the Congress suffered in the 2014 Lok Sabha elections, Gandhi started taking lengthy breaks on foreign shores. One of his favourite destinations was Kenya's Masai Mara National Reserve, an area of wilderness frequented by the likes of Amitabh Bachchan and his family, Uddhav Thackeray, and so on. Pilot began accompanying Gandhi on these leisure trips to Masai Mara, and this newfound camaraderie did not go unnoticed by other party leaders. By then, Pilot clearly had access to the Congress high command steered by the family matriarch Sonia Gandhi and her children much more than most others did. Over time, although Pilot's trips to Masai Mara with Gandhi stopped, there was little doubt that he still enjoyed the latter's trust. Pilot would presently go on to become Rajasthan's state Congress president. After all, the family, which always rewarded its loyalists, was the unquestioned wielder of power within the Grand Old Party thanks to access to money and election funds.
John Echeverri-Gent, a professor at Virginia University, who has done a study on election funding in India, has for long argued that the Nehru-Gandhi family maintained its supremacy within the Congress thanks to its control over election funds. His paper had said that the inflow of campaign finance allowed the family to centralise control. "They [the family] tend to have more access and control over this funding. Centralised campaign funding is a key feature of any dynastic political party, be it the Congress or the DMK," he had said in an interview to Indian media. All that helped the high command eliminate the role of affiliated mass organisations in electioneering. "Because the family has access to these funds it reduced the party's incentive to build organisations—affiliates—that connect with segments of civil society," he had said. But then, with the inflow of money slowing down since the reversal of its political fortunes in 2014, things were meant to take a different turn.
Rahul Gandhi has been doing poorly both for himself and his party. From Himanta Biswa Sarma to Jyotiraditya Scindia and now Sachin Pilot, few young men have stuck around with him
Gehlot, meanwhile, was someone trusted by all members of the first family of the Congress. Born in 1951 in a poor family in Rajasthan, he had worked with his magician father before he became a professional magician himself—and before Indira Gandhi spotted his organisational skills during the refugee crisis that followed the 1971 war with Pakistan. A bright student, Gehlot, who came under Indira Gandhi's spell, joined youth politics and managed to acquire degrees in law and Economics. He would over time become one of the Congress' excellent general secretaries besides holding plum positions at the Centre and as Chief Minister of Rajasthan. His rapport with the family was so good that in 2018 it was a foregone conclusion that if the Congress won in Rajasthan, Gehlot, not Pilot, would be the chief ministerial candidate of the family. Pilot had to settle for the post of Deputy Chief Minister although he had spent a lot of time refurbishing the organisational apparatus of the party in the state and in enhancing its electoral prowess.
Obviously, Pilot was not happy with the arrangement even though he yielded to pressure in late 2018. The friction between the Chief Minister and his deputy reached a hysterical high after the Rajasthan police sought his answers recently about alleged plans by the BJP to purchase Congress MLAs to bring down the party's government in the state. Gehlot is also the state Home Minister and that is why Pilot saw the notice sent to him by the police as an attempt to humiliate and harass him. He could no longer work with Gehlot, he declared—and rebelled. Congress sources also say that Pilot's rebellion was delayed by the Covid-19 outbreak and that he had planned to come out in public about his opposition to Gehlot in March.
The tale of woes over power-sharing that began in late 2018 reached its sordid denouement on July 14th, when the Congress officially sacked him from the twin posts of Deputy Chief Minister of Rajasthan and state Congress president, once again shooting itself in the foot. The developments came in quick succession after a last-ditch attempt by senior Congress leaders to appease Pilot came to nought on the evening of Monday, July 13th. The Rajasthan leader had camped in New Delhi for nine days after throwing his gauntlet down before the party's leadership in New Delhi. Refusing to be trapped in the usual round of 'ring a ring o' roses', he then refused to meet Rahul Gandhi and refused to attend a meeting of Congress MLAs from his home state called by Gehlot. Pilot had already laid down his terms and made up his mind to cross the bridge in his efforts to do things on his own terms.
ON JULY 13TH, just a day before the Nehru-Gandhi parivar chose finally to stop dithering, only to rudely strip Sachin Pilot of his posts as Deputy Chief Minister of Rajasthan and state Congress chief, senior party leader and vocal colleague Kapil Sibal tweeted in acute distress: 'Worried for our party. Will we wake up only after the horses have bolted from our stable?' The tweet came at the height of the power tussle between Pilot and Gehlot and de facto Congress supremo Rahul Gandhi's steadfast refusal for weeks to come up with a strategy that would ensure a patch-up and not endanger the Congress government in Jaipur or the future of the party in the state. Sibal's was not a lone voice. From senior to mid-ranking, Congressmen and women were publicly voicing their angst at the developments. Late on the evening of July 14th, former MP Priya Dutt tweeted: 'Another friend leaves the party. Both Sachin and Jyotiraditya [Scindia] were colleagues & good friends. Unfortunately, our party has lost 2 young stalwart leaders with great potential. I don't believe being ambitious is wrong. They have worked hard through the most difficult times.'
On July 14th, however, the stage unit of the party accused him of colluding with the BJP to topple the state government, following the decision to sack him along with two ministers in the rebel camp. Yet, national leaders continued to express their anguish at his exit. Shashi Tharoor tweeted: 'I am sad to see @SachinPilot leave @INCIndia. I consider him one of our best & brightest, and wish it had not come to this. Instead of parting, he should have joined the effort to make the Party a better & more effective instrument for his, and our, dreams.' The next day, however, party leader Sanjay Jha, who has lately been persona non grata for the family, was suspended from the Congress after he tweeted in favour of Pilot. He had tweeted mocking the high command: 'For five years Sachin Pilot gave his blood, tears, toil and sweat for the Congress party between 2013-18. The Congress came back from a wretched 21 seats to 100. We just gave him a performance bonus. We are so meritocratic. We are so transparent.'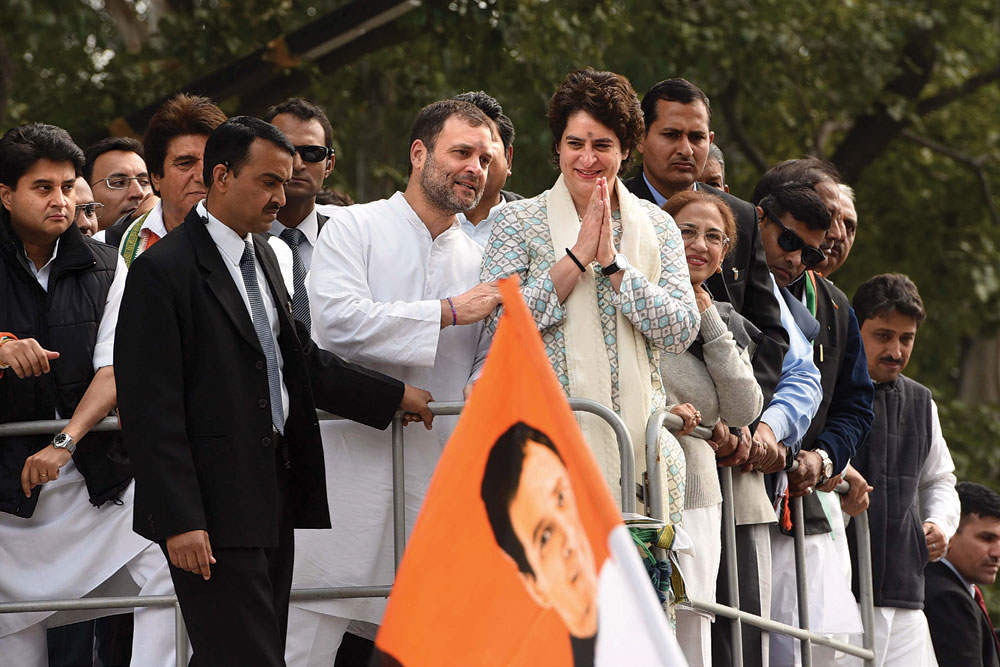 The central leadership's efforts to defuse trouble in Rajasthan were far from satisfactory. After having dug their heads in the sand for weeks—after it became clear that Pilot could do a Scindia (who switched sides to the BJP in Madhya Pradesh) in Rajasthan—the Congress' first family assigned lightweights like Randeep Singh Surjewala and KC Venugopal to sort out the mess in Jaipur. The impasse only compounded, despite Abhishek Manu Singhvi pleading on July 13th with Pilot to relent and not to take a hard stance. Early on July 14th, Surjewala brusquely announced the leadership's decision to oust Pilot from his posts, besides removing two of his supporters as ministers.
Petulance and pique, imperiousness and ignorance have once again defined the de facto supremo of the Congress, Rahul Gandhi. A man given to monologues and pithy conversations of limited awareness, Gandhi, was already a leader with a singular lack of political depth and little to set him apart except entitlement. That was clear when, in Gujarat, he backed new entrant Hardik Patel as the state Congress' working president. This was directly at the cost of key leaders like Bharat Solanki, who lost the Rajya Sabha election. Hardik Patel was identified with a sectional cause of Patels, whose votes by and large continue to remain firmly with the BJP. It was the KHAM (Kshatriya, Harijan, Adivasi, Muslim combination, propounded by Madhavsinh Solanki) experiment that created a large vote base in the state for the Congress. With that platform, too, now crumbling, the Congress is likely to face more trouble in the state.
Nor has Rahul Gandhi's sister Priyanka Gandhi made things look better for him. After the disaster that the migrant bussing incident turned out to be, the Congress' great hope in Uttar Pradesh bungled further by backing Chandrashekhar Azad ('Ravan') and, later, demanding a probe into Vikas Dubey's death. While she chose to view this through the prism of the Brahmin vote in India's most populous state, there was little evidence on the ground that the community perceived Dubey as anything but a gangster. Some analysts contend that Priyanka Gandhi's posturing has proved to be a political gain for Uttar Pradesh Chief Minister Yogi Adityanath.
The Gandhi family should have been more sensitive to the plight of Pilot after Scindia's exit. A strategy to secure the hard-won Rajasthan mandate was imperative
His sister's shenanigans apart, Rahul Gandhi has been doing poorly enough both for himself and his party over the last few years. From Himanta Biswa Sarma in Assam to Jyotiraditya Scindia in Madhya Pradesh and now Pilot, few young men have stuck around with Rahul Gandhi displaying anything remotely close to confidence in his leadership abilities.
The sharpest irony is that while Gandhi keeps up his personal attacks on Prime Minister Narendra Modi despite the latter's soaring popularity ratings, his inaction has prompted many young leaders to leave the Congress and join the BJP. For the younger brigade of enthusiastic leaders, which should have been enlisted proactively to give the Congress a new direction, the Nehru-Gandhi family had little. On the other hand, it is being increasingly seen as an unlikely platform for both young leaders with aspiration and voters. Worse, the party continues to lose power in large swathes of India thanks to its inability to become a counterweight to the BJP.
PILOT'S OWN INCREASING ire and his frustration with the party and its top leadership, especially Rahul Gandhi, over its refusal to intervene and settle the power struggle between Gehlot and him was the worst-kept secret in political circles. Pilot's distress was not entirely unusual. His own ambitious father Rajesh Pilot and Jitendra Prasada, another top leader (and father of Jitin Prasada, another of Rahul Gandhi's 'friends'), had joined hands years ago to revolt against the then Prime Minister PV Narasimha Rao in the early 1990s. Rajesh Pilot had gone to the extent of declaring that had he been in charge of the home ministry, he would never have allowed the demolition of the disputed structure at Ayodhya. (By the designated day they were to meet at the residence of party leader PA Sangma's house, however, both Prasada and Pilot had lost their courage.)
The first family of the Congress should have been more sensitive to the plight of Sachin Pilot, all the more so after Scindia's defection, with 20-odd MLAs in tow, to the BJP. A strategy to secure the hard-won Rajasthan mandate was imperative and long-pending. After losing Madhya Pradesh, and with Karnataka, among the bigger states, earlier slipping to the BJP, the Congress leadership can ill afford to let the BJP secure Rajasthan as well. Even in Chhattisgarh, where the Congress has a brute majority, the party has been forced to make 15 of its MLAs parliamentary secretaries, exposing its nervousness and concern that they could decamp if not given some posts on a war footing.
Worst of all, the current episode of implosion in the party stemming from Pilot's exit could further debilitate an already wobbly opposition nationally. Leaders in the ruling BJP, too, acknowledge that a strong opposition is imperative to a vibrant democracy. Yet, Rahul Gandhi twiddled his thumbs until the point of no-return on resolving the problem in Rajasthan. Perplexingly, the family and its scion have refused to draw lessons from the past when it lost other leaders, such as Mamata Banerjee in West Bengal, a veteran like Sharad Pawar in Maharashtra, and Jaganmohan Reddy in Andhra Pradesh. All of them broke with the exclusive Nehru-Gandhi family entity that the Congress had become only to launch regional parties that thereafter became successful in their home states.
The crisis in Rajasthan proves, yet again, that the Congress high command does not have its ear to the ground at a time when the BJP has transformed itself into a political behemoth under the unchallenged leadership of Narendra Modi.

PR Ramesh is Managing Editor of Open