IN 2009, Justice K Kannan of the Punjab and Haryana High Court became perhaps the country's first judge to voluntarily make his assets public. He did this after an open letter addressing all judges of the Supreme Court and high courts from the Campaign for Judicial Accountability and Reform (CJAR) argued that by doing so, they would be setting a worthy benchmark for transparency on their financial status and property.
Those standards, it seems, proved to be too high for many in the legal profession, leave alone other public servants, to follow. Whispers of undue influence brought to bear on the justice system had already begun to cast a shadow on the profession by the turn of the decade, throwing up questions about the impartiality of the Judiciary in some key corporate and political verdicts. Open criticism was blocked by invocations of cases being 'sub judice', but it is not as if India has no provision to put the conduct of judges under scrutiny. This is the task of the Legislature, and in August 2011, Soumitra Sen, a former judge of the Calcutta High Court, was impeached in the Rajya Sabha for misappropriation of funds.
In 2010, barely a year after the CJAR made its appeal, the Judiciary was forced to question its own fraternity, whether it was the Supreme Court's observations against the Allahabad High Court, or the case of a sitting judge pointing a finger at a former Chief Justice of India (CJI). In December 2010, HL Gokhale, a judge of the Supreme Court, issued a statement accusing former Chief Justice of India KG Balakrishnan of lying, in essence, when he said the then Central minister A Raja had not been mentioned specifically in a complaint of undue influence being exerted—in a 2009 criminal case—on Madras High Court judge S Reghupati. This raised the question of whether the CJI's integrity was compromised.
In August 2014, then Press Council of India Chairperson Justice Markandey Katju alleged that Justice Balakrishnan had aggressively pushed for the elevation of a Madras High Court judge with a 'bad reputation' to the Supreme Court, someone against whom Parliament later initiated impeachment proceedings. Once again, uncomfortable questions arose in the public domain. It wasn't until 2015, however, that an Income Tax Department probe of whether the former CJI had assets disproportionate to his income was called off (and no fresh investigation instituted), upon the Government's contention in court that no evidence had been found and that keeping him under the scanner would 'set a dangerous precedent'.
Open has spoken to intelligence and Income Tax officials to profile four middlemen of varying class and clout who had price tags on judicial verdicts before they were delivered.
THE COOK WHO KNEW TOO MUCH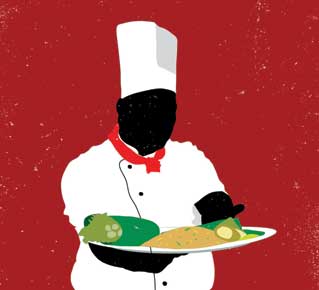 FEW JUDGES HAVE had the courage to disclose details of their assets on their own volition. No one knew this better than Justice Kannan's namesake in Lutyens' Delhi. 'Kannan the cook', as he was known, had a reputation for whipping up dishes that would appeal to the taste buds of those involved— directly or indirectly—with rulings and judgments on key legal cases: appam with stew, for example, among other gastronomic delights from his master's home state. Working at the residence of a former CJI in the last decade, he had mastered the art of connecting the 'needy' of the corporate and political world with the personal staff of those who wined and dined at his employer's place, and thus arranging a transfer of vital information (for a consideration, of course).
His 'cover' as a khaansama (an honoured chef) was perfect for all parties involved in the arrangement. "He wasn't very educated, but was highly resourceful. He was quick on the uptake on the nature of services required, street-smart enough to either directly connect the supply staff with access to information with those in need of it, or source raw copies of rulings [and sometimes just] the essential parts of those rulings," according to an official of the Intelligence Bureau (IB).
Whatever his culinary skills, Kannan was in the business of accessing privileged information. He was active at a time when judgments were mostly drafted at home by judges, who did this primarily because they were too busy in court to do so during the day. Usually, they would dictate their verdicts and rulings to a typist. The more tech-savvy judges would use electric typewriters. Either way, the exercise called for the manual involvement of a small team of staffers. So, for a price, a litigant could get hold of carbon copies, mainly the last page of a verdict, or a superfine sheet of paper on which type key impressions had been made. There were other points of leakage as well: once the judge dictated his verdict or ruling, a copy was manually carried to fellow judges on the bench for their signature or amendments. This is another node where secrecy could be breached—mostly by members of the judge's own staff, tip-off men who knew the value of such yet-to-be-announced information to those it affected. With a heads-up right from the source in advance, litigants could then get their liaison men to pressure the particular judge for a more amenable—if not favourable—verdict.
Little did he know he was under watch.
THE BELIEVER WITH A DASH OF BLING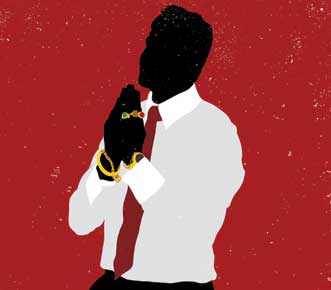 AS A GOD-FEARING man, Lakshmi Narayan was convinced he had divine backing for the services he rendered his clients, most of whom were shadowy right-hand men working for corporate magnates in need of ways to stymie inconvenient judicial rulings. An imposingly tall man fond of wearing gold, a lot of it in the form of rings to propitiate one deity or another, he was often identified by his oversized, talismanic Bulgari watch.
Lakshmi, active around the same time as Kannan, was well acquainted with the sleaze circuit. To achieve his aims, says sources in the know of his activities, Lakshmi would operate through a dedicated network of personal staffers in the official quarters of some of India's most powerful men of justice. He would seek out clients by sending corporate litigants feelers on impending rulings of concern to them. Often, audaciously, he would approach parties on both sides of a legal wrangle with offers of help. His offers included arranging a personal audience with the judge in question for a price, which would enhance his credibility as a man with the relevant clout. While most of those he approached would decline the offer, he was no ordinary tout. A regular at the homes of at least three former CJIs, Lakshmi reputedly had the wherewithal to produce parts of judgments before they were read out in court rooms.
One of Lakshmi's skills was organising social gatherings where those in need could meet solution providers in the legal market. He would even boast of connections with the top officials of investigating agencies, and was known to have organised a fully paid wedding party of a Central Bureau of Investigation (CBI) chief's daughter at a Janpath bungalow in Lutyens' Delhi.
Acting as an intermediary on behalf of judges, Lakshmi had even passed along a proposal to the NDA Government— soon after it took over—asking for a hike in the retirement age of Supreme Court judges from 65 to 68 years, according to a Central minister.
Once the IB had gathered sufficient information from multiple sources on Kannan and Lakshmi, in 2010, the agency put the former under watch on suspicion of key leaks of rulings. Later, the judge in question was informed of Kannan's activities by the Bureau's director, who strongly advised the judge to sack the cook immediately.
Kannan found employment as a cook in another residence in the same neighbourhood. Sources say that he used this time to cool his heels and began offering his services again from just a block away. Soon, the wife of his former employer asked the judge to rehire him. Was the judge aware of what was going on in his back office and residence? Virtually every key ruling he delivered had reached the interested parties in advance.
THE BUCCANEER FROM KOLKATA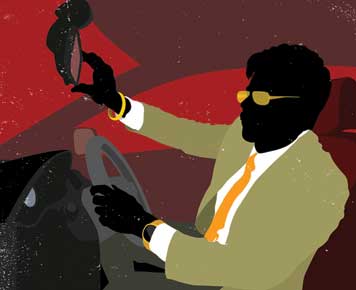 FROM 2000 TO mid-2014, it was the Indian Judiciary's worst kept secret that Parasmal Lodha, a one-time real estate developer, was active as a top-bracket fixer for corporate and political clients. Flashy and boastful, he would meet his well-heeled clients at five-star hotels, and he was accustomed to limousines and other luxuries. Reputedly, he had a list handy of judges of the apex and high courts slotted in order of the fees payable for special services on cases under their charge. He also had contact details with peculiar specifics for each. Judge A, for example, would not charge less than X amount for basic services, could be approached through his son at such-and-such golf course, and kept communication to a minimum. It was a master list.
Originally from Kolkata, Lodha had worked his way into Delhi's top social echelons. A high point for him was the marriage of his daughter, the celebrations for which went on for a whole week at his farm at Chhatarpur, Delhi, in the winter of 2014. The wedding itself was scheduled to be held at a former Prime Minister's house and guests were put up at five-star hotels.
Lodha's social ascent had helped him erase memories of his failed attempt at a hostile takeover, back in 1991, of Peerless General Finance and Investment Ltd, a company that Calcuttans once swore by. He controlled 22 per cent of the shares of the company which had a deposit base then of Rs 1,340 crore and was growing at 15 per cent annually. This wasn't his first try. Four years earlier, he had made a bid for control after cornering 51 per cent of its shares and getting himself a place on its Board. Income Tax raids at the time had forced him to sell off a big chunk of his holdings in Peerless. At the time of his second attempt, he charged the Board with cooking the firm's books, issuing shares to friends and family, forking out suspicious loans to dodgy companies that were allegedly hiding losses.
Today, Lodha is himself among those whose cover has been blown by Indian investigating agencies.
THE LOBBYIST WHO WENT TOO FAR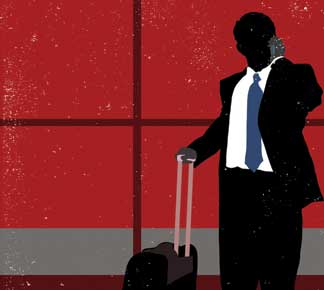 ON A WEDNESDAY at the end of June this year, there was a series of surprise Income Tax raids. What had motivated the raids was not immediately clear, but it soon emerged that this was part of the Government's plan to smoke out all those who were part of an undercover network of lobbyists acting as links between corporate houses, politicians and members of the Judiciary.
Among those raided were the premises of Deepak Talwar, a corporate lobbyist best known for 'facilitating' deals in the aviation and the telecom sectors. Sleuths of the Directorate of Income Tax Investigation Unit One swooped down on his offices in Delhi's Daryaganj and Greater Kailash localities, apart from those in Gurgaon and Faridabad. In simultaneous raids on the New Delhi and NCR offices of the Delhi Indira Gandhi International Airport (DIAL), a joint venture of the GMR Group, Airports Authority of India and Frankfurt-based transport company Fraport, officials reportedly recovered incriminating documents and e-mails that had pointers to large sums of unaccounted-for money. Talwar's company was among the hot leads thrown up. "These are routine surveys. We follow the highest level of ethical and legal standards in our business and corporate governance of the highest order," a DIAL spokesperson said.
In late 2014, Talwar had drawn attention after news broke that he had visited then CBI chief Ranjit Sinha an astonishing 63 times in a span of 15 months. As a soccer enthusiast and ardent Manchester United fan, Talwar had seemed like just another businessman. His Linkedin profile describes him thus: 'An international businessman and corporate consultant, Deepak Talwar plays a significant role in public affairs in his native India and abroad. He currently resides and works in New Delhi, where he founded such enterprises as DTA Consulting, Integral PR Services, and IDFS Tradings. Respectively, these firms handle public affairs and advocacy, public relations, and duty-free shopping.'
His real services, say investigators, was as an intermediary for politicians, corporate representatives, bureaucrats and members of the Judiciary. According to reports, Talwar had made 29 visits to Sinha's then residence at 2 Janpath Road in the May 2013 to December 2013 period when the CBI was investigating the Niira Radia Tapes at the behest of the apex court. Up till August 2014 alone, according to the entry logbook there, Talwar had paid the former CBI chief 34 visits at home, mostly with the use of a company car registered in the name of Deepak Talwar Consultants, 4D, White House, Bhagwan Das Road (a building once frequented by some senior journalists who Talwar had cultivated, some of them civil aviation specialists).
Talwar's claim to fame, among other things, was his reported closeness to ministers who controlled the Civil Aviation portfolio under previous regimes. This had reportedly catapulted him into the top league of lobbyists in a sector where every nugget of information, be it on route details or hikes in aviation fuel duty, from meetings of the related Group of Ministers was worth a lot of money. The Duty Free circuit was a special field of interest to many parties.
The CBI has now named Talwar and Radia in one of its preliminary enquiries on the network of touts and middlemen that the sector had come to be known for in the period. Investigating agencies have found that besides aviation, Talwar's connections ran deep within the highly lucrative telecom sector as well.
Talwar's was a rags-to-riches story. In the 1980s, he moved around the capital on a scooter. He struck it big in the early 1990s during the period when AN Varma was the principal secretary to then Prime Minister PV Narasimha Rao, specialising in deals involving the postings and transfers of bureaucrats and other government servants. He floated Deepak Talwar Associates as a front for this. His network was expanding even during the 1998- 2004 tenure of Prime Minister AB Vajpayee. Under the 10-year UPA regime that followed, he became a point man for lucrative deals in civil aviation.
THE FIXER FROM THE SOUTH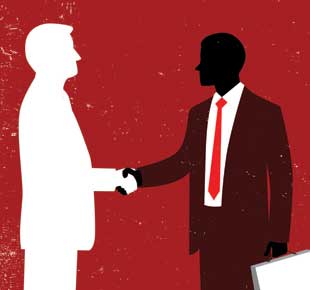 WHILE INCOME TAX officers were raiding Talwar's corporate offices in the capital and around, another big catch was made in south India. Rajagopal, another fixer, was caught with over Rs 100 crore secreted away at his residence. According to intelligence sources, he had over the years amassed over Rs 300 crore through dubious means, most of it from desperate parents to get their children admitted to medical and engineering colleges all over the country, especially in the southern states. This was before the National Eligibility Entrance Test (NEET) was implemented, and it was hardly a secret that seats could be bought from touts.
Not all of Rajagopal's ill-gotten wealth was from preying on parents anxious about careers for their kids. Some of it, according to those in the know, was collected as advance charges for influencing the Judiciary in cases related to the NEET plan, opposed legally by many colleges keen to preserve their—and their favoured touts'—clout over admission processes.
Rajagopal had sold himself to the managements of many of these institutes as a man of influence in the national capital who could swing rulings and verdicts by approaching judges. Several of his agents, who would collect money for seats in prestigious colleges, are now threatening to blow the lid off the entire network.
Highly placed sources in the Government say that these raids are only the first set of a series. Other dealmakers in the netherworld that constitutes the murky corporate-judiciary nexus can expect more unpleasant visits in the weeks ahead.