THE BLOSSOMING OF the US-India partnership has become an important diplomatic asset for both countries. This helps explain US President Donald Trump's standalone trip to India, which he summed up succinctly as "unforgettable, extraordinary and productive". Trump's visit, like that of his predecessor, Barack Obama, five years ago, may not have yielded any major agreement, but it has set the direction towards greater US-India security, energy and trade cooperation.
However, the orchestrated violence in a working-class Delhi area bordering Uttar Pradesh—timed to coincide with Trump's trip—not only cast an unflattering international spotlight on sectarian tensions in India, but also gave a handle to the American President's domestic critics, including the mainstream media, to raise questions about his visit.
Even before Trump arrived in India, his critics at home mocked him—from claiming that he was going to India for big crowds because he 'relishes spectacle' to wondering how the beef-loving President would survive in India with its beef-free menu. "I have never seen him eat a vegetable," CNN quoted someone as saying, as if to underscore how the US media's disparagement of Trump borders on the ridiculous.
The communal violence in a suburban Delhi area not part of New Delhi came handy to those seeking to obscure the gains from his India visit. 'New Delhi Streets Turn Into Battleground As Trump Visits', ran a headline in the The New York Times, whose relentless attacks on Trump surpass its perennial India bashing. The newspaper's main report claimed that Trump's visit was 'long on florid language about the strength' of the US-India relationship but 'short on concrete results'.
To be sure, no breakthrough was announced, such as on the much-anticipated trade deal. But the substantive, in-depth discussions between Trump and Prime Minister Narendra Modi are likely to help deepen strategic and defence cooperation between the two countries in the Indo-Pacific region and boost bilateral trade. Under Trump, the US has become an increasingly important source of crude oil and petroleum products for India, the world's third-largest oil consumer after America and China.
A limited US-India trade agreement has almost been finalised but will be signed after its terms have been legally vetted by both sides, according to Commerce Minister Piyush Goyal. As Trump put it, the two sides have made "tremendous progress" towards the trade deal, which will likely result in the US reversing its expulsion of India from its Generalised System of Preferences—an action that automatically terminated India's preferential access to the American market. More importantly, the US and India have agreed to initiate negotiations on a free-trade agreement, with the process to be kicked off soon through a mandated 90-day notice to the US Congress.
The royal pomp and pageantry that India lavished on Trump left a deep impression on him. "Nobody else that came here got the kind of reception we got," Trump said. It is a fact that no other visiting foreign leader has addressed so many Indians at a public event as Trump did. The huge campaign-style rally at the world's largest cricket stadium was attended by some 125,000 people, with countless thousands more lining Trump's motorcade route from Ahmedabad Airport to Motera Stadium.
The mega-rally, in crowd size, was equivalent to Trump's 10 'Make America Great Again' rallies at home, all held at once. It will go down as the largest rally any American president has ever addressed. After the historic reception in Ahmedabad, Trump, with his family, visited the monument to love—the Taj Mahal—with the international media coverage from there serving as powerful advertisement to attract more foreign tourists to India.
The showcasing of India's soft power before the visit turned to substance was essential because, as Modi put it, "Relations between India and USA are not merely ties between two governments; ours is a friendship that is people-driven and people-centric." Trump said, "We will always remember this remarkable hospitality. We will remember it forever," adding, "From this day onward, India will always hold a special place in our hearts."
While wrapping up his visit, Trump said in New Delhi, "I believe that the United States should be India's premier defence partner and that's the way it's working out." The US has already emerged as India's largest arms supplier, leaving the traditional main supplier, Russia, far behind. Trump's visit yielded a $3.4-billion deal for 24 Lockheed Martin/Sikorsky MH-60R multirole naval helicopters, with anti-submarine and anti-surface warfare capabilities, for the Indian Navy and six AH-64E Apache attack helicopters for India's Army Aviation Corps.
Since 2005, when the US-India nuclear deal was unveiled, with a specific commitment to ramp up defence transactions, American arms exports to India have rapidly increased. The nuclear accord, while remaining a dud energy deal yielding not a single reactor contract thus far, has proved a roaring success in opening the door to major US arms sales. In fact, the booming US weapons exports to India, running into billions of dollars yearly, have seemingly acquired an independent momentum.
Rarely before has the US acquired a major arms client so rapidly. Its success vis-à-vis India parallels what happened in the early 1970s when Egypt switched sides, transforming itself from a Soviet arms client to becoming reliant on American arms supplies. The difference is that, unlike aid-dependent Egypt, India buys weapons with its own money.
Despite the deep-rooted US and Indian indifferences over Pakistan, Donald Trump had a great visit. "We think we're at a point where our relationship is so special with India, it has never been so good as it is now," he declared
However, India cannot be entirely sanguine about its defence relationship with the US, which is less willing than Russia to transfer advanced technology. This patron-client relationship is being reinforced by the signing of what the US calls 'defence foundational agreements', including allowing both countries to access each other's military bases and to build secure military communications. Another accord on sharing geospatial information is still in the works.
Significantly, the US has sought to use its new law—Countering America's Adversaries Through Sanctions Act (CAATSA)—to wean India off its craving for Russian weapons so as to further boost American arms sales. But the US, as the latest helicopter deal underscores, has basically been selling defensive systems to India, including big-ticket items like the P-8I maritime surveillance aircraft and the C-17 Globemaster III and C-130J Super Hercules military transport planes. Russia, by contrast, has transferred offensive weapons systems to India, including strategic bombers (Sukhoi Su-30MKI), an aircraft carrier (INS Vikramaditya) and a nuclear-powered submarine (INS Chakra). Russia is also helping India with strategic projects like the Arihant nuclear submarine.
Yet, through CAATSA, the US is seeking to have a say in India's defence dealings with Russia. This is exemplified by its opposition to India's purchase of the lethal, interceptor-based S-400 Triumf air defence system on the grounds that it would thwart building interoperability with Indian forces, as if India is not its strategic partner but its client state. India cannot accept a US veto over its defence deals with Moscow, yet it risks getting locked as America's client.
CHINA MAY BE driving India and the US closer, but America's Pakistan policy remains a major Indian concern. The US is loath to strip Pakistan of its 'major non-NATO ally' status or to add that terrorism-exporting country to its list of state sponsors of terrorism. The reason is simple: Pakistan is now a gatekeeper of America's geopolitical interests in the region. Not only does the US supply its Afghanistan-based troops largely via Pakistan, but also its deal with the Pakistan-backed Afghan Taliban demands the Pakistani military's steady help.
So, Pakistan's military generals continue to be rewarded for sponsoring terror in Afghanistan through their brutal proxies—the Taliban and the Haqqani Network. The battle against international terrorism cannot be won unless the nexus between terrorist groups and Pakistan's military is severed. But the message US policy is conveying to Pakistan, however inadvertently, is that sponsoring cross-border terrorism pays.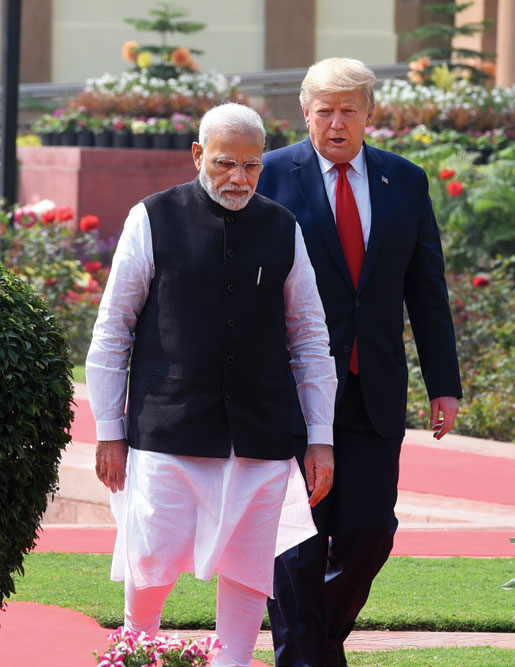 This explains why Pakistan persists with its protracted terrorism-centred asymmetric warfare against India. This unconventional war, cumulatively, has proved costlier for India than any past full-fledged war on the subcontinent, including the 1971 war that resulted in the creation of Bangladesh. But as India's patience wears thin, a limited war that calls the Pakistani generals' nuclear bluff on a larger scale than the February 26th, 2019 Balakot airstrike is no longer inconceivable.
Against this background, Trump, during his India trip, was more forthcoming on Pakistan's support to cross-border terrorism than he was last autumn, when he met Modi on the margins of the UN General Assembly session. On two consecutive days then, Trump referred to Iranian terrorism when reporters specifically asked him about Pakistani terrorism. For example, asked point-blank if he agreed or disagreed with Modi's view that "Pakistan is the hub of terrorism", Trump ducked the question and said: "Well, I really have been pointing much more to Iran." Next day, with Modi by his side, Trump, when asked about Pakistan's emergence as "the global epicentre of terrorism", said, "You know, you mentioned Pakistan, but Iran would have to be at the top of the list."
In India, however, Trump forthrightly referred to terrorist groups operating from Pakistani soil and the imperative for Pakistan to crack down on them. Trump also said, "Every nation has the right to secure and controlled borders. The United States and India are committed to working together to stop terrorists and to fight their ideology." Trump's words that he and Modi "agreed to cooperate in dealing with radical Islamic terrorism" were music to Indian ears.
In their joint statement, 'Prime Minister Modi and President Trump denounced any use of terrorist proxies and strongly condemned cross-border terrorism in all its forms. They called on Pakistan to ensure that no territory under its control is used to launch terrorist attacks, and to expeditiously bring to justice the perpetrators of such attacks, including 26/11 Mumbai and Pathankot.'
Modi's domestic critics claim he is isolating India and making it less tolerant. Trump's solo visit to India-and the praise he lavished on India's tolerance and freedom and on Modi's commitment to religious freedom-showed otherwise
However, Trump chose the Ahmedabad rally to jarringly state from Indian soil that the US has "a very good" relationship with Pakistan and is working in "a very positive way with Pakistan to crack down on terrorist organisations and militants that operate on the Pakistani border". Anti-terror results from such cooperation may be scant, but good ties with Pakistan give the US leverage vis-à-vis India. By contrast, ruptured or strained relations with Pakistan would increase America's regional dependence on India.
In New Delhi, Trump, repeating the same anti-terror claim, told the media that the US is "working productively with Pakistan to confront terrorists who operate on its soil". How can Trump claim to be working "productively with Pakistan" to crack down on the state-reared terrorist groups that remain instruments of Pakistani foreign policy? Indeed, Pakistan uses terrorists as force multipliers against its neighbours. To claim productive anti-terror work with Pakistan is like cops claiming productive work with criminals to bring down the crime rate.
The US seems to be using Pakistan's state-run terrorist complex, unfortunately, as a bargaining chip with India, including to make itself a stakeholder in the India-Pakistan relationship. This also explains why Trump chose to renew his Kashmir mediation offer from Indian soil, even though such a proposition is a red rag to the Indian bull.
The plain fact is that America's Pakistan policy limits US-India counterterrorism cooperation. US willingness to put up with Pakistan's sub-regionally confined use of terrorism as an instrument of state policy parallels Washington's acceptance of Pakistan's sub-regionally confined nuclear arsenal, including ignoring continuing covert Chinese nuclear and missile transfers. US concern about terrorism emanating from Pakistani soil relates largely to the threat that poses to its military forces in Afghanistan, which is why Washington has pressured Pakistan to rein in the Haqqani Network and compel the Taliban leadership to come to the negotiating table.
US actions against the Pakistan-based terrorists and terror groups that the Pakistani deep state has reared to bleed India have been limited to adding them to American terrorism lists and supporting their inclusion in similar UN lists. In fact, it has also taken similar actions to placate Pakistan, including listing the Baloch Liberation Army last year as a terrorist entity—an action that virtually gave the Pakistani military carte blanche to step up its dirty war in Balochistan. The US last year also announced an $11-million bounty for three of Pakistan's most-wanted men linked to Tehrik-e-Taliban Pakistan.
Despite the deep-rooted US and Indian differences over Pakistan, Trump had a great visit. "We think we're at a point where our relationship is so special with India, it has never been as good as it is now," Trump declared. "I admire your country tremendously… I think it's really a diplomacy of friendship," he told Modi.
The visit was also good for Trump and Modi in terms of their standing at home. Both are right-of-centre nationalists that have faced similar criticisms, including accusations of being blinkered demagogues, pursuing divisive policies and choosing populism over constitutionalism.
Trump's critics at home say that, under his leadership, the world no longer respects the US or the American president. Trump's adulation-filled India visit showed otherwise. Modi's domestic critics claim he is isolating India and making it less tolerant. Trump's solo visit to India—and the praise he lavished on India's tolerance and freedom and on Modi's commitment to religious freedom—showed otherwise.
In fact, Modi and Trump consciously eschewed saying anything that could give a handle to each other's domestic critics. Contrary to the State Department's pre-visit background briefing that said the President would raise the new amendment to a decades-old Indian citizenship law, Trump called the amendment India's internal matter on which he professed no view. And he publicly accepted Modi's word that all Indian citizens are equal without regard to faith. "He wants people to have religious freedom, and very strongly," Trump said, adding, "They have really worked hard on religious freedom."
Trump also said that Modi was tough and would take care of the terrorism problem. "Let me tell you, Modi is a very religious and calm man, but he is actually a very, very strong person, very tough. I have seen him in action. He has got foremost in his mind—terrorism—and he'll take care of it," Trump said before leaving for home.
Modi, for his part, called Trump a "true friend of India" whose contribution to building strong bilateral relations "has been invaluable". Modi described the US-India relationship as "the most important partnership of the 21st century".
The eventful visit will be remembered for Trump's famous words at the Ahmedabad rally: "America loves India, America respects India, and America will always be faithful and loyal friends to the Indian people."

Brahma Chellaney is a geostrategist and the author of two award-winning books on water: Water, Peace, and War and Water: Asia's New Battleground