India's economic evolution is set to undergo a radical shift. The package to revive the economy is accompanied by systematic reforms that signal a clear break with the past. The entrenched obstacles to investment and interstate flow of goods as well scope for price manipulation of essentials may soon disappear. The farmer will be free and onion prices need not skyrocket any more. In paying through the crisis, the government has dispelled willpower while preserving resources in case a worse crisis lies ahead
IN LATE MARCH, when Prime Minister Narendra Modi announced a countrywide lockdown to check the spread of the novel coronavirus, there were no signs that a dramatic reordering of the Indian economy would be necessary. The Budget that had been presented in February was a normal exercise in economic management. In March, the expectation was for a quick return to normalcy, once the most virulent phase of the pandemic was left behind.
Two months later—with the country locked down and still in the grip of the pandemic—the Government decided to go for a series of economic reforms that had eluded politicians since 1991. The most visible being the undoing of the Agricultural Produce Marketing Committee (APMC) structure, a relic of the socialist past that could not be undone even in the age of globalisation. Labour law reforms in the states are the other defining change in this round.
This was a difficult task to pull off. The organised interests behind the retention of these outdated laws—pointed out by economists as holding India back—were too powerful. Until now. Even while taking these momentous decisions, Modi was careful to keep the common man at the centre of it all. In his address to the G-20 virtual summit in March, Modi called for a reinvented globalisation not focused on financial markets but with something to offer to the person at the end of the market chain. He was quite aware of the blowback financial globalisation has caused in the West, a political moment that threatens to destroy all the gains developing countries like India had made since joining the globalisation bandwagon in 1991.
Modi found a middle way, one that took care to avoid the rock-and-a-hard place trap of extreme protectionism and reckless globalisation. The support package for Micro Small and Medium Enterprises (MSMEs)—including reserving sectoral government purchases of up to Rs 200 crore for them—was meant to take care of the huge number of people employed in the sector. At the same time, the APMC and labour law reforms are supply-side interventions of a kind not been seen since 1980 when Indira Gandhi took the first tentative steps towards unshackling the Indian economy. In India, the demand side of the economic equation always outstripped the supply-side: from loan melas to periodic handouts and bailouts during economic downturns to quibbling during the present crisis on the size of the fiscal stimulus. In a previous era, one junior finance minister, Janardhan Poojary, was known to keep the trigger for loan waivers at hand when he travelled the length and breadth of the country. He often resorted to it and, some would say, that was one time too often. The supply-side, to use a colloquialism, was bhagwan bharose (in the hands of God).
That has changed with the decisions taken last week by the Government. A decisive break of sorts has been achieved by the political leadership in the face of ideological opposition, something reminiscent of the 1991 reforms when then Prime Minister PV Narasimha Rao devoted scarce political capital to backing the executor of the reforms, his Finance Minister Manmohan Singh. The difference between the two episodes being that, this time, there are no half-measures: unlike the reforms limited to the conditionalities imposed by the International Monetary Fund (IMF), the decision of 2020 is wholly India's and that of its political leaders.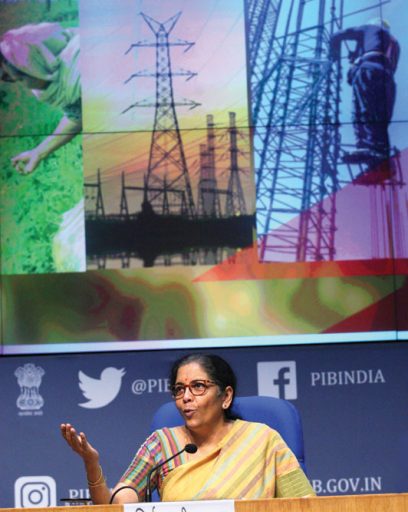 Modi makes no bones about free lunches for those who don't deserve them. He is committed to feeding and offering a roof for close to 40 per cent of India's poorest of poor while a large chunk of lower-middle classes will get subsidies. But the days of politically motivated handouts are over. For the first time in the country's decades of freedom, a leader has stood up to say as much to those accustomed to doles: pick up the tab.
In the process, Modi has also confirmed a major shift from the entrenched recurring ills of representative politics in the country: from entitlement to empowerment. The bottom 40 per cent will have his undivided attention. But the concomitant perks of long associations between the powers-that-be and the affluent classes are set to change forever. Liaisons, familial bonds, dynastic gains will also be confined to the firepit of the old as the new dispensation rings in new promises. The effort has been on for the past several years and it has now reached a threshold of no-return.
The underpinnings of old methods included a discretionary system now increasingly being replaced by a rule-based one, much to the delight of a majority of Indians. The governments and their grandees who flourished over decades through symbiotic ties with corporate houses in quid pro quos will now be of mere academic interest.
It is still a phase that needs to be put in the spotlight, essentially because the making of today is embedded in the past and its follies that should be a constant reminder of our current and future priorities. There was a time when getting a Bajaj scooter after a long wait was a mark of vanity, despite its extreme utility. It used to be a fashion statement once to be seen swivelling the vehicle to one side to let the reserve petrol flow to the main tank and then kickstart it with great vigour. The idea of user friendliness had not dawned, for want of competition, on a corporate oligarchy of the time. Similar was the case with the old 'Amby' that was a national icon and later the tag of officialdom. Choices were few and the common refrain was that this is the car best-suited to Indian roads, a laughable proposition in hindsight.
One lived with it in the 1960s amid all the effervescent socialist slogans sweeping through the corridors of power even as consumers got a raw deal. Monopoly never had it so good in India.
Enter the 1970s, and Indira Gandhi was nationalising businesses at a frenetic pace, inspired by close aides such as pro-socialist PN Haksar. She did two things in the late 1960s and 1970s: first, she went against traditional tycoons who were supportive of the Syndicate, led by the likes of K Kamaraj and Morarji Desai, who wanted her out. Soon, she adopted a populist, socialist stance. She also went on to create a parallel power bloc among businesses to combat the influence of the traditional rich. Of course, she treated some of them like fair-weather friends: when faced with the oil crisis of 1973-74, Indira Gandhi approached the house of the Hindujas to parley with the Shah of Iran to help restructure oil payments.
Through Emergency, she started having a rethink, but nothing concrete happened as Sanjay Gandhi's plans to make an affordable car hit the skids. Ironically, at the intellectual level, any attempt to argue in favour of globalisation and to unleash animal spirits went awry. Jagdish Bhagwati was a forerunner in his field but was demonised till he was rehabilitated and his ideas appreciated decades later. In 1967, he resigned his position as member of the Planning Commission and became a critic of India's development strategy. Although he did not receive acclaim at home, he was lapped up abroad for his incisive commentaries on the Indian economy. His controversial pronouncements in favour of globalisation meant that he was pushed out of mainstream economic discourse in the country.
The Janata Party Government that took office in 1977, the first non-Congress dispensation at the Centre, promised change. But the flavour of the period was socialism and, therefore, it achieved much less than expected. Some of its policies that demanded MNCs to go into partnership with Indian corporations led to the exit of major corporations. The Charan Singh Government, which came after Morarji Desai stepped down as prime minister, saw a balance of payments crisis. Thus, when Indira Gandhi returned to power in 1980, she knew she had to do a course correction. By then the likes of Lovraj Kumar, Montek Singh Ahluwalia, Vijay Kelkar, Rakesh Mohan and others had prepared a blueprint for reforms. Ahluwalia had returned to India from abroad in 1979 to take up the position of economic adviser in the Union finance ministry. Kelkar, for his part, was economic advisor to the commerce minister from 1977 to 1981.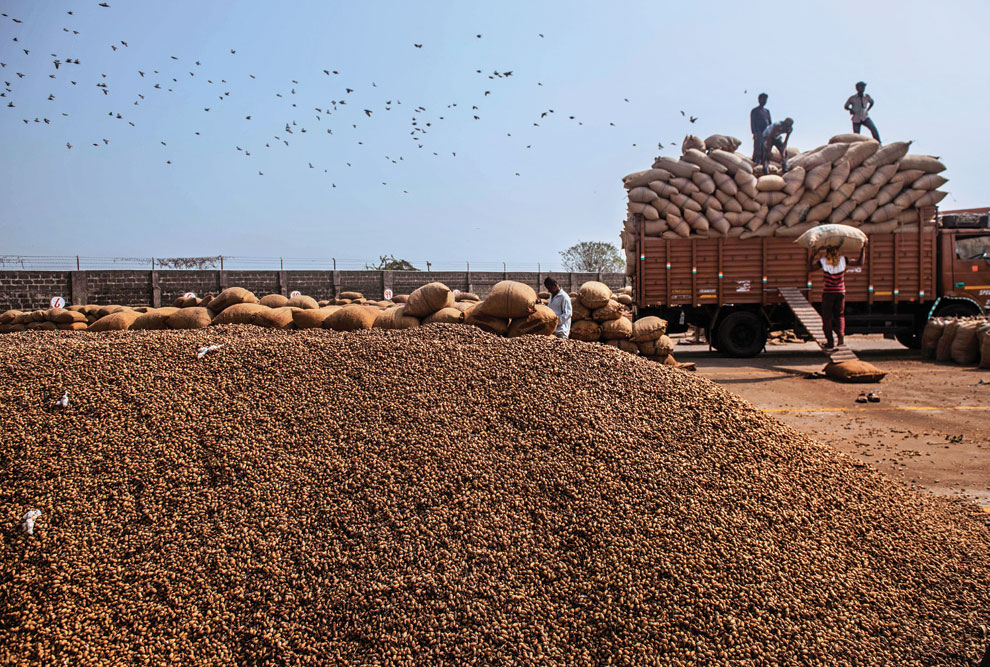 Indira Gandhi did forge ahead with reform initiatives in the first two years after her return to power before she was snowed in with political and civil-war like troubles in Punjab, Assam and elsewhere. The key moves steered by her and Pranab Mukherjee were soon shelved on account of political expediency. She still made sure that her late son Sanjay's dream would come true. In December 1983, Maruti rolled out its first model, Maruti 800, and the Prime Minister handed over the keys to its proud owner, Harpal Singh.
IT FELL TO Rajiv Gandhi, who came to power on a historic mandate following his mother's assassination, to rev up the economy with the promise of reforms that were discontinued midway. He made a good start by making bold announcements in telecom and computerisation policies. He slashed import quotas and brought in computerised railway tickets, besides amending tax laws. But his tall promises, too, fizzled out within a couple of years, confronted by political rebellion in the face of allegations of corruption in defence deals.
The VP Singh Government did a volte-face since it was backed by leftists and others sworn to protectionist policies. The Chandrasekhar Government that replaced Singh's was short-lived and buffeted by the economic crisis caused by spiralling fiscal imbalances. India's import bills expanded and, in the wake of the First Gulf War, investors fled with their money and credit dried up. Earlier, India was able to insist on loans on its own terms from international monetary agencies. India's own version of reforms could be launched, albeit for short spells, in the early and mid-1980s.
Narasimha Rao, who came to power after Rajiv Gandhi's assassination in the General Election of 1991, went ahead with the liberalisation of the economy to tide over the crisis with Manmohan Singh as Finance Minister. It was the end of the Licence Raj that had placed discretion above rule, something that the current Prime Minister is still fighting. Meanwhile, what were destined to become the ideological pillars of India's liberalisation were Ahluwalia's 'M document', which he had authored while still in VP Singh's PMO; Kelkar's report to the Asian Development Bank (ADB); and Rakesh Mohan's paper on industrial development. The late economist Abid Hussain had also played a pivotal role in drafting new trade policy reforms. Other noteworthy names associated with India's reform drives include LK Jha and Vadilal Dagli.
The latter part of the 1990s saw various governments come to power, including a 13-day Vajpayee Government; the Left-steered HD Deve Gowda Government; the IK Gujral Government; and then, the return of Vajpayee in 1998. The two years between 1996 and 1998 were fallow years for reforms. The Vajpayee Government that lasted till May 2004 went ahead with various reforms but was often mindful of the sensitive nature of the rainbow coalition that had varied interests. Yet, Prime Minister Atal Bihari Vajpayee was able to walk on thin ice and effect several reforms, earning a reputation for being the 'second father of Indian reforms', the first being Rao. He pushed ahead with economic reforms stalled in the second half of the 1990s, including those in telecom that made call tariffs cheaper, building of roads, privatisation of public sector undertakings (PSU) and so on. He deepened reforms and took on board a coalition of 13 parties to do so.
The decade of 2004 to 2014, which saw Prime Minister Manmohan Singh being 'remote-controlled' by the Congress president and her advisers, is considered the missing years for India's structural reforms. It has been said that the coalition that came to power in 2004 with the outside support of the Left till 2008 continued to toe the leftist line in economic policy until 2014 when it lost power to a political campaign that had pitched Modi as a messiah of reform. About the Singh Government, Bhagwati had said that it resembled the Soviet model where the prime minister was only a nominal position while it was the party general secretary who called the shots. The economist had also reposed faith in Modi's economic policies, evident from his chief ministerial years in Gujarat that saw him fight off graft and place top priority on good governance.
Modi's announcements, as the world battles the Covid-19 pandemic, prove that he is still at the top of his game.
In the days after Modi announced a Rs 20 lakh crore package for the economy, Finance Minister Nirmala Sitharaman spelt out its nuts and bolts. In its entirety, the package was comprehensive and did not leave out any economic sector. The focus was forward-looking: giving a boost to the economy and not merely a survival strategy. If the economic emphasis was clear, the political message was doubly so: the age of dole was out and that of responsibility in.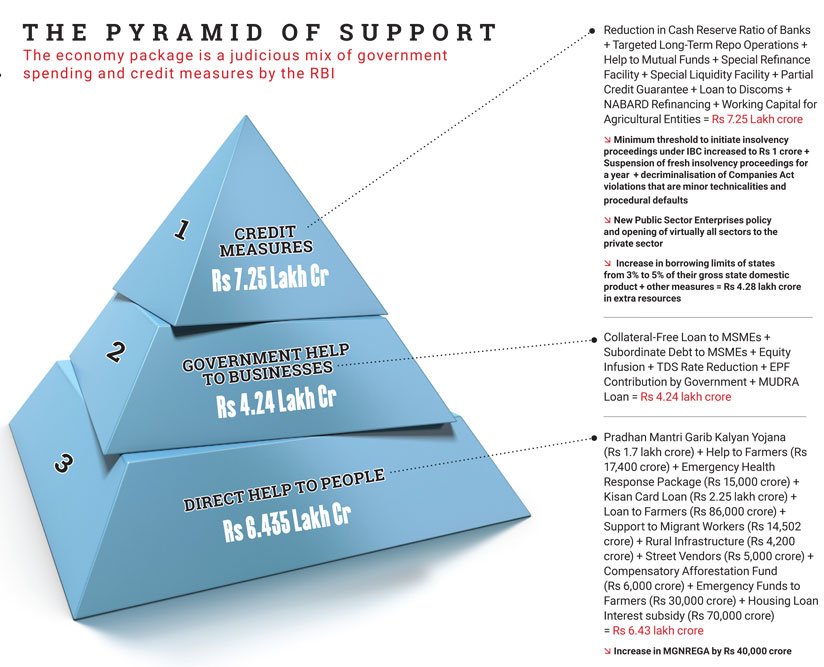 From May 13th to 17th, Sitharaman delineated the plan for each sector. The sequence of announcements hinted at the importance attached to the sectors. The package for MSMEs, power distribution companies, financial-sector institutions and other sectors totalled Rs 5.9 lakh crore, amounting to 2.9 per cent of India's gross domestic product (GDP).
The emphasis on MSMEs was clear. This is the sector that employs the bulk of Indians in industry. Getting it to move again was essential if the economic wheels were to gain speed and traction. But the most important signal from the first announcement was that there would be no dole and cash handouts even for those sectors that were considered vital. It is noteworthy that the Government eschewed any spending binge. The May 13th announcements amounted to 2.9 per cent of GDP but in terms of the fiscal cost to the Government—actual money flowing out of its coffers—it was much less.
Over the next few days, packets of different size and design were announced. On May 14th, a Rs 3.1 lakh crore package was announced for migrants, farmers and the poorest sections of society. It was, however, a package with a difference. All necessary help is to be given to farmers for their credit needs through concessional loans via kisan credit cards. Some 25 million farmers are expected to benefit and the amount of credit will be Rs 2 lakh crore. But there were no cash handouts and loan waivers, the most pernicious feature of India's rural economy. Perhaps the most significant and no-strings-attached part of the entire package was that for the poorest of the poor. Earlier, under the Prime Minister Garib Kalyan Yojana, Rs 1.7 lakh crore was disbursed directly to this section in the form of direct cash transfers and foodgrains across the country for three months. On May 14th, this was extended to another two months, with the cost to the exchequer of Rs 3,500 crore. Three days later, allocations under Mahatma Gandhi Employment Guarantee Scheme (MGNREGS) were increased by another Rs 40,000 crore, taking the entire sum under the scheme to Rs 1 lakh crore. These two—food items and MGNREGS—are among a handful of elements in the overall package for which the Government is directly footing the bill. Other contents of the package concern credit guarantees, temporary relief measures (for example, provisions on relaxation of provident fund contributions and direct tax measures) and systemic reforms.
The reactions to the package should be seen from this perspective. From state governments to political parties to individual sectors, everyone cried out the package did not "do enough."
Is there any truth to this claim?
he past pattern of economic 'bailouts' in India had a habit-forming element built into them. Help to farmers came in the form of loan waivers, a practice that continued even after 2014 but one that has come to an end now. The earlier idea was simple. In the name of 'priority sector lending,' banks would be forced to keep on lending to farmers who had no intention of paying back. If anything, honest farmers were penalised as they continued to pay while the majority just sat tight until a newly elected government waived off the loans. The cycle repeated itself every five to seven years.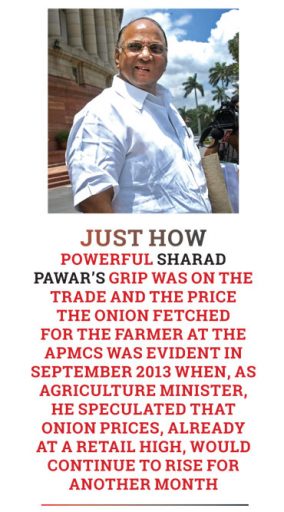 This trend continued all the way to the level of state governments. Every time a new government in New Delhi was sworn in, demands for a 'package' in lieu of political support in Parliament would surface. Big states like Uttar Pradesh (UP), Bihar and Andhra Pradesh had routinely demanded packages in excess of Rs 50,000 crore. This was nothing but political blackmail—with wafer-thin majorities in Parliament and coalitions built on shifting alliances, the game of packages became a regular feature of India's political economy. So entrenched was the practice that even when the BJP came to power with a majority of its own in 2014, that did not prevent the Telugu Desam Party (TDP) from demanding a special package for Andhra. There was little economic rationale behind the demand but it made great political sense as it was made just before elections in the state in 2019.
This time, the Government has said no. There was help for the states: the borrowing limits were raised from 3 per cent of a state's gross domestic product (GSDP) to 5 per cent for one year. But this increase also came with conditions that states had to deliver on reforms. The idea that a state could borrow, spend the money and demand more at a later date, is now over.
Following a historic landslide in 2014, Modi decided to remove onions and potatoes—essentials in every Indian kitchen—from the ambit of the APMC and bring them under the Essential Commodities Act, 1955. Onion prices were soaring. Maharashtra was heading for election and the Nationalist Congress Party (NCP) was sharpest in its attacks on the Centre and its inability to control food prices as promised in its poll manifesto while shifting the blame on to the state.
The APMCs controlled onion prices countrywide and Maharashtra was the biggest producer of onions and garlic, with Lasalgaon, in Nashik district, at the core of the onion trade. In a bid to rein in soaring prices, the Centre had hiked the minimum export price (MEP) to $500 per tonne but to no avail, as retail price continued to rise and hit Rs 60-65 per kilogram. At the core of the NCP's anger at the Centre was the fact that Sharad Pawar's party controlled a significant number of APMC markets in the state. Maharashtra produces around 30 per cent of all onion produced in India and much of the producing regions fall in the northern and western parts of the state. The latter region is considered Pawar's political fiefdom. The Modi Government had delinked onions and potatoes—prices of which are considered sensitive politically and had even lost the Delhi government for its Chief Minister Sushma Swaraj in 1998—on the presumption that hoarding and cartelising by entrenched trader and farmer lobbyists under political patronage were the key reason for extraordinarily high onion prices. Ironically, in November 2019, when onion prices in the national capital soared to an unprecedented Rs 150 per kg, it was the Aam Aadmi Party leadership that accused its BJP counterpart of being in cahoots with traders in hoarding the vegetable.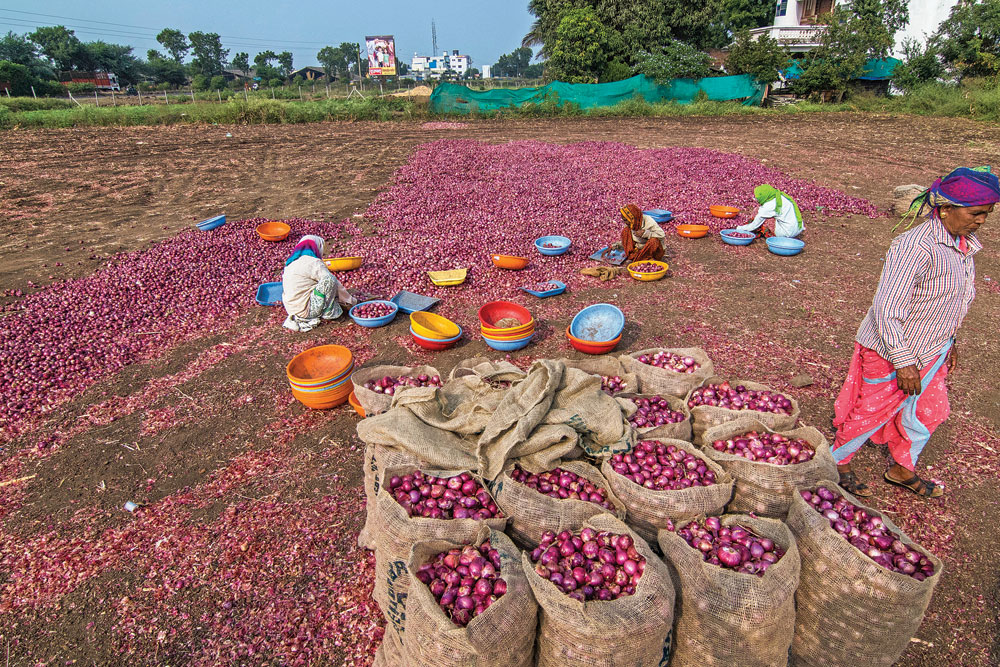 Just how powerful Pawar's own grip was on the trade and the price the onion fetched for the farmer at the APMCs was evident in September 2013 when, as agriculture minister at the Centre in the UPA II Government, he speculated, in what was construed as a clear case of conflict of interest, that onion prices, already at a retail high, would continue to rise for another month. This, when a fresh crop early September was expected to bring retail prices down. Within hours of his speculation, wholesale prices shot up from around Rs 50 to Rs 60 per kg and retail prices hit a high of Rs 70 per kg. Given the inbuilt contradictions between protecting consumer interests in food inflation and those of producers, Pawar had agreed to not hold both portfolios, food and consumer affairs.
Potato prices at India's largest market for the root tuber in Farrukhabad, UP, however, have not seen such volatile price fluctuations except in the face of adverse weather. In March this year, for instance, poor production due to adverse weather led to a hike of around Rs 5 per kg from Rs 10 per kg. Prices, expected to move up further on short produce supply, have since been badly affected also by supply and logistical problems due to the lockdown,
although agricultural activities have been opened up of late.
Nor have unusual onion price highs been the only surge among food items allegedly influenced by NCP leaders in Maharashtra—which is also the second highest sugarcane and sugar producing state—hiking food inflation. In December 2009, Pawar speculated that a 70 lakh tonne shortage in sugar would likely hike retail sugar prices. Sugar prices then shot up from Rs 18 per kg to Rs 45 per kg. Earlier, in September, he had projected a shortfall in rice production, which then led to a retail price hike in rice. In January the next year, he projected a milk shortfall after which retail prices for milk rose across the board, a phenomenon that has now become routine every few months.
Sitharaman's focus on longer-term agri-infrastructure and on systems has to be seen against this backdrop of food price manipulation by and large through hoarding and cartelising by traders and lobbyists and a farmer-politician nexus at the APMC level. The decision to skip the short-term and easy, politically motivated farm loan-waiver route—hitherto taken by governments as a form of political patronage—needed strong willpower and a genuine intention to reform historically pending logistical and supply-chain problems. These have harangued the sector, playing havoc regularly with both farm produce prices—leading to prolonged distress and farmer suicides—and consumer prices that show up in high food inflation.
The APMC and the Minimum Support Price (MSP) systems were both products of a food-insecure and, later, food security-fixated era. These have had a monopoly for close to 50 years but developed several intrinsic problems over time that failed to guarantee the farmer basic income security through a fair price for his/her produce or even a fair price to the consumer. Freeing the farmer to sell her produce to the highest bidder across states, instead of mandatorily to an APMC, is seen as addressing both issues. In the Covid-19 era, there are small farmer organisations and trading platforms for fruits and vegetables that have emerged online to link the farmer and the buyer.
GOING BY Modi's macro reform blueprint for agriculture, the Finance Minister's announcements are aimed at making the different sections of the farm sector synergise with each other pan-India rather than attempt key changes piecemeal, as Bihar did in 2006 by revoking the APM. That proved to be a failed exercise after which farmers were at the mercy of middlemen to carry their produce surreptitiously to Punjab and Haryana in order to at least ensure an MSP for their produce. Some attribute the 'record' cereal produce in these two top procurement states— year after year despite a dangerously plunging water table and increasingly poor soil health especially on account of heavy water consuming crops such as rice and sugarcane—to this covert transfer of Bihar's farm produce to the mandis of Punjab and Haryana.
The roadmap Sitharaman traced has been in the making separately for many years through governments, including a model contract farming act and a model APMC Act, circulated to states for implementation, electronic linking of all mandis across India for better price discovery to farmers, and so on. The Modi Government already recommended to states that they keep some sections of the APMC legislation in abeyance so that select produce can be sold directly to buyers and traders by farmers rather than selling them mandatorily at mandis. That has encouraged wholesale buyers to establish direct and dedicated supply chains with farmers rather than rely on secondary buys. The Government also has plans to connect all agri markets to the eNAM (the electronic National Agriculture Market, a nodal, pan-India trading platform for farmers) by 2021-22 and completely iron out all wrinkles in the interstate movement of perishable food stuff such as fruits and vegetables. With increasing direct linkages, including through farmer cooperatives that bring produce from farm to fork (something talked about since Rajiv Gandhi established the food processing ministry with grand plans for exponentially hiking the percentage of processed food from fresh fruits and vegetables) and expanding use of the eNAM to access real-time information on commodity arrivals, stock quality, price and speedy electronic payment into the farmer's accounts, it is expected that investment will flow naturally into world-class and standard-graded cold storage, warehouses, silos for cereal storage, end-to-end supply-chain logistics, and so on.
Equally importantly, these measures are expected to speedily divest the sector of the grip of middlemen and extortionist supply-chain logistics monitors as well as insulate produce price from the manipulations of the trader-politician nexus and lobbyists. Most of these have been attempted in the past but largely in a piecemeal manner and not as part of a holistic blueprint aimed at synergising all vital parts of the farm sector. Key to the plan is throwing out the old playbook of agricultural reforms and synchronising changes with the 21st century by leveraging India's position as top producer in several agri sectors and cutting the high level of wastage prevailing for years.
It is in keeping with this that the Finance Minister announced the amendment to the Essential Commodities Act, 1955, dubbed an 'anachronistic legislation' in the Economic Survey last year. The changes would delink cereals, pulses, edible oils, oilseeds, potato and onion from the Act and free ceilings on limits of stocks held by food processors, exporters and value-chain actors, each according to their storage capacity. The Act has often been blamed by traders as a tool used by those in authority to harass them on charges of hoarding (for instance, sugar) to manipulate prices. So this headache is likely to go away now, except in emergency situations defined by the Government.
The amendments to both the APMC Act and the Essential Commodities Act, proposed for long and suggested to states time and again, envisioned free interstate movement of grains, cereals and so on without harassment or penalties accruing to traders. Though stonewalled by vested interests earlier, the status quo is set to change. The plan is to abandon the soft approach and bring in a Central law to legitimise free interstate movement of these commodities.

Today, there are almost 7,000 regulated APMCs countrywide. Pointing to Bihar's failed 2006 experiment with revoking the APMC, farm policy analysts like Devinder Sharma emphasise that rather than diluting the APMC, what India needs is a network of 42,000 mandis to be set up at a five-kilometre radius. This, by itself, would afford a massive opportunity for best price realisation for farmers once the Government invests significantly in infrastructure such as cold chains, storage, grading, transport, etcetera. While opening up employment opportunities in the infrastructure and food processing sectors, this would also attract investment once the systems are regulated and flow smoothly. Sharma also argues that it is the MSP system and the APMC Act—built in the years of food insecurity—that have proved to be the best fallback for food stocks in times like now. There are others who caution against uprooting existing systems or diluting them radically in an already distressed primary sector without actually piloting parallel systems first and testing their workability. Heavily priced food imports, which most nations have chosen to firewall against in the post Covid-19 age, should not be the end result, they warn.
EARLIER ATTEMPTS by the Food Corporation of India (FCI) to come up with attractive (to the point of even excessive) investment plans for the private sector in silos and in graded cold storage, etcetera had all come a cropper. Again, these have been piecemeal in conception instead of being part of a holistic plan to reform the distressed farm sector completely in tune with modern times. For boosting that badly needed infrastructure on the ground, the Government has set up a Rs 1 lakh crore agri-infrastructure fund under the National Bank for Agriculture and Rural Development (NABARD).
The Modi Government has shown the political will and the courage to come up with a holistic plan to reform the distressed agriculture sector. What remains is to prove that it can iron out the inevitable wrinkles on the ground and make it work to turn around the way agriculture is viewed.
The economy package has been criticised for spending 'too little'. When compared with its developing country peers, India's spending is nothing unusual and remains within the broad trend. Every country has its own specific requirements to which such packages need to be tailored. Merely spending a large amount is not a recipe for success.
The theme behind the Indian package is carrying out necessary reforms so that the economycan grow faster in the medium run. From the raft of labour law changes in different states to the dismantling of the APMC system, the idea is to end the frictions that prevent investment and seamless flow of goods and services across the economy.
Prudence also demanded that the Government hold its spending firepower. At the moment, predictions are that the spread of Covid-19 will peak and then taper off by June-end. But there is an alternative scenario as well—many scientists have said that a second-wave pick-up in September cannot be ruled out. If that happens, there will be demands for higher spending on a number of counts. For one, higher emergency expenditure on healthcare cannot be ruled out. This includes the creation of makeshift facilities for housing Covid-19 patients, equipment and medical infrastructure. It is anyone's guess how much expenditure these demands will entail.
For another, India is now witnessing a reverse migration of its workforce from industrial zones to its hinterland. There, the possibility of economic absorption of this workforce in the absence of higher investments in productive activities is limited. To be sure, governments in UP and Madhya Pradesh are trying their best to woo investors. But at some point, taking care of these large numbers of workers will require resources. The possibility that the Union Government may have to step in cannot be ruled out just yet.
Then there is the question of limits to spending. The low figure for government outgo has been criticised. This is curious. Today, even with 1 per cent additional spending, the fiscal deficit of the Government is close to 6 per cent of GDP. If one breaks down this figure, the sums are revealing. Even before the crisis touched India, the budgeted fiscal deficit stood at 3.5 per cent of GDP. After the crisis, a conservative estimate of the revenue slippage due to halting of economic activity is 2 per cent of GDP. In practice, this number may be higher as the Government has been forced to speed up the processing of Goods and Services Tax (GST) claims and direct tax claims. These refunds belong to businesses and individuals in the normal course but their return is staggered to ensure that government finances do not take a hit. But in a crisis, the effort is to put this money back into the hands of the claimants as quickly as possible. When seen together with a virtual drying up of the tax proceeds pipeline, the revenue slippage figure may exceed the 2 per cent of GDP mark.
It is to this combined sum (5.5 per cent of GDP) that the Government outgo of 1 per cent of GDP must be added. This brings the total fiscal deficit to 6.5 per cent of GDP. If one takes away 0.5 per cent of GDP on account of rationalising of government expenditure—a process already on—the fiscal deficit of the Centre still touches 6 per cent of GDP. Add another 4 per cent of GDP on account of states' deficits and we get a tidy, if somewhat alarming, sum of 10 per cent of GDP. This deficit does not include the borrowing requirements of Central and state public-sector units. This total dwarfs the financial savings of households.
Under normal circumstances, any such spending would have raised the hackles of fiscal purists. Dire predictions of runaway inflation would have emerged in no time. Today, the same set of analysts say the package is too small.
Ultimately, it is a question of finding the resources to pay one's way through the crisis. If necessary, the Government can always go for automatic monetisation of deficits by asking the Reserve Bank of India to directly buy the bonds it issues. Sitharaman did not rule out this option in interviews after the economy package was announced. This was normal until 1998. To its credit, the Government has not taken recourse to this option. It takes an enormous amount of political will in the Indian political system to not take the path of least resistance: borrow and spend as one likes without caring for the consequences.
The Government has wisely adhered to the limits prescribed for maintaining macroeconomic stability while keeping its powder dry in an uncertain environment.