The last weekend of June 2020 was rather unusual for senior officials at the information technology ministry. The screens had been care­fully lowered at Electronics Bhawan located at one end of the sprawling CGO complex that houses several Central government depart­ments and agencies. The behind-the-scenes ac­tivity was frenetic as staff raced to prepare the legal paperwork for a ban on Chinese applica­tions which, in accordance with Prime Minister Narendra Modi's instructions, was to be an­nounced ahead of a meeting of Indian and Chinese military commanders scheduled for June 30. After working round the clock in close coordination with the Prime Minister's Office (PMO), the ministry announced a ban on 59 applications, in­cluding TikTok, WeChat and Baidu, on June 29 stating that the Chinese-owned platforms were prejudicial to India's defence, security and public order.
Then-Minister of Electronics and Information Technology Ravi Shankar Prasad recalls that the prime minister's directions were precise: the ban must be in place, with all legal implications worked out, before the meeting between military commanders at a remote post on the Line of Actual Control (LAC) in the eastern Himalayas. The action, taken days after a bloody clash at Galwan in Ladakh claimed the lives of 20 Indian soldiers, was deliber­ate and well-considered. With border tensions running high, leaders and governments might have considered the wisdom of not upping the ante and allowing tempers to cool. Modi's re­sponse was the opposite as he had by then made up his mind that India would rework the copybook that had guided relations with China. There would be no separation of the border dispute from other aspects of the bilateral relationship, such as commerce and trade. Resolution of tensions along the LAC would be sine qua non for normalisation of the India-China relationship and the prime minister wanted to ensure that the message was not lost on the Chinese leadership. Apart from being a political signal, the decision was intended to cause serious commercial damage to Chinese firms.
Three years down the line, the debate whether the measures worked continues with some commentators arguing that mil­itary tensions in Ladakh remain unresolved. Yet China has va­cated its aggression in the areas where it had intruded in 2020, stepping back from positions it had claimed fell within its side of the LAC. The Indian intent is clear enough with thousands of troops mobilised near the northern borders. But more important­ly, India's readiness to clamp down on China's participation in the Indian economy demonstrated a preparedness to take on the communist giant. Indian visitors to China hear complaints from Chinese businessmen about India not issuing visas. "Modi does not want China," is the refrain. The India-China confrontation was keenly watched across the world, certainly by China's small­er neighbours who bear the brunt of its territorial expansionism in the South China Sea.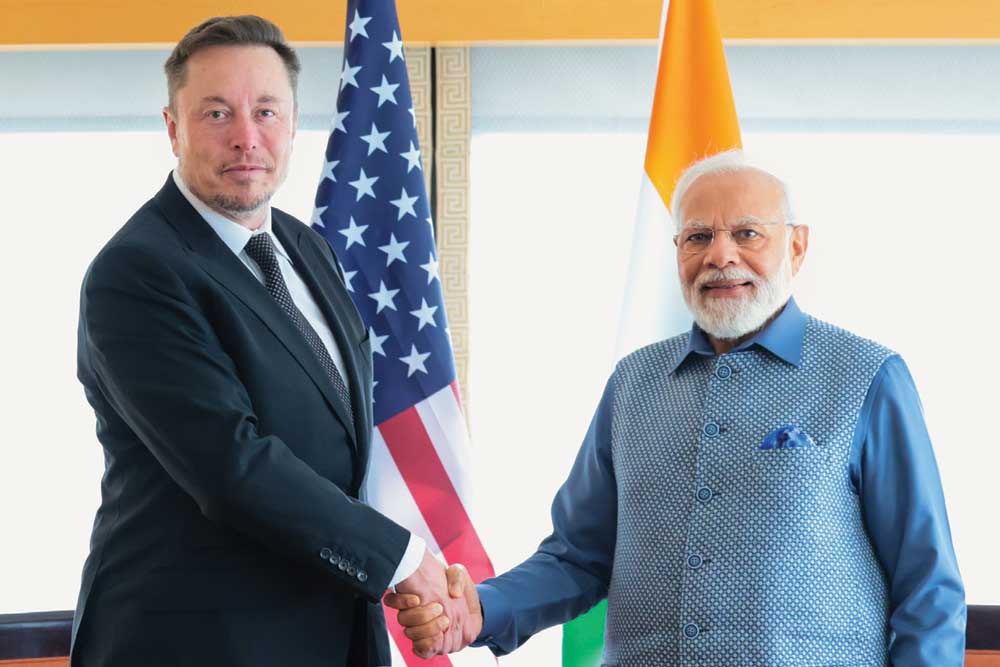 In his comments at the press conference he addressed along­side US President Joe Biden this week, Modi chose his words carefully, saying, "Peace and security in the Indo-Pacific is our common priority. We agree that the development and success of this region is important for the entire world." On Indian and American defence coopera­tion, he said the relationship had moved beyond one between "buyer and seller" and symbolised "mutual trust and shared priorities". Though India is not part of any formal alliance, the Indian leader made it clear, without naming China, the strong convergence and shared geopolitical goals as regards the Indo-Pacific. The question whether India will commit military assets in the event of a flare-up misses the point. India is certainly fully signed up to working with the US and all other nations worried about Chinese military activism to do all it can to counter Beijing. It is amply evident that India will not be a bystander as China muscles into the Pacific and even beyond into the vast Indian Ocean. Responding to a question, Biden minced no words in clarifying what distinguishes America's relationship with India as compared to China: "One of the fundamental reasons that I believe the US-China relationship is not in the space it is with the US-Indian relationship is that there's an overwhelming respect for each other because we're both democracies. And it's a common democratic character of both our countries—and our people—in our di­versity, our culture, our open, tolerant, ro­bust debate." The shared objectives could not have been better spelt out.
India's actions and decisions since the 2020 border flare-up are an important fac­tor that convinced the US about the Modi
securi­ty and led to the upgrading of the Quad and quickening of the means of cooperation. There were other reasons too why India, always on the US strategic map as a likely counter to China, be­came more promising as a partner. Despite the heavy toll caused by the Covid pandemic, particularly during the second wave in April 2021, India was able to successfully manage the crisis. When infections and deaths are normalised for population, India stands out in its response to the deadly virus. India has approved 12 vaccines and most of them are being manufactured in India as well. The ability to contain the virus has facilitated a strong economic recovery with India growing at 7.2 per cent in FY2023, the fastest among G20 countries and emerging economies. The string of crucial calls, including banking on capital expenditure and targeted industry-specific incentives along with foodgrain programmes for the poor, has made the Indian economy a sound prospect for investors. With Biden and Modi issuing the political commands, top officials on both sides have worked ceaselessly to remove bureaucratic hurdles and iron out legal blocks that retard a higher level of economic, defence and political engagement.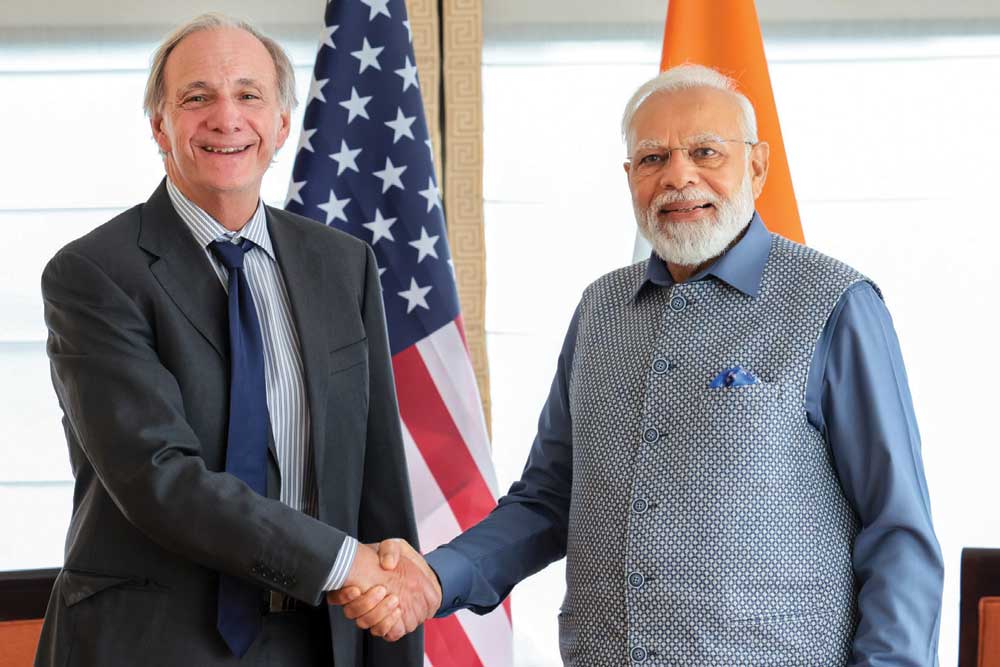 Y et, for all the big-ticket announcements, such as the Gener­al Electric-HAL project to make fighter jet engines in India and Micron's proposal to set up a semiconductor plant, the persistent criticism of India's "democratic backsliding" was a strong buzz in the background, amplified by mainline US media outlets. Modi grasped the nettle firmly during his press­er with Biden when asked: "As you stand here in the East Room of the White House, where so many world leaders have made commitments to protecting democracy, what steps are you and your government willing to take to improve the rights of Mus­lims and other minorities in your country and to uphold free speech?" The question was not without condescension, both in seeking a commitment on minority rights and a presumption that accusations of bias were indeed correct. Modi replied: "I am surprised to hear you say that 'people say'…It is not that people say… India is a democracy. Our government has taken the basic principles of democracy. And on that basis, our Constitution is made and the entire country runs on that—our Constitution and government. We have always proved that democracy can deliver. And when I say deliver, this is regardless of caste, creed, religion, gender. There's absolutely no space for discrimination."
The prime minister stressed that his government had shown that "democracy can deliver" and that welfare programmes do not discriminate between citizens on any ground. It was a signifi­cant moment as Modi's critics and opponents have sought to tar­get him and India claiming a rise in violence and discrimination against minorities, particularly Muslims. Organisations like the Indian American Muslim Council have sought to propagate the narrative that 'Hindutva' ideology has fanned extremism. While religious tensions are not new to India, these attacks ignore the influence of Islamists, both homegrown and global, which is stoking communal and social differences. While the US media, as evident from some of the reporting on the Modi-Biden presser, is not likely to change its beliefs anytime soon—continuing to rely on generalisations like "drift towards authoritarianism", "cracked down on dissent", or "policies that human rights groups say are discriminatory"—there was a grudging acknowledge­ment that the prime minister had not ducked the question and addressed it comprehensively.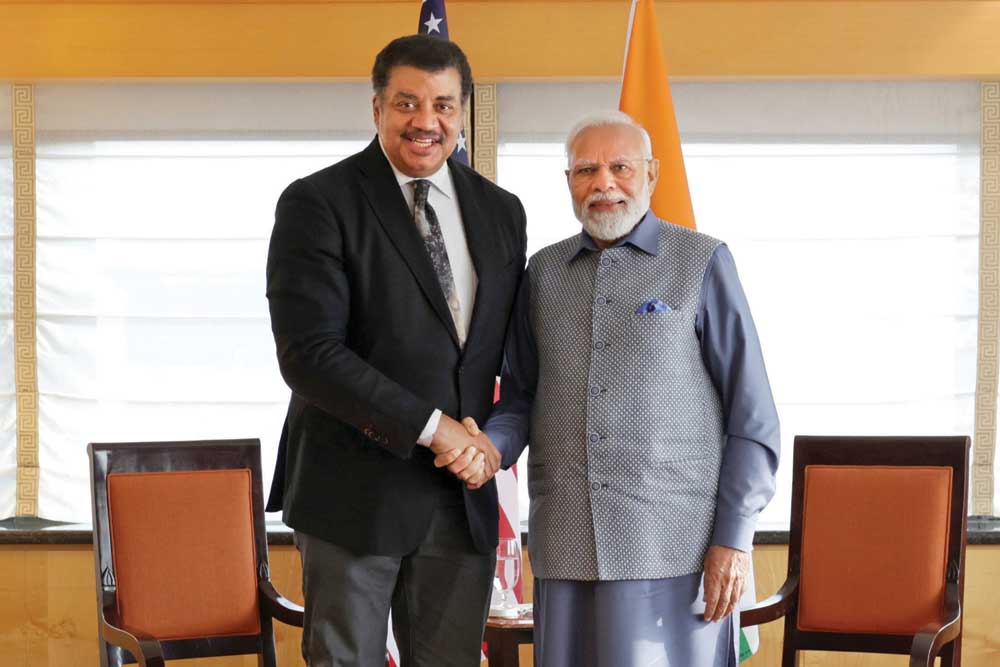 Modi made it clear that he was not standing in the White House to offer "commitments" but would only state what is evident to most visitors to India. "And that is why, when you say 'democra­cy' and you accept democracy and when we live democracy, then there is absolutely no space for discrimination. And that is why India believes in moving ahead with everybody with trust and with everybody's efforts. These are our foundation principles, which are the basis of how we operate, how we live our lives," he said. Biden administration officials have also addressed these ques­tions without being defensive. Answering questions ahead of the visit, John Kirby, coordinator for strategic communications at the White House National Security Council, said, "India is a vibrant democracy. Anybody that, you know, happens to go to New Del­hi can see that for themselves. And certainly, I would expect that strength and health of democratic institutions will be part of the discussion." Kirby then spelt out what India and the US were really concentrating on, explaining, "But this (state) visit is really about advancing what is now and what we hope will be a deeper, stronger partnership and friendship going forward." In media interviews, National Security Advisor Jake Sullivan and US Ambassador to In­dia Eric Garcetti offered a glimpse of what the discussions were in­tended to deliver. Sullivan has driven the Initiative on Critical and Emerging Technologies (iCET) which aims to break new ground and vastly expand cooperation in defence, space, science and tele­com by bringing Indian and American businesses, governments and universities together. A brains and funding push to startups is very much on the cards which will provide thrust and volume to innovation, an area both Biden and Modi repeatedly referred to. Garcetti said that while half-a-dozen "outcomes" on the visits of foreign leaders would be considered quite satisfactory, there were more than 100 on the Modi itinerary.
The transactional aspect of ties centred round China has been commented on but both leaders were at pains to point out, as did senior officials, that the relationship is not just a balance-of-power equation. As Sullivan put it, "Fundamentally, we believe that the long-term trajectory of the US-India relationship is built on the notion that two democracies with shared value systems ought to be able to work together… That's a long view. That's a view rooted in our bet on the relationship between the people of the United States of America and the people of India… Part of what will be lifted up and celebrated in this visit will be those deep people and people ties." In his remarks, Modi also noted that the people-to-people relations were a key aspect of the ties, and as he has always done, leveraged the large and influential India diaspora in the US. In his previous joint address to Congress, he had referred to the need to shed the hesitancies of history, and had received widespread ap­plause. On June 22, when he walked into the Congress chamber, he was immediately greeted as an old friend. His walk to the podi­um was slowed by conversations and handshakes with dozens of attendees who were keen to have a word or two. In his speech, laced with some humour and a detailed elaboration of how "de­mocracy is working and delivering" through programmes aimed at uplifting the poor, Modi noted the bipartisan reception he had been accorded: "I can relate to the battles of pressure, persuasion and policy. I can understand the debate of ideas and ideology. But I'm delighted to see you come together today to celebrate the bond between the world's two great democracies. India and the United States." While he spoke in the context of India-US ties, the oblique reference to the Indian National Congress and its leader Rahul Gandhi's constant criticism of India and the government while abroad was perhaps not far from his mind. Even during Modi's visits, Congress' media managers and spokespersons kept up a steady stream of social media commentary seeking to run down the prime minister's engagements as nothing out of the ordinary and claiming that previous visits by Congress prime ministers had achieved more. The efforts did not work as was evident from the welcome accorded to Modi by the Indian diaspora. Further, Bhara­tiya Janata Party (BJP) spokespersons quickly dug up uncharitable references to Jawaharlal Nehru attributed to Jackie Kennedy in a book published several years ago.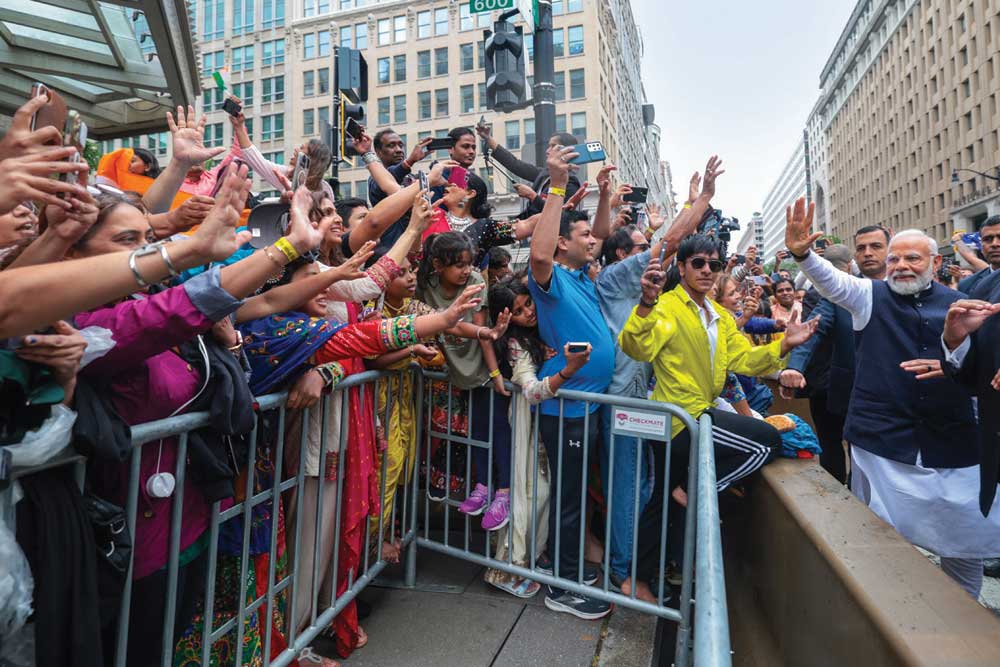 Modi made it a point to dwell on India's commitment to democratic values, repeatedly stressing the common feature of Indian and American polity. He also did not hesitate in putting forward his view of India's history and culture, noting, "We celebrated a remarkable journey of over 75 years of freedom after 1,000 years of foreign rule in one form or another. This was not just a celebration of democracy, but also of diversity, not just of our constitution, but also a spirit of our social empowerment, not just of our competitiveness, and cooperative federalism, but also of our essential unity and integrity." The emphasis was important as it was a confident assertion of India's democratic institutions and identity and a rejection of allegations that diversity and pluralism are in decline. The prime minister's remarks linked a vibrant democracy to a robust growth story, noting that members of Congress had a growing interest in India. "If India grows, the world grows," he said. He spelt out the benefits of an India connect fairly directly: "Every member of this Congress has a deep interest in it. When defence and aerospace in India grow, industries in the state of Washington, Arizona, Georgia, Alabama, South Carolina and Pennsylvania thrive… When American companies grow, their research and development centres in India thrive. When Indians fly more, a single order of aircraft creates more than a million jobs in 44 states in America." The commercial aspects of the visit were almost as important as the strategic discussions that now place India at the centre of important global discourses, particularly those about creating safe and secure supply chains.
The high-octane visit, full of pomp and hospitality accorded to the prime minister that included a private and a state dinner, a big reception on the White House lawns, a military guard of honour, and a joint presser with Biden, will be watched with concern and dismay in Islamabad and Beijing. While its current woes, whereby it struggles for a multilateral bailout and faces a public insurrection from former Prime Minister Imran Khan, have forced Pakistan out of the current international context, India's emergence as a partner of the US is bound to attract comment. US Secretary of State Antony Blinken visited China just ahead of Modi's visit in what was seen as an attempt to dial down tensions and prevent military mishaps. It was also intended to explore the possibility of the first steps towards a more normal relationship rocked by China's support to Russia and incidences like the spy balloon. It was not, as some commen­tators felt, any move towards a 'détente' or a serious thawing of ties. Apart from his counterparts, Blinken met Chinese President Xi Jinping, and there was some discussion about who had blinked. Biden's reference to Xi as a "dictator", which he later said would not hurt ties, makes it evident as to how the two large powers see one another. China's concerns about India working with the US to contain and coun­ter its ambitions in Asia will spike after the prime minister's visit. Having benefitted from American help from the 1980s on­wards in developing and modernising its economy, the import of the economic and industrial cooperation between India and the US will not escape the commissars who run China's affairs. Having long viewed In­dia in the context of a triangular power play rather that granting India its own identity and objectives, the White House show is not good news.
In contrast, the manner in which India and the US have nego­tiated what could have been serious differences over the Ukraine war indicate that the Biden administration has recognised New Delhi as an equal partner who will not "fall in line" as America's allies have been expected to over the past many decades. India has remained unfazed by criticism that it has helped Russia by continuing a defence relationship and buying oil. In a pre-visit interview, Modi insisted that India was not neutral but on the side of peace. What he meant was India has high stakes in the Ukraine conflict ending. There is deep concern about the continued un­certainties due to the war, and the possibility of it taking a more deadly turn. The war, according to India's reading, could not have happened at a worse moment when the world was just about emerging from the Covid shock. To that extent, India would offer very little support to Vladimir Putin's actions. There is, however, an understanding that exacerbating differences with India or al­ienating it will serve little purpose. It can only weaken America's efforts to force Russia's hand and weaken China. For India, there is nothing to be gained by strengthening China by breaking its longstanding relationship with Russia. The Ukraine war will be a difficult rock to pass when India hosts the summit of G20 leaders at the end of its presidency in September, but support from the US is crucial to ensure discussions do not turn into a non-event.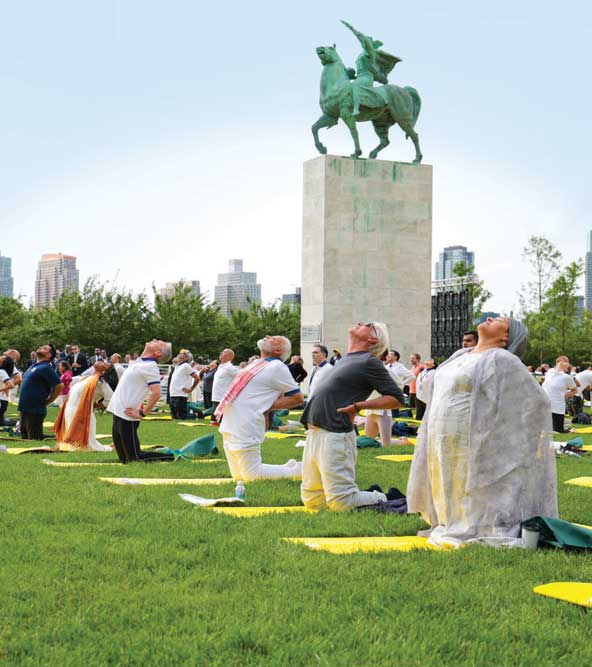 "Now, when our era is at a crossroads, I am here to speak about our calling for this century… I agree with President Biden that this is a defining partnership of this century because it serves a larger purpose. Democracy, demography and destiny give us that pur­pose," Modi said in his address to Congress, summing up India's changed profile and expectations. It was perhaps no coincidence that ahead of his speech, a bill was introduced to add India to the list of favoured nations for US arms sales under the Arms Export Control Act, alongside NATO members and Australia, Japan, Isra­el, New Zealand and South Korea, according to an NBC report. The deal between GE and HAL is an important marker, as it involves total transfer of technology and will cover a big gap in India's defence production ca­pabilities. The engine will be fitted to the Indian-made Tejas Mk2 fighter and also a fifth-generation fighter being developed by GE. This is significant as it will provide In­dia a jet engine that will not be obsolete for the next two decades. The Indian Air Force's (IAF) Rafales are 4.5-generation fighters but the platform built by French Dassault Aviation can be redeveloped and used well into the future. The advanced avionics of the Rafale are a big step up for India's deter­rent might, and the additional upgrade of Tejas, which too is a 4.5-generation fighter, will give the IAF a deadly punch in the skies. The plans to boost semiconductor production in India will help it overcome a big weakness in its manufacturing. As demand increased post-Cov­id, the shortage of chips retarded car sales, sometimes resulting in waiting queues of several months. Modi signed the Artemis Accords that provide for civil space exploration and putting an astronaut on the moon again, and India will now be part of the initiative. Its non-binding objectives of peaceful exploration and utilisation of space resources are, however, not likely to find any support in Moscow and Beijing who have declared their in­tent to create a new world order based on their "without limits" partnership.
The public aspect of the prime minister's visit marked his suc­cess as a leader recognisable across the world. His participation in the International Day of Yoga on the United Nations (UN) lawns saw him being mobbed after the event as he met attendees that included Hollywood icons like Richard Gere and children who had led the demonstration. His interactions with leaders like American economist Paul Romer, investor Ray Dalio, science communicator Neil Tyson, Buddhist scholar Robert Thurman and public intellec­tual Nassim Nicholas Taleb were detailed and also specific, discuss­ing India's use of technology to help the needy as also views on its path of economic development. Before departing, the US diaspora event was also planned where the prime minister would sum up the visit and offer his take on developments back home. The state dinner at the White House attracted considerable attention, not only for the number of people who wanted to be there but also the elaborate preparations overseen by First Lady Jill Biden who said the themes were a careful mix of Indian and American col­ours. The menu was vegetarian in deference to the guest although there was wine on offer for those who wanted to sip it. The prime minister himself was content to raise a non-alcoholic toast. The "plant-based" fare might have been a novelty but did not seem to put off guests who were keen to meet Modi and get a signature on their invitation cards. The choice of gifts the prime minister car­ried with him reflected thought and an effort to showcase India. A handcrafted sandalwood box for the president and a 7.5 carat lab-grown green diamond for Jill Biden sat alongside intricately made silver boxes. In return, Modi received an antique American book galley from the early 20th century as also a vintage American camera. There was an archival facsimile print of George Eastman's patent of the first Kodak camera and a hardcover book of American wildlife photography. The first lady gave Modi a signed, first-edition copy of Collected Poems of Robert Frost, according to media reports. The gifts were interesting, reflecting Modi's love for the outdoors and a reading habit which is less well known.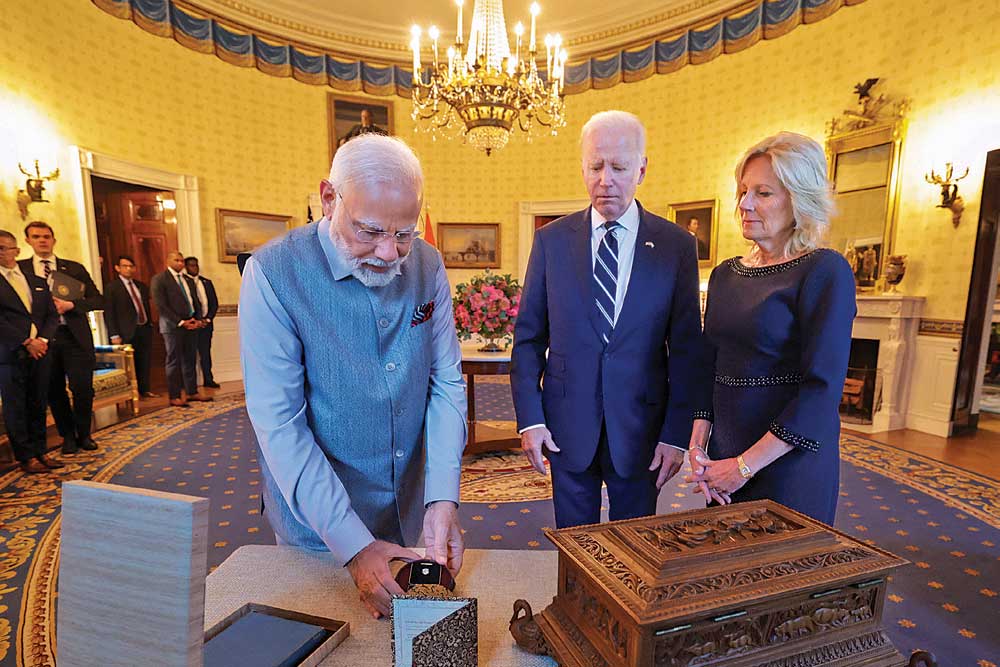 It took the prime minister some time to exit the Capitol after his speech, as he stopped several times to sign the invitation cards for the event, including one for Speaker Kevin McCarthy. The easy and convivial conversation reflected acceptance and warmth. It was as if Modi was a frequent visitor rather than a lead­er invited to deliver a speech. It was reminiscent of the reception accorded to Bill Clinton when he addressed both Houses of the Indian Parliament shortly after the Kargil War and waded his way through MPs in the Central Hall after the event. Modi is, in fact, no stranger to the US. He visited America when he was a BJP office bearer, and was always struck by the economic and technological progress he witnessed as also the progress of the Indian community. His natural curiosity about different gov­ernance models and social norms has seen him appreciate and prioritise the importance of America for India's development. Perceptive commentators who have met Modi quickly realise the "India first" aspect of Modi's conversations and actions. Keen to explore options that suit India's interests, the prime minis­ter ensured his visit to the US was packed with outcomes that promote India's cause as an emerging power.