BY PULVERISING OPPOSITION PARTIES IN HIS HOME STATE OF GUJARAT, snatching their traditional vote banks and reducing contenders to pretenders, Prime Minister Narendra Modi plays out Zeus and Spartacus rolled into one—the ruler-fighter-protector of his legions. He blends permanent campaign with good governance. The Bharatiya Janata Party (BJP) has won the largest number of seats ever with a record vote share. Beyond his home state, too, the distance between him and his challengers is steadily growing. Congress, once a formidable force, is an irrelevance today; the Aam Aadmi Party (AAP) is all hype and of no significance. The key takeaway from Modi's campaigns is that personal as well as political attacks on him boomerang, attracting penalties from voters.
In the years right after Independence, Jawaharlal Nehru and his vision dominated mainstream politics and policymaking. Bolstered by the legacy of the freedom struggle, the government was able to push through what it wanted on key issues like secularism, prioritising planning for development, and its approach to the economy. The Bharatiya Jana Sangh was a mere startup in 1952. It had no hold on the political imagination of Indians. It was the painstaking and meticulous groundwork of the Rashtriya Swayamsevak Sangh (RSS) that allowed the Jana Sangh to carve out a place for itself. It was RSS leaders who envisioned the need for a political arm after years of cultural groundwork to promote their ideology.
Syama Prasad Mookerjee left the Hindu Mahasabha and launched the Jana Sangh in October 1951 as a nationalist alternative to Congress. It called for the rebuilding of India based on Hindu culture and a strong Union government. In 1977, led by Atal Bihari Vajpayee, the Jana Sangh morphed into the Janata Party which joined others in establishing a non-Congress government at the Centre. After the fall of the Morarji Desai government in July 1979 and the end of Charan Singh's tenure as prime minister in January 1980, BJP was formally established in 1980 with Vajpayee, LK Advani and Murli Manohar Joshi at the helm. The party aggressively propagated Hindutva but it was not until 1989 that it began to taste electoral dividends. By 1991, it had won 121 Lok Sabha seats and held power in four states.
BJP emerged as the most powerful challenger to Congress, not just in terms of opposing it politically and ideologically but it also had to fight ostracism from other parties. This was because it represented a worldview that sharply countered the dominant narrative of the time. Until the 1990s, Congress was the unquestioned protagonist of the story that captured the imagination of independent India. BJP was a dissenter, a marginal player. So powerful was the dominant narrative spun by Congress that BJP remains a marginal player among the people who control the levers of academia, newsrooms and the culture industry. Nehru did not have to contend with the hostility or resistance of a significant section of society that BJP had to face in the form of Muslim apathy, or the 'Muslim veto'.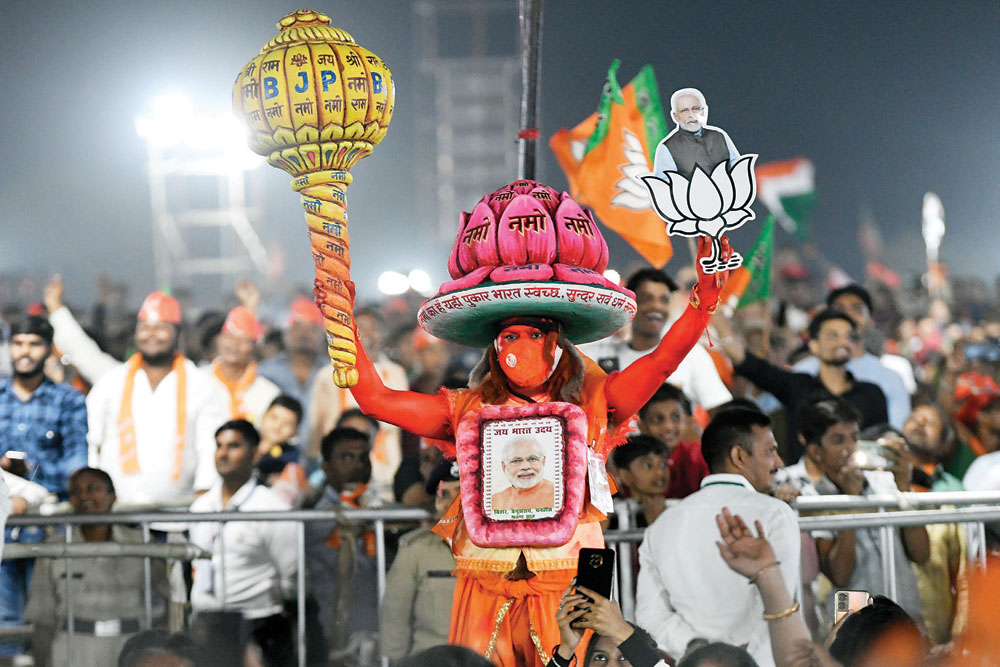 Down the decades and with the emergence of Modi as the tallest and most decisive BJP leader and flag-bearer of Hindutva, a powerful initiative to question the entrenched Nehruvian "Idea of India" has firmly taken root. This was something that even Vajpayee and Advani were unable to achieve in an era when compromise was still the norm for BJP to gain political acceptance from both the public and non-Congress parties. In election after election, BJP has been able to quash the weight of the Muslim veto and ensure its irrelevance while mainstreaming Hindutva and redefining the contours of both secularism and socialism.
While crucial, that is not the full story. In tandem with triumphs in the political, ideological and cultural spheres, BJP under Modi has been quick to recognise and respond to increasing public pressure on politicians and their organisations to perform better and to enhance delivery of goods and services. With rising expectations, after decades of unmet needs and aspirations, the pressure has mounted on governments. In the Nehru years, it was the Films Division and the information and broadcasting ministry that played a key role in spreading the government's message, as did the Congress-leaning liberal-socialist media that took on an aggressive role in shaping the discourse. Today, BJP must deal with a multiplicity of opinions as a ruling party as well as a provider of goods and services. Yet, it remains an outlier so far as the elite discourse is concerned.
IN AN AGE OF EXPLODING EXPECTATIONS, governments, parties in power and politicians need to shape up or ship out. Socialist icon Ram Manohar Lohia had put it pithily: "Zinda kaum hai, paanch saal tak intezar nahin karti (We're a living community, five years is too long a wait for us)". That's what describes the spirit of the age. People today, especially the youth, are exposed to new experiences and standards. Online approvals of various official permissions through apps, direct transfer of benefits to the eligible, cashless transactions by the smallest of vendors, zero-balance bank accounts, Aadhaar cards—all of these are speedy solutions to perennial problems from a government that has begun redefining its own role in the new age, not as mai baap or primary provider but as a facilitator, loosening its grip on non-essential economic activities. This includes making cars, commercial vehicles, distributing power, and running insurance corporations. It is an age in which criticism is severe.
There is no single explanation for this. Several things make up the Modi alchemy. Modi's towering personal image, his sincerity of purpose, his unstinting hard work, his industry and its projection to the public are at the core of everything. On the ground, this has translated into delivering on key commitments to citizens through very difficult times. Modi's seemingly unpopular decision to impose a strict lockdown across India knit itself unerringly with the people's cultural moorings and it was shored up with an extended period of free rations to millions of citizens during the pandemic. The elite lampooned the claim of his party workers that their leader is a man who toils 24×7. On the ground, however, it is the quick response of the well-oiled Modi machinery to people's aspirations that has made a difference. Nehru was the first to mouth the adage "aaram haraam hai (rest is sacrilege)". But his followers failed to translate their leader's dictum on the ground. Modi, however, has successfully managed to radiate a sincerity of purpose. So successfully that even if a single initiative of his government does not yield the expected dividend, people are inclined to give him the benefit of doubt and believe that the move was made in the larger public interest.
Underpinning the overwhelming image of Modi is an incredible and indefatigable delivery system that monitors the work on a plethora of Central and state schemes, including the Pradhan Mantri Garib Kalyan Yojana, the PM Kisan Samman Nidhi, the supply of free gas connections, Covid-19 vaccinations, Ayushman Bharat, as well as last-mile supply of basic essentials like water and electricity. Sample this: India is now the world's fifth largest economy. In 2022, India became the recipient of $100 billion remittances—the highest among middle-income nations. India has the largest number of digital transactions in the world. Maternity ration supply has improved by a big 25 per cent since 2014. Market capitalisation of public-sector banks (PSBs) has crossed ₹10 lakh crore for the first time. Indian households with a tap connection have grown from 3.23 crore (17 per cent) in August 2019 to 10.5 crore (55 per cent) in November 2022. It is not just the delivery of essentials but also of services and the creation of an unprecedented ease of livelihood environment that have endeared Modi to the poor.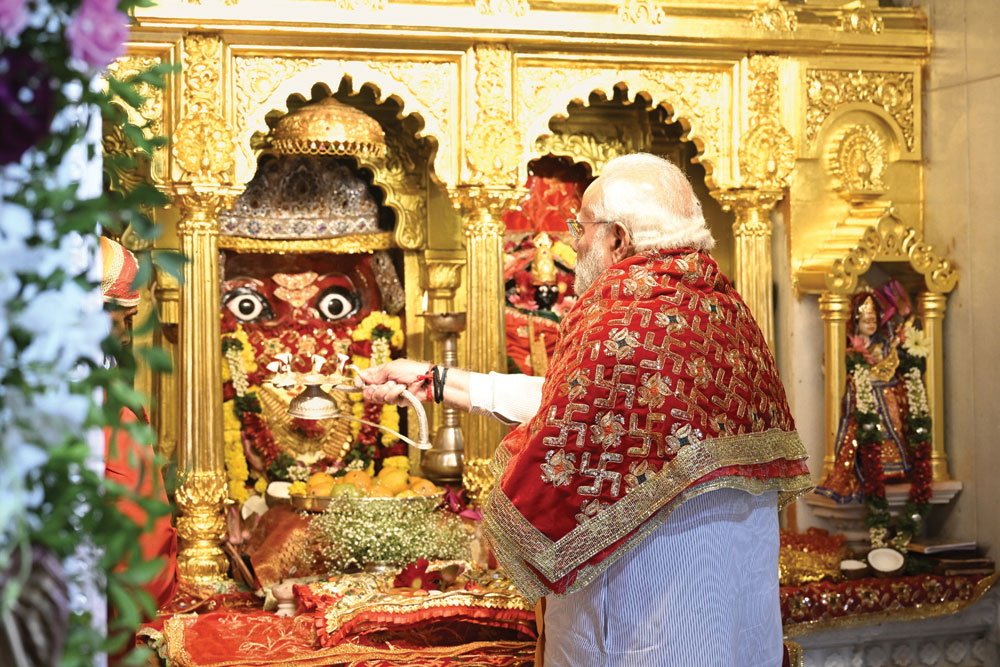 Today, there is an air of expectancy. Things are on the mend. Infrastructure is on a rapid roll and is being upgraded as never before. Roads, highways, railway connectivity, airports, new ports, village-linking roads, etc are all being built at speed, on a scale and with a quality hitherto unseen.
The Modi government has given a massive boost to infrastructure of the kind not seen since Independence. Directly linked to improving communication and ease of livelihood, accolades are pouring in not just from official sources but also from private monitors who gauge growth and project investment growth. According to the India Brand Equity Foundation (IBEF), India was expected to become the world's third largest construction market by 2022. India would require investment worth ₹50 trillion ($777.73 billion) across infrastructure by 2022 for sustainable development.
Huge investments in infrastructure have provided momentum to overall PE/VC investments in India. Modi announced a ₹100 lakh crore master plan for multi-modal connectivity in October last year with the goal of developing infrastructure to lower logistics costs and improve economic performance.
Modi did not try to pit Hindus against anyone else but to motivate Hindus to discard the sense of inferiority that they had been condemned to because of the systematic de-legitimisation of their past
A report by SBI Ecowrap concluded recently that despite inflation and several macroeconomic shocks, India continues to "stand like an oasis in this era of uncertainty". The report compared the cost of living in India with the US, the UK, and Germany, and in terms of food prices India performed better than the other countries.
The report stated that, "What cost ₹100 in September 2021 across countries, now is up by ₹25 in the US, ₹18 in the UK, ₹33 in Germany, and ₹15 in India". India also performed better in terms of energy prices and cost of living and housing.
It is nobody's case that Modi invented the internet in India but Modi certainly oriented it towards the people of India. Life has become easier because of Digital India. But for the shock of the much-criticised demonetisation of large-denomination notes, India would have continued to expand the digital economy only at the "Hindu rate of growth". Internet use is clearly on the rise in India, according to an Assocham-PwC study. Data consumption in India would grow from the level of 71,67,103 million MB (megabytes) in 2017 to 10,96,58,793 million MB in 2022, growing at a compound annual growth rate (CAGR) of about 72.6 per cent. While the average Indian used to spend more on voice services than on data services until 2013, most of an average mobile bill is now spent on data, according to the report.
Modi has got credit for his sincerity and integrity since 2014. Nehru, India's longest-serving prime minister since Independence, is hailed by Congress for his legacy of industry and honesty in public life. But corruption in governance was also a part of that heritage. At the centre of the Jeep scam, India's first ever scam, was the then Indian high commissioner to the UK and a favourite of Nehru's, VK Krishna Menon, who later was even made defence minister. Backed by the Prime Minister's Office (PMO), Menon bypassed the code of procedure and inked a ₹80 lakh contract with a foreign firm for the supply of 200 jeeps for the Indian Army. Despite paying the contract money upfront, only 155 jeeps arrived. Nehru not only ended the probe abruptly but also made Menon defence minister. The Haridas Mundhra scandal and the Partap Singh Kairon scam were both raised by Nehru's son-in-law, Feroze Gandhi. The Teja loan corruption scandal involved shipping magnate Jayanti Dharma Teja's Jayanti Shipping Company with a paid-up capital of less than ₹200. He took government loans worth ₹22 crore and siphoned the funds off to his Liechtenstein bank account after which he left the country. He was finally arrested in London in 1970 and was also awarded a six-year sentence but escaped later.
Most of these have been successfully whitewashed by Congress over time and Nehru's legacy has evolved into a singularly hagiographic narrative. Modi, already a two-time prime minister, and who might get a third term still, has till date no scam or corruption scandal linked to his name despite the likes of Rahul Gandhi desperately trying to drum up political traction around the Rafale fighter jet deal. Despite powerful sections of the media and political activists working overtime to link Modi to corruption, nobody has been able to present any evidence worth the name. It is true that it is debatable whether corruption is a top political issue of public concern in India, since we had been replacing one set of scammers with another through the decades. With Modi at the helm, however, this apathy towards corruption has become a thing of the past.

APART FROM HIS PERSONAL CREDIBILITY AND his government's unprecedented delivery of essentials and key services, another important feature going in Modi's favour is culture. An unabashed Hindu, Modi has emerged as the first prime minister to dump the hypocrisy surrounding secularism and proudly own his religious moorings by not just visiting the most important Hindu shrines but by also restoring them to their past glory. In doing so, he did not try to pit Hindus against anyone else but to motivate Hindus to discard the overwhelming sense of inferiority that they had been condemned to because of the systematic de-legitimisation of their past. For Modi, this has remained the fulcrum of his people project, defined by a defiant assertion of faith and culture. The most talked about move in this project is the reclaiming of the Ram Mandir which is set to be inaugurated for the public soon after decades of being in limbo. Far from causing further tension, Modi chose to repose his faith in the courts to resolve this contentious issue. This was followed by the making of the Kashi Vishwanath corridor, the renovation of the Mahakal temple at Ujjain, and the hoisting of the bhagwa dhwaj at the Kalika temple atop Pavagadh Hill in Gujarat's Panchmahal district. Mahmud Begada, who established the Gujarat sultanate in the 15th century, had captured Pavagadh and destroyed the temple. "Can you imagine that for five centuries and so many decades of independence, no flag had been unfurled on the 'shikhar' of Goddess Kali? It happened today… And the Shaktipeeth of Pavagadh, the Mahakali temple, will be in its glory and grandeur ahead of Gupt Navratri (beginning June 30, according to the Hindu calendar)… with the blessings of Mahakali, we are seeing the same power of Gujarat and India," Modi said after unfurling the flag.
Modi's Hindu revival project was not restricted to the spiritual and the cultural. It changed the socio-cultural and political landscape radically as well. Legions of practising Hindus across India, both rural and urban, came out of the closet proudly sporting saffron wrist ties and tikas on Tuesdays, suddenly unabashed about their temple and shrine visits. Thanks to the institutionalised hypocrisy of a political class that had elevated minority appeasement to social mores, caricaturing the Hindu religion had become normal. With Modi's Hindu project, though, his rivals were forced to accept, even mimic, his open reverence for the majority religion of India, knowing that not doing so would come at a huge political cost.
Overnight, supposedly philistine behaviour, such as participating in a satsang or a Mata ki chowki, chanting bhajans, etc became a thing to publicise for the public, inasmuch as the well-heeled Hindu elite took pride in Sufi music festivals while turning up their noses at jagarans.
Modi openly celebrated the promotion of Sanskrit, the elevation of yoga, the focus on the glory of Indian languages and the equal emphasis on education in all Indian languages. Alongside this revival and mainstreaming of Hindu-ness, Modi has brought a sharper focus on Indianness and Indian cultural traditions. This comes at a time when India is doing well on the global stage, its economy is healthy, and the government's handling of Covid has turned out to be far better than that in several developed countries. Despite the dirges about the death of democracy, people are voting with abandon and also replacing governments, including those of BJP.
The Modi phenomenon has proved to be a complex and abiding fusion of both the emotional and the tangible. It has engendered a new type of self-belief among people, one that allows Indians to proudly reclaim their Hindu heritage and earn accolades across the world at diaspora events.
Modi, unlike his predecessors, has refused to be intimidated by the social elite while executing his projects on any front, something that both Vajpayee and Advani failed at. Criticism would force them to retreat from what they considered correct. Modi, however, doesn't care for political correctness once he espouses a project. The retreat on the farm laws was an exception, but he made it clear that he was not dropping the legislation because he found merit in the criticism but only because it was necessary for national security that was being threatened by Khalistanis in league with Pakistan.
Breaking with the Western chorus against Russia in its war against Ukraine, Modi dared to navigate diplomatically to prioritise India's interests while rooting for a peaceful resolution of the conflict. This was even more admirable given that most pundits were unanimous in their view that sitting on the fence and not joining the position taken by NATO and the US in favour of Ukraine would cost India heavily. But the fine balancing act Modi did with the US and Russia, securing fuel at discounted rates in the process, has led nations such as the US, the UK and even the European Union to acknowledge India's position.
Narendra Modi is a leader who refuses to be categorised. Conservative leaders like Jair Bolsonaro, Donald Trump and others were vaccine sceptics who underplayed the threat of the Covid virus. But Modi, supposedly on the same ideological path, chose not just to prioritise vaccine production and take the shots publicly but to also earn plaudits by engaging in vaccine diplomacy. Typically, conservatives in the US would be concerned about the fiscal deficit. Despite being a fiscal disciplinarian, Modi did not bat an eyelid over allotting ₹3 lakh crore for food subsidy and ruled out any cuts in fertiliser subsidy during the pandemic.
Modi is still Hindutva's flag-bearer and BJP's winning plank. As India races towards the 2024 General Election and his third term as prime minister, to no one's surprise, he is proving to be politically indestructible.

PR Ramesh is Managing Editor of Open