LAST MONTH, WHEN the Maharashtra government announced that schools across the state would be reopened from August 17th, Anubha Shrivastava Sahai was aghast. "These are just kids," she says now. "Are we forgetting we are in the middle of the pandemic?"
Where are we really at present? Are we in the middle of the pandemic still, or in its ebb? Or is there another devastating wave creeping up? It's a question at the root of many of our anxieties, and one with few answers as of now.
Sahai, a mother of two school-going children, who works as an advocate and heads an informal but large and vocal network of parents across the country called India Wide Parents Association, began instantly, along with some other parents, petitioning the state, asking them to reveal the vaccination status of teachers across Maharashtra. Although she learnt that the principal of the school her children study at was unlikely to reopen it anytime soon, this wasn't going to stop her, or parents like her, from mobilising to oppose the decision.
Within days, the state government's order was withdrawn. Faced with the ire of parents and advice against reopening schools by the state's Covid-19 taskforce, a team of doctors and experts that advises the state on Covid-related matters, only the resumption of some physical classes in the state's rural areas was permitted. While some other states and even large cities like Delhi have resumed school for some of their senior classes since then, states like Maharashtra haven't mentioned a word of it again.
"It isn't as though we think education is unimportant, but why not wait till next year?" Sahai asks. "Just look around, the signs are there. Cases are rising again (in some states). The third wave is just round the corner."
Although India's Covid-19 numbers have improved dramatically—from the peaks of over 4 lakh daily new infections seen in May to the roughly 40,000 new cases being reported now, nearly half of these emerging from just Kerala, and urban centres which had turned hotspots, such as Delhi, Mumbai and Pune, today witnessing only a few cases—many fear that this might be a deceptive lull right before a new deadly third wave hits the country. A combination of factors, from the resumption of social and economic activities and the many upcoming festivals to projections of how a new mutant virus could wreak havoc in the way the delta variant did in the second wave, has put many on tenterhooks.
And somehow, in the mix of these fears another has arisen—that this new third wave will primarily target children.
If, on the one hand, parents like Sahai are refusing to send children to school, on the other hand, various state governments are ramping up their facilities to deal with an outbreak of infection among the young, from creating paediatric taskforces to advise the government and setting up paediatric wards and ICUs to, even, in the case of Uttar Pradesh, announcing plans to get parents of children below 10 vaccinated on priority. In Mumbai, among the first cities to be hit by the second wave, the Brihanmumbai Municipal Corporation (BMC) is gearing itself up specifically to deal with an onslaught of Covid cases among children. "Our (Maharashtra) paediatric taskforce has specifically advised us to prepare for kids. So, in every jumbo facility and hospital (for Covid-19 patients), we have carved out paediatric wards. We have also procured adequate items, such as oxygen masks meant for kids, so we are ready in every way," says BMC Additional Commissioner Suresh Kakani.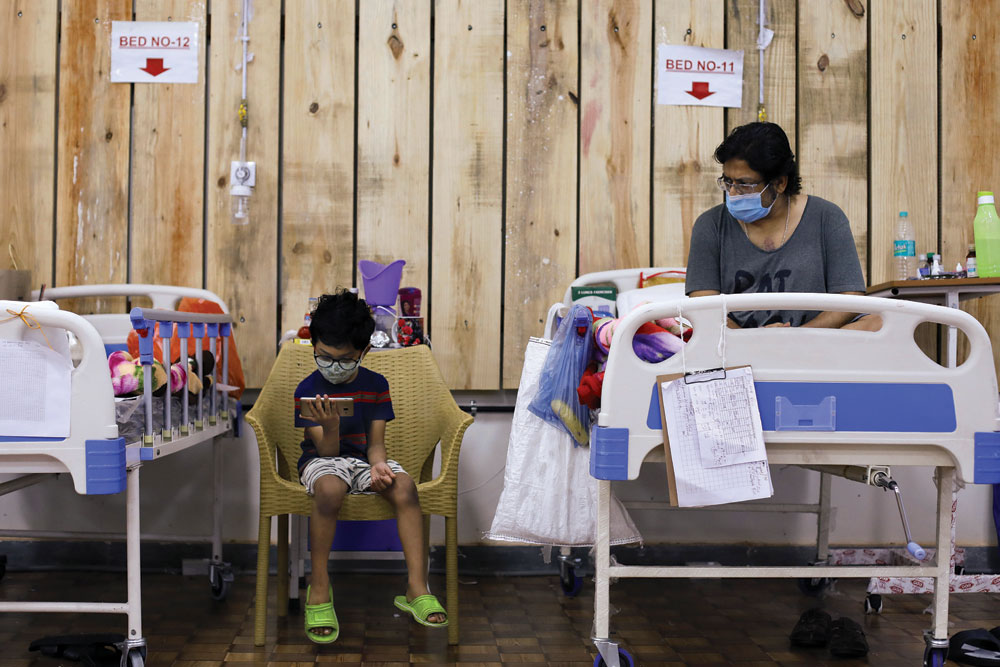 There is little evidence to suggest that a new wave could specifically affect children. On the contrary, various studies show that children tend to be more resilient to the virus than adults, only a small percentage requiring hospitalisation after infection and an even smaller number of deaths. "Because it was believed that children hadn't been largely affected by the first two waves, the logic went that those largely uninfected and still not immune was children," says Dr Samir Dalwai, a developmental and behavioural paediatrician and a member of the Maharashtra government's paediatric taskforce. "But there are two problems with that theory. It is not true that children were not affected. Some sero surveys have shown about 50 per cent of children have already been infected. Secondly, infectivity hasn't changed. The infectivity we see in children is the same we see in adults. Depending on the total volumes of cases that come up in the third wave, the number of children (infected) will reflect that. Proportionately, it will be no different."
It isn't just the absence of agreement on whether the third wave will primarily affect children, there is also very little consensus on when the third wave will arrive or how severe it will be. Some point out that the severity of the second wave, with a large population of Indians having been infected and developed a measure of protection, will mean the third wave will be less severe. The Indian Council of Medical Research's (ICMR) last survey found two-thirds of blood samples surveyed had developed antibodies, compared with about a quarter in December and January. Others point at the slow pace of the vaccination campaign and the absence of concrete evidence that shows antibodies, either from vaccination or natural infection, last long. Besides, they say, even if one were to accept the sample size of about 36,000 (in the ICMR's survey) to reflect the true picture of a country India's size, we should remember that the remaining one-third, or roughly 400 million people, are still susceptible to the virus.
According to Vinod Scaria, the principal scientist at CSIR-Institute of Genomics and Integrative Biology and one of the leading experts of genomic studies in India, the analysis of waves of infections of Covid-19 in different countries suggests that waves of infection might occur despite a large number of people in a country acquiring immunity either through vaccination or previous infection. "Nevertheless data from these countries suggest such waves of infections have resulted in lower proportions of severe illness and deaths. It should be noted that each country (or) region has unique issues which preclude the generalisation of such observations. Nevertheless data emerging from across the world suggest that the approved Covid-19 vaccines are quite effective in preventing severe disease and deaths."
Authorities, both at the Centre and in the states, have begun to gear up for a potential new wave. If, at the Centre, ₹ 23,123 crore had been set aside to tackle this new wave, as Information and Broadcasting Minister Anurag Thakur recently revealed, in Mumbai, old jumbo centres (with hundreds of beds for Covid patients) are being activated and new ones set up, apart from resuming old stringent campaigns against those who don't wear masks and sealing buildings with five or more cases. "We have prepared one lakh beds in four categories. Of these, 70,000 for high-risk individuals and asymptomatic patients (in two different categories), and 30,000 beds for the moderately sick and the critically ill," Kakani says. One new Covid jumbo centre has just been opened and another three will be ready by September-end, he says, apart from having oxygen refilling plants and manufacturing units set up within the city to ensure it will have an estimated 250 metric tonnes of oxygen of its own in case a third wave arrives.
Earlier in July, Manindra Agrawal and Mathukumalli Vidyasagar, professors at the Indian Institute of Technology (IIT) Kanpur and Hyderabad respectively, who had built a mathematical model to look at the likely severity of a third wave, predicted that a new wave would be much smaller than the second. The two, who had earlier accurately predicted the decline of the second wave, claimed that at the peak of this new wave, India was going to witness fewer than 1 lakh new daily infections in a best-case scenario and nearly 1.5 lakh in the worst case. Their model takes into account various factors from the ongoing vaccination campaign, a dip in vaccine efficacy to the emergence of a new virulent variant.
Agrawal has since revised his model. He now believes a third wave is unlikelier, and if it occurs, it will be even smaller than his previous estimate. "Without a mutant strain which is more infectious, we are going to see a minor spike, like maybe a maximum of 50,000 to 60,000 cases (new infections) per day. It will be more like a ripple really," he says. If an infectious new mutant strain does arrive, their model shows, the peak of a new wave will be around 1 lakh cases.
"You have to remember, the longer a new wave is delayed, the unlikelier it becomes," he says, pointing that more people will gain protection through vaccination or natural infection. "It's going to be important then to keep an eye especially on new variants," he says.
Although a few new variants have emerged, the so-called delta-plus mutant, having infected quite a few in some states such as Maharashtra, has not been found to be more infectious than the delta variant as many experts point out. The delta variant continues to be the most infectious of the lot
According to Scaria, the Covid-19 virus has an almost constant rate of genetic mutations, with minor exceptions. Not all variants or genetic lineages of the virus are of clinical relevance or interest, he says, but the acquisition of mutations which have been previously studied and with relatable functional consequences can provide early insights or warning signals. "A systematic increase of one lineage with respect to others could provide useful insights into human as well as viral factors causing emergence with appropriate epidemiological investigations. Similarly, the numbers and distribution of variants can also provide insights into effectiveness of some policy interventions. Therefore, systematic genomic surveillance put together, with associated epidemiological data, can provide unique and deep insights into the spread and evolution of the SARS-CoV-2 virus and, thus, potentially early warnings of emerging new variants," he says.
To be able to keep track of emerging new variants and to read early signs, it thus becomes essential that an adequate number of the genomes of variants infecting individuals is being sequenced. India is believed to be considerably short of its genome sequencing goals, which the Centre had set at 5 per cent of all positive samples in December last year.
ACCORDING TO SCARIA, there is no global yardstick for the proportion of genomes that needs to be sequenced, with numbers varying across countries. "The numbers of genomes required would typically be decided by a number of factors, including the population size, the mixing of population, the testing infrastructure and, more importantly, the modalities to act upon the evidence," he says. What he does point out is the lack of uniformity in sequencing across the country. According to some reports, about 25 per cent of sequencing samples comes from Maharashtra alone. "Currently the SARS-CoV-2 surveillance strategy in India is very diverse, with some parts of the country being overrepresented and others being highly underrepresented. For the surveillance to be informative and effective, it is important that we have a uniform and long-term surveillance strategy for India," he says.
Although a few new variants have emerged, the so-called delta-plus mutant (which emerged from the delta variant largely behind the second wave in India), having been found to infect quite a few in some states such as Maharashtra, hasn't been found to be more infectious than the delta variant as many experts point out. In fact, the delta variant continues to be the most infectious of the lot. "Delta (B.1.617.2) has been one of the most transmissible variants of SARS-CoV-2. It should be noted that delta has not replaced all other variants globally, though they have significantly dominated and replaced all other major variants today in India. Delta, like any other lineage, continues to evolve by accumulating newer mutations, and there are, as of date, 27 sub-lineages of delta," Scaria says.
"Which of the local or global genetic variants of SARS-CoV-2 would cause the next wave is still an open question and there is no crystal ball that one can gaze at to get ready answers. It should also be considered that genetic variants of SARS-CoV-2 alone and in isolation cannot cause a wave, unless a number of human factors—including susceptibility, human interactions and largescale non-adherence to public health measures like distancing—are also satisfied to enable the virus to be transmitted effectively between individuals and across different regions," he says.
Which of the emerging variants could lead to a new surge is far from Sahai's mind. She read with horror the news of an orphanage in Mumbai where cases had spiralled among the young. She worries how children travelling in crowded buses will avoid infection both at school and on their way to and from it. And she worries that although parents' consent will be essential for their young wards to be sent to school, they will later be arm-twisted into having them sent. "Many (government) schools have 60 to 70 kids in a class, private schools have about 40. Even if you have half of them, in small unventilated classrooms, how do you ensure the virus doesn't spread?" she asks. "Why can't we wait till the children get vaccinated?"
A vaccination campaign for children is still a considerable distance in the future. According to Dalwai, setting such a precondition for reopening schools would be wrong. "The narrative should shift from when or can schools start to what we need to do to put Covid-appropriate behaviour in place in schools," he says.