AS DUSK DESCENDS ON NARYOLI ON THE ROAD FROM Bina to Sagar, a knot of men sitting and chatting on a bench are quite upfront about their voting choice. They are voting for the Bharatiya Janata Party (BJP) and are happy with the services and benefits they have received. The availability of seeds and fertilis­ers from the nearby 'society' (cooperative) has been satisfactory. Schoolchildren are receiving scholarships and uniforms. Farmers receive regular payments from the Centre and the state govern­ment, totalling ₹12,000 annually, and women in their households are happy with the newly launched Ladli Behna Yojna that delivers ₹1,250 on the seventh of every month to their ac­counts. Since their decision on the Assembly election is settled, the discussion turns to the 2024 Lok Sabha polls which are not too far off. "Will Modi get the support of voters?" The question is met with guffaws. Of course, he will. "It is all about Modi! The work he has done is evident to everyone," sums up the response.
The farmers at Naryoli clearly have their reasons to back the saffron party but the mood can vary, as at a pit stop on the road from Bhopal to Berasia where several young men, most of them mechanics at a motorcycle sales outlet, are vocal in their criticism of the sitting BJP MLA who they say has had no time to meet anyone. The MLA is accused of acting through a coterie and there are complaints that grievances relating to local issues fall on deaf ears. Here, the sentiment is one of 'badlav' (change) and the people are determined to see the back of the incumbent. They acknowledge the benefits reaching some of them but their discontent boils over. The only dissenter is the owner of the motorcycle agency who asserts that BJP will be back in office. "You will see. On voting day, things will be different," he says. Business has been good and sales have been steadily rising with a greater interest in electric scooters despite problems with some aspects of their functioning. An urban segment of Bhopal is part of the Berasia constituency and it is possible that a more pro-BJP flavour there may offset the negative vibe in more rural parts. But it is hard to say, as countering disillusioned voters such as those at the motorcycle retailer will take some doing.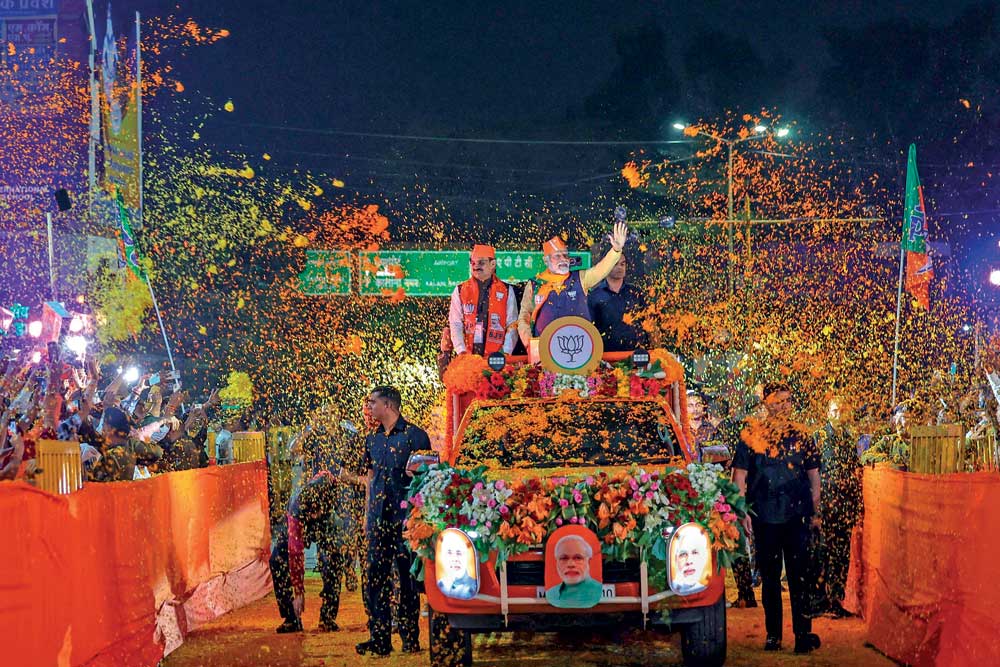 The contest for Madhya Pradesh, where BJP is seeking a fifth term in office, is hard-fought and could very well run close. There are pockets of anti-incumbency, such as at Berasia, and inflation is seen as a stress point, particularly for daily wagers engaged in farm labour and other physical activities. A long stint in office means expectations keep rising even as an element of sameness creeps into the administration. As it seeks to retain its fort, BJP needs the appeal of the Modi factor and the lure of its poll promises—apart from a report card that passes muster—to ensure things fall in place on voting day. The party says its poll pledges are credible by pointing to its record of implementing welfare measures. To this end, BJP's political machine is working overtime with popular leaders like Assam Chief Minister Himanta Biswa Sarma and Uttar Pradesh Chief Minister Yogi Adityanath campaigning in select constit­uencies while Union Finance Minister Nirmala Sitharaman and External Affairs Minister S Jaishankar have been roped in to speak to professionals, women's groups, entrepreneurs, and industrialists in Bhopal and Indore. The BJP manifesto, released days before polling, sought to hit the right notes, promising mus­tard oil, sugar and pulses at concessional rates, in addition to free rations (Modi announced they would continue for another five years) under the Public Distribution Scheme (PDS). The measure is intended to ease the pain of price rise on sections like daily wa­gers who are vocal in expressing their unhappiness with the ₹200- 250 they get for a day's work and which many of them feel should be around ₹300-350. Since daily wages are basically a function of the market, additions to the PDS basket are interventions that can cool discontent as long as information on the poll pledges is effectively disseminated. Looking to capitalise on the popular response to the Ladli Behna scheme, BJP has said these beneficia­ries will get priority in housing schemes such as the CM Jan Awas Yojana that will supplement the Centre's PM Awas Yojana. Chief Minister Shivraj Singh Chouhan, who has addressed a staggering 9-10 meets a day on his helicopter, recognised that the Ladli Behna scheme suffers from some exclusions. "Your brother will correct any mistakes or oversight. I will find the money for the scheme," he tells campaign rallies.
The road from Berasia turns towards Sironj and Kurwai before it reaches Bina and along the way more support for BJP is evident despite some dissenters here and there. The region is seen to have favoured BJP in the past and its continued loyalty to the party indicates that disillusionment with the state government, evi­dent in patches and among some sections, is not pervasive. Any weakening on its home turf would spell trouble for BJP as it looks to beat back a Congress energised by its victory in Karnataka earlier this year. Congress has sought to repeat the Karnataka winning formula, accusing the state government of 'commis­sions' and unrolling a populist manifesto that promises schemes for women that include Nari Samman Nidhi that will provide ₹1,500 per month to women. LPG cylinders will be priced at ₹500 (BJP promises a cylinder at ₹450). Congress has also promised sup­port for women at the time of their wedding with an assistance of ₹1.01 lakh. Loans up to ₹25 lakh for startups, housing for rural homeless women, and free transportation on city bus services— as in Karnataka—are on the manifesto too. Congress' offers are definitely tempting, but some voters are looking at the benefits they already receive. A man buying vegetables near Sironj shows his mobile phone messages with deposits of the Ladli Behna monthly payments for his wife and mother. Why these bank accounts should be linked to his phone begs an answer, but it is clear the cash is seen to be a useful addition to the family income which BJP says will be increased to ₹3,000 a month.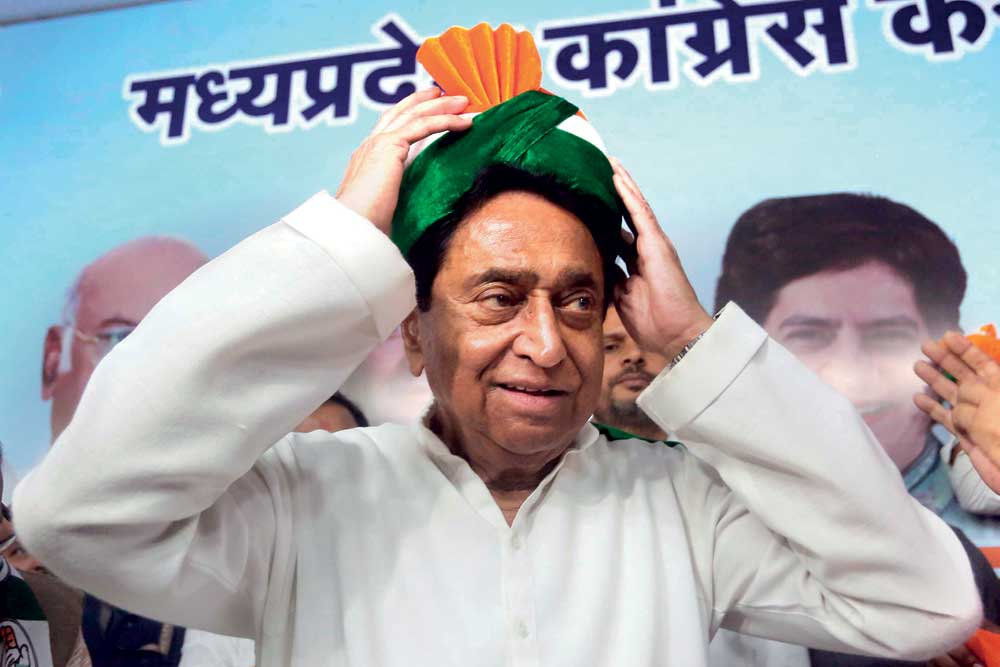 UNLIKE THE BJP OFFICE in Bhopal which has a busy air and looks organised, the Congress state headquarters has an empty feel about it. There are barely a few people to be seen as one crosses a dimly lit entrance and the rooms on the first floor are un­occupied. A room down a corridor is, however, the scene of some activity, with Congress state media in-charge KK Mishra fielding queries from journalists. Mishra is confident Congress is on the comeback trail and emphasises that it no longer needs the services of "turncoats" like Jyotiraditya Scindia who left the party with his band of MLAs in March 2020, bringing down the Kamal Nath government. Mishra lists several reasons why BJP has lost support, including price rise, corruption, misgover­nance, rising crime, and rural distress caused by what he says is the Shivraj Singh Chouhan government's inability to provide relief from price rise. The Congress functionary, who is articu­late and confident, has few doubts that Kamal Nath will be the party's chief ministerial choice. He reiterates Congress' charge that while BJP speaks of the empowerment of the Other Back­ward Classes (OBCs), it has chosen to whittle down Chouhan's stature by not naming him as the chief ministerial candidate. He is more circumspect about the utility of allegations of the Adani and Ambani groups having benefitted through cronyism—a claim regularly aired by Rahul and Priyanka Gandhi at their campaign meetings—in the state elections. "We will keep our powder dry for 2024. These issues will be more relevant then," he says. As the state Congress leaders did in Karnataka, the party has decided to give Rahul Gandhi's allegations against industrial groups a go-by, correctly concluding that they have no traction with the voter and will be a waste of time and energy.
There is a fair crowd at what is a small, nondescript teastall on the road that connects Sagar to Damoh and goes on to Katni, and this is not a gathering of happy souls. There are angry complaints of a lack of connectivity from villages that lie off the road where basic services are hard to come by. An elderly man repeatedly points out how deliveries become a cause for concern as pregnant women have to be rushed to the main road, sometimes carried along the way. In many parts of Madhya Pradesh, the state's on-call ambulance service gets favourable mention, but not here. "The mood is for badlav," says a middle-aged man who has largely listened to the chorus around him. It will be different, he points out, a little farther ahead at Rehli, a constituency held by an influ­ential state minister called Gopal Bhargava. This patch of land is bare and dry and eking out a living can be demanding. A bunch of daily wagers at a chowk ahead of Damoh are also in a rebellious frame of mind, saying they will support sitting Congress MLA Ajay Tandon. Their grouse with BJP candidate Jayant Malaiya, an old party hand, is that he is supposed to have influenced the location of a hospital away from the main road to Katni which would have been more viable in terms of ancillary businesses. Much more than a Lok Sabha election, contests at the Assembly level are often about seemingly small issues that can impact a crucial voter segment, tilting the scales in battles settled with narrow margins. Farther along the Damoh-Katni road, a keen triangular contest is unfolding in Patheria which has the lone Bahujan Samaj Party (BSP) MLA, Rambai Thakur (the other had defected to BJP). The result, say local farmers, will be settled nar­rowly. Thakur is a weighty contestant but has been hampered by the arrest of more than a dozen of her relatives for the murder of a Congress leader. It might just be that the division of votes would give BJP the edge.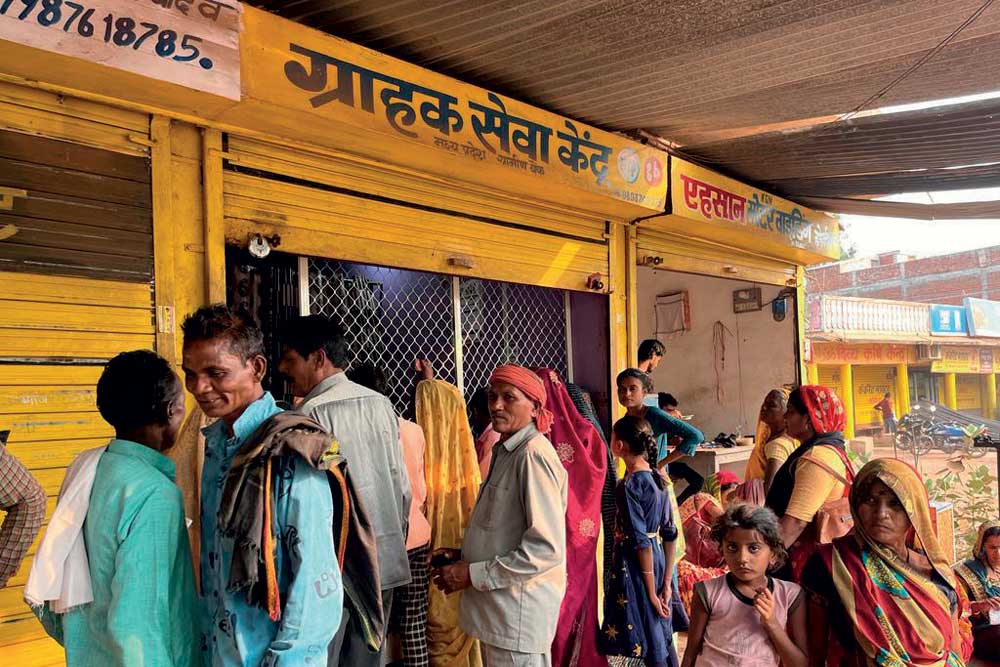 One of the group at the halt in Patheria is a farmer with rela­tively large holdings but who, he confesses, has become a "de­faulter". This is a situation that surfaces at regular intervals in any election survey of rural areas and goes back to the short-lived Congress government's promise to implement a loan waiver. The announcement led to many farmers stopping payments on mortgages in anticipation of relief. As things happened, the Kamal Nath government was ousted in 15 months and the waiver did not find favour with BJP that was back in office. Since these farmers had stopped paying their instalments, the coopera­tive societies suspended services, such as credit and disbursal of seeds and fertilisers. The 'defaulters' were now asked to pay their dues with accrued interest which they are reluctant to cough up.
Some of the defaulters blame Congress, saying the party should have implemented the waiver without delay. Others are angry with BJP, saying they should be allowed to pay in instalments. There is, overall, unhappiness about the fact that their dues will need to be discharged. As is quite evident, the state government does not see merit in offering them waivers when oth­ers, who have paid off their loans, do not receive such consideration. The story is an object les­son in the havoc loan waivers cause to the credit system, disincentivising regular repayments of mortgages and encouraging truancy. Ironically, it is the better-off farmers with holdings that attract a handsome land value who seem to be struggling with the defaulter tag.
THE ELECTION HAS seen an intense discussion on Chouhan and whether his leadership is a liability for BJP. The party's decision to field Union ministers and sitting MPs was seen as intended to dilute the focus on Chouhan and this seems to have been the intent. Some of the sheen has indeed worn off, and the chief minister has sought to restore it by pitching welfare schemes aimed at key voting blocks. He has countered Con­gress' promise to hold a caste census, saying the party's actions have failed to match poll-time promises. He points out that Congress ignored the claims of OBC leaders in its fold, recalling how Subhash Yadav lost to Digvijaya Singh. Conversations in the countryside can throw up mixed perceptions with some feeling that it is time for a change of face. Yet, Chouhan is far from being discredited as Singh was when his two terms in office ended in 2003. Chouhan has a pro-poor image and his informal and earthy approach makes him a leader people can associate with. He is seen to have implemented wel­fare schemes and backed projects like the significant improve­ment in the road network. Even the smaller state and village roads that snake through Madhya Pradesh's interiors are in good condition and often set in concrete. The school and primary health network are working well on the whole, with school­children attesting to the availability of textbooks and regular presence of teachers. If BJP does cross the finishing line ahead of Congress, Chouhan could rightfully claim credit for the party's success on the back of his record.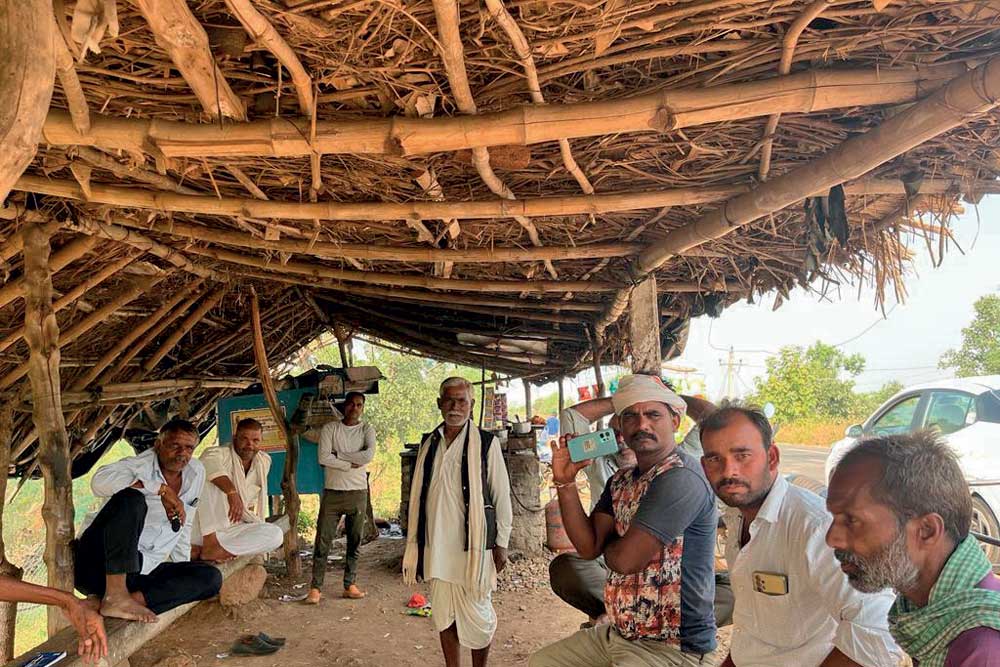 Before that happens, BJP leaders are trying to blunt any appeal the promise of a caste census may have. Union Home Minister Amit Shah has not ruled out adding a caste count to the national Census but clarified that there is a need to carefully evaluate the issue before reaching a definite conclusion. At the grassroots level, the matter does not seem to have kicked up any noticeable dust with many, including OBCs Congress seeks to woo through the promise, lukewarm or even disinterested. Some do say that a caste count should be done, pointing out that their particular community would do well in such an exercise. But there are oth­ers who feel the exercise will be divisive and result in few benefits. Rahul Gandhi's speeches reflect the expectation that the caste appeal will work but if the party does win it will be more because of the wages of incumbency against BJP. There is a strong devel­opment and welfare narrative at work and, though less evident, messaging on Hindutva agendas like the upcoming Ram Mandir in Ayodhya. Even voters not keen on supporting BJP are appre­ciative of the grand temple that will be open to the public early next year. "The temple must be built. Our lord was living in a bro­ken hut with just a diya (light) for so many years," said one of the group on the Sagar-Damoh road, so unhappy about a host of other matters. When it came to their likely choice for the Lok Sabha polls, many nodded their appreciation for the "Modi sarkar". The shift towards 'national' issues becomes more evident in such a debate.
A turnoff from the Katni road at Raipura leads to more remote areas where police patrols are questioning outsiders ahead of poll­ing. It is November 9 and Dhanteras (marking the start of Diwali celebrations and worship of Goddess Lakshmi) and the kasba of Ba­horiband, also an Assembly seat, is a teeming and colourful bazaar. People are out in festive finery and women decked in bright reds, yellows and blues. A variety of local wares are for sale, including colourful earthenware brought to the market by Adivasi women. The small window at the grameen bank is all but obscured by a crowd of women. There are many more sitting on the steps lead­ing to the bank. Most are looking to withdraw money that has come into their accounts by way of the Ladli Behna payments a couple of days ago. Most are happy with the money they have received and seem inclined to vote BJP. An ITI and a college that have come up are seen as welcome additions too. Some distance before Bahoriband, Kurmi farmers attested to the popularity of the scheme, laughing that their wives would not listen to them if asked to vote for some other party. The extent of the scheme's appeal will be tested on poll­ing day but BJP might have been worse off without it. A contractor standing with some workers he employs is confident that BJP will win in Bahoriband, a claim others do not contest. The mood holds farther down this rural road at Sihora when it meets the highway that connects Katni to Jabalpur.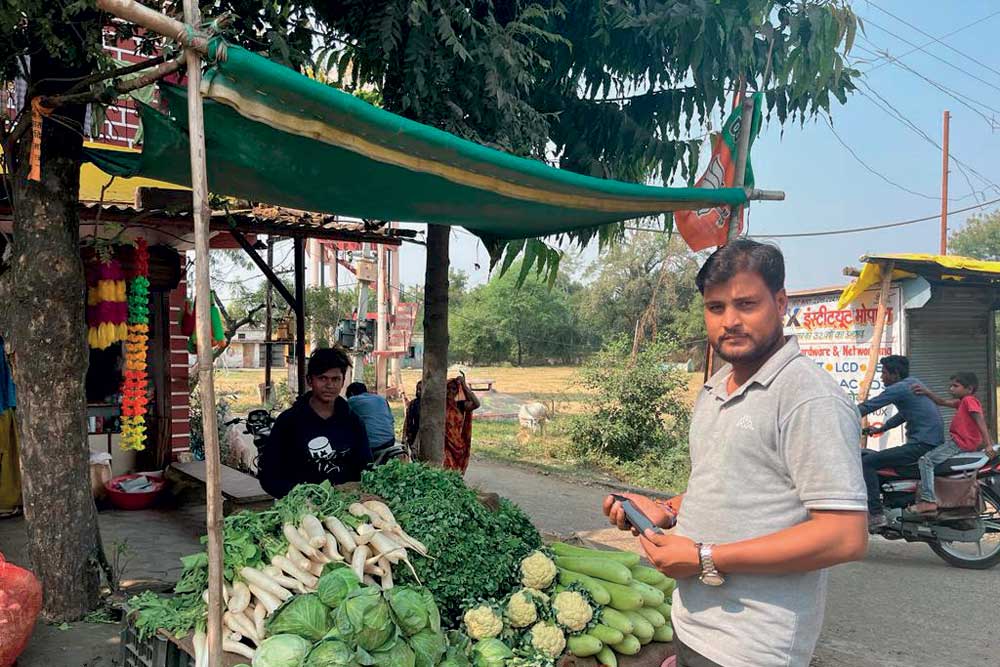 Surai is a largish village on the Jabalpur-Bhopal highway and falls in the Bargi Assembly constituency. A group of women move with fluid symmetry picking matter (green peas) in a field with their supervisor Ravi Singh keeping watch. The women are busy, paid ₹4 for every kilogram of the plants they pluck, and are keen not to lose out on wages and time. Yet, they volunteer that most of them have received direct cash transfers from the state government and feel satisfied with what it is doing for them. Ravi Singh, a Lodh, works for a 'seth' and says margins are always tight in farming. Some of the women, he avers, will pick as much as 100kg in a day and get ₹400 for their hard work. Mattar gets a better price if it reaches the mandi before 2PM and the price drops thereafter. He agrees farmers will benefit if private companies can reach them directly in addition to traders and middlemen. An assured contract at set prices would be better for everyone and loosen the grip of traders. The village, he says, is prosperous and has large dwellings and the mood is supportive of BJP. This can fluctuate though as it does at a village called Kerpani near Narsinghpur but switches yet again a little later.
Calling the election may not be easy, as the contestants slug it out in what is as much a clash of narratives as a verdict on the report card of the incumbent.