IT WAS A MEETING, as described by one of the participants, to wish Ghulam Nabi Azad well for his new venture as a political entrepreneur in Jammu and Kashmir after his resignation from Congress. But the presence of former Maharashtra and Haryana Chief Ministers Prithviraj Chavan and Bhupinder Singh Hooda, along with former Congress deputy leader in Rajya Sabha Anand Sharma, at Azad's house on August 30 did not seem either a coincidence or a mere 'bon voyage' occasion. Even if the leaders did wish Azad success, it was not just chummy goodwill but rather a recognition of a high-stakes power struggle in Congress sharpened by the announcement of an organisational election scheduled to install a new full-time party chief by October 17, more than three years since Rahul Gandhi stepped down after the party received a second consecutive drubbing in the 2019 Lok Sabha polls.
The continuance of Sonia Gandhi as "interim president" looked increasingly untenable but the pressure really began to mount after 23 senior leaders, thereafter christened G23, wrote to her in August 2020 criticising Rahul Gandhi's absentee leadership and demanding organisational elections, including an elected working committee. A meeting between Sonia, Rahul and Priyanka Gandhi with prominent G23 leaders later that year and a brainstorming session at Udaipur in May 2022 eased some of the tension but did not resolve matters that again burst to the fore with Azad's August 26 five-page resignation letter that outlined a withering critique of organisational decline, an alleged "remote control" style of leadership, and rather bluntly stated that Sonia had become a "nominal figurehead". While Azad's letter was met with a chorus of denouncements accusing him of disloyalty after having enjoyed the perks of power (Congress communications in-charge Jairam Ramesh said Azad has been "Modified"), the Congress Working Committee (CWC) did meet on August 28 to announce a poll schedule. Dissenters like Sharma who attended the meeting
pointed out that the preparation of the electoral roll was non-transparent as few seemed aware of the process adopted in its preparation. Nonetheless, the genie is now out of the bottle and an election seems on the cards, even though such announcements are accompanied by the caveat "if there are more than one contestant".
The long delayed elections have stirred animated speculation in the party about likely aspirants and strategies the official faction and the dissenters are likely to adopt. The name of Rajasthan Chief Minister Ashok Gehlot has been put forward as a possible nominee of the Congress first family in case Rahul Gandhi does not reconsider his decision not to assume charge himself. Gehlot's name has drawn contrasting reactions, with some feeling this might create a fresh problem in Rajasthan rather than solving one at the centre. Given the principle of one man, one post, Gehlot will not be able to continue as chief minister should he become party president. He is not likely to accept challenger Sachin Pilot as a replacement and a nominee of his choice may not have the same guile and skill as Gehlot in managing the state where elections are due in end-2023. Gehlot himself seems less than enamoured of trading his clout in Jaipur for the prize of Congress president that is beset with thorns, not the least the test of not being seen as a dummy. Interestingly enough, the G23 camp is not necessarily dismissive of Gehlot, whom the dissenters see as a leader with administrative experience and that seniors can relate to—a change from their lack of rapport with Rahul. Any nominee blessed by the Gandhis will need to be mindful of their concerns and wishes but Gehlot may not be a puppet, goes the refrain. The other names doing the rounds include veteran Karnataka leader Mallikarjun Kharge, former Lok Sabha Speaker Meira Kumar, Rajya Sabha MP and party general secretary Mukul Wasnik, and former Haryana party chief Kumari Selja, among others. The other likely candidate is Lok Sabha MP and former Union Minister Shashi Tharoor, who has spoken in favour of elections and said it was time for a debate on new ideas and approaches. A former UN under-secretary-general, Tharoor has had his brushes with controversy but is a popular and articulate speaker. He is a G23 signatory although he has argued there was nothing exceptional in the letter as it only made a case for democratisation of party processes and accountable leadership. He may not want to be seen as a G23 candidate but the dissenters could consider backing him since they feel he can attract attention and a tour of major states would provide an opportunity to speak of the changes they have been seeking.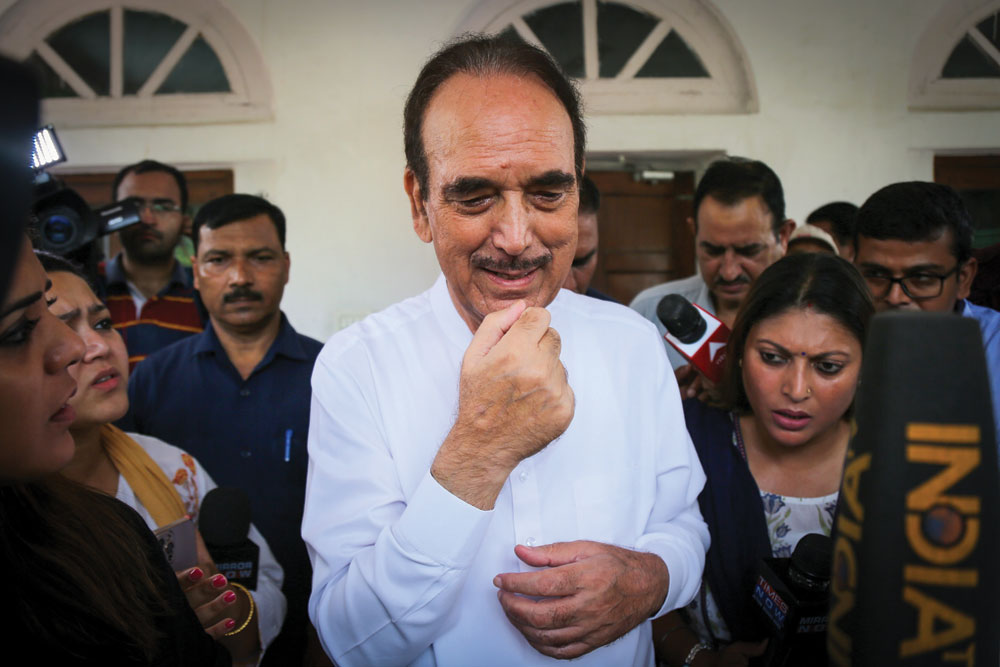 In the past, challengers who contested against official nominees like Nationalist Congress Party (NCP) chief Sharad Pawar (before he left Congress) and Rajesh Pilot did against Sitaram Kesri in 1997 and Jitendra Prasada—who took on Sonia Gandhi in 2001—fared very poorly, winning 5 per cent or less of the votes. In the current instance too, the electoral college is certain to respond to a nudge from the high command. But the situation is rather different now as the previous challenges were short-lived events and the party was not in such narrow straits as it finds itself in today. Since 2014, Congress has been ousted from states it held and were once its bastions. It has formed precarious coalitions that have helped it gain toeholds in office but without any material change to its electoral fortunes. It has lost ground in states where it is in direct contest with the Bharatiya Janata Party (BJP) and its claim to be the "natural" leader of any anti-BJP formation is contested by regional heavyweights in the opposition ranks. Congress' success in the Rajasthan, Madhya Pradesh and Chhattisgarh Assembly elections in the winter of 2018 proved short-lived. For one, BJP swiftly carried out course corrections to regain lost support. It recognised the upper-caste anger in Madhya Pradesh and elsewhere over the Centre restoring the tough provisions of the Scheduled Castes and Scheduled Tribes (Prevention of Atrocities) Act which had been diluted by the Supreme Court. The Narendra Modi government brought in the 10 per cent reservations in jobs and educational institutions for the economically weaker sections (EWS), adding a new ground for quotas.
Often seen as an unlikely rebel—an establishment man for most of his career—Ghulam Nabi Azad lent heft to G23 and the questions raised in his letter to Sonia Gandhi are not easily dismissed
Congress, on the other hand, went back to factional politics, ensuring Jyotiraditya Scindia was not only overlooked for chief ministership but relegated to the backstage. Instead, veteran Kamal Nath became chief minister and Digvijaya Singh, who had lost the 2019 Bhopal Lok Sabha election by a margin of more than 3.5 lakh votes to Sadhvi Pragya Thakur, became a power centre as well. Smarting over his diminution, Scindia led a revolt that saw BJP return to office in 2020. Inexplicably, Congress had failed to understand the perils of a thin majority, leading to speculation that the leadership did not want a younger leader in the limelight. An almost similar script played out in Rajasthan where Gehlot got wind of a plot just in time and managed to prevent some MLAs from joining Pilot at a safe retreat in Haryana. All these developments failed to jolt Congress out of its complacency and reconsider its approach to issues and political strategies that rarely went beyond personal attacks on Prime Minister Narendra Modi and blockading in Parliament besides sporadic public protests. Finally, the organisational elections are being held at a time when dissidents are increasingly vocal. Congress MP Manish Tewari and Tharoor have joined Sharma in calling for the electoral roll to be made public, a demand that has been rejected by party officials who said the list is not for public consumption.
Often seen as an unlikely rebel—Azad has been an establishment man for most of his career—the former Jammu and Kashmir (J&K) chief minister lent heft to the G23 and the questions raised in his letter to Sonia Gandhi are not easily dismissed. Senior party leaders agree an inaccessible leadership and Rahul Gandhi's propensity to act through light-weight office bearers who fail to command the respect of the rank and file have been self-evident for some time. Azad's charges sharpen Rahul's dilemma and deepen the gloom in the party. If the Gandhi scion sticks to his decision not to contest (even as a formality) for party chief, it will strengthen the view that he is chary of handling responsibility and that the leadership remains keen on running the party through a convenient nominee. A candidate who lacks a modicum of credibility will be swiftly rejected by the dissenters and will find it difficult to run the organisation with around 20 months to go for the next General Election. Stepping up to the job will be welcomed by the party cadre as most agree that Congress needs a Gandhi at the helm, but this comes with the burden of serious political work. Not only does it mean long hours in office and public contact, but opposition leaders will also expect Rahul to be closely involved in alliances and seat-sharing discussions. Some Congress leaders point out that even if he were to take charge, Rahul would need to work hard to dispel the impression of a sulky, reluctant leader who seems to be at odds with many.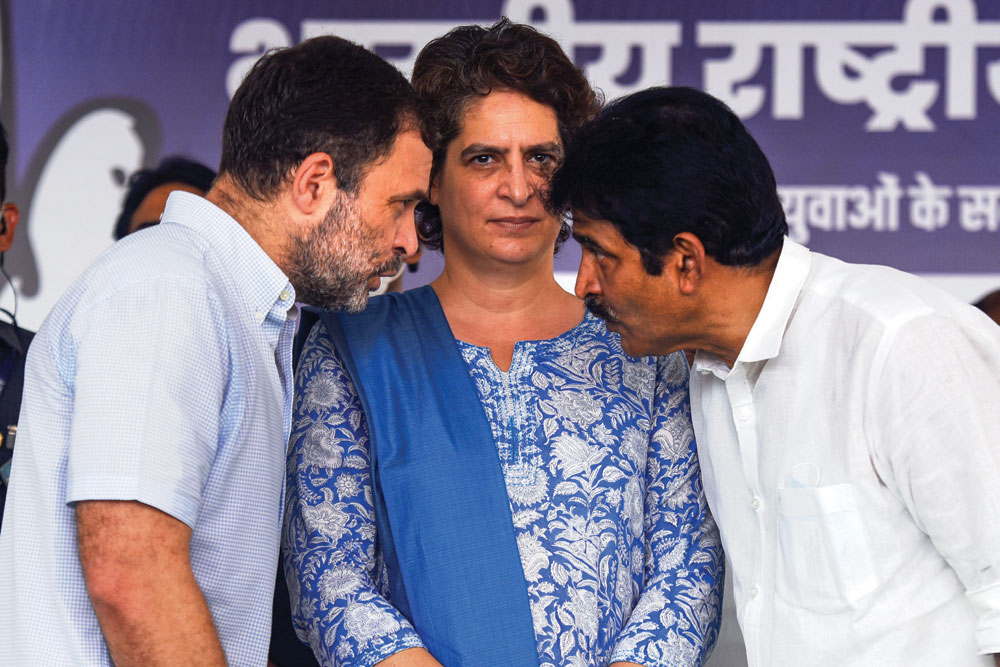 In his letter, Azad refers to Rahul as having stepped down in a "huff" after the 2019 defeat and then "insulting" senior party functionaries at a meeting of the extended working committee. The meeting Azad referred to saw Rahul Gandhi accusing senior leaders of failing to take up his campaign against Modi over alleged graft in the Rafale fighter deal and also blamed some others for propping up their kin who lost their seats. Despite best efforts, the Rafale issue proved to be a dud with the Supreme Court not only giving the contract a clean chit but also pulling up Rahul for misrepresenting its statements. Congress leaders wondered at the utility of attacking the prime minister over the deal when, unlike in the case of the United Progressive Alliance (UPA)-era scandals like 2G or the Commonwealth Games, there were no reports of the Comptroller and Auditor General of India (CAG) or of inquiry committees that clearly constituted smoking guns which found a resonance in the courts.
Speaking of the party electoral process, Chavan said that it should be transparent and accountable. "The rolls must be made available and there should be no attempt to impose a rubber stamp to run the party. In [the] fitness of things, a proper election for party president should be followed by elections to the working committee," he said. The dissenters respond to the charge that G23 comprises many who have benefitted from the loaves and fish of office by arguing that they had served the party's objectives. "Presumably the senior leaders being questioned did deliver the tasks assigned to them," said a leader. Others in the party feel Azad's decision was poorly considered. "It is unfortunate that Ghulam Nabi Azad has chosen to leave the party after levelling several distressing accusations. His decision comes at a time when in fact the party has announced a schedule of election for the post of party president. I am sure the democratic process will accommodate all opinions and provide an opportunity for anyone interested in contesting," said senior lawyer and Rajya Sabha MP Abhishek Singhvi.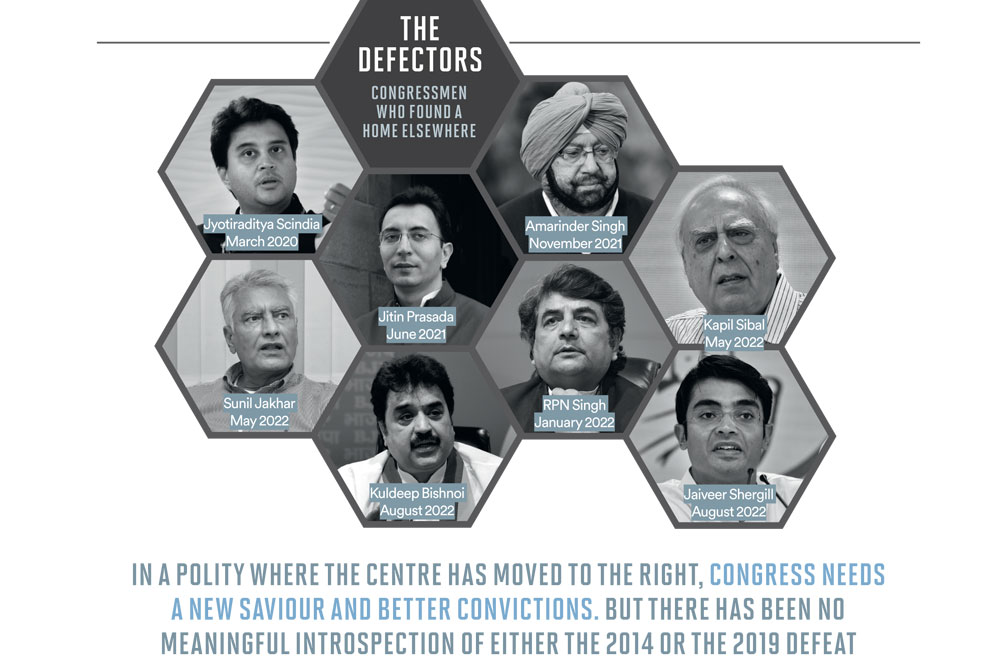 Congress' shrinking base and legislative presence has no doubt reduced the number of posts and Rajya Sabha seats to accommodate various claimants. Old timers recall a similar situation after the Vajpayee government returned to office in 1999 and there were several desertions before Congress' upset victory in 2004. Yet, the response Azad has received in J&K ahead of his proposed state-wide yatra certainly belies claims that he is largely a Jammu leader. The emptying of Congress stables seems as much a comment on the party's lack of ideas and prospects as much as the 73-year-old rebel's appeal. Azad may well be able to field candidates all over the state and is seen to wield influence in the Chenab Valley. The danger, point out Congress sources, is that such splintering may take place in other states too if the election of the party president does not conclude with the installation of a leader who can command the faith of party cadres. Ill-fitting compromises and controlled polling are unlikely to prevent the party's drift into irrelevance on the national stage.
In his letter of resignation as Congress president in 2019, Rahul Gandhi said he was quitting to ensure accountability and while it was important for someone new to lead the party, it was not for him to select the person. In the event, Sonia Gandhi became interim president, an arrangement put in place by party managers like the late Ahmed Patel who ensured that a Gandhi remained at the helm. But that could only be a stop-gap device and its prolongation has led to the current crisis. Dwelling on the reasons for Congress' defeat, Rahul had said, "A free and fair election requires the neutrality of a country's institutions; an election cannot be fair without arbiters—a free press, an independent judiciary and a transparent election commission that is objective and neutral. Nor can an election be free if one party has a complete monopoly on financial resources. We didn't fight a political party in the 2019 election. Rather, we fought the entire machinery of the Indian state, every institution of which was marshalled against the opposition. It is now crystal clear that our once cherished institutional neutrality no longer exists in India." It is clear that although he spoke of accepting responsibility for defeat, Rahul did not seem to consider that he may have been unable to read the public pulse. Rather, he blames "institution capture" by the Sangh Parivar and accuses the judiciary and the Election Commission of partisanship. This formulation remains Congress' unchanging political analysis and to date its functionaries continue to claim that India is in all-round decline and substitute debate with disruption in Parliament. Predicting dismal times, Rahul concluded his letter by saying: "This capture of power will result in unimaginable levels of violence and pain for India. Farmers, unemployed youngsters, women, tribals, Dalits and minorities are going to suffer the most." In the light of this prediction, Modi's and BJP's inexplicable success in dodging the bullet goes unanswered and unexplained. India's resilience in the face of the Covid pandemic and the Ukraine war is dismissed as propaganda and electoral losses are met with the promise that the party will learn from its reverses. Yet, there has been no meaningful introspection of either the 2014 or the 2019 defeat.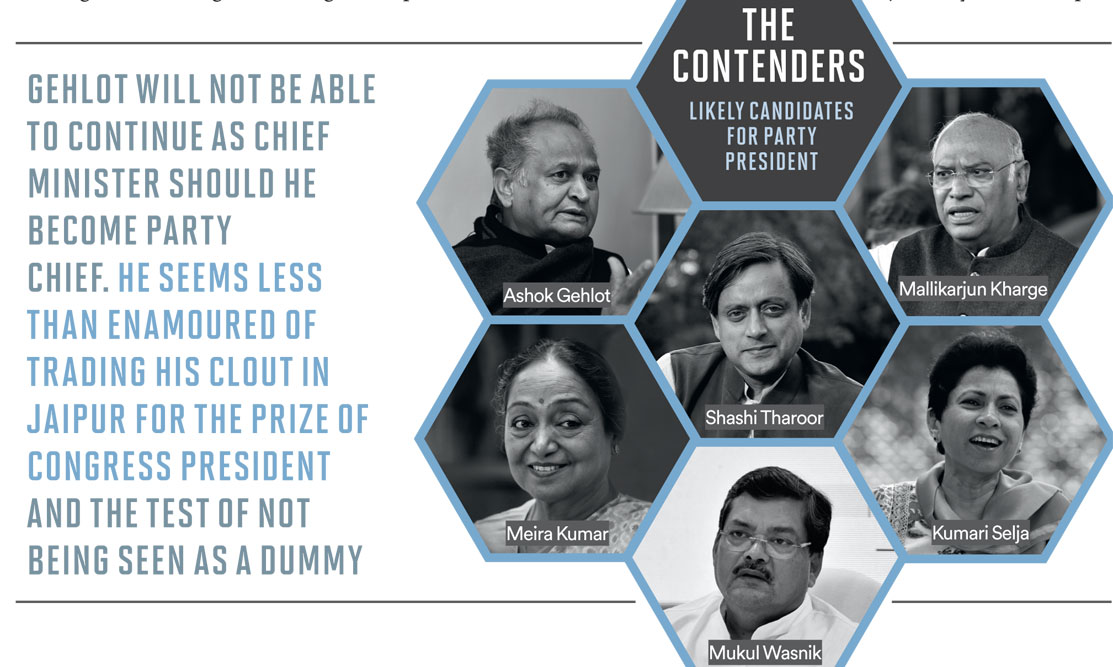 Despite setbacks like its recent break-up with the Janata Dal (United)—or JD(U)—in Bihar which resulted in its exit from the coalition government, BJP has pulled ahead of its rivals. As with any government, there will be the wages of incumbency at the end of two terms in office. But the problem for Congress is that it is finding it difficult to win the political, economic and cultural arguments. While its claim that BJP is harming the "idea of India" has the support of a large section of the intelligentsia that dominates Delhi's policy circles, the connect with the larger mass of public opinion is missing. Worryingly for the grand old party, there is a greater acceptance of the Sangh's political-cultural formulation of Hindutva and assertive nationalism. If there are chinks in the saffron armour, these will need more astute argumentation as familiar caste and communal tropes that worked in the past are failing in the face of Modi's Hindutva-plus-development model that underlines Hindu identity even when catering to caste aspirations.
In a polity where the centre seems to have moved firmly to the right, Congress needs a new saviour and better convictions. During a crucial election, Sonia Gandhi contested from Bellary in the 1999 Lok Sabha polls against Sushma Swaraj; Azad was entrusted with the job of chief poll manager. He camped in the constituency and Sonia won the high-octane contest by over 50,000 votes. A Congress safehouse for decades, Bellary fell to BJP in 2014 before the party lost the seat briefly in a by-election to win it again in 2019. Now, a one-time loyal commander has jumped ship, raising questions as to whether (or not) it is a portent of things to come.