INDIA IS ON THE cusp of a major transformation. Next year, on August 15th, independent India will turn 75. In the lifespan of nations, India is still young. Much has been achieved, but more needs to be done, particularly in the field of national security. As India's national security challenges are becoming increasingly complex in view of the rapidly changing global geopolitical scenario, the country needs a solid strategy for the transformation to a muscular new India.
There is no denying that India is faced with a complex security environment which is greatly influenced by global and regional dynamics, with internal and external security challenges getting intertwined in many aspects. The major threats include Pakistan, China, the Pakistan-China nexus, porous borders, migration, cross-border terrorism, cyber-attacks, narcotics, arms smuggling, human trafficking, insurgencies and militancy in Jammu and Kashmir and the Northeast, as well as left-wing extremism (LWE) across the length and breadth of the country, all of which are live threats.
Non-traditional security issues, too, are becoming bigger by the day. Dealing with these requires special skills and approaches. India needs to build its resilience to mitigate the impact of non-traditional security issues. The Covid-19 pandemic is a larger national security concern that has had a major impact on India's security. It has become a bigger strategic issue in the path of India's post-Covid economic recovery. The unprecedented health crisis caused a steep fall in India's GDP during 2020-21. The Indian armed forces were deeply involved in relief and rescue measures.
The rebalancing of power equations, the rise of China, the deepening of the Russia-West chasm, instability in India's neighbourhood, the weakening of globalisation and the pandemic leading to rupturing of supply chains, the relentless march of technology, the reckless destruction of biodiversity, the erosion of nuclear deterrence, invention of new weapons, and attacks on critical infrastructure through cyber means are all factors which impact India's security. India needs to continuously deal with a mix of traditional and non-traditional security challenges.
In the neighbourhood, China's footprint has expanded to India's disadvantage. China's well-controlled initiative and its offshoot, the China-Pakistan Economic Corridor (CPEC), are destabilising for India. Since Independence, India's pursuit of peace never guaranteed the avoidance of conflicts. Today, however, India's progressive rise along with its growing capabilities enables it to play a crucial role in the complex subcontinental domain and beyond. India has embarked on policy initiatives like Digital India, Make in India, Skill India, Smart Policing, as well as policy directives like Act East, etcetera. While doing so, the Government has ensured a greater strategic autonomy for India and a position as a net security provider for the region. If there is a single factor that could negate or retard this, it is the growing threats and internal bottlenecks evolving internally which restrain our ability to securely govern ourselves.
Security governance is one such aspect that ensures the safety and security of people. While ensuring the safety and security of citizens, it is a prerequisite for any government to uphold the rule of law by managing change with order and ensuring the legitimacy of power as a critical component of governance. Should it fail to happen again, history will once more lament that we couldn't do what we should have done.
For decades after Independence, we remained behind the global curve in addressing our issues, bereft of political identities. These limitations ensured that we remained embroiled in conflict management instead of pursuing conflict resolution in most internal security challenges. As political intent, the focus on addressing security as a vital prerequisite to development was indicated in 2014 when an internal security specialist was brought in as National Security Advisor (NSA). Mandated to execute a behavioural modification towards security as a state function, the tests started in July 2016 when unrest flared up after security forces killed Burhan Wani, a Kashmiri cyber warrior pretending to be a commander, and dozens died in the rioting that followed. In early January 2016, eight soldiers were killed fending off an assault on the Pathankot airbase, and in mid-September 2016, 23 more died in the Uri attack. The answer through surgical strikes was the first display of political resolve after years of indecisiveness in dealing firmly with threats, both internal and external.
India's successes in the foreign policy and defence domains have been in the limelight over the past three or four years but the improved internal security situation and handling of the varied challenges across the country have largely gone unnoticed.
It has to be noted that except the episodic ups and downs in Kashmir and some Maoist-affected areas, the rest of India has remained free of big terrorist attacks that periodically used to shake the country. In Jammu and Kashmir, the abrogation of Article 370 in August 2019 has altered the situation completely.
Terrorist violence in Kashmir has declined significantly since August 2019 owing to better control of the overall security situation in the region. Since January this year, security forces have killed over 100 terrorists, including more than a dozen top commanders belonging to various militant groups operating in the Valley. The Valley witnessed fewer terrorist encounters in 2021 compared to 163 in 2019 and 213 in 2018. In 2020, 244 terror incidents were reported in which 221 terrorists were killed. The killing of civilians in terror-related incidents and deaths of security personnel have also come down in the same period.
However, in the most surprising development of all, ceasefire violations came to a grinding halt in the Valley. All of a sudden, in a dramatic turn of events, violence on the borders stopped after February 25th, 2021, when India and Pakistan renewed the 2003 ceasefire agreement, bringing relief to the affected population along the border. The sharp decline in ceasefire violations helped calm the rising military tensions between the two countries.
At the same time, people felt some semblance of safety too, as Kashmir Valley witnessed an over 72 per cent drop in law and order cases. According to the Jammu and Kashmir administration, from August 2017 to July 2019, there were 1,394 law and order incidents in which four security personnel and 27 civilians were killed. The number of incidents declined to 382 from August 2019 to July 2021 in which no lives were lost.
INCIDENTS OF STONE-pelting have also fallen to nought. There are almost zero stone-throwing incidents and business is back to normal with the tourism industry looking up. According to Ministry of Home Affairs (MHA) data, stone-pelting incidents between January and July witnessed a drop of nearly 88 per cent compared to the same period in 2019.
With a relatively secure environment prevailing in the Valley today, the youth are channelling their energy towards growth-oriented developmental projects instead of falling prey to Pakistan-sponsored radicalisation and terrorism. As the data suggests, the overall trend of terrorism has been on a decline. This vastly improved security situation is attributed to the increase in counter-insurgency operations, tighter borders and the fall in cross-border infiltration along the borders ever since the February agreement. According to the Indian Army, not only has cross-border infiltration come down drastically but local recruitment of terrorists has also gone down.
Security forces and the Union territory administration need to step up their development efforts that may dissuade delinquent Kashmiri youths from joining terrorist ranks. In this regard, the initiative of Prime Minister Narendra Modi to engage with key political leaders of the Valley is significant.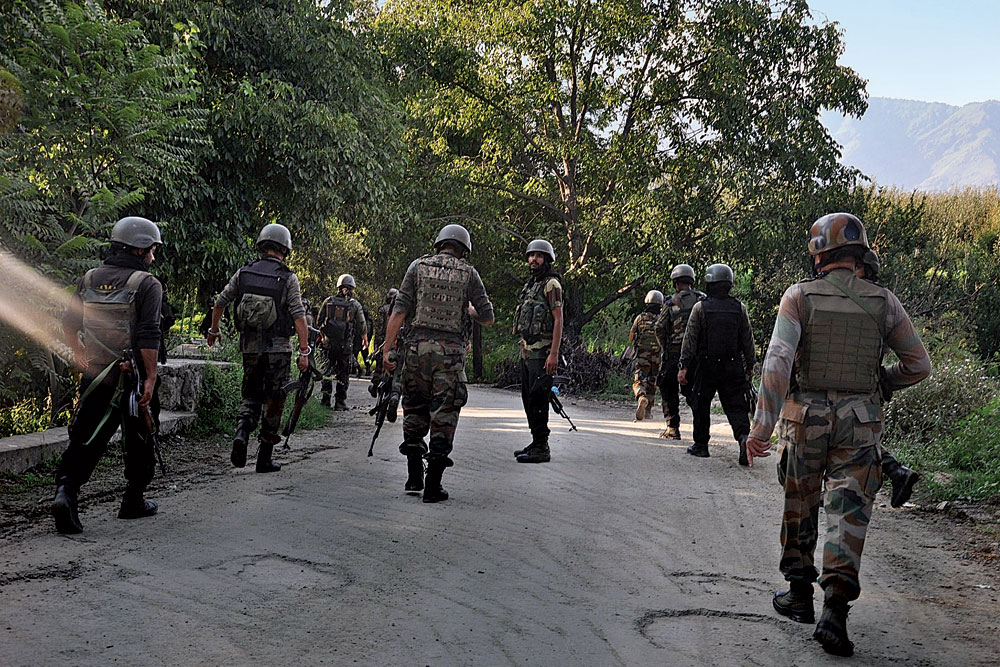 In the Maoist-affected areas, mostly spread over 10 states in central India, episodic setbacks apart, the Government's long-term, two-pronged strategy of securing development and improving security, appears to be succeeding with lower violence levels, higher arrests and elimination of the cadres of the CPI (Maoists).
The Maoists have been steadily pushed into a corner as security forces make incremental gains in different states. Different stakeholders dealing with terrorism have been strengthened through capacity-building and new enabling legislation. Terrorist modules have been neutralised both within and outside the country. Groups like Jamaat-ul-Mujahideen Bangladesh (JMB), Sikhs for Justice (SFJ) and Jamaat-e-Islami Kashmir have been proscribed. The entire network of the Students' Islamic Movement of India (SIMI) and Indian Mujahideen (IM) has been practically broken. Al Qaeda modules were identified by the National Investigation Agency (NIA) in the early stages. Over 30 coastal intelligence posts in coastal areas have been sanctioned. The Government has also ensured justice for the victims of the 1984 anti-Sikh riots and provided relief and rehabilitation.
MULTI-PRONGED CAMPAIGN against LWE was launched through focused ground operations at centres of gravity like the Dandakaranya region in south Chhattisgarh as well as on the ideological front. Intelligence-driven coordination between Central forces and state police forces as well as action against the "Urban Naxals" have progressed simultaneously. A combined security and development-related approach has led to better communication and regional connectivity, electricity, health and education facilities in LWE-affected areas. As a result, there has been a continuous decrease in LWE violence and shrinkage in their spatial spread.
At the same time, the Government has shown a willingness to talk with insurgent groups and address the genuine demands of ethnic groups in the Northeast. This has led to the signing of settlement agreements with several groups, such as the Achik National Volunteer Council (ANVC) in Meghalaya in 2014, the National Liberation Front of Tripura (NLFT, Sabir Kumar Debbarma faction) in 2019, Bodo groups in Assam in 2020 and solution of the Bru/Reang issue between the governments of Mizoram and Tripura in January 2020. The Armed Forces Special Powers Act (AFSPA) of 1958 has been removed from Meghalaya and some districts of Arunachal Pradesh. A framework agreement was signed with the National Socialist Council of Nagaland (NSCN-IM) in August 2015 and, at the time of writing, the stalled process of talks with the Naga groups has been resumed. The Centre has supplemented the Northeast states in capacity-building. Ten additional India Reserve Battalions were sanctioned in March 2018. There is a significant decline in insurgency incidents, security force casualties and civilian deaths.
The security situation in the northeastern states has improved substantially since 2014, says the MHA annual report for 2019-20. It says that in the last six years there has seen a significant decline in insurgency incidents by 70 per cent, casualties of security forces personnel by 78 per cent and civilian deaths by 80 per cent in the region. 2019 recorded the lowest insurgency incidents and casualties among civilians and security forces during the last two decades since 1997. Compared to 2018, insurgency incidents have registered a decline of 12 per cent in 2019. Similarly, there has been a huge reduction of 71 per cent in security forces deaths (2018:14, 2019: 4) and 9 per cent in civilian deaths (2018: 23, 2019: 21) in 2019.
Several pending proposals to recognise the sacrifices of security personnel—civil and military—and raise morale were cleared expeditiously. The setting up of the Police Memorial, National War Memorial and One Rank One Pension were, therefore, accorded top priority.
In the Modi Government's first term itself, a multi-pronged strategy encapsulated by the word "SAMADHAN" was formulated to tackle the situation in the LWE-affected areas. It was elaborated as follows:
S: Smart Leadership
A: Aggressive Strategy
M: Motivation and Training
A: Actionable Intelligence
D: Dashboard-Based KPIs (Key Performance Indicators) and KRAs (Key Result Areas)
H: Harnessing Technology
A: Action Plan for Each Theatre
N: No Access to Financing
Apart from the Central Armed Police Forces (CAPFs)—Central Reserve Police Force (CRPF), Sashastra Seema Bal (SSB), Central Industrial Security Force (CISF), Border Security Force (BSF) and Indo-Tibetan Border Police (ITBP)—deployed in 10 states affected by LWE, the Centre is lending a strong hand to state governments in combating Maoist insurgency. However, the fight has to be led by state governments, not just on the security front but also in implementing socio-economic policies meant for people's welfare.
For years, successive governments had identified the lack of roads in remote and distant underdeveloped areas of LWE-affected states. So by July 31st, 2017, under the Road Requirement Plan-I (RRP-I), the construction of 4,447 km of roads was completed out of the 5,422 km envisaged in the plan. Building on the success of these plans, the MHA informed a parliamentary committee that a new plan, the Road Connectivity Project for LWE-affected areas (RRP- II), has been approved which envisages the construction of 5,412 km of roads and 126 bridges in 44 districts of LWE-affected states at an estimated cost of ` 11,725 crore. Roads apart, the Government has been pressing state governments to open up job avenues for the local tribal population. One of the ways to create jobs in backward areas is to raise special police battalions exclusively manned by locals. According to the Union home minister, 743 Scheduled Tribes candidates from the four most affected LWE districts of Chhattisgarh—Bijapur, Dantewada, Narayanpur and Sukma—have been recruited in the "Bastariya Battallion" in order to enhance local representation in the security forces. More Kendriya Vidyalayas and Skill Development Centres have also been opened in LWE-affected districts.
As the security forces establish dominance over increasing areas of erstwhile LWE strongholds, efforts towards civil consolidation have also increased. MHA officials say the implementation of the scheme for Fortified Police Stations (FPS), for the construction and strengthening of 400 police stations in 10 LWE-affected states, is now near-completion, with over 350 police stations modernised and fortified.
The other big internal security challenge in India is the ever-present danger of radicalisation, especially among the Muslim youth. Since 2012, the fatal attraction of Daesh the world over (also known as the Islamic State, ISIS or IS) has spread to India. Several youth in the cities and small towns have been lured by the seductive ideology which ISIS propagates. Online radicalisation has been on the rise.
There have been extensive warnings in the media about this new phenomenon since 2014, but in reality, it has not manifested to the extent feared by observers, thanks to preventive arrests and constant vigil of the law enforcement and intelligence agencies. The Daesh threat, while always present, tapered off in India in 2017. Only 132 Daesh operatives from India are known to have had some affiliation with the outfit. This is a relatively small number compared to the inroads made by ISIS in Europe, West Asia and other parts of South Asia, and even Australia. Many of the ISIS operatives turned out to be former members of some terrorist or radical outfit, such as IM and SIMI. Over 70 per cent of these had either been arrested or intercepted before they could travel to Syria or Iraq, which is a testimony in itself to the vigilance of the Indian agencies. Significantly, many of the ISIS' Indian members were radicalised while living and working in the Gulf countries for a prolonged period of time. These are minuscule numbers given that India is home to 175 million Muslims.
However, the threat of ISIS will not disappear in a hurry since many Muslim youths will continue to nurse real and imagined grievances against the Indian state. Law enforcers have done a commendable job so far to keep the threat under check, but they will have to be on guard to ensure that the danger of ISIS spreading its wings in India under some other garb is minimised.
Significantly, the Government informed Rajya Sabha on March 9th, 2016 that Central and state agencies had arrested 46 Pakistani Inter-Services Intelligence (ISI) agents between 2013 and 2016. Furthermore, according to partial data compiled by satp.org, at least 159 ISI modules have been neutralised across the country between 2004 and April 24th, 2016, indicating Pakistan's sustained efforts at subversion and destabilisation.
Overall, the last few years have proved that security policymaking is a function of defining objectives, building capacities and showing the political will to deploy capabilities to achieve identified goals. The leadership style, personal beliefs and past experiences of the prime minister also play an important role in framing strong and effective national security policies. Once policies are made, what matters most is how the leadership reacts to crises as well as its ability to execute plans.
Nitin A Gokhale is a national security analyst, author and media entrepreneur