A TEENAGE GIRL FROM a Kerala village trapped in the city with two men, a bull gone wild which changes the lives of everyone who confronts it, and man looking for his long-lost brother on an unnamed island; these are the plotlines of three Malayalam films screened at the recently concluded Venice International Film Festival, and Toronto International Film Festival. Sanal Kumar Sasidharan's Chola, Lijo Jose Pellissery's Jallikattu and Geetu Mohandas' Moothon, are films that are garnering worldwide attention and acclaim, even before their official domestic unveiling. These films are among a clutch from Kerala that have distinguished themselves with smart plotlines, edgy characters and astute direction.
In this year's Malayalam super hit Kumbalangi Nights, Shammy (played by Fahadh Faasil) uses his eyes like a dancer to create a scene of domestic menace. He sits at the head of the dining table, invites his wife, her younger sister and his mother-in-law to join him for dinner and smiles coyly right into the camera. The camera tracks back to reveal a visual of him sitting as the archetypal patriarch of the family. There's a glint of manic victory in his eyes, though the rest of the family at the table matter-of-factly consume their meal. He feels validated as the 'man' of the house, a status Shammy considers an important feat in his otherwise mundane life. This scene was one among many in the film that subtly highlights the deep-rooted patriarchy, which claws at the walls of an Indian household. In this scene it was a dig at the chauvinist Malayali man who considers the women in his house to be inferior and answerable to him. On the other hand, the film's primary plot revolves around four brothers whose lives come together when women enter their home.
Kumbalangi Nights which has become a cult hit, celebrates human flaws within the flawless backdrop of a sleepy Kerala village on the backwaters, and taps into vulnerabilities within relationships in the most honest and compelling way. It has become the poster child of a small but strong bunch of Malayalam films that have been breaking stereotypes and challenging conventional storytelling. These films are carving their own niche within otherwise hero-driven Malayalam films.
Syam Pushkaran, the writer of Kumbalangi Nights says, "There has been a very conscious attempt to look at the kind of stories we need as a society, and the lives of real people around us. A film like Kumbalangi Nights that speaks of insecurities within a family, selflessness among strangers, a kind of fearlessness in new love, brings to the fore those stories. When we show a man's vulnerabilities or strip his ego down on screen, we are not trying to defame a gender or a person, but asking if we need to take a hard look at ourselves and our conditioning." Pushkaran who won the National Film Award for Best Screenplay for Maheshinte Prathikaaram (2016) is the writer and creative producer of many of these path-breaking films, which use simple stories to create an impact. Maheshinte Prathikaaram, for example, is about a man who has a random brawl at a marketplace, gets beaten up and refuses to wear chappals till he has his revenge.
Unda (2019), directed by Khalid Rahman, and starring Mammootty, tells the story of 15-20 policemen from Kerala who are deployed to Chhattisgarh for election duty. They have to deal with Maoist trouble, which they are neither expecting nor equipped for. All they have is eight bullets and a group of men in uniform who have never fired a rifle back in Kerala. It is a rare Malayalam film as the policemen are not shown as superheroes, but as regular people with fears, fetishes and biases. Director Khalid Rahman says, "Logic and human emotion is at the centre of most of these films including Unda. Glorifying policemen and exaggerating their potential means only moving away from the truth. I realise that my audience is ready and asking for realistic stories. In Unda we show the cops and the tribals and how they both are stuck between the battling Maoists. All three groups here are fighting their own battles and there's no villain as such. It's a constant attempt to make oneself relevant that creates all the conflict."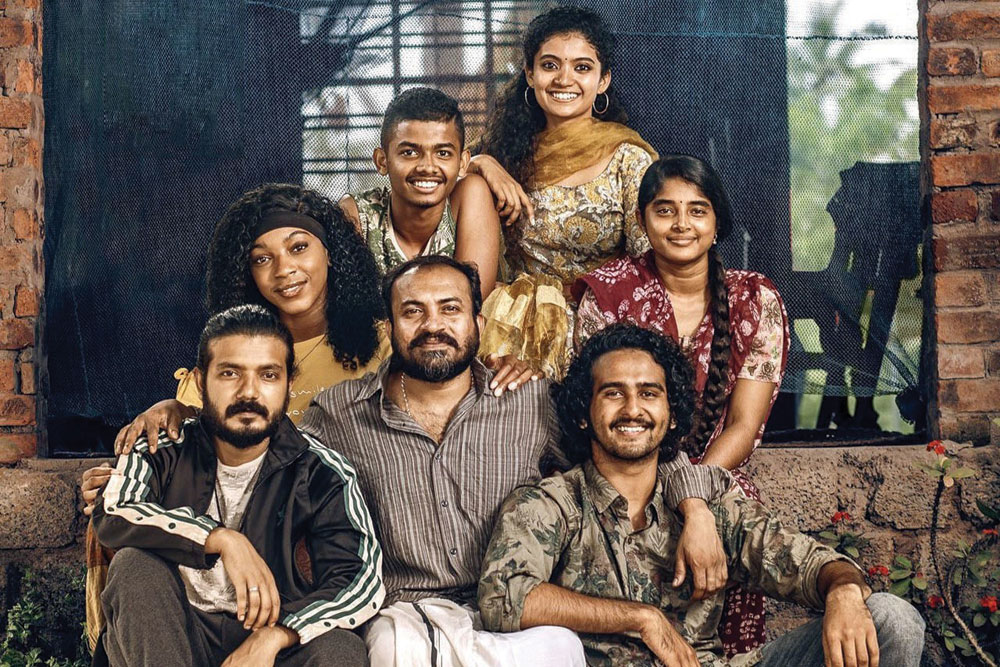 Other Malayalam films which have taken the slice-of-life idea and created gems with it include Angamaly Diaries (2017), Thondimuthalum Dhriksakshiyum (2017), Varathan (2018), Ee. Ma. Yau (2018), Virus (2019) and Uyare (2019).
With homegrown stories told in the most visually intriguing fashion, these films are so local that they are global. You can see, smell and taste Kerala in them. Coconuts being scraped, banana leaves being chopped, fresh tapioca getting fried, pork being sold, fishnets being laid out, paddy being farmed—from foods to festivities, nuns and nurses, from toddy and tea shops, to buses and motor boats, from pointless strikes to churches and mikes, the filmmakers proudly evoke their state's culture as a backdrop for their stories.
"No matter what story we tell, there's a cinematic way to do it. To show the most brutal scenarios in the most beautiful fashion: that's the magic of cinema. And in every film of mine I try to maintain that magic," says Shyju Khalid who shot Kumbalangi Nights and is one of Kerala's most acclaimed cinematographers today. He began with offbeat films such as Traffic (2011) and 22 Female Kottayam (2012), which spurred this indie wave that's reached its peak today. He uses full frames that burst with beauty. There's such detailing in his work, that re-watching his scenes makes you see so much you'd missed the first time. His camera moves between the mind of his subject and the environment around him/her so seamlessly that you feel one with the story.
A scene that is being hailed in Kumbalangi Nights is one where he depicts a young widowed mother in a white and blue sari sailing towards the home of the four brothers, down the backwaters. Meenakshi Shedde, film curator and consultant says, "She is a refugee shown as the image of Mother Mary, which is symbolic of valorising refugees, but only by hinting at it. Look how deep the thought and the writing are. Shyju Khalid's image of that woman is in our memory forever."
Khalid adds, "We spent close to a year in Kumbalangi (just outside Kochi) studying the lives of locals there. We are not in a rush. I want to tell a story the best I can, and I take my time with it. When 22 Female Kottayam (where a woman avenges her rapist in an extreme fashion) came out, it hit people hard, though stories about women's emancipation have always been part of Malayalam cinema. It was, perhaps, because we were so straightforward with it both in the visuals and the context."
YOU BEGIN TO empathise, answer questions, and marvel at the irony of life thanks to everyday characters within these films who are neither black nor white, but just human. Like the character Prasad (Fahadh Faasil) in Dileesh Pothan's Thondimuthalum Dhriksakshiyum, who is a thief, but also empathetic towards his victim. Deemed as one of the best Malayalam films of 2017, it tells the story of a young couple who married out of caste, and a day in their lives when a small-time thief steals the wife's gold chain that they were supposed to pawn. The entire film goes back and forth between the changing minds of the culprit and the victim and their own ideas of justice.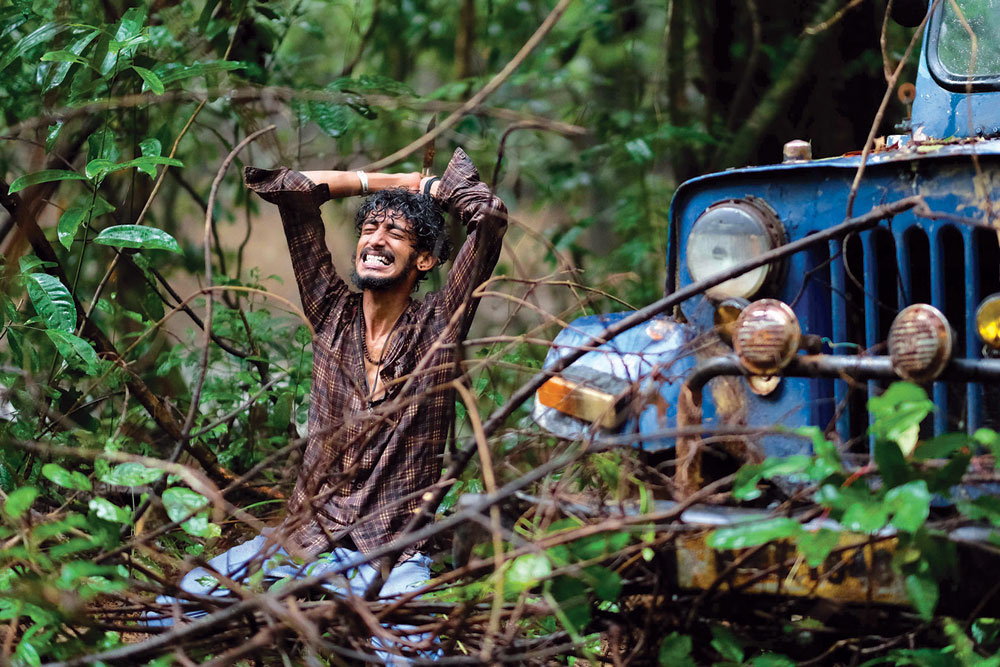 "Malayalam and Bengali films have always been way ahead of anything we see in Bollywood or any other film industry. They have been experimental from the word go, even before the whole 'indie' revolution began in Bollywood," says Shedde. With OTT platforms these films can now reach a far wider audience thanks to the subtitles. "Not that these films were not being made before, but now there is access to them. I remember a film called Ottaal (2014) by Jayaraaj was such an absolute masterpiece about a grandson and his grandfather coping with the idea of death. It won the Crystal Bear in Berlin, but nobody knew about it till it came online. Lijo Jose, Syam Pushkaran, Shyju Khalid, and Fahadh Faasil are all examples of people who are not attached to an image and will do everything to further a story. In fact, Kerala is the only state where writers and cinematographers are also stars and revered on posters apart from the actors," adds Shedde.
For many, the evolution of Malayalam cinema is categorised broadly as the pre- and post Chemmeen (1965) era. The film on the lives of rural fisher folk in Kerala and social prejudices against them was an adaptation of the award-winning novel by the legendary author Thakazhi Sivasankara Pillai, and became a cinematic benchmark. Shedde elaborates, "From the 60s onwards Malayalam filmmakers heavily relied on literature for their stories. The works of writers like MT Vasudevan Nair, Padmarajan, Vaikom Muhammad Basheer were all a boon for filmmakers then because they were not just socially relevant stories, but they carried that cinematic appeal and aggression which was needed to get people to listen. The new wave that we talk about today was originally brought about by directors like Adoor Gopalakrishnan who never cared for entertainment value, but dedicated his films to simply telling a good story, the way he wanted to. Social realities and the plight of everyday life stood on the forefront of most of these films and the cinema then became like a social mouthpiece, like it was with Shyam Benegal's works. Three decades ago, filmmaker John Abraham made a film called Amma Ariyan (1986) about the death of a Naxalite. That film was partly made from the contributions of farmers and fishermen who took part in this deep grass-root movement with the filmmakers who would talk about their troubles. You don't get this kind of a symbiotic relationship between the ordinary people and the storytellers anywhere else in India."
For those who have grown up on Malayalam cinema, there's never been a lack of realism and stark humour. Priyadarshan's films especially of the 80s and 90s painted the common man in unusual ways. Actors like Mohanlal became the face of that common man. However, it can't be denied that much of commercial Malayalam cinema till recently was driven by the male protagonist, and his transformational powers. Both Mohanlal and Mammootty were flagbearers of this power for over four decades, and that's now changing. The 'Lalettan' and 'Mamokka' (how the actors are lovingly referred) monopoly is slowly fading, spelling the end of an era in Malayalam films.
"THERE WAS A time when there was one hero and everything revolved around him. He was worshipped and probably still is. But today we have a film like Angamaly Diaries that has over 86 newcomers and an uncut 11-minute climax with them which becomes a rage. It shows that people are coming out of a false bubble to accept cinema that's closer to real life," says its director Lijo Jose Pellissery.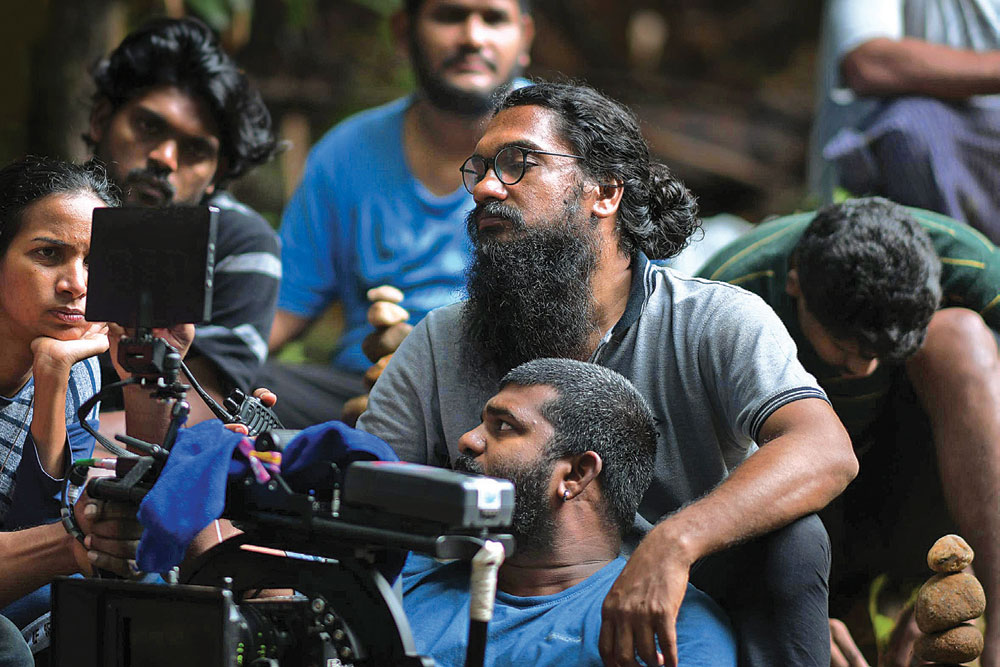 All the characters are so well fleshed out, one can never predict where the story will lead. If a random tea-stall owner is part of a scene in a film, there's every possibility that the plot shifts towards his life and his troubles, almost dissolving the very idea of a 'protagonist' in a film, and thereby setting a new foundation for cinema. No character is on a moral high-ground and you almost feel like you know them. "In Maheshinte Prathikaaram Mahesh is a photo studio owner. There's nothing hero-like about him. He is as normal as the newspaper guy you meet every morning, but he still has a story like each of us does. That's the beauty in it," says the film's director Dileesh Pothan.
The coming of age of Malayalam films, both in commercial value and in storytelling is also apparent in the experiences of filmmakers like Sanal Kumar Sasidharan, who struggled to put out his film Sexy Durga (2017). "Chola (2019) again is a film that focuses on female identity and power. Two years back I fought tooth and nail to give Sexy Durga a release. But today I know that my film will see a theatrical release and it'll reach the world through digital platforms and that's very encouraging," he says.
OTT platforms have played a major role in bringing the cinema of Kerala to a wider audience. Filmmakers from the state are showing the world how to create stories that touch the mind and heart, by using the local to tell of the universal. As Shyju Khalid says, "We are a very small state with people contributing to each other's lives all the time. The atmosphere on a film set is more of brotherhood, and that reflects in the films. Plus, in an industry where till a few years back women were struggling to find their space, today women head departments. Films are led by women's stories, which is a huge change in Kerala. A few months back, I was shooting in a village and my director was being assisted by a young Muslim girl who would turn up on set in a full burkha. I judged her initially thinking she wouldn't be able to cope with the night shifts and long hours but she was the biggest asset to our film. That is a change that you see in cinema too."