'WORST IS FEARED,' said one of the many news flashes that went out over the telegraph wires across India and the globe moments after a young man had shot Mahatma Gandhi at point-blank range on the lawns of Birla House in New Delhi on the evening of 30 January 1948. For people in the Marathi-speaking regions of western India, another shattering piece of information would be revealed later that evening along with confirmation of the Mahatma's death. His assassin was Nathuram Godse, a Maharashtrian Brahman from Pune.
Godse was upset with Gandhi's so-called pro-Muslim stance in the wake of the Partition violence and, in particular, with Gandhi's insistence that India pay Rs 55 crore immediately to
Pakistan as part of that newly-formed country's share of the RBI's cash reserves. After Pakistan's invasion of Kashmir in October 1947, free India's first government led by Jawaharlal Nehru had blocked the release of the money, and Nehru's deputy Vallabhbhai Patel also didn't want Pakistan to get it, but Gandhi had undertaken an indefinite fast demanding that India honour the agreement it made at the time of division and forced his two leading disciples to give in.
Reeling under the shock of the assassination, the Maharashtra branch of the Indian National Congress, the party that had led India's freedom movement, issued a terse statement. 'The Mahatma's assassination is the result of a sharp animus towards Gandhiji and an ideology of hate, fostered and fuelled openly in this region over the past 30 years,' it said.
The ideology the Congress was referring to was that of Hindutva or Hindu nationalism, and its founder and foremost proponent was the Maharashtrian Vinayak Damodar Savarkar, the revolutionary freedom fighter who had spent a decade in prison in the Andamans between 1911 and 1921 for his anti-British acts. Soon enough Savarkar was arrested by the police in connection to Gandhi's assassination.
How big a role, if any, did Savarkar really play in the assassination? And, critically, how did a man like Savarkar, once a celebrated revolutionary, even become a suspect in Gandhi's killing? Indeed, to truly understand Savarkar one needs to get to the heart of this transformation.
Savarkar was the undisputed leader of the revolutionary movement at the heart of the empire, in London, from 1905 to 1910. He was arrested for his revolutionary activities and sentenced to serve two life terms in the Andamans, making him something of a hero and a household name for liberty-seeking Indians. He had entered Port Blair jail a proud patriot. But by the time he was transferred to a jail in the Indian mainland in 1921,he found the vast majority of Indians to have been swept up in the Gandhian storm.
Gandhi and Savarkar were old acquaintances. They had met in London during Savarkar's student days there and developed cordial relations. It was their differing views on the use of violence to bring about a revolution that were irreconcilable. Gandhi swore by non-violence, and Savarkar saw it as an ineffectual tool. Indeed, he even poked fun at it. Savarkar had not formulated his theory of Hindutva at that time and in fact was a proponent of Hindu-Muslim unity.
It was only during his time in jail in the Andamans that Savarkar underwent a drastic ideological transformation. Perhaps owing to the horrendous torture of political prisoners by prison warders, jamadars and petty officers, who were mostly Muslims, he had lost faith in Hindu-Muslim togetherness—a cause he had espoused in his famous book on the 1857 revolt that he wrote in England. In addition to the torture he faced, in Savarkar's eyes, the Andaman jail overseers—all lackeys of the jailer David Barry—were fanatical in converting non-Muslim prisoners to Islam by way of threats, coercion and inducements. Savarkar came out of prison driven by a desire to remake his country in the name of Hindu nationalism.
That all the main accused in Gandhi's assassination had visited Savarkar shortly before the attempts on the Mahatma's life and that it was Savarkar's virulent criticism of Gandhi that was at the heart of the assassins' hatred of the Mahatma added up to a troubling grouping of circumstantial evidence against Savarkar
When he was shifted to Ratnagiri prison in 1921, Savarkar reported seeing similar practices there and wrote, the same year, in his prison cell, a tract titled Hindutva, regarded as the seminal text for Hindu nationalists. For believers in a Hindu Rashtra it was, and is, the clearest delineation of their theory of Indian nationhood, linked to the country's Hindu ethos. For those who prized India's absorption of multiple faiths and cultures and its assimilation even of confrontational forces as its distinguishing essence, it was, and is, the defining text of exclusionary divisiveness and the scapegoating of non-Hindus, especially Muslims.
Various saints and political leaders from Swami Vivekananda to Dayanand Saraswati and Tilak had publicly called for a Hindu revival before Savarkar did. The big difference was that Savarkar defined his idea of a Hindu resurgence in political, not religious, terms and called as much for a combative spirit as a cohesive one if India were to retain its essence, which in his opinion was its Hindu way of life.
At the outset, Savarkar made it clear that Hindutva was not the same as Hinduism. It had nothing to do with religion or faith-based practices or rituals. As a principle, Hindutva formed the basis of India's national character, he maintained, and, to provide greater clarity, offered his own definition of who was a Hindu. He wasn't setting out to create a Hindu nation. India was, Savarkar asserted, citing ancient and medieval texts, a Hindu nation in the real sense. And anyone who considered this nation as his or her pitrubhu (fatherland) and punyabhu (holy land) was a Hindu. The Sikhs and Buddhists, in his view, met both conditions and were Hindus. However, although he'd concede that many Muslims and Christians living in India were true nationalists and saw the land of the 'Sapta Sindhus' as their fatherland, their holy land lay elsewhere, in Arabia or Palestine.
Did that mean they were excluded from a nation which had Hindutva as its base? 'Their love is divided,' believed Savarkar, and they'd have no choice if they were asked to pick between their fatherland and holy land. It was 'natural' that they should choose the holy land, he stated.
Savarkar's turn to Hindutva was personal no doubt—caused by his experiences in prison. This was the first piece of the puzzle. But it was equally a political reaction to what was happening in the country. Hindu-Muslim relations had been deteriorating since 1906, when a delegation of 36 prominent Indian Muslims had asked the British for a separate electorate for their community. Communal electorates—Hindus voted to elect a fixed number of Hindu representatives and Muslims voted for theirs—were guaranteed in 1909, and the next two decades witnessed a spike in Hindu-Muslim hostilities. What rankled Savarkar a great deal was that Gandhi had given into the communal electorate deal, which, due to the number of seats reserved for Muslim representatives, implied that one Hindu vote was worth less than one Muslim vote.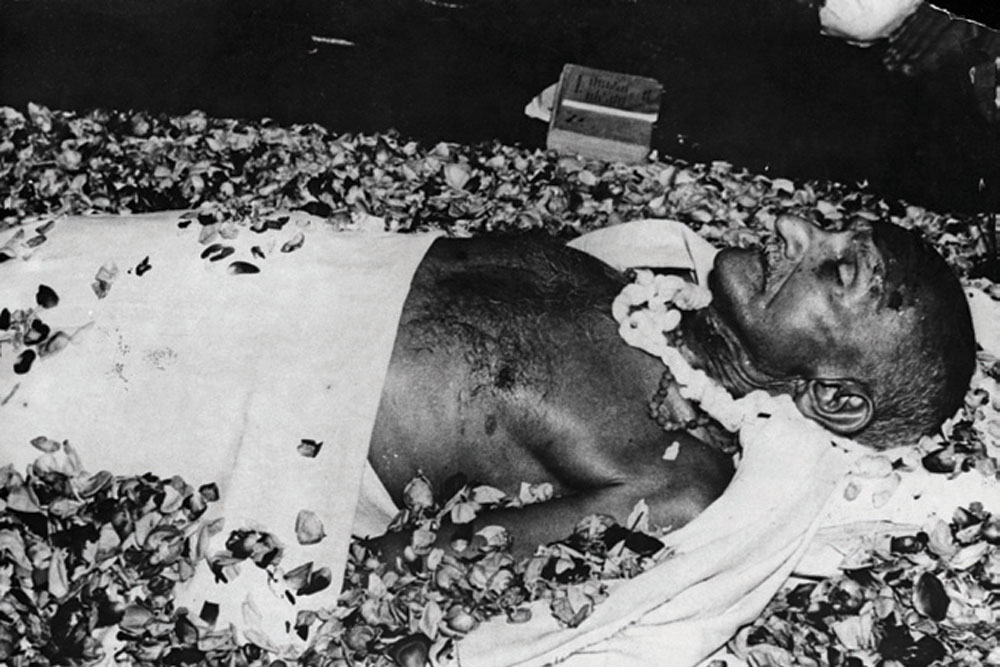 But Savarkar was also upset that in an atmosphere of intense rivalry, and often violence, between Hindus and Muslims, Gandhi voiced his enthusiastic support for the Khilafat movement for restoration of the Caliphate or the global Islamic seat of power. Gandhi made the saving of the Khilafat one of the primary aims of the Indian struggle. Savarkar wondered what saving the Caliphate at all had to do with the Indian national movement and our anti-British struggle.
Khilafat was nothing but an aafat, Savarkar caustically remarked. He also described the Gandhian hurricane sweeping India as 'an inauspicious force' that, if let loose, would bring disaster.
Though the Khilafat movement didn't make much headway, the communal pot was kept boiling through the 1920s, with violence breaking out now and then in different parts of India. Savarkar felt that every time the question of protecting Hindu interests arose, Gandhi ruled in favour of 'fanatical' Muslims. After Mohammed Ali Jinnah and the Muslim League started to take more hard line stances around 1929, Savarkar concluded that it was only militant Hindu nationalism that could save India and her identity. This is the second piece of the puzzle that explains Savarkar's ideological turn later in life.
SAVARKAR WAS RELEASED from Ratnagiri jail in 1924 but was barred by the Raj from taking part in politics. He was also forced to remain confined to Ratnagiri in the coastal Konkan for the next 13 years. It was only in 1937 that he emerged a truly free man and was allowed to participate in politics. Savarkar soon became president of the Hindu Mahasabha, an outfit that best represented his idea of Hindutva.
Savarkar was 54 years old at the time and had spent the prime of his youth in prison, but his oratorical powers were intact, and as he began addressing rallies in a host of places, among the impassioned youngsters who signed up to his cause was Gandhi's future killer, Godse. The son of a postmaster from Pune, Godse had failed his matriculation exams but had later studied history and sociology. In the early 1930s Godse, who started out working as a tailor, became one of the early recruits to the RSS but once Savarkar joined politics in 1937, he found his style much more suited to the ex-revolutionary's than to RSS founder KB Hedgewar's and, at age 26, joined the Hindu Mahasabha. Indeed, Godse was a diehard Savarkarite.
Another man who joined the group, around the same time, was Narayan Apte, son of Dattatray Apte, a Sanskrit scholar from Pune. A third was Vishnu Karkare, the owner of a small shop in Ahmednagar; Karkare later headed the local Mahasabha unit in his town.
All the three men were, like Savarkar, Chitpavan Brahmans, with their roots in the Konkan coast, and all three were implicated in the plot to kill Gandhi. Apte and Karkare in fact were at Birla House the evening that Godse pulled the trigger on Gandhi. What was the path that led them there? And beyond being Mahasabhaites how personally involved was Savarkar in their lives and their hate politics?
Savarkar was number eight on the list of accused, but as soon as the trial began he moved up to number seven. This was because one of the accused, Digambar Badge, had turned an approver, an accused who agrees to give testimony against his fellow co-accused and is shown leniency as a reward
In 1944, Savarkar had given Godse a loan of Rs 15,000 to start a newspaper called the Agrani (Forerunner); Apte was the paper's manager. The same year, Agrani, which carried Savarkar's photo on its masthead, ran a story on its front page with a picture of Apte, saying he had led a group of nationalist youths who had heckled Gandhi when the latter was on a visit to Panchgani, 80 km from Pune. As the communal temperature soared from 1945 onwards, the Agrani was accused by the Raj of violating the Press Act with its inflammatory communal writings. In letters written to Savarkar, Godse and Apte implored him to write for their daily. But he did not contribute, except for allowing them to carry all his public statements, issued from time to time. When the government asked Godse and Apte to shell out Rs 6,000 as a security deposit in 1946 in order to stop them from putting out more incendiary writings, Savarkar made a public appeal to every family that believed in Hindutva to contribute one rupee to show solidarity with a paper that was 'truly the forerunner of the ideology.'
The Mumbai police certainly believed that the relationship between Savarkar and Godse and gang was more than just a routine relationship between a leader and ordinary foot soldiers. Indeed, they believed that Savarkar was the mastermind of the murder plot, a mentor and guide to Godse and the other accused.
Six days after Gandhi's assassination and the arrests of Godse, Apte and Karkare, a team of Mumbai police knocked on the doors of Savarkar's residence in the city's Shivaji Park locality. 'So you've come to arrest me for Gandhi's murder?' he asked as he opened the door. The cops nodded.
In mid-May Savarkar was flown to Delhi, where he remained behind bars for a year as the trial in the case unfolded in the Red Fort, with special judge Atma Ram presiding.
Savarkar was number eight on the list of accused, but as soon as the trial began he moved up to number seven. This was because one of the accused, Digambar Badge, had turned an approver, an accused who agrees to give testimony against his fellow co-accused and is shown leniency as a reward.
The approver told the court he had, along with Godse and Apte, gone to Savarkar's Shivaji Park residence on 14 January with a bunch of weapons. Godse and Apte asked Badge to wait in the compound, took the bag inside, and came out with it 10 minutes later. On 17 January, Badge said, the three of them visited Savarkar's house again. He was made to wait on the ground floor while the other two went up to Savarkar's study for obtaining his final instructions. When Godse and Apte were on their way downstairs along with Savarkar, he heard Savarkar telling them, 'Yashaswi houn ya,' which meant 'Come back successful.' Afterwards, in the cab, Apte told Badge, 'Savarkar predicted that Gandhi's hundred years are over. There is thus no doubt our mission will be successfully accomplished.'
Savarkar refuted all charges, and distanced himself from the other accused, saying he wasn't part of any conspiracy to kill Gandhi and had no knowledge of any such 'criminal design.' He knew Godse and Apte, but as letters seized by police made clear, all correspondence between them was only related to work of the Mahasabha, the Hindu Sangthanist movement or their paper Agrani, which he saw as an organ of the Mahasabha but for which he wrote nothing. As to the picture on its masthead, it was wholly Godse and Apte's choice; there were other papers too which carried his picture.
The 'Badge and the bag' story was of no evidentiary value, Savarkar pointed out. If Godse and Apte did indeed visit Savarkar Sadan on January 14, it couldn't be assumed they had gone to meet him. His secretary GV Damle and ex-secretary AS Bhide had rooms on the ground floor, and his security assistant Appa Kasar too usually spent time on the same floor, so they might have gone to see any one of these three, or someone else as well, as the ground-floor also had a room dedicated to the Mahasabha and its work and a reading room, and hundreds of people came in every day. Both Godse and Apte had in any case denied they'd gone to the Sadan with the bag.
The second incident of 17 January narrated by Badge was similarly fictitious, Savarkar said. Neither Godse nor Apte had seen him that morning, nor had he given them his blessings. And he had 'never predicted that Gandhiji's hundred years were over.'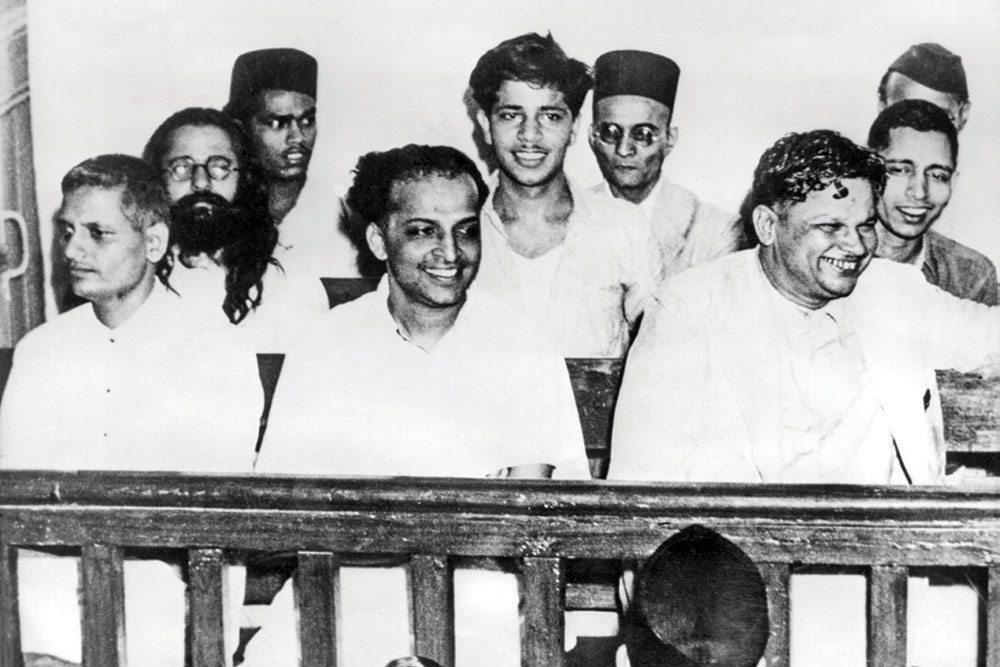 Despite Savarkar's denials there were certain things that went against him. While all the accused (except Badge) denied Godse and Apte had gone to Savarkar Sadan on 14 and 17 January 1948, there were eyewitnesses who claimed they had visited the place on those dates. On 14 January, Godse and Apte had got into a second-class compartment of the Deccan Express to travel from Pune to Mumbai. Seated on window seats facing one another, they noticed a good-looking woman walking up and down the corridor, obviously in an attempt to find a window seat. Apte offered his own seat to her and shifted to the seat next to Godse on the opposite bench. The woman's face looked familiar, and Apte asked her if she was the well-known actress Bimba; she confirmed that that was her stage name. They exchanged pleasantries, during which the actress revealed she lived in the Shivaji Park locality, where Apte and Godse were themselves headed. As her brother was going to arrive at Dadar railway station to pick her up, she offered to drop the two men as her house was close to Savarkar Sadan. Bimba later told the court she had indeed dropped the two men outside Savarkar's home.
Three days later, on 17 January, Godse, Apte and Badge hired a taxi for the full day and went around Mumbai meeting donors who'd contribute to the 'Hindu cause'. They kept the taxi driver, one Aitappa Kotian, waiting near Savarkar Sadan while they went in for some time in the afternoon. The taxi driver recollected their daylong trip later for three reasons: he had earned much more that day than he did on a normal day, Badge was dressed in the garb of a sadhu and thus stood out, and while disengaging the taxi man's services, Badge, unlike the norm for Mumbai's kaali-peeli cabs, had asked him for a receipt, which Kotian had provided.
In statements recorded by Mumbai police on 4 March 1948, Savarkar's secretary Damle and bodyguard Appa Kasar also stated that Godse and Apte had met Savarkar in the middle of January. Kasar said Godse and Apte came a second time in January, on the 23rd or 24th, and had a half-hour meeting with Savarkar in the morning.
In fact, Damle and Kasar went further—not only had Savarkar met Godse and Apte a few days before Gandhi's assassination, he had also met other accused in the run-up to the killing. Damle said Savarkar had met Karkare and 'a Punjabi refugee boy'—this was a reference to Madanlal Pahwa, who had made the first attempt on Gandhi's life on 20 January in Birla House— in the first week of January. Kasar too remembered this meeting, though he placed the date as 13 or 14 January.
That all the main accused in Gandhi's assassination had visited Savarkar shortly before the attempts on the Mahatma's life and that it was Savarkar's virulent criticism of Gandhi that was at the heart of the assassins' hatred of the Mahatma added up to a troubling grouping of circumstantial evidence against Savarkar.
A little before the trial started, Savarkar's former Mahasabha colleague Syama Prasad Mookerjee, who had joined Nehru's cabinet, wrote to Patel, who was home minister, voicing his apprehensions about Savarkar getting dragged into the case. 'I do not know,' he stated, 'what evidence has been found against him [Savarkar]… His sacrifices and suffering in the past have been considerable and unless there is some positive proof against him, he should not, at this age, be subjected to a charge of conspiracy to commit murder.' To this, Patel responded he had spoken to the prosecutors, legal advisers and investigating officers: 'I told them, quite clearly, that the question of inclusion of Savarkar must be approached purely from a legal and judicial standpoint and political considerations should not be imported into the matter.' He added, 'I have also told them that, if they come to the view that Savarkar should be included, the papers should be placed before me before action is taken.' Then came the parting shot: 'This is, of course, in so far as the question of guilt is concerned from the point of view of law and justice. Morally, it is possible that one's conviction may be the other way about.'
What Patel was saying, in effect, was that criminal culpability as established with solid legal proof was one thing, but Savarkar's ethical responsibility was another.
In a letter to Nehru, Patel had also written that all the accused had given detailed statements, and 'it was a fanatical wing of the Hindu Mahasabha directly under Savarkar that [hatched] the [murder] conspiracy.'
Savarkar, then, had been charged presumably after Vallabhbhai appeared convinced there was a case to pursue.
IN THE EVENT, Badge's statement fell through. None of the other accused named Savarkar and an approver's testimony needs corroboration in order to establish guilt. Savarkar was acquitted because no one corroborated Badge's version, and there was no other solid, non-circumstantial evidence on the record. The mere fact that the other accused had visited Savarkar in the run-up to the assassination—as borne out by the testimonies of the actress Bimba, the cab driver Kotian, Savarkar's bodyguard Kasar and secretary Damle—didn't prove beyond a reasonable doubt that Savarkar himself was involved in the assassination plot. In fact, Savarkar was the only one acquitted in the case and even the government didn't challenge the acquittal.
However, a judicial commission headed by ex-Justice JL Kapur, which looked afresh into the case in the late 1960s, remarked that 'people who were … involved in the murder of Mahatma Gandhi were all congregating sometime or the other at Savarkar Sadan and sometimes had long interviews with Savarkar'. The 'facts', the panel concluded, 'taken together were destructive of any theory other than the conspiracy to murder by Savarkar and his group'.
Savarkar's acquittal still stands, but as Sardar Patel noted to Mookerjee, Savarkar's moral culpability (as opposed to criminal culpability) is a different matter.
(Edited excerpts from Savarkar: The True Story of the Founder of Hindutva by Vaibhav Purandare (Juggernaut; 360 pages; Rs 599)