FEW STATUES of VO Chidambaram Pillai grace public squares and it is just as well. The dull gold one at the old municipal office in Tuticorin, the crucible of his remarkable vision and valour, stands defiant over a base inscribed with the definitive sobriquet his whole life has been reduced to. 'Kappalottiya Thamizhan.' The Tamil helmsman immortalised on screen by Sivaji Ganesan in Kappalottiya Thamizhan (1961). A pioneering Swadeshi nationalist of 19th century fin-de-siècle political ferment, Pillai is best remembered for floating a steam shipping company in 1906 to challenge the monopoly of the British-India Steam Navigation Company. At a time when the first wave of Swadeshi enterprises, birthed in the wake of the Partition of Bengal, were making soap and matches, Pillai's endeavour was the equivalent of Elon Musk's plan to colonise Mars. Fundraising for the first voyage to Colombo of the short-lived Swadeshi Steam Navigation Company took him all over India, and he did not call off the journey despite the premature death of one of his sons back home. A freighter was leased before two ships, SS Gallia and SS Lavo, could be acquired. Ticket prices were slashed; a trade war ensued that included an offer by the British company to provide free umbrellas. For Tamils, the venture was the drop that filled the entire ravine with nationalistic lifeblood. To Pillai, neither a sailor nor a businessman by temperament, it was the hurdle event in his interminable decathlon race against foreign forces as well as entrenched psychosocial bigotry. It had, however, already set off a domino effect that would end in his incarceration and bankruptcy, the dissolution of the Swadeshi Steam Navigation Company and on June 17th, 1911, the first and only assassination of a British government official in south India, Robert William d'Escourt Ashe, the acting Collector and District Magistrate who was shot dead by R Vanchi Aiyar, an extremist. Ashe's murder, which put the British in a state of high anxiety, was considered by the judges of the Madras High Court a direct consequence of the bitter hostility between British officers and Swadeshi activists, including Subramania Siva and Chidambaram Pillai, writes AR Venkatachalapathy, a historian and writer for whom Pillai has been a subject of lifelong academic interest, in an article in the Economic and Political Weekly.
One of the most transformative yet rarely frontlit figures in the history of the freedom movement in the state of Madras, Pillai was a great straddler of his times, the geography of his thought bridging Tamil pride, literature, religion, social ills, labour unionism and legal activism. Ironically, some of the harshest reprisals he would face in posterity would come from his own countrymen, who have not just consigned him to the abyss of historical insignificance and, worse, appropriated him as a Vellalar community icon, but have also raked him over the coals for failing at entrepreneurship. Potted biographies of Pillai don't tell us that his name carried the taint of doom for decades after his death. "When a 100-acre parcel of land in the shadow of the corporation crematorium was allotted for our college and for a residential society named in his memory, everyone thought this was a bad idea," says APCV Chockalingam, Honorary Secretary, VOC Educational Society, Tuticorin. His father APC Veerabahu, a distant relative and an admirer of Pillai's, founded the VO Chidambaram College, an aided institution that prioritises disadvantaged students, in Tuticorin in 1951. A conference room across the hall is full of rare photographs of Pillai with his bejewelled wives—he married twice and fathered eight children—and friends. "Few acknowledge the impact VO Chidambaram Pillai has had on Tamil society as a revolutionary, writer-translator and activist. C Rajagopalachari is supposed to have said that if Gandhi was Rama, Pillai was Parasurama," says Chockalingam. Inspired by Pillai's Tamil nationalism, his uncle, MC Veerabahu, a member of the Constituent Assembly, had signed his name in Tamil on the Constitution—the only one to do so. Even K Kamaraj, who became Chief Minister of Tamil Nadu in 1954, had signed in English. "My uncle's life, in a sense, mirrors Pillai's. He gave up a career in law to join the freedom movement. He died with nothing to his name. He fought to get freedom fighters' pension but he himself refused it," says Chockalingam. MC Veerabahu, too, launched a shipping venture in independent India with a vessel named SS VO Chidambaram Pillai, but the company soon folded up due to mismanagement.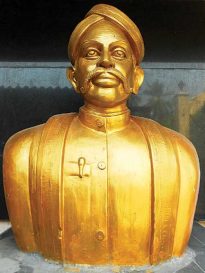 If success, as Winston Churchill said, is going from failure to failure without losing enthusiasm, then Pillai must rank among the most successful Tamil rebels of his time. "Chidambaram Pillai is a tragic hero who failed in terms of worldly things," says Venkatachalapathy. "Serving an unusually harsh sentence, he lost a fifth of his body weight in prison. His father died and he could not attend the funeral. He was shunned by the Congress upon release, possibly because of his anti-Brahmin tilt," he adds. But there are heartening acknowledgements of his sacrifice. "At an event in 1927, Periyar is embarrassed to be invited onstage while everyone ignores Chidambaram Pillai. He praises him and says he was a Swadeshi activist while I was still a wayward youth."
Born into a wealthy family in Ottapidaram, a taluka town 25 km northwest of Tuticorin, in Tirunelveli district, Vallinayagan laganathan Chidambaram Pillai was a pleader at the local sessions court before moving to Tuticorin in 1900. In the course of his legal stint at Kovilpatti later in his life, he is known to have defended and even provided board and lodging to activists pro-bono, even if by his own admission, the money he made as a pleader was just about enough to cover his betel leaf expenses. But it was his time as a Congressman in Tuticorin, up until his arrest in 1908, that has come to be regarded as the defining period of his life. With the inevitable split in the Congress at the 1907 Surat session, Balgangadhar Tilak picked him out as his lieutenant in the Madras Presidency, giving him a chance to sharpen the rebellious edge of his character. Spurred on by Subramania Siva, a fiery orator whose words seemed to echo the deep roar of the ocean, Pillai became the unlikely face of the first working-class movement against the Raj in Tamil Nadu. It began in the long grey building that houses the Madura Coats textile mill in Tuticorin today. Started as Coral Mills in 1898 by Andrew and Frank Harvey, agents of the British-India Steam Navigation Company, it became the site of a headlining protest by a thousand aggrieved workers. Pillai cheered them on with new hope as they marched down the streets yelling 'Vande Mataram' and struck work for the first time from February 27th to March 6th, 1908, demanding shorter workdays, a weekly holiday, higher wages and better working conditions. Coral Mills capitulated, and the British administration could no longer ignore the spirit of revolution that was growing apace in Tuticorin and spilling over to other parts of the district. Decades of internalised oppression were finally erupting and the hand-wringing and the quiet ire of the past were giving way to overt resistance by the working class.
It was in this charged atmosphere that Pillai and Siva began to make arrangements for public celebrations in Tirunelveli on March 9th, and in Tuticorin the following day, to mark the impending release of Bipin Chandra Pal. Sensing both a threat and an opportunity, British officials promptly arrested them on allegations of fomenting unrest and later charged them under Sections 124(A), 153(A), 109 and 114 of the Indian Penal Code allegedly on account of their most recent incendiary speeches. With their arrest, it was as if a switch had been flipped. Mass outrage broke out in Tirunelveli and the streets swelled with crowds prepared to avenge the cowardly act. Shops remained shuttered, the police station was attacked, a kerosene tank torched. Four died in police firings and reserve forces were brought in to quell what came to labelled the Tinnevelly Riots, a concussive episode in the history of the Madras Presidency.
Chidambaram Pillai and Subramania Siva entered the annals of history as the first Tamils to be charged with sedition and were handed unusually severe judgments: a 20-year 'double transportation' sentence for Pillai and a 10-year transportation sentence for Siva. Tilak, who had been tried for sedition in 1897, had only been sentenced to 18 months' rigorous imprisonment. In a petition to the Governor of Madras dated January 29th, 1909, where he requests that his sentence be remitted on account of not being transported overseas as directed by the court, Pillai distances himself from the riots and says he should not be held responsible for 'the misguided rowdies of Tinnevelly taking advantage of the excited condition of the people in consequence of the unexpected remand' of their leaders. Four years would pass however before he would be a free man. By way of explanation, this is what Judge AF Pinhey had to say about the sentence meted out to Pillai: 'The first object of a sentence is that it shall be deterrent not to the criminal alone but to others who feel any inclination to follow his example.'
OVER A CENTURY later, tens of thousands of residents followed Pillai's example to resist a modern-day exploitative enterprise and its ambition to rapidly scale up a highly polluting industry. A two-decade-long struggle demanding the closure of copper smelting plants operated by Vedanta Sterlite in Tuticorin over allegations of pollution, gas leaks and unethical practices culminated in a high-voltage people's movement in March 2018 after the Tamil Nadu Pollution Control Board issued a 'consent to establish' licence towards an expansion plan to double production to 800,000 tonnes a year. On May 22nd, as the movement entered its 100th day, a crowd gathered to take out a rally to the Collectorate. They were in violation of Section 144, which had been imposed the previous day. Police responded by firing teargas but the situation spun out of control and shots were fired indiscriminately at the crowd, killing 13 in what turned out to be one of the most brutal instances of lethal force used by the state to subdue a protest. A National Human Rights Commission inquiry has revealed the police used just 43 non-lethal bullets, 18 rubber and 25 plastic, and 23 teargas shells before firing 69 rounds of live ammunition. The Sterlite plant was shut down, but activists haven't had it easy, with the Central Bureau of Investigation charging many of them with robbery, dacoity, falsification of evidence and disobeying law. "This is the land of Chidambaram Pillai, Subramanya Bharathi and Kattabomman. It is in our blood to rise up against a great danger that is about to befall us," says anti-Sterlite activist Fathima Babu, who faces several cases.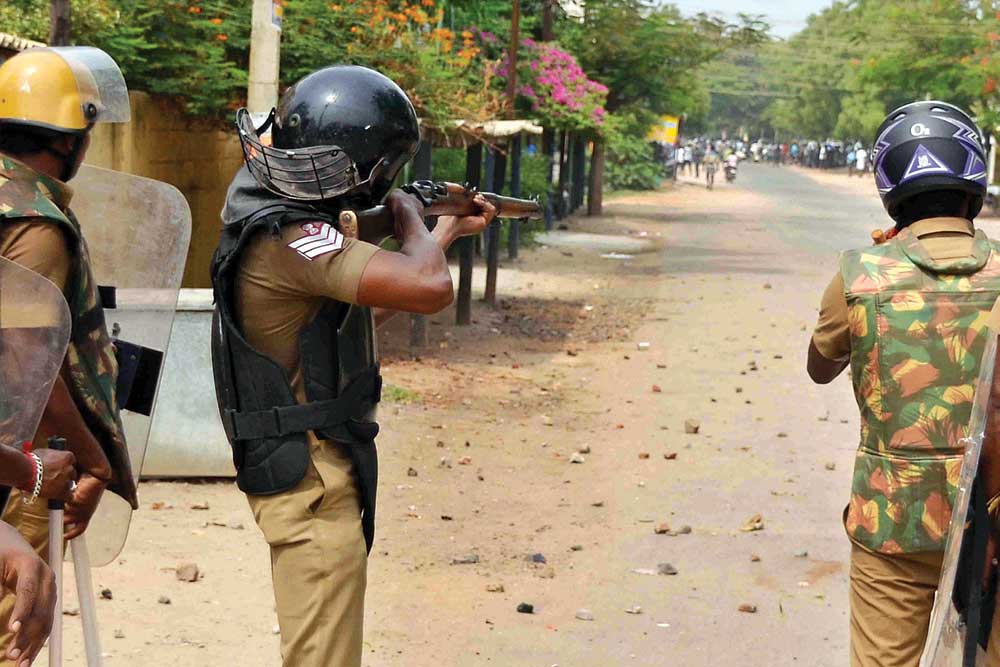 "Were we inspired by Chidambaram Pillai? No, we didn't make the connection when we started to rise up for our rights as workers at Sterlite. It was much later I realised that here was a workers' movement not too different from the one from a century ago," says 35-year-old Amal Raj, at his engineering workshop in Tuticorin. "Ideas that are seemingly buried are never quite dead. They will be dug out some day, sometimes unintentionally." Raj worked as a welder at the Sterlite plant from 1998 to 2015, earning Rs 12,000-15,000 a month, and led a series of protests demanding better and safer working conditions, access to medical care and commensurate compensation for accidental deaths. "Sterlite did not allow for a union to be formed. When I started work there, they would pay very well but they didn't care a bit for workers' welfare. There was no dining shed or clean drinking water. Tea was served in plastic bottles with the upper halves chopped off. Accidents inside were hushed up and treated internally and the deaths were often reported as suicides. When I began agitating against all this and some of our demands were met, I became the de facto union leader," says Raj. The Bharatiya Mazdoor Sangam eventually backed him, but Raj could not fight off a move to post him to Ballari in Karnataka. He quit to start his own business instead. "At least 20-25 small workshops have come up in Tuticorin since Sterlite shut shop. Of the 4,000-plus workers who were employed at the plant, a large number are skilled enough to run their own shops. Yes, there is unemployment, but those without technical skills are the most affected," says Raj. The spirit of enterprise, embodied in Pillai, is innate to these coastal lands, he says.
At the Tuticorin Port Trust, renamed VO Chidambaranar Port Trust when Tamil Maanila Congress leader GK Vasan was Union Minister for Shipping, Pillai's search for self-reliance seems to have long since drowned in the blue-green waters. The port is the second one in a region that has a long maritime history dating back to the early Pandya kingdom. It was an idea mooted by Kamaraj to Jawaharlal Nehru and executed in the '60s and '70s by then Tamil Nadu Chief Minister CN Annadurai. Operations started in the mid-1970s, mainly with export of salt and import of coal to power the hydrothermal plants in Tuticorin. Despite much expansion—it expects to handle a million twenty-foot equivalent units, the common measure used to denote a ship's capacity, this year—the port essentially feeds Colombo, which has meanwhile emerged as South Asia's transhipment hub. Despite our promixity to the international east-west trade route, the lack of a vision to deepen south India's terminals to accommodate large mainland container carriers has remained a squandered opportunity, forcing Indian exim businesses to incur the additional cost of extra port handling in Colombo. Ironically, imports now constitute over 70 per cent of the business at the VO Chidambaranar Port. With Sterlite shut, port traffic is down by 17 per cent, says T Velsankar of PSTS Shipping Services, a major shipping company in Tuticorin, and president of the Tuticorin Stevedores Association.
Shimmering in the undulating heat of the morning, the rundown old port, known as 'Zone B', which once launched the Swadeshi Steam Navigation Company, is an empty shell of itself. At a privately run dry dock on the port, a couple of wood sailboats hunker like ghosts waiting for someone to breathe life back into them. A dozen or so men hammer away at loose planks jutting out of the body of a boat numbered 171. They fill the leaky gaps in between with a mixture of fibre and natural resin, a process known as chalking. It costs Rs 35-40 lakh to repair a 15-year-old boat after a long voyage, and even after that, it doesn't inspire much confidence. "A sailboat of this size can carry about 350 tonnes of cargo and runs on a 350-500 HP motor," says S Lasington Fernando, Secretary, Coastal Mechanised Sail Vessel Owners Association. I nod vigorously to cover up my disbelief when he says it charters for Rs 4.5-5 lakh a month and can make it to the Maldives in three days. "We operate during fair-weather—September 15th to May 15th—and ply to Colombo, Mangaluru, Lakshadweep and the Maldives. There were over 50 such vessels. Now there are 20. Business is not very lucrative considering the upkeep these boats need and the time it takes to get them ready for the sea again. But that is not the reason we are languishing. Cargo containers control most of the trade now," he says.
The Swadeshi boats must have set sail near about here to the pleasant nattering of patriots. Zone B today, like Chidambaram Pillai after his release from prison, is a forsaken artefact left to weather the frightful ravages of the wind and the sea. Penniless and resigned to doing small jobs—as a rice trader in Chennai, a bank clerk in Coimbatore and finally as a pleader in Kovilpatti upon getting his sanad back—to fend for his family, Pillai's disapproval of casteist arrogance and Gandhi's non-violence made him immiscible in the cocktail of voices shaping the freedom movement of the 1920s and the 1930s. He turned to labour union issues and wrote a memoir in verse, among other works. He died in Tuticorin in 1936, a forlorn outcast of the mainstream struggle for freedom, perhaps vaguely appalled at the punt he had taken on his life and his money. But that ship had sailed long ago.