THE RED BRICK road in Haryana's Barsola village is completely deserted on a cloudy slumberous afternoon. On one of the houses a name, 'GK Barsola', is scrawled in white chalk. A knock on a half-open carved wooden door wakes up Satbir Pahalwan, alias Satbir Barsola, from his siesta. Sitting up on his charpoy, the tall and lanky man asks someone in an adjoining room to get water for the visitors. The lavender-painted walls of the square room have pictures of Bhagat Singh and Swami Vivekananda. A bike parked inside has 'pradhan' printed above the number plate. Satbir is a pradhan of the Khera Khap, which at a meeting on June 29th prescribed that surnames, notwithstanding which community, be substituted with village names in 24 villages of Jind district.
He makes a few calls to get over other members of the khap. "Why does the media always turn up at this hour of the day? It is the time when people are either sleeping after lunch or working in the fields," he says, as he pulls the hookah towards him. The villages, around four hours from the national capital, have been in the spotlight ever since news spread of the khap's unwonted idea. Satbir, 64, acknowledges that it is just a "small step in the fight against the deep-seated social evil of casteism", hoping that when names change, mindsets will change.
As a young Jat farmer growing up in the village, he had seen people of all communities sharing each other's "sukh-dukh (good and bad times)". He joined the Army, where he spent 20 years, retiring as a company havildar major (CHM), the senior-most non-commissioned officer, in the Rajputana Rifles. "There was no caste, religion, creed in the Army. When I retired and came back, I saw that the poison of casteism had spread." Around four years ago, Satbir decided to open an 'akhara' to teach 'kushti' (wrestling) to children in the village. But the attendance was thin each day. He realised it was because if children of one community turned up, those belonging to the other would be absent. He blames the fanatical caste divide on identity politics.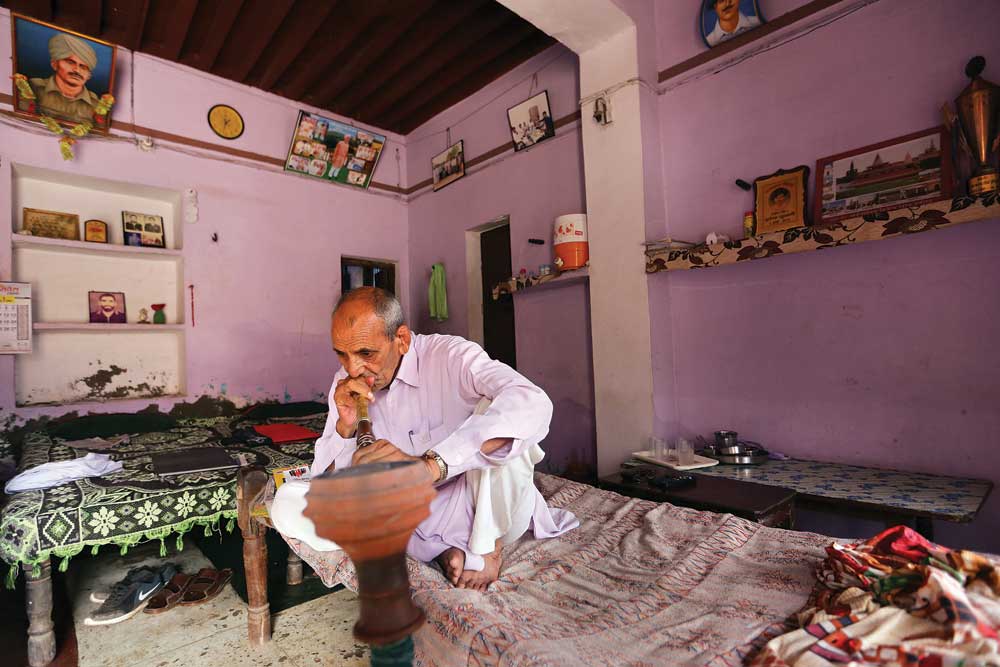 "Voting patterns have started getting linked to castes more than a candidate's background. Politicians project their caste identity to get votes of a particular community," he says, as some more khap members enter his room and sit on another charpoy. Glasses of nimbu-paani (lemon juice) are served as the men, all Jats who now use the name of their village Barsola as surname, claim that most villagers have welcomed the move. They, however, admit that there are always some who disagree. The pradhan's visiting card says 'Satbir Pahalwan Barsola', though on the grey walls of his house the name is still Satbir Pahalwan (Arya). He had started using the Barsola suffix ever since he became pradhan.
Across the street, 50-year-old Om Pati, a Brahmin woman, balancing a metal pot filled with water on her head covered with a dupatta, smiles when asked about the khap's decision to do away with the caste patronymic. "It is good. Oonch-neech nahi rahegi (caste-based inequality will not remain)." From a balcony above, Sudesh, also a Brahmin woman around her age, agrees with her. The village, they say, has not witnessed any caste tension. So, would they agree to inter-caste marriages? Neither woman bats an eyelid before saying "No". Another Brahmin resident, Mahavir Sharma, admits that there are inhibitions about inter-caste marriage, but says the khap's decision will enhance fraternity among different communities.
SATBIR DID SOME research on why casteism had spread. He finally decided to call a meeting of the Khera Khap Committee in Bhonsala village, nearly 10 km away. Around 50 members of the Jat-dominated khap met in a school ground and, sitting under the shade of trees, discussed the proposal to do away with caste in surnames, and instead use the village name, as a first step towards doing away with caste-based social disparities. After a three-and-a-half hour meeting, over several rounds of chai, paani and hookah, the members, comprising representatives from 17 of the 24 villages the khap covers, endorsed it by raising their hands.
There was no caste, religion, creed in the Army. When I retired and came back, I saw that the poison of casteism had spread, says Satbir Barsola, pradhan, Khera Khap
Some of them see it also as part of an effort to negate the infamy khap panchayats have acquired for their retrograde diktats, particularly over same gotra marriages. An album of photographs in Satbir's room shows how the Khera Khap has started giving Rs 500 to each family where a girl is born. Haryana records one of the lowest sex ratios in the country at 833, as per the 2017 Sample Registration Survey statistics released recently. The khap has also allowed marriage in the gotra of the paternal grandmother and ruled against 'mrityu bhoj', a practice of giving a feast, or laddoos, a little after the demise of a person. "If an inter-caste marriage is agreed to mutually between the two families, the khap does not object. If not, we advise them to leave the village and live elsewhere," they say. Justifying the work of khaps as a quasi-judicial body for a group of villages, Satbir compares its verdicts to desi ghee.
He leads the way to Bhonsala village in his white Maruti Celerio with 'Satbir Pahalwan Barsola Pradhan Khera Khap' written in bold red on the rear windshield. The khap's diktat would also mean that no community can brandish their caste or gotra on vehicles. In the village, a few khap members gather in a large, sparsely furnished green and pink-painted room, with a 'suraai' (earthen pot for water) on a tall iron stand in one corner. The village comprises Jats, Scheduled Caste communities—such as Valmiks—and a Lohar (iron smith). None of the Brahmin members of the Khera Khap could attend the June 29th meeting. But state-level committees which will propagate the decision have representatives from all communities, including Brahmins, says Udaivir Barsola (earlier Nehra), spokesperson of the Khera Khap. "Every movement starts from home. We want equality among castes. Not a single person opposed it at the meeting, but no decision is ever completely unanimous," he says.
A young girl, her head covered, brings in cups of milky tea. The conversation turns to implications of a casteless society. Lines are again drawn when it comes to inter-caste marriage. Village pradhan Uday Singh says it is unacceptable. The others are quiet for a few moments. They argue that khaps have come a long way from the days when they abrogated inter-caste marriages. Now they support them in the event of families agreeing and otherwise just keep silent. As far as documents like Aadhaar are concerned, the new ones will have the village name in place of a surname that denotes caste identity, they say.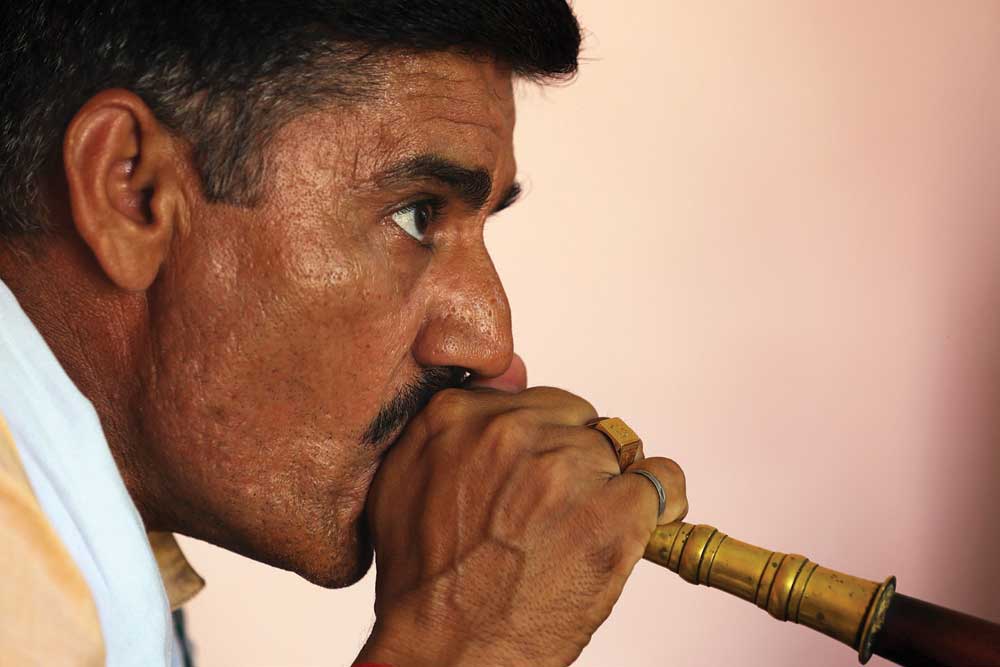 For Satbir, his proposition to delink caste from names is aimed at equality. "I feel making names caste-neutral would help in eliminating the poison of casteism," he says. But the unwritten resolution has unfurled another layer—the angst of the Jats over caste-based reservation policy, which covers Scheduled Castes, Scheduled Tribes and Other Backward Classes (OBCs). "The poorest don't get the benefits. Reservation should be based on economic criteria. That will end casteism. The government can do it in one day," says Udaivir.
In February 2016, the state witnessed violence when Jats, comprising 29 per cent of the state's population, agitated for reservation within the OBC quota. The Manohar Lal Khattar regime, the first non-Jat government in the state in about two decades, enacted a Bill enlisting Jats, Bishnois, Rors and Tyagis in the Backward Classes category, making them eligible for reservation. The Punjab and Haryana High Court stayed it. Udaivir cites a common refrain that "chhattis biradari (36 communities)" lived together in harmony in the state, but now it is 35 on one side and Jats on the other, implying that the BJP was reaching out to non-Jats, polarising the electorate along caste lines. He says that, in the Lok Sabha election, Members of Parliament (MPs) won because of Prime Minister Narendra Modi. The BJP won all 10 seats in Haryana, set to go to Assembly polls later this year. In Sonepat, the Lok Sabha constituency in which the Khera Khap villages fall, BJP MP Ramesh Chander Kaushik defeated Congress' two-time former Chief Minister Bhupinder Singh Hooda, a Jat. In neighbouring Rohtak, Hooda's son failed to retain his seat, facing defeat at the hands of the BJP's Arvind Kumar Sharma. The developments have left a bitterness among Jats, who had dominated the state's politics. Udaivir and the other men, however, quickly add the khap's mission was a social, not political, one.
IT IS GETTING cloudier outside. In a large meadow, as a soft wind blows, an old man with a white beard and a weather-beaten face leans on a long stick as his buffaloes graze. He is aware that a meeting took place in the village school to discuss doing away with caste in the surname. "It's a good decision," says 70-year-old Balbir, a Jat. A little distance away, a young shepherd, also holding a stick while his sheep graze, comes over and stands next to the old man.
Karamjit, a Valmik, says all communities have been living peacefully in the village and appreciates the khap's verdict. There is a deep gash on his hand from a fall. Asked why he was not getting it treated, he smiles, as indifferent to his wound as to the khap's edict. Balbir says he is too poor to afford proper medical attention. The two laugh. They joke with each other in Haryanvi—the old man in white dhoti and kurta and the youth in a yellow t-shirt with 'Jai Mahakaal' printed on it, saffron shorts and a checked gamchha. Karamjit lives on the other side of the village, where those belonging to his community reside, as in several parts of rural India.
Sociologists see the Khera Khap's move as a positive one, but are sceptical about how far it can go in fighting the deep-seated caste system. Dipankar Gupta says giving up caste suffixes in name is nothing new and several people, including Jayaprakash Narayan during the Bihar socialist movement, have practised it in the past. "This khap leader's intentions in doing away with caste in names are good and send well-meaning signals, but it is unlikely to have any major social ramifications. In a village set-up everyone knows everybody's caste because there are multiple ties that bind people over generations of interactions," he says.
According to him, India had not witnessed an anti-caste stir till BR Ambedkar came around, and the earlier ones were anti-Brahmin movements. He is of the view that caste will die as urbanisation increases. "Everything about caste has fallen by the wayside. What survives is endogamy: marriage within the caste. This is also facing threat through urbanisation. Another 50 years and caste identity too will start wobbling," says Gupta.
Every movement starts from home. We want equality among castes, says Udaivir Barsola, spokesperson, Khera Khap
JITENDER PRASAD, former professor of sociology, terms the khap's "small, genuine effort" to make society inclusive as commendable but wonders if it will carry any weight in identity politics. "New narratives are given for a sense of dignity and identity. With the village suffix to names, the village acts through vertical solidarity, instead of caste… Khaps have realised caste has come under abuse because of identity politics," he says. According to him, it has a limited context and should be viewed within that prism.
Satbir is trying to mobilise public opinion to reform, he says. Of late, khap panchayats, traditional clan/village-based organisations of elderly men, have been politicised just like the politicisation of castes, says Prasad.
"We can see this as a symbolic step in the right direction. At the same time, we should remember it is deep-rooted with inter-linkages at various levels. It requires a very well-visualised social reform movement," says activist Jagmati Sangwan, who has fought patriarchal khap panchayats in Haryana. While she would like to see khaps promoting inter-caste marriages and putting an end to honour killings, she says even a discussion to end casteism should be seen positively.
Like any diktat, this too has its naysayers. In Badoda village, also under the Khera Khap, inhabitants have heard of the decision, but it is yet to be implemented. "There are three pradhans of the khap. One of them is in Barsola. It is not a unanimous decision," says Ishwar Sharma, a Brahmin, also a member of the Khera Khap. The other khap members around him start talking loudly, simultaneously. Some argue a decision cannot be taken unless all 24 villages get together, while others put the onus on the government, saying doing away with caste-based reservation will put an end to casteism. None, however, castigates the idea. Satbir claims pradhans of three other khaps have also appreciated the idea.
In Mohangarh, the last village under the Khera Khap before hitting the highway, Raghuvir Singh, a Jat who runs a provision store called 'Fauji Kirana Store', blames casteism on political parties. "There is no need for the khap to do this. In my eyes, everyone is a human being. To end caste, you have to end caste reservation and base it on economic criteria." He resonates with misgivings over caste-based reservation of several others, reflecting a backlash that may be brewing over it. In the same village, Balwan Singh, who does odd jobs for a livelihood, says creating awareness about a social evil like caste is "good work".
Though inhabitants of all four villages say there has been no caste-related unease recently, savage caste conflicts have been a reality, at times leading to bloodshed. The villagers have not forgotten Haryana's Mirchpur violence of 2010, when a 70-year-old Dalit man and his physically challenged 18-year-old daughter were burnt alive by members of a higher caste.
In his book Caste Matters, scholar Suraj Yengde says Swami Chakradhar, who founded the Mahanubhav sect in the 13th century, asserted that the one who rejected Brahminical ways of life was 'purer' than anyone else. "During this time, we see an interesting mix of anti-caste reformist movements being embraced by Brahmins." Later, in 19th and early 20th-century colonial India when anti-caste intellectuals, such as Jyotirao Phule and Ambedkar, rose against the Brahminical state to create a caste-diverse coalition, their Brahmin and non-Dalit comrades lent their voice and support to the anti-caste struggle, says Yengde.
Interestingly, the move in Haryana to do away with caste surnames, however limited, has come from a Jat-dominated khap. It is, nevertheless, intertwined with the anger over the reservation policy, a reluctance to extend it to inter-caste marriages and a hope to recast the image of the khap.
As Satbir turns his car back towards Barsola, one can see the road ahead for his mission of a caste-free ethos is a long and arduous one. Will the decree make people forget their castes? Like he says, it's just a small beginning.