HOW SWIFTLY THE tide of fortune changes can be gauged from Union Home Minister Amit Shah's visit to Potakpalli in Sukma district in late March. Potakpalli is not just another Forward Operating Base (FOB) of the Central Reserve Police Force (CRPF) deep in what was once an extremely hostile Maoist-held area; it is also the leading edge of the government's developmental initiatives. During his visit Shah went around and inspected a school and other amenities, such as the public distribution system (PDS) centre. This was in marked contrast to his visit in April 2021 soon after 22 CRPF troopers were killed in a Maoist ambush in Tekulagudem in the region. At that time, Shah had vowed the sacrifice made by those men would not go in vain.
For all purposes, the 'military' aspect of the situation in Bastar has taken a turn for good. If one looks at one of the most difficult areas, the government is now steadily ring-fencing the area with one security camp after another. The camp where Shah went for a visit was established in 2022. Setting up a base in that area was unthinkable even three years ago. In this area, this is not just a simple matter of setting up one camp and leaving it there. In all likelihood, such a camp is likely to be overrun by Maoists as history and experience show. If these camps have to survive and fulfil the tasks for which they are established, one has to set up a series of camps to reinforce the presence of paramilitary forces in the region. This is exactly what the government has done over time. The camp-by-camp and grid-by-grid approach has worked. The Potakpalli camp is at one edge of a misshapen quadrilateral.
It has taken a long time and the task has been costly in terms of men, material and money that have been sacrificed in the process. But the end results are for everyone to see: a series of camps strung across the landscape and a greatly reduced Maoist footprint in an area that was once considered lost forever.
Conventional explanations of the rise of Maoism, especially the kind that find favour with Indian social scientists, rest on ideas such as 'injustice' and 'exploitation'. Sim­pler explanations, such as the ab­sence of government for a very long time (due to capacity constraints) from inaccessible regions and the resultant vacuum being exploited by Maoists to occupy a vast stretch of territory in the very heart of India, are often ignored or worse dismissed as "administrative expla­nations". Seen from this perspective, the Maoist problem is not about to go away even if security forces establish their writ in this part of the country. Historically, this is the third wave of Maoism and Bastar, in particular, became a "rear area" for what was being done in Andhra Pradesh in 1980. But that long arc of Maoist reign in Bastar—almost 45 years—is close to an end, at least from the perspective of an armed insurgency.
WHAT IS CHANGING is Maoist strategy, from a purely armed activity to an open mobilisation of people living in the area without the Communist Party of India-Mao­ist, or CPI (Maoist), changing its goals in any way. The first signs of this change came about just about the time the Tekulagudem massacre took place in April 2021.
Silger is a village on the road that goes from Awapalli in Bijapur district and goes all the way to the tri-junction of Bijapur, Sukma and Dantewada districts. One can clearly see the hillock in Teku­lagudem where the paramilitary troopers were killed from Silger. But these days Silger is the site of a peaceful protest. The protesters do not want camps of security forces in the area. The protest began sometime in mid-March 2021, and soon enough, the number of people swelled to around 10,000, grabbing national headlines. Since then, two new camps have been established (at Mokur and Silger) that are barely one kilometre apart. The protest site is sandwiched between the two locations on one side of the road.
The interesting part of the protest is its 'staying power'. Or­ganising a large number of protesters in such a zone is next to impossible unless it has the support of Maoists. Originally, the core of protesters hailed from Silger itself. Now, the protest site has no more than 25 to 30 individuals and none is from Silger.
Gajendra Mandavi, who leads the protest now, is a lanky youth in his mid-twenties. He comes from a village deep in the Maoist-dominated area of Pamed. Most of the young people at the site, too, are from villages where Maoists have ideological sway even if their physical control is slowly ebbing under pressure from the security forces. Mandavi tells Open, "This is a fight to the end. I am willing to give my life for the cause." He then spells out alleged incidents of violence against his co-protesters and says, "Mar peet ka hi zayada vikas ho raha hai yah­an (It's violence that's witnessing development here)." His sympa­thies are clear even if he does not spell them out openly. While he sounds upbeat, there is no clear endgame to what is happening at Silger. Under pressure from the close proximity of three para­military and local police camps, the number of protesters at Silger has gone down drastically but the protest continues. While the original goal of not allowing security camps has been defeated, the protest is an effort at continued political mobilisation by Maoists.
The road to Chotedongar from Dhaudai has literally ceased to exist. This is the gateway to the iron ore mining area of Amdai Valley. And it shows. Instead of a black-topped road, one can see the intense rust brown on a bumpy track. Constructed for normal vehicular traffic, the incessant flow of multi-axle heavy vehicles has taken its toll. But leave the road and walk just 500m or so and one enters a dense forest where light does not penetrate the floor at noon.
Maoist strategy is changing from a purely armed activity to an open mobilisation of people living in the area without the CPI (Maoist) changing its goals in any way. What is interesting to observe at these protest sites is the absence of any overt Maoist presence
Tucked away in this zone is Madhonar, another protest site that sprung up early in January this year. Here, it seems, an entire village has been relocated as the protesters number in the hundreds. Armed with bows, arrows and axes, they have limited access to anyone who approaches the protest site. As at Silger, the protesters are well-organised. The demand is identical: no entry to security forces and the establishment of a security camp close to the village. There is another similarity: the control of the site and its leadership is in the hands of young protesters.
"We don't want a (security) camp here. But the moment we decided to protest, the shasan (government) decided to act against us. Many of our comrades have been booked under UAPA [the Unlawful Activities (Prevention) Act] and have not been given bail. They were not involved in any violence but the judge (in Narayanpur) does not listen to us," says Bijender Korram (22), the person in control of the Madhonar protest site. There are other, additional, demands as well. No security camp at Toyametta (a village close to Madhonar), closing of the road from Chotedongar to Orchha and from Kavanar to Tulargufa. These roads, especially the one to Orchha, are essential for the movement of vehicles transporting iron ore from mines in the region. These are classic Maoist demands.
What is interesting to observe at these protest sites is the absence of any overt Maoist presence. There are no banners and posters mak­ing a case for 'revolution' let alone any uniformed and gun-toting People's Liberation Guerrilla Army (PLGA) cadre. But the model of organisation, the methodical use of available resources, and detailed information about legal options in an area where one can expect ignorance of these matters tell their own story.
The same story is unfolding at Bechaghat, a village close to the Maharashtra-Chhattisgarh border in Kanker district. The Kotri river flows close by and on the other side of the river—across Be­chaghat—is the last great unsurveyed forest in India, Abujmarh. Soon, a bridge is likely to be spanned across the river and a road will enter the great forest. While South Bastar is being grid-lined with security camps, Abhujmarh remains relatively devoid of security as compared to Bastar. This is likely to be fixed in the months and years ahead. Just like Madhonar, a large encampment of protesters has sprung up at Bechaghat. It is Martyrs Day (March 23) and most people from Bechaghat have converged on Pakhan­jur, the nearest subdivisional town. At a makeshift site, pictures of Bhagat Singh, Rajguru and Sukhdev adorn the platform. Speaker after speaker extols the sacrifices made by freedom fighters for Independence. The theme soon progresses to the Constitution and how the rights "guaranteed" by it are being trampled.
The refrain among the protesters who spoke to Open was that if people don't want a security camp, then it should not come up. As elsewhere, there are other demands, too: no bridge over the Kotri River and no roads extending to Abhujmarh. If these demands are met then the area will be free of any security force presence—the absence of roads will imply a total restriction on the mobility of these forces and the absence of camps will ensure almost impos­sible logistical demands to move troopers anywhere in the region. One does not have to use much imagination to see where these demands are coming from.
These protests should be seen along with changes and set­backs to Maoist strategy in the last quarter of a century. For one, the use of violence for political ends, however one describes those—'revolution', creation of 'rear area', etc—has not worked.
Even in what were once very remote areas of South Baster, inac­cessible to security forces, there are motorable roads now. Tactics such as blowing up roads, burning road-building equipment, threatening and killing of contractors involved in creation of in­frastructure, have come to naught. The year 2022, an important one in the history of Maoist insurgency, came and went unno­ticed. Since 2000, it was the most peaceful year in insurgency-hit areas. There were a total of 107 incidents of killings that led to the death of 135 people. This year, until mid-April, there were just 33 incidents of killings leading to 39 deaths.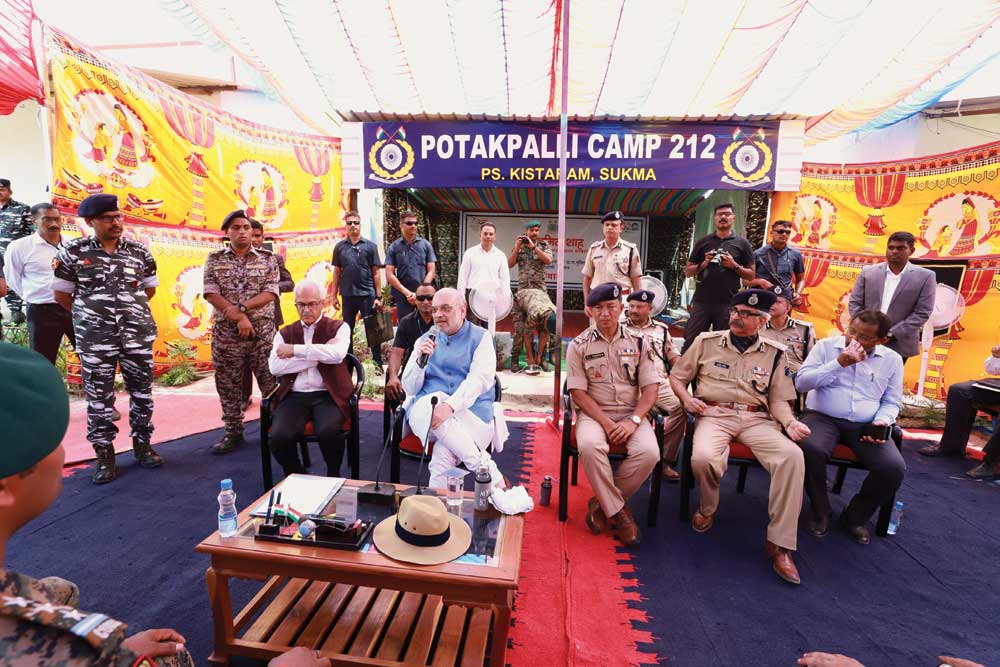 The protests at Silger, Madhonar, Bechaghat, and at least 30-odd other places, should be seen against this background. They are a 'late stage' change in Maoist strategy when the use of violence is not working but it is also very difficult in a region ring-fenced with camps of paramilitary forces. While killing of 'informers' as a last-ditch effort continues where Maoists are los­ing control, the writing is on the wall: violence won't work as a po­litical tool. The strategy now is to mobilise Adivasis openly for po­litical ends, the goal remains the same as before of denying access to security forces, but this time by openly getting Adivasis to say that they don't like the presence of these forces in their villages.
Usually, the method to attract at­tention for a political demand is to get a large group of people to protest at a prominent place in the state or in the national capital or, at least, have the same kind of protest in the district headquarters. None of the 30 to 35 protest sites is in these loca­tions. Silger is 108km away from Sukma (the district headquarters); Bechaghat, 140km from Kanker and Madhonar, 46km from Naray­anpur. One could say that logistics is an issue for Adivasis, who lack the resources for such protests. But that is only a ruse: the tactic is to keep these protests in very sensitive zones where security camps are to be established or have been established. With a large number of protesters sitting peacefully at these sites, it becomes impossible to take any coercive action and remove them. At the moment, an uneasy equilibrium of sorts has emerged: camps have been estab­lished (such as Silger) or are likely in the near future (Madhonar and Bechaghat) but the protesters are also sitting tight.
This is a complicated situation for the government. It is one thing to confront armed Maoists who attack security forces but something very different to handle peaceful protesters even when they are backed by Maoists
This is a complicated interregnum for the government as well. It is one thing to confront armed Maoists who attack se­curity forces but something very different to handle peaceful protesters even when they are backed by Maoists. The protest at Madhonar shows this very clearly. The protesters there have written a slew of letters to everyone from the district magistrate all the way to the governor of Chhattisgarh openly stating that they don't want a paramilitary camp near their village. To that end they have also mobilised people from neighbouring villages, such as Gordand, Bahker, Hitulwad, Kavanar and Toyamettta, among others. The government has responded and many sig­natories to these letters have been called for discussions with local officials. At the same time, some of the 'difficult' protesters have also been prosecuted legally. The tactic is to sort out those genuinely worried about having troopers in their midst and ad­dress their concerns from those backed by Maoists. But this is a grey zone where it is often difficult to distinguish between who is right and who is wrong. Purely from a political perspective, Maoists would want the government to make the mistake of wrongly prosecuting people who are innocent. That feeds into their narrative of injustice and persecution.
In the past one year, incidents involving 'peaceful protests' at district headquarters, by organis­ing a flash mob from neighbour­ing villages, have also become common. Compared to the near-permanent protests in remote lo­cations, these 'protests' dissipate quickly. But they are also a head­ache for local officers who know that this is a Maoist tactic since Adivasis don't gather for protests in such numbers on their own. All these are different faces of the same idea: open political mobilisation.
Can this change of strategy work? From the current vantage it seems unlikely to pay off. In Bastar, and elsewhere, Maoist strategy since 1980 has been heav­ily skewed in favour of 'military' means and mass mobilisation was never more than a sideshow. To be sure, within areas that were controlled by the CPI (Maoists), there were 'civil' organisations, a 'jantana sarkar' and other such elements. But these were just to maintain control once Maoists had 'liberated' a particular area and even then, the armed wing of Maoists was omnipresent. All of a sudden, within the span of a couple of years, it is almost impos­sible to switch from armed means to an open, overground, politi­cal mobilisation especially when the goal remains the overthrow of the government. Then there is the added complication of loss of dominance in core areas that were once Maoist sanctuaries. These cannot be regained by open, peaceful, protests. Open mobilisation may have the makings of a long-term strategy but it is unlikely to succeed as long as Maoists retain their original goals. There are successful examples like the CPI(ML), which is now a partner in the ruling coalition in Bihar. But CPI(ML) eschewed violence and subscribed to democracy as a means of political and social change long before it joined the electoral fray. The CPI (Maoist), in contrast, remains wedded to its original ideology.