ON SEPTEMBER 12TH, Tamil YouTuber Madan Gowri dropped a 14-minute-24-second video that is among his most emotional till date. Opening with 19-year-old aspiring medical student M Jothi Sri Durga's suicide in Madurai—"four km from where I sit," he says, visibly distressed—a day ahead of the National Eligibility-cum-Entrance Test (NEET), Gowri, 27, admits to his 3.99 million subscribers that this video is a departure from the usual. "I make some videos for monetisation, some to garner views and others to engage with fans and answer their questions, but this one is for my conscience." In the next few minutes, he piercingly reconstructs the pressures that must have eaten away at Sri Durga's courage to face an examination that would, in one fell swoop, determine the course of her life. "Her voice note to her mother, where she says, 'Amma, I will miss you,' really broke me," he says in the video, which has over 680,000 views and counting. The comments section becomes a forum for youth besieged by similar anxieties. Gowri is neither a newsman nor a social justice warrior. A YouTube star in infotainment—a fast-growing category in online video—his social capital is driven by listicles, parallel universe theories and obscure bits of Tamil history. But his influence over Tamil youth, he knows, extends well into the real world. "I hate the word influencer," he says, over a call from Madurai, where he lives and works out of a small studio. "Tamil is one of the most advanced digital spaces in the country. Ninety per cent of my viewers can speak English, which is why I use English words liberally. But they prefer to consume content in their mother tongue out of a sense of linguistic attachment," he says. Politically unaligned, Gowri does not shy away from discussing issues like Hindi imposition and NEET that occupy social centrestage in the state.
A mechanical engineer who started YouTubing in 2016, before Jio set off a Cambrian explosion in digital media, Gowri overcame the classic cold start problem—"The aim was to hit 10 subscribers and I had to create a fake account to reach even that target"—by taking up issues that were weighing on the Tamil mind. It took Gowri hundreds of takes to produce his first video. Today, he is a public speaker with opportunities in television and cinema open to him. He also launched a channel in English four months ago—with 275,000 subscribers at the time of going to press—to address issues of national and international interest.
In the interim, the world around him has changed just as rapidly. The Jio-led data revolution and cheaper smartphones have bridged the gap between rural and urban India, especially in more developed states like Tamil Nadu and Kerala. A report by the Internet and Mobile Association of India and Nielsen for 2019 goes so far as to say that for the first time in history, there are more rural internet users in India than urban. While this may seem overly optimistic, data available with the Telecom Regulatory Authority of India confirms that Tamil Nadu, Maharashtra, Karnataka and Andhra Pradesh—states with sizeable rural populations—have the highest tele-density among the large states.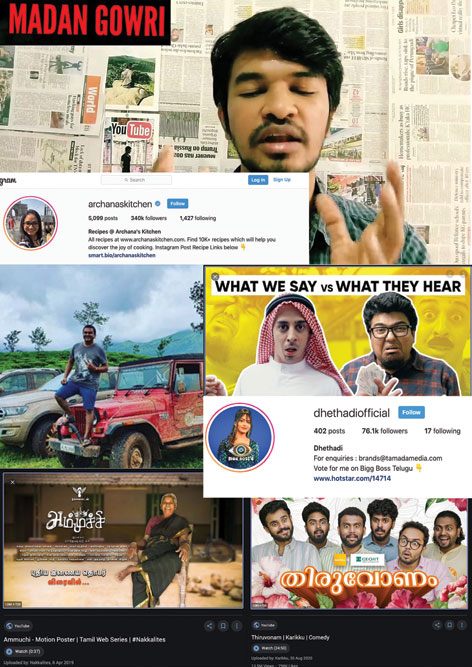 For mobile-first broadband users, video content in their mother tongue is often their window to the internet. According to YouTube, the largest platform for accessing videos in regional languages, as many as 93 per cent of all viewers prefer watching content in Indian languages. "In India, Hindi is the most preferred language to watch videos on YouTube, followed by Tamil, Telugu, English, Kannada and Bengali," YouTube revealed in an email. The Google subsidiary added that 37 per cent of viewers prefer to watch content in a language other than Hindi and English. While Hindi remains the single largest language on the platform, regional content markets are exploding faster than ever before.
"The big languages are Hindi, Tamil, Telugu, Malayalam and Bengali. Gujarati, Kannada and Punjabi, too, are growing fast. All of these languages are far from maturing. There is a lot of headroom for growth and new trends emerge with every new million or so people who get online," says Satya Raghavan, head of content partnerships for YouTube India. "Last year, farming-related content emerged as a major category on YouTube for the first time, indicating interest among rural viewers, especially in states like Punjab and Kerala where farming is a way of life," Raghavan adds. Despite the fact that YouTube is the single biggest repository of traditional media and entertainment—T-Series, which was already the most subscribed channel on YouTube, has recently become the first channel to earn more than 100 billion lifetime views—43 per cent of all video consumed on the platform in India is learning-based. "Over sixty per cent of the 265 million users in India come from outside the big metros," Raghavan says. "Educational and DIY content is driving some of this growth."
For mobile-first broadband users, video content in their mother tongue is often their window to the Internet. According to YouTube, Hindi is the most preferred language to watch videos, followed by Tamil, Telugu, English, Kannada and Bengali
For quite some time now, the uncertainty of what pops up on your YouTube page has not been very radical. It is a warren of your passions, built of the bricks of your preferences in news and your taste in entertainment. It is when you log out of the filter bubble and take a walk in the cultural commons that you are fully exposed to the gale force trends sweeping the internet. The trends page is a window into a factory of culture that forms and dissolves at breakneck speed online. In India, it usually features professional cricket and anodyne music videos, film trailers, mega-serial episodes and TV news debates on hot-button issues. To be sure, there is a growing presence of 'independent' or community-generated videos by the likes of A-list Hindi roaster Ajey Negar aka Carry Minati, travel vlogs, episodes from original web series, and the occasional tech unboxing video, DIY hack or beauty tutorial. At first glance, content in Hindi, the most spoken language in India, with over 500 million conversant in it, seems to rule the roost, but videos in Tamil, Malayalam and Telugu, trending slightly further down the list with millions of views, have become the norm rather than the exception.
In the open arena of the internet, competing on an equal footing with an IPL practice session featuring Viral Kohli, Diljit Dosanjh's latest, and a Himesh Reshammiya dialogues mashup by Yashraj Mukhate, music producer and meme-maker of Rasode Mein Kaun Tha fame, is a pathbreaking web series by Malayalam channel Karikku, which crossed five million subscribers earlier this year with just 73 episodes under its belt. Millennial characters whose lines have become part of pop culture, a mix of scripted and slapstick humour, and consistent production quality have made the channel "outperform"—to quote actor Unni Mathews, who is part of the Karikku team. "Out of a pool of 35 million Malayalam speakers, we have managed to reach over 5.45 million," Mathews says.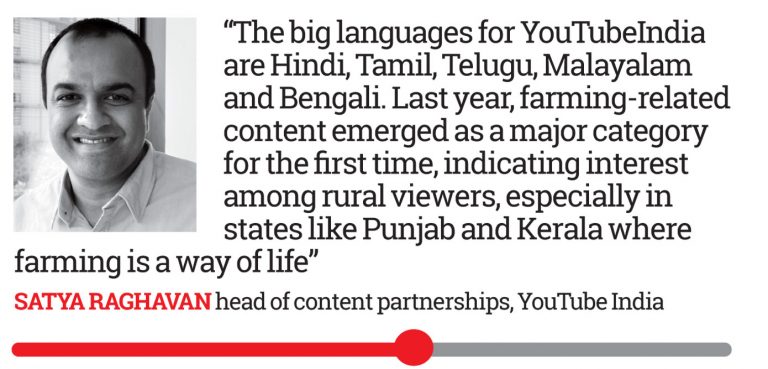 Rubbing shoulders with Karikku on the trends page is Coimbatore-based channel Nakkalites, whose three-year journey mirrors trends in Indian social media. It was in the aftermath of demonetisation and amidst the politically-charged jallikattu protests in Tamil Nadu that K Rajeshwar and Prasanna Balachandran founded a channel for political satire. "We quickly realised that the market for lifestyle and entertainment content was much bigger," says Rajeshwar, 27, over a phone call. What started in 2017 with a small crew of amateur actors and a string of comedy videos about relationships is today a channel with 3.07 million subscribers. At every step, Nakkalites was quick to pick up on broad trends in social media, among them a longing for the world as we found it. And so, they rode the nostalgia wave with a mini-series titled Back to School—the 10 episodes together have crossed 100 million views, and a second season is in the works—and stormed the rural market with Ammuchi, a slice-of-life series set in the lush villages around Coimbatore. With another channel, a sitcom, and a soon-to-be-launched OTT app, the Nakkalites crew of about 50 is busier than ever. "We have worked with brands like Swiggy, LG, Gillette and TVS, and there are sure to be more opportunities in the future," says Rajeshwar. "Internet video is not a talk-down medium, however. Everyone is a distributor, and content is therefore king. You cannot let an investor dictate terms."
Telugu, Tamil, Malayalam and Kannada together make up 45 per cent of all content on Sharechat, the largest Indian-language-only social media app. Its new product, Moj, is one of the two major contenders trying to fill a TikTok-sized hole in Indian social media. Two-and-a-half months since the Indian Government banned the Bytedance-owned social network, users continue to miss its egalitarianism and its ribaldry, perhaps in equal measure. Moj and MX Player's TakaTak have each promised creators from TikTok a new home with a large userbase and a larger music library. It is too soon to tell if their algorithms are as addictive as TikTok's For You page. "We have 160 million monthly active users across Sharechat and Moj," says Berges Y Malu, director, public policy, music partnerships and communications, at Sharechat.
THERE IS LITTLE crosstalk among the 15 languages on Sharechat, Malu points out. "People who open the app in one language don't tend to access it in another, with the exception of Hindi. This is especially true of Tamil and Telugu, which are self-sufficient universes that don't care about what is happening in Hindi. There is enough content and more in these languages,"
he says. Popular content across south India includes movie dialogues with extended emotions of love and friendship attached, and political memes. "The adoption of social media, across cities and smaller towns, is more uniform in the south. Post the ban, though, Hindi has emerged as a fast-growing language on our platforms," Malu says.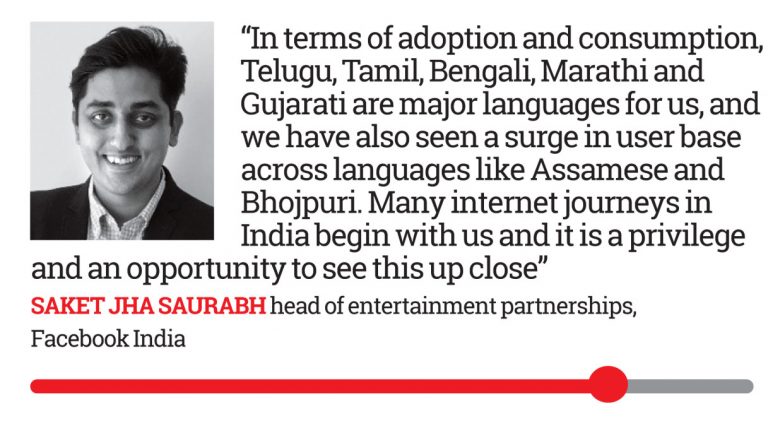 Facebook, which has a userbase of 328 million in India—about half of all mobile internet users in the country—entered the 15-second snackable video space with Instagram Reels in August. While Facebook declined to disclose the language-wise split of Indian users on its platforms, it has been extending features like ad breaks and fact-checking to several Indian languages, indicating a surge in regional content. "The perception that Instagram is an app for English speakers is far from the truth. Trends on Facebook and Instagram are not just reflective of but also causative of the language trends in India," says Saket Jha Saurabh, head of entertainment partnerships at Facebook India. "In terms of adoption and consumption, Telugu, Tamil, Bengali, Marathi and Gujarati are major languages for us, and we have also seen a surge in user base across languages like Assamese and Bhojpuri. Many internet journeys in India begin with us and it is a privilege and an opportunity to see this up close."
At the other end of the value chain on Instagram is the influencer, a ubiquitous cultural force capable of upending traditional advertising models. But even here, regional affinities matter. "Languages and identities are useful differentiators on Instagram, where there are many celebrities and influencers," says Peter K, a 25-year-old creator from Chennai who has over 583,000 followers on the platform and 17,000 on Moj. "Out of work and desperate, I had started posting short comedy sketches and motivational videos shot on my Redmi phone in 2018. It was the overwhelming support of the Tamil community on Instagram and TikTok that was my confidence-booster. Now I'm a full-time entertainer—I act and make content for TV channels," Peter tells me over the phone, even as I pull up his latest video, a quick sketch-cum-promotion for a unisex apparel store. "The type of content that works in Tamil is emotional yet funny, youthful yet value-based. It is not a market that is into BGM [background music], miming and posh gimmicks," Peter says.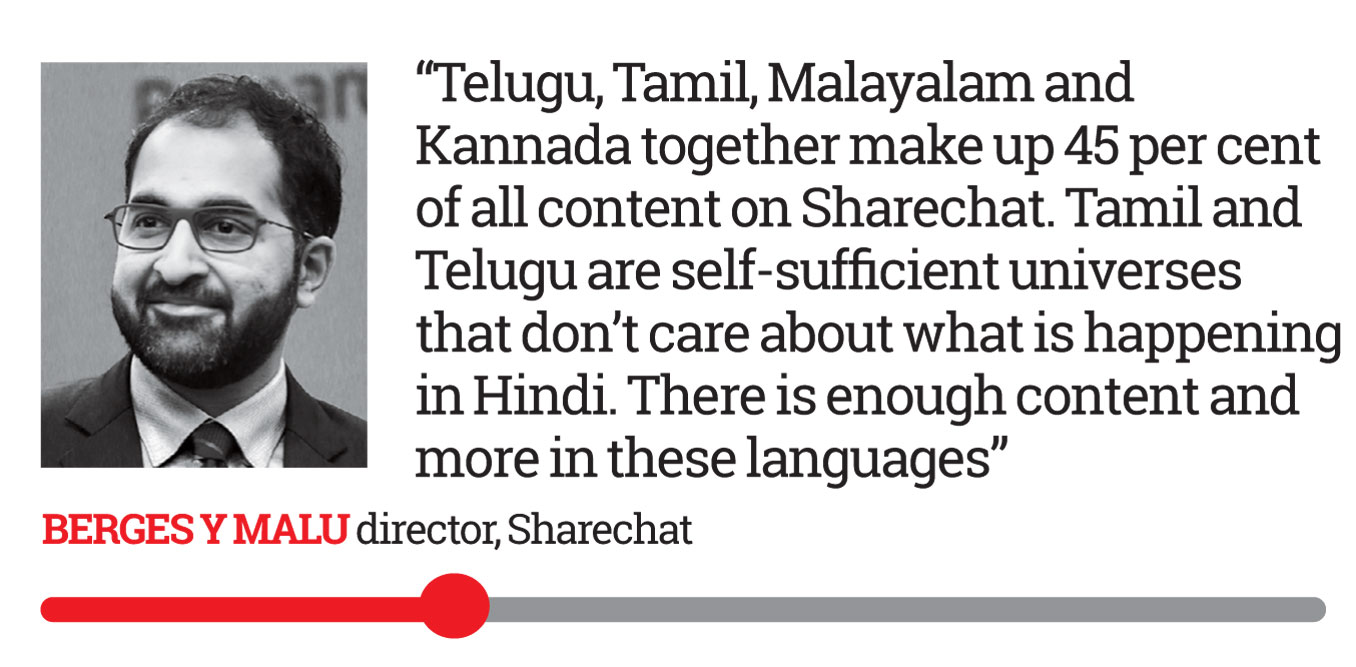 Social media fame rests lightly on Milkuri Gangavva's shoulders. The 59-year-old unlikely star of the Teluguverse, with an elfin face that crinkles when she smiles, is an irreverent foil to the absurdities of modern life. My Village Show, a YouTube channel launched in 2016 by Srikanth Sriram from Lambadipally in Telangana's Jagtial district, has popularised a rural counternarrative of community. Gangavva has since crossed into the mainstream, sharing screen space and a house—she is a Bigg Boss Telugu Season 4 housemate—with celebrities. "It was only in 2017 that demand for video started picking up, and we improved production quality in response to feedback," says Sriram, 29. Today, nearly every video of theirs goes viral—one of them crossed 34 million views—and they routinely collaborate with TV channels. "We spend Rs 80,000-90,000 on making a single video. We are limited only by mobile broadband speeds," Sriram jokes. "When we go to Hyderabad, we quickly upload and schedule a bunch of posts to take advantage of the speed." With villagers' reactions to trending topics, comedy sketches and infotainment, the channel may look like it has achieved self-sustaining momentum, but Sriram has bigger plans. "We want to launch a village news show. About 20 per cent of our viewers now use subtitles—we launched them last year—so we continue to expect growth outside of our core Telugu-speaking audience," he says. What they won't sacrifice is the local Telangana flavour and dialect.
"Even in an English sketch, a local touch adds interest and makes you appeal to specific geographies," says Naser Azzeh, of the JordIndian duo from Bengaluru whose music video Smoke shisha play FIFA was the viral supernova of 2018. "Our viewers are predominantly from India—78 per cent—especially from Bangalore, Chennai and Kerala, followed by Mumbai," says Azzeh, 30. "Both Beep [the Indian half of JordIndian, Vineeth Kumar] and I have a noticeable accent. We think in English, but we speak Bangalorean. That's the extent of diversity we have in India."
"There is a market for content in every language—it's about creators stepping up to the challenge," says Vikram Aditya, the bank manager behind the eponymous infotainment Telugu channel. "A good YouTuber is a storyteller first, and then, a motivational speaker," says the resident of Devarakonda in Telangana's Nalgonda district. After a successful 40-episode retelling of the Mahabharata, Aditya has launched Akhanda Bharatam, a series that he says will bring heroes from Indian history to the fore. The first episode, with a million-plus views, opens with Aditya narrating the story of an eight-year-old boy who steals a bun out of sheer hunger, but gives it up to feed a dog. In classic Jataka fashion, a hand touches his shoulder, and who could it be but Bharatamata, here to comfort him with stories of Chandragupta and Gautamiputra Satakarani. She names him Sethu, the bridge between the past and the future. "You think it is a dry subject?" Aditya asks me over the phone. "Listen to me in Telugu and you will change your mind."