The autumn of 2002 was rather turbulent in Uttar Pradesh (UP) politics. The Bahujan Samaj Party's (BSP) Mayawati had become chief minister with outside support from the Bharatiya Janata Party (BJP) in May that year, but soon faced rebellion from disgruntled BJP MLAs who did not get berths in her ministry. Months later, their discontent resonated during Rajya Sabha elections for 11 seats, including a by-election, in the state. Minutes before the deadline, Delhi-based businessman Suresh Nanda filed his nomination, taking the BJP-BSP by surprise. It upset a carefully crafted plan to avoid a contest.
Nanda did not belong to any political party but managed to rope in MLAs from several parties to support him, propped up by BJP dissidents to send the message that the government was in a minority. High drama followed as spooked by the possibility of Nanda's 'resources' turning the election on its head, Congress and BJP leaders heckled him in the returning officer's room. Prominent among those in the fray included Rajnath Singh and Mukhtar Abbas Naqvi from BJP, Samajwadi Party's (SP) Amar Singh and Akhilesh Das from Congress.
When Nanda met Mayawati, she conveyed her displeasure over his attempts to break all parties to get a Rajya Sabha seat. He finally pulled out of the race. His nomination was rejected on the grounds that he gave a bogus Ghaziabad address. In those days, the domicile rule stipulated that a member should be an "ordinary resident" of the state where the election was being contested. In 2003, political parties unanimously agreed to amend it to substitute "state" with "India". The Nanda episode became an embodiment of brazen attempts by 'money bags' to get a berth in the Upper House of Parliament even though they had no particular political affiliation. Nanda was a former lieutenant in the Indian Navy, a businessman and an arms merchant.
While Nanda stood down, consensus had already evolved among parties on the candidature of another Delhi-based industrialist, hotelier Lalit Suri, who managed to get the backing of not only BJP and BSP but also of their rival, Mulayam Singh Yadav's SP. It was Amar Singh, himself a man with deep pockets, who had brought Suri into the fray. A politician recalls that Nanda, who flew down from Delhi to Lucknow along with Suri on his private jet, asked him why there was so much opposition to his candidature, though they were both businessmen. Suri, according to the politician, is understood to have said that while Nanda was a broker, he was a hotelier. Today, Nanda is also a hotelier. A year later, he had ventured into the hospitality business.
Nanda, who later got embroiled in a defence deal scandal, was kept out of Rajya Sabha, but liquor baron Vijay Mallya made his way into the House the same year. He went on to get two stints before his dramatic exit, following allegations of financial crimes, in 2016. In the eye of the storm, Mallya quietly resigned and left the country, a day before the Rajya Sabha Ethics Committee was to recommend his expulsion. The only politician who came to his defence then was former Prime Minister and leader of the Janata Dal (Secular), or JD(S), HD Deve Gowda, who had favoured the induction of the leading businessman from Karnataka into the Upper House. JD(S) leaders, it is said, wanted someone with deep pockets. Mallya managed to rope in Congress to garner the remaining votes required for his election. For his second stint in 2010, Mallya managed to win over even some BJP MLAs, besides JD(S) and Congress.
The "King of Good Times", as he was called, was at times seen smoking a cheroot, standing with other MPs in the smoking chamber adjoining the Central Hall of Parliament which was often used as a passage for the prime minister and ministers to move from one House to the other. An observer says that when word went around that the prime minister was about to go through the Central Hall, members would wait, hoping to put in a word or just make their presence felt. A seat in Parliament made it easier to get access to the corridors of power, even for someone like Mallya, who drove to Parliament in a Maserati Quattroporte or a Maybach. A member of Lok Sabha, who met him in the Central Hall, recalls that he wore costly jewellery but was the friendly sort with everyone, and was constantly trying to befriend Arun Jaitley, who was finance minister in the Narendra Modi government that had come to power in 2014.
After Mallya escaped, Gowda, citing his tweets, said he had indicated his willingness to cooperate with the government and the judiciary. Mallya, however, is still away in the UK. During his second stint, his attendance was recorded at 30 per cent and he hardly participated in the debates. But Mallya, who had launched the now defunct Kingfisher Airlines in 2005 (founded in 2003), did manage to make it to the parliamentary panel dealing with civil aviation. He is believed to have suggested policy changes for the industry, including allowing the serving of beer on domestic flights. In 2012, by which time Kingfisher airlines was cash-strapped, he had welcomed the government's nod to 49 per cent investment by foreign airlines in the Indian aviation sector.
He was not the only one who faced the conflict of interest charge. Suri, within days of becoming a member, during Question Hour had asked Jaswant Singh, who was then finance minister, about luxury tax being levied by states on the hotel industry. Pointing out that it varied from state to state, he asked if there was a proposal to levy a uniform tax. Singh, in his reply, had politely pointed out that the convention of the House was that where there was a conflict of interest a member should not raise a query on the subject concerned and that since Suri was a hotelier, a question relating to the industry fell in that category. Singh, however, had also said since Suri had asked, he would respond, and went on to reply.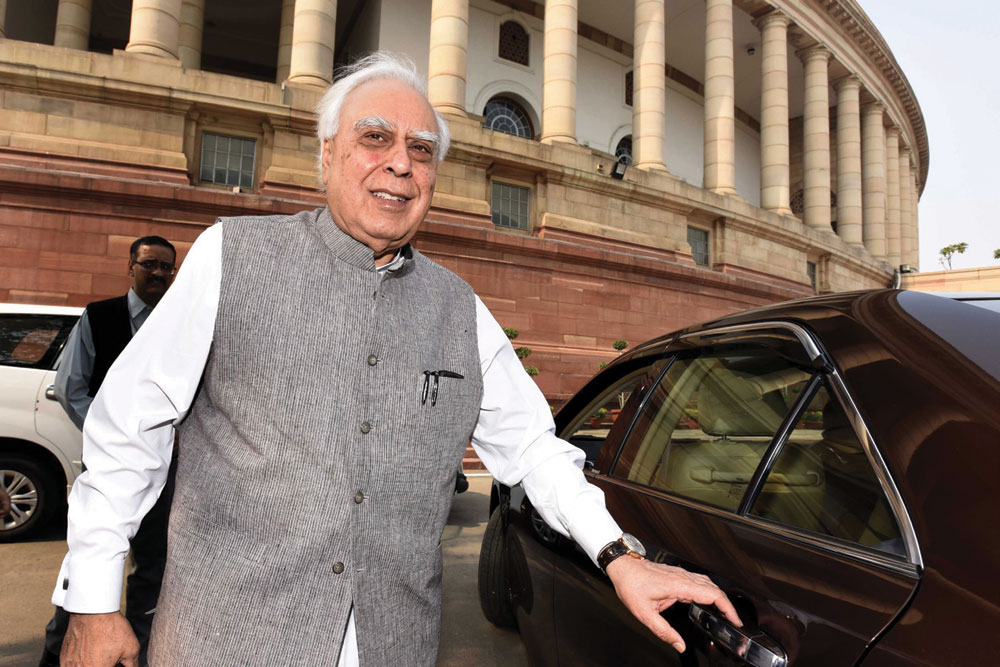 The Ethics Committee, while laying down rules for the declaration of assets and liabilities, which came into force from August 2004, looked at practices prevalent in other countries at the time. In the House of Lords in the UK, members must declare any interest relevant to the context of the debate. In the US, a member of the House of Representatives must abstain from voting on a matter if there is a direct, distinct, personal or pecuniary interest in it. In the Australian Senate and House of Representatives, a senator and a member of the House has to, within 28 days after taking oath, provide registrable interests. In the South African parliament, a member having a direct and specific pecuniary interest in a matter being debated or voted on must declare it and not participate or vote.
In November, there were reports in the British media that the Conservative Party was offering House of Lords peerages to wealthy benefactors who could donate £3 million. In India, although most parties, at some point or another, have backed industrialists, many of their leaders oppose money bags with no party affiliation entering the House of Elders (or the Council of States), saying that it sometimes led to horse trading and that such members rarely added value to debates.
In the 1980s, the trend gained momentum as more regional parties sprung up winning large chunks of seats in state Assemblies, and they felt the need for monetary clout. Mahendra Prasad or "King Mahendra", a medicine baron, had seven stints in Rajya Sabha from Bihar, getting nominated by various parties, including thrice by the Janata Dal (United), or JD(U). It did not matter which party was in power in Bihar. The billionaire MP always made it to the House. Though he started as Congress' Lok Sabha MP in 1980, he lost the election in 1984 and was nominated to Rajya Sabha the following year. After that, there was no looking back. Once Congress lost its numerical strength in the state, he moved to Janata Dal, and then its offshoots JD(U) and Lalu Prasad's Rashtriya Janata Dal (RJD). Even BSP icon Kanshi Ram backed industrialist Jayant Malhotra, who was an independent Rajya Sabha MP from UP from 1994 to 2000. The Aam Aadmi Party (AAP), after its sweep in Delhi, chose businessman Sushil Gupta, who was not a member of the party. In Punjab this year, after its overwhelming victory, among the five it nominated to the Upper House were two businessmen—Ashok Mittal, chancellor of Lovely Professional University in Phagwara, and Ludhiana-based exporter Sanjeev Arora, who runs a real estate business and women's fashion wear brand Femella. In Rajasthan, media baron Subhash Chandra, backed by BJP, has made a last-minute entry into the fray, setting the stage for a contest of four seats. He was elected to Rajya Sabha as an independent from Haryana in 2016 with BJP's support.
Besides industrialists, top lawyers, who fought cases for politicians, were patronised by their parties which they did not belong to. At times, it was in the form of a seat in the Upper House. It was mostly an unsaid quid pro quo.
UP is again heading for elections to 11 Rajya Sabha seats on June 10. Lawyer-turned-politician Kapil Sibal, who was with Congress for nearly 30 years, filed his nomination from the state as an independent candidate supported by SP, flanked by its leaders, including Akhilesh Yadav. About a week earlier, Sibal, a member of the so-called "G23" group of Congress leaders who had sent a letter to Sonia Gandhi seeking changes in the party structure, had resigned from Congress. With Congress decimated in UP, it has no sway over the Rajya Sabha polls while SP can ensure victory for its candidates in three seats. Sibal's term was to end on July 4. He had represented Akhilesh Yadav at the Election Commission in the tussle with his father over the party symbol in 2017. He is counsel for SP leader Azam Khan who was released on interim bail recently after 27 months in jail. Sibal, who represented the All India Muslim Personal Law Board in the triple talaq case, had argued that it was a personal law and hence outside the ambit of judicial review. For SP, which would like to hold on to its Muslim vote bank, Sibal has struck the right notes. His foray into Rajya Sabha began with RJD's backing in 1998, at a time when the legal noose was tightening on Lalu Prasad. Sibal was his lawyer in the fodder scam case. SP had backed his candidature for a seat in Rajya Sabha even in 2016.

That same year Lalu Prasad had sent senior lawyer Ram Jethmalani, his counsel in the multi-crore fodder scam, to Rajya Sabha. After winning a Lok Sabha election as BJP candidate in 1980, Jethmalani had entered Rajya Sabha in 1988 from Karnataka with the help of the then chief minister and friend, Ramakrishna Hegde. Jethmalani was the counsel for Hegde's son Bharat in a case wherein a coffee planter had alleged being defrauded of
₹ 2.25 lakh. From then on, Jethmalani had backed parties, opposed them, switched his allegiance, fought controversial cases, but always had some party supporting him. He represented former Shiv Sena supremo Bal Thackeray on charges of making inflammatory speeches. He made it clear that he was an independent member, who had got Shiv Sena's votes. Jethmalani, who had represented BJP leader LK Advani in the Jain Hawala case, was made a minister in the Atal Bihari Vajpayee government. He, however, had fought against Vajpayee in the 2004 Lok Sabha polls from Lucknow and lost. Yet, in 2010, BJP sent him to Rajya Sabha. In 2015, he again took on BJP, backing the JD(U)-RJD-Congress alliance in Bihar.
Supreme Court lawyer RK Anand, who had defended former Prime Minister PV Narasimha Rao in the Jharkhand Mukti Morcha (JMM) bribery case, got a seat from Jharkhand with the support of JMM and Congress in 2000, the year the state was formed. The cases he handled included appearing before the Ranganath Misra Commission that was looking into the anti-Sikh riots following Indira Gandhi's assassination, on behalf of the Centre.
The trend has continued, at times quietly, but often openly. In a message to his party cadres on advocate P Wilson, who was given a seat in Rajya Sabha on behalf of the Dravida Munnetra Kazhagam (DMK), Tamil Nadu Chief Minister MK Stalin is believed to have written: "Mr Wilson was always in the heart of Dr Kalaignar (Karunanidhi). He was instrumental in fighting in the court to get land for Kalaignar's mortal remains after his demise, inside Arignar Anna Samathi thereby he (Wilson) changed all our sad tears into tears of joy in a second."
Mallya managed to make it to parliamentary panels and is believed to have suggested policy changes for civil aviation. He was not the only one who faced the conflict of interest charge
Supreme Court lawyer KTS Tulsi, who has fought several high-profile cases, including representing Robert Vadra over alleged land grabbing and amassing of wealth, was in 2020 elected to Rajya Sabha from Congress-ruled Chhattisgarh. In 2014, he was nominated to the House by the president on the advice of the then Congress-led United Progressive Alliance (UPA) government. There is a buzz in Andhra Pradesh that Chief Minister YS Jagan Mohan Reddy will give one of the four Rajya Sabha seats to Niranjan Reddy, his lawyer in the disproportionate assets case.
The law has often been a pathway to politics the world over. Former Rajya Sabha member P Rajeev, who is now a minister in the Communist Party of India-Marxist (CPM)-led Left Democratic Front (LDF) government in Kerala, says a majority of members (250 of 348) of the Constituent Assembly, which had drafted the Constitution, were lawyers. But he adds that representation in the House should not be based on personal interests. Condemning the trend of money bags with no party links making it to the Upper House, he says, "They want a label as MP which would also benefit their corporate interests."
Across the political aisle, Union Minister Mukhtar Abbas Naqvi says, "In Rajya Sabha elections, MLAs are voters. It's very clear how many votes each party has. At times vested interests, without party affiliation or support, encourage horse trading. This is not a healthy practice for a democracy." Rajya Sabha members have a six-year term, with a third of the seats being vacated every two years. They are elected by members of state Assemblies through a system of proportional representation by single transferable vote. Trinamool Congress Lok Sabha MP Saugata Roy says Rajya Sabha seats should either go to eminent personalities, under the nominated category, or to party members. On lawyers making their way in, he says that the House does benefit from their knowledge.
At the end of the day, is it just a question of what they bring to the House?