FOR A POLYGLOT WHO SPEAKS MULTIPLE Indian, European, and Oriental languages, S Jaishankar fulfils most theoretical benchmarks for a cosmopoli­tan figure. It is a foregone conclusion that these attri­butes would make him, in practice, a terrific conversationalist. And, of course, he is, as the world has begun to realise.
It wasn't languages that first stirred his interest as a kid in international relations. It wasn't books either, which only came later. It was music. He grew up in a family where his grandpar­ents were not only interested in Indian classical music but also in songs from various parts of the world. It was that culturally stimulating environment that blew his mind and fanned the fire of curiosity to know the world.
Growing up in the intellectually vibrant household of his father—he is the oldest son of the late strategic affairs expert and civil servant Krishnaswamy Subrahmanyam—and in the company of equally bright broth­ers, young Jaishankar dreamt of becoming a career diplomat. One of his two brothers followed in the footsteps of his father and became an IAS officer, and the other is a historian and a brainiac, Sanjay Subrahmanyam of UCLA, who is six years younger.
It is hard to pick a highlight from such a highly accomplished family. Jaishankar's father was a legend. Until a few years ago, it was the historian-brother who was the feast of the media worldwide for his incisive comments, stellar papers, and best-selling books.
Things have changed. From a child born in 1955 in Delhi who drew inspiration from music to know the world, S Jaishankar is now a global phenomenon. His ascent has coincided with In­dia's rapid metamorphosis into an influential global player that, as it happens, is coming under increasing scrutiny on the world stage over its decisions and choices. This former Indian foreign secretary, who was handpicked by Prime Minister Narendra Modi in 2019 to become foreign minister—the first career dip­lomat in the country to assume that position—has acquired a halo and earned stature as the most eloquent and sharp defender of Modi's foreign policy.
Naturally, for a person entrusted with the Herculean task of communicating to the world the logic behind India's diplo­matic and security priorities at a time the West is finding fewer takers than it used to for its otherwise preferential initiatives, Jaishankar has attracted intense admiration as well as criticism. Foreign policy wonks, those who agree as well as disagree with him, contend that he isn't one who can be ignored.
Some of his ripostes to the media and foreign officials bent upon trashing India for its strategic position on the Ukraine war—which it wants to end through diplomatic means—have simply gone viral. When he categorically made a point about the European or Western mindset last year, it was met with long silences: "Europe has to grow out of the mindset that Europe's problems are the world's problems, but the world's problems are not Europe's problems." It is after long that someone is stating solid facts so bluntly. As a diplomat-turned-politician, he used refined language, but he called out the duplicity of powers that felt entitled to speak to others as though their problems were others' problems, too, while they stayed tight-lipped about any reciprocity. His sharp and measured responses have by now become a talking point at both international forums and in­terviews back home. He clarified why India buys cheap oil from Russia by drawing attention to certain reporters' creeping ig­norance of how European coun­tries themselves failed sanctions imposed on Russia in the after­math of the invasion of Ukraine in February last year. His com­ments have turned prophetic now that even Japan, a US ally, has ditched NATO's diktat not to buy oil from Russia. He also displayed the courage to refuse to be drawn into any bloc or alli­ances of the West's making and stood his ground at the behest of his country's leadership. At one point, he went on to criticise US Secretary of State Antony Blinken who said last April, "We're monitoring some recent concerning developments in India, including a rise in human rights abuses by some govern­ment, police, and prison officials."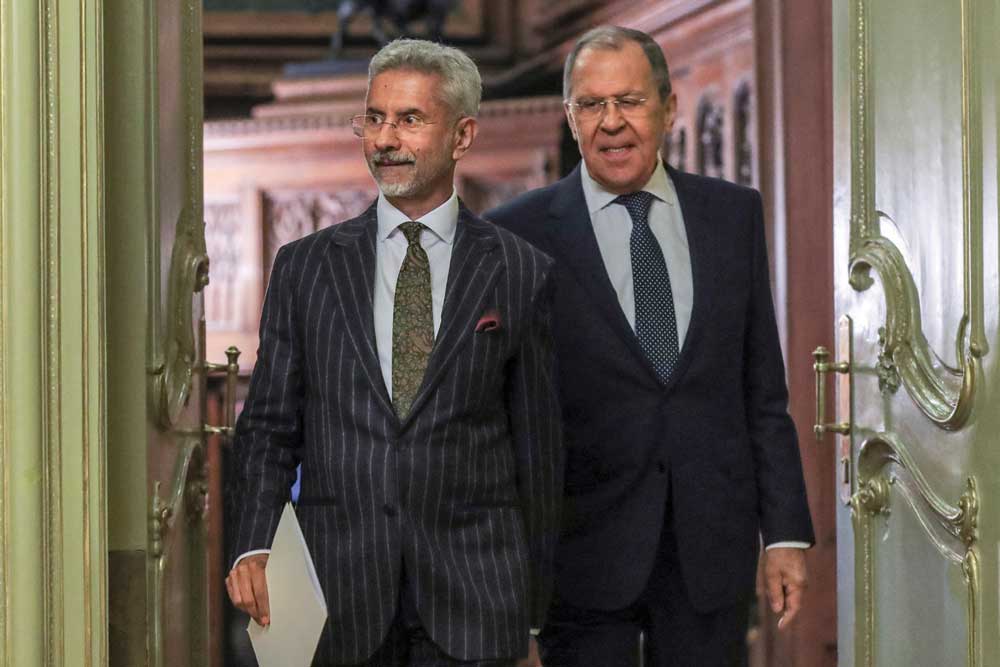 Jaishankar responded, "Let me put it to you this way. There is clarity about where we stand. People are entitled to have views about us. But we are also equally entitled to have views about their views. And about the lobbies and vote banks which drag that. So, whenever there is a discussion, we will not be reticent about speaking up. We always have views about other people's human rights situation, including that of the United States. So, we take up human rights issues when they arise in this country, especially when it pertains to our community."
Although his comments have earned the displeasure of some people both abroad and at home, Jaishankar, who has held challenging posts as a diplomat, including as envoy to both the US and China, besides other countries, has only grown in standing and popularity.
PRAISE for his abilities and dexterity has begun surfacing in the West, which had until recently viewed him with grudging admiration. Michael Kugelman, the deputy director of the Asia Program and senior associate for South Asia at the Wilson Center, who is a specialist on India and Pakistan and their relations with the US, concedes, "What makes Jaishankar so successful, in this era of complex geopolitics and nonstop information flows, is that he has that combination of smarts and savvy that plays equally well in complex high-level international negotiations and on social media. He is a scholar of international diplomacy, but he's also a master of the sound bite. Put that together, and you get someone who can earn the trust of the tough negotiator on the other side of the table even while making global headlines for a quip or some acerbic re­mark. But what really has propelled his success, and gained him so much support domestically, is how he has managed to inject the tone of Modi's politics into Indian diplomacy. He sometimes proj­ects strength, sometimes defiance, sometimes defensiveness. But it's all ultimately about conveying the idea that India will pursue its interests abroad with full independence, and on its own terms. This is not a new idea, of course, but Jaishankar has the ability to convey the idea forcefully, and in a way that resonates. It is not dissimilar to a more subdued version of Beijing's wolf warrior diplomacy, though New Delhi likely wouldn't want to draw that comparison."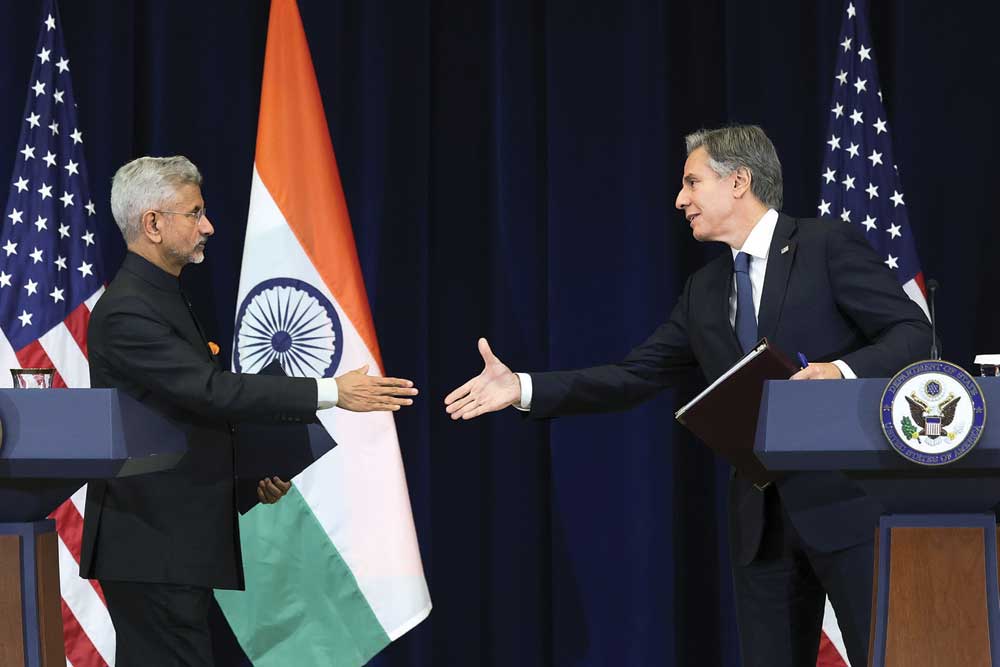 Kugelman states that it is hard to think of parallels with Jaishankar even in the US. "There are cases of politicians taking on diplomatic roles—John Kerry and Mike Pompeo are just two recent examples—but it's harder to identify the reverse case, of diplomats who take on the qualities of politicians."
More importantly, the American foreign policy expert ap­preciates Jaishankar valuing the importance of India holding dialogue with Beijing, even while standing its ground and priori­tising steps to strengthen New Delhi's capacity to deter China.
The sentiment is no different back home either, even though some people who have watched him closely as a diplomat has raised eyebrows about his tongue-in-cheek comments on political issues, especially the ones targeted at American busi­nessman and philanthropist George Soros (whom Jaishankar referred to as old, rich, opinionated, and dangerous) and opposi­tion politicians back home in India.
Even so, scepticism of his appeal is slowly melting away from even the fastidious of the lot.
A FEW months ago, when a Pune-headquartered publisher was approached by a senior Bharatiya Janata Party (BJP) functionary with a proposal to translate Jaishankar's book The India Way to Marathi, the initial response was tepid. The pub­lishing house, famous for its books on spirituality and Hindu religious icons, wasn't sure how diplomacy and realpolitik would work with its readers.
When the translated book, titled Bharat Marg, was launched on January 28 by Maharashtra Deputy Chief Minister Devendra Fadnavis in Pune, the hall was packed. The crowd was so large that most of them had to stay outside watching the event and speeches by Fadnavis and Jaishankar on a screen. Unsurpris­ingly, within days, the initial print run of 500 was sold and the publisher had to go for multiple reprints. Today, the book oc­cupies pride of place on the printer's website.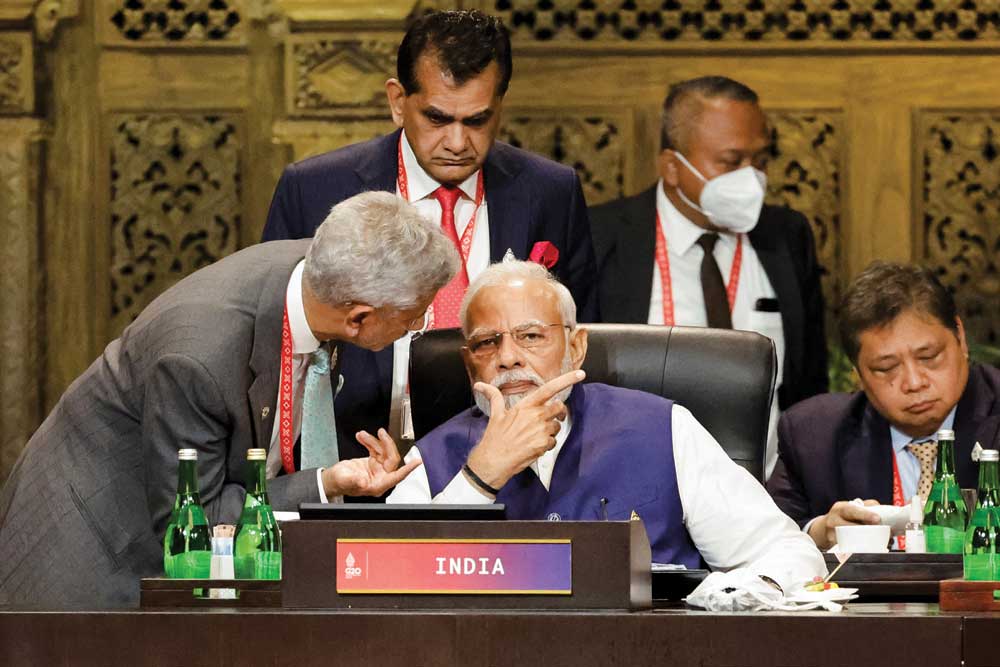 The Hindi and Gujarati editions of Jaishankar's book have also sold briskly. The foreign minister, an alumnus of St Ste­phen's College and Jawaharlal Nehru University who joined the Indian Foreign Service (IFS) in 1977, is often asked questions related to his writing at functions, including many organised by BJP, such as the one held recently at Bengaluru's Cubbon Park.
He has also won plaudits for making foreign policy intelligible to the masses. As a result, the 68-year-old minister is increasingly a favoured speaker at meetings with younger audiences where his interpretation of Indian diplomacy and its challenges as well as his ability to connect it to traditions in epics like Ramayana and Mahabharata have engaged audiences. Often enough, his sharp rebuttal of Western meddling in Indian affairs, as when he ticked off Germany and the US in statements on Congress leader Rahul Gandhi's disqualification from Parliament, holds the audience's attention and stands out. Just as when he very firmly iterated India's response to China's aggression on the Line of Actual Control, telling Western audiences that Beijing has offered no credible explanation for its military adventurism. At times, he seems to be as forceful for his country's cause as Daniel Patrick Moynihan was for the US in the 1970s, notes a former diplomat.
Officials who have worked with him point out that Jaishankar's message goes way beyond the viral clips. They say it is not just about talking tough, which without other elements of diplomatic engagement, would seem like brash behaviour. "India has consistently engaged in a range of multilateral forums that include conservation, science, peacekeeping, solar energy, mili­tary exercises and of course G7, G20, Quad and SCO (the Shanghai Cooperation Organisation). So, no one can say India does not do its bit for the global good. But the point is that India wants to convey that it will not put up with egregious commentary on its internal matters. No nation can insert itself into India's domestic politics," says an official on condition of anonymity since he is not autho­rised to speak to the media.
The consensus among officials is that Jaishankar's articula­tion of India's interests is clearly backed by Modi's views on how India should be treated and heard in keeping with its status as a rising power. Just as India is quick to respond to calamities like the February 2023 earthquake in Syria and Turkey by launching 'Operation Dost', it would not sit idle when Khalistani protesters were posing a real threat to Indian properties in the UK, Canada, the US, or Australia. A few years ago, when Indian offices in the UK were targeted by Khalistanis, India accepted former Prime Minister Boris Johnson's private explanations and regrets only to find that nothing had changed on the ground. The open pres­ence of a wanted Indian fugitive at a demonstration in London convinced Indian authorities that the UK was not getting the message and security outside the British High Commission in India was temporarily withdrawn in retaliation.
FOR A MAN who works in the global realm, it is interest­ing that Jaishankar's own family has an international char­acter—his wife Kyoko is of Japanese origin, and his daughter Medha Jaishankar works in the music and film industry in Los Angeles. His two sons also live in the US—Dhruva Jaishankar is a foreign policy analyst and author in Washington DC and Arjun Jaishankar is a programmer in New York. People who have worked with Jaishankar note that the man was sharp and assertive in his approach even when he was foreign secretary and when he held important positions such as ambassador to China. The foreign ministry has usually been helmed by career politi­cians even as foreign policy has resided in the Prime Minister's Office (PMO). Former External Affairs Minister Sushma Swaraj effectively leveraged interactions with the Indian diaspora as she was an articulate speaker and a popular politician. Jaishankar, on the other hand, knows the nuts and bolts of how the Ministry of External Affairs (MEA) works and has now transitioned to be­ing a politician. Though the comments of the foreign ministry spokesperson have become more direct as compared to bland formulations that were the MEA hallmark, there are limits to what a career bureaucrat can say. Jaishankar is free of these con­straints and has been able to make the best of both his career in the foreign service and his role as a minister, presenting and defend­ing BJP's political views, such as being highly critical of the BBC documentary on Adani and Soros' remarks on the prime minister.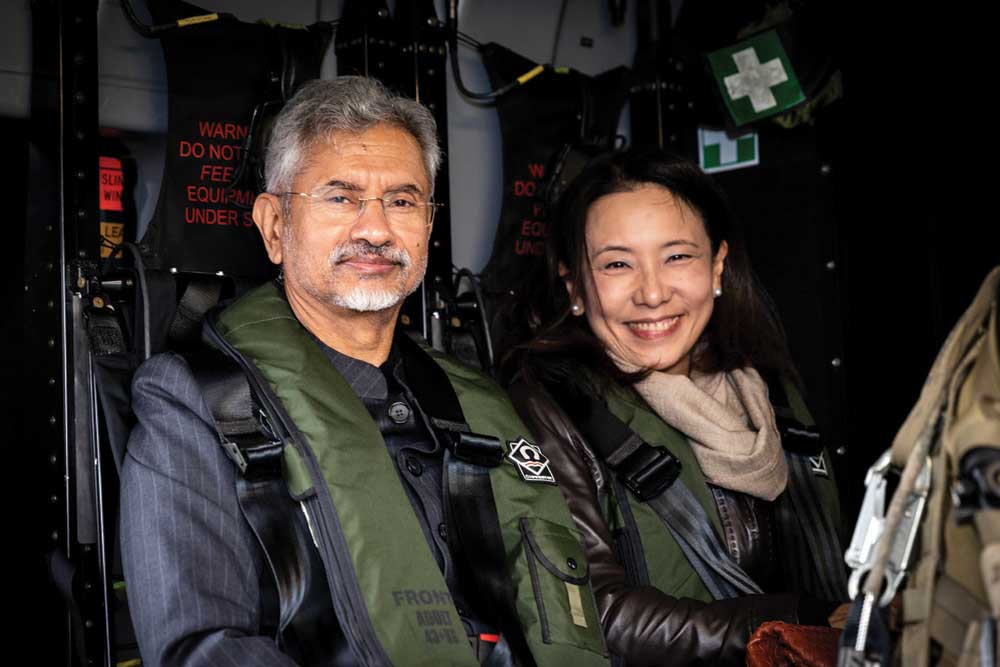 The plain fact, says an official, is that India no longer feels the need to be defensive when allegations are levelled against it. Responding to questions on the critical views of incoming US ambassador Eric Garcetti on the Citizen's Amendment Act (CAA), Jaishankar recently noted, "Let him come here, pyar se samjha denge/we will explain our position without discord." The comment is carefully diplomatic but carries the underly­ing message that Garcetti would do well to familiarise himself with Indian sensitivities, and that India will not hesitate to make its point. In his role as foreign minister, Jaishankar constantly reminds pundits and others that he is no longer a civil servant, and has now come into his own as a politician.
One of the most generous praises for him has come from an unlikely source: a former Cold Warrior. Noted American military historian and author Edward Luttwak tells Open, "He is definitely the most qualified foreign minister in the world: brought up by his father Krishnaswamy Subrahmanyam, undoubtedly one of the great strategists of the age [who advocated not the bomb but reciprocal deterrence to reduce the scale of Indo-Pakistan fighting], then went up the steps of India's diplomatic service, all the way to foreign secretary and then restarted as a [political] foreign minister. None of the people he deals with knows more than he does."
Adds Luttwak, who is the author of books on grand strate­gies of empires, "At the same time, he is subject to a constraint unknown to his major power counterparts: in every matter of significance, he must prioritise the country's economy over diplomatic or even strategic goals."
Whatever the views of international experts may be, what clearly endears Jaishankar, who has a quick mind and a splendid gift of repartee, to the young and old alike in India is the way he has demystified the complex contours of geopolitics using homegrown characters and metaphors. His epic wisecracks and savage comebacks are the stuff of viral fame.