AT A SHRINE shaded by a lone frangipani in the village of Kemminje, Arun Kumar Puttila, an independent candidate contesting from Puttur in Dakshina Kannada district, prays for a miracle. "You know Kantara?" a young man named Chandra Prasad asks me as Puttila offers prayers to Koragajja, one of the daivas, who are demigods or guard­ian spirits protecting the Tulu-speaking coastal lands. Released last year, Kantara took bhootha kola, an indigenous ritual of spirit worship from Tulunadu, mainstream and kindled a de­bate about the appropriation of tribal culture by mainstream political Hinduism. "If you have a problem or a wish, if you are in need of advice, you come to Kor­agajja. That is, if Arun anna can­not fix it for you," says Prasad. A saffron activist and self-styled protector of the local Hindu society, Puttila's own wish to contest on a Bharatiya Janata Party (BJP) ticket has remained un­fulfilled since 2018, when his name first popped up on the list of aspirants. In coastal Karnataka, where politics and religion touch and ignite every so often, people who are successful in forging common ground between the two wield enormous in­fluence. The late K Rama Bhat, a Rashtriya Swayamsevak Sangh (RSS)-Jana Sangh man who had opened BJP's account in Puttur in 1983 and strengthened the party organisation in the district, was one such presence. Kalladka Prabhakar Bhat, who hails from a town not far from Puttur, is another important political impre­sario. Under his now-waning influence, the district RSS unit un­leashed a rising tide of Hindutva propaganda that won Dakshina Kannada the monikers of "Hindutva laboratory" and "communal cauldron". The good news is, the cauldron is down to a slow sim­mer now although there are occasional flare-ups.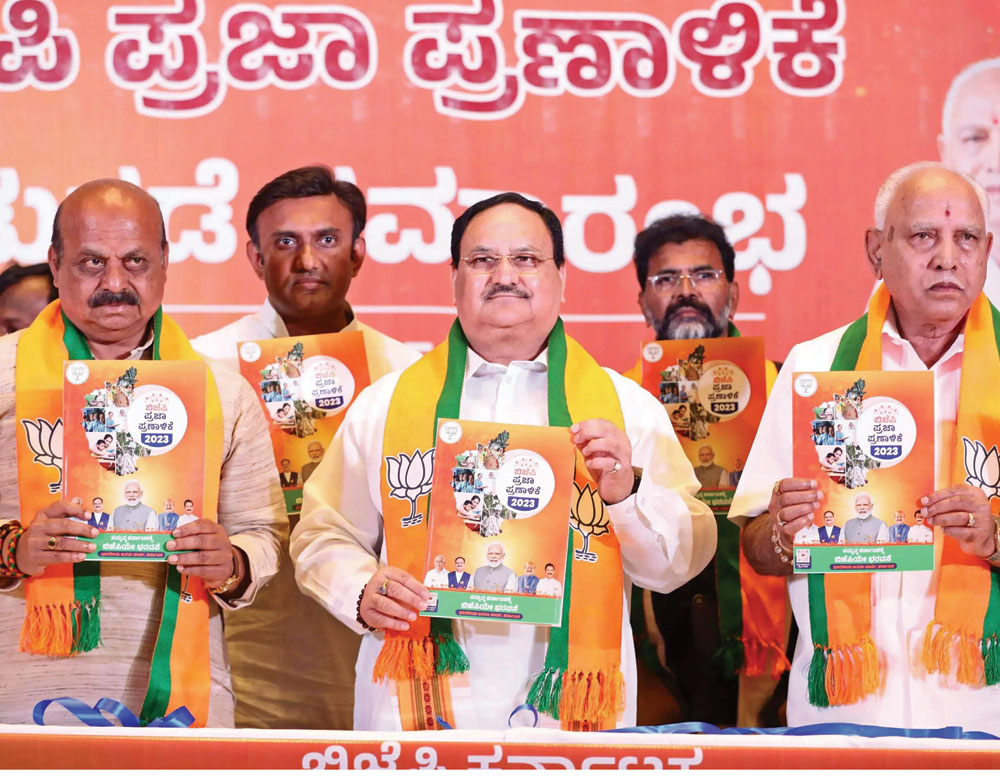 The spread of Hindutva has for long been seen as the over­weening pitch of BJP in the Dakshina Kannada district where it currently holds seven of the eight Assembly constituencies. By picking Asha Thimmappa Gowda, former Dakshina Kannada Zilla Panchayat president, to replace Sanjeeva Matandoor, the Puttur MLA and BJP district president, over Puttila, a firebrand Hindutva leader, BJP may be signalling for the second time that it will look to expand its social base among all communities. A Vokkaliga-majority constituency, Puttur, which was represented by DV Sadananda Gowda for two terms in a row from 1994 to 2004, is considered an RSS-BJP fortress, but the challengers this time are men who once worked within its ramparts. Both Ashok Kumar Rai and Arun Puttila are entering the poll fray for the first time, after being denied opportunities by BJP. They are up against a woman—the third to contest the seat after Shakunthala T Shet­ty and Mallika Prasad—who believes in development, and not merely Hindutva, as the way forward for BJP in the constituency. "Farmers want better irrigation facilities and access to power. The government hospital could use an upgrade. A lot of development has been done by my predecessor and I look forward to continuing his work," says Asha Gowda, clad in a lime green silk sari, after attending a wedding at the APMC yard hall. Matandoor is said to have been replaced to address anti-incumbency following a recent scandal involving indecent photographs and anger against him after local BJP Yuva Morcha leader Praveen Nettaru's murder on July 26 last year at Bellare village in Sullia taluk. According to the National Investigation Agency (NIA), Nettaru was hacked to death by a "hit squad" of the now-banned Popular Front of India (PFI). In January 2023, NIA charged 20 people for the murder that led to a backlash by BJP workers and an act of revenge, with Hindu­tva activists killing 23-year-old Mohammed Fazil in Mangaluru on July 28. Fifteen of those accused in the Nettaru case have been arrested. Nettaru's wife Nutan, while admitting to Open that her husband's murder has been politicised, said she is indebted to both BJP and to Puttila for the help they have extended to the family.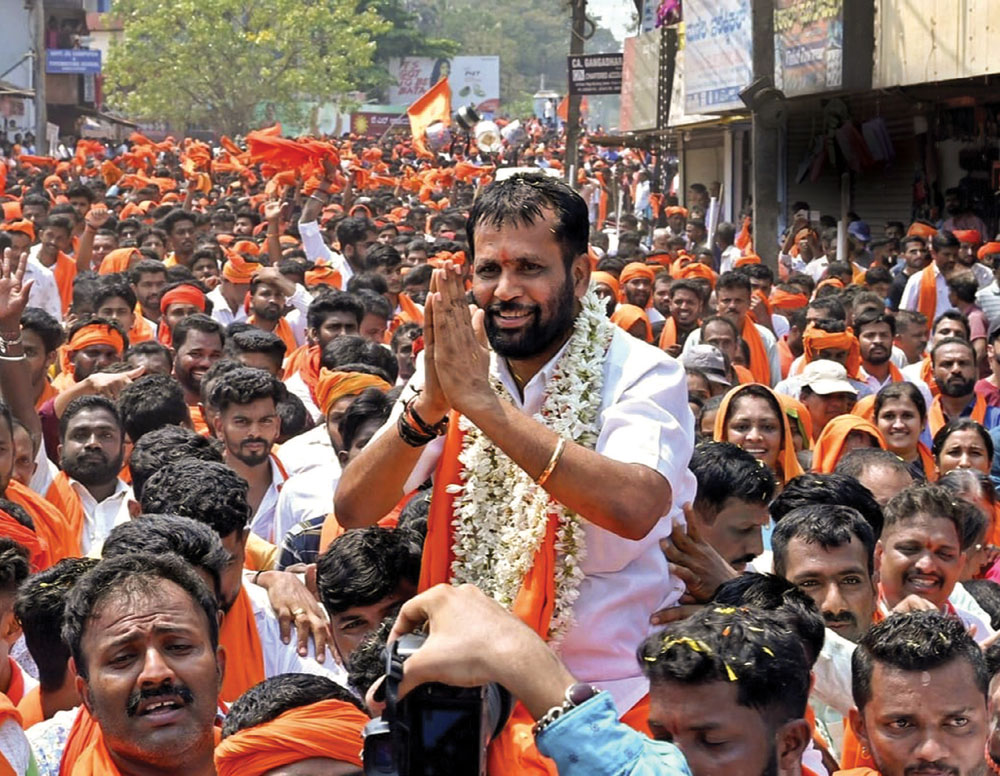 BJP is now worried that Rai, who joined Congress earlier this year, may have the last laugh if Puttila manages to snatch away a chunk of its Hindu vote. To be sure, Sangh and BJP members have gone to great lengths to distance themselves from Puttila, who seems to draw the support of local youth. "He has always had his differences with BJP. He had left the organisation to join Shri Rama Sene, and now he has left BJP. As a Hindu Jagarana Vedike member, he should have continued to work for the party even if he wasn't given a ticket. Rebellion is not in the blood of a Sangh Parivar worker," says an RSS leader from the district. BJP is pulling out all the stops, flying in party campaigners, including Union Home Minister Amit Shah and Tamil Nadu BJP President Annamalai, to ensure it wins this prestige battle. If BJP wins Puttur, it will have proved that the choice of candidate is second­ary to the might of the organisation, and that the Modi wave con­tinues to prevail in Karnataka.
"This is a contest between ground-level workers and the voice of authority. BJP should not have fielded a 60-plus woman in a communally sensitive constituency. We need to protect our sisters, and stand by our youth. Voters know well whom they should back," says Puttila, talking to Open on a busy campaign day. The wedding season has kicked off today and he has attended four, with one more to go before he sets out to address several small roadside gatherings, his feet bare, a saffron scarf framing his shoulders. Puttila says the bhagavadwaja (saffron flag) is his guru, and counts the late Atal Bihari Vajpayee among his political influences. Addressing a group in Mottethadka, he quotes Amit Shah—"the karyakarta is the high command"—and claims loy­alty to Prime Minister Narendra Modi's leadership. "Voting for me means voting for Modi," he says, a message sure to confuse the 2.16 lakh voters of Puttur.
By picking Asha Gowda over Arun Kumar Puttila, a firebrand Hindutva leader, BJP may be signalling for the second time that it will look to expand its social base among all communities. A Vokkaliga-majority constituency, Puttur is considered an RSS-BJP fortress, but the challengers this time are men who once worked within its ramparts
Vinay Kumar Sorake, former Congress minister, who has represented Puttur in the past—he is contesting from Kaup in the neighbouring district of Udupi this time—says BJP fielding a "weak candidate" from Puttur is a sign that the party's "feedback structure has collapsed and decisions are be­ing taken by senior leaders to serve their personal interests". "BJP state president Nalin Kumar Kateel seems determined to preside over BJP's fall in Dakshina Kannada this time," he says, referring to the palpable anti-incumbency surround­ing Kateel, the BJP MP and former RSS man representing the district. Many leaders in the state BJP are said to be against Kateel's brand of Hindutva. Even as he has sought to bill the 2023 As­sembly election as a battle between the ideologies of Savarkar and Tipu Sultan, BS Yediyurappa and Chief Minister Basavaraj Bom­mai have repeatedly refocused the party campaign around devel­opment, dismissing communal themes as non-issues. The party has, however, fielded anti-hijab hardliner Yashpal Survarna from Udupi, replacing three-time MLA Raghupati Bhat. Congress, which had been highlighting local issues a week ago, may now have played into BJP's hands by promising to outlaw the Bajrang Dal if elected to power—a move that gave Modi a chance to equate the Dal with Lord Hanuman in a campaign speech in Hospet.
In the 2018 elections, BJP banked on a Modi wave and fielded new faces to wrest Dakshina Kannada from Congress, which had won seven of the eight Assembly seats in 2013. With Hindutva having peaked and therefore unlikely to yield addi­tional rewards, the party has now entered a quantum strategy phase—say, the "Hindutva Uncertainty Principle"—where it is impossible to measure or calculate exactly both the position and the momentum of a candidate or a poll issue. It has fielded three new candidates—Bhagirathi Murulya instead of six-time MLA S Angara from Sullia, former Zilla Panchayat vice-president Sathish Kumpala against Congress MLA UT Khader in Manga­lore (Ullal), and Asha Thimmappa Gowda—ostensibly as an ex­periment, but also, clearly, to overcome anti-incumbency.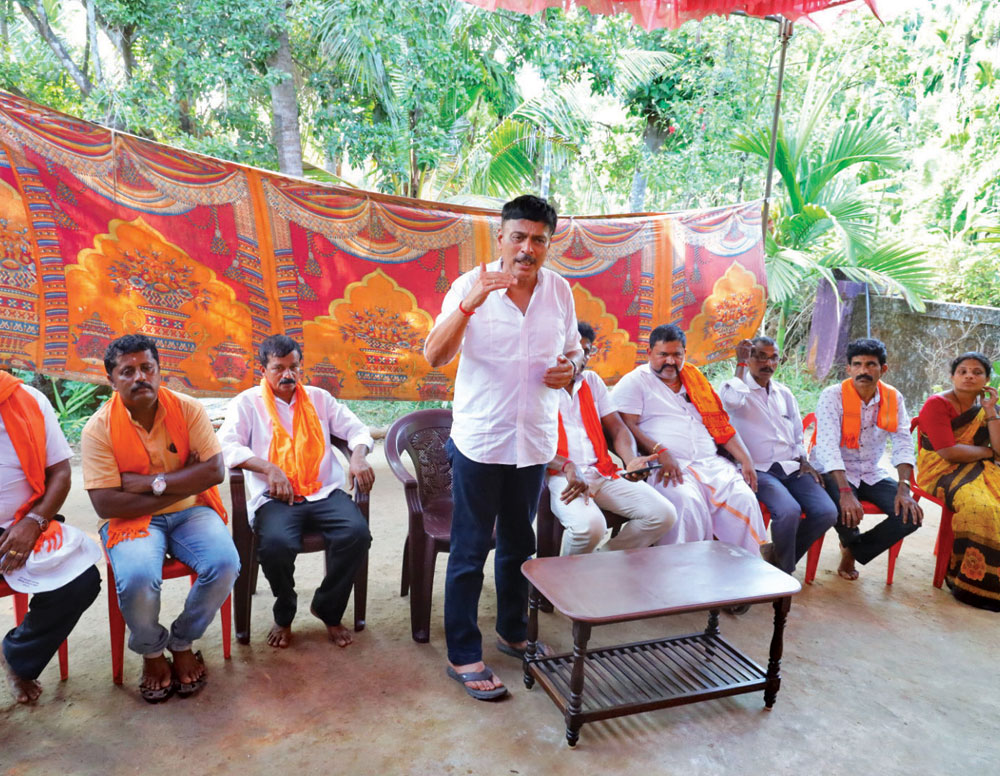 "There is much less josh on the ground this time," says Vishva Hindu Parishad (VHP) leader Sharan Pumpwell. The VHP office, located in a bylane in Kadri, Mangaluru, is serene, and Pumpwell, who had mobilised troops for the electoral battle in 2018, has graduated from spewing the frenzied babel of cow protection, love jihad and other so-called Hindu causes to 'convincing' community leaders to side with BJP. "There are two reasons why Parivar activists don't have to work as hard as we did in 2018. One, BJP has its own boots on the field, espe­cially since there are seven sitting MLAs from the party. Second, with the Karnataka Prevention of Slaughter and Preservation of Cattle Act and the new anti-conversion law coming into force, incidents of go-hatya and love jihad have fallen drastically, ceas­ing to be poll issues. I would go so far as to say that Nettaru's murder would have caused widespread unrest had it happened a few years ago. Now, under an able BJP administration, major communal incidents are in the past."
BJP is pulling out all the stops, flying in party campaigners, including union Home Minister Amit Shah and Tamil Nadu BJP president Annamalai, to ensure it wins this prestige battle. If BJP wins Puttur, it will have proved that the choice of candidate is secondary to the might of the organisation,
and that the Modi wave continues to prevail in Karnataka
While the consolidation of the Hindu community—compris­ing Billavas (18 per cent), Bunts (12 per cent), Mogaveeras and Gowdas—is important for BJP to retain its hold on the district, Pumpwell says he has "cautioned BJP against playing caste politics in Dakshina Kannada". "If they start fielding candidates based on caste, many smaller communities who are with the party will begin to feel sidelined," he says. Suvarna, a Mogaveera, agrees. "In the coastal belt, the candidate's caste is not important. The party is. And people believe in BJP's promise of development and its nationalist ideals," he says. The hijab ban case, he says, was an issue "manufactured by Muslims who don't want to give their girls an education so that they will continue to be slaves". "It is the duty of Sangh Parivar activists to bring such social issues to light. The opposition may falsely claim that Hindutva activists have been sidelined by BJP. But if you look into the background of many of the candidates in the fray from the two coastal districts this time, you will see we have a Sangh Parivar background."
While BJP leaders claim they are in a position to wrest Manga­lore (Ullal) from Congress, MLA UT Khader says he will not just sail through but also help his party win two or three more seats in the district. "If a Congress candidate does not win this time, he can never win again. The time is ripe; the circumstances are fa­vourable. Just like we were blindsided by anti-incumbency the last time, BJP is in for a major shock now," he says. Being the lone Congress MLA from Dakshina Kannada has certainly taken its toll on Khader. His eyes leaden after three days without sleep, he is at an event hall in a food court complex in Mangaluru to negotiate with local Communist Party of India-Marxist (CPM) leaders. "We are not just appealing to our core voters but also taking the smaller communities into confidence to swing the election," he says.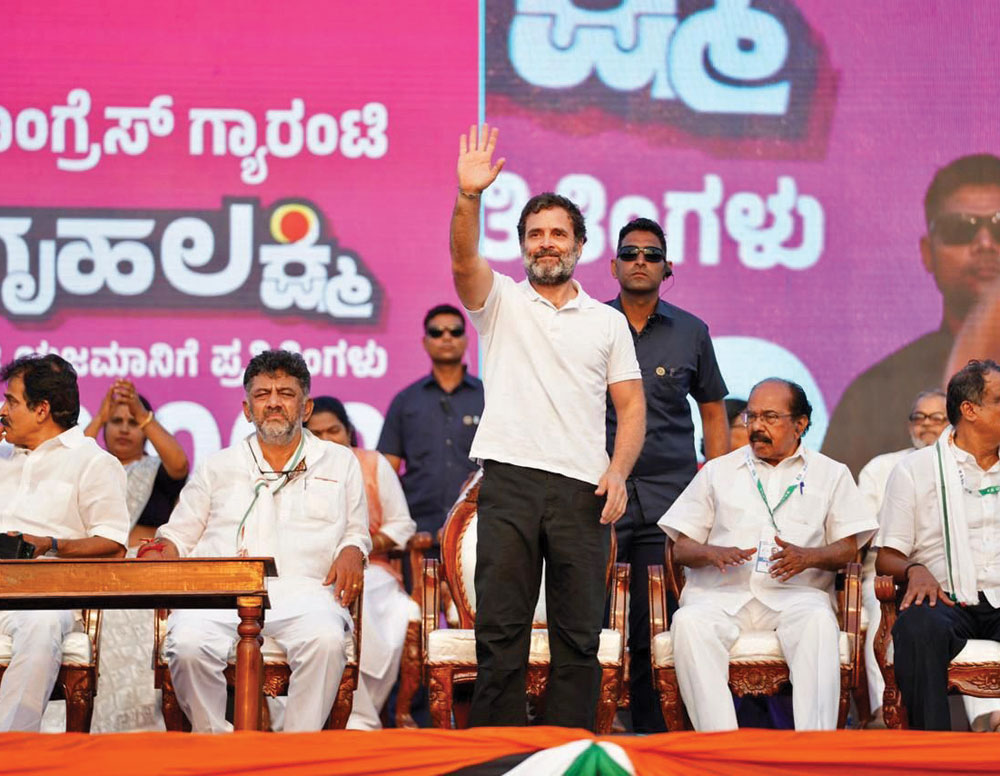 Driving from Mangaluru city towards Bantwal, the traffic slows down and the dust rises against the slow pace of the four-laning of NH75. Once you swerve off the highway, and drive farther inland past the vented dam at Jakribettu, the snaking road hugs areca nut plantations on one side and the Netravati river on the other. A half-hour later, we arrive at Ajilamogaru near Maninalkur, a village in Bantwal taluk where MLA U Rajesh Naik is attending a community event—a Satyanarayana puja. Local leaders seated on either side of him under the pandal take turns to address a crowd of about 40 people, reminding them to attend upcoming BJP election rallies in the district. Naik himself devotes his speech to extolling Union government schemes and pro-farmer measures taken by the Bommai government. It is only in conclusion that he touches upon the subject of communal har­mony. "Ever since our government came to power, Section 144 hasn't been imposed in Bantwal even for a single day. Peace reigns. Our youth aren't in prison under Section 307 (of the IPC)." Locals have bought into the argument that an out-of-power BJP is a net negative for Hindus of the state, even if their own youth have been used as unwitting pawns in service of the party's Hindutva cause. "Fewer communal incidents (when BJP is in power) mean that our youth aren't out in the streets or in jail," says Harish Poojary, a 47-year-old farmer from Maninalkur. Villagers also say that Naik's representatives at government hospitals and police stations have made it easier for them to navigate these often-hostile spaces.
"I wasn't keen on contesting this time," says Naik, 64, speak­ing to Open. "The party says there are no other candidates who can win from Bantwal. I disagree. There are many young leaders-in-waiting. A few years ago, I was a nobody here. My vote is in Bangalore North, but I was fielded in Bantwal. I lost and conducted a grama yatra in these parts in 2014 to understand the aspirations of the constituency." In 2018, Naik beat six-time Congress MLA BRamanathRaibyover15,000votes. Raiiscontestingagain, inwhat he says is his final electoral attempt, to win back the constituency.
It is BJP's seemingly incongruous strategies—whether it is fielding newcomers against big fish, ditching the popular pick or seesawing between Hindutva and development—that make them the reigning political artists of the upcoming election. They may yet be trumped, but not for want of trying.