ON THE FACE OF IT, NAMING the opposition alliance INDIA seemed like a clever move. If head­lines said the 2024 Lok Sabha polls were "NDA versus INDIA" it could generate the optics the Narendra Modi govern­ment's opponents were looking for—the suggestion that the party in office was harming the country's ethos and identity. The long form, Indian National Developmental Inclusive Alliance, is quite a mouth­ful and Congress President Mallikarjun Kharge laboured over the words as he announced the name. Yet, the conceptualisation of the national election as a clash between two "ideas of India" is hardly new. It was the dominant theme in 2014 and even more so in 2019 when the Modi government sought and won a second term.
Prime Minister Narendra Modi emphasised the political faultline when he dismissed the 'INDIA' acronym as a mere change of labels. He underlined measures to increase transpar­ency in welfare benefit transfers, corruption investigations against people in high places, accused opposition states of wil­fully not implementing Central schemes and said his govern­ment has not acted in a partisan manner. Above all, he said the government has earned the trust of the people who decided to vote the National Democratic Alliance (NDA) back to office. In an unusual reference to foreign policy in a purely domestic setting, he said the willingness of foreign powers to conclude ma­jor agreements with India in an election year instead of adopting a wait-and-watch stance indicated a belief that NDA would be back. Countries like the US, France, Australia, Japan and the UAE are extending invitations to NDA representatives. Modi assured NDA partners that he was untiringly dedicated to working for the national good and said, "There will be no slack in my efforts. I can commit a mistake but I will stay away from any bad intention (badniyati). I will not act out of mala fide."
On a day when NDA and newly minted INDIA held their rival conclaves, Modi's remarks to his allies set out his credibility with voters as the deciding factor. The expansion of NDA was not just a geographic progression; it also reflected the growing trust of the people who had decided to vote for the alliance. He reminded his audience that NDA had won 45 per cent of the vote in 2019 and 225 of the Bharatiya Janata Party's (BJP) tally of 303 seats recorded a 50 per cent-plus vote. Slamming the opposition alliance for be­ing a conglomeration of small interests, he said the parties were bound by the instinct of self-preservation rather than any lofty ideal. "These opposition parties continuously underestimate the common sense of the ordinary citizen. But the people of this country are watching everything and understanding everything… They can well understand what is the glue holding these parties together," he said. Modi pointed to the contradictions in the op­position alliance with parties and leaders who gathered in Ben­galuru being at daggers drawn in states like Kerala, West Bengal and Punjab. NDA, on the other hand, was a vision and a mission to ensure the poor and the disadvantaged joined India's develop­ment journey. The opposition pointed to "coalition compulsions" when confronted with corruption and misgovernance during the United Progressive Alliance's (UPA) tenure. Modi said his govern­ment's efforts had ensured disbursal of `30 lakh crore to rightful beneficiaries and prevented diversion of `3 lakh crore.
THE PRIME MINISTER'S fusillade at the NDA meeting in Delhi followed the deliberations of 26 opposition par­ties in Bengaluru where high on the agenda was finalising a name for the alliance. When West Bengal Chief Minister Mamata Banerjee suggested INDIA, with the D standing for 'democratic', Congress leader Rahul Gandhi is learnt to have agreed. Bihar Chief Minister Nitish Kumar is said to have suggested "India Main Front" or "Indian Main Alliance", apparently having inhibitions about the inclusion of "democratic" which is part of rival NDA's name. Several other suggestions, such as "We or V [victory] for India", "People's Alliance", "Progressive Alliance", "Bharat Jodo Alliance", also did the rounds. After debating the issue for a while, the leaders finally agreed on Indian National Developmental Inclusive Alliance (IN­DIA). "India that is Bharat—is the opening line of our Constitu­tion. INDIA and its people will win," tweeted Communist Party of India-Marxist (CPM) leader Sitaram Yechury. While the prime minister spoke in detail about his government's development re­cord, Kharge defined the battle as one of social justice and protecting the "idea of India", Constitution, democracy and secularism. He iter­ated the charge that Central agencies were acting by political diktat and opposition legislators were being coerced into changing sides. Interestingly, he claimed that Congress' participation in INDIA was not driven by an interest in power or the prime minister's post. If the idea was to take a potentially contentious issue off the table, the provocation to do so now was unclear. A participant at the conclave sought to de-emphasise Kharge's words and a Congress MP said the leader had only spoken of the need to defeat BJP rather than focus on who would form the government. Yet, the Congress president's reported comments were neither clarified nor denied by the party.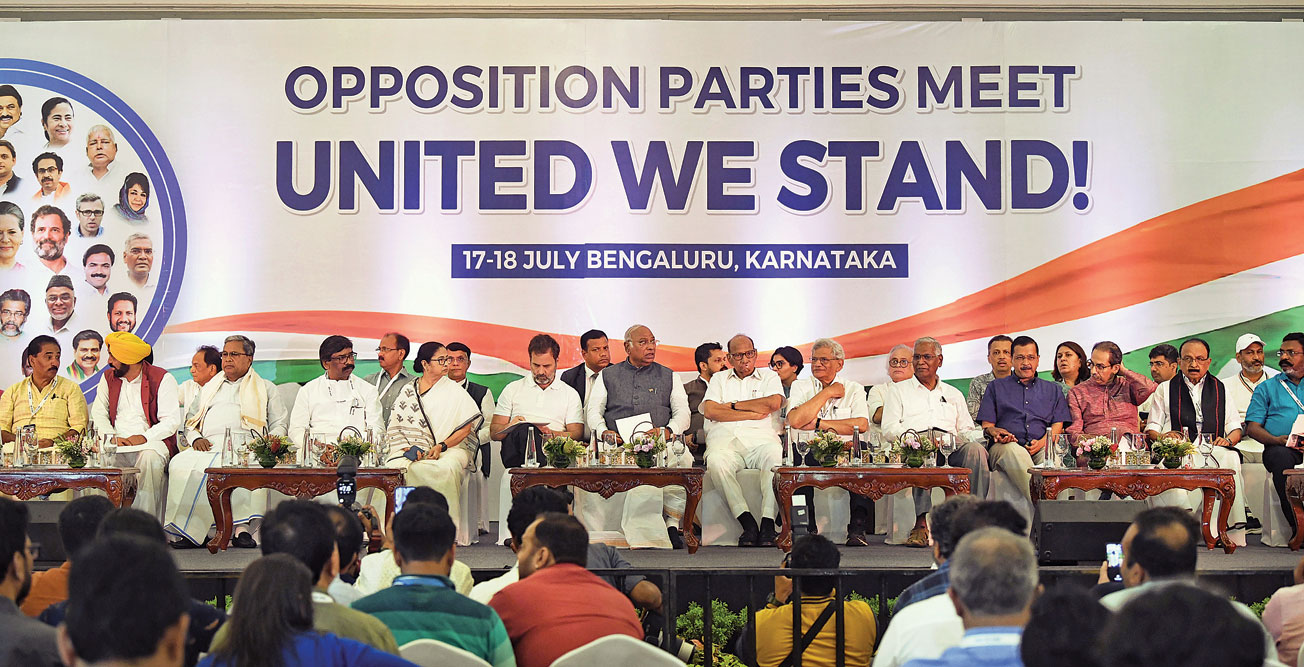 The first test for the new opposition alliance will be during the Monsoon Session of Parliament. The opposition strength increased from 16 parties in Patna, where Nitish Kumar anchored a meet on June 23, to 26 in Bengaluru, a venue dictated by Con­gress' recent success in ousting BJP in the Karnataka Assembly election. Op­position leaders said the alliance will work on specific issues like price rise and the problem of unemployment and the coordinated actions will be seen from September onwards, after the Monsoon Session concludes. They admit that seat-sharing is not going to be easy and a "combined" opposition can be ruled out in a state like Kerala, where the Left and Congress are part of clearly defined camps. The idea of a united opposition might be more fea­sible in other states where a regional party is clearly dominant in the anti- BJP space. In states like Maharashtra, the diminution of the Shiv Sena and the Nationalist Congress Party (NCP) has brought them to near-parity with Congress. States where Congress con­tinues to be the main adversary of BJP will be crucial as in the past two elec­tions the results have been deeply dis­appointing for Congress.
NDA, LEAVING NOTHING to chance, flaunted a larger alliance, with new partners like the Eknath Shinde-led faction of the Shiv Sena and the Ajit Pawar group of NCP joining the meet. A day before the meeting, the Lok Janshakti Party's (LJP) Chirag Paswan returned to the NDA fold which he had left in 2020 over his opposition to Nitish Kumar. Jitan Ram Manjhi's Hindustan Awam Morcha (HAM), Upendra Kushwaha's Rashtriya Lok Samta Party (RLJD) and Om Prakash Rajbhar's Suheldev Bharatiya Samaj Party (SBSP) also attended the meet. As Modi arrived at the venue at the Ashok Hotel, he warmly greeted leaders of various alliance parties, hugged Paswan and posed for a photograph before walking into the meeting hall.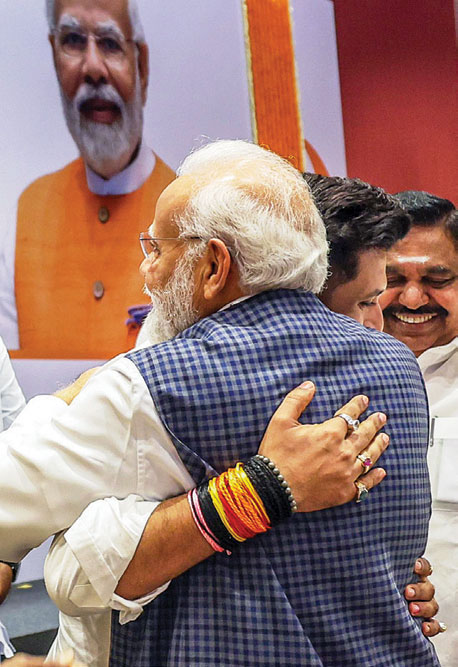 Notwithstanding NDA's numerical strength, it is powered by BJP with Modi as its unequivocal leader. BJP has its chief ministers in 10 states, and in five others it is part of the ruling alliance. Of the 353 seats NDA won in 2019, BJP's tally alone was 303. "This is not an alliance of compulsion, but of conviction… where all share credit and responsibility," Modi said. The allies BJP has gained, however, add crucial heft. In the North­east, they add up to a sizeable number and have provided important ballast to BJP in Maharashtra. The decision of powerful NCP and Sena chieftains to join BJP has also added to the perception that BJP is a clear frontrunner in the 2024 Lok Sabha polls.
"Opposition parties underestimate the common sense of the ordinary citizen. The people are watching everything. They can well understand what is the glue holding these parties together, says Narendra Modi
On the opposition side, which has chief ministers in 11 states, the tricky mat­ter of selecting a prime ministerial candi­date has been put on the back-burner for now, taking precautions not to let any controversial issue overshadow the dis­play of bonhomie among leaders, some of whom are political rivals in states. Some opposition leaders feel thrashing out a common agenda may take some time,its precise co tours finalised only a fter the next election. The Benga­luru meet— attended among others by Congress leaders Sonia Gandhi and Rahul Gandhi, Chief Ministers Mamata Banerjee, Arvind Kejriwal, Nitish Kumar, MK Stalin and Hemant Soren, NCP leader Sharad Pawar, Shiv Sena's Uddhav Thackeray, Samajwadi Party's (SP) Akhilesh Yadav, Rashtriya Janata Dal (RJD) leader Lalu Prasad and his son Tejashwi, National Conference's (NC) Omar Abdullah,Peoples Democratic Party (PDP) leader Mehbooba Mufti and Left leaders Sitaram Yechury and D Raja— decided on forming an 11-member coor­dination committee, members of which will be decided at the next meeting to be held in Mumbai.
Zeroing in on the INDIA acro­nym, changing it from United Progressive Alliance, was, according to Congress, Rahul Gandhi's idea with which Banerjee had readily agreed. But leaders who attended the meeting said it was proposed by the Trinamool Congress leader even though later in the day Congress spokesperson Supriya Shrinate said it was Rahul who had suggested it to Banerjee. One leader said there were murmurs about a name for the alliance since the night of July 17, when Karnataka Chief Min­ister Siddaramaiah had hosted a dinner. After agreeing on a name, the parties concurred on adopting a joint resolution or "samuhik sankalp", the draft of which was also discussed on the night of July 17, as its first formal step in presenting an alternative narrative to NDA. The resolution begins with a pledge on "safeguarding the idea of India" as enshrined in the Constitution and ends with one to present to the nation an alternative political, social and economic agenda. "We promise to transform both the substance and style of governance that will be more consultative, democratic and participative," it says. The resolution also lists the Manipur vio­lence, the role of governors and lieutenant gover­nors in non-BJP-ruled states, the "brazen misuse" of agencies by the government against political ri­vals, and promises to implement the caste census.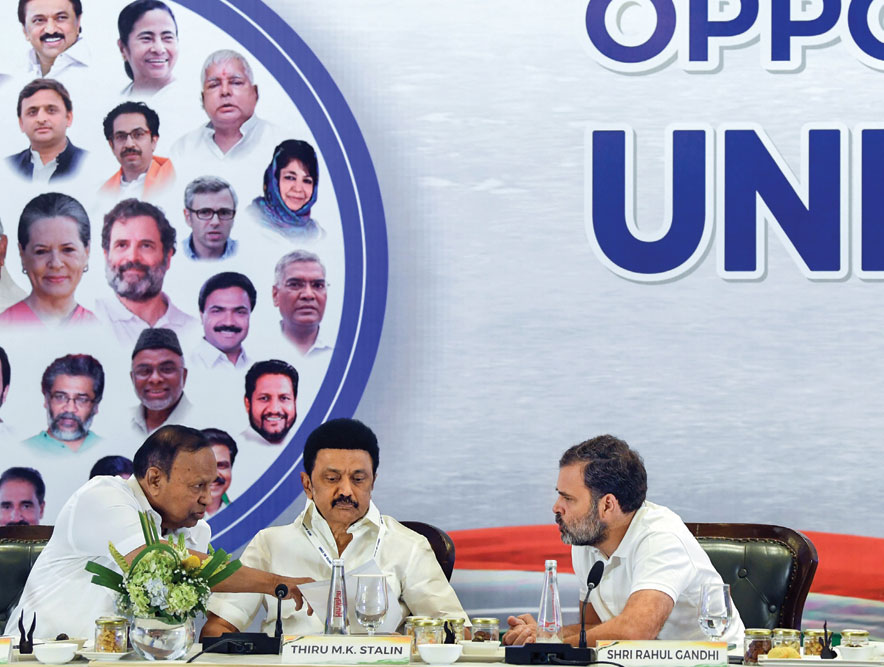 The meeting and the resolution, however, did not mention the moves for a Uniform Civil Code (UCC) with Kharge, while replying to questions at a press conference, saying it cannot be discussed till there is a Bill and that the government is still seek­ing views on it. On sticky issues like leadership, a common minimum programme (CMP) and seat-sharing, Kharge said the coordination com­mittee will discuss those issues. "We are making a coordination committee of 11. At the meeting in Mumbai, we will decide on who the 11 will be, who the convenor will be. These are small things." Yet, putting together a CMP document is not going to be an easy task. The meeting was about messaging. But the arithmetic is more complicated. The unease within is likely to surface when the opposition gets down to the brass tacks of seat-sharing for the 2024 Lok Sabha polls. Of the 421 candidates Congress put up in 2019, only 52 won. In the 186 seats where it was in a one-on-one contest with BJP, Congress won just 15. According to a Janata Dal (United) leader, opposition parties are pitted directly against BJP in 450 of the 543 seats. In the non- Congress opposition's calculations, the grand old party should be fighting just about 250 seats, mostly those where it won last time or came second. Congress, which has recently swept Karnataka, may prefer to wait for the next round of elections— Rajasthan, Madhya Pradesh, and Chhattisgarh—where it will be fighting BJP directly. Yet, the Assembly results need not necessarily translate into Lok Sabha seats. In 2019, it had won just a seat each in Madhya Pradesh and Chhattisgarh and none in Rajasthan, despite emerging victori­ous in all three in the 2018 Assembly polls. In Karnataka, where it was in power, Congress won just one of the 28 seats.
"This is a fight for India's voice and that is why we have chosen this name—Indian National Developmental Inclusive Alliance (INDIA). The fight is between NDA and INDIA, between Narendra Modi and INDIA, says Rahul Gandhi
The big challenge for the opposition is to find a way around a labyrinth of complex equations and competing interests, with each party wanting to expand its support base and not being keen on accepting Congress' primacy. Congress is a rival of some of the opposition parties in states like Kerala, West Bengal, Delhi, and Punjab. In Kerala, where Rahul Gandhi was himself an MP from Wayanad, Congress is in a direct confrontation with the Left, also a constituent of INDIA. Some states—Bihar, Tamil Nadu, Maha­rashtra, and Jharkhand—have an opposition alliance in place. In Uttar Pradesh, which sends 80 MPs, Congress is unlikely to hurt Akhilesh Yadav's SP, given that it is much diminished in terms of vote share. It remains to be seen if it can consider a deal with the Bahujan Samaj Party (BSP) which is not in the INDIA alliance. The chances of SP and BSP joining hands were always slim and on July 19 Mayawati made it clear that the party would go it alone in the Lok Sabha polls. An opposition leader, admitting that there may be states where it will not be possible, said the objective was to minimise a division of anti-NDA votes.
While Rahul Gandhi said the fight is between NDA and INDIA, Modi and INDIA and his ideology and INDIA, the West Bengal chief minister asked, "NDA, can you chal­lenge INDIA?" Three chief ministers—Biju Janata Dal (BJD) leader Naveen Patnaik, Bharat Rashtra Samithi's (BRS) K Chandrasekhar Rao and Andhra Pradesh's ruling YSR Congress Party (YSRCP) chief YS Jagan Mohan Reddy—kept away from both sides. On the other hand, Janata Dal (Secular), which shared office with Con­gress in Karnataka, joined hands with BJP to inflict a setback on Congress in the state Legislative Council over the Siddaramaiah government's bid to reintroduce restrictions on agricultural trade and marketing.
In the past, most alliances against the ruling party took shape either just before elections or in the post-poll situation. The op­position unity of 1977, when parties came together against Congress following Emergency imposed by Indira Gandhi, was formalised about two months before the polls. The 13-party United Front (UF) in 1996 and the Congress-led UPA in 2004 were both formed after the election. While attacking the opposition alliance as a patchwork of disparate entities, BJP has taken care to enlarge its own tent, with the intent of maximising its social coalitions with Modi as the mascot.