JUST A COUPLE of weeks ago, Americans were facing the prospect of being forced to choose in November between rival forms of populism. Either they could have another four years of race-baiting and xenophobia under Donald Trump, or, as their only alternative, they could hazard a dose of equally divisive and economically disruptive socialism under Senator Bernie Sanders—the veteran left-winger whose campaign for the Democratic Party's presidential ticket then appeared unstoppable.
Sanders had won or tied the first three primary contests, in Iowa, New Hampshire and, by a sweeping margin on February 22nd, Nevada. And though this left him still far short of the 1,991 delegates required for the party's nomination, none of his opponents looked able to deny him it. The Democratic Party's dominant centre-left faction was split between several candidates, chiefly Joe Biden, Mike Bloomberg, Pete Buttigieg and Amy Klobuchar, who were locked in a mutually damaging and apparent forlorn battle for advantage. This had handed Sanders his opportunity. His left-wing faction is smaller, but looked more cohesive. With around 30 per cent of the Democratic vote, the veteran left-winger was on course to win a series of states with modest pluralities, allowing him to build a delegate lead that whoever emerged from the moderate pile-up would be unable to overhaul. There was an obvious precedent for this: it was how Donald Trump, another outsider with a small but loyal base, carved his way through the Republican primary field in 2016.
At a time when Americans crave a return to pre-Trump stability, this was a worrying outcome. Though sincere in his desire to address inequality, cronyism and climate change, Sanders has done nothing to suggest he deserves to be in the White House. Over the course of three decades in Congress, he has racked up one of the least impressive legislative records in that institution's history. He has been the lead sponsor of just seven bills that became law, two of which concerned the renaming of post offices in his home state of Vermont. Sanders is all revolutionary promise and no plan.
His campaign platform includes a series of large giveaways—free college, free healthcare and so forth—estimated by The Economist to cost $52 trillion over a decade. Though there is in fact almost zero chance of those plans coming to fruition. They would never pass Congress, even if the Democrats controlled both its chambers, which they currently do not. Moreover, with Sanders for an opponent, Trump's chances of re-election would soar. A large majority of Americans say they oppose socialism; so why would they elect a socialist? Against the mounting threats of pandemic and recession, the world, too, wants a return to stable American leadership; Sanders' rise augured no such thing.
But if a week is a long time in politics, as British Prime Minister Harold Wilson once said, two weeks is an eternity. South Carolina's heavily African-American Democratic electorate rallied forcefully behind Biden, Barack Obama's former Vice President. Shocked by their poor performances, most of his moderate competitors promptly quit the contest. Biden then went on a 20-state rampage and cemented his advantage in stunning fashion. He won 15 of those states, including most of the biggest: Michigan, Texas, Virginia. Sanders won five, including the biggest of all, California; though Biden ran him close enough there to be assured a big share of its 415 delegates.
The race for the delegates who will formally nominate the Democratic candidate still looks fairly close. At the time of writing, Biden had 860 to Sanders' 710. In reality, the contest is over. Most of Sanders' best states have now voted. Moreover, Biden's coalition is expanding, as undecided Democrats flock to the party's anointed centre-left unifier, while Sanders' is shrinking.
In state after state, Biden is winning majorities of Black, well-educated suburban and working-class White voters—almost all the Democrats' most important voter groups, in other words. Sanders has a fading lead with Hispanics and a huge, but nonetheless not terribly helpful, one with young liberals: they like his left-wing policies but are fewer and much less likely to vote than Blacks or middle-class moderates. After Biden's latest round of victories, on March 10th, both candidates cancelled their post-vote rallies in fear of Covid-19. It seemed symbolic. Though Sanders has vowed to fight on, the primary contest is over—the 77-year-old former Vice President will be Trump's challenger in November.
The stock market briefly surged on the news last week—to the President's certain annoyance. That was probably because of the Sanders-shaped bullet the markets had just dodged. Indeed, though Biden is deeply liked and respected on the left, hardly anyone is exactly enthusiastic about him.
The former Vice President—and newly crowned moderate champion—has many qualities. Even so, he is far from the dream candidate Obama was. The fact that it has taken him a year to rise through the congested primary pack, despite his obvious starting advantage as a former Democratic Vice President, illustrates this—it reveals what a flawed politician Biden is.
This is his third presidential campaign, and the first two ended badly. Way back in 1988, his inaugural campaign started weakly and soon fizzled, after Biden was caught plagiarising a speech by Neil Kinnock. Most remarkably, he had not only copied the British politician's ideas and phrasing, but elements of his biography. Kinnock, a son of generations of Welsh miners, asked why it was that such working men had been denied opportunity: "Was it because they were weak? Those people who could work eight hours underground and then come and play football?" In Biden's telling, this became: "Is it because they didn't work hard? My ancestors, who worked in the coal mines of Northeast Pennsylvania and would come up after 12 hours and play football for four hours?" Well, Biden's ancestors were from Pennsylvania, but they were not miners. It was embarrassing.
His second run for president, in 2008, was similarly littered with gaffes—or 'Bidenisms', as they are known in American political circles. The phrase refers to the former Vice President's inveterate verbal diarrhoea as well as his blunders. His most immortal foul-up of that campaign was when he described his fellow Senator and opponent at that time, Obama, as unusually 'bright and clean' for a Black candidate. Biden dropped out, having barely registered in the primary polling, shortly afterward. But then Obama, impressed by Biden's venerable status and appeal to working-class Whites, asked him to be his running-mate, and Biden flourished.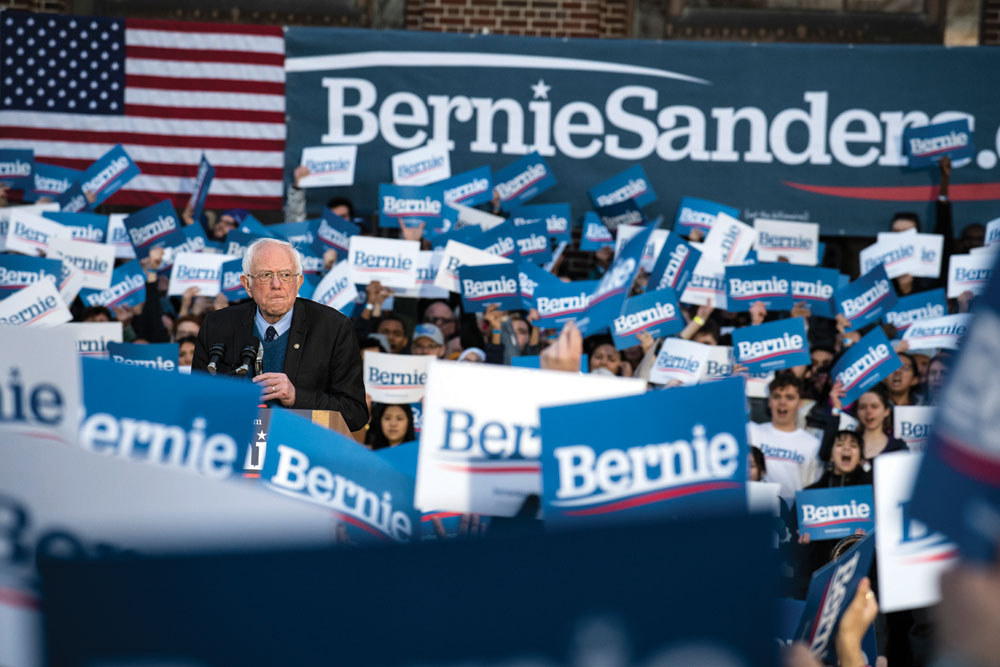 The job of vice president is a notoriously no-win one. It traditionally involves having no real power, carrying the can for all the president's errors and basking in little or none of his acclaim. The thanklessness of the job is such an established fact of American political culture it is the basis for the best TV comedy of recent years: HBO's Veep. Yet Biden thrived in the role. It afforded him opportunity to raise his profile in foreign policy, as a roving emissary to Iraq, Afghanistan and elsewhere. More important, it showed off the character strengths that have made him beloved within Democratic circles despite his windiness and propensity to mess up. He was unfailingly loyal to Obama, through all the much younger man's trials and occasional missteps—such that the President and his deputy ended up as genuinely close friends.
ACTING AS OBAMA'S stand-in glad-hander, another onerous vice-presidential duty, also played to Biden's strength. In person he is warm and chatty. He is also particularly able to project concern for and empathy with those stricken by personal tragedy—having been stricken himself. Aged 29, and freshly elected to the Senate, his wife and baby daughters were killed in a car accident. In 2015, towards the end of Obama's presidency, Biden's eldest son died of brain cancer. Watch the former Vice President multiple times, as I have, and the frequency with which he mentions these tragedies can begin to grate. But to most voters, the record of patience and fortitude they suggest are impressive. Obama used to call Bill Clinton his "explainer-in-chief", for his excellence at making his successor's complicated healthcare reforms easily comprehensible. Biden was Obama's consoler-in-chief.
This is a hard virtue to project in an American primary contest, however. For much of the past year Biden has been engaged in a cut-and-thrust policy debate with mostly younger, sharper and more articulate Democratic opponents. Or rather, he has struggled to flub and bluster his way through it, often looked even older than his years in the process. Sanders' strong showing in the early primary states suggested this poor performance had caught up with Biden. His centrism was said to be at odds with his party's leftwards drift. And his age seemed to be at odds with the Democrats' habits of looking forward, not back (Sanders is a similar age, but far more vigorous and forward-looking.) Yet, in the light of Biden's remarkable recovery, the liberal, overwhelmingly White voters of Iowa and New Hampshire now look more unrepresentative of their party than he does.
Biden's fortunes changed because South Carolina's predominantly Black Democratic voters were, on the one hand, impressed by his service to Obama and, on the other hand, unimpressed by the alternatives. They and, as it has turned out, most Democratic voters are overwhelmingly focused on defeating Trump, not on the mindnumbing details of left-wing policy debate. And, in the absence of the sort of standout candidate that Obama was, they mostly think an inoffensive, decent, reassuringly experienced and moderate White man would be likeliest to deny Trump another four years. The Sandernista left is naturally enraged by this—the socialist Senator claims to have been denied his rightful prize by a shadowy "establishment" plot. But the breadth of Biden's support, spanning his party's racial, generational and geographic divisions, suggests he may turn out to be a formidable candidate. So does the fact that Trump obviously fears him. That is why he sought to traduce Biden last year, by trying to strong-arm Ukraine's president into announcing a corruption probe into the former Vice President and his surviving son, Hunter, who once had business ties in Ukraine.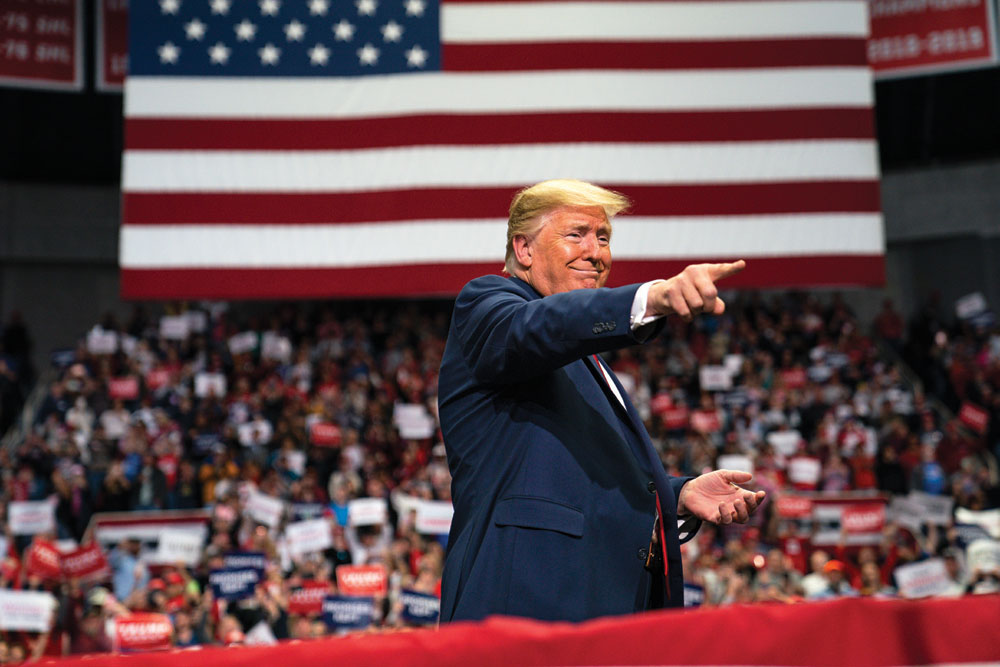 Undaunted by the President's resultant impeachment, his supporters in Congress and the rightwing media are now hastily resuscitating that false narrative. Republican Senators have announced plans to investigate Hunter Biden's dealings in Ukraine. Meanwhile, the President and his cheerleaders have begun insinuating that Biden may be senile. (Coming from him, that is really a bit rich.)
It may be premature to start speculating on what sort of president Biden might make. His decades-long record, preference for incremental over revolutionary change and talk of wanting to "get back" to the Obama years offer many pointers. But there is still a long way to go—and indeed almost a year—before Biden could make a return to the White House. Two important takeaways from his remarkable comeback are already apparent, however.
One is that the Democratic Party is not nearly as susceptible to a populist takeover as its right-wing counterpart—or as many commentators feared it was. The dynamics that propelled Trump forward in 2016 were enough to win Sanders a few victories in helpfully unrepresentative states. But the shockwaves this set off through the party were one of the main triggers for a dramatic rallying of the moderate mainstream behind Biden. Most Democrats are not terribly ideological or left-wing by Indian or European measures. That is partly a reflection of their diversity. As a rattlebag coalition of non-Whites, organised labour and, increasingly, other Whites repelled by the Republican Party's bigotry, Democrats are necessarily accustomed to compromise, obsessed with unity and correspondingly wary of demagoguery. And African-Americans, the party's biggest voter group and Biden's staunchest supporters, are, perhaps because of their blighted history, the most sceptical and therefore pragmatic Democrats of all. At times, this diverse membership makes the party slow-moving and hard to define and liable to pander to one or another of its constituent parts. Even so, it now looks like a guard against populist takeover and therefore a great strength.
The second important takeaway is that Trump has never looked weaker. In the build-up to his recent trip to India, the President was celebrating his escape from impeachment, climbing approval ratings, new stock-market records and a growing likelihood that the Democrats would field a weak candidate against him. But the past fortnight has turned out to be an eternity for Trump, too. America now seems certain to suffer badly from the coronavirus, in part because of his administration's incompetent early response to the pandemic—in the weeks when they might have been developing testing facilities, Trump refused even to accept that the virus was a serious threat. On the eve of the South Carolina primary—less than two weeks ago—I attended a rally in which Trump assured the crowd that the coronavirus was "the next big hoax".
Even he can't think that now. Over a thousand Americans have tested positive for the virus and, given the paucity of testing, the true number of infections is probably many times higher. The markets are in free-fall. Expectations of a recession are growing. Trump has given no indication over the past three years that he has the judgement or understanding to deal with this brewing crisis. Meanwhile, the Democrats, in a rare recent triumph for moderation, are in the process of unifying behind a candidate who looks able to seize the political opportunity this will soon present.