Exactly a year ago, as the sun was about to set, Prime Minister Narendra Modi held his third and biggest public meeting of the day at Delhi's Ramlila Maidan. Mobile phone torches flashed in the crowd as Modi, his voice a little sore from the hectic campaigning, began his oratory, launching an offensive against the opposition, namely, the Congress and the Aam Aadmi Party. Towards the end of his speech, Modi emphasised his Government's tough stand on terror, highlighting how the "New India" enters the homes of terrorists and kills them. "Ghar mein ghus ke maarna chahiye ki nahi maarna chahiye [Should one get into their homes and kill or not]?" he asked, engaging with the crowd in his characteristic way. He repeated the question thrice, every time getting a frenzied "Yes" in response from the crowd that waved Modi cutouts and shouted slogans. Modi then asked his audience if they would go to every house to spread his message and encourage them to vote for the Bharatiya Janata Party (BJP). Again, a chorus of "Yes" echoed across the sprawling venue where rallies have left several milestones in the history of Indian politics.
Last summer, Modi, as the BJP's chief campaigner, was holding three to four rallies, sometimes five, a day across the country. In the 2019 General Election campaign, he held 142 rallies, breaking for just three days, as his party relied on his image to connect with the voting masses. His main rival, the Congress' Rahul Gandhi, had held 145 rallies in the run-up to the same Lok Sabha polls.
Uncertainty, however, looms over when Modi will be able to hold his next public rally. Yet, he has been visible. It is Modi who addressed the nation on television to announce a three-week lockdown to contain the spread of Covid-19 on March 24th. The lockdown has since been twice extended but Modi has become the face of India's battle against the pandemic, whether with a woven stole of northeastern make or a gamchha as his mask. His ratings have soared. And when he warned people that it could not be business-as-usual, he would have known that in politics, too, the rules of the game would change.
THE CORONAVIRUS PANDEMIC has become a great divide in history. Most human endeavours and pursuits will now have a before and after Covid-19 tag, bookmarking their place in time for posterity. Figuring out how to do the same things we have always done, but differently on the other side of Covid-19, is going to be our primary challenge for some time. Of all human pursuits none is perhaps more innately social than politics. In the early days of the pandemic, predictions were made that Covid-19 would cause a 'political pandemic' worldwide. Politics has been more or less in a state of suspension in its wake, but it has not ceased to be—even the pandemic engendered its own politics—and will resume as soon as the calendar compels it. The world's most powerful democracy is in an election year. And the electoral calendar in the world's largest democracy is about to get busy again.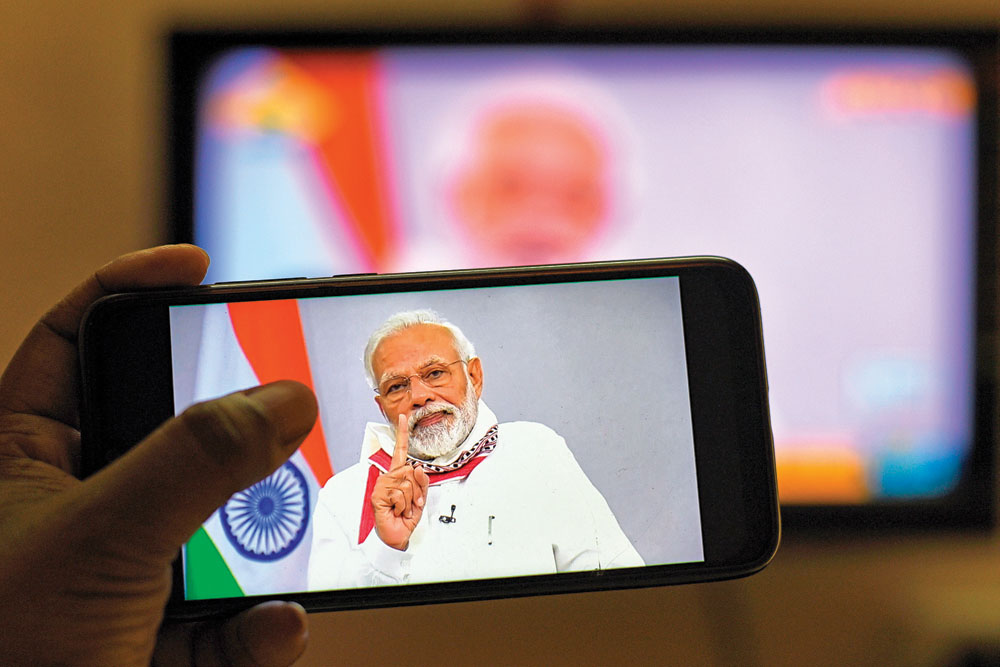 The Assembly polls in Bihar are India's most important election this year and will be the first big test of post-Covid politics. Next summer, state elections are due in Tamil Nadu, Kerala, West Bengal and Assam. Jammu & Kashmir, too, is likely to hold elections in early 2021. The fundamental change being wrought by the pandemic is not just in the substance of politics but, more significantly, in its form. It has affected, and will continue to affect—perhaps even overhaul and reinvent—the interfaces between political parties and the public. That is because, even if we can envision a post-lockdown world, with most of the restrictions of today further relaxed and even lifted, social distancing is going to stay. That means mass mobilisations of old, the signature of democratic politics, will not be the norm anymore.
As recently as the 2019 General Election, we could talk about synchronising the old instruments of electoral campaign and new technology. Post-pandemic, most of the old ways may have to be bidden goodbye, at least for the foreseeable future, and technology fully given the reins. That does not mean we will not hear campaign songs and recorded pitches at the street corner or from roving auto-rickshaws, but the gigantic mass rallies, for one, are now a thing of the past. At the other end of scale, door-knocking by candidates and their entourage may not be seen for quite some time either. Gone, too, will be the public meetings and party workers' conferences.
In 2004, soon after campaigning for the General Election began, those owning mobile phones were surprised one day to hear the voice of Atal Bihari Vajpayee when they their handsets rang. A seemingly personal, distance-erasing, albeit recorded, message from the Prime Minister himself was something new and revolutionary that both harnessed and was made possible by new technology. Over time, targeted and interactive voice messages would become an established tool of campaigning. However, it did not displace the larger spectacle of an Indian election. The mass rallies that characterised Modi's 2014 (as the challenger) and 2019 (as the incumbent) campaigns had precedent in Indira Gandhi's giant rallies, and Jawarharlal Nehru's. Huge mass gatherings often characterised opposition movements in India. The size of the crowd Jayaprakash Narayan addressed at Delhi's Ramlila Maidan the day before Emergency was imposed, or the numbers that attended some of Vajpayee's rallies in the 1970s, help us remember how intrinsic mass mobilisation always was to politics, especially in a loud and populous democracy.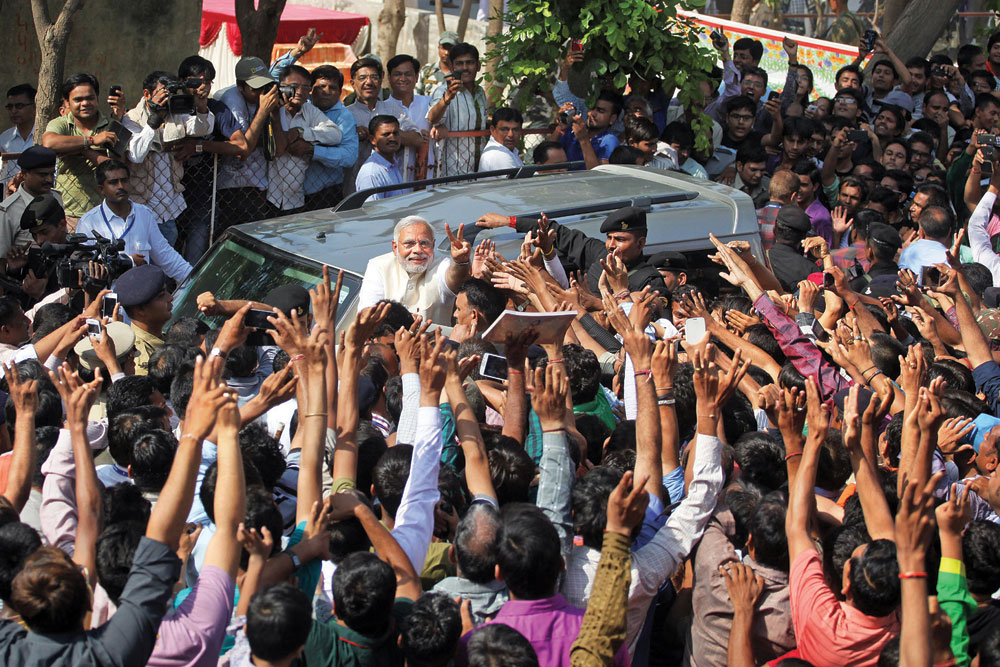 Political leadership, too, assumed and was dependent on successfully mobilising the foot soldiers and getting the message across to the public. Not too long ago, pamphlets, wall-writing and graffiti played a major role in electioneering in India. These have since been clamped down upon but gathering thousands on a maidan to address them with the same broad message and thereby causing a multiplier effect, as well as reaching out to the individual voter by legging the last mile to her door, have been inseparable from the run-up to a major election, nor was it imaginable till now that we would have to visualise elections without these.
Writing in The Straits Times last month, Jonathan Eyal, International Director of the Whitehall-based Royal United Services Institute for Defence and Security Studies (RUSI), argued: 'Human beings are social animals, so it would be foolish to assume that once the crisis is over, the world will be an entirely different place.' Yet, it would be foolish, too, to assume that things will return to just as they were, as Eyal says next in discussing post-pandemic politics in the West. In India, the evolution from old ways of electioneering to new ones has been a work-in-progress. Arguably, it may have given the advantage to bigger and richer parties, but will booking chartered flights and helicopters to fly leaders and star campaigners, such as Bollywood actors, hither and thither make sense anymore? Thanks to the pandemic, even hologram rallies may have become passé. Festoons will still overhang streets and roads, but with rallies disappearing, there will be less scope to deploy them.
In 2017, Prime Minister Narendra Modi had declared that the 2019 General Election would be fought on the smartphone. The template of campaigning had already added micro-targeting to mass-messaging. The year before the General Election, in 2018, India already had 560 million internet subscribers, although the figure is still heavily skewed in favour of urban areas, and there were 26.2 smartphones per 100 people, as per the McKinsey Digital India Report, April 2019. By some estimates, the share of smartphone owners among mobile phone users is expected to reach 32 per cent in 2020. For a country with India's population, the total numbers are high and data is extraordinarily cheap here. Campaigning will become heavily dependent on technology post-Covid and mobile phones, along with the platforms they provide, including social media and customised apps, will be the preferred, or perhaps the only, means of reaching out to people. That means overtime for data analytics, text messaging and tweets, with a maximisation of campaigning on political apps, Twitter, Facebook, YouTube, Instagram, TikTok, and perhaps even Snapchat (although the last among these did not pay attention to India till last year).
The whole spectrum of the digital domain will have to be activated. There's nothing new about operationalising the mobile in the user's hand to make an electoral pitch but what is going to change is the extent and intensity. Political parties will have to redesign their campaigns accordingly. For instance, videos of less than a minute's duration could be ideal to draw attention to government schemes and initiatives as well as criticism of incumbents. Anything of longer duration may be lost between people's short attention spans, especially given the flood expected on their mobiles in post-pandemic elections. All parties will have to look for ways to harness technology on an unprecedented scale, beginning with the coming round of polls.
Milan Vaishnav, Director of the South Asia Program at the Carnegie Endowment for International Peace, tells Open: "The challenge will really be around campaigning. We will see parties make new investments in digital strategies, social media targeting and virtual campaigning. This will further hasten a trend that has been gathering pace since 2013-14. This shift will give the BJP a notable advantage—it has more money, more digital savvy and a bigger online army than any of its competitors."
It is in the harnessing of new technology that the BJP has been ahead of its rivals for a long time. In the 1996 General Election when it emerged as the single-largest party for the first time, the broadcast campaign space had been largely monopolised by PV Narasimha Rao and the Congress, when the efficacy of cable TV was added to airtime on Doordarshan. With the expansion of the digital domain and mobile penetration, the BJP's grip on the campaign space steadily tightened, although it was not good enough to win re-election for Vajpayee in 2004, just as the broadcast blitz had done Rao no favours eight years earlier. But in 2019, the BJP's use of social media, the internet and the mobile phone was an important contributor to Modi's re-election by both defining and setting the narrative and, on the ground, mobilising its campaigners and voters.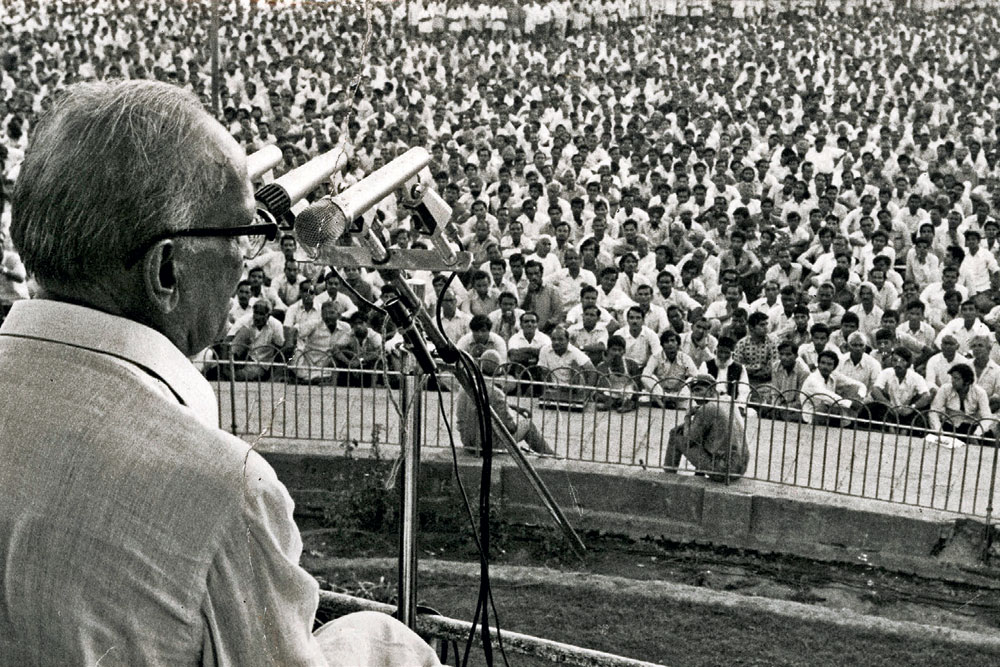 Modi's Government and his party are already exploring alternatives. Virtual platforms have replaced actual meetings. Over the last month, Modi has held a series of virtual meetings. About 10 days into the lockdown, he chaired a meeting via video-conference with his Council of Ministers, the first ever in India. He has held virtual meetings with chief ministers and gram panchayat heads, assuring them that the Prime Minister was available 24×7. No stranger to connecting via cutting-edge technology, Modi was the first to use holograms in a General Election campaign in 2014, addressing multiple rallies at the same time. Two years earlier, he had used 3D holographic projections to address four meetings simultaneously in Gujarat, a first in the country. In the run-up to the 2019 polls, he had addressed the 'Main Bhi Chowkidar' event from Delhi, reaching out to 500 booths across India through video conference.
What was an avant garde element in campaigning may now become the mainstay of electoral battles. However, the success of technology last year still depended on the ground-level workers who had to deliver. There may not be much help coming from that quarter for any party in the near future. The fear of large gatherings, where physical distancing norms are at risk of being flouted, will linger. The Bihar Assembly polls, the first after Covid-19 dictated new guidelines for human social behaviour, if held on schedule in October and November, could be the touchstone of post-Covid politics. The new template thus set could thereafter determine campaigning in the run-up to the other important state elections next year.
Life and work without physical proximity among people is unimaginable in India, with its 1.4 billion people and high population density. If the conduct of politics and execution of campaigns change, so will the very physical act of voting. And that is a question to which nobody has answers yet. Long and often serpentine queues outside polling booths, which always make for iconic images of 'democracy on an epic scale', as a BBC reporter once put it, will be a memory. Fears of contracting the virus could bring down the number of voters. It is for the election authorities to figure out how elections will be held with social distancing— protecting voters, polling officials and security personnel—and whether polling in each constituency will have to be staggered which, in turn, will extend each election.
South Korea's recent elections in the midst of the pandemic saw booths being disinfected, voters queuing while maintaining social distance and being temperature screened. The Election Commission of India (ECI) has reportedly been studying what Korea did but sociologist Dipankar Gupta does not think it would work in the short run in India. Speaking to Open, he says: "As of now, it does seem unlikely that in quick time we can do a Korea here, where a full-fledged election, post-Covid, was held with record turnout."
Vaishnav, who calls the Assembly polls due in October India's "first socially distanced elections", is less concerned about the ECI's management skills: "The ECI is better equipped than most state agencies to pull off safe and orderly voting."
IF ALL GOES AS per schedule, campaigning in Bihar should begin latest by September. "Maybe, we will have to learn to live with the virus for some time. Till there is a vaccine for the coronavirus, large public gatherings cannot take place. But people adapt to technology faster than establishments. The change is already taking place," Bhupender Yadav, National General Secretary of the BJP, tells Open. Therefore, TikTok and Instagram, which can offer a quick glimpse of a person's activities, could be the newest campaign tools, after WhatsApp, Facebook and Twitter. India's deepening smartphone penetration has, of course, diminished concerns about the reach of such platforms.
The party, less conspicuously than the Government, is also putting in place a new normal. After issuing a circular, telling BJP functionaries that the party office would remain closed through the lockdown, virtual meetings have become the way of life. BJP President JP Nadda, who earlier met his team of national office bearers once in three months, now holds a video conference with them at least once a week. A party like the BJP seems better placed than the competition given its assets—a big electoral machine, a large cadre and a huge membership. More importantly, the party top brass has kept its contact programme and live interactions with the cadre intact through the lockdown.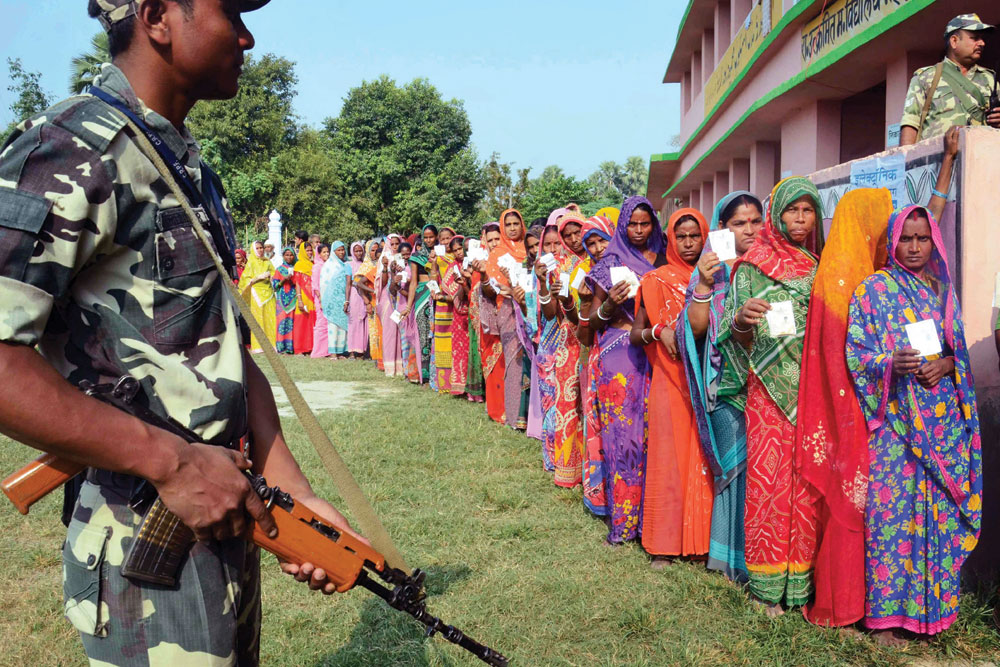 "The only barrier is that we cannot travel. We are at home but the work has only increased. I talk to my karyakartas in all states, including election-bound Bihar, through video-conferencing, covering each Vidhan Sabha level twice," Poonam Mahajan, president of the BJP's youth wing, the Bharatiya Janata Yuva Morcha (BJYM), tells Open. If the times were normal, by now everybody would have been designated for election duty in Bihar.
On April 1st, five days into the lockdown that disrupted the life of migrant workers, the BJYM started using the hashtag #BJYMCares, reaching out to stranded people, students, senior citizens and the differently abled. It addressed concerns from rations to insulin injections for those who reached out, making more than 980 million impressions in 30 days (as per Twitter Analytics). It averages over 1,100 tweets a day and has 42,800 regular users. The hashtag, being used by senior party leaders, Members of Parliament, bureaucrats and influencers, is also found floating on other platforms like TikTok, Instagram and Facebook. Encouraged by the response, the BJYM launched a blood helpline to help thalassemia patients and others. "The BJP will always be ready with a digital campaign. We are prepared," says Mahajan. Meanwhile, about 100,000 volunteers of the Rashtriya Swayamsevak Sangh (RSS) are on the ground, involved in relief work. Seva Bharti, too, has been active in various states. All of this is expected to help the BJP during election season. It may not be possible to mobilise the cadre to canvas like before, but being in touch with it offers the advantage of being able to carry on the organisational work of an election.
While politics after Covid-19 is also a test of political leadership—parties and candidates in each pollbound state are going to be judged by how they have conducted themselves and guided their constituents through the crisis—the pandemic has also provided an opportunity to ministers by putting them in charge of relief work and thus in the public eye.
The lockdown has apparently made the establishment more powerful and given the ruling dispensation at the Centre an edge, pushing the opposition to the periphery. Its leaders, stuck in the lockdown and dependent on daily statements put out by their parties, have diminished in visibility as the pandemic dominates the news space. The question is what happens in the aftermath. For now, we rarely hear from an Akhilesh Yadav,
Mayawati or Sitaram Yechury. The Congress, barring some tweets against the Government and the odd statement on the plight of migrants or the Arogya Setu app, seems to have vacated the field. With the exception of Punjab, Chhattisgarh and Rajasthan, where it is in power, the party has not been visible in states through this crisis. The Congress, for years, has had the tendency to suddenly come alive at the time of elections. However, in the post-pandemic political world, it is difficult to see how such a modus operandi would work.
AT THE TWO meetings of the Congress Working Committee held through video-conferencing over the last month, the gist of Rahul Gandhi's message was that this is not a time for politics but focusing on saving people's lives. According to a Congress leader, the party's acting president, Sonia Gandhi, also told Congress chief ministers that Covid-19 called for prioritising saving lives and not indulging in adversarial politics. She did break the political silence in an 8 AM message as the country went into the third phase of lockdown, declaring that the Congress would bear the travel expenses of homebound migrants who were being charged for train and bus trips. Soon, the Centre reversed its decision on train fares. But beyond these statements, as the Congress itself seems aware, it cannot raise a hue and cry about the Government's handling of the pandemic.
"These times require a responsible and constructive opposition which will not create a nuisance. This is not the time for creating a ruckus," says Congress leader Sushmita Dev. The party's 11-member consultative group headed by former Prime Minister Manmohan Singh has Zoom meetings every day for two hours.
Dipankar Gupta believes that, given the fact that roughly 68 per cent of Indian households already own television sets—by the time of the next General Election in 2024, about 75 per cent could have TV sets—it will be the major medium of political campaigns in the days to come. "The Prime Minister has made many of his major political interventions on television, from demonetisation to the lockdown, and they have been quite effective in reaching the people." Gupta is of the opinion that this could mean that we will now see only a few faces regularly as there would be no need to physically fan out to different parts of the country which requires a large number of political leaders, with pleasing public personas, for campaigning. He says that, consequently, there might be, more than before, greater public exposure for Modi and less for other BJP stalwarts. Similarly, Sonia Gandhi and her family could get the bulk of TV time for the Congress. "Therefore, it may well be the case that local leaders will lose importance and a few party stalwarts, in fact, the top rung, will be much more visible than before," concludes Gupta.
The possibility also remains that, in the absence of feet-on-the-ground local mobilisation, voters will opt for the familiar at the booth, making it more difficult for newcomers and lightweights to make a dent.
Even as politics moves wholesale to platforms that till the other day were still largely additional tools of campaigning, the old technology of the broadcast media is not going to lose its relevance but, if Modi's use of TV and his rejuvenation of radio through Mann Ki Baat is anything to go by, probably rediscover its salience in post-pandemic politics. However, the maximisation of digital platforms also means massive mining of data. Data has already overhauled identification and mobilisation of voters as well as targeted messaging. But with all parties and all candidates expected to micro-mine user data, apprehensions will obviously be raised about privacy and breaching of lines that were always thin.
Not everyone is enamoured of new technology and its use. The old guard is dismissive of technology replacing traditional modes of campaigning. "The use of technology and social media may increase, but the internet cannot arouse the sentiments of the Indian people. You need the traditional flavour on the ground," Janata Dal-United (JD-U) leader KC Tyagi tells Open. As a young socialist, he had attended the rallies of Jayaprakash Narayan when he led the resistance to Emergency along with other opposition leaders at the Ramlila Maidan. Tyagi recalls that people walked miles, shouting slogans, to attend and the enthusiasm was such that everybody kept standing through the rallies.
A change in the form of politics does not preclude a change in its content and tone either. What will the substance and nature of politics be post-pandemic? Will the gloves come off or will we see a continuation of the sober affair that has been the pragmatic and necessary cooperation between the Centre and states, even those ruled by opposition parties? And what will happen to identity politics? According to political analyst Badri Narayan, identity politics will undergo a major change post-Covid-19. "Caste politics will get diluted, making way for focus on class, as health and economic issues hold sway in election times. This is a health emergency and the fears are likely to linger in people's consciousness."
In the context of Bihar, Tyagi—whose party and Chief Minister Nitish Kumar are allies of the BJP—voices the wisdom of the moment: "Today is not the time for political activities. We don't know whether Bihar elections will take place this year. But, eventually, things will get back to normal."
One of the more substantial achievements of the Government in recent years has been in turning the digital domain into an essential tool for development, delivery and inclusion. Thus, it has been billed as a means of empowering society. As India moves into a post-Covid politics and citizen intervention, the fruits of this revolution will doubtless be reaped. The digital push has played a big role in financial inclusion. It has enabled the provision of real-time data to farmers. Demonetisation piggybacked this digital evolution to make India a more cashless society. Data on the work of individual ministries and schemes have been readily accessible on dashboards. The Swachh Bharat real-time dashboard is a pertinent case in point. The ready availability of data has enhanced the sense of transparency and public participation. Even the Transforming India dashboard is a useful ready reckoner on the performance of schemes and projects. When the Unified Payments Interface (UPI) came, it made India the only country with a mass market payment platform. In the last few years, India has moved noticeably from e-governance to m-governance.
That there is a connection between this digital transformation and the party whose administration enabled it is a no-brainer. This may not be a time for politics and, hereafter, there may not be any politics-as-usual, certainly not as we had known it. Right now, the Prime Minister is the only major political figure connecting directly with the nation as a whole. In their domains, chief ministers are doing somewhat the same, but their performances are more immediately under public scrutiny, being the faces of their administrations' direct handling of the pandemic. Some of their fates will be determined soon. Once the die is cast, the pandemic will be judge.