Standing Up to Beijing's Belligerence
India's newfound confidence in using its economic strength to counter China has changed how the world sees Delhi

Rajeev Deshpande

Rajeev Deshpande

| 29 Apr, 2022
IN MID-JUNE 2020, WITH EFFORTS TO DISENGAGE TROOPS AT FACE-OFF sites along the Ladakh border stuttering and mistrust running high, the Indian Army leadership was confronted with a vexing problem. The Chinese had set up a tent in the Galwan area on the plea that they needed to oversee the pullback of People's Liberation Army (PLA) soldiers from the area. This was as per discussions between local military commanders, but the fly in the ointment was that the PLA showed no signs of pulling out the tent pegs and moving away from a position that was in close proximity to Indian troops.
The directive to Indian troops, after the matter was discussed at the highest levels in government—given the potentially escalatory nature of any action—was unambiguous: the PLA should not be given any further leeway. The exact sequence of events may not be easy to establish but the Chinese did not anticipate the Indian assertion. As the PLA resorted to stone-throwing, and a bloody clash cost 20 Indian lives, including that of Colonel B Santosh Babu, the tent was ripped up and the confrontation took on an entirely new turn. A discussion on the merits of the move will not be settled soon, but the level of violence witnessed on the night of June 15 was clearly not part of any script the PLA and the Chinese political leadership might have considered. Not only were these the first deaths in clashes along the unsettled India-China border in 45 years but the Galwan incident also set in motion events that had consequences not just for India-China relations but for Beijing's power projection in the Indo-Pacific where the communist giant has picked fights with several neighbours.
The Indian response broke from the past in terms of military, political and economic measures that have played out as the Ladakh face-off nears two years since it erupted in early May 2020. Mobilising over 50,000 troops at short notice was not an easy task and this in itself was a message that the policy of 'insulating' other aspects of the bilateral relationship from border tensions had been junked for good. In its economic content, the decision to ban Chinese-origin apps was aimed at causing serious monetary losses. And the foreign ministry's articulation was remarkably devoid of any subtlety, leaving no room for any 'face-saving solution' where both sides could claim victory. Serving and retired military officers agree that the Indian response broke the old mould and turned the Chinese actions into a misadventure. After considerable bluster in the aftermath of occupying the Finger 4-8 area on the northern side of the Pangong Tso lake, China withdrew its troops on February 15, 2021, months after India more than neutralised any of the PLA's advantages through a bold manoeuvre that gave it control of the south bank heights. "As things stand, it looks like a classic stalemate. But if India is not patrolling some areas that it used to, the Chinese are also not accessing areas that they say are well within their claim lines," says Colonel S Dinny (retd), who has commanded troops in the area and is currently the editor of Chanakya Forum.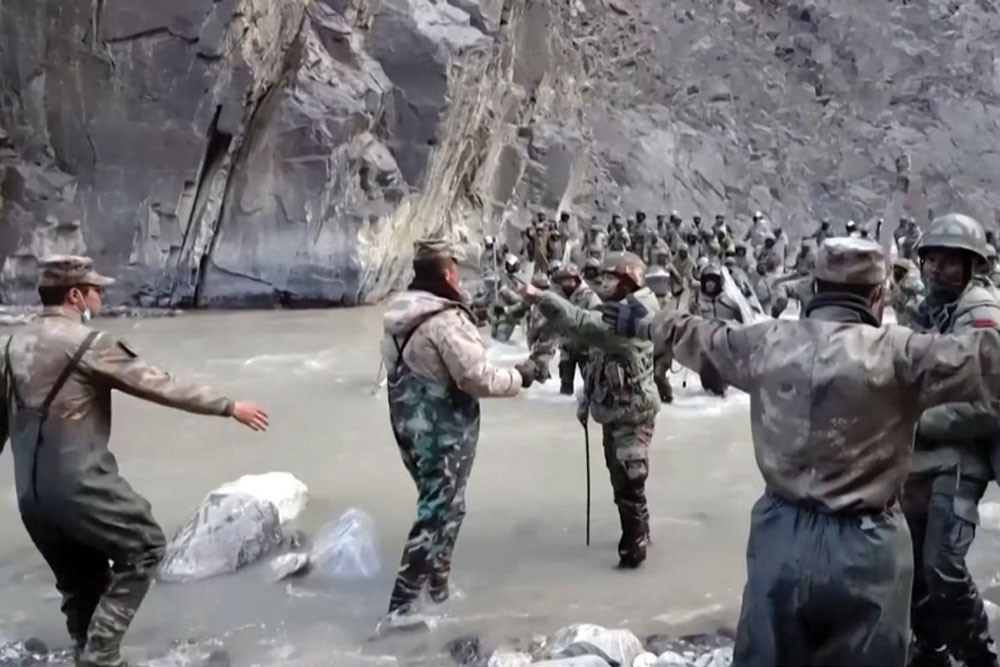 Speculation abounds as to whether the Chinese Communist Party (CCP) congress later this year, expected to endorse a third term for President Xi Jinping, could prod the Chinese leader into settling the border stand-off. But while these and other on-ground positions hold attention, the real concern for Xi is how India's pushback impacts China's image as an Asian hegemon keen to replace the US as the pre-eminent global power. "There might be concern that India is showing the way how Chinese expansionism can be resisted," says Dinny. Already, China's smaller neighbours in the ASEAN region are drawing lessons from Ukraine's resistance to Russian aggression. The view that Russia's war against Ukraine might mean China could consider similar action against Taiwan is being questioned and the Indian example is a relevant marker. The border tensions with China resulted in the first steps towards the atmanirbhar policy whereby deficiencies in defence and other sectors were sought to be addressed through enhanced domestic capacities. This economic mantra was to gain greater emphasis as the Covid-19 pandemic gripped the world, severely disrupting everyday assumptions of trade and commerce, deepening concerns already fanned by the PLA's massive mobilisation in western Tibet. More recently, the supply shocks caused by Russia's invasion of Ukraine and pressure from the West to condemn Moscow have served to underline the vulnerability of India's defence procurements. It has led to an even more ambitious Make in India programme for the defence sector that will take time given the technology involved but which officials say should yield fruit by the mid-2030s. It is a long road but one that is necessary as Prime Minister Narendra Modi pointed to delays in the execution of an international order. There is no choice but to develop domestic capacity through hand-holding Indian firms and striking advantageous collaborations with top foreign defence manufacturers.
The Covid challenge served to quicken these impulses as India moved to leverage the global concern about China's lack of transparency on the origins of the virus and the consequent disruption in supply chains. Here was an opportunity to use the emerging economic, security and political scenarios to India's benefit and this became evident in the Modi government's embrace of the Quadrilateral Security Dialogue (Quad) that did not have an overt military aspect but was nonetheless nothing less than a strategic pact. Having kept its distance from China's Silk Road infrastructure initiative, Indian policy sought several bilateral and multilateral agreements with neighbours like Nepal, Bangladesh, Maldives and Sri Lanka, as well as with blocs like ASEAN and countries like the UK, France and Australia, all involving funding and development of infrastructure and sunrise sectors like renewable energy and artificial intelligence (AI). Countering China's massive economic clout—its outbound FDI was $23.7 billion in 2021—was not a feasible task for any one nation, least of all India, but being part of small and big chains was one way of presenting an alternative to poorer nations. The trade agreements being negotiated with the UK, Australia and the US (and the pact concluded with the UAE) are the result of a newfound sense of urgency within the government. The sentiment is being reciprocated by foreign partners who are now deeply wary of China's aggressive stance in the Indo-Pacific and its "no limits" pact with Russia. The recent decision of BIMSTEC (the Bay of Bengal Initiative for Multi-Sectoral Technical and Economic Cooperation) to adopt a charter is another step to strengthen mechanisms that have an economic content but are also rife with political implications. The promise to develop and distribute anti-Covid vaccines under the Quad and other bilateral agreements is not only a practical expression of India's capacities in the pharmaceutical sector but also a soft-power statement as India has supplied close to 19 lakh doses of vaccines as aid and commercially to 100 countries. Assisted by government funding and generous help of Central scientific institutions, as many as nine vaccines have been approved for use of which four are widely administered. The investments are paying off as the declining need for shots is allowing the government to dispatch vaccines to nations as diverse as Nicaragua, Somalia, Myanmar, Algeria and Ivory Coast.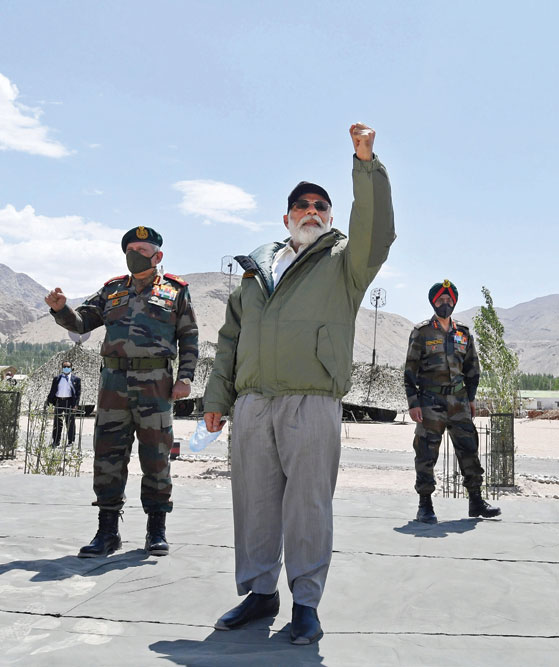 THE WAR IN Ukraine tested the Modi government but amid the diplomatic balancing it has projected its interests in a robust manner. The tough talking has been done by External Affairs Minister S Jaishankar who has not hesitated to use public forums to rebut and remind Western leaders that hints about India needing to be more critical of Russia as it could find itself at the receiving end from China were misplaced. "When the rules-based order was under challenge in Asia, the advice we got was to do more trade. At least, we are not giving you that advice," he said recently, responding to questions about India being asked to scale down its oil imports from Russia. The utility of such direct rebuttals, even bordering on abrasiveness, can be debated but the idea, according to officials, is to discourage a tendency to 'lecture' India. The independent line has been articulated at the United Nations (UN) too, with India demurring over the manner in which a draft resolution seeking justification for the use of veto by any P5 nation was adopted. "We regret the lack of inclusivity in the manner this resolution was put forth. We have serious concerns over such 'take it or leave it' initiatives that do not make a genuine effort to take into account the perspectives or concerns of the wider membership," said senior Indian diplomat R Ravindra at the UN.
Such friction is less visible in India's ties with countries like Japan that have a more sophisticated cultural approach to their diplomacy, or with Australia which has swiftly recognised the need to prioritise China above any other concern. The messaging has been very direct as far as China is concerned, causing some surprise that India is leaving no room for anything that might qualify as wiggle room for both sides to exit the forward positions in Ladakh. Instead, the talks with Chinese Foreign Minister Wang Yi in Delhi proceeded in a cordial but firm manner, with Jaishankar making it clear that the PLA needed to move back to its April 2020 positions for any progress in bilateral relations. Significantly, Wang did not meet Modi unlike Russian Foreign Minister Sergey Lavrov. Both ministers were in India around the same time in late March and early April. India has welcomed the continuing talks between the Indian and Chinese militaries and the foreign ministries as a means of resolving the Himalyan face-off while insisting that complete disengagement is the prerequisite for a larger de-escalation. If India has sat it out for two winters, it could do so for a few more.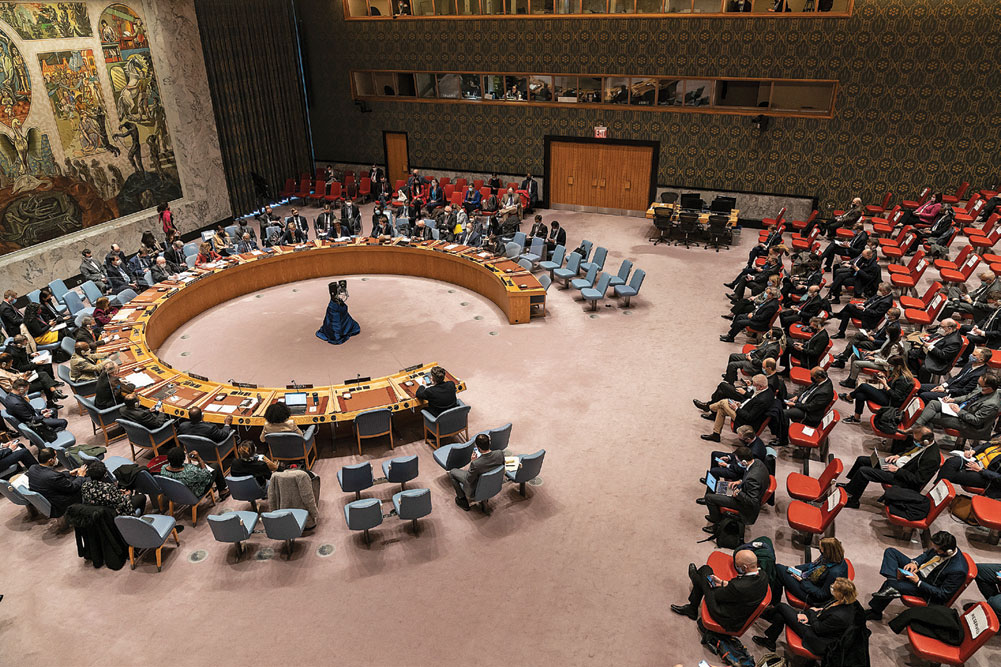 Apart from its large, well-trained military being an asset in stabilising the Indian Ocean Region (IOR), India offers strong economic incentives that are handy chips in international diplomacy. This market has been a big factor in India-China ties and not something that Beijing may totally ignore as it considers the current impasse in Ladakh, feel Indian officials. They point out that the 'cost benefit analysis' will force the Chinese leadership to consider how far its effort to realign the boundary to suit its strategic purpose is worth pursuing if it were to slowly lose access to Indian markets. As it is, there is a strong anti-China sentiment in India (a key reason for the government's tough talk) and a creeping boycott of Chinese products is evident. Modi has astutely imbued his Atmanirbhar Bharat policy with considerable political content. As China has demonstrated in its relations with Japan, a country with which it enjoys a much deeper and larger economic relationship, the belief that trade reduces the prospect of conflict does not always apply. But as China sought to ride roughshod over Japan in the East China Sea, it only succeeded in turning public opinion in Japan in favour of revising its pacifist policies and convinced leaders like former Prime Minister Shinzo Abe to forcefully back initiatives like the Quad. The jury is out whether the CCP congress will be a reason for a resolution of current tensions or whether Xi will wait for it to pass so as not to exhibit any sign of weakness. But there is a view, shared by some China watchers, that the PLA will sooner or later receive instructions to discuss a withdrawal with the Indian Army. Former officers like Colonel Dinny feel that the 'occupation' of the finger area ridges along Pangong Tso was never meant to be permanent. It was a demonstrative attempt to cow down India and demoralise its troops. "Nothing much is to be gained by sitting on an exposed mountaintop under the gaze of satellites while being exposed to extreme weather," he said. Indeed, once an agreement to disengage was reached, Chinese troops vacated the finger area quickly, almost as if they could not wait to leave the inhospitable terrain.
Delhi is confident that its actions have given Xi and senior Chinese leaders plenty to mull over. There might be concerns in Beijing that India is showing the way in resisting Chinese expansionism
TWO YEARS SINCE tensions arose, what is the situation at the face-off sites? To begin with, the points of contention have dwindled to positions in the Hot Springs area. India has also called for a resolution of older disputes in the Depsang and Demchok areas too, even though this may not be possible in the immediate context. Well-placed sources say the positions now held by the Chinese are not too different from the unofficial line separating the two sides before the face-off began. The finger area has in fact seen demilitarisation. Due to the Chinese mobilisation, troops came face-to-face as India wanted to ensure the PLA did not proceed farther along the Galwan Valley to a point where it could oversee Indian positions and the DBO (Darbuk-Shyok-Daulat Beg Oldie) road.
After 15 rounds of talks, the PLA and Indian troops have moved back around four-to-five kilometres from friction points but remain, as an official put it, "on call" for rapid deployment. In the given situation, there is no territorial disadvantage for India even as a patrol point or two remain in contention. As a serving officer explained, the Chinese advances in the region far predate the current conflict. Although there is no mutually agreed definition of where the Line of Actual Control (LAC) lies (China has avoided any useful discussion on this count), the positions held by respective troops might well be the de facto LAC.
There is confidence in government circles that the Indian actions have given Xi and senior Chinese leaders plenty to mull over. The reasons for the PLA's aggressive moves remain a subject of speculation. Some feel China wanted to get back for the Indian action in Doklam in 2017 where a PLA road-building party was prevented from advancing to the India-Bhutan-China trijunction. Whatever be the case, the Indian Army has carried out important changes on the ground and is under instructions to respond effectively to any fresh PLA intrusions. This is not to say the Army has carte blanche to escalate matters but rather to counter any hostile Chinese move. The fact remains that the border protocols signed in the early 1990s and reinforced as recently as 2013 have been fraying for some time. Partly because India shed its hesitance in developing border infrastructure and patrolling areas it had shunned previously but also because Xi decided that China was economically and militarily strong enough to impose a Pax Sinica in its neighbourhood. There is little doubt that economic strength is a key determinant in the tussle between the two Asian giants. This is where Atmanirbhar Bharat and concomitant trade and commerce policies that stress technology transfer and Make in India are as much a matter of national security as of economic growth.