DESPITE A WIDESPREAD violation of the ban on firecrackers, Delhi and its surrounds (Delhi-NCR) experienced relatively good Air Quality Index (AQI) levels, much better than in earlier years. But soon after, adverse meteorological conditions with near stagnant winds meant there was no dispersal of trapped pollutants. Almost simultaneously, the crackle of burning stubble began to rise from paddy fields in states adjoining Delhi and soon the city's air quality turned "severe" on the last day of October. A sense of angry and helpless resignation among people living and working in the giant gas chamber that the national capital and its suburbs become every winter was palpable. As in the past, the sooty skies were accompanied by a cacophony of political sound bites, but this time there was an added edge to the bitter exchanges. The Aam Aadmi Party (AAP) formed a government in Punjab earlier in the year and was roundly attacked by the Bharatiya Janata Party (BJP) for failing to curb stubble-burning, a major contributor to winter pollution. Aware that it could no longer turn the gun towards the Centre and a state government (previously, Congress was in office in Punjab while Haryana is BJP-ruled), AAP demanded the Centre bankroll a cash incentive for farmers to prevent them from burning stubble. The Union government in turn pointed out that funds and thousands of machines given to Punjab lay unused. Union Environment, Forest and Climate Change Minister Bhupender Yadav tweeted Delhi Chief Minister and AAP leader Arvind Kejriwal's videos wherein he talks about bio-decomposers being a "win-win" situation and asked what prevented the AAP government in Punjab from implementing such solutions. Kejriwal admitted that Punjab's stubble-burning was a problem but he also said that six months in office was too little time to resolve the issue and promised a better result next year, a pledge that was cold comfort for millions forced to breathe unhealthy and harmful air.
Images released by the NASA Earth Observatory the day after Delhi's AQI turned severe showed the deterioration in graphic detail. The interactive map was revealing: as one scrolled across north India, virtually all the crop burning was to be found in Punjab, with very few fires across in any other state. It was as if the fires were encased within the state's boundaries. Unfortunately, air cannot be similarly enclosed within geographies and, more pertinently, political boundaries. The fierce and polarising discussion on pollution—further fanned by AAP's bid to challenge BJP in Gujarat and Himachal Pradesh—has focused on Punjab, prompting some commentators to wonder if it was not a case of score-settling by BJP against AAP. The data accessed by Open from the Central Pollution Control Board (CPCB) speaks for itself.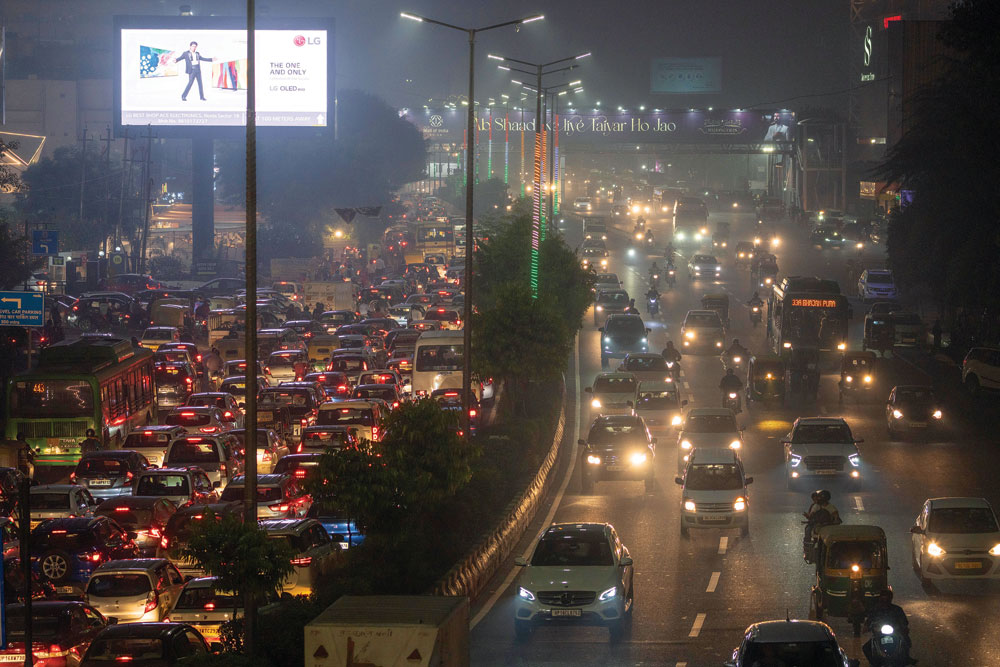 During the current paddy season, cumulative fire counts due to stubble-burning, between September 15 and November 4, show that there were 26,583 fires in Punjab as against 2,440 in Haryana, 36 in Uttar Pradesh (UP) and nine in Delhi. CPCB sources said Punjab contributed 90 per cent of pollution caused due to farm fires. Farm fires in Haryana were also a source of pollution but they show a declining trend, indicating that a state government committed to facilitating and advocating the use of bio-decomposers and a wide range of farm machinery can make a difference. "While Punjab has witnessed a high and increasing number of paddy burning instances, Haryana, on the other hand, under similar circumstances, has substantially brought down farm fires in 2022 by the use of machinery, bio-decomposers and also the use of paddy straw for other processes," said a Central official. Again, the data provides the proof. In Haryana, between September 15 and November 2 this year, 2,249 incidents were reported compared to 3,241 last year, which is a reduction of about 31 per cent. In contrast, despite the successful application of bio-decomposers in UP and Delhi, no efforts were made by Punjab to employ this technique. Enforcement was ineffective despite the state reportedly deploying 8,000 nodal officers. The Centre has made available ₹1,347 crore to the state in the last five years and even though Punjab has procured more than 1,20,000 machines to deal with paddy stubble, most are idle. All this despite the Commission for Air Quality Management (CAQM) working with Punjab on a plan to control stubble-burning by diversification of crops and introduction of quick maturing, low straw generating paddy and opening more than 13,900 community hiring centres for machines. This year, too, the Centre was in dialogue with Punjab on these issues from February itself.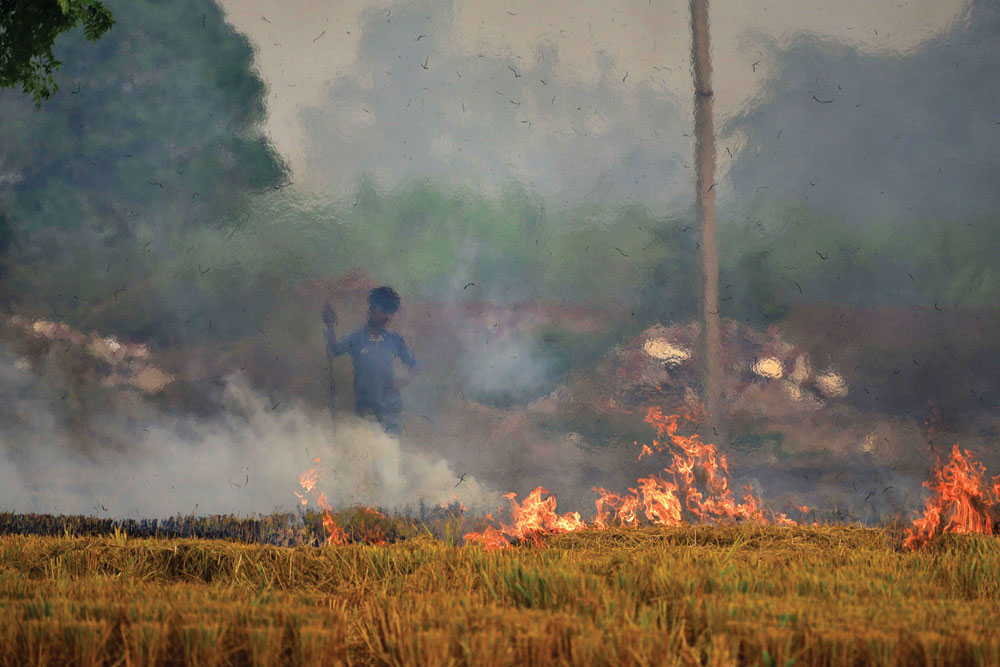 With Delhi's air slipping into a state of "airpocalypse", the CAQM, the body tasked with resolving the air quality and pollution problems by better coordination with states in north India, decided to launch Phase IV of the Graded Action Response Plan (GRAP), a set of measures designed to manage air quality. Phase IV of GRAP kicks in when air quality turns "severe" with AQI between 401 and 500. After this step schools were shut, entry of commercial vehicles in Delhi restricted, construction and demolition work on public projects was halted and most non-BS VI emission standard vehicles were ordered off the road. But no sooner had Delhi exited from the "severe" category—mainly due to slightly improved wind conditions—that these restrictions were eased. While this seemed logical from a technical perspective, the exercise has an ad hoc air about it as the ill effects of pollution hardly reflect a point on a graph. There is no systematic effort to find a solution. Over time, various institutions, such as courts, have looked at options. For example, the bursting of firecrackers on Diwali is banned but the arbitrariness of the action was laid bare by this year's data that showed an improvement despite people defying the ban with gusto. The real issue is the obduracy of Punjab that refuses to take meaningful steps to check the menace of stubble-burning.
CPCB has been studying the problem and has gathered fairly exhaustive data. "Stubble-burning incidences in large numbers adversely impact the overall air quality in the entire NCR and adjoining areas, including the areas where they emanate from, also depending upon the wind direction and velocity. The episodic rise in the stubble-burning incidences, currently being witnessed, is impacting the overall AQI of Delhi to varying levels on a day-to-day basis with the maximum contribution of stubble-burning touching about 30 per cent," said an official.
At the root of the problem lies the fact that the Centre and authorities, such as CAQM, can only provide help and dispense advice to state governments like Punjab. But it is these governments that have to take the necessary steps. So far, there are no signs that this is happening. "The onus for effective implementation, monitoring and enforcement of the comprehensive plan of action for prevention and control of paddy stubble-burning lies with states and the Central government at every possible step has been facilitating and guiding state governments to this effect," said an environment ministry official.
EVEN AS THE DELHI-NCR region was choking with noxious fumes something odd was afoot in the Malwa region of Punjab, home to one of the largest acreages of paddy in north India. On the last weekend in October, local officials received word that fields in Mehma Serja village in Bathinda district had been set on fire. Mehma Serja is not far from Goniana, a market town known for the huge output of wheat and rice it receives from this southern-most part of the state. Soon after he reached the village, Jasbir Singh, a cooperative department official, was surrounded by irate villagers. The village is dominated by the Bharti Kisan Union Ekta-Sidhupur (BKU-Ekta Sidhupur) supporters and in no time Singh was held hostage. Help to rescue him arrived only hours later.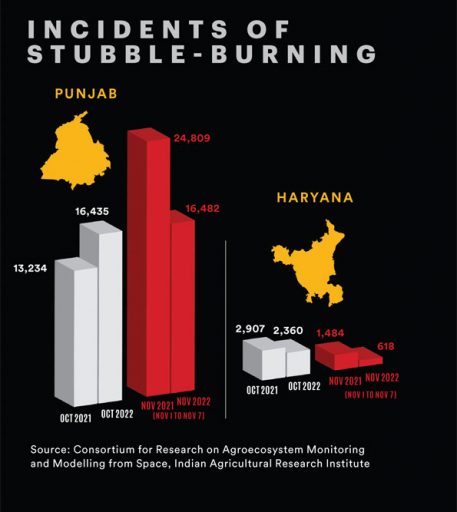 This was the second such incident in the region that week. The official was doing the work he was tasked with. His fault lay in inspecting farmland where paddy stubble was being burned. Farmers don't like any official visits and the trend now is to simply catch hold of officials and render them immobile.
Within three days, another—almost identical—incident was reported from Kalala village near Barnala. As in other such cases, a group of officials along with a fire brigade to douse farm fires went to the village. The vehicle was seized and parked in the village gurudwara. The symbolism could not be missed as, once inside a gurudwara, it is impossible to seize an object without provoking a strong reaction at the local level. In another incident, at Jeon Wala village in Faridkot district, a revenue department official was held hostage for 24 hours last week. He was released only after the district administration assured farmers and activists there would be no cases against them, nor would police take any coercive steps. So, the Punjab government's lack of initiative on farm fires has emboldened unions, some with ultra-leftist leanings, to intimidate the administration while AAP considers soft-pedalling stubble mitigation as a way of staying in the good books of the farmer constituency.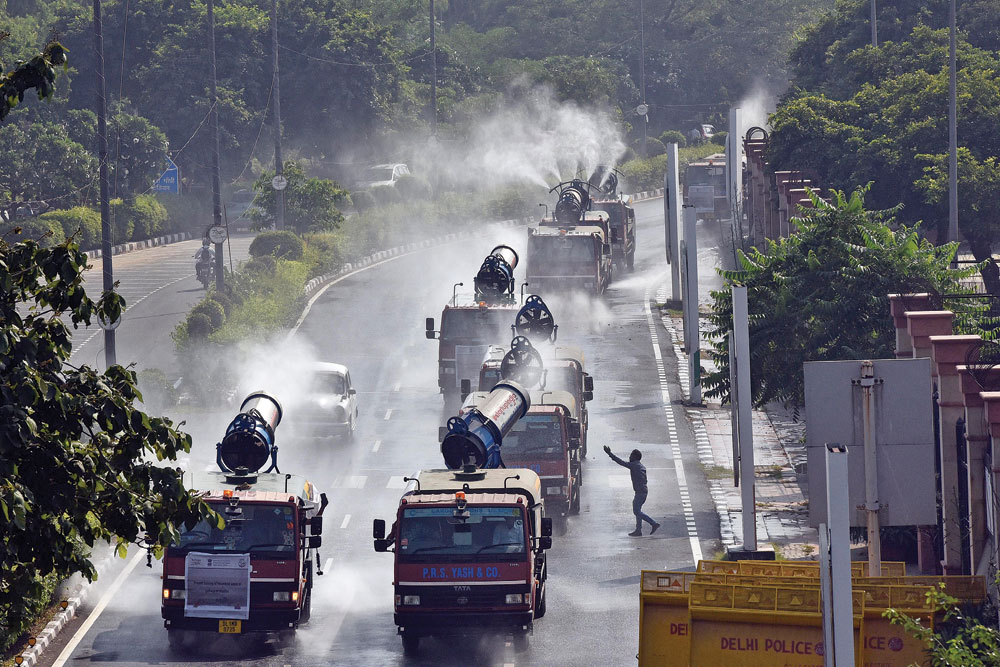 These incidents have been reported from a diamond-shaped area in south Punjab that has Barnala, Bathinda, Muktsar and Bagha Purana (in Moga district) as its vertices. It is also fast turning into a volatile area where various BKU factions, especially the ultra-left BKU Ekta-Ugrahan and BKU Ekta-Sidhupur hold sway. Ground reports suggest it is nearly impossible for local officials to do anything to curb stubble-burning.
How did matters come to such a pass?
Almost exactly at the time when officials were being held hostage, the state government suspended four officials of the agriculture department on October 30 for "carelessness" and failure to do their duty to curb stubble-burning. At the ground level, this has proved a disastrous combination when seen in the context of farmers on the warpath. Both feed into each other: demoralised officials lack the means and support of the state government while politically motivated unions pounce on a vacillating government unwilling to take any action against them.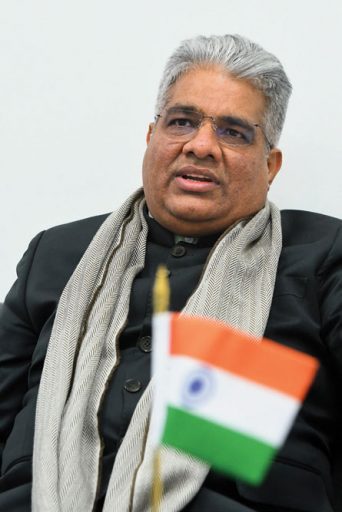 At the level of governance, there is a combination of denial and passing of responsibility to others for the mess. Early this month in Ludhiana, the state's agriculture minister, Kuldeep Dhaliwal, described the efforts of the state government to curb stubble-burning as successful. Hindustan Times reported him as claiming that the number of stubble-burning cases had come down when compared to the past two years. He was quoted as saying, "I will present data showing a decline in the cases of farm fires in the state." It is another matter that data issued by the Indian Agricultural Research Institute's (IARI) Consortium for Research on Agroecosystem Monitoring and Modelling from Space (CREAMS) shows a major increase in stubble-burning in October this year as compared to the same period last year. The figure for the first week of November is also very high (see graphic) even if it is lower compared to the same period last November. The 2020 and 2021 figures must be considered keeping in mind the generally subdued economic activity due to Covid. The contrast with Haryana, another major paddy-cultivating state, is glaring.
In October this year, the number of stubble-burning incidents in Punjab was seven times higher than in Haryana. If anything, stubble-burning is going down in Haryana.
None of this washes with the Punjab government or AAP. On November 2, Gopal Rai, the environment minister for Delhi—the jurisdiction worst affected by Punjab's reckless fires—told reporters in the capital: "Everybody is asking the same question—why has stubble burning not reduced [sic] despite AAP being in power in Delhi and Punjab? Stubble burning has not reduced because the Centre has denied support."
Rai was referring to a joint proposal by the Delhi and Punjab governments to the Centre to provide 'incentives' to farmers in Punjab not to burn stubble. The 'proposal' was sent in July and would have entailed the Delhi and Punjab governments giving ₹500 each and the Centre shelling out ₹1,500 for every acre under paddy cultivation. The area under paddy cultivation in Punjab is 33.3 lakh hectares (one hectare equals 2.47 acres). This is over and above the guaranteed purchase of paddy brought to the market by Punjab's farmers, the bill for which is footed entirely by the Centre.
Apart from its skewed design, the scheme is certain to create a moral hazard elsewhere. In Haryana, where many farmers dispose of stubble instead of burning it, the question why polluters are being offered incentives in Punjab would definitely arise. If anything, the problem will spread across Green Revolution areas in north India, leading to a potential environmental Armageddon. This was never thought of by the Delhi and Punjab governments.
It is not surprising that the Centre did not even consider the 'incentive' scheme worthy of attention given its obvious political nature. Instead, the Centre has been focused on a different approach. It favours the use of mechanical devices to remove stubble and also promotes the use of bio-decomposers to eliminate stubble. This year, the Centre has released ₹600 crore out of an outlay of ₹700 crore for mechanical devices. This is meant for Punjab, Haryana and UP in the year 2022-23. Punjab has received the largest share of this sum: ₹240 crore.
This is not the first time that the Centre has made such an attempt. From 2018-19 to 2021-22, the Centre gave these states ₹2,440 crore and Punjab received ₹1,147 crore (47 per cent) of this amount. A government release said that under the Centre's scheme, these states are encouraged to use "Super Straw Management Systems, Happy Seeder, Super Seeder, zero till seed cum fertilizer drill, Mulcher, Paddy Straw Chopper, hydraulically reversible mould board plough, crop reapers and Reaper binders for in-situ management of crop residue and balers and rakes which are used for straw collection in the form of bales for other ex-situ uses of straw. 'Smart Seeder' machine has been newly added for promotion under the scheme."
The story with bio-decomposers is identical. CPCB authorities told Open: "Despite a very successful field experience with application of bio-decomposer for in-situ management of stubble in the state of Uttar Pradesh and also in the NCT of Delhi, no efforts were made in Punjab for employing this effective technique for management of stubble. Even the CSR initiative by a private organisation for bio-decomposer application was not facilitated in Punjab."
This approach is, however, least likely to cut ice with Punjab's pampered farmers who are not interested in these solutions and instead want money at each and every stage of the cropping cycle: from planting to marketing and, finally, even for disposal of waste. In no other part of India are farmers given 'incentives' for waste disposal. Delhi-NCR is staring at a perfect political storm where extortionate farmers and populist state governments care little about environmental damage in adjacent parts of the country.