DR ABLE LAWRENCE, professor of clinical immunology and rheumatology at Lucknow's Sanjay Gandhi Post Graduate Institute of Medical Sciences, is stingy with praise. However, an insider, he says that the Yogi Adityanath-led Uttar Pradesh (UP) government's Covid-19 strategy has been remarkable not only in terms of spending on public health but also in empowering nodal officers who can now think and act on their feet."I give full marks to the chief minister," says he, emphasising that the problems the state faces have less to do with availability of medical equipment and more to do with trained personnel in the hinterland. Another physician, based out of Kanpur, agrees: "My visits to some districts convinced me that the state government is moving heaven and earth to fight the pandemic. In villages, if there are some hurdles it is not because the government is reluctant to spend money on equipment and healthcare facilities but because of the long legacy of not having enough trained hands. In fact, money is not a problem. We have here a story of success that is often not what people expect typically from Uttar Pradesh, which has had the image of being a backward state."
A Gorakhpur-based doctor, who is from a storied family of Shia Muslim spiritual leaders, avers: "Complaints about Covid management are sure to come from anywhere in the country or the world where good news gets overshadowed by bad news for all the right reasons, but I can say from my experience that the state government has been prompt in whichever way it could to stop the spread of Covid-19 and to add capacities, perhaps also because of political reasons." He adds that the government doesn't want to "leave any stone unturned" in its anti-pandemic efforts because it is being careful not to court any criticism of its governance in the run-up to the Assembly election due next year.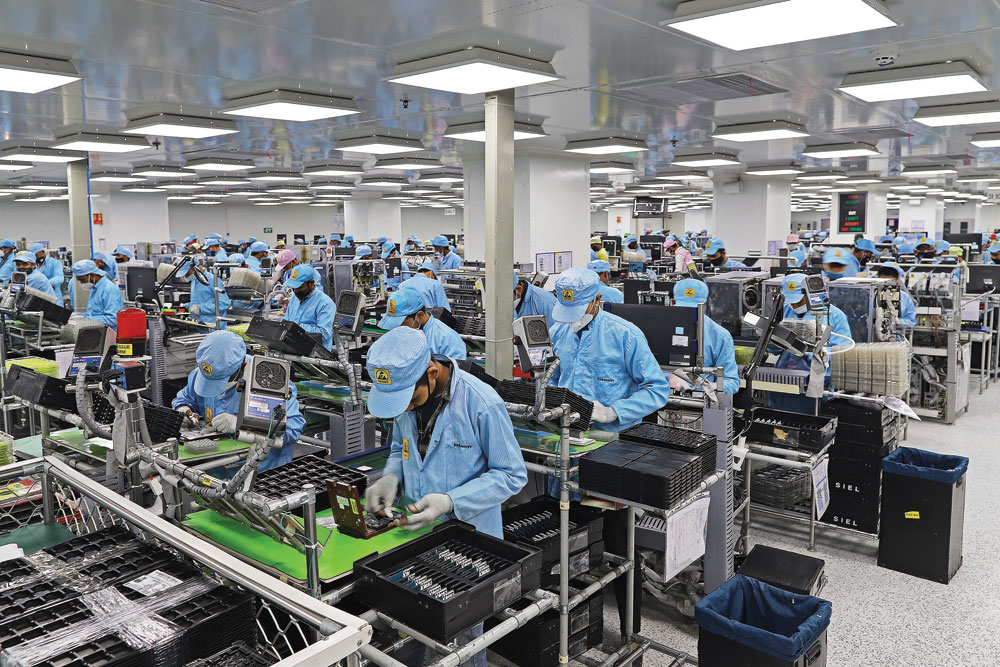 The UP government can fall back on numbers to lap up its successes on multiple fronts. As of July 5th, the state has vaccinated upwards of 2.8 crore people (first dose), which is the highest for any state. More than 48 lakh residents of the state have been given the second dose of the vaccine, as of that date. Contrary to general perceptions about UP being a laggard on such initiatives, the Adityanath government, for its part, is preparing itself for a possible third wave of Covid-19 by training medical staff and facilitating easy availability of proper medical treatment and Covid-related medicines. According to a government statement: "The ambulance staff has been trained to adopt a sensitive approach towards parents or guardians of children and the ambulances have been equipped with all life-saving equipment for the treatment of children." The statement quoted Chief Minister Yogi Adityanath as saying: "The state must be equipped to serve all its citizens. Improve the response time and bring down the number of cancelled calls due to non-availability of ambulances for various reasons."
Developmental measures of the UP government just got a shot in the arm from Prime Minister Narendra Modi ahead of the crucial polls next year in the Cabinet rejig that, for all practical reasons, closed options for the opposition in the state to chase any aggrieved community. As if complementing the state's efforts to attract more people into the Bharatiya Janata Party (BJP) through its schemes and good governance, the Centre offered a big slice of the pie in the national scheme of things to a range of caste groups, some of whom were never considered for ministerial posts in the past. While BJP had famously wooed those that were left out among the OBCs and Scheduled Castes as powerful groups like Yadavs and Jatavs cornered the gains of the post-Mandal shift in politics, this latest masterstroke from Modi saw intermediate and marginalised castes making it to his Council of Ministers. While some of them were from UP, the caste groups that found representation from across the country included Nats, Khatik, Meitei, Modh Teli, Darzi and so on. This accommodative stance is sure to dispel notions that upper castes and powerful caste groups with larger population shares will garner more seats of power in BJP's scheme of things. The rules of engagement have changed forever as far as political entrepreneurship is concerned, with more people likely to shed their inhibitions about BJP.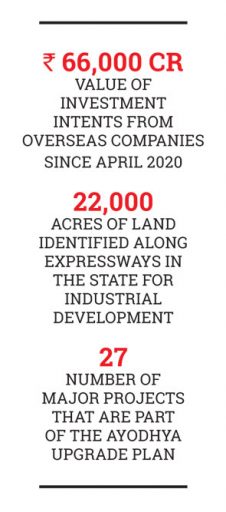 The twist in the tale, of course, is that the country's most populous state is in the news for all the good reasons, unlike in the past, although the burden of unlearning is heavy considering its poor performance over the decades. In UP, "102" and "108" emergency ambulance services have been serving as "frontline warriors" to ensure immediate admission of patients. Going forward, the government envisages these services to cover children against a likely third Covid wave. The ambulance services are all equipped with oxygen cylinders and many of them with ventilators.
It is not that the state government—UP sends 80 members to the Lok Sabha, the highest for any single state—is lining up measures in a public-relations exercise to win any war of perception. It had already earned praise from the Supreme Court recently for rising to the occasion when people who had migrated from the state to cities returned during the Covid-induced lockdown over the past 15 months. The court said on June 28th: "The state of UP is maintaining a robust system of registration of such migrant workers as they come into the state. A portal…has been created on which all relevant details of all migrant workers are to be uploaded in real-time. As per the data available with the director, training and employment, Uttar Pradesh, as many as 37,84,255 migrant workers have returned to their native places during the entire Covid-19 pandemic period." The court also lauded the initiatives taken by the state to map the skills of people who returned and that it has provided more than 10 lakh people employment with various departments of the government. Many of these migrants also received monthly sustenance allowance through bank transfers, the court pointed out.
Covid management is only one of the feathers in its cap for the Yogi Adityanath government, avers an official who had occupied key positions in successive dispensations in UP. "There has been a departure in the way things are being done in the state whether you want to accuse it of political expediency or not, a charge that can be levelled at any performing state. The sum total of the performance of any state is that it is performing. Period. People stand to benefit," he points out.
Kamlesh Maurya, who lives in the Babatpur area of Varanasi and does odd jobs for a living, tells Open that life around him has changed rapidly since Adityanath took office in 2017 after a spectacular win in the polls, later battering the combined strength of the Samajwadi Party (SP) and its arch-rival Bahujan Samaj Party (BSP) in 2019. "Many of my relatives have found jobs in government and it is easier to get things done from government offices which were dens of corruption. Daily interferences from big and small mafia groups are now a thing of the past," Maurya says. He points out that BJP's triumphs even in the recently concluded zilla panchayat chairman elections are an indication of how the state thinks. The ruling BJP and an ally won 67 of the 75 seats. It won unopposed in 21 seats. SP-backed candidates won only five seats while the remaining three seats were won by the Rashtriya Lok Dal (RLD), Janshakti Party and an independent candidate.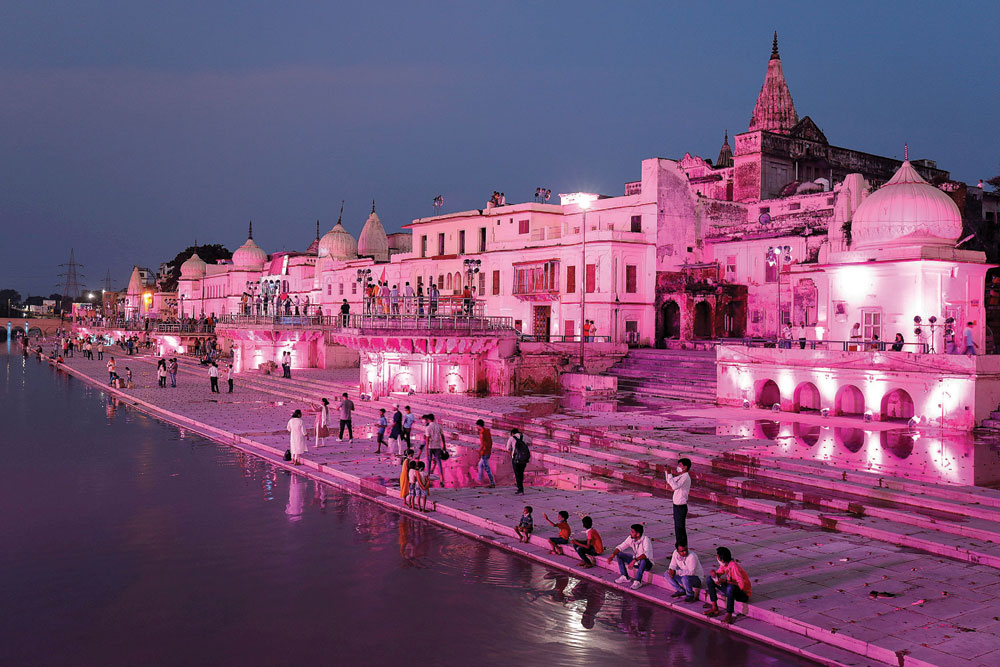 Elections are an important marker of political success, but then Adityanath and his party have been on a winning spree since 2014. More importantly, UP has posted huge gains on several economic and social indicators compared with those dull years of low indices in the past. Politically, BJP has been on an upswing and it is pulling out all the stops to ensure that the people who have voted it to power are rewarded too.
WHAT IS REMARKABLE is how UP's political landscape has been transformed. Nothing is more telling than how even some SP heavyweights have been touching the feet of their voters this time round during the local body polls, a reminder of the departure from the old ways and the rupture of politics dominated by SP patriarch Mulayam Singh Yadav, BSP and others.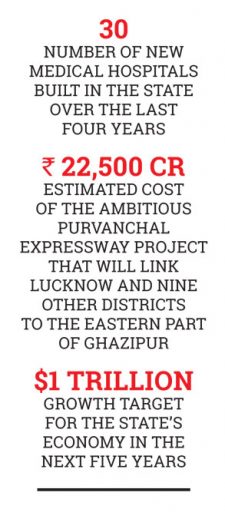 Mulayam Singh was once a leader who dared to defy everyone, and went on to dominate state politics for over three decades. In 1989, when he was chief minister, Mulayam was summoned to Delhi by the ruling Janata Dal satraps, who had come to power under the leadership of VP Singh, to help one of their leaders, Sanjay Singh, in the case related to the murder of badminton player Syed Modi in Lucknow a year earlier. It was VC Shukla who met him in Delhi with the directive. The fiery Mulayam Singh snubbed Shukla and walked out of the meeting.
Since the Congress' fall in the state in 1989, SP and BSP had over the decades occupied the political space the Grand Old Party had lost, sharing a support base among Muslims, Dalits and Brahmins.
In 1993, Mulayam Singh tied up with the Kanshi Ram-led BSP to fight off a challenge from BJP which hoped to ride on the wave of the Ram Janmabhoomi movement. Their slogan for the 1993 state elections was "Mile Mulayam, Kanshi Ram, hawa ho gayi Jai Shri Ram (When Mulayam and Kanshi Ram meet, Jai Shri Ram fails)". It proved to be a major moment in UP politics, with SP and BSP winning 109 and 67 seats respectively and outwitting BJP which was the single-largest party in the state with 177 seats. In the high-stake electoral battle, the BSP-SP alliance finally prevailed and Mulayam Singh became chief minister for the second time until Kanshi Ram suddenly withdrew support to him in 1995 to forge an alliance with BJP and to bring his disciple and close associate Mayawati to the centrestage. That worked and, over the next two decades, between them, Mayawati and Mulayam separately continued to call the shots in UP and influenced the postings of even lower-rung officials whenever their alliances came to power.
The state government is striving to make UP a big attraction for tourists, including religious tourists. It is working on a plan to develop Ayodhya as a big centre of tourist, economic and religious activity. UP is also promoting Kumbh Mela and pilgrimage tourism in Kashi, Mathura and Vrindavan
During the period, the state also plumbed to such lows in law and order that gangsters affiliated to either SP or BSP walked with impunity notwithstanding the crimes they committed. The image of BSP legislator and toughie Mukhtar Ansari's Audi car getting auctioned recently in Ghazipur is confirmation of how the state has changed from the time the two regional parties ruled it. Ansari, a five-time BSP MLA from the Mau constituency is now in jail and his illegally acquired properties are being sold or destroyed. "Police never had the courage to even enter the premises of these gangster-politicians back then," recalls a Lucknow-based police officer.
Similar is the plight of former SP minister and founder-member Azam Khan who had represented Rampur nine times in the state Assembly; he has lost large tracts of land and properties acquired through coercion and illegal means. Courts have also ordered confiscation of their moveable and immovable properties in a forgery case. Khan had treated Rampur, the former city of Nawab Mickie Mian, as his fiefdom where he destroyed several historical buildings to build new structures with titles inspired by Saudi Arabian names using public funds. "Such a fall from the heights of power for men who thought they were untouchable is a sea change in state politics," notes the police officer.
Adityanath has often displayed the courage to take on such leaders even when he was not in power. When Mulayam was chief minister from 2003 to 2007, there was one occasion when he started off from Gorakhpur in a car only to be joined by hundreds of others by the time he reached Mau 100 km away where Ansari had called for rioting. Government figures tell the story of the decimation of goonda raj in the state. So far, the Adityanath government has managed to target and jail 24 mafia dons. Over 135 notorious criminals have died in encounters with the police, their arm licences have been cancelled and properties worth Rs 1,000 crore they owned have been seized. The state filed 11,930 cases under the UP Gangsters and Anti-Social Activities (Prevention) Act in four years to clamp down on mafia activities.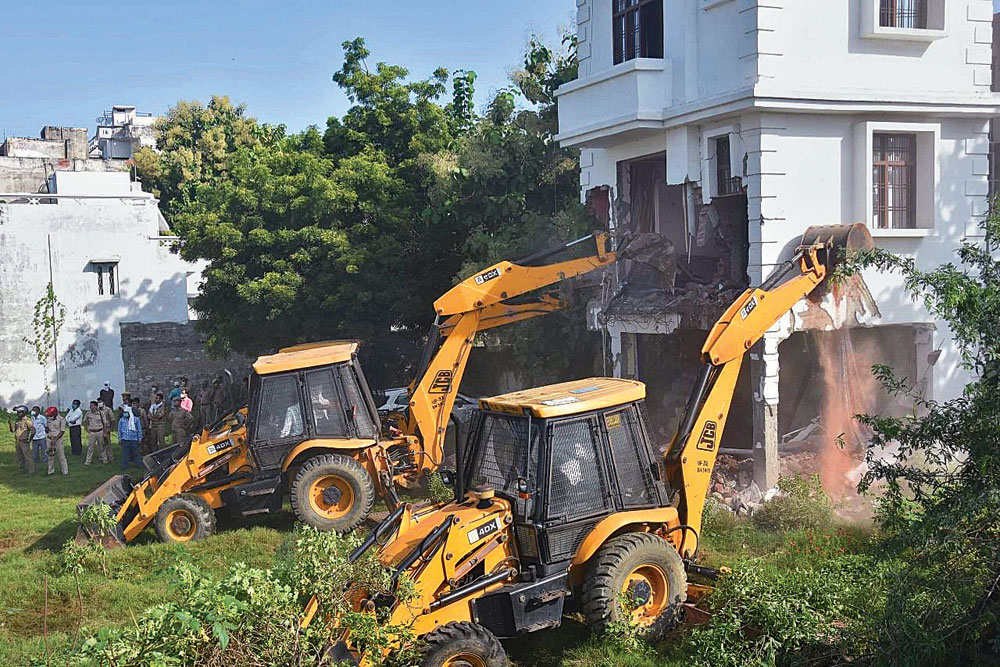 The thrust of the Adityanath brand of politics has been zero-tolerance towards corruption. He had been a hard taskmaster as the head priest of the Gorakhnath math where he had disciplined erring members even for minor transgressions that he thought were unacceptable. He had once transferred a close relative of his mentor and predecessor Mahant Avaidyanath from accounts management at the math and put him in charge of the goshala (cow shelter)—on a charge that most others would have taken as a mere aberration at work.
An employee of an oil marketing company tells Open that the biggest change she sees now from what it was before 2017 is the ease of living. "People, irrespective of party affiliations, talk about it everywhere. They all admit that the sway of gangsters and corrupt officials has disappeared," she says, adding that the smooth running of various departments during the Covid pandemic is proof of that. She adds that despite the lockdown, fewer people are unemployed now than before when the state's economy was in a bad shape. Mohandas Pai, former Infosys director who is currently chairman of Aarin Capital and Manipal Global Education, recently captured the change on Adityanath's watch in his column in The Economic Times: "UP has made strides—a jump of 12 positions to second in the last three years—in the Business Reform Action Plan ranking of states by GoI's Department for Promotion of Industry and Internal Trade (DPIIT) on 'ease of doing business'. UP's state GDP—accounting for 8.7% of India's GDP, second after Maharashtra—stood at Rs 12,88,700 crore in 2017, and has grown to Rs 17,05,593 crore in 2020-21." The Bengaluru-based top executive, like many other analysts, also lauded Adityanath for empowering women and the marginalised by offering them jobs and job opportunities.
The government has launched ambitious projects to build new roads, Metros, airports and various industrial corridors. Besides Lucknow, it will launch more Metro rail projects in Kanpur, Meerut, Varanasi and Gorakhpur
Official figures re-emphasise those assertions. While the unemployment rate in the state in 2017, when Adityanath was initially dismissed by at least some pundits as an inexperienced hand in administration, stood at 17.5 per cent, the figure has touched 4.1 per cent as of March 2021, signalling a phenomenal change. Data accessed by Open shows that four lakh young people got government jobs in the past four years as Adityanath braces to meet the growth target of $1 trillion for the state's economy in the next five years.
FOLLOWING THE UP INVESTORS Summit of 2018, the first of its kind in the state, UP attracted 1,045 intents with investments worth Rs 4.28 lakh crore in sectors such as renewable energy (16.8 per cent), infrastructure (15.4 per cent), power (14.7 per cent), IT & electronic manufacturing (10.2 per cent), tourism (10.1 per cent) and so on. Of these, officials tell Open, 215 projects worth Rs 51,240 crore are under commercial production and have created 1.2 lakh jobs while 130 projects worth Rs 37,479 crore are under implementation and are expected to generate more than two lakh new jobs. A government statement added: "The state has also attracted more than 96 investment intents, including intents from companies from around 10 countries such as Japan, US, UK, Canada, Germany, South Korea, Singapore and so on worth around Rs 66,000 crore through a dedicated help desk set up in April 2020." The Adityanath government has identified some of the least developed areas of the state for development and creation of industrial bases, they say, adding that 22,000 acres of land has been identified along expressways for industrial development.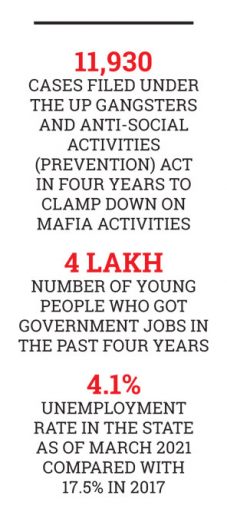 To make what it calls "world-class infrastructure", the UP government has launched a number of ambitious projects to build new roads, Metros, airports and various industrial corridors. Having launched the Delhi-Meerut link expressway, it is coming up with the 341-km Purvanchal Expressway connecting Lucknow to Ballia. "The project is almost complete and will be launched by the end of 2021. Besides, an elevated National Expressway (NE6) over Lucknow-Kanpur National Highway (NH27) has been proposed," says an official statement. Other proposals include a 290-km Bundelkhand Expressway connecting Chitrakoot to Agra; the Lucknow Expressway; an 88.5-km Gorakhpur link expressway; and the 600 km-long Ganga Expressway connecting the National Capital Region to Prayagraj via Meerut, Kannauj, Shahjahanpur and Hardoi. The government has already announced the creation of National Waterway 1 (Allahabad-Haldia Inland Waterway) to link exporting hubs in eastern UP. The Haldia-Varanasi part of the waterway is currently in operation. The Adityanath government says that it will boost regional air connectivity further by setting up more domestic airports. "The upcoming international airport at Jewar (GB Nagar) will be one of [the] largest airports in North India spread over 5,000 hectares of land," says a statement.
Besides Lucknow, the state government says it will launch more Metro rail projects in towns such as Kanpur, Meerut, Varanasi and Gorakhpur. "India's first 'freight village', spread over 100 acres is coming up at Varanasi. The village will serve as a trans-shipment hub for inbound cargo from eastern ports to North India," an official statement says, adding that for the proposed Defence Industrial Corridor, 3,796 hectares of land has been identified and a total 1,369 hectares of land has been acquired in Jhansi, Chitrakoot and Aligarh. "The state government has renewed its focus to promote new industries as well such as bulk drug and medical devices manufacturing," according to a statement.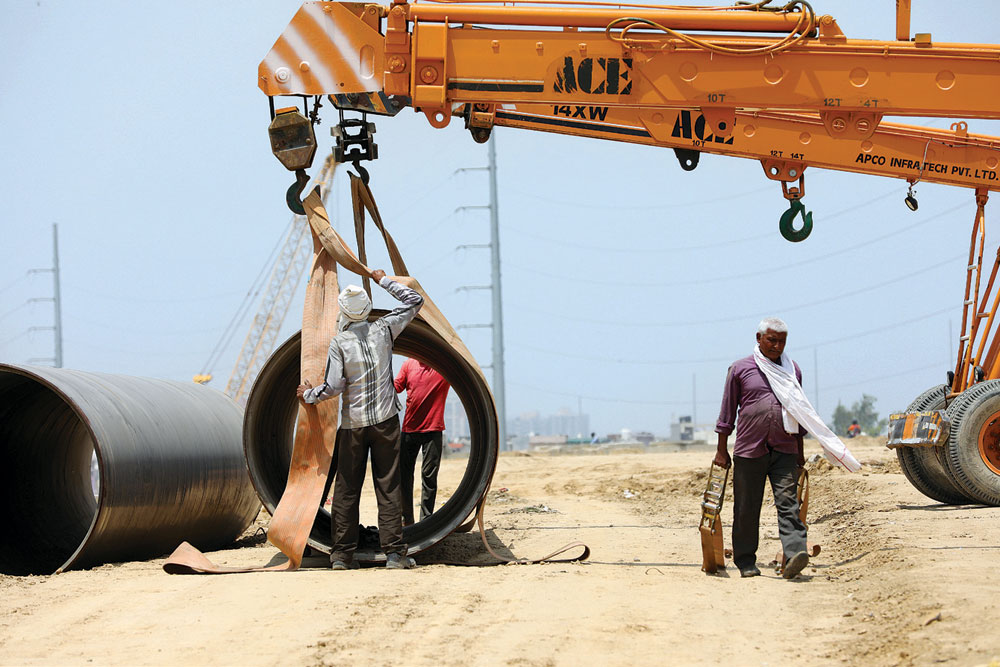 Among a raft of other initiatives is a flagship programme titled "One District One Product" (ODOP) which was launched in 2018 to protect and promote the local industries of the state. Under this scheme, the government offers facilities such as marketing support, technical and skill upgrade support, training and easy loans to entrepreneurs and artisans. Under the programme, one product each is selected across 75 districts of UP. Artisans are provided margin money subsidies of up to Rs 20 lakh per unit. The scheme currently covers more than 20,000 people. Entities called Common Facility Centres are being developed in each district of UP to help artisans and ODOP units on issues related to design, raw materials, packaging and so on.
An official close to the matter told Open that, for the chief minister, water conservation and drinking water projects are also priority areas. Recently, he announced drinking water projects across 50,000 villages and appealed to the people to save every drop of water. After he took office, the government set up a record number of check dams and ponds in various districts. He had rolled out a Rs 3,000-crore project to offer piped water supply to some of India's most water-scarce regions in Bundelkhand and Vindhya. Over time, the water table has shrunk massively in these areas bordering Madhya Pradesh. People living there often have to walk long distances for water and, every year, people as well as cattle die due to water scarcity. "Yogi Adityanath wants all that suffering to end," says a Lucknow-based senior government official.
The chief minister, who had represented Gorakhpur in the Lok Sabha for a long period, had often raised the case of a large number of deaths from encephalitis in the state, especially his hometown, which was the epicentre of the ailment. UP had, since the 1980s, reported outbreaks of encephalitis, a disease with a fatality rate of close to 30 per cent. Ever since Adityanath has taken over and launched the Dastak campaign in some of the most affected districts of UP, cases have fallen rapidly. The campaign was all about spreading awareness about the disease, sanitisation and vaccination. It was a huge success and the state government won plaudits from UNICEF. Earlier this year, the chief minister was quoted as saying in the media that "UP government and the state health department have successfully controlled 95% of Japanese Encephalitis cases in the state. We plan to achieve the rest this year."
As with ensuring the safety of women in a state that had acquired great notoriety in gender crimes, Adityanath had said that women officers in different districts interact through webinars with different sections of society. "We will be setting up secret glassrooms in police stations across the state which would help women complainants speak freely to women police personnel. We have also co-opted the Green Gang (a large group of women volunteers fighting patriarchy across the state) in Mission Shakti," he had said.
EVEN DURING THE PANDEMIC, when all industries were facing closure, the sugar mills of the state continued operations, according to the chief minister. He said that it was due to the commitment of the government to safeguard the interest of farmers that the supply of their sugarcane remained uninterrupted during the lockdown. "Though the sugar sale remained negligible during the lockdown, in spite of that cane price payment of Rs 5,953 crore was made to farmers in this period," he said.
The Adityanath government is also striving to make the state a big attraction for tourists, including religious tourists. It is working on a plan to develop Ayodhya as a big centre of tourist, economic and religious activity. "We also aim to develop Ayodhya as a solar city in order to ensure a clean and green environment there. Ayodhya is known worldwide as the land of Lord Ram and has an immense mythological significance. Therefore, all the development works in the town will be executed keeping its ancient culture and mythological significance intact. All ghats (paved riverbanks) of Ayodhya will be conserved and beautified," he said. UP is also promoting Kumbh Mela and pilgrimage tourism in Kashi, Mathura and Vrindavan and other such spots.
As a force multiplier for Modi's "the meek shall inherit the earth" political message in the Cabinet reshuffle, Yogi Adityanath's tenacity will most likely give BJP a clear electoral edge in a state where OBCs, Dalits and Tribals together account for 61 per cent of the population.