VIJAY SWAMINATHAN NAIR was the PR guru of the Arvind Kejriwal government in Delhi, a smooth operator who started out as a college dropout in Mumbai but had, over the last decade or so, been quietly calling the shots on all Aam Aadmi Party (AAP)-related content—headlines, and even the placement of news—in major mainstream media in the national capital. Nair was a volunteer for AAP for almost a decade. Everyone agrees that his forte, through years of managing the entertainment business—mainly hosting stand-up comedy shows, celebrity roasts under the aegis of the All India Bakchod (AIB), and upmarket music concerts popular with urban youth, such as the annual multicity, multi-genre NH7 Weekender festival—was networking. Nair had good connections with sponsors among the makers and distributors of premium alcohol brands, with popular music groups and comics, with ad strategy kings of top companies and top social media influencers. The NH7 festival is itself sponsored by the makers of the premium white rum brand, Bacardi, associated with all things youthful, casual, fun. In familiar circles, Nair is credited with giving indie music a global face by representing music groups (including Pentagram, the group Vishal Dadlani belongs to) and individual comedians, but he also owns interests in making videos, online gaming, horse racing and betting via a maze of organisations through which he has flitted in an out of a dizzying array of posts. His self-propelled upward mobility from college to heading an entertainment management company in India—the concept itself was novel at the time—has been almost meteoric. There were dark patches along the way, including accusations of molestation, but these were quickly glossed over by his astounding business success.
Little wonder that his association with Arvind Kejriwal, Delhi's chief minister and AAP head, and his deputy Manish Sisodia was natural, and thick. Nair, the former head of a Mumbai-based entertainment management firm called Only Much Louder (OML), ensured that AAP's Delhi government hiked its media advertisement spends by a whopping 4,000 per cent over 10 years. Such spending aimed directly at hyping the party's image, Kejriwal's policies and welfare schemes for the capital's poor, as well as his 'impressive' containment of the Covid-19 pandemic, and so on. In financial year 2021-22, the Kejriwal government spent ₹488 crore in wooing and feting media groups, placing full-page repeat ads and re-run videos that boasted of its achievements, with no accountability. The figures were disclosed by the Delhi government itself in response to a Right to Information (RTI) query.
Thanks to Nair's efforts, a market leader newspaper now has close to 10 pages of city news compared to only two pages of national news. In every decision associated with the management of Delhi's media—print, broadcast, and online—Nair was AAP's and Kejriwal's main go-to man. Today, Nair—he fled to the US for "personal work" even as the Central Bureau of Investigation (CBI) raided his house in Mumbai and that of Manish Sisodia—has acquired pan-India infamy for what CBI claims is working as a key conduit for channelling money illegally made by waiving the fees of liquor licence holders and granting undue favours to private parties as part of the Delhi government's new liquor policy. Many of those who made these illegal gains were from the private sector liquor lobby, both traders and manufacturers. The policy it replaced without necessary authorisations in place in November last year, by contrast, prioritised government-owned vends.
Nair is accused No 5 in CBI's August 17 FIR against 15 people—Sisodia figures as prime accused—for colluding with the minister of excise and revenue in scamming the Delhi government to the tune of over ₹140 crore. The Music Man from Malad, a suburb of Mumbai where he had started his company OML, CBI maintains, worked with Sisodia to link the various moving parts of the plan to skim off money from the new liquor policy and transfer it to private parties for "favours". In fact, Nair—despite not being a government official—is believed to have sat in on every key meeting Sisodia had held on formulating the new liquor policy, bullying officials and raising the hackles of many. Among others named in CBI's FIR are representatives of premium liquor brands, such as Absolut, Glenlivet, Jameson, et al. Amandeep Dhal, a former vice president of Pernod Ricard, who is also owner of Brindco Spirits; Sameer Mahendru of Indospirit; Dinesh Arora of Radha Industries; Sunny Marwah of Mahadev Liquors; Amit Arora of Buddy Retail; and Arjun Pandey, who runs the sales division of a Noida-based news channel.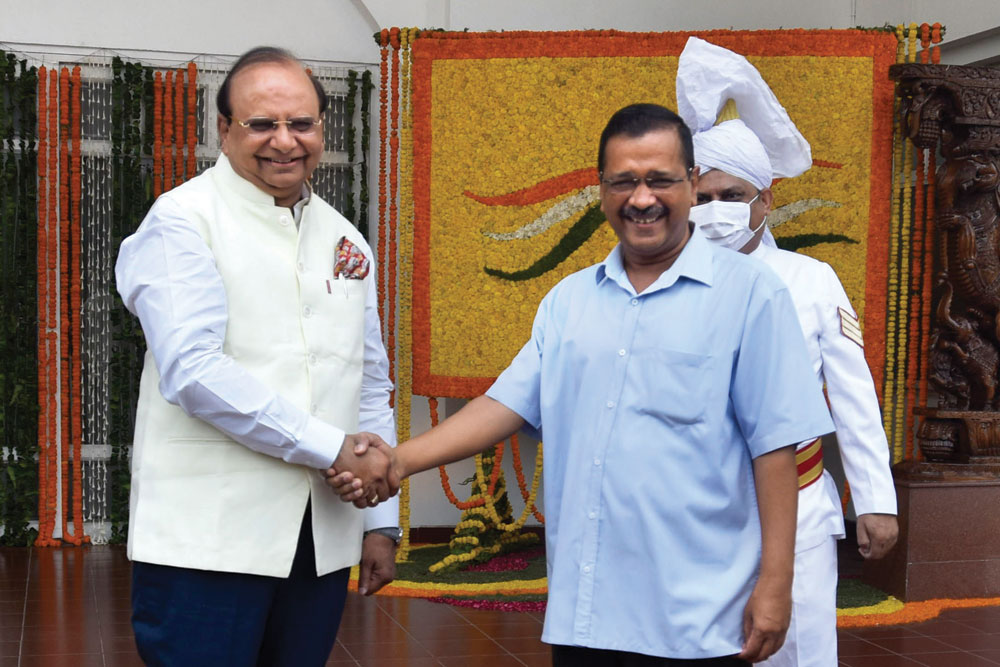 The new excise policy of 2021-22 was implemented from November 17 last year but was reversed in an unnatural hurry recently by the Delhi government through an urgently summoned cabinet meeting, after the lieutenant governor of Delhi recommended a fully fledged investigation based on the Delhi chief secretary's observations on the policy's implementation. This was as recently as July 22. Under the new policy, retail licences were given, in gross violation of existing licensing rules, to private bidders (as opposed to government-owned vends earlier) for 849 vends across the city which was divided into 32 zones. The new policy was approved by the Kejriwal government in the thick of the pandemic in March-April 2021 through a cabinet decision (No 2994) on April 15 that year, before it was implemented in November. The report from the chief secretary of the Delhi administration subsequently showed that this decision was most likely taken with the sole aim of benefitting private liquor barons in return for financial gains for select individuals at the topmost rungs of the governing AAP in Delhi. The controversial decisions were rammed through despite stiff opposition from civil society, religious groups, educational institutions, parents' bodies, etc.
THE SISODIA FACTOR
CBI's FIR against Sisodia and others was registered also on the basis of a Union Ministry of Home Affairs (MHA) complaint about the liquor policy which maintained that there were irregularities in the framing and implementation of the excise policy of the Delhi government for 2021-22. It maintains that Vijay Nair was proactively involved in the framing and execution of the new excise policy. Manoj Rai, ex-employee of Pernod Ricard; Amandeep Dhal, owner of Brindco Spirits, and Sameer Mahendru, owner of Indospirit, also feature prominently in the FIR as Nair's associates in the evident plan to milk the Delhi exchequer in the name of a new excise policy, even when significantly benefitting a select few to the tune of dozens of crores of rupees. The FIR says, "Manish Sisodia, Deputy Chief Minister of Delhi, Arva Gopi Krishna, the then Commissioner (Excise), Anand Tiwari, the then Deputy Commissioner (Excise), and Pankaj Bhatnagar, Assistant Commissioner (Excise) were instrumental in recommending and taking decisions pertaining to excise policy for the year 2021-22 without approval of competent authority and with an intention to extend undue favours to the licensees post tender." According to the FIR, some L-1 licence holders had issued credit notes to retail vendors so that undue pecuniary advantage could accrue to some public servants. The books were allegedly cooked with false entries to show balanced accounts.
According to CBI, Sisodia gave a new twist to the phrase "putting your money where your mouth is" in the context of the liquor scam. Despite vocal protests of innocence and claims of a faultless new liquor licensing and excise policy, Sisodia has been unable to explain why his own cabinet endorsed the view that the policy had caused a significant revenue loss and why it was reversed or even why waivers were given to the liquor cartel on the tendered licence fee. CBI maintains that this was actually payment for favours granted. The relevant Delhi cabinet note maintains that there was a 37.5 per cent shortfall in liquor revenues in the first quarter of 2022-23 and the revenue earned was a paltry ₹1,485 crore in this period compared to an estimated ₹2,375 crore. In effect, there was a ₹190 crore monthly loss in government revenue, thanks to the new liquor policy in which several liquor licensees gave up their licences even when cronies of the regime and its leaders made windfall gains. In the end, compared to the objective of setting up 849 vends to sell liquor, only 468 had come up.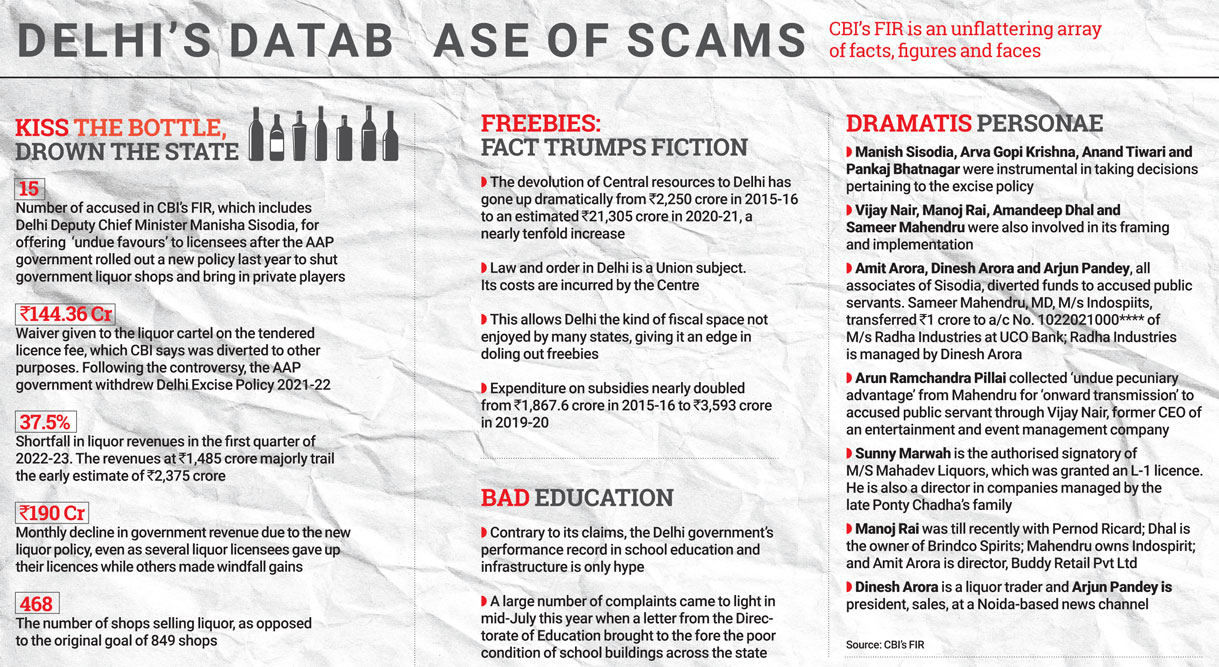 The CBI FIR contends that Nair played a central role in channelling to various beneficiaries the money made through subterfuge in implementing the new excise policy. In one instance, Sameer Mahendru, the managing director of lndospirit, transferred an amount of ₹1 crore to an account of Dinesh Arora's Radha Industries. The FIR alleges that a man called Arun Ramchandra Pillai collected this money from Mahendru. Nair was key to this chain and it was through him that select bureaucrats were paid their cuts for their favours. In another instance, the FIR maintains, an amount of ₹4 crore was collected from Mahendru by Pandey to be passed on to Nair towards further payments by Nair himself to sundry others for favours.
CROSS-SECTOR SCAMS
In 2012, Kejriwal's AAP was a new political venture, a startup that aimed for the stars in the shortest possible time by hard-selling freebies and concocting a public image that would propel it to power in more states than just Delhi. Blowing the lid off the new liquor licensing and excise policy scam is likely only the tip of the iceberg as far as Kejriwal's boastfulness is concerned. Across sectors and schemes as well as on policies—for almost a decade, in the health, education, transport and other sectors—massive ad spends have meant that hype and PR have primarily propped up the AAP government's claims. As with the liquor policy, where vacant quarters even in residential colonies were rented by the government for private vends to sell liquor (one such vend was next to a school and another close to a temple, sparking public protest), mohalla clinics were also housed similarly in hired garages and so on, with minimal facilities but surrounded by maximum PR buzz.
It wasn't just that the Kejriwal government waived licence fees for liquor vendors in January 2022 on the pretext of the Covid pandemic. This was when the worst of the pandemic was long over. Shockingly, the new liquor policy was itself callously pushed through in the thick of Covid. Take the health sector. Replies to queries under RTI applications reveal that from 2014 to April 2022, the Delhi government did not purchase a single ambulance. Instead, it sold nine such patient transport ambulances for scrap at a price of ₹23,659 per ambulance during the same period. Between 2014 and April 2022, it procured 10 Advanced Life Support (ALS) ambulances that have oxygen, ICUs and ECG facilities to treat patients on board. But in the same period, the state government sold 20 ALS ambulances for scrap at a price of ₹75,246 per ambulance. The Kejriwal administration was expected to build seven new hospitals within six months of October 2021, but replies under RTI reveal that no hospital was constructed by the state government during that period.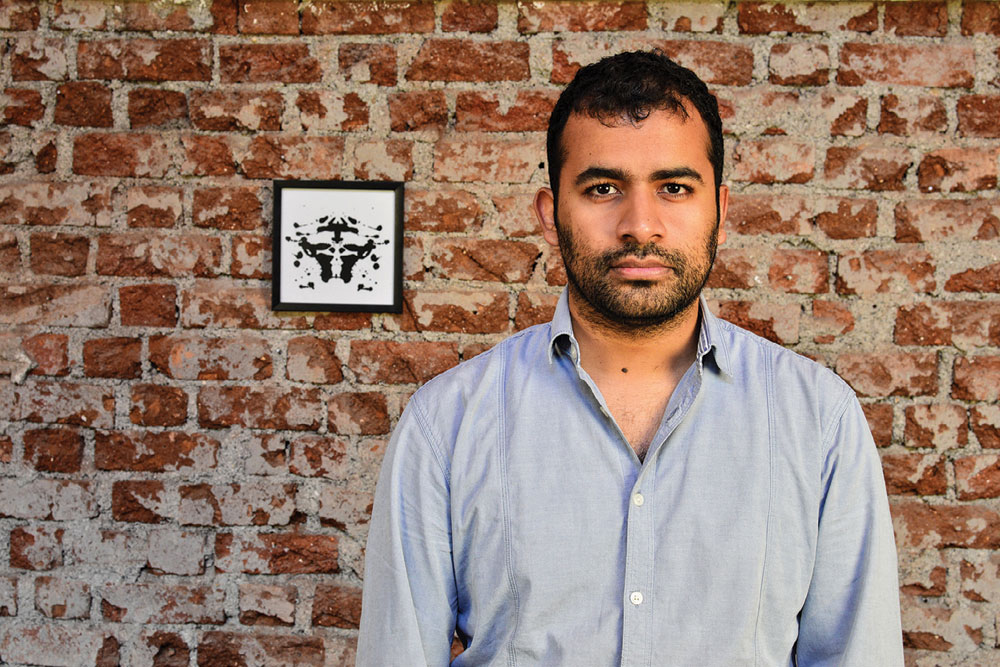 The situation in the health sector in the other state governed by AAP—Punjab—has turned out no better. The government there failed to clear dues amounting to ₹16 crore incurred under the Ayushman Bharat Yojana and the PGI hospital in Chandigarh stopped treatment under the scheme for patients hailing from the state. In all, the state government owes ₹300 crore under Ayushman Bharat. Every month, the PGI sees around 1,200-1,400 patients from Punjab seeking treatment under the insurance scheme. Not just the PGI but the Government Medical College & Hospital (GMCH), Sector 32, halted the treatment of patients from Punjab from March this year after the dues accumulated to ₹2.3 crore. Another ₹3 crore under the scheme is owed to the GMCH, Sector 32, and the Government Multi Specialty Hospital (GMSH), Sector 16, as well as to private hospitals in Chandigarh.
It is alleged that Kejriwal did not even spare essentials like water, indispensable for a healthy life. In January 2021, allegations of a massive ₹26,000 crore scam surfaced against the Delhi chief minister, linked to the Delhi Jal Board (DJB). The Bharatiya Janata Party (BJP) accused the chief minister of ensuring a gigantic loan of ₹41,000 crore to DJB over a span of five years, of which no accounts were found for a whopping ₹26,000 crore. "The Kejriwal government had promised to provide tap water to every house, but till now one-fourth of Delhi doesn't even have a drinking water pipeline," BJP leader Ramvir Singh Bidhuri alleged, demanding that the chief minister call a special session of the Delhi Assembly to debate the alleged DJB scam. Instead of answering the grave allegations, AAP hit back at BJP saying that if there were any scam in DJB, BJP would already have unleashed CBI, the Enforcement Directorate (ED) and the Anti-Corruption Bureau on the AAP leadership instead of merely approaching the media.
CBI claims Nair worked as a key conduit for money illegally made by waiving the fees of liquor licence holders and granting undue favours to private parties
Education is the one sector that the AAP government has been using to cover up its many hollow schemes and claims as well as its alleged scams. For quite a while now, the Kejriwal government's tall claims in education have been busted in the public domain, including talk of numerous well-run government schools having been started and of a significant number of students from private schools moving to government schools, given the top-class teaching and education facilities ensured by the Delhi government. Hundreds of lakhs of rupees was spent by the Kejriwal administration to buttress these claims, even when PR boomed for its "Happiness Classes" in schools and its efforts "to inculcate an entrepreneurial spirit" at a young age among students were showcased at a big expense through promotional videos across news channels. The overall pass percentage of students in Directorate of Education (DoE) government schools taking the CBSE Class 10 examinations witnessed a sharp decline to 68.9 per cent in 2017-18, compared to a consistent average of 98.5 per cent since 2011 before the Kejriwal government came to power. Between 2011-12 and 2020-21, the number of DoE-run schools went up from 948 to only 1,027. In effect, only 79 schools were built over the last decade! Of these, the Kejriwal government itself built only 18 schools till 2020-21. A petition in the Delhi High Court also questioned the state government about teaching vacancies in schools. A reply to an RTI query revealed that at least 45,503 posts for teachers are lying vacant in 1,027 Delhi government-run schools. Out of 950 posts for principals, 755 are vacant while 418 of the 1,670 posts for vice principals are vacant. Further, there were only 16,089 permanent Trained Graduate Teachers in Delhi government schools against the sanctioned posts of 33,974, as of December 28, 2021.
FALLING OUT OF FAVOUR
The "Delhi Model of Education" with "world class infrastructure", a department headed by Sisodia, has proved to be founded on bogus claims. Based on complaints about huge, inflated spends on building classrooms in the capital's schools, the Lokayukta has directed the chief secretary to conduct a probe into the matter, besides asking for a report on this directly from DoE. Each of the classrooms was reportedly built at a cost of ₹28 lakh.
Ironically, the DoE that Sisodia headed itself drew attention to complaints about poor-quality construction by the Public Works Department (PWD)—headed by the now jailed Delhi minister once considered close to Kejriwal, Satyendar Jain—from 19 schools in the national capital. DoE put its displeasure at the classrooms constructed by the PWD under Jain and the gross irregularities involved on record in a letter dated July 20, 2022. It said, "A number of complaints have been received from various schools regarding non-completion of work, use of low quality material and various discrepancies in the construction by PWD. These shortcomings hamper the very purpose of the Directorate of Education." Quite apart from the scam perpetrated by showing inflated bills for the construction of classrooms, the poor quality of materials used posed a real danger to students, especially during the monsoon. In some cases, it was even proved that old constructions had merely been repainted and passed off as new classrooms.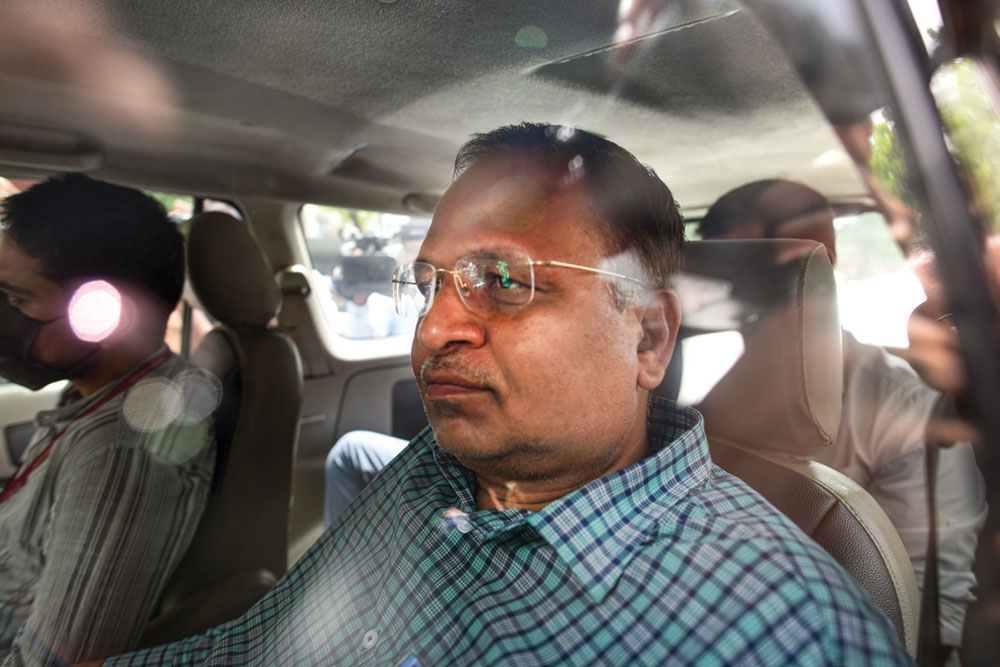 It wasn't just Jain that Kejriwal threw under the bus under his 'use and throw policy', using one close aide against another to polish his own image of an honest chief minister heading an honest administration. In July this year, Jain, jailed on money-laundering charges but yet to be sacked as minister, got some relief with the Delhi High Court dismissing a plea seeking his suspension as minister. Jain was arrested in a money-laundering case based on allegations of his involvement in hawala transactions in 2015-16 with a Kolkata-based shell company. Other than that, Jain appears to have fallen off Kejriwal's radar completely. The petition seeking his suspension had said that his continuance as minister, in view of the charges being probed, was "repugnant and inconsistent with the rule of law". Since Jain had taken a Constitution-based oath, as a public servant, to uphold the rule of law in the interest of the public. Despite being lodged in jail, the petition had claimed, Jain continued to enjoy the perks and privileges of office.
Jain was arrested in a money-laundering case based on allegations of his involvement in hawala transactions in 2015-16 with a Kolkata-based shell company. Despite being in jail, he reportedly enjoys the perks of office
Whirlpool's famous old ad had this tagline for a kid: "Look Ma, no fingerprints!" As with the liquor excise scam, Kejriwal has taken immense care that his own fingerprints were never found in any of the corruption/embezzlement cases alleged against his government. The chief minister, it seems, preferred his ministers getting their hands dirty, allowing himself to evade any graft charge by violating laid-down procedure and rules about the chief minister's own signature figuring on proposals forwarded for the lieutenant governor's approval. Vinai Kumar Saxena, the lieutenant governor of Delhi, must have been aware of this evident subterfuge when he shot off a letter this week to Kejriwal, in the middle of the liquor scam probe by CBI and ED involving Deputy Chief Minister Sisodia, insisting that every file forwarded to the lieutenant governor from the Delhi government bear the signature of the chief minister himself, proving that he had himself read it. Saxena's letter also insisted that the Delhi government move to e-governance at the earliest, something that would firmly fix responsibility on key issues and policies right up to the chief minister's chair.
The lieutenant governor's letter states: "It has been observed that in recent months, a significant number of proposals, as matter of routine, have been submitted by your office for my approval or opinion under Article 230AA (4) of the Constitution by your Jt Secretary or Addnl Secretary, with the remarks "Honourable CM has seen and approved the proposal" without specifying any grounds of urgency warranting such a communication. In this regard, attention is drawn to Para 7.11 (iv) of the Manual of Office Procedure, 2022, which provides that "in rare and urgent cases" when the minister is on tour or is sick and his/her approval has to be taken on the telephone, the decision of the minister shall be conveyed by his/her Private Secretary in writing. In such cases, confirmation shall be obtained on file when the minister returns to headquarters or rejoins." The letter adds: "In view of the above, the current practice of submission of files on routine basis under the signature of your officials needs to be discouraged/avoided as, in the absence of your signature, it is not clear whether the proposal has been seen and approved by you or not. Further, on receipt of the files at the level of Joint/Additional secretaries from your office, LG Secretariat is also constrained to communicate my decision at the level of officials. Therefore, in the interest of smooth and effective governance, it may be ensured that proposals which are submitted by your office for my opinion or approval, as the case may be, should be duly signed by your good self."
The Delhi chief minister's over the top "revdi economics"—offering handsome waivers and concessions in several sectors, including power, to the public in Delhi—meant that he failed to invest thoughtfully in improving the capital's infrastructure for the longer term despite repeatedly tom-tomming claims of Delhi being a revenue-surplus state under his government. This is the "Delhi Model" that AAP replicated successfully in Punjab, crushing both Congress and the Shiromani Akali Dal (SAD) in the state's last Assembly election. A July 5 Comptroller and Auditor General of India (CAG) report tabled in the Delhi Assembly, however, called out the Delhi chief minister's lies sharply, maintaining that the Delhi government was able to show a revenue surplus mainly because of the Union government handling the pension liabilities of the Government of National Capital Territory of Delhi (GNCTD) staff, as also the expenditure on Delhi Police. Law and order in the national capital being a Union subject, costs were borne by the Union government. Without the latter's help, the Delhi government would show a revenue deficit of ₹2,025 crore in 2019-20 alone. Revised estimates for 2021-22 show that Delhi had a revenue deficit of ₹3,038 crore. In fact, the devolution of Central resources to Delhi had gone up dramatically from ₹2,250 crore in 2019-20 to a whopping ₹21,305 crore in 2020-21, a tenfold increase.
The fact that the Centre took care of some of the key expenditure in Delhi meant that the Kejriwal government had lots of manoeuvring space for handing out freebies and expenses on a variety of subsidies, including power, doubled from ₹1,867.6 crore in 2015-16 to ₹3,593 crore in 2019-20.
SHADOW OF THE PAST
At least, no one can accuse Kejriwal of inconsistency on corruption, never mind Ralph Waldo Emerson saying consistency was the virtue of an ass. From his India Against Corruption (IAC) days and then later, in the early days of AAP, the Delhi chief minister has parted ways acrimoniously with many heavyweight colleagues who walked the same path as he did, including Shanti and Prashant Bhushan, Santosh Hegde, Medha Patkar, Kiran Bedi, Baba Ramdev, Yogendra Yadav, Akhil Gogoi (RTI activist from Assam), Shazia Ilmi and Kumar Vishwas, the last a founding member of AAP and part of its National Executive. They were referred to as Team Anna Hazare initially but, in August 2012, many fell out with Kejriwal on the issue of forming a political party as an extension of the IAC movement. Some left even before AAP was formed while others left following sharp differences with Kejriwal after AAP's good performance in the 2013 Assembly election when it briefly formed the state government, and then again after its victory in 2015. In this time, the internal power structure of AAP changed drastically compared to November 2012, when it was born, with Kejriwal pushing most others, except those who toed his line, to the margins. Some of those who left after AAP's stunning 67-seat victory in February 2015 accused Kejriwal of fostering corruption and of a lack of transparency in decision-making, ignoring collective decision-making, and so on. In September of that year, former Central Information Commissioner (CIC) Shailesh Gandhi wrote to Kejriwal, asserting that the Delhi government did not adhere to RTI or show transparency, and that Kejriwal himself did nothing to curb corruption. Those were early days, though, and the heady win ensured that the Delhi public forgave many transgressions by the chief minister in the prolonged honeymoon period. Kejriwal, however, appears to have taken this as carte blanche while dangling big-time freebies to keep voters distracted and unwilling to distinguish between hype and genuine work to improve their lot.

PR Ramesh is Managing Editor of Open