ON JULY 11TH, as a team of Jammu and Kashmir Police and the National Investigation Agency (NIA) began surrounding a house in South Kashmir, a man spotted the cordon from inside. He rushed towards the back of the house and threw his mobile phone from a window into the waters of the Jhelum river below. The man, Umar Nisar, had hoped that the destruction of the phone he had been using to keep in touch with handlers from the Islamic State (IS) in Pakistan and Afghanistan would enable him to escape the law.
But the NIA investigators were certain about who he was. Nisar, it had been established with technical expertise provided by the Federal Bureau of Investigation (FBI), was the self-styled emir of the Islamic State Hind Province (ISHP), or the Wilayah of Hind, whose formation for specifically targeting India was announced about two years earlier by IS in May 2019. According to NIA, Nisar was a crucial link between IS operatives in India and their handlers in Pakistan and Afghanistan. His arrest and subsequent interrogation bring to light how IS aims to unify its war against India from Kashmir to Kerala by sending radical Muslim youth from the rest of India as recruits to fight in Kashmir. With Nisar's arrest, the IS network in Kashmir may have been dismantled for now. But a senior NIA official involved in the IS investigation believes it is not the end.
"Looking at the radicalisation of young Kashmiri Muslims, there is no doubt that IS will rebuild its grid," he says.
Nisar, according to the NIA investigation, was involved in the creation and dissemination of IS' India-centric magazine, Voice of Hind. Initially, investigators believed the magazine was created and circulated from Afghanistan. For months, NIA had been keeping track of call-centre-like facilities in Pakistan's Islamabad and Karachi where a lot of propaganda material related to IS activities was being generated.
"We knew that it was mostly managed by young graduates who were hired on decent salaries with an official from Pakistan's ISPR (Inter-Services Public Relations, the media wing of the Pakistani armed forces) overlooking these operations," says the NIA officer. But with FBI's help, the technical surveillance put up by NIA finally pointed at Achabal in South Kashmir's Anantnag district. It was after this evidence that NIA conducted several raids, including the one at Nisar's house.
Nisar's interrogation provides deep insights into how radicalised Muslim youth are finding their way to IS through the internet, making it a big challenge for security agencies to prevent such recruitments and dismantle such easily built networks. Nisar's father retired as an employee of the state government's finance department. He went to a government school near his house and, in 2017, passed out of the Government Degree College, Anantnag. Afterwards, he started a garment shop in Achabal's Mir Market named "Black Lovers".
At college, Nisar would tell his interrogators, he first came across the writings of Abdullah Yusuf Azzam, an Islamic scholar from Palestine, who later became a mentor to Al Qaeda chief Osama bin Laden, persuading him to come to Afghanistan and help fight against the Soviet army. The American counter-terrorism expert Bruce Riedel calls Azzam the "father of modern Islamic terrorism"—someone who was a role model to Mohamed Atta, the main perpetrator of the 9/11 attacks; Abu Musab al-Zarqawi, Al Qaeda's founder in Iraq; and Anwar-al-Awlaki, their operations commander in the Arab peninsula.
Nisar found more literature about Azzam in a library near his house, proof of how radical literature is readily available in Kashmir without any scrutiny from intelligence agencies. About the same time, Nisar came to know about IS and felt that they were the true representatives of Islam. He began discussing it with his relative, Rameez Ahmad Lone, who was an imam at a local mosque. "Both felt that IS is the best tanzeem (organisation) as it is working on the principles of Sharia," says another NIA official involved in Nisar's interrogation.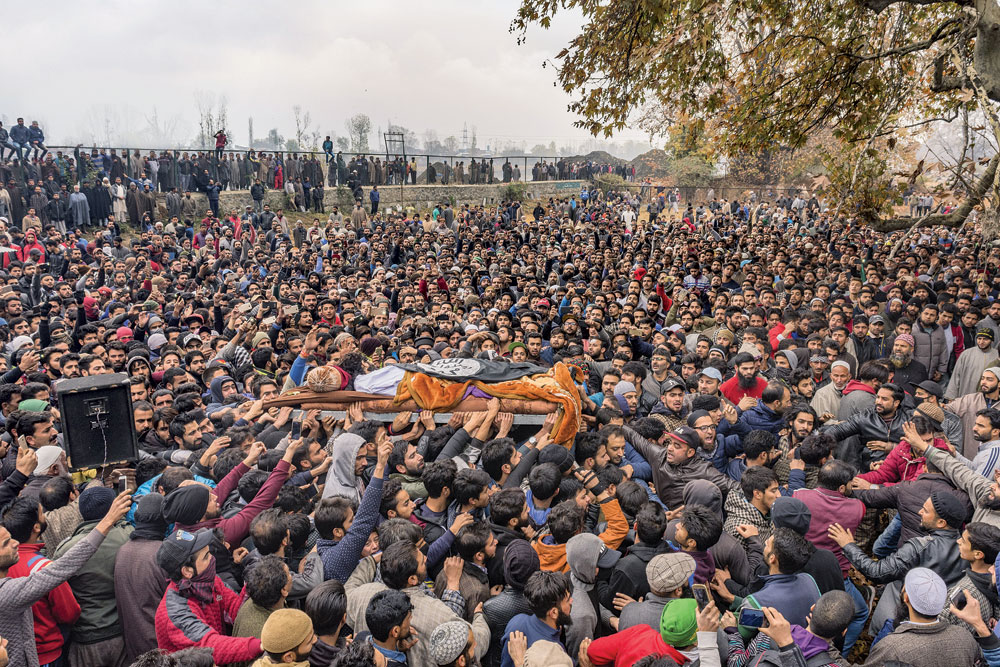 In 2016, after Kashmiri terrorist Burhan Wani's death, Nisar came to Delhi and stayed for about six weeks with his cousin in Delhi's Malviya Nagar area. As he had access to high-speed internet in Delhi, he could watch a lot of propaganda material generated by global Islamist organisations. It was here that he created a Facebook account with the name "Abu Khalid". Back in Srinagar, he changed that name to "Abu Qital al Hindi".
In November 2017, Mugees Mir was killed in an encounter. Mir was the first terrorist in Kashmir whose body was draped in an Islamic State flag at his funeral. Two days later, is claimed him as one of their own
This was also a period of churning for Islamists working in Kashmir. Differences arose between the Pakistan-based Kashmiri terrorist commander Syed Salahuddin and a young Kashmir-based terrorist called Zakir Musa on the question of what was more important between grabbing power and Sharia. Nisar told NIA officials that he felt Zakir was right and started posting against Hizbul Mujahideen (led by Salahuddin) and Hurriyat, both pro-Pakistan. He also continued reading about IS and how it was operating through the internet. All this while, his Facebook account was attracting many followers on account of his radical posts.
In early 2017, as Nisar opened his Facebook account, he found a message. It was from Mugees Mir, a terrorist of Lashkar-e-Toiba who, like Zakir Musa, was popular with many Kashmiris. Sent from a fake account, Mir asked Nisar to create chat accounts on virtual private networks (VPNs) for secure communication. Around the same time, another active terrorist, Burhan Musaib, also contacted him.
In June 2017, his relative Rameez Ahmad Lone introduced him to a man called Esa Fazli. The meeting took place at the mosque where Lone was the imam. Fazli told Nisar that he had been in touch with a man called Abu Usman al Kashmiri, who was based in Afghanistan. To impress Nisar, Fazli called Kashmiri on the Telegram app and made him speak to Nisar.
NISAR DID NOT know then but he had spoken to one of the top recruiters of IS. Kashmiri is actually the nom de guerre of Aijaz Ahangar, who was born to a blacksmith in downtown Srinagar.
A school dropout, Ahangar, like many men of his generation, crossed over to Pakistan in 1990 to receive arms training and become a part of the insurgency in Kashmir. That year, he and a few others used a popular infiltration route in North Kashmir to get into Muzaffarabad in Pakistan-occupied Kashmir. From there, the Pakistani army took him and six others to Khost province in Afghanistan where they received advanced training. A year later, five of them returned to Kashmir and were given the task of attacking Indian security forces in Srinagar. In 1992, he was arrested by the security forces.
In prison, Ahangar met Abdul Ghani Dar, the only terrorist in those days above 50 years of age. Dar was a Lashkar commander who had played a major role in the formation of the Tehreek-ul-Mujahideen (TuM), a terrorist organisation that had paved the way for the arrival of foreign terrorists in Kashmir in the early 1990s. Dar saw promise in Ahangar and took him under his wing.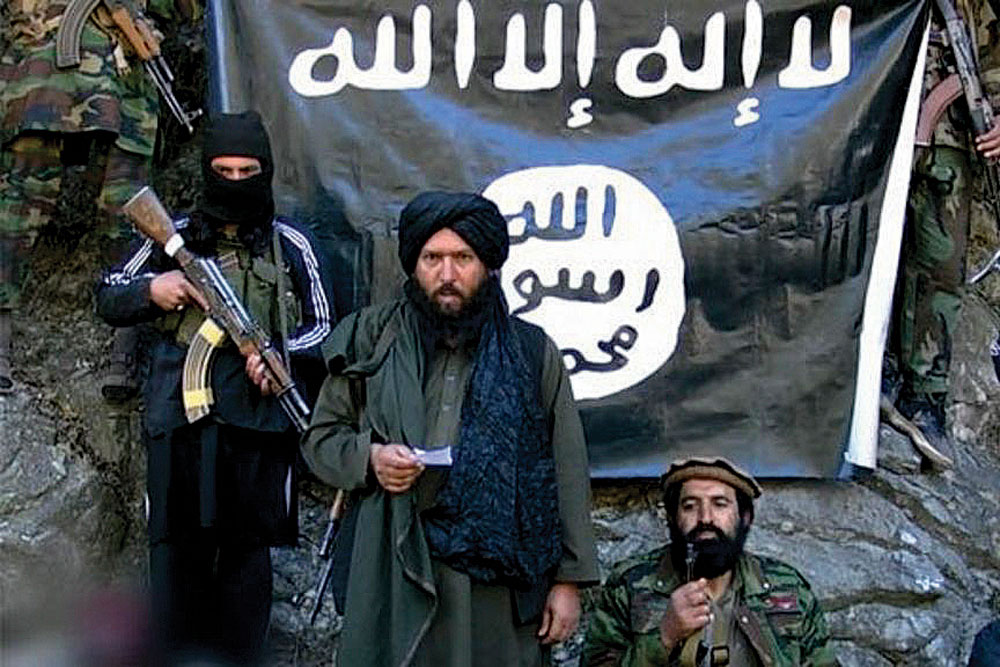 Two years later, when Ahangar was released, he married Dar's daughter, Rukhsana, and settled in Srinagar, working at his father's shop. But Ahangar was still committed to Pakistan, something known to Pakistan's intelligence agency, the Inter-Services Intelligence (ISI). They contacted him in Srinagar and, in 1996, with ISI's help, he moved to Pakistan with his wife and was immediately provided citizenship. He began working in the publication division of TuM and as an aside ran a stationary shop on Rawalpindi's Asghar Mall Road.
In 2004, his wife Rukhsana decided to pay a visit to her family in Kashmir. But security forces got a whiff of it. Her passport was confiscated, preventing her from returning to her husband. In her absence, Ahangar married a woman named Saira from Muzaffarabad. Saira's brother had been an Al Qaeda operative. Through him Ahangar met the dreaded terrorist commander Ilyas Kashmiri who instructed him to move to Pakistan's North Waziristan area and help providing shelter to Al Qaeda fighters.
Sometime in 2015, Ahangar joined IS and was soon made head of its recruitment in India, particularly Kashmir. According to NIA, it was Ahangar who recruited Abdullah Basith, a young man from Telangana, subsequently arrested by the agency.
Basith was first arrested in 2015 from Nagpur airport when he was about to catch a flight to Srinagar. From there, the NIA investigation has revealed, he planned to cross over to Pakistan and subsequently to Afghanistan. (He was later released on bail and rearrested by NIA in 2018.)
In 2017, Ahangar got his daughter married to a Pakistani Punjabi called Amir Sultan Huzaifa. Huzaifa was known on IS channels as Huzaifa al-Bakistani, an expert in dissemination of Islamist propaganda. With Ahangar's support and his knowledge of Kashmir and the rest of India, al-Bakistani soon emerged as the top recruiter of radicalised youth across the Indian subcontinent.
IT WAS AHANGAR who introduced Nisar and Esa Fazli to al-Bakistani. Ahangar asked them to motivate Kashmiri youth to join the IS fold. He also instructed Nisar to get in touch with Zakir Musa whose popularity was on the rise in Kashmir. In June 2017, a mob that lynched a Kashmiri police officer outside Srinagar's Jama Masjid area was seen shouting "Musa, Musa, Zakir Musa" that became a war cry of sorts against the Indian state.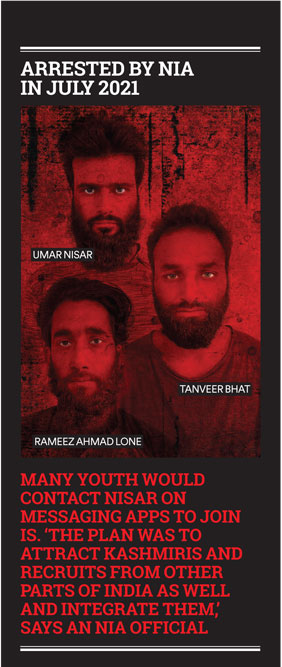 Nisar got in touch with Musa with the help of active terrorists, but Musa told him that he was still making up his mind. Weeks later, he announced the creation of a separate outfit affiliated to Al Qaeda, after which Ahangar asked Nisar to leave Musa alone.
By this time several men had joined IS in Kashmir. In September, upon Ahangar's instructions, Nisar organised a Bayat (a ceremony to swear allegiance to IS and its leader, fashioned on an old Islamic tradition) in the forests of Pulwama in South Kashmir. It was attended by, among others, Mugees Mir and Esa Fazli. Nisar shot a video of the new recruits in the backdrop of an IS flag on Mir's Samsung S8 phone and sent it to al-Bakistani for online release on jihadist channels. But it did not get released as al-Bakistani felt the recruits were dressed inappropriately.
Around that time, al-Bakistani sent a man from Telangana to join the IS ranks in Kashmir. That man, Mohammed Toufeeq, had been recruited online by al-Bakistani. He had been provided the nom de guerre of "Sultan Zab-ul Hind".
In November that year, Mugees Mir and two others travelling in a car were intercepted by a police party on the outskirts of Srinagar. The ensuing encounter resulted in Mir's and a police officer's deaths. Mir was the first terrorist in Kashmir whose body was draped in an IS flag at his funeral. Two days later, IS claimed him as one of their own. His photo was released by the IS media channel, Nida-e-Haq.
After this debacle, Nisar and Fazli lay low for a few months. At the beginning of 2018, Fazli managed to recruit a few others. A few fresh recruits from Zakir Musa's organisation also joined them. A month later, Nisar told his NIA interrogators, two Hizbul Mujahideen terrorists also decided to join but were killed by the security forces before they could do so.
On the night of March 11th, 2018, Fazli and two others were trapped in a building in Anantnag by security forces and were killed in the ensuing encounter. One of the two others killed was identified as Syed Owais. The third's verification came after jihadist chatter identified him as a man from Telangana. Upon a request sent by J&K Police to their counterparts in Telangana, his identity was confirmed as Toufeeq.
In June that year, Burhan Musaib and three others were killed as well in another encounter.
By this time, only two active terrorists, identified as Anwar and Ibrahim, were left. Soon afterwards, an active Lashkar terrorist, Adil Das, was motivated by al-Bakistani to join IS. By April 2019, the IS ranks in Kashmir had swelled to eight. A fresh Bayat was organised, this time in the forests near Nisar's house.
In June 2019, Adil Das was killed in a trap set for him by rival factions of Lashkar and Hizbul Mujahideen. Chatter on jihadist channels revealed that the organisations were angry with him because he had eloped with weapons before joining IS.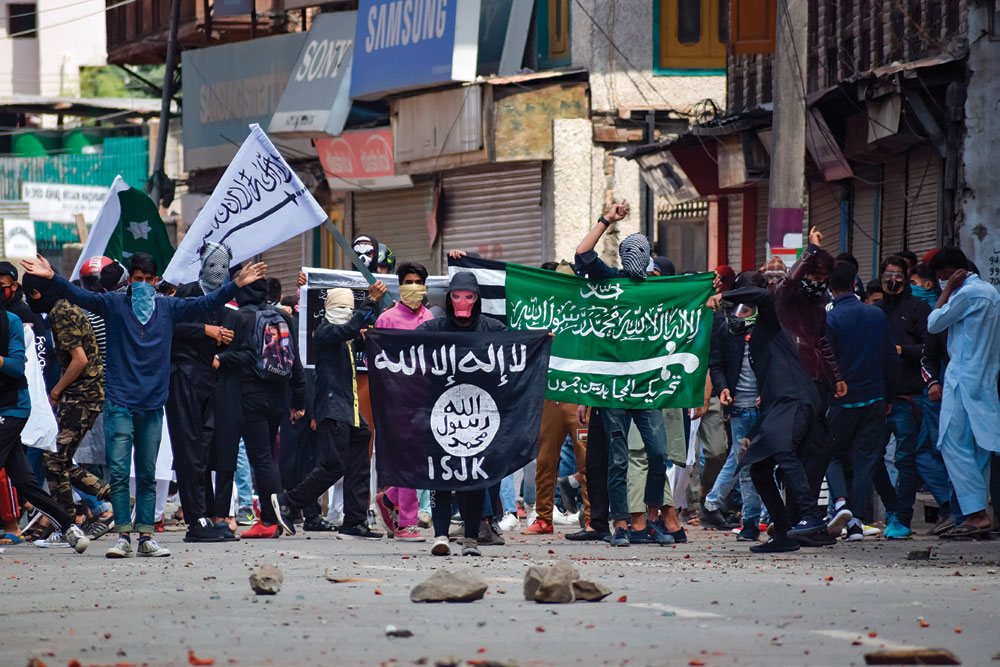 Nisar, according to the NIA investigation, was now appointed the media chief of the new arm of IS. He established accounts on apps like Telegram, Signal, Hoop, Threema which he would use through virtual numbers provided by his handlers in Pakistan. Some of his prominent ids included @sultansikander, @qasimkhurasani, @abugharib, @blackcat. Among these, the id @qasimkhurasani was designated as the official id of the media head of ISHP. As a result of this, Nisar told NIA officials, many youth would contact him to join the outfit. On one mobile number, Nisar had kept his password as 2611, the first day of the terror attacks in Mumbai in November 2008. "The plan was to attract Kashmiris and recruits from other parts of India as well and integrate them," says the NIA official.
In September 2019, ISHP suffered a major blow as al-Bakistani was killed in a US drone strike in Afghanistan's Nangarhar province. At the time of his death, al-Bakistani had been in touch with dozens of Indian youth, from Kashmir to Kerala, motivating them to join the group. One of them happened to be a 30-year-old resident of Jafrabad in North-East Delhi, Mufti Mohammed Suhail. On his Telegram chat, Suhail received detailed instructions from al-Bakistani and another major handler, Abu-Junaid-al-Bangali. At the time of his arrest in December 2018, Suhail had received detailed instructions from his handlers about how to make explosives and Improvised Explosive Devices (IEDs) from commonly available items like potassium nitrate, sulphur, charcoal and sugar.
Indian agencies are on the lookout for Aijaz Ahangar who disappeared after his release from an Afghan prison. With Ahangar free again, security agencies believe his activities are bound to intensify in India
By early March 2020, things had become difficult for Aijaz Ahangar. In a communiqué sent to Nisar around that time he told him that IS had come under pressure and that if he got arrested, Nisar should get in touch with a Pakistani handler called Monsab Bhai.
The first edition of Voice of Hind came out in February 2020. It paid rich tributes to al-Bakistani. Calling nationalism a disease, it urged Indian Muslims to follow the Caliphate. According to NIA, Nisar told them that the first edition was put together by a Kashmiri couple, Jahanzeb Sami and Hina Baig. Soon afterwards, Delhi Police's Special Cell arrested them from the national capital. After this, Ahangar contacted Nisar on Telegram and asked him to take over the publication. He was put in touch with two other operatives, from Bangladesh and the Maldives, who would help him create content for the magazine and design it.
In April 2020, Ahangar and a few of his close associates were captured by Afghan national forces as they were trying to flee to Pakistan. In his absence, Nisar continued the magazine work and stayed in touch with other handlers, motivating several youth in joining IS.
Ahangar was recently released from a prison in Afghanistan after the Taliban takeover. Last month, NIA conducted several other raids in Kashmir related to the case and arrested three more people the agency claims are IS operatives. Earlier, in August, the agency arrested Jufri Jawhar Damudi from Bhatkal, Karnataka. Damudi, NIA says, is a key IS operative popular on IS channels by the name of "Abu Hazir al Badri." His brother, Adnan Hasan Damudi, was arrested in 2016 for IS links. Jufri, according to NIA, is responsible for the translation of the Voice of Hind magazine into southern Indian languages.
Already, IS-Khorasan has intensified its war against Taliban, making US intelligence agencies assess that the organisation may be strong enough to attack them in as little as six months.
Indian intelligence agencies are now on the lookout for Ahangar who has disappeared after his release. It is most likely he has established contact with his handlers in Pakistan.
With Ahangar free again and given the developments in Afghanistan, security agencies now believe IS activities are bound to intensify in India in the coming months.
"It is a war we will have to keep fighting and try and be on top of it," says a senior NIA official.