RAHUL GANDHI OFTEN CHOOSES TODON A T-SHIRT AND cargo pants to enter the hallowed precincts of the Indian Parliament but he flaunted a dapper image in a well-cut, expensive suit to address a small audience in a British parliamentary committee room. His re­marks abroad on India should, therefore, have come as no surprise.
His disqualification as a Member of Parliament (MP) from his Wayanad Lok Sabha seat, after his return from the UK, was based on his speech in 2019 whereby he asked why most wrongdoers sported the 'Modi' sur­name. In his judgment, the Surat magistrate cited the Supreme Court's verdict on the Ra­fale case in 2019. "It is unfortunate that without any verification, certain remarks were made against the prime minister. Mr Gandhi needs to be more careful in the future."
Despite this chastisement, the Nehru-Gandhi heir displayed his characteristic arro­gance, leaving leaders even within his party caught off guard. There was little preparation or strategising involved, political or legal. Although Congress is full of legal eagles, none of them was allowed to troubleshoot in this particular case. Senior legal luminaries were left in the lurch and Rahul Gandhi chose a relative lightweight in KC Venugopal to accom­pany him, leaving the party stranded politically although minor agitations were held to protest the disqualification and effigies of Prime Minister Narendra Modi were burnt. Ad­vocate Aslam, who was initially handling the case, told him that an apology was needed as he had tarred the entire Modi community with the corrupt brush. But Rahul Gandhi bluntly told his counsel that he would not apologise. The counsel returned the brief and Rahul paid his legal fee. The government was taken aback by the cavalier manner in which the case was handled. Rahul Gandhi also attended Parliament a day after the verdict, leaving the speaker aghast and with little option but to issue the notification for disqualification. These repeated bloopers have exposed the former Congress president as a political novice.
Illustratively, among the highlights of his Cambridge visit was a curious mo­ment when he singled out a Sikh gentleman in the audience to assert that Prime Minister Narendra Modi had reduced his community to second-class citizens in In­dia. This must have struck as odd to many in the gathering, as it did for a large sec­tion in India as flippant, especially since Modi had never let any opportunity pass to exalt Sikhs and their Gurus, and to place on record his ardent devotion to the faith.
Right from the commemoration of Guru Tegh Bahadur's martyrdom day—he was killed by Mughal Emperor Aurangzeb for taking up the cudgels for the Brahmins and the cow—to that of the martyrdom of the two sons of the tenth Guru, Gobind Singh, Modi has left no stone unturned to woo the Sikh community. True, he never spelt out clearly why he risked courting the perception of backtracking on the farm laws by suddenly announcing their rollback on the Prakash Parv (birthday) of Guru Nanak. At the time of the rolling back of the reforms, Modi had maintained, "Maybe something was lacking in our tapasya, on account of which we failed to con­vince some farmers about the imperative to coin the farm laws. However, today is Prakash Parv and it is not the time to apportion blame. Whatever I did, I did for the good of our farmers. Whatever I do, I am doing for the betterment of our country." It can be safely construed that the decision to recant on the farm laws was not because of any electoral considerations in Punjab but out of the desire not to let the Khalistanis and their handlers in Pakistan use the decision to widen the fissures between Hindus and Sikhs in the border state.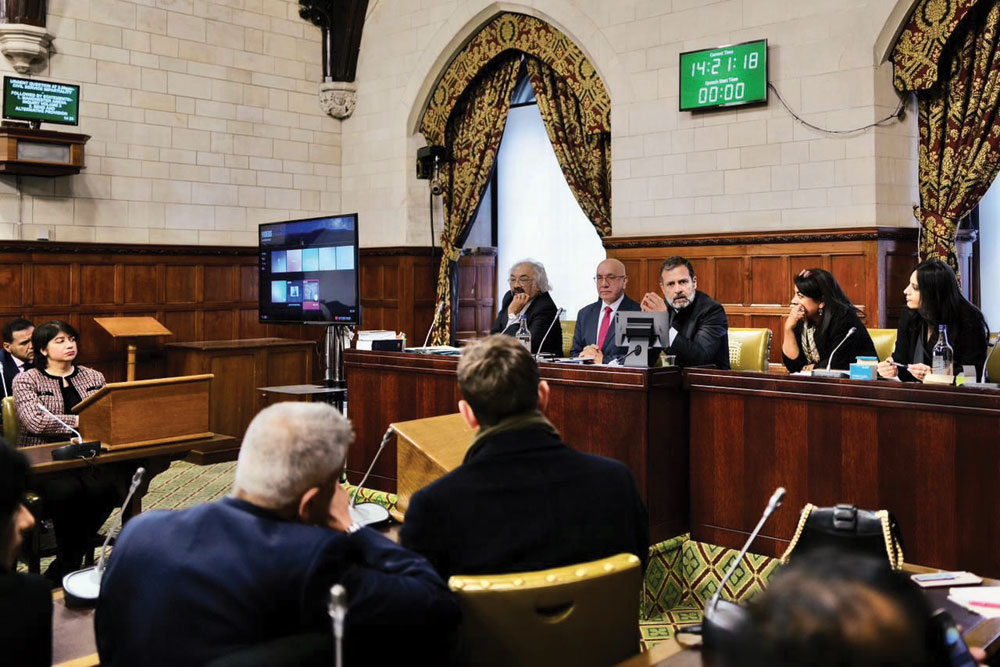 However, in a state where Congress was the direct political op­ponent, it was only natural that its leaders would give no quarter nor make any concession. This, particularly when locked in a fight with the prime mover of the ruling Bharatiya Janata Party (BJP), Narendra Modi. Still, what should have made Rahul Gandhi pause in Cambridge before irreverently making the assertion on the Sikh community's status in India was this: the Khalistan movement derives its core energy from the memories of Opera­tion Blue Star when the Indian Army had to execute the unpleas­ant task of clearing the Golden Temple's Akal Takht of terror­ists holed up there, and later, the massacre of Sikhs when Rajiv Gandhi, who was by then anointed prime minister, said in refer­ence to the pogrom following his mother's assassination: "When a big tree falls, the earth shakes." This was a defining event in the post-Independence political and social history of Sikhs, deliver­ing a body blow to the collective psyche of the community.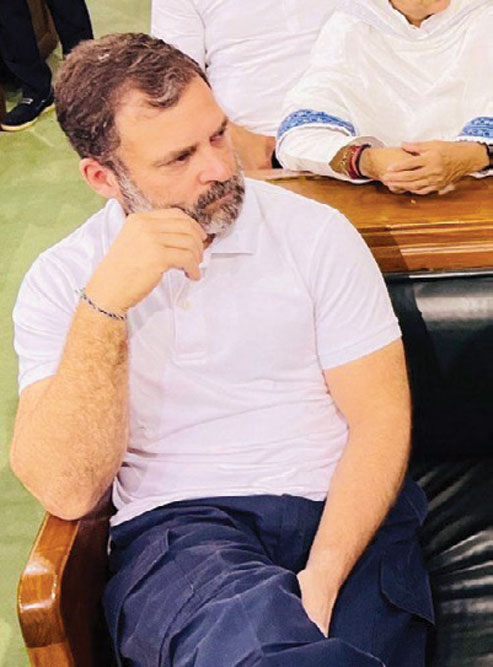 But the Nehru-Gandhi family, with its sense of entitlement and an unshakeable conviction in an inherited 'responsibility to civilise Indians', has refused to grasp this most basic but crucial of facts surrounding the status of the Sikh community in indepen­dent India. This sense of dynastic exceptionalism—that it was their 'burden' to lead India—is what has defined Rahul Gandhi's politics for long. Nothing seems to have changed although he faced disqualification from Lok Sabha after a court convicted and sentenced him to two years in prison in the defamation case. Now, there is a possibility that he will not be able to run to office for six years unless a higher court stays the conviction or reduces his sentence to less than two years.
In this measure of an exaggerated sense of self-importance, however, 52-year-old Rahul Gandhi isn't an exception. Others in the Nehru-Gandhi family had also carried on under this sense of a 'bounden duty' to 'rule' India. The myth of the all-powerful Nehru-Gandhi dynasty fed itself on this carefully constructed narrative, especially when political circumstances were per­ceived as favourable to them. Congress thus became the "natu­ral party of governance", and the Nehru-Gandhis the chosen clique for whom governance was an endowed and treasured heirloom. They became the permanent revered protagonists of this monotonous fable spun through the decades using myriad means. The hagiography of the dynasty was shaped and gained traction by using legacy media—defined by its one-way, talk-down communication—captured institutions and universi­ties, and a privileged intellectual ecosystem.
Take the case of Rahul Gandhi's great-grandfather Jawaha­rlal Nehru. He became Congress' pre-eminent leader solely on account of Mahatma Gandhi's patronage. The Mahatma made things difficult for Subhas Chandra Bose, who was far more popu­lar and charismatic than Nehru. The political estrangement be­tween the Bose brothers, Subhash and Sarat, and Nehru became increasingly obvious through the 1930s. As acting head of the Bengal Pradesh Congress Committee, Sarat Chandra Bose was already at loggerheads over the communal award of separate elec­torates by the British under the Government of India Act of 1935. Bose rightly saw the communal award as subversive and inimi­cal to independence and thus eminently worthy of opposition. Nehru, in a letter to him, is known to have justified his stand by contending that any largescale agitation at that juncture would detract from the "vast political and economic questions that face India and the world today". Hardly surprising that Sarat Bose later referred to Nehru as a "muddle-headed theorist", and asserted that "if independence could be won through words, Jawahar would have won it long ago!" It was Nehru, though, who dominated Congress under Gandhi's baton and was his favoured choice for free India's first prime minister.
Even at the time of Independence, if most Congressmen had their way, they would have liked to see Sardar Vallabhbhai Patel, who had the overwhelming confidence of the Congress Working Committee, helming the government. Whether it was regarding communal violence, social progress, or economic development (Nehru ardently worshipped socialism and leaned unquestion­ingly to the left, restricting free trade and private enterprise and preferring the Soviet model of planning while Patel was partial to wealth creation and allowing private enterprise to flourish, albeit conditionally), world affairs including India's position on both Israel and China, Patel's backing to Purushottam Das for the post of Congress president in 1950, or the problematic inclusion in the Union of the princely state of Hyderabad ruled then by the Raza­kars (the paramilitary volunteer force of the Muslim nationalist Majlis-e-Ittehadul Muslimeen party of the time). On all of these, the two had sharply divergent views. Patel and Nehru managed a working relationship within Congress and the government, but just. And this is perceived widely as having resulted from a white­wash of the deep differences by the Nehru fan club. Thanks to strategic networking and targeted lobbying that polished his im­age and claims to leadership successfully, Nehru triumphed. Patel, deeply loyal to Gandhi, was more preoccupied with nourishing the newly formed nation. But Sardar's demise put an abrupt end to internal democracy within Congress and allowed Nehru to tower within both party and government.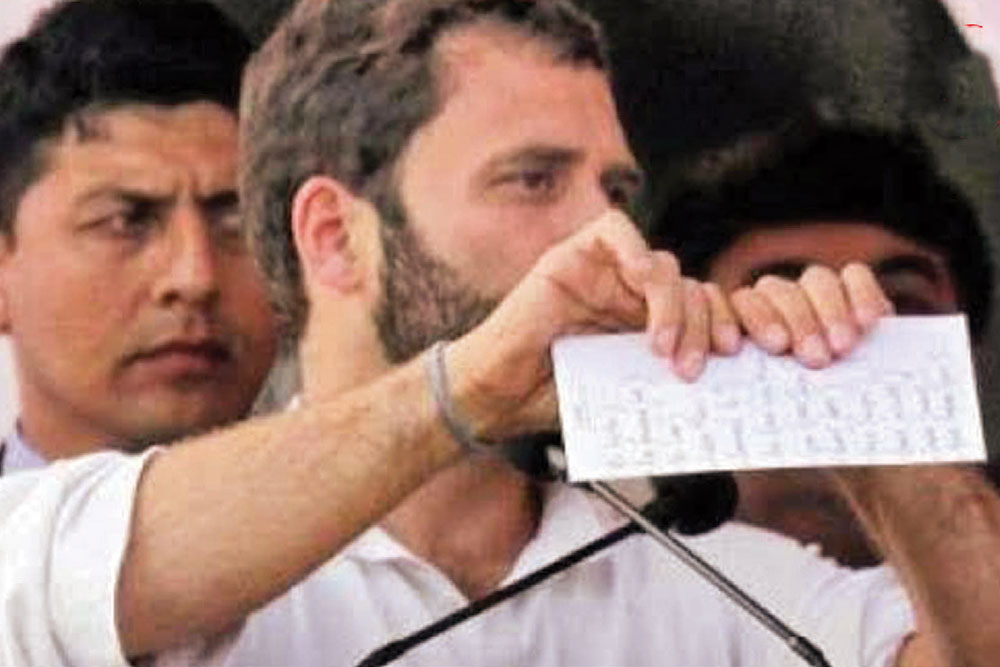 Once Nehru was foisted on the new nation as prime minister and became entrenched in the job, he saw himself as the natural claimant. He saw it as his right and put himself on a pedestal, shap­ing the sequinned fable of the Nehru-Gandhi dynasty. It was not different when his daughter, Indira Gandhi, assumed power. She consolidated and solidified the idea of the dynasty. Her ascension was a quirk of fate because, in the leadership tussle, some of the powerful satraps decided to support her out of their calculation that the "goongi gudiya" would be more pliable than the veterans ranged against her. But she seized the moment and took decisions that caused the county long-term damage but in the immediate context, all they did was enhance her popularity.
Public disillusionment soon set in against Indira Gandhi and cracks began to appear in the carefully constructed story of the Nehru-Gandhi dynasty. In 1977, she lost the election. Even though she was voted back to power in 1980—mainly because of public disgust at her rivals who were seen as a motley crew of incompetent leaders whose only agenda was her overthrow—her popularity had already started sliding noticeably, wearing thin the myth of dynasty. Who would have won the next General Elec­tion was anybody's guess. But Indira Gandhi's assassination in 1984 decisively altered the trajectory of the Congress downslide when things changed overnight and her elder son Rajiv, without any political contribution or personal effort, was chosen to lead India. He won the strongest mandate ever on the back of an im­mense sympathy wave. However, it did not take long for him to lose people's faith and the next General Election in 1989. The Sikh community, as much as a huge section of the Indian public, took strong exception to his comment about the earth shaking— which appeared to justify the post-assassination carnage that led to the murder of some 3,000 Sikhs across India. Although it came towards the end of the worst of the 1984 violence, this was viewed as a tacit endorsement of the anti-Sikh riots widely seen as engineered and sponsored by Congress.
But Rajiv Gandhi's assassination on the campaign trail by terrorists of the Liberation Tigers of Tamil Eelam (LTTE) at Sriperumbudur in Tamil Nadu in 1991 ensured that the pull of the dynasty and the myth of the family's popularity survived. Congress was in bad shape when his widow, Sonia Gandhi, took charge. Her first election was a disaster and Congress ended with a tally lower than it had when it was under a 'commoner'. But because of some of the hubristic mistakes that BJP made in the run-up to the 2004 polls, she managed slightly better numbers than the saffron party. Some smart political networking by Con­gress also helped return it to power. And the myth of dynasty was revived once again, this time based on the 'renunciation' of personal power by the head of India's 'first family'.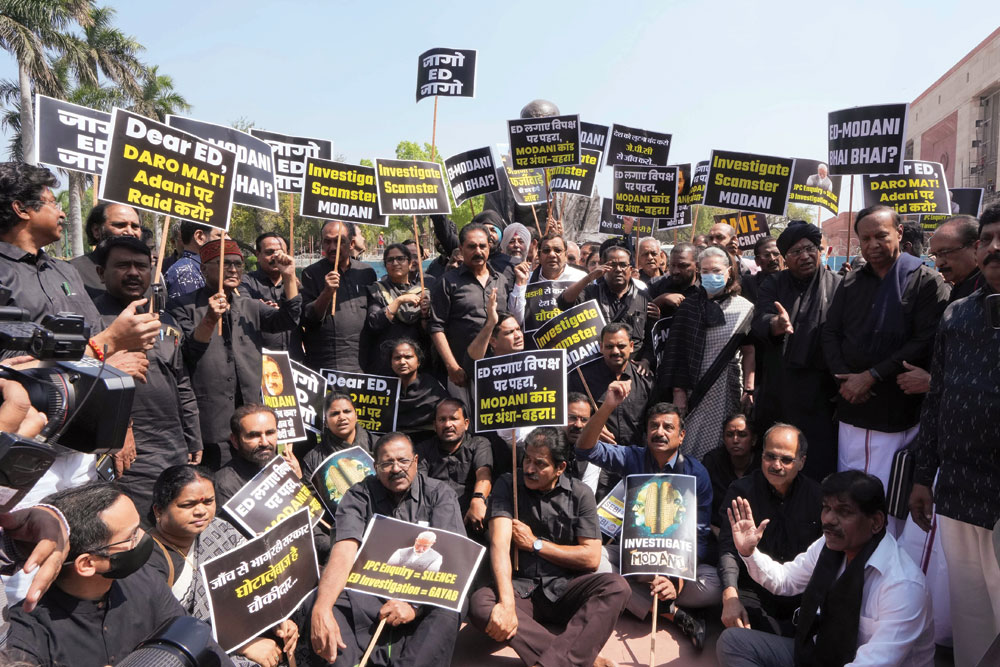 Sonia Gandhi projected her son Rahul as the magic bullet for all the problems that Congress was facing at the time. This sense went deeper when in 2009 Congress managed to cross 200 seats and BJP's tally came down to 116. Since then, however, Rahul Gandhi has had only electoral defeats and political setbacks to his credit. But what helped him survive was the remorselessness of Modi's refusal to defer to the 'secular' establishment that drew its sustenance mainly from its professed belief in the Nehruvian scheme of things.
In the Vajpayee years, Congress retainers ingratiated them­selves with the new regime in power. It was a time when BJP's somewhat diffident top leadership, freshly emerging from politi­cal ostracism, found itself hamstrung by its need for acceptance in New Delhi's entrenched powerscape.
HE RULE OF BJP 2.0 from 2014, though, was radi­cally different from the Vajpayee era, armed with confidence and a hunger to hit the ground running, transforming the socio-political and cultural profile of India for good. Modi showed no interest in the mythicised expertise and statecraft of the old order. Dumped in the wilder­ness, those who benefitted from pre-Modi governments were left with little option but to clutch desperately at hopes of Con­gress' return to power and this has seen them periodically stoke the 'romance' of the dynasty.
The rise of Modi hit the regional chieftains equally hard. But they were far more pragmatic and less enamoured of pundits and their punditry, so much so that they preferred to reward and encourage people closer home. They realised that proac­tively nurturing local professionals and intellectuals could bring them better results compared to the satisfaction derived from pampering pundits at the national level and with entrenched ideological allegiances.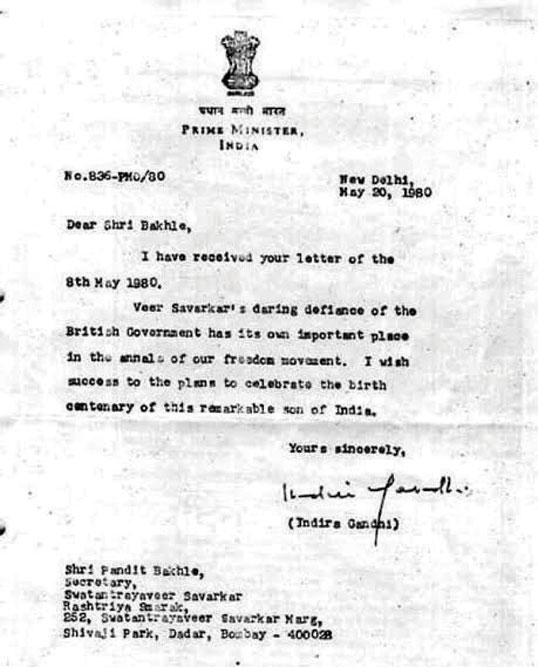 There were many such pundits who had earned a reputation pan-India under the aegis of Congress and who had reasons to preserve the perception of the dynasty as a viable political op­tion. A few other factors came into play to help their agenda. Muslim voters realised that they had no option, especially in the national scheme of things, other than Congress. Especially given that some of the regional players were pragmatic in their dealings with BJP. While they may be strong on their regional turfs, they tended to lose their appeal when it came to the fight for national power. Naturally, the pro-Muslim ecosystem, in the name of 'secularism', backed Rahul Gandhi in the hope of some gains. The conflation of these various factors has, lately, ensured that the Nehru-Gandhi 'heir' now attracts more support and at­tention on foreign campuses, in the columns of newspapers, and on TV channels. Besides, gratitude for the favours sought and granted in the past has translated into positive coverage for Rahul Gandhi in the media. Many of the lawmakers in the West would be envious of the ease with which he gets invited to address the rarefied campuses of Oxford and Cambridge. In the recent case, Rahul Gandhi's address to the British parliament turned out to be one on the margins, a well-choreographed appearance in one of the many committee rooms where 90-odd people, including a few MPs, were present. That's how many columnists known for their consistent and strident opposition to Modi, despite struggling for openings in Indian media, managed to get space in the Western media for their passé opinions. With a view to launching sharp attacks on Modi, not only Rahul Gandhi but the entire opposition too has been purveying the theory, both at home and abroad, that democracy is in danger on Modi's watch. In July last year, the joint opposition candidate for president, Yashwant Sinha, had made this his core pitch, claiming that all institutions of democratic governance had been captured and subverted, rendered pliable by the ruling party. In the end, BJP's candidate, Droupadi Murmu, won by an overwhelming majority against Sinha, posting more than 64 per cent valid votes.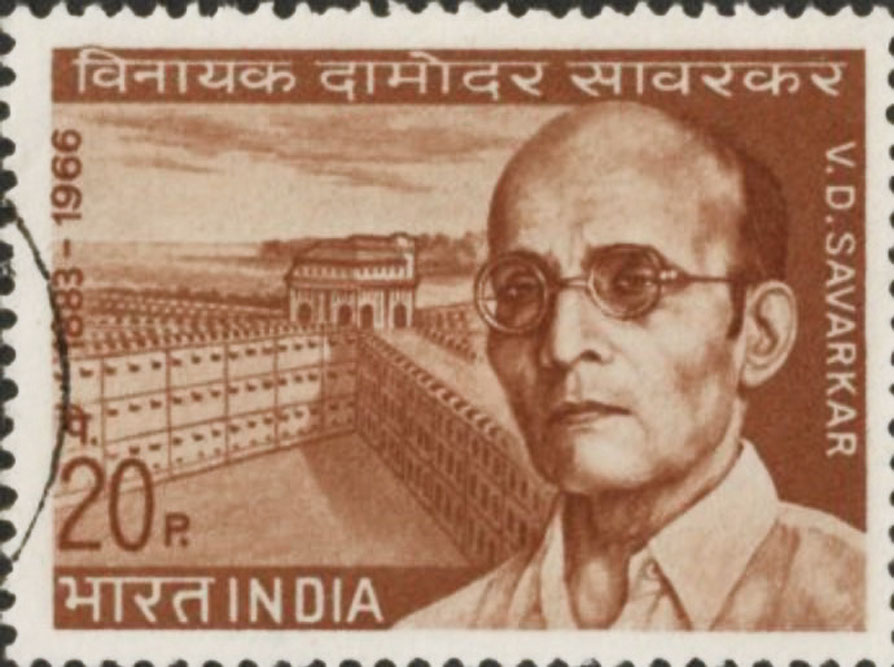 Yet, the convergence of vested interests has ensured that the Nehru-Gandhi dynasty survives and persists, as does its message of endangered democracy under Modi, as a viable political slogan in the elite imagination. But this has also worsened the sense of entitlement for the family. Take the case of Rahul Gandhi's com­ment on iconic freedom fighter VD Savarkar which is being pro­jected as an example of courage. While consistent opposition is fine, such outbursts come with a political cost for leaders like him. A coalition government at the time in Maharashtra, includ­ing both Congress and the Shiv Sena, saw an immediate reaction from the latter, with Uddhav Thackeray making it clear that the Sena would not countenance such remarks about Savarkar. The Maharashtra Congress, naturally, was forced to stay silent to stem the political repercussions.
Had Rahul Gandhi not been burdened with a sense of his own uniqueness, he would have cared to remember that Indira Gandhi had both issued a stamp and contributed to the memorial of Savarkar. Her tributes to Savarkar were as glowing as those that come from saffron quarters. In a letter to Pandit Bakhle in May 1980, Indira Gandhi noted: "Veer Savarkar's daring defiance of the British government has its own important place in the annals of our freedom movement." Granted there can be two opinions about him, but to call Savarkar—who spent 14 years in the Anda­man's Cellular Jail for India's freedom—a coward is tendentious in the extreme. But Rahul Gandhi does it with impunity.
Similarly, many holes can be punctured in his allegations about Modi's support for Vijay Mallya given that the then Karnataka-based industrialist had made most of his gains under the Congress-led United Progressive Alliance (UPA). The public sector made generous allocations to Mallya when he was a key figure in the then establishment. But Rahul Gandhi makes it appear that crony capitalism and favours from Modi were at the root of Mallya's huge gains. It is public knowledge that the agencies have confiscated the assets of such fugitives and returned over ` 20,000 crore to the public sector banks (PSBs). The anti-Modi brigade that is quick to jump onto any small inaccuracy by others, however, gave Rahul Gandhi a free pass on huge factual errors. Again, even a cursory glance at how Nirav Modi got his loans and who patronised him during the UPA years could crush Gandhi's claims.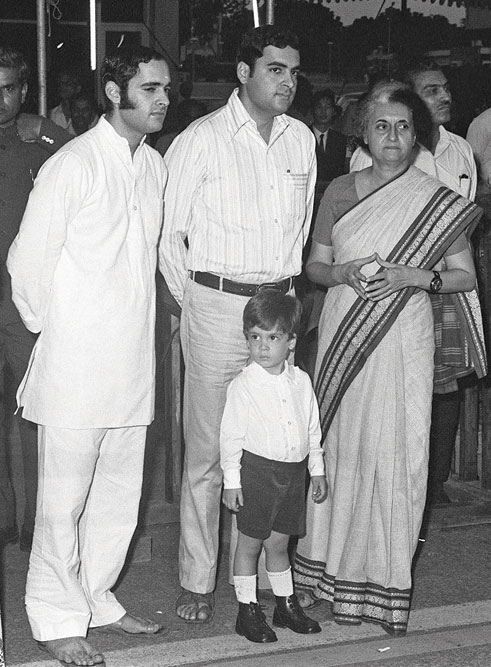 The friendly media also toned down facts about Rahul being shamed into taking the Covid vaccine. The man who ac­cused the government of being obscurantist did not take the vaccine until the criticism became unbearable. In June 2021, he called the Modi government's vaccine policy discriminatory and even cruel for not compensating the families of those who died. The centralisation of vaccine distribution was also criticised and although his mother had taken her shots, Rahul Gandhi himself had deferred taking his. The vaccine rollout, though, turned out to be among the world's largest and best managed.
There have been other big gaffes and damp squibs. The attack on Modi for complicity in the Rafale deal, which failed to get sup­port from several Congress leaders themselves, politically fell flat too. Gandhi also got a warning from the Supreme Court on this and had to retract. The attack on Modi for harming the pub­lic sector Hindustan Aeronautics Limited (HAL) also proved to be fruitless with the firm getting massive orders subsequently. Again, when Rahul Gandhi talks about Gautam Adani, he would like everyone to forget that many of India's biggest wealth and job creators would not have become what they are today but for the support given by Congress governments in the past. On Congress' watch, massive non-performing assets (NPAs) mounted in PSBs. As a matter of fact, banks have clean balance sheets only now, after decades of being in the red.
In his eagerness to attack the Modi government on its China policy, the Congress leader would like people to believe that 1962 did not happen. The main cause of the Sino-Indian war in October-November 1962 was a dispute over the sovereignty of the widely separated Aksai Chin and Arunachal Pradesh border regions. Aksai Chin was claimed by India as belonging to Ladakh and by China as part of Xinjiang, containing an important road link that connects Xinjiang to Tibet. China built this road, a key reason for the conflict that followed several border skirmishes.
China abandoned all attempts at a peaceful resolution on Oc­tober 20, 1962, invading disputed territory along the 3,225-km-long (2,004 miles) border in Ladakh and across the McMahon Line on the northeastern frontier. Chinese troops pushed back Indian forces in both theatres, capturing all their claimed terri­tory in the western theatre and the Tawang Tract in the east. The conflict ended when China unilaterally declared a ceasefire on November 20, and simultaneously announced its withdrawal to the pre-war position at the Line of Actual Control (LAC).
Cornered in Parliament on the issue, Nehru tried to make light of the Aksai Chin region, saying, "Not a single blade of grass grows there." An irate Mahavir Tyagi, senior Congress leader, pointed to his bald head and said, "Nothing grows here… should it be giv­en away to somebody else?" This was 37,244 square kilometres of land. That is almost Bhutan, Kerala, Manipur and Nagaland put together. That was Aksai Chin, the northeastern end of In­dia's crown which has been under Chinese occupation for many decades now. Again, it was Rahul Gandhi's father, Rajiv Gandhi, who travelled to China to formalise the boundary framework agreement.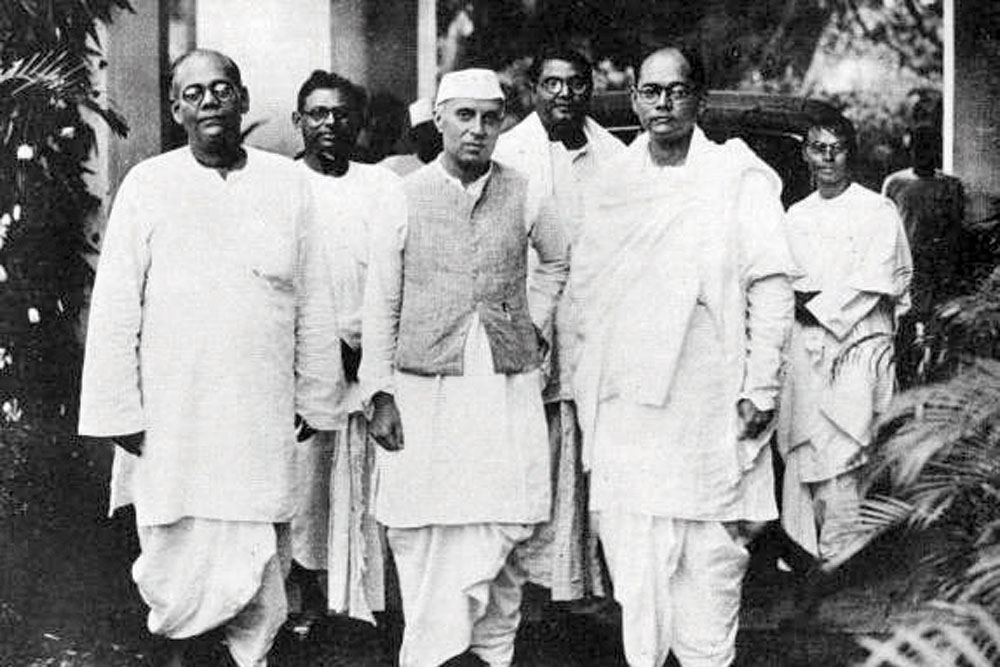 ONGRESS, AS BJP's political opponent, cannot be expected to talk about the genuine achievements of the Modi government even if these are to the scale of 200 million doses of vaccine; enormous amounts of free foodgrain distributed during the pandemic; a significant multi-crore kisan fund built from the ground up to help farmers; thousands of kilometres of new roads built across India; a massive boost to infrastructure, airports, railways; growth of a significant number of unicorns, and so on. If indeed, there is a big headline today, it is about India making unprecedented gains in its war against poverty. Again, not acknowledging these achievements is not because Rahul Gandhi cannot see how they have radically transformed India but because his judgement is clouded by the sense of being exceptional and his cordon of courtiers will not let the rays of reality reach him.
The dynasty's loss of clout started as far back as 1967 when the Congress vote share began its decline. What happened in 1977, or what was prevented because of the assassination of Indira Gandhi, and in 1991 because of Rajiv Gandhi's death, are events that cannot be reversed. It is true that BJP's current pre-eminence may not continue forever, but it is also true that several factors have chipped away at the very base of what made Congress spe­cial and powerful, the natural party of governance and the default option for India for decades. Its strength of being a hold-all party, a big platform that could accommodate competing interests, has been in shambles for long with the ascension of regional players. The corrosion is almost complete now and it is unlikely to regain its earlier strength as powerful regional players have already filled those spaces.
There has also been a big jump in the electorate's expectations, mobilisation along caste lines, and increased awareness of rights among people who earlier used to toe the line set by the erstwhile Congress grandees. The awe of the English-speaking elite has also diminished. Rahul Gandhi may prefer spit and polish and grand­standing but people are no longer looking for accent, diction, and degrees from foreign universities as the essential attributes of a politician. They have begun prioritising local options that can reinforce people-connect, deliver on the ground effectively, and be receptive to the voter's voice.
Despite all the support from the liberal ecosystem, the flaws and failings of the dynasty can no longer be hidden. The process of demystifying the Nehru-Gandhi dynasty and turning the strobe lights on people's rights rather than entitlement, which started in a faltering way, could not go far because of the stranglehold the 'liberals' had over the information system. But now, it has gathered an uncontrollable momentum because of the liberat­ing presence of social media and the end of the legacy media's monopoly on the manufacture of narratives. People today get information that shapes their perception from diverse sources and are no longer dependent on minders of the dynasty.
But the most crucial factor is that Congress' version of secular­ism—which came to be seen as pandering to vote-bank politics, the worst communal instincts, and indulgence for subversive ways—now stands completely discredited. People are no longer dependent on the history books that were brought out under state patronage after junking the works of giants like RC Majumdar and Jadunath Sarkar.
While this was the case for the past few years, the quality and quantity of work being done now and the diversity of platforms disseminating counter views are unprecedented. And the very issues that earned Rahul Gandhi much praise from known quar­ters (for Savarkar bashing or for saying India is a federation) are not brining him any goodwill from sections that have a different perception of how things were and how things should be. So, inexplicable and paradoxical conduct, as when he tore up an or­dinance dealing with people's representatives and conviction on criminal charges, without consulting then Prime Minister Man­mohan Singh who was abroad at the time, is likely to come under sharp scrutiny rather than be celebrated. Little wonder that Union Minister Hardeep Singh Puri said recently, "The Congress is get­ting an ass to run a horse race." The reference was unmistakable.
It's the same sense of exceptionalism that makes Rahul Gandhi claim that his expulsion as an MP was the vindictive handiwork of the government. The Lok Sabha speaker had no option but to disqualify him after the Gujarat sessions court held him guilty of defamation and handed him a two-year prison term. Rahul Gandhi's expulsion was a fait accompli. After the Supreme Court ruling in the Lily Thomas case of 2013, an MP or MLA is dis­qualified the moment s/he is convicted for two or more years. The Lok Sabha secretariat had no discretion. It just had to comply. As Parliament is in session, the compliance had to be swift. Ironically, Gandhi attended the morning session on the day of sentencing. When the Lily Thomas judgment came, Manmohan Singh had tried to defend his political colleagues by bringing in an ordinance that tried to give a three-month window for affected politicians to appeal and seek remedy. In fact, until the 2013 judgment, the Representation of the People Act had a provision—Section 8(4)— that gave protection to MPs and MLAs from disqualification for three months from the date of conviction until such an appeal was disposed of by the court.
Yet, Rahul Gandhi's sense of privilege has ensured that he thumbed his nose at rules that apply to ordinary folk. Ajay Maken, the then minister, was briefing reporters at the Press Club of India when Rahul Gandhi barged in, described the ordinance as "com­plete nonsense" and tore up the paper.
India has forged ahead on many fronts in the last nine years. Its international status has improved rapidly and to such an extent that even superpowers don't dare talk its leader down. Instead, they let India take its own decisions that suit its own priorities. Rahul Gandhi would thus do well to remember that gone are the days when Indira Gandhi, after smothering democracy, could pose as a democrat.