Most people believe that Indira Gandhi imposed the Emergency on 25-26 June 1975 to save her prime ministership after Justice Jag Mohan Lal Sinha of the Allahabad High Court set aside her 1971 Lok Sabha election on the grounds that she had availed herself of the services of a government official.
However, as argued by this author in his article "Was Emergency Inevitable?", Open, 19 June 2020, both her principal secretary, Professor Prithvi Nath Dhar, and her information advisor HY Sharada Prasad believed that the Emergency resulted from a string of political miscalculations during three simultaneous confrontations against Indira Gandhi: first, the Nav Nirman Andolan led by Morarji Desai in Gujarat from December 1973 onwards; second, the railway strike led by George Fernandes in May 1974; and third, the Sampoorna Kranti Aandolan led by Jaya Prakash Narayan and Nanaji Deshmukh from March 1974 onwards.
It is possible that Indira Gandhi would have imposed the Emergency even if the Allahabad high court had not disqualified her election in its judgement of 12 June 1975. She had frequently stated in the preceding weeks that the nation needed a shock treatment.
According to Bishan Narayan Tandon, who was joint secretary in the Prime Minister's Secretariat, she had been rattled by the thorough cross examination conducted on her by Shanti Bhushan, who was the lawyer of Raj Narain, and also treasurer of the Congress (O) party.
Her advisor on legal and constitutional issues, Siddhartha Shankar Ray, then the chief minister of West Bengal, and law minister HR Gokhale proposed that Shanti Bhushan could be enticed away from the litigation by offering him the position of a supreme court judge.
But PN Haksar, principal secretary in the Prime Minister's Secretariat, thundered that this would be most improper. Shanti Bhushan was also the standing counsel of the State Bank of India and several other public sector enterprises. Pressure was put on these organizations to drop him. But PN Haksar and finance minister Chidambaram Subramaniam and industries minister TA Pai asserted that Shanti Bhushan had been appointed by these government organizations on merit.
On 7 June 1975, an additional secretary dealing with legal matters, PP Nair, telephoned the chief justice of the Allahabad high court, DS Mathur, and told him that the verdict should be delayed until after July. Nair also told Justice Mathur to convey to Justice Sinha that he could be appointed as the chief justice of Himachal Pradesh and subsequently elevated to the Supreme Court.
Chief Justice Mathur's image has been unfairly tarnished because rumours circulated that it was he who made the offer to Justice Sinha. The truth is that Justice Mathur was deeply perturbed over this attempt to influence the judiciary, although Nair had stopped short of demanding that the verdict should be in favour of Indira Gandhi.
Chief Justice Mathur consulted his close relative, Dr KP Mathur, who was the personal physician of Indira Gandhi, and one of her closest confidantes. He then decided to repeat to Justice Sinha exactly word for word what Nair had said to him, and leave it up to the latter.
After hearing about the blandishments dangled by Nair, a furious Justice Sinha instructed the registrar of the Allahabad high court to notify that he would pronounce the verdict on the very next working day, i.e. on 12 June. He then went into hiding in a secret location together with his trusted stenographer, and dictated his 258 page verdict. The lawyers for the parties were taken by surprise and could not reach the courtroom in time for the pronouncement. Indira Gandhi's lawyer, SC Khare, was vacationing at a hill station, and Shanti Bhushan was in Mumbai.
There is some speculation that Indira Gandhi knew in advance that justice Sinha's judgement would go against her. She had told Siddhartha Shankar Ray to immediately rush to Delhi on 10 June itself to draft an appeal to the Supreme Court.
My father, HY Sharada Prasad, who was information advisor to the prime minister, had instructed the correspondents of the Press Trust of India and the United News of India to telephone him as soon as Justice Sinha had delivered his verdict.
PN Dhar and my father went across to Indira Gandhi to inform her that she had been disqualified as a member of parliament. She heard the news in absolute calm, without showing any emotion at all, and turning to SS Ray, remarked: "You probably knew this, didn't you?"
Her private secretary RK Dhawan too confirmed later that SS Ray and HR Gokhale had met together the day before Justice Sinha pronounced his verdict, to draft an appeal to the Supreme Court. Justice Sinha himself granted a stay of twenty days on his own verdict to enable her to appeal to the Supreme Court.
Indira Gandhi's immediate reaction was to resign, and her private secretary RK Dhawan typed out her resignation. But before she could sign it, Jagjivan Ram lobbied hard to be declared as the next prime minister.
Indira Gandhi had been suspicious of Jagjivan Ram's ambitions right from 1962, when the latter had sought to be declared as the successor of a weakened Jawaharlal Nehru. Ram had then even gone to the extent of asking Indira Gandhi for her support to succeed her father. Her suspicions were exacerbated by Jaya Prakash Narayan's lavish praise of Jagjivan Ram as an able administrator.
Yashwantrao Balwantrao Chavan too lobbied to be made prime minister. Indira Gandhi was wary of YB Chavan, because, as home minister, he had tapped her telephones. Moreover, Lal Bahadur Shastri had spoken of YB Chavan as his successor.
As soon as Sanjay Gandhi returned at lunchtime from his Maruti factory, he quashed all talk of his mother's resignation.
On 24 June 1975, the vacation judge of the Supreme Court, Justice VR Krishna Iyer, did not grant Indira Gandhi an absolute stay but only a conditional one, ruling that she could continue as Prime Minister till the matter was decided by the Supreme Court but that she did not have the right to vote in Parliament.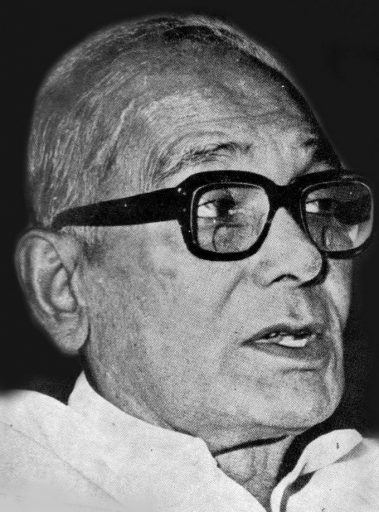 Indira Gandhi's political opponents, from numerous parties, gathered at the residence of my maternal uncle, KS Radhakrishna, head of the Gandhi Peace Foundation, to formulate plans to force her to resign. Radhakrishna had been the closest advisor of Loknayak Jaya Prakash Narayan for decades, and JP was staying at his house on Deen Dayal Upadhyay Marg.
On the evening of 25 June 1975, Jaya Prakash Narayan, Morarji Desai, Raj Narain, Nanaji Deshmukh, Madan Lal Khurana, and several other political stalwarts addressed a mammoth crowd at Delhi's Ram Lila Maidan, calling on Indira Gandhi to resign. JP made a fiery speech, reciting Ramdhari Singh Dinkar's poem, 'Singhasan khaali karo / janata aati hai (surrender your throne, for the people are coming)'. JP exhorted the army and the police to not obey orders which they considered illegal and unconstitutional. He also called on the nation to not pay taxes.
Morarji Desai, usually a stickler for law and order, told journalists that they would surround Indira Gandhi's house until she resigned.
Many of JP's colleagues were aghast at his calling upon the armed forces and police to disobey orders. Biju Patnaik admonished JP – "I warned you not to take an extreme stance. Now that you have pushed Indu into a corner, she will retaliate harshly in desperation. I know her mind". Biju Patnaik pleaded with JP – "Even now please give her a face saving way of coming to a settlement with us".
After returning from Ram Lila Maidan, JP, Morarji Desai, Subramanian Swamy and several other political leaders had dinner at Radhakrishna's residence. Swamy noticed Intelligence Bureau officials in plain clothes outside, and voiced his apprehensions that they would all be arrested.
But both JP and Morarji Desai replied that Jawaharlal Nehru's daughter would never ever even think of doing such a thing at all. When Swamy persisted, JP replied: 'Will she be so stupid? That will be the end of her".
Swamy was not convinced, and quickly left. Morarji Desai too left the dinner early and returned to his residence.
After midnight, the police force which had been keeping surveillance for weeks outside Radhakrishna's residence banged on their doors. A policeman held a revolver at the chest of my cousin KR Chandrahas, then a college student, ordering him to produce JP.
Radhakrishna requested the police officers that since JP had a tiring day, if they could allow him to sleep for another couple of hours. The police officers graciously agreed, and chatted amiably with my aunt Kamala over snacks.
Meanwhile, Chandrahas went to an adjoining building and telephoned Nanaji Deshmukh and Madan Lal Khurana who were at the RSS headquarters at Rani Jhansi Road, and they managed to escape fifteen minutes before the police arrived there.
Morarji Desai told Chandrahas that he would not escape and would instead wait for the police to come and arrest him, which they did within a few minutes . When Chandrahas contacted Raj Narain, the police had already arrived there to arrest him.
Chandrahas also tipped off a couple of reporters of UNI United News of India to rush to the Parliament Street police station. Radhakrishna accompanied JP to the Parliament Street police station, where JP surrendered to Maxwell Pereira, making his much reported statement – "Vinaasha Kaaley Vipreetha Buddhi".
Even though the police had an arrest warrant against Radhakrishna, they just plain forgot to take him into custody. In the confusion while JP was being put into the vehicle to be driven to a circuit house in Haryana, Radhakrishna quietly slipped away from under the very eyes of the policemen. He organized the resistance to the Emergency for several months all over the country, aided by Narayanbhai Desai, Siddharaj Daddha, Manmohan Chaudhary, and other Gandhian Sarvodaya workers.
Chandra Shekhar, who was a Congress MP and the leader of the Young Turks faction in the Congress party, was arrested from Rivoli theatre where he was watching a late night screening of the movie Sholay together with BP Koirala of Nepal. That morning Chandra Shekhar had called for Indira Gandhi's resignation. A few days earlier, Chandra Shekhar had hosted a dinner in honour of JP, with whom he had an heir-mentor relationship. Chandra Shekhar was unable to attend the rally at Ram Lila Maidan because he had to take BP Koirala to dinner at Kwality restaurant; he had to scrounge around for several hours to borrow a hundred rupees to pay for the dinner and movie.
The sympathetic police officer took Chandra Shekhar to a nearby pay phone booth and told him: "Indira Gandhi has gone mad. I am delaying noting the time of your arrest in the case diary by half an hour. During these thirty minutes, call whomever you can to warn them of their imminent arrest and that they should escape immediately".
A telephone operator overheard these conversations, and tipped off George Fernandes who was holidaying with his family at Gopalpur On Sea in Odisha. Fernandes had earned the gratitude of female telephone operators by fighting for improving their working conditions. Clad in just his lungi, George Fernandes managed to jump into his car minutes ahead of the arrival of the police.
The sympathetic police officer put Chandra Shekhar in his vehicle, telling him: "I have orders to take you to Parliament Street police station. But let us first make a detour to Gandhi Peace Foundation, and see what is happening with JP, and warn whomever else we can."
But as they arrived at GPF, JP was already being bundled into a car by the police. Karpoori Thakur of Bihar too arrived at GPF. But as the police moved to arrest him, Chandrahas convinced them that Thakur was the chowkidar of the Gandhi Peace Foundation. The police then took Chandrahas to the Daryaganj police station and beat him up for several hours.
A senior police officer called up Subramanian Swamy at 4 am, and asked him if he could come over to Swamy's residence straightaway to discuss some urgent issues. Swamy asked him what could be so urgent at 4 am. Speaking slowly and emphatically, the police officer said: "If you happen to not be at home when I come…." Swamy understood what this police officer was hinting at, and quickly made his escape.
My cousin Shobhana Radhakrishna recalled: "That morning of June 26, at 5 am, after witnessing JP being escorted by the police to an unknown destination, Ram Nath Goenka came to our home like a hurricane, boiling with rage as the electricity was cut off in the Indian Express". Goenka quickly arranged for my aunt Kamala and Shobhana to be sent out of Delhi to safety; Chandrahas had been picked up by the Daryaganj police without a warrant.
My father HY Sharada Prasad, who was Information Advisor to prime minister Indira Gandhi, came home at 2 am, slept for a couple of hours, and left again at 4:30 am. He was very tense and worried, and extremely fatigued, but did not utter a word. He called my mother and me shortly before 8 am, and told us to switch on All India Radio in order to listen to Indira Gandhi's proclamation of the Emergency.
Bishan Narayan Tandon, who was joint secretary in the Prime Minister's Secretariat, described in his book PMO Diary – I : Prelude to the Emergency, published by Konark Publishers :
26 June 1975
…As I was leaving for the office, Sharada phoned to say, "You must have heard, it is all over. We will talk when you come to the office." He sounded very dejected.
On reaching the office I went straight to Sharada's room. He told me in detail whatever he knew. Last night the PM had summoned him and Professor PN Dhar to her house at 10 pm. ( Congress party president Dev Kant ) Barooah and ( Siddhartha Shankar ) Ray were already there.
When Prof Dhar and Sharada reached there, the PM told them, "I have decided to declare an Emergency. The president has agreed. I will inform the cabinet tomorrow."
Saying this, she handed over the draft of the Emergency proclamation to Prof Dhar. He and Sharada were stunned. They had been summoned only in order to be informed and for their advice on the propaganda to follow. She also told them to prepare a draft of her address to the nation. They were at the PM's house till about 1 am. The cabinet was to meet at 6 am.
All those ministers who were in Delhi attended the cabinet meeting. The PM told them what she had decided to do but not one of them protested, not even faintly. Only Swaran Singh raised some administrative issues. The arrests were not discussed at all. One of the ministers said that he had heard about the arrests but the matter was swept aside.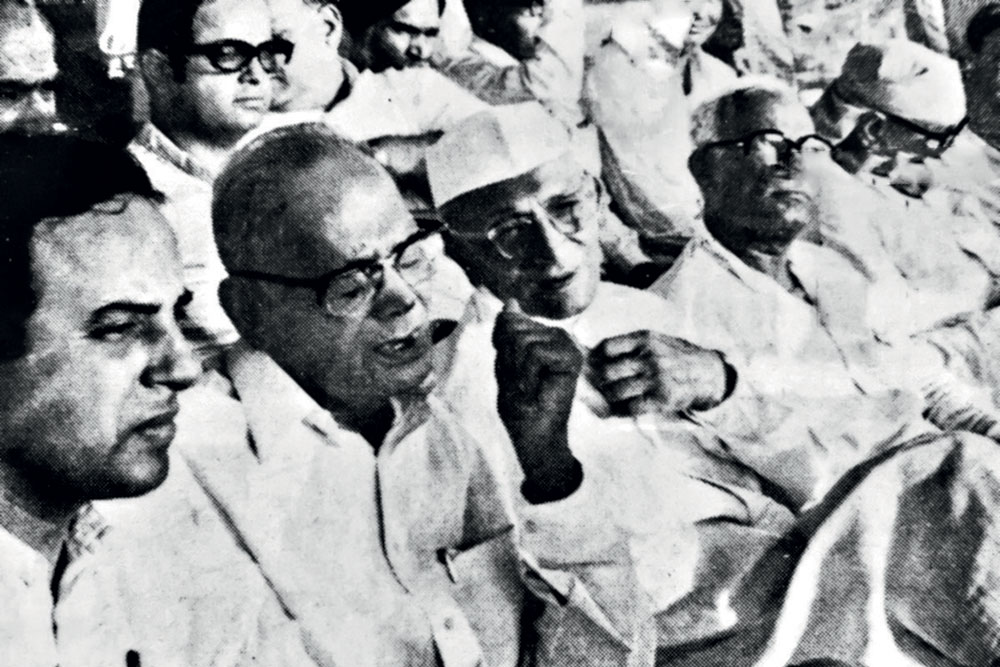 Even Prof Dhar had no idea of these arrests. Sharada said that all the main leaders of the opposition, including JP, Morarji, Charan Singh have been arrested.
Sharada also told me that Sanjay was now in full control of the PM's house. After the cabinet meeting he called Gujral to one side and scolded him for the poor propaganda effort. He told him to send every new bulletin to the PM's house henceforth. Gujral told him that from the functional point of view, some officials should be deputed for this. He could be stationed at the AIR, where he would be shown all the bulletins. He suggested Sharada's name for this but Sanjay put Behl on the job.
VR (V Ramachandran, an IAS officer of the Kerala cadre, was joint secretary in the Prime Minister's Secretariat ) also joined us. After hearing Sharada he said that henceforth India too would have a "guided" democracy. Sharada said yes in a very low tone.
He was very tired. Since June 12 he has had to work the hardest in the PM's secretariat because the PM's entire strategy is based on propaganda. But more than physical tiredness, he was in mental agony. I have never seen him like this. He must surely have wondered if this was what he had gone to jail for in 1942. He is a journalist. After independence this is the first time that pre-censorship has been imposed….
Seshan (NK Seshan was the highly trusted private secretary to Jawaharlal Nehru since 1944; Nehru referred to Seshan as the son he never had ) came very late to the office today and came straight away to my room. He said, "See I had told you. But I don't know what will happen next. Sanjay has taken control completely."
(Excerpted from 'PMO Diary -I, Prelude to the Emergency, written by B N Tandon, and published by Konark Publishers)
Prof PN Dhar wrote in his book 'Indira Gandhi, The Emergency and Indian Democracy':
On 25 June, the Supreme Court gave its conditional stay order on her appeal. That night at 11 pm I was called by the prime minister to her house. The atmosphere in the house was tense. Ray and Barooah were there. Ray looked grim while Barooah wore a huge grin and was trying to look relaxed as usual.
Mrs Gandhi told me tersely: "The situation in the country is very bad. We have decided to declare an internal emergency. There is going to be a cabinet meeting early in the morning tomorrow after which I am going to broadcast the decision on AIR."
Haying said this, she handed me the draft of the proposed speech, Just at that time Sharada Prasad, who had also been summoned, walked in. I went over the draft with Sharada and suggested the addition of the following line in the concluding paragraph of the draft: 'I am sure that internal conditions will speedily improve to enable us to dispense with this proclamation as soon as possible.'
Sharada and I left the house together in despair. After a while he asked me gloomily what would happen at the cabinet meeting. I said mechanically that it would be a routine affair. He fell into a deep silence. All this time I had been cursing myself for not having carried out my decision to resign earlier, when the opportunity for it had arisen.
At 5 am, cabinet ministers were telephoned by RK Dhawan and told to rush for a cabinet meeting at 6 am at 1 Akbar Road. In later years, this room at 1 Akbar Road became my father's office.
None of the cabinet ministers knew about the Emergency, and neither did the Intelligence Bureau, nor the armed forces. Home minister K Brahmananda Reddy learnt about it because the Emergency Proclamation was issued in his name, and he had to sign the letter which Indira Gandhi had dictated in his name and on his letterhead, addressed to the president.
President Fakhruddin Ali Ahmed's image has been tarnished because of Abu Abraham's cartoon showing him signing the Ordinance in his bathtub. However, Indira Gandhi and Siddhartha Shankar Ray had met the president several times in the three days preceding the declaration of the Emergency. RK Dhawan too confirmed later that Indira Gandhi and SS Ray had met the president numerous times after 21 June 1975.
At the cabinet meeting, the only government officials present were PN Dhar, my father HY Sharada Prasad, the cabinet secretary BD Pande, and the new home secretary SL Khurana, who had taken over from Nirmal Mukarji only a day earlier. Neither Pande nor Khurana had any idea at all about the Emergency and the arrests.
None of the senior cabinet ministers – Jagjivan Ram, YB Chavan, Sardar Swaran Singh, home minister K Brahmananda Reddy, etc voiced any objections over the declaration of the Emergency, and none of them knew about the arrests at all.
PN Dhar and my father whispered to each other that they had been witness to an evil act. While Dhar had drafted Indira Gandhi's speech together with my father, he too had no idea of the arrests at all.
Indira Gandhi referred to JPs calling on the armed forces to revolt as the reason why she was reluctantly compelled to declare the Emergency. However, the lieutenant governor of Delhi, an ICS officer named Krishan Chand, and his secretary Navin Chawla of the IAS, deposed before the Justice Shah Commission in 1978 that they were informed by Sanjay Gandhi of the plans to impose the Emergency two hours before the rally began at Ram Lila Maidan, and to prepare for the arrests to be conducted later that night.
In fact Siddhartha Shankar Ray, law minister HR Gokhale, Congress president Dev Kant Barooah, Haryana chief minister Bansi Lal, and barrister Rajni Patel, the Congress party strong man and fundraiser, had been planning the arrests of members of the Ananda Marg, the RSS Rashtriya Swayamsevak Sangh and its student wing ABVP Akhil Bharatiya Vidyarthi Parishad, in January 1975 itself, well before Indira Gandhi was personally examined in the court of justice Jag Mohan Lal Sinha.
There is a hand-written letter dated 08 January 1975 from SS Ray to Indira Gandhi in which he advised her to impose an internal emergency, together with legal justifications for doing so, and enumerating the constitutional provisions.
RK Dhawan too confirmed later that the magistrate warrants for the arrests under the Maintenance of Internal Security Act of political opponents all over the country, especially those from the Rashtriya Swayamsevak Sangh and the Ananda Marga, had been prepared and signed by 21-22 June, two days before Supreme Court Justice VR Krishna Iyer was to decide on Indira Gandhi's appeal.
Most of the newspapers did not come out on 26 June. In Delhi, only the Motherland, the party paper of the Jana Sangh, the Hindustan Times, and the Statesman, were printed.
Inexplicably, while Sanjay Gandhi had cut off electricity to all the newspaper offices located at Bahadur Shah Zafar Marg, including to the Congress party's own National Herald, he had somehow neglected to cut off the power supply to the Jana Sangha's Motherland, whose editorial office and printing press were in Jhandewalan, and to the Statesmen and Hindustan Times, which were located in Connaught Place.
In a real reporting feat, The Motherland carried complete details of the arrests of politicians and journalists all across the country in its issue on the morning of 26 June 1975. This was to be its last issue, and its editor KR Malkani and other staff were arrested, and the paper shut down permanently.
In stark contrast to The Motherland's scoop, the intelligence agencies and the armed forces came to know about the Emergency only from Indira Gandhi's radio broadcast at 8 am.
Interestingly, in January 1975 itself, the Motherland had published an article written by a Jan Sangh Lok Sabha MP from Maharashtra, Vasanth Kumar Pandit, in which he gave details of Indira Gandhi's plans to arrest opposition leaders and muzzle the press. Pandit even mentioned the names of the hundreds of politicians and journalists who would be arrested. The Intelligence Bureau questioned Pandit, but he managed to convince the IB, that since he was a renowned astrologer, that this was a mere astrological prediction on his part, and not based on any confidential information. The lists of those arrested on 26 June 1975 proved that Pandit had got every single name correct, six months in advance.
Prof PN Dhar wrote in his book 'Indira Gandhi, The Emergency and Indian Democracy':
"What led Indira Gandhi to take such a drastic step? Did she have to pick up the gauntlet thrown down by JP on the Ramlila grounds? There is no simple answer. Her problem was much more complex than JP's, for whom what was happening in the country was like a medieval morality play in which all the angels were on his side. He had no dilemmas, his mind was full of certitudes. He was more attuned to the rhetoric of revolution than to the complexities of administering a difficult country.
….Had the opposition leaders, particularly JP, left the onus of the decision entirely to her, it is not improbable that she would have resigned. But they were keen to exploit the situation, exercise their newly gained strength, and demonstrate that they had forced her to resign. Even before she could file her appeal, to which she was entitled, a delegation of opposition leaders from the Congress (O), JS, BLD, SP and Akali Dal called on the president and presented a memorandum to him saying that 'a grave constitutional crisis had arisen as a result of Mrs Gandhi continuing to occupy the office of the prime minister despite a clear and categorical judicial verdict'. They pressed for her resignation. In their public utterances she was mercilessly demonized.
…All these cogitations and counsels came to an end on 24 June when Justice Krishna Iyer of the supreme court, before whom she had moved her appeal for absolute stay order against the Allahabad high court judgement, granted her only a conditional stay, which meant that she could continue as prime minister but not function as a full voting member of the Lok Sabha. This was the fateful moment of decision for her. Feeling diminished in her authority by Justice Iyer's verdict to cope with the threatened disorder that was looming large — the opposition parties announced their plans of countrywide satyagraha — she pressed the panic button and her contingency plan for the declaration of an internal emergency came into operation.
…When the fateful moment arrived, JP did not let the law take its own course. Whether it was his mistrust of Indira Gandhi's motives, or his own lack of faith in the democratic method, or his ambition to go down in history as a political messiah of the Indian people is beside the point.
Similarly, Indira Gandhi showed more faith in the repression of political opponents and dissidents in her party than in her own ability to engage them constructively or fight them politically. Whether she opted for the Emergency to save herself from loss of power or as shock treatment to bring the country back to sanity is also beside the point.
The fact remains that both JP and Indira Gandhi, between whom the politics of India was then polarized, failed democracy and betrayed their lack of faith in the rule of law.
My father,who had long been a senior journalist and a freedom fighter, again offered his resignation to Indira Gandhi in protest against censorship of the press, but she refused to accept it, adding that she had several compelling reasons for imposing the Emergency. My father told her that this was not what he went to jail for in 1942, during the Freedom Struggle.
To overcome my father's vehement objections, Indira Gandhi showed him some intelligence reports. Some of these related to Jaya Prakash Narayan exhorting the armed forces to revolt, and to the foreign sources funding JP and George Fernandes. There were personal messages from Leonid Brezhnev, marked for her eyes only. There were transcripts of intercepted communications between foreign intelligence agencies and diplomats and JP, George Fernandes, and Subramanian Swamy.
Then when Sheikh Mujibur Rehman of Bangladesh was assassinated before dawn on the politically significant day of 15 August 1975, Indira Gandhi told my father as they were driving together to Red Fort for her Independence Day address to the nation: "You were opposing the Emergency. Now you know why I was compelled to impose the Emergency. India was next".
Even though they had been expecting Mujib's assassination for several weeks, the senior officials of Indira Gandhi's administration were still rattled when it actually took place, with the date sending a strong threatening signal to India.
Indira Gandhi had intended to announce relaxation of several of the Emergency measures; my father had drafted her speech. However, the pointed timing of Mujib's assassination meant that these announcements had to be abandoned. My father hurriedly rewrote her speech in the car. Even as she began her Red Fort address, my father kept frantically scribbling subsequent paragraphs for her to read out, as they anxiously awaited further news from Bangladesh.
Many decades later, my father stated in reply to a question at a lecture: "If Indira Gandhi had thrown in the towel at that point of time, it would have greatly weakened the Indian state. The Emergency did damage our democratic roots badly, but the state had been saved from a very grave challenge".

The author, an alumnus of Carnegie Mellon and Indian Institute of Technology-Kanpur, is a technology consultant and defence analyst. The opinions expressed in this column are those of the author