TO WRITE A 'definitive biography', and proclaim it as such on the cover, is to make so bold a claim as to render it almost foolhardy. Yes, in time, Ira Mukhoty's ambitious book Akbar: The Great Mughal (Aleph; 624 pages; Rs 799) may be overtaken, but, at present, it fulfils its purpose. Even more, she could not have timed it better for between Emperor Akbar's vision of India and Prime Minister Modi's is a yawning gap demanding to be filled. This book will have succeeded if it induces a return to the 'idea of India' that held from the Mughals to the first 67 years of India's independence. There is thus a contemporary setting in which to view in perspective a rule of 50 years some 500 years ago. That is what gives Mukhoty's biography an immediacy, a topical reverberation that transforms what might have been a popular mediaeval history into tonight's 'breaking news' and tomorrow's editorial.
To trace the origins of Mughal secularism one has to go back to Babar's immortal letter to Humayun dated January 11th, 1529, about a year before he died:
'Oh, my son! The realm of Hindusthan is full of diverse creeds. Praise be to God that He has granted to thee the empire of it. It is but proper that you, with heart cleansed of all religious bigotry, should dispense justice according to the tenets of each community. And in particular refrain from the sacrifice of the cow, for that way lies the conquest of the hearts of the people of Hindusthan; and the subjects of the realm will, through royal favour, be devoted to thee. And the temples and abodes of worship of every community under the imperial sway, you should not damage. Dispense justice so that the sovereign may be happy with his subjects and likewise the subjects with their sovereign. The progress of Islam is better by the sword of kindness, not by the sword of oppression… And bring together the subjects with different beliefs in the manner of the Four Elements, so that the body-politic may be immune from various ailments' (Mughal Imperial Archives).
On ascending the throne in 1530, Humayun obeyed this injunction but without dramatically changing anything. For, in the first decade of his reign he was preoccupied with fending off his brothers and rivals—Kamran, Hindal and Askari—and then succumbed to the Afghan usurper, Sher Shah Suri, who comprehensively defeated the nascent Mughal Empire at the Battle of Chausa in 1539. Humayun tried a rearguard action in Sind and later in Afghanistan but eventually, four years after his defeat in battle, he fled in 1543 to the refuge offered by the Safavid rulers of Persia, abandoning the empire he had inherited. While on the run, he married the Persian princess, Hamida Begum, who gave birth to little Akbar in 1542 in the palace of the Hindu Maharaja of Ummerkot (now in Pakistan Sindh). This was perhaps an augury of the syncretic empire the baby prince would build in the second half of the 16th century.
At best, it could be said that Humayun did not accelerate conversion or accentuate religion-based discrimination. It should also be stressed that even the Delhi Sultanate that preceded his father had arrived at a modus vivendi with the overwhelmingly non-Muslim population of the land after realising, as Mukhoty says, '[that] in a country like India [the] sort of strict adherence to the sharia' that the ulema were advising the other two great contemporary empires of Ottomans and Persians to practice 'would have been politically catastrophic'. So, they 'pragmatically ignored many of the injunctions of the sharia', quite leaving behind them the bigotry and ferocity of the Khiljis (Alauddin, in particular). Ghiyasuddin Tughlaq had started the practice of marrying Hindu wives to integrate his Hindu subjects into what had been hitherto exclusively Muslim rule, leading inevitably to an administration in which Hindus found a place and a culture that became increasingly composite. But it was not till 1561, about five years into Akbar's reign and the end of Bairam Khan's regency, that the 20-year-old emperor, immediately after he came into his own, began raising talented Hindus to high positions in his court and promoting the full flowering of a 'Ganga-Yamuna' tehzib (culture).
This central theme of Mukhoty's saga is recounted not polemically but with scholarly deftness through a succession of richly researched sources, contemporary and subsequent, in a myriad languages, of events and personalities stretching from 1561 to Akbar's death in 1605 and beyond to Jahangir and Shahjahan. Audrey Truschke, through her brilliant revisionist biography of Aurangzeb, has tentatively stretched that composite heritage to Aurangzeb's regime, sending scurrying for cover the conventional view of Aurangzeb as a bigot and a fanatic promoted by not only the Rashtriya Swayamsevak Singh but even by Jawaharlal Nehru in his Discovery of India (see p 271).
At the end of 352 years of the Mughal Empire and 666 years since the advent of Mohammad Ghori to the throne of Delhi in 1192, the first census undertaken by the British in 1872 revealed that only a quarter of India's population was Muslim, astonishing when compared to what happened to the complete subjugation of indigenous faiths in all other parts of the world that fell to the sway of Islam. The integration of a Muslim ruler with his overwhelmingly Hindu subjects was perhaps most dramatically illustrated by the Hindu mutineers of the First War of Independence marching from Meerut to Delhi to reinstate the Mughal emperor in the face of weak protests from the last titular emperor of that dynasty, Bahadur Shah Zafar, who saw this quite accurately as the beginning of the end of his reign. Tartly, Mukhoty reprimands 'popular narratives of suspect scholarship [that] have veered sharply towards the identification of the Mughal empire with the infamous notion of one thousand years of oppression of Hindus'.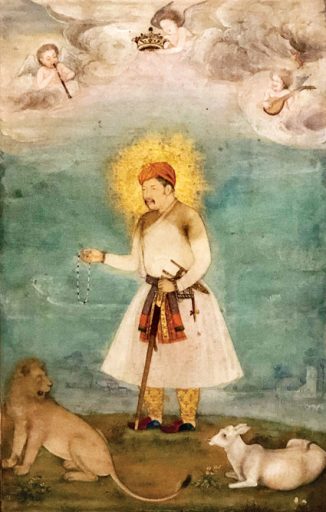 We are running ahead of our story. Akbar gave little early indication of any interest in studies or learning. 'He grew up effectively unschooled and practically illiterate'. He was far more devoted to martial training, hunts and physical feats of life-threatening bravura with 'mast' elephants, unruly horses and wild animals. This stood him in good stead in proving himself a courageous and consummate warrior but gave no clue to the kind of emperor he would prove to be after terminating, at the age of 18, the five-year regency (1556-1560) of Bairam Khan.
The turning point came in 1562, when Akbar, aged 20, came across a group of qawwals singing the praises of the Sufi saint, Khwaja Muinuddin Chisti. The emperor immediately wended his way to the saint's dargah at Ajmer but was literally waylaid at Sanganer by Raja Bharmal of the Kachhwaha clan of Amer. He sought Akbar's help in routing his many brothers, all rival claimants to the throne. In return, Raja Bharmal offered to marry to the emperor his daughter, Harkha Bai (also known as Maanmati and, later, Shahi Bai). While it was not unprecedented for Muslim sultans and badshahs to marry Hindu daughters of chieftains defeated in battles, what was unprecedented was the emperor's marriage being celebrated in the bride's home 'complete with all the elaborate Hindu rites'. The bride then proceeded to her husband's palace not only with the customary 'zenana amla' but also with a 'cuirass of brothers and nephews to walk beside her', including her brother, Bhagwan Das, and her nephew, Man Singh, destined for very high office in Akbar's empire. Harkha Bai also brought with her an 'entire microcosm of Rajasthani culture… their songs, their dances, their food, their customs and their tenacious dreams'.
Astonishingly, the bride became the First Lady of the empire without being asked to change her religion. Harkha Bai, who long outlived her husband, grew into a powerful influence on her husband's ways of thought (and deeply influenced her son, Salim, later Emperor Jahangir) into bringing his catholicity of faith to the fore as the primary strand of thought in his philosophy of life and rule.
Soon after he married Harkha Bai, Akbar undertook his first decisive step in making the celebration of plurality the leitmotif of his empire. After a chance visit to Mathura, the 'vortex of the high-voltage passion of the Bhakti movement', following a lion hunt in the jungles on the periphery of this city sacred to Hindus, Akbar was 'struck by the devotion of the visiting pilgrims'. He startled his companions by then deciding to walk all the 60 km to Agra by the same evening. Later he recounted that during such feats of physical endurance he 'experienced an internal bitterness… my soul was seized with exceeding sorrow'. Out of these reflections was born his historic decision to abolish the pilgrim tax although it 'brought in millions of rupees to the royal exchequer every year'. Conceding in his farman rescinding the pilgrim tax that the error of the ways of Hindus were 'obvious to some people' (hint, hint: the ulema), he declared that since the 'error of their ways is not obvious to them [Hindus], to demand anything from them and to place a stumbling block in their path to whatever leads them to the threshold of divine unity and the worship of God are less praiseworthy to the wise, since it will necessarily lead to divine disfavour.' (Emphasis added. Is Yogi Adityanath listening?)
Also abolished in 1563-1564, when Akbar was only 21, was the hated jeziya tax, a heavy and discriminatory levy on Hindus alone, weighing most heavily on 'the poorest taxpayers' who 'paid the equivalent of a month's wages for an unskilled labourer', says Mukhoty quoting the US academic, John F Richards.
Increasingly, Akbar became more and more eclectic in his spiritual inclinations. Akbar, who was initially 'a rather orthodox Muslim', hailed by Shah Tahmasp, his contemporary, as Emperor of Persia, as the 'unsurpassed adherent of God's word and extirpator of polytheists', he eventually evolved, as Mukhoty notes, 'through discordant mistakes and brave, unforeseen changes', to providing talented people of other faiths 'a place of dignity and honour in the Mughal empire' instead of 'extirpating' the 'polytheisists', 'as the Shah of Persia [had] fondly hoped'. Akbar was to later say, "Formerly, I persecuted men into conformity with my faith and called it Islam. As I grew in knowledge, I was overwhelmed with shame."
There followed five years (1564-1569) when Akbar was totally preoccupied with battle, first against the Uzbek, Turani and Afghan pretenders who had accompanied Babar to India or when Humayun returned from exile in Persia. 'The cause of Akbar's many alliances and actions at this time was mainly to neutralise the danger posed by the old Timuruid system of co-sovereignty in which all princes had an equal right to rule. Akbar seemed to fear no enemy as much as he dreaded a challenge from a prince of royal blood'.
Then he turned on the Rajput challengers to the empire: Jaimal 'Mertia' of Badnor and Rawat Patta of the Sisodiya clan, who had been deputed by their overlord, Rana Udai of Udaipur, to defend what was then regarded as the impregnable fortress of Chittor; and Surjan Hada at Ranthambore. In battle, whether against his Central Asian Muslim clansmen or against Hindu Rajputs, Akbar neither sought nor gave any quarter. But whereas the Muslim aspirants from the old Uzbek and Turani families were replaced in the Mughal aristocracy by Persian Shia and Indian Muslim nobility (the 'sheikhzadas'), 'as part of a long-term plan to reduce the worrying influence of the large and fractious Turani clan', the Rajputs were incorporated in the great offices of state after the dust of battle had settled. Raja Bhagwant Das, Kunwar (later Raja) Man Singh, Raja Todar Mal and Birbal were already in positions of immense power, as was 'Mota Raja' Udai Singh Rathore of Jodhpur. He gifted, says the Sanskrit saga, Surjancarita, three territories to the Hada clan in lieu of Ranthambore, so impressed was Akbar, says Mukhoty, 'by Surjan's courage'. This opened the door to what Mukhoty describes as a 'novel means of Rajput conquest', the Rathores of Bikaner and the Bhatis of Jaisalmer and the Baghelas of Bundelkhand submitting to Akbar 'in the slipstream of the two great Mughal victories'; and, subsequently, Rao Kalyanmal of Bikaner and his heir, Kuar Rai Singh, as well as Har Raj of Jaisalmer. All were duly, even lavishly rewarded, securing high positions in the Mughal aristocracy, and in the administrative hierarchy, and being counted amongst the senior-most commanders in the military, for their professed loyalty to the throne.
There followed a number of Rajput brides for Akbar, among others, Raj Kanwar and Bhanumati of Bikaner and Rajkumari Nathi Bai of Jaisalmer. 'They brought with them,' says Mukhoty, 'their holy fires and their sparkling language, their busy gods and their swaying clothes. For Akbar did not require these women to convert to Islam and they were allowed to fully participate in their Hindu rituals as they had in their own houses', including the daily 'hom… derived from sun-worship', which was to later turn Akbar himself into an earnest sun-worshipper, much to the horror of the orthodox clergy. They also celebrated with verve and 'effervescent colour' the festivals of Basant Panchami, Holi, Rakhi, Dusshera, Diwali, Teej and Janmashtami. Not only festivals but also fasts ('vrat') were imported into Akbar's royal household, as was vegetarianism, so that for nine months in the year, Akbar ate no meat but confined himself to such Rajasthani vegetarian dishes as khushka, khichdi and thuli for dessert, and for water he would drink only 'Gangajal', often transported long distances just for him. The final prize sealing the Rajput-Muslim alliance was secured a decade-and-a-half later, in 1586, with the Rathores of Marwar offering the renowned Jodhabai as a wife for Akbar's eldest son, Jahangir, who succeeded Akbar as the Mughal Emperor in 1605.
IN 1569, CAME Akbar's encounter in the village of Sikri with the Sufi pir, Salimuddin Chisti, occasioned by his disappointment at the age of 27 of not having a son and heir, several of his many children having died in childbirth or in infancy. The Sufi saint promised him a son, and duly, on August 31st, 1569, Harkha Bai presented him with a son who was named Salim after the saint. The political consequence of this was that Akbar 'emphatically turned away from the Naqshbandi Sufis, the traditional partners of Central Asian rulers, to the Chistiya Sufis of Hindusthan' who held that 'there is no precedence of one religion over the other [for] after you experience the limitlessness of unbounded Beauty you can see His Grace present both in a kafir and a Muslim'.
From this was but a step to the ibadat khana (prayer hall) debates, discussions and dissent among followers of diverse religions that so engaged Akbar's attention. It was there that Abu'l Fazl caught Akbar's fancy with his sallies that quite destroyed the ulema. Abu'l Fazl, with his 'capacious, adaptable and inclusive mind', went on to become Akbar's closest ideological companion. His father, Shaikh Mubarak, was a learned theologian who had established a madrassa in Agra 'fizzing with enquiry and arguments' where he dispensed not only orthodox Sunni piety but expanded the curriculum to include history, astronomy and the law, besides Persian and Hindustani classical music and Mahdvi Sufi mysticism.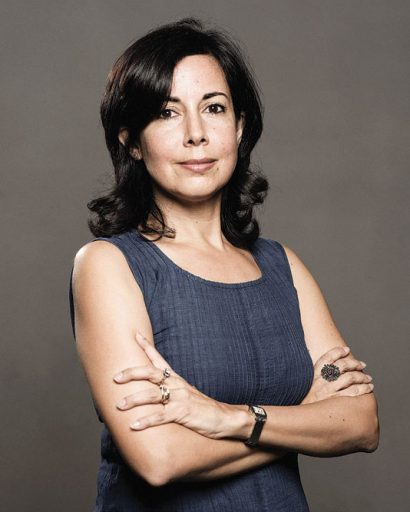 Curiously, both Abu'l Fazl and Badauni were students there at the same time but emerged as polar opposites in their respective philosophical positions. Much of the fun of this book lies in the way Mukhoty juxtaposes their memoirs as Akbar's story unfolds.
To begin with, from 1568 onwards, when the Ibadat Khana was built at Fathehpur Sikri, it was open only to intra-Muslim disputation. But these discussions soon descended into Arnab Goswami-like TV debates: a 'horrid noise and confusion', raucous, abusive, partisan, calling one another 'fools' and 'heretics' (Abu'l Fazl). Fed up with doctrinaire sloganmongering and the lack of reasoning in these arguments between Islamic theologians, Akbar's encounter with the mystic, Shaikh Mustafa Gujarati, in 1574 was to prove decisive. The Shaikh was a Mahdvi, of the school that believed the Prophet would reappear at the end of the Islamic millennium (with the Day of Judgment being fixed in 1591). The Shaikh had been severely tortured for his beliefs by the sultans of Gujarat, so when he presented himself bedraggled in Akbar's court, some of the noblemen mocked him for his appearance. But the Padshah respectfully questioned him on his beliefs. Notwithstanding the taunts of the orthodox clergy, the Shaikh responded, noted Akbar, with 'dignity, aplomb and steadfastness', emphasising the mystical, benign aspect of Mahdvism. Akbar had the Mahdvi sheikh stay for over a year at his court spending hours in philosophical conversation with the Padshah. This sparked, says Mukhoty, 'an extraordinary series of religious, and philosophical explorations by Akbar, a deeply personal search for a truth that reflected his growing maturity'.
Earlier, during the siege of Surat in 1573, Akbar met a Zoroastrian priest, Dastur Mehrjee Rana, and 'questioned the priest about his religion and traditions'. It was also during the Surat siege that Akbar met the Portuguese envoy, Antonio de Cabral, and questioned him and his team 'about the wonders of Portugal and the manners and customs of Europe'. Now in 1575, he fulfilled the great desire of his father's sister, Gulbadan, to proceed on Hajj, which was only possible with the cooperation of the Portuguese, who ruled the high seas, to ensure a safe journey.
From October 1578 onwards, Akbar, at 36, started bringing in scores of non-Muslim participants. 'Discourses on philosophy,' explained the emperor, 'have such a charm for me that they distract me from all else.' Wrote Abu'l Fazl, 'Sufi, Sunni, Shia, Brahman, Jati, Sevra [Jain monks], Charbak, Nazarene, Jew, Savi, Zoroastrian' —all participated without fear in 'the calmness of the assembly'. This appears to have been the legacy of the pre-Islamic Buddhist Chengiz Khan's yassa laws which 'advised the ruler to consider all sects as one and not to distinguish one from the other'; and from what Akbar's mother, Hamida Begum, had discovered in her son (in addition to his 'steely ambition'): his 'restless spirituality' from the age of 15 on.
Earlier that year, in March 1578, a Jesuit priest, appeared in Akbar's court. Intrigued by what he learnt from him about the Christian faith, Akbar sent a special envoy to the Portuguese in Goa, requesting that they send him 'two learned Fathers and the books of the Law, especially the Gospel… When I have learnt the Law sufficiently to appreciate its excellence, then may they depart at their pleasure, with an escort and honoured with abundant rewards'. The Jesuits were amazed at this extraordinary request but expected it betokened a keen interest on the part of the Padshah to convert to Catholicism. They sent to Fatehpur Sikri a mission of three Jesuits: the Spaniard, Anthony Monserrate (who went on to write a memoir of his mission, read to this day, that introduced the Great Mughal to European audiences); Francisco Henriquez, a Muslim convert fluent in Persian; and Rudolf Acquaviva, who went on to become something of a bosom buddy of the emperor. They set off 'with exaltation in their hearts and a Persian grammar in their hands'. Their arrival in court in February 1580 could not have been more propitious.
'Crowds lined the streets and gawked.' The Jesuits were 'hustled away from the boisterous throng and brought before Akbar'. There they were astonished to find the Padshah wearing 'a turban of Hindu form' (albeit 'adorned with a fortune of rare gems') and a 'Hindu dhoti' (albeit 'of the finest and most delicate silk') instead of 'Muslim trousers'! Next day, in the Diwan-e-Khas, the Jesuits presented to the emperor the Royal Polyglot Bible at which Akbar 'respectfully took off his turban' and placed each of the seven lavishly illustrated volumes 'on his head before kissing it', then took Rudolph Acquaviva affectionately by the hand to show him 'the casket he had had made specially for the holy books'. In the evening, he invited them to the ibadat khana where they freely spoke their minds (somewhat indiscreetly in the case of Acquaviva) and was 'extremely disappointed by his own Muslim theologians because they did not counter the Jesuits with unified arguments, and themselves offered varied and contradictory positions'. He then invited the Jesuits to live with him on the palace grounds and told them 'it was his desire that Christians should live freely in his empire and build their churches'. Accordingly, they built a chapel which Akbar visited on Easter and there, 'in Muhammadan fashion,' recorded Monserrate, 'made a profound reverence before the images of Jesus and Mary' and then 'like a Christian, with clasped hands, bent his knee' before prostrating himself 'in the manner of the Hindus, saying that 'God deserved the homage of all peoples''. (Contrast this with Modi, who loves all kinds of headgear, refusing to wear a Muslim prayer cap even at an Eid Milan). Having learnt Persian in three months from Abu'l Fazl, Acquaviva began translating the gospel into Persian. Akbar also entrusted the education of his second son, Prince Murad, to the Jesuits. But, to the immense frustration of these missionaries who had come to 'harvest his soul', Akbar refused to oblige.
Next year, in 1579, he had himself proclaimed the Mujaddid (Redeemer) of the Age, thereby declaring himself the final authority on all matters scriptural, freeing himself of his ever-quarreling clergy, and sent off both his Sadr-us-sadur, Shaikh Abd-un Nabi, and his Makhdum-ul-mulk, Maulana Abdullah Sultanpuri, to Mecca on a lifelong exile.
Akbar was now faced with rebellion by his half-brother, Mirza Muhammad Hakim, Governor of Kabul, who was rallying to his flag all those noblemen and clergy who were appalled at Akbar's openly meretricious departures from Islamic orthodoxy and his raising Rajputs and sheikhzadas to lucrative mansabdaris to the cost in prestige and jagirs of the traditional Turani and Persian aristocracy. Akbar, therefore, left Fatehpur Sikri in February 1582 on what Mukhoty calls 'The Slow March to Kabul'. On the way, Akbar continues his exploration of his spiritual self, visiting the Chisti Sufi, Jalal-al-din, near Thanesar, but equally the ancient hermit, Balnath of the Gorakhnath sect, who sought an identity that 'could somehow be both Hindu and Muslim, and neither, all at the same time'. One of their sayings was, 'the Hindu calls on Ram, the Muslim on Khuda/ the yogi calls him the invisible one, in whom there is neither Ram nor Khuda.' Then, near Peshawar, he crawled to the Gorkhatri shrine, 'through a cave so deep that there are nowhere else in the whole world such narrow and dark hermits' cells' (Monserrate).
The Battle for Kabul was a tame affair. Mirza Hakim had relied on massive defections from Akbar's ranks to set himself up as the true heir to Babar and, accordingly, sent an offer to Akbar's soldiers, 'claiming that the Turanis and Persians… will join us without fighting and the brave Rajputs and gallant Afghans will end their days'. The offer was scorned.
Akbar and his resplendent troops, drawn from 'Mongols, some Persians, some Turkmen, Chagatai, Uzbegs, Kandaharis, Baluchis, Pathans, Indians and Gujaratis, Musalmans and also Hindus' (Munis Faruqui, as cited by Mukhoty) summarily defeated Mirza Hakim and marched into Kabul, even as Mirza Hakim fled the scene of battle. Akbar then appointed Hakim's sister, Bakht Nur-un-Nisa Begum, as Governor in her brother's place, but did not chase her brother to his end, saying, 'Mirza Hakim is a memorial of the Emperor Humayun. Though he has acted ungratefully, I can be no other than forbearing.' What we would today call Akbar's 'inclusiveness' in governance had paid off. It is a lesson for today's rulers of India to learn.
Akbar, at the age of 40, was now at the summit of his powers. 'Opposition to his supremacy had been categorically quelled, both in the borderlands of his kingdom and in the order of theologians who had challenged him,' says Mukhoty. There followed what the Sangh Parivar, had they been Islamic clerics in Akbar's heyday, would doubtless have labeled the 'tushtikaran' (appeasement) of Hindus: the celebration of Persian festivals of Nauroz and Merjan with Hindu (and Persian) songs, music and dance; the promotion as much of the Sufi wahdat-al-wajud (unity in multiplicity) as of nirguna bhakti, 'who saw no difference between Hindus and Muslims'; the commencement of the day with suryanamaskar, facing east (not west towards Mecca) before appearing on the balcony before the adoring multitudes for his 'jharokha darshan'; he even started wearing a tilak on his forehead and displayed a rakhi tied to his wrist by a Brahmin in the Diwan-e-Aam; prohibited the slaughter of cows 'because the Hindus devoutly worship them and esteem their dung as pure' (Badauni); commissioned the translation of the Mahabharata into Persian as the Razmanama, 'the Book of War', and of the Ramayana and the Rajtarangini, as also the Yoga Vaasishtha (the dialogue between Lord Ram and the venerated saint, Vasishtha); and learnt Braj, the better to appreciate the finer nuances of the Bhakti poets. He even ordered a Brahmin to pen in Sanskrit the Allopanishad!
THE OTHER RELIGIONS were also not neglected. The Jains were particularly honoured when Akbar 'respectfully bowed down' before Hiravijaya on his arrival in Fatehpur Sikri, hard on the heels of the Jesuits. Another Jain, Bhanuchandra, taught Akbar to recite the Suryasahasranama, that is, the one thousand names of the Sun God. Yet another Jain savant, Vijayasena, was given the title of 'Savai Hiravijaya Suri' (a quarter greater than his master, Hiravijaya) after Vijayasena ousted the Brahmin claim, made in the ibadat khana, that the 'idiot Jains' were in fact atheists. Vijayasena, much to Akbar's delight, retorted by equating the doctrine of karma with theism.
Early in his reign, in 1567, when he was but 25 years old, he rode to Goindwal on the banks of the Beas, to pay his humble tribute to the 90-year-old third guru of Sikhs, Guru Ramdas, and at the turn of the century, when he was nearing 60, made his obeisance to Guru Arjan Das. The Parsees who, in Akbar's own words, "proclaimed the religion of Zardusht as the true religion and declared reverence to the fire to be superior to every other kind of worship" taught the tenets of their religion to the Padshah, who ordered that the sacred fire be maintained at Fatehpur Sikri. The only somewhat startling exception were the Buddhists, for the good reason that after Adi Sankara had revived Hinduism seven centuries before Akbar, Buddhism had virtually vanished from Hindustan.
At the same time, Akbar banished from the court Abu'l Fazl's classmate, Badauni, saying, "He has turned out to be such a bigoted follower of Islamic law that no sword can slice the jugular vein of his bigotry!" Having discovered 'the fallibility of the orthodox ulema in the ibadat khana [where] the ulema constantly contradicted each other', Akbar's faith was shaken. And so, 'where orthodox Islam was found wanting, Akbar turned for answers to more mystical alternatives within Islam and then to the different religions in his wide kingdom'. Mukhoty adds, 'In his quest for spiritual truths he prostrated himself before many gods—he prayed to the sun, whispered mantras, worshipped fire, kept fasts, and examined his conscience.' As Abu'l Fazl put it, he submitted whatever he came across to 'the test of reason', insisting that there are 'almost limitless ways of worshipping the divine', and believed profoundly in the principle of 'sul khul' which held that 'every group of people can live in accordance with its own doctrine without apprehension and everyone can worship God after his own fashion'. From this conviction arose the Din-e-Ilahi, which was not, the author insists, an alternative religion but a salon of 18 likeminded peers who discussed spiritual matters in a broadminded, rational manner and whose most fundamental precept was that non-Muslims were simply 'other worshippers of God'.
We are now in a position to race to Ira Mukhoty's magisterial conclusion that cannot be bettered: '[Akbar's] legacy remains in the supreme courage he displayed, far greater than on any battlefield, in believing that the vast multitudes of India could be brought together through active efforts of tolerance and understanding. That, through reason, empathy, and good faith, misunderstandings between different religious groups and ethnicities could be resolved, and a new horizon unveiled. A horizon that could be lit up by the light of many different faiths, the best of each, to guide India's path to a more luminous and resplendent future.'
That is reason enough to buy this richly illustrated book and keep it on your shelf for now and at all times when the nation seems to be veering off the path of Ashoka and Akbar the Great—for India can only survive if 'the jugular vein of bigotry is sliced by the sword of reason'!