SENIOR MARKETING PROFESSIONAL Sajeev Chemmany's LinkedIn profile says he is a student for life. An alumnus of University of California, Los Angeles' Anderson School of Management, he has been attending classes on Coursera and other online education platforms to keep himself updated and gain an edge at work. A self-made man who started his career in India as a video editor and TV producer and later helped launch several TV channels overseas, Chemmany has about 20 online courses under his belt. He is pursuing another, on marketing, from Hyderabad's Indian School Business (ISB), sponsored by Google. More and more Indian executives are now upgrading their skills through digital courses offered by both foreign and Indian players. As they face the realities of a new economy, perhaps even a new way of life, remote working and a lockdown have further inspired them to look for such courses to enhance their careers. Some of the certifications from once-obscure Indian startups that Chemmany picked up years ago are now quite valuable. "For education buffs, the lockdown has been a blessing in disguise," says Chemmany. "For educational institutions, it is, in fact, a road to redemption."
Indeed, as the Covid-19 threat continues to gnaw at semesters on end, gutting university finances and enrolments, pushing up campus costs and forcing educators to face existential terror, the solution to the crisis seems to present itself on our luminous screens: the rich, variegated terrain of online learning, populated by unicorns and decacorns that promise to help children with their curriculum and keep them busy with experiential learning modules, employees re-skill in a drastically changed world, teach highschoolers maths and coding, and to enable institutions assess learners and manage e-classrooms. Online educators have cast their net far and wide, targeting schools of fish on their way to new feeding grounds. A whole industry is getting built as an older one crumbles under its own weight, with the pandemic triggering the seismic shift. "Most Indian management institutes will shut shop in the next five years," prophesies Krishna Kumar, CEO and founder of Simplilearn, one of the largest digital skills training and certification platforms in India. In the past year, many American institutions, including Universities of Missouri, Illinois at Urbana-Champaign and Iowa and, most recently, Purdue University's Krannert School of Business have hit pause on their full-time residential MBA programmes, shifting focus to online courses and speciality masters programmes. In India, too, management and engineering colleges are working on transitioning to a hybrid or fully online model even as they struggle to pay their staff at a time when the University Grants Commission has instructed them not to collect fees for the upcoming semester. In a letter to the Prime Minister earlier this month, the Association of Technical Polytechnics in Tamil Nadu sought a financial relief of Rs 50,000 crore for 50 lakh students pursuing engineering, technology, hotel management, pharmacy and management, noting that the fee-paying capacity of students enrolled in 39,931 colleges and 10,725 standalone higher education institutions was deeply affected due to the Covid-19 crisis. "We are at a crossroads where we must look at doubling student intake and reducing fees to half the current levels by going online. But only the top 20 per cent of the institutions in the country are ready to switch to this mode right away," says Chocko Valliappa, Vice Chairman, Sona College of Technology, Salem, Tamil Nadu, and CEO and founder of HireMee, a startup focused on assessing graduating college students and connecting them to potential recruiters. HireMee has launched an artificial intelligence-enabled proctored testing solution for colleges at a time when institutions are seriously considering a transition to online assessment. The Graduate Management Aptitude Test (GMAT) was one of the first AI-proctored exams to be conducted at a global level in April 2020. In India, private universities like Shiv Nadar University and OP Jindal Global University have switched to online entrance exams, tying up with testing partners like Pearson VUE and Mercer-Mettl. Pearson is working on a solution that will enable tests to be taken on mobile phones and tablets.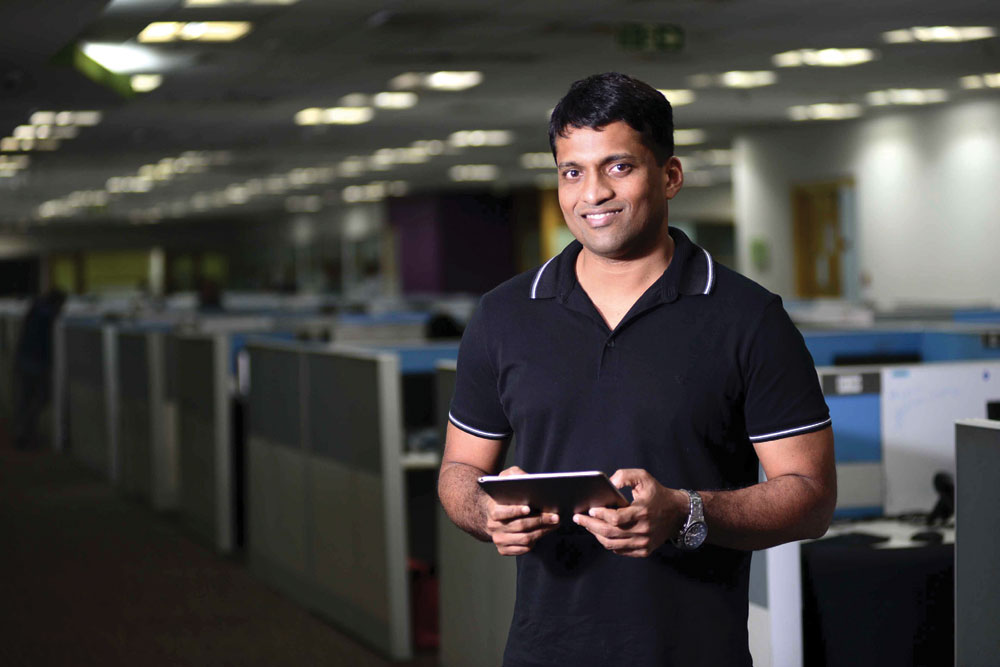 While middle-rung colleges and garden-variety coaching institutes may not survive this largescale migration, remote learning content companies and enablers have gallopped faster than they could have ever imagined. Simplilearn saw the number of learners attending online sessions double to 85,000 in May from 43,000 in January. Self-learning video consumption shot up by 105 per cent in the same period and the company saw a 30 per cent increase in enrolments just between March and April. While there were more enquiries from India, the US accounted for much of the surge in enrolments. "The most popular courses are from the data science and AI categories, followed by cloud computing and cyber security," says Krishna Kumar. Between March and May, the platform saw 1.1 lakh people attend its data science courses. "We live in an age when content is free. If you want to learn a simple skill like, say, Excel programming, you simply search YouTube," says Kumar, who founded Simplilearn a decade ago in Bengaluru. "To acquire deep knowledge in a specific domain like data security or machine learning, you need a structured learning programme designed by subject matter experts and recognised by industry." The company, whose courses are conducted by industry experts rather than full-time tutors, expects revenues to grow 60 per cent this year.
The education technology (edtech) market in India is worth $735 million—a mere drop in the $90-billion largely offline private education ocean—and it is expected to swell to $1.7 billion by the end of 2020, according to a recent report by Omidyar Network India and RedSeer Consulting. There are over 9 crore people already accessing education apps in India. According to Venture Intelligence, venture capital companies invested $785 million in edtech in the past six months—nearly twice as much as they invested in 2019. And yet, online education is far from being a crowded space, says Krishna Kumar. "Look at the number of physical universities and colleges in the country. The online industry is only just getting built up and we need more educators and content to cater to everyone. The potential target market for upskilling is the entire LinkedIn user base," Kumar says.
IF LEARNING IS AN AFFECTIVE choice for working adults, it is a basic need for students. Now completely dependent on online classes to make sense of their curriculum, students are spending more time on apps like Byju's, the brand name for the online tutoring company Think and Learn. According to a report by the Broadcast Audience Research Council India and Nielsen, the lockdown led to a 30 per cent increase in the time Indians spent on education apps.
"Since the closure of schools in India, we made all the content on our learning app completely free for students across all grades. We also introduced live classes to bring scheduled engagement to students' everyday learning routine. And we accelerated the launch of our live classes and made them available for free in April," says Byju Raveendran, founder and CEO of India's most valued edtech company at over $10 billion, making it one of India's few decacorns. While the launch was scheduled for a later date in 2020, the company realised the value of adding this new mode of learning during the lockdown. "Students can now attend three to four regular sessions of live classes per week, apart from learning from the free content on our app."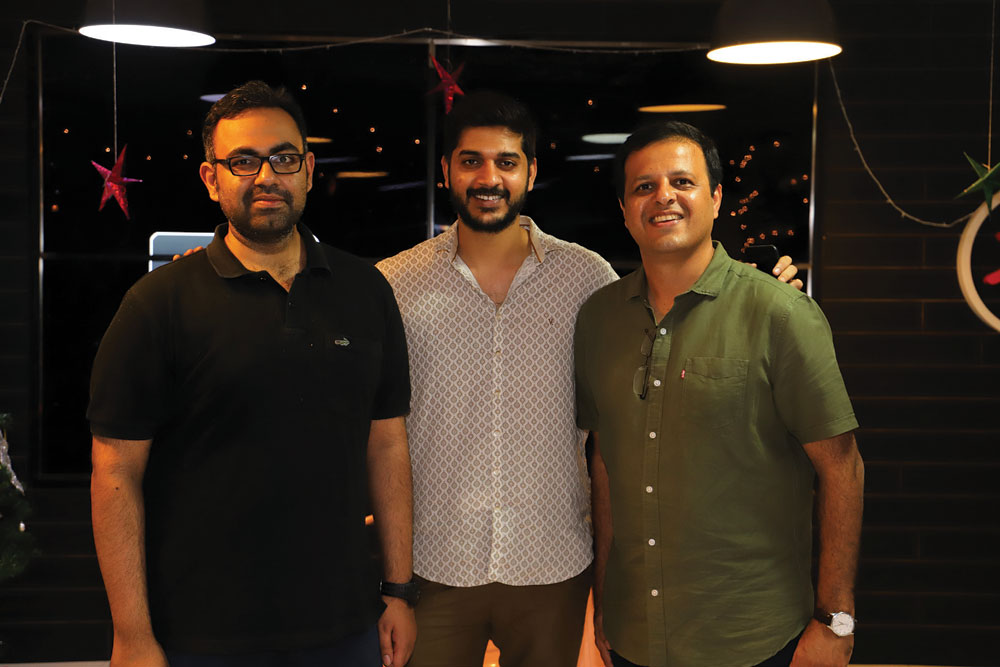 As a result of the lockdown, says Raveendran, students now use the Byju's platform daily and spend an average of 100 minutes per day. "We saw 6 million new students use our app in the month of March and 7.5 million new students in the month of April," he adds. "This shows that digital learning tools have the potential to offer a holistic home learning experience. We have also seen a big behavioural shift in parents' mindset towards learning online as they have witnessed their kids benefiting from it in real time and we strongly believe that this will benefit us and the whole industry in the long run."
The Covid-19 crisis has caused a paradigm shift in the field of education, making online learning mainstream. Recent investments in edtech by telcos including Bharti Airtel, which has acquired a stake in Lattu Kids, and conventional education companies like Aakash Educational Services ramping up their digital footprint are cases in point. "On the other side of the crisis, we expect the rise of a blended model of education," says Raveendran. "The proliferation of smart devices coupled with the democratisation of the internet will hasten this process. As screens are the primary mode of content consumption for the new generation, this will further boost the adoption of the new model of learning."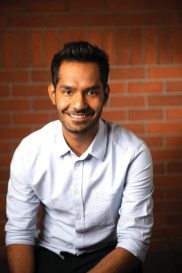 The coronavirus has disrupted the job market, too, with Indian companies freezing hiring despite having vast cash reserves, Krishna Kumar says. "A lot of jobs were already getting axed due to automation and the crisis has accelerated the trend. Indian companies who were overstaffing and thinking in terms of the number of billable people per project will now be forced to be agile, productive and tech-driven. Skills and outcomes matter now, more than ever." A Java developer, for instance, would now be looking to learn Angular, a framework used to build web applications. Recognising the need for digital skills training, Microsoft has announced a multi-million-dollar initiative to provide free access to content across LinkedIn Learning, Microsoft Learn and GitHub Learning Lab, coupling these with Microsoft Certifications and LinkedIn job-seeking tools. To companies like Simplilearn, which has trained over a million professionals—40 per cent of them paid users—the opportunity is massive.
Among the beneficiaries of the e-skilling trend is Aashish Kumar, a 26-year-old from Sheikhpura, Bihar, who landed an opportunity thanks to a coding course he came across while perusing Naukri.com for fresh opportunities. A mechanical engineer who started his career as an AutoCAD designer in Chennai for Rs 8,000 a month, Kumar worked for a year in Silvassa as a maintenance supervisor and at a software company in Vadodara where he picked up the basics of internet analytics and search engine optimisation. The pay was abysmal and he was looking for a way to transition to software programming. Masai School's 24-week full-stack development bootcamp, which he graduated from in April, seemed a sensible option. The country was under lockdown and the IT and IT-enabled services industry had all but frozen hiring. But Masai School, although only three batches old, already had a reputation for grooming tech talent that was ready to start coding from day one. It had trained college dropouts who went on to get hired by Paytm, Sharechat and other software product companies. About 70 per cent of the batch that graduated in April, including Kumar, has already found suitable positions in companies that have adapted to remote onboarding. Kumar, for instance, works on a 4G network from his home in Bihar, developing software for Vyapar, which builds business apps for small companies. "We don't believe in certificates and degrees. A relevant skill set is the future of the workforce. In seven months at Masai, our students do over 1,000 hours of coding—that is as good as two years of experience or more," says Prateek Shukla, CEO and co-founder, Masai School. Every batch of 75-100 students, chosen only on the basis of their zeal to learn, follows a 9am-9pm schedule where they login to classes and complete assignments online. The course follows a blended learning model—with highly curated and intensive online instruction supplemented by face-to-face mentorship and interaction with peers at co-working spaces.. The company is moving project submissions, doubt clearance and other engagements, which happened over GitHub and Slack, to an integrated inhouse student dashboard. "Sixty-five per cent of our students come from financially weaker sections of society. Some don't have laptops, in which case we or our partner companies sponsor them. Creating a space where they can work, eat and relax, much like in an office environment, was important to us and we will continue to keep these campuses, shut since the lockdown, alive, ensuring hygiene and distancing protocols. We'd like students from the same geographical circle to meet up once a month," Shukla says. With three ongoing batches and three more about to commence, Masai School is looking to double staff to 28 from 14 instructors now within the next two quarters. It has also rolled out part-time courses in user interface design, data analytics and other new skills. The institute does not charge upfront tuition fees, instead following an innovative income-share programme, where you pay the fee from your future salary.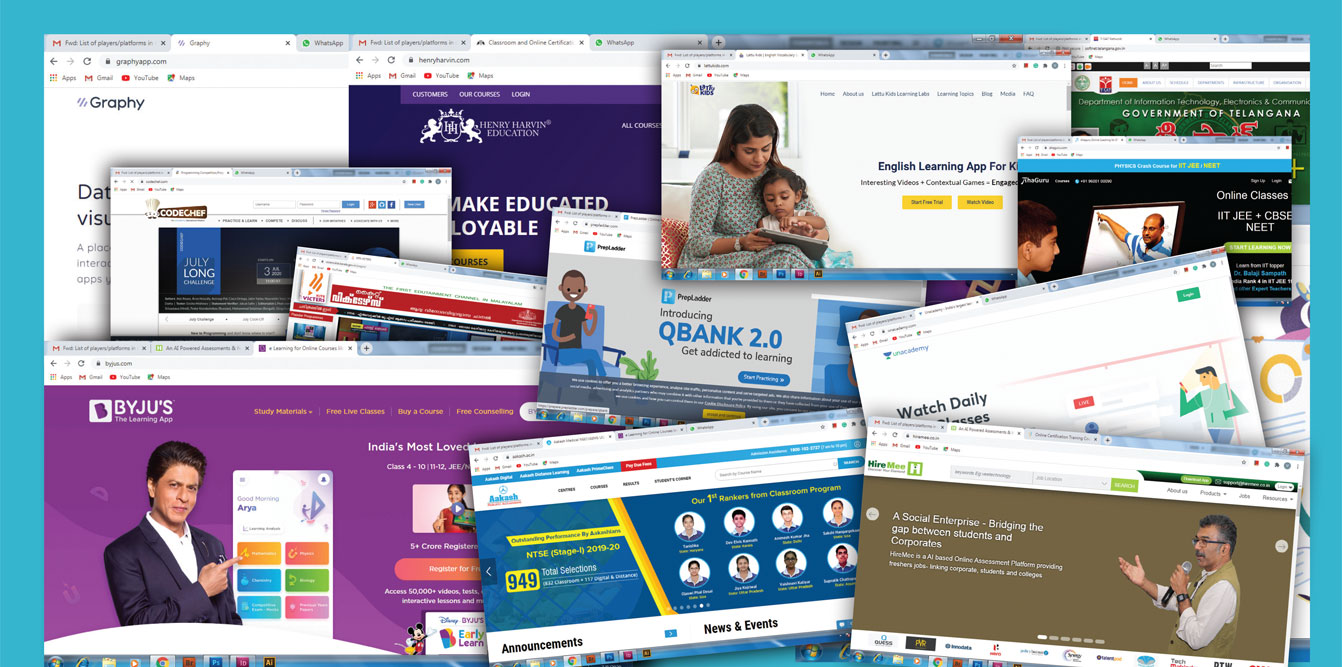 India's learning curve can only be sustained by breaking the barriers to online education, says Hemesh Singh, co-founder and Chief Technology Officer, Unacademy. The country's largest learning platform, Unacademy is a marketplace for tutorials by over 10,000 educators, with a focus on preparation for competitive exams. There is a reason Unacademy, currently valued at $510 million, is touted to be the next edtech unicorn—and not only because it is reportedly looking to raise another $150 million, barely four months after closing a $110-million round led by Facebook and private equity firm General Atlantic. Unacademy's revenues grew tenfold in 2019. After the lockdown, engagement on the platform has touched new highs, crossing a billion watch minutes in March alone. It conducted over 1.2 lakh live classes in June alone. In the world of edtech, Unacademy is a rare platform that has democratised education on both fronts: content creation, by enabling educators to record videos on their phones and upload them through an app, as well as consumption. From free YouTube videos to premium courses that you can buy individually, the company pivoted to a 'Plus' subscription model last year, where users would pay a flat yearly fee, ranging from about Rs 1,500 for banking exams prep to Rs 3,000 for the Union Public Service Commission (UPSC) exams. The cash-burn to reach a target of 10 lakh subscribers and $250-300 million in annual recurring revenue (ARR)—Unacademy reported Rs 90 crore in losses in 2018-2019, up from Rs 24 crore the previous year—is beginning to pay off, with revenues rising to Rs 11.7 crore in 2019-2020 from Rs 1.76 crore in the previous year. 2020-2021 promises to be a special year; according to CEO Gaurav Munjal, the company's revenues in April were "more than all of 2017, 2018 and the first half of 2019 combined". Unacademy has ramped up to 1.3 crore learners across 30-plus categories and a dozen Indian languages and crossed 2 lakh paid subscribers. It is also on an acquisition spree to expand rapidly, with its latest bet, PrepLadder, a platform for postgraduate medical entrance exam preparation, deepening its presence in the test prep market.
On a Zoom call from the deserted Unacademy office in Bengaluru, Singh talks about the experiments the company has undertaken, including subscription modules for classes 9-12, a non-profit coding skills vertical under CodeChef and a new app for content creators called Graphy that is now in the beta stage. "We started as a YouTube channel for Union Public Service Commission test preparation in 2010 and we have since diversified into banking and Railways exams and GATE and JEE prep. These will remain our core strength even as we continue to be in expansion mode," he says.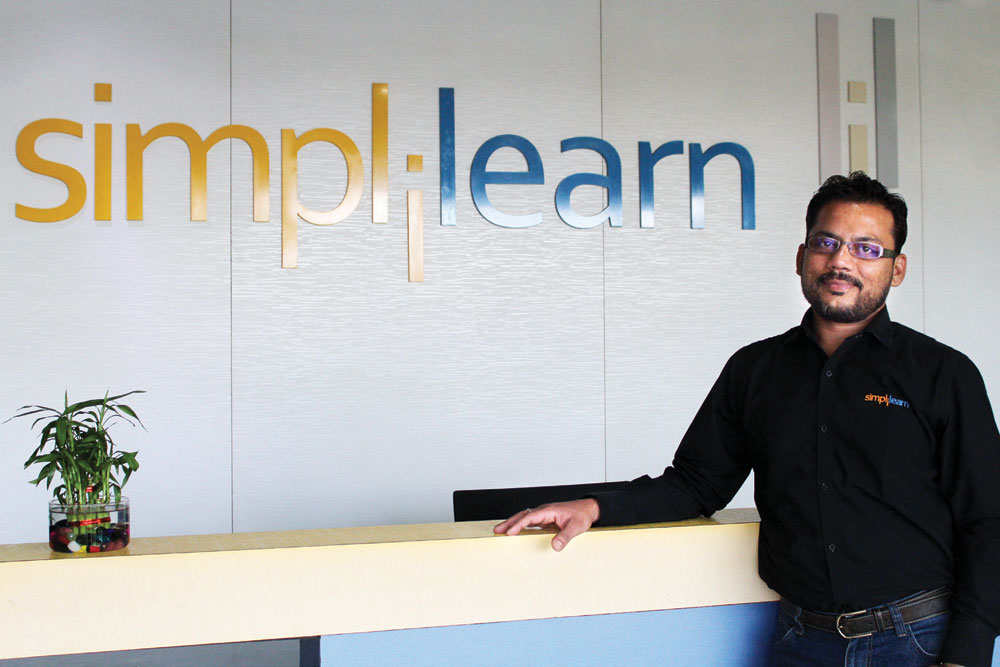 OFFERING CONTENT IN different languages is key to level the e-learning playing field, Singh says. Malayalam is one of the biggest language segments on the platform and Telugu is fast catching up. Kota-based coaching institute Nucleus Education, which recently became a partner for JEE Main and Advanced prep, uses Hindi as the primary mode of instruction. The Unacademy model works for several reasons, chief among those being that its top educators are influencers who then become evangelists for the brand. Mansoor Ali, a jailor in Kerala, is one of the most sought-after educators on Unacademy. He coaches aspirants of PSC exams in the state and is a popular figure on his own, but he tells Open that Unacademy makes it easier to reach a large number of students. "They give me a lot of respect and I am delighted to be a part of their operations. It is a fruitful association." Technology has indeed enabled, for the first time, the high-impact teaching practices of subject-matter experts like Ali and physics and JEE coaching specialist Balaji Sampath who runs the coaching platform Ahaguru to be scaled up.
Smartphones and tablets alone are not enough to democratise online education, Ali adds. Governments must launch TV channels dedicated to offering coaching for entrance tests and other competitive exams, says Ali, 32. The Victers TV channel in Kerala and the TSAT network of Telangana are models that can be replicated across India.
Inspiration is almost as important as the content itself, Singh says. While educators like Ali serve to inspire a select audience, popular achievers like actors and sportspersons have an impact on a broad spectrum of students. When Virat Kohli and Anushka Sharma shared their personal challenges and journeys in a session under the 'Legends on Unacademy' series, over 50,000 logged in to view live. "When two self-made celebrities deliver a guest lecture, it leaves a lasting impact. We hope to continue to bring inspiring personalities to the platform," Singh says.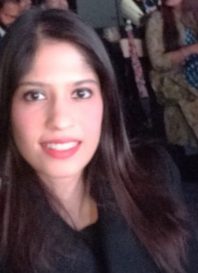 Learning is getting gamified across the industry, with platforms using daily goals, badges, leaderboards and collaborative activities to amp up user engagement. "It is about more than consuming content. We have to work towards finding a balance between scalable content delivery and building community and promoting human interaction," says Singh. "We are trying to bring some of the nuance and the shared experiences that you get at a neighbourhood tuition class by making assessments community-driven. For instance, a group of learners comes together to answer a quiz and competes for the top places on the leaderboard." On the content creation side, Unacademy's new app, Graphy, seeks to reimagine books. "Think of it as a series of videos and images that tell a story, like something you'd see in Instagram Stories but a longer narrative. And you could sell that the way you'd sell a book," Singh says.
As edtech companies look for ways to quickly build market share and achieve virality, they are also trying to maintain a standard of trust. With heavy traffic comes the attendant need to shore up cyber security and to keep institutional data private. From Zoombombing to students sharing inappropriate content and largescale data breaches, the edtech boom has thrown open a Pandora's box. In January, when a cyber attack exposed at least 1.1 crore accounts on Unacademy—the details were sold on the dark web—the breach shook up the company and many of its users. "It should not have happened and it is a major cause for worry," says Hemesh Singh. "We have since been working with the industry leaders in cyber security to rejig our infrastructure completely to make it difficult for anyone to gain unauthorised access to any part of it. We follow industry-standard encryption so that user passwords cannot be hacked. We are also building inhouse capabilities." Unacademy has hired a chief information security officer to put together a cyber security team.
A broadcast environment is not enough to hold the attention of younger learners, says Nandini Mullaji, Chief Strategy Officer at Lido Learning, a company that has reinvented the neighbourhood tuition class. Lido is a subscription service focused on maths and science—they have just rolled out English and coding—that bunches children into batches of six. "Relational pedagogy is our secret sauce. Since batching is done based on the mother tongue, English language fluency, geographical region and general aptitude of the learning, they feel comfortable with learning together and from a teacher who understands them," says Mullaji.
The company has seen interest from Gwalior, Lucknow, Indore and other tier-2 and tier-3 cities, driven by students rather than parents, says Mullaji. "The difference between the Indian and the Chinese edtech markets is that in India, it's the students who go looking for solutions online. Parents in tier-2 and tier-3 towns are less tech-savvy." Founded by Sahil Sheth, a former Vice President at Byju's, Mumbai-based Lido Learning caters to Classes 5 to 8, offering curricular support in the form of intimate online classes. "In a country where the average classroom size is 55, the 1:6 [student-teacher] ratio makes all the difference," says Mullaji. The platform has 5,000 paid subscribers. "Attendance used to average at 80 per cent before Covid-19, and it has now jumped to 90-92 per cent. For most kids, our classes are like hangouts with friends—especially when interaction with peers is what they miss the most." Lido Learning has 700-800 tutors who each teach about 20 hours a week and lead three to five batches. The company has seen 25 per cent month-on-month growth since March.
WHILE THE LOCKDOWN has helped companies gain traction, much of it is thanks to free content. Henry Harvin, a skills-centric training startup founded by Narsee Monjee Institute of Management Studies alumnus Kounal Gupta in 2013, hopes that the unexpected rise in enrolment for its courses including data analytics and content writing will translate into brand recognition and an uptick in intake in the paid courses. "We had to rapidly expand the team to meet the demand. The growth in revenues since March has been 300-400 per cent," says Gupta, whose platform offers niche programmes, including an MBA for teens called Mini MBA that focuses on leadership, team work, multi-tasking and other essential skills. The sharp rise in demand for such courses indicates that the online learning space won't go the e-commerce way where a handful of players alone will survive in the long run, Gupta says. The company, which also offers Six Sigma courses, is present in more than 23 cities countrywide and partners with over 50 colleges and universities.
Pioneers in what they call the "nichest of niche" segments, the Institute of Clinical Research India (ICRI), based in Delhi, with offices across India, was set up in 2004 to offer courses on clinical trials. Over time, it has won contracts to offer courses and training to the best hospitals and colleges in India and abroad. ICRI follows an asset-light model since it uses classrooms offered by its clients and online sessions. It has also expanded the courses on the menu after 33-year-old Sukriti Dugal, a lawyer by training, took over the business from her father. The company, which now offers courses in aviation and logistics management, besides others, has a lot in the pipeline, she says. "Because of Covid-19, there has been a lot of demand from hospitals to train their staff in clinical research and related courses," she says. The company has a dedicated placement team to ensure students land jobs. Apart from masters courses related to public health and hospital management, the institute also offers a PhD in hospital and healthcare management in collaboration with Zee University and a diploma in aviation. Dugal says that although enrolment has seen a big spike, many are unwilling to spend because of the uncertain environment in the aftermath of the pandemic.
"The upward trend may not last and we may see some correction once the situation normalises but online learning is definitely here to stay because there has been a change in the mindset of students and parents as well," says Gupta of Henry Harvin. "This kind of growth would have come in 2030 in the normal course of things."
Speaking of the challenges ahead, Byju Raveendran adds, "Parents and teachers have until now been apprehensive about students learning from screens. This scenario is however changing rapidly, with a big behavioural shift. Parents are now able to see how their children are benefiting through online learning and are becoming more accepting of the format. Teachers, who were hesitant to use online learning tools, are now steadily adapting and becoming digitally empowered." While the digital divide is still a challenge, the inequities and disparities that exist in the physical world are a much bigger hurdle, he says. "Our best chance to solve this at scale is by using technology as an enabler, using smartphones as a distribution medium, so that high quality content is accessible to students across geographical locations."
"Learning will never be the same again," says Anant Agarwal, a professor and CEO of edX, a partnership between MIT and Harvard University that offers free online learning. An online education evangelist, Agarwal says online learning is the ultimate revolutioniser that will bridge the gap between classes and communities. Amid technology's unstoppable march to democratise education, platforms such as Zoom, WhatsApp, Google Meet and Microsoft Teams that have supported the shift are sure to inspire a new wave of homegrown entrepreneurship in platforms and communication. With increasing collaborative engagement between edtech companies, academia, the state, policymakers and educators, it is hard to overstate the potential of this great migration to online education."