THE 42-ACRE Oneness Temple complex near Varadaiahpalem on the Andhra Pradesh-Tamil Nadu border feels like a giant experiment in desolation. The three-tiered white monolith adorned with stupas, colonnades, latticed windows and balconies glints like a useless tiara on a vast stretch of land that fades into the Eastern Ghats. The temple, which opened in 2008 and cost between Rs 300 crore and Rs 500 crore to build, is billed as Asia's largest marble, pillar-less structure imbued with sacred geometry, a 'divine playfield' where 25,000 people can meditate at a time. This morning, there is just one visitor besides us, an East European woman with a scarf around her head. "Entry is free and we get about a hundred visitors on a regular day, but when there is an event, people come in the thousands," says a female monk in white robes stationed on the first floor. She offers to project on a blank wall a video detailing the specialities of the temple: its scale and architectural ambition, the divine ratios built into the stairways, the guardian deities along the outer walls, the srichakra and other mystical elements channelling positive energy for individual enlightenment and world peace. But it's prosperity that is the prime vector of this grand vision in white. It is represented by a golden orb at the heart of the sanctum, where we ostensibly meditate the 'personal divine' for 15 minutes, mostly just drifting off to the pleasant ambient music streaming through a pair of headphones.
If architecture is a form of progaganda, then there could be no bigger testament to the failure of modern, organised spirituality than a top-flight version of a meditation hall for thousands that lies as empty as a ruin. It is a flagship project of the Oneness Movement, started three decades ago as a cult with a godman claiming to be Kalki, Vishnu's reincarnation to rid the current era of its moral decay. The temple and an elite philosophy and meditation school attached to it were envisioned by his son to offer spiritual retreats replete with courses, deekshas and cottages set amid mango orchards and to organise festivals that are essentially fundraisers. This is where wealthy Westerners like Donna Karan, Usher and Rick Allen come in search of immersive meditative experiences, which they then recommend to the rest of the world. The steady drip of celebrities, such as Hrithik Roshan, Shilpa Shetty, Nithya Menen and Manisha Koirala, through the guarded gates of the campuses—there are five beside the temple—has meant that the people of Varadaiahpalem always keep their eyes peeled, phones on the ready, for a drive-by. On October 16th, it wasn't celebrities but a swarm of Income Tax Department and police officials that swooped down on the complex, on the trail of unaccounted money allegedly raised during events like the Ekam World Peace Festival conducted in September. Simultaneous raids across almost 40 properties in Andhra Pradesh, Tamil Nadu and Karnataka owned by V Vijay Kumar aka Kalki Bhagavan, his wife 'Amma' Padmavathi, his son NKV Krishna and daughter-in-law Preetha—usually addressed with an honorific suffix to their names—yielded Rs 43.9 crore in Indian currency, Rs 18 crore in foreign bills, and gold and diamonds worth Rs 31 crore, according to an official statement.
Media reports, adopting the tone of raucous reproach reserved for spiritual con artists, have since conjured more impressive figures in the hundreds of crores. "Everyone was rounded up and brought to Campus 3. The investigators were ready to leave on the third day when a text message from a woman monk sent to a dasaji who effectively heads operations at the campus gave them away. The message read: 'Block M is safe.' It was here that the stash of foreign currency and diamonds was recovered," says a source close to the Oneness cult. "They also found papers pertaining to real estate transactions. The fact that they had been disposing of some of their properties could have been one of the triggers for the raid," he says, adding that former monks have now been asked not to talk to outsiders about Oneness. Recognising the fait accompli, however, some of them blame the crisis on the long-simmering tension between Kalki and his son Krishna, who, along with his wife, has built a spiritual empire subsuming and assimilating his father's legacy—and his assets. The couple have moulded themselves into meditation guides for Western seekers, on the one hand, and as divines attached to an avatar with mass appeal, on the other. While there is little in the way of religious symbolism at the Oneness Temple, Bhagavan and Amma are presences that cannot be wished away. In a video released after the raids, Vijay Kumar assured his followers that he and his wife have no intention of fleeing the country. They are said to be staying at their smaller, older ashram in Nemam on the outskirts of Chennai, a world apart from Krishna's slice of paradise.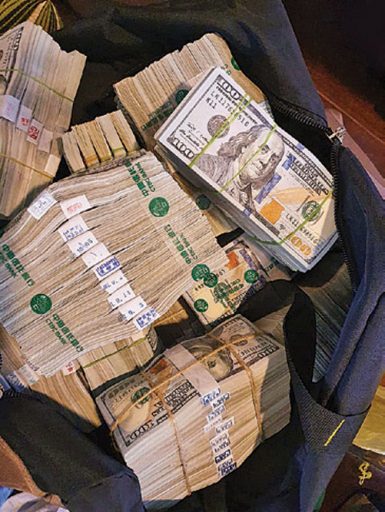 To understand why a legion of devotees—about 15 million across the world, according to a tendentious estimate—swears by a self-professed divine entity called Kalki Bhagavan, disregarding the mountain of precedent that warns against spirituality as a coverture for wealth aggregation, one must look into his emergence as a teacher and philosopher in the 1990s. Born V Vijay Kumar Naidu, in Natham, Tamil Nadu, in March 1949, to an atheist father who worked as an accountant in the Railways, he developed a messiah complex that his parents tried to cure him of. By all accounts, he seems to have led a normal life after the Telugu-speaking family moved to Madras in 1955, attending Don Bosco School, pursuing pre-university from Loyola College and eventually graduating in maths from DG Vaishnav College. He did a few odd jobs before landing a position at the Life Insurance Corporation of India in Madras, where he remained employed until 1986-1987. In the early 1980s, Sankara, a friend of his from school who was working in Germany as an Alexander Humboldt Fellow, was contemplating joining the Valley School in Bangalore, run by the Jiddu Krishnamurti Foundation, as principal. A nuclear physicist, Sankara had been inspired into spirituality in his teens by Vijay Kumar and by his own mother, who personally knew Krishnamurti. "I could no longer do bread-and-butter things. Doing Krishnaji's work seemed like the only way forward. My mother, who was aware of Vijay's philosophical precocity—she had handed him Krishnamurti's Commentaries on Living way back in 1966—suggested to him that he help me at the Valley School," says Sankara, who now leads a quiet life in Chennai studying Vedic astrology and Krishnamurti's philosophy.
Vijay Kumar's first serious disciple and closest friend and associate until 1998, Sankara broke away from the Kalki Bhagavan mass movement when their interests began to diverge—"ever so slightly, like a swinging ball". In a rare interview, he tells Open about their formative years and shares swatches from what we now know to be a classic godman story. It began in the year they spent at the Valley School, where they soon grew weary of the "purely worldly ways" of the Foundation. "Vijay's sense of self was so equanimous that he did not need external stimulus. He said in unequivocal terms he wouldn't attend morning prayers," says Sankara, himself a gifted orator. "The Foundation did not like him hanging around, but we were already dreaming of a school where we could awaken the intelligence and spirituality within students. Vijay was never recognised while we were at school. He was self-effacing and only a few knew he was a deep thinker. I wanted to build a school where good children wouldn't go undiscovered like that." In 1984, Jeevashram was realised as a humble thatch-roofed residential school on the Andhra-Karnataka border, housing children who came from as far off as Berhampur in Odisha. After three years of running it almost single-handedly, Sankara was joined by Vijay Kumar. Around the time, students began reporting mystical experiences and claiming to see god in him, setting the stage for his ascension to the throne of Kalki Bhagavan. The school transformed into an ashram over the next 10 years—it is now known as the Satyalok Amma Bhagavan Oneness Centre—and several students who graduated stayed on as disciples, becoming prime movers in the Kalki order of monks that would spread his teachings around the world. The ashram would later start taking in spiritually inclined teenagers and training them to be inducted into the order. A second campus, now defunct, would mushroom in Somangalam near Chennai and a third in Nemam, where Vijay Kumar's family owned some land.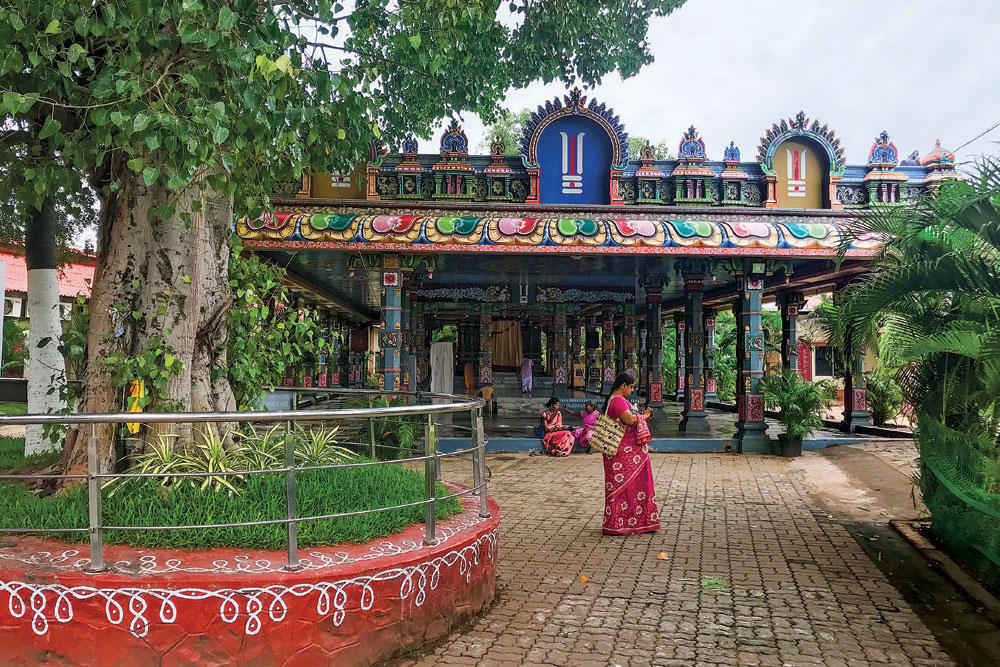 THE MOVEMENT took on a life of its own around the mid-1990s. "The mystical experiences could be so powerful that they left you feeling ecstatic and blessed for weeks, even months. Vijay was divine in the sense that he had the capacity, as did Shirdi Saibaba, Swami Samarth and a handful of other saints from India, to make you experience miracles," says Sankara. "In my outlook, these euphoric experiences have no value; I chose the path of understanding. But for a lot of people, they were transformative." Around 1996, as the ashram slowly turned into a family fiefdom with Amma and Krishna entering the fray, first as disciples and administrators and later as minor gods in their own right, it became clearer to Sankara, or Paramacharya as he was known at the time, that "fame and success were important" to Vijay Kumar. "He had the uncanny understanding that unless you were famous, people wouldn't listen to you. The empire he was building was controlling and manipulative and it went against what Jiddu Krishnamurti believed in. Krishnamurti, when he dissolved the Order of the Star in the East in 1929, had warned that organisations could destroy virtue and coerce people into following a certain path. I did not want to be part of a spiritual organisation. In fact, Vijay wrote me a series of letters after experiencing powerful awakening in Coimbatore—they were beautiful pieces of spiritual revelation—but I tore them up. What I felt was that you want to be well-known and I don't want a part of that cake or to jump on your bandwagon." The two friends still meet once a year along with their families. "Vijay never harboured ambitions beyond the spiritual; for his son, the ambition is more material. The pursuit of artha and kama are like a tora tora ride that takes you up and brings you down," Sankara says. "Naturally, the family has to come up with some answers now."
Even someone claiming to be a divine interlocutor would find it hard to explain why Krishna, Preetha and senior dasas including Ananda Giri and Jyothirmayee Chundi aka Samadarshini, two of the six acharyas originally chosen to helm the order of the monks, sit on the boards of 40-odd holding companies with interests in real estate, mining, entertainment, sport, agriculture, education, finance and manufacturing. The banyan-like network of interconnected corporate entities linking Krishna Nemam Kurral Vijay Kumar with them includes companies with names like White Lotus, Kosmik/Kosmic, Sacredbanyan, Transend, KPL, Bluewater, Golden Lotus, Goldenage, Chatrachaya, Yogi and Enlite—a veritable alphabet soup of mysticism. Many of them exist only in name as mailing addresses—such as the premises in Chennai of Kosmik Music, a music label that even had a shopfront at the ashram in Nemam and is known for popularising mainstream devotional tracks like Aigiri nandini. But get this: the label is a subsidiary of KOSMIK Global Media, which owns Bengaluru Bulls, a Pro Kabaddi League team that clinched its maiden title in 2018-2019 after beating Gujarat Fortune Giants. Also known as WL Epic Media, it lists a certain Badri Narayan Choudhary Kota and a Rajendrakumar as directors. According to a source close to the Oneness order, both were accountants or finance professionals; Kota graduated from Jeevashram in 1995.
Sport, like religion, is a universal language and Krishna understands the dynamics of the rolling snowball of hysteria and hype that is common to both disciplines. "Krishnaji's passion for sports extends beyond kabaddi. He would readily connect you with a tennis coach if he heard you play and sponsor children for an interschool tournament," says a business associate, requesting anonymity. Krishna and his wife Krishnapreetha Ramabagavaddasa, said to be resisting the inquiry by the IT Department, are partners in limited liability partnership companies like Golden Lotus Services, Bluewater Properties, KPL Assets and WL Assets. Their investments seem to fall into two broad categories: companies and technologies that could help them shape the future of their core business of meditation-based therapy, and run-of-the-mill money-minting propositions in real estate and mining tailor-made for high networth individuals (HNIs). Except, some of these businesses, including a stake in The Pinnacle, Africa's tallest tower now under construction, are seriously high-value. A Hyderabad-based associate of Krishna, Raju Poosapati aka PSR Raju, former Vice-President, Food and Agribusiness Research, YES Bank, is under investigation by the IT Department for his role in managing investments for the couple. He is the cofounder, Managing Director and Vice Chairman of Dubai-based White Lotus Projects that is building The Pinnacle in Nairobi in partnership with Hass Petroleum. Raju is also founder and Director at Farm Africa, a food processing company.
A Hyderabad-based entrepreneur whose company Krishna had invested in via one of his many holding companies says that Preetha and he came across as regular HNIs and were patient with their investments. "They dressed in business clothes for our meetings—not the kurtas you see them wear in their motivational videos. It was also pretty clear that they believed in meditation as a transformative activity and they had researched it thoroughly," he says. It was about six to eight months ago that the entrepreneur, who has requested anonymity, began to see the first signs of financial stress in the Oneness conglomerate. "They had committed a few million dollars in investments but less than half of it came through. I got the sense that much of their money was tied up in investments overseas that were yet to yield returns," he says. "One thing I am sure of is that Krishnaji and his wife are astute in business. It is hard to believe that they were foolish enough to be caught with loads of cash on their own premises."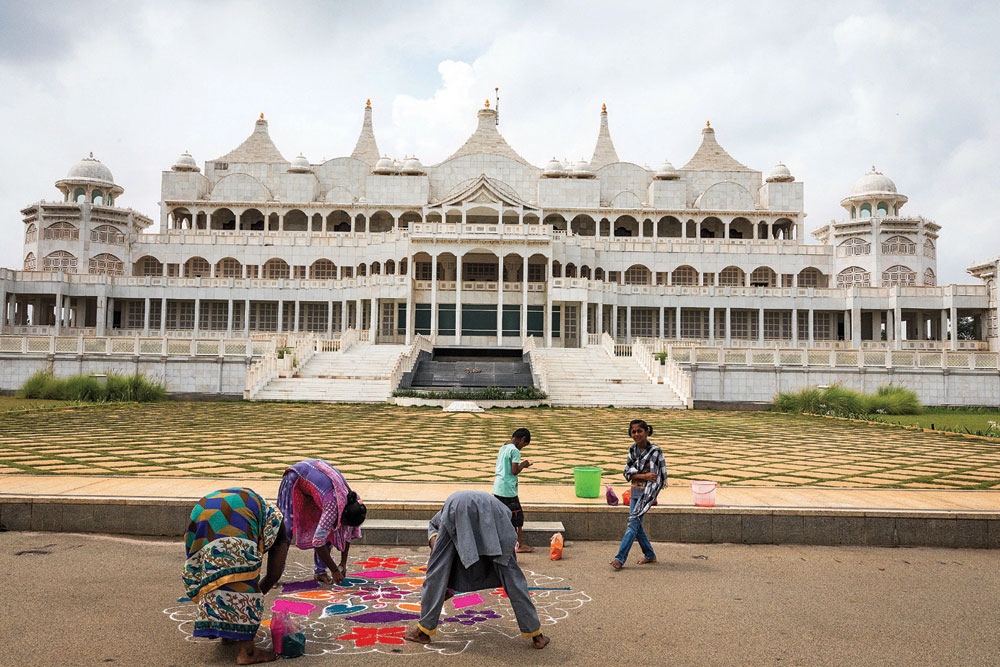 The corporate arena is an insufficient site for fully grasping the motivations of Vijay Kumar, Krishna and Preetha. In Varadaiahpalem, where electric garbage vans operated by One Humanity Care, one of many nonprofits run by the family, ply the length of the main road leading to the campuses, locals say the funds crunch is partly a result of the power struggle between father and son that seems to go back almost two decades. It was around the turn of the millennium that Krishna proposed a monument to Oneness at a site he had discovered in a sylvan outpost. By then, devotees were tripping over themselves to make unconditional donations to Bhagavan and his wife Amma, who had come to be regarded as an auspicious granter of material wishes. Bhagavan worked hard over the next few years to raise funds for the Oneness Temple and began charging thousands of rupees for darshan, creating what would become a major revenue stream for the organisation. A former dasa who spent three years with the order says he quit Oneness around the time because "the organisation was growing so big that the original purpose of spirituality was lost". "Most dasas are sincere preachers who raised a lot of money out of the faith they had in Bhagavan. Now they were given targets to meet. And as the size of the donations grew, so did the scope for corruption. For instance, we did not give receipts for cash and jewellery donations—what was to prevent a dasa from siphoning off some of that money?" he says. He still pays Rs 10,000 for a single look at Bhagavan, whom he considers the light of his mind. Bhagavan's public appearances are now few and far between, precipitating a crisis that started three years ago, when the godman took ill and had to be admitted to hospital in Chennai with a heart condition. Krishna had hoped to supplant his father, but the succession was not to be smooth. Tens of thousands of devotees who would accept nothing less than the chaos of beholding the divine and his consort in their gold-spangled silks seemed to shrink from approving a self-help guru as heir to his legacy. "Bhagavan's health recovered but the incident left us with the worry that Oneness would decline overnight just as Sathya Sai Baba's legacy in Puttaparthi did. We adopted a two-pronged strategy: ensuring that Bhagavan and Amma gave video darshans and promoting non-ritual-based ways of enlightenment that Krishnaji and Preethaji had studied and perfected over the years," says a close associate. The couple teamed up with American celebrity life coach Tony Robbins—he is said to have prescribed eggs and 'weird' exercises to the monks at Varadaiahpalem—to fine-tune their courses and open centres overseas even as they actively courted Westerners. "Krishnaji was personally showing them around town, pointing out every social initiative of their organisation in a bid to raise funds," says a local journalist. "The desperation had begun to show."
LOCALS ALSO SUSPECT a political angle to the raids. "Everyone knows Bhagavan is close to N Chandrababu Naidu, but the ashram had openly started backing the Telugu Desam Party, and Chief Minister Jagan Mohan Reddy did not approve," says a local TV journalist. The Bharatiya Janata Party-led Government at the Centre, too, seems to be signalling to Vijay Kumar, yet to endorse Prime Minister Narendra Modi in the way that Sri Sri Ravi Shankar, Jaggi Vasudev and Baba Ramdev have.
Even as a frost has blown across the Oneness ashrams after the IT raids, and many devotees have kept away, the Amma Bhagavan Temple in Nemam, with a modest shrine, lawns, meditation halls and a gift shop, retains some of the spirit of optimism that had led hordes of people on the brink of despair to seek out the faith in its heydey. At around noon, as the arogya puja comes to a close, the 20 or so devotees present chant the bhagawad nama as they spin on their toes. A couple of Chinese devotees start sweeping the floor with quiet industry as soon as people disperse. This is good old-fashioned religion with miracles and service as its pillars. An evangelist who has been with Oneness for over two decades chats us up as we are about to leave. "Is this your first time?" she asks, making a sedulous case for why we should join the faith. She makes me download a free conference call app and gives me the code to listen to the morning sermon listed under the head of Sri Paramjyothi Broadcasting, besides promising that the Bengaluru coordinator would get in touch to brief me on activities at the Oneness Temple in town. A cottage on the far side of the lawn is said to be home to Vijay Kumar and his wife, possibly the only people in recent history to have captured the imagination of millions in the form of a divine couple. "They may wear silks and jewellery in public but they don't live a life of luxury. The accommodations are modest, with an airconditioned hall, a bedroom and a kitchen. There is no swimming pool, despite what the media says," says Debmalya Ghosh, 35, a former monk. "You have to understand that Kalki is a collective consciousness. It was Bhagavan's pursuit of a noble objective—to enlighten 64,000 souls who would then make the world a better place—that drew many of us to him." Oneness has stopped training dasas but 100-150 still remain with the order, few of them ever emerging in public to interact with the outside world other than to preach. The days when they craved caffeine and looked forward to bad Russian chocolates are gone, and so are the value systems put in place by the founding members of the faith. Oneness feels like a doll that has been torn open and reset in a different pose—one ensnared in greed and bumbling pretensions to generations
of divinity.