WHEN SRIDHAR SESHADRI, MUNISH CHAWLA and Vikas Jain started Jeevitam in 2015 to leverage technology for bottom-of-the-pyramid work seekers, they hadn't the faintest clue they would be supporting tens of thousands of migrants who were packing up and leaving cities hit by the coronavirus. Most companies did not streamline their blue-collar workflow and almost none believed in remote hiring, but the pandemic would change HR policies more than any event has in recent history. It soon became clear that the carpenters, drivers, masons, salespersons and plumbers who had walked and hitchhiked hundreds of kilometres to get home, preferred to stay back if there was a meaningful opportunity available locally. Jeevitam, literally "livelihood", had been working on just this. "To truly democratise access to work, there must be a multiplicity of opportunities on offer pan-India. For instance, if we can offer someone many brands to work with in a single day—morning at a neighbourhood convenience store, afternoon at a repair shop, evening doing deliveries—he cannot just make more money within a 20 km radius, but also explore different skillsets. He needs to register via a phone call just once to avail of opportunities in any pin code across the country," says Seshadri. Jeevitam's "buffet" of opportunities for blue-and-grey-collar workers—full time, part time, franchise, self-employment—is offered over automated voice calls in 21 Indian languages. "Most blue-collar gig workers are not very educated, do not have access to the internet or to smartphones, and have a strong native language preference. Existing hiring solutions did not meet these requirements," says Munish Chawla, a former banker.
Jeevitam converts voice-based registrations to text after which the backend AI takes over to look for matches. Leads are then communicated over calls—the company makes 25,000-30,000 calls per day, and touched a peak of 2 lakh calls a day in October 2020 when it conducted virtual job fairs for government departments—and shared with the prospective employer. With over 1.6 crore work seekers on the platform across 18,000 pin codes, and partnerships with ministries and large CSR programmes, the company claims to impact 1 lakh work seekers every month. It is creating large nationwide pools of freelance salespersons, banking and insurance agents, and other work groups that organisations can hire from, besides tying up with cooperatives and local communities that can plug and play from the platform.
The pandemic changed not just the nature of work—and robbed hundreds of thousands of a dignified source of income—it altered the contours of the world as we knew it. As a country, our habitual clamour for economic upsurge was replaced by a growing sense of helplessness and fear—at a rasp in our throats, at the precarious nature of our jobs, at the idea of losing loved ones, at the scarcity of resources with which we were fighting the biggest calamity of our times. The feasibility of fledgling startups and unknown bootstrapped ventures innovating in a difficult, risk-averse market was as questionable as its need was obvious. For startups, however, the conditions are always impossible. The most agile of them channelled science, decisive leadership and a sense of community to become silver bullets in the war on Covid-19 and its aftermath. With big pharma and industry working on vaccines, life-saving drugs, PPE kits and other largescale solutions, these startups pulled above their weight to solve dire problems—thousands of people gasping for air, shockingly understaffed and over-burdened hospitals, farmers wasting their crop for want of buyers, hospital phone lines going unanswered.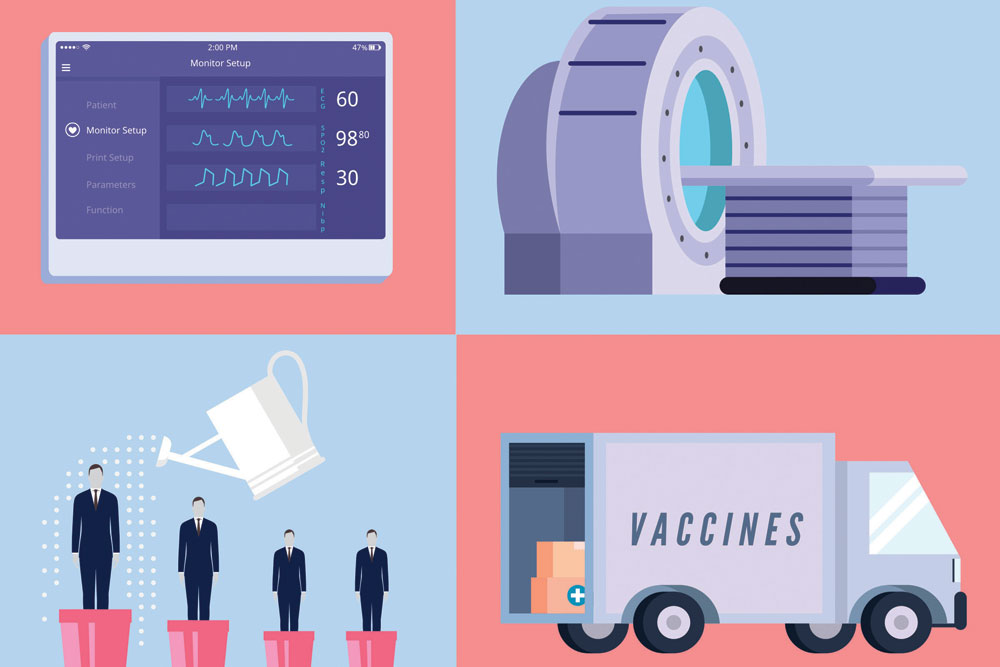 "We had taken upon our shoulders an immense challenge—to build a high-quality ventilator amid a lockdown, when none of us had ever seen a ventilator before," says 27-year-old Nikhil Kurele. Kurele and his friend from IIT-Kanpur Harshit Rathore—the two share a birthday—had in 2017 founded a deep-tech startup that was making automatic cleaning systems for solar parks. As Covid struck, the business hit a wall. "We needed to figure out how to be relevant to redeem the business by bringing our expertise in control systems and complex robotics to bear on the problems at hand." A team of 23, most of them working remotely, designed a prototype in 72 hours, and built the first working model in a month, with help from IIT-Kanpur and over 20 vendors in Pune. "IIT-Kanpur had set up a taskforce and there were Padma awardees on it. We could not afford any mistakes—there were reputations, and possibly lives, if we were successful, at stake," says Kurele. The first ventilator company to get certification from the Indian Government—on June 19th, 2020—Noccarc, then Nocca, launched the product on July 15th.
The company's 50,000-sq-ft factory in Pune is an example of capacity-building for the future. Planned when the second wave was nowhere in sight, they set themselves up to scale from making about 100 ventilators a month to that many in a day. Noccarc is one of the single-largest manufacturers in India today, selling over 80 ventilators a day at Rs 4 lakh plus GST—much cheaper than the imports. Noccarc has over 2,500 installs across India under its belt—most of them in quality-and-price conscious private hospitals.
The Central Government managed to procure only 35,179 ventilators out of the 50,000 it originally ordered in April 2020. There have been other hurdles in deployment—several established manufacturers were asked to upgrade their software, and a few reportedly failed quality checks. Besides, the Indian healthcare system has not been able to absorb the infusion of new infrastructure, especially high-tech ventilators which can only be operated by specialised staff, doctors and technicians. What if the nurse on duty did not know how to intubate and there was no doctor on call—not entirely unimaginable considering there is one doctor in India for every 1,511 people, and one nurse for 670? Continuous Positive Airway Pressure (CPAP) machines, which use mild air pressure to keep airways open—typical use cases are for patients with sleep apnoea and babies born with respiratory distress—have been shown to prevent the need for invasive ventilation. Even CPAP machines, however, tend to cost upwards of Rs 1 lakh. So when Covid struck, six-year-old Bengaluru startup Coeo Labs, whose flagship product is a low-cost, portable breathing support device for babies with respiratory problems, kicked into action to modify it for adults. "Saans Pro does 5 per cent of what a full ventilator does, but it is much more effective and easy to use in Covid wards," says Nitesh Kumar Jangir, co-founder of Coeo. The company claims to make the world's only portable non-invasive ventilator that can run with and without electricity, and without compressed air. Coeo Labs, now a division of InnAccel Technologies, makes another product—an intelligent oral hygiene management system to prevent ventilator-induced pneumonia. "The rate of ventilator-induced infections has doubled after Covid-19. Our device not just keeps the patient safe from infection, it also reduces the viral load on the attending medical staff who would have had to manually drain infected saliva and secretions," Jangir says.

TO FURTHER MINIMISE EXPOSURE TO HIGH VIRAL loads, a six-year-old startup that made sleep monitors pivoted to focus on a remote patient monitoring system to send out early warning signs via an app to the doctor in-charge. "When we launched the product a couple of years ago, we were a wellness-oriented company. Upon extensive testing, we found that our devices were delivering results with medical-grade accuracy and could be deployed in stepdown ICUs," says Mudit Dandwate, CEO and cofounder of Turtle Shell Technologies, whose under-the-mattress contactless sensor-based device, named Dozee, measures heart rate, respiration rate, blood pressure and oxygen saturation—four parameters critical to assessing the condition of a patient infected with the novel coronavirus. "At a time when ICU beds and doctors are both in short supply, we have effectively saved 600 lives." With thousands of devices in hospitals across the country, the 120-member team at Dozee is going full steam ahead with plans to penetrate the rural healthcare market and to upgrade 15,000 public hospital beds in the next three months. "We are working with the Indian Army, the Navy and the Air Force, and with state governments on upgrading hospital infrastructure," says Dandwate, who remotely monitored his own mother, a diabetic, when she contracted the virus, using Dozee. With manufacturing plants in Chittoor and Bengaluru that can produce 50,000 devices a month, the company is working on upgrading and extending parameters to include ECG and temperature, and on vernacular app support. Dozee is supported by, among other agencies, the Centre for Cellular and Molecular Platforms (C-CAMP), Bengaluru, under the Department of Biotechnology, Government of India. "When Covid reached India early last year, we realised we didn't have the resources to fight back, and the conventional way of getting resources from outside was locked because of logistics and demand issues. We were forced to look at our own backyard," says Dr Taslimarif Saiyed, director and CEO, C-CAMP. In one of the largest efforts by a government biotech agency to fast-track Covid-19 solutions, C-CAMP invited applications from startups in March 2020, receiving 1,100 within a month. "Over four weeks, we selected 30—what we thought were our best shots at beating the crisis—and helped them with funding, regulatory approvals, connects with government and scaling up. Twenty-three of them are in the market now."
One of them is Blackfrog Technologies, a six-year-old Manipal, Karnataka-based engineering design and consultancy firm that had developed a proof-of-concept portable, medical-grade refrigeration unit in 2019 and tested it for a year at a hospital run by Selco Foundation in Sargur near Mysore. "They had been using ice boxes for vaccinating Tribals and that's about the worst thing you can do to a vaccine—cycles of freeze and thaw drastically reduce efficacy. Our unit assures temperature control and runs on easily adaptable 12V DC power, which means you can run it on battery and solar and also plug it in. From 20 vaccinations a day, the hospital was able to vaccinate up to 60 kids a day and still save Rs 13,000 worth of vaccines in a month," says Mayur Shetty, CEO and product architect at Blackfrog. By the time Covid-19 vaccines entered the scene, the company had, with the support of the Biotechnology Industry Research Assistance Council (BIRAC), Venture Center, NITI Aayog and other agencies, set up a batch production plant. From 300 units a month, the company is on track to scale up to 1,500 by the end of the year. It has orders from the northeastern states where remote vaccination drives cannot happen without a portable refrigeration unit, and from NGOs in Karnataka, Tamil Nadu and Maharashtra.

India has wasted 4.6 million vaccines—by a very conservative estimate—since it began inoculating against Covid-19. Even before Covid-19, we were wasting $45.6 million worth of vaccines ($7.5 million of it is avoidable) in a year. Wastage can occur during transportation, in the cold chain and at a vaccination site, and some of it can be prevented by establishing medical-grade cold chains. With six national awards and two patents on the design of the unit and one on a traceability system for vaccines administered, Blackfrog can not only help India achieve better vaccine administration, it is also working on end-to-end traceability of vaccines. "Shoes on Amazon have more traceability than the vaccines we are currently administering. We are working on a system to barcode every vaccine administered, so we will know which lot to recall if there is an adverse reaction, and flag counterfeit vaccines," says Shetty, 28.
Like Blackfrog, Bengaluru-based Nitish Sathyanarayanan and six other bio scientists had worked on a product that could fill an essential gap amid the pandemic. "We were cofounders of another company called IMPRES, which is a biotech accelerator. Back in 2017, we had worked on antibacterial fabrics for use in ICUs, but there was no market readiness and we had put the idea in cold storage. When Covid-19 hit Europe in February 2020, we wanted to revive it to make a mask that could self-sanitise, and was washable and cheap. Indians had fallen into the habit of wearing surgical masks for over four hours, beyond which they were at risk of breathing in the viral deposits that would have collected on the surface of the mask. We had a solution: a virucidal fabric bonded with a special molecule that could kill 99 per cent of the viruses and bacteria it comes in contact with," says Sathyanarayanan, who also runs a venom peptide company. With support from the Union Government, TekFabric was tested against a wide range of bacteria and viruses, including SARS-CoV-2. Since the launch of the mask in July 2020, the newly incorporated company Infection Shield Biotech has sold over a million units. It has also launched sanitisers for every surface and is testing a 72-hour protection spray for use in several hospitals. "We are talking to governments about entering primary healthcare systems. It rarely happens that a new technology is effective as well as low-cost, and we hope to leverage that." The company says its future business will be hospital-centric, and it is working towards expanding its footprint in this space by incorporating the patented fabric into industrial air filtration units to ensure only virus-and-bacteria-free air is recirculated.

IF COVID-19 GAVE STARTUPS A PUSH TO HIGHLIGHT healthcare infrastructure, the blow it dealt to livelihoods instantiated the urgent need to connect people with opportunities. When farmers began to destroy their crops during the first lockdown last year for lack of access to markets, Chandigarh-based Ruchit Garg started circulating his WhatsApp number among farmer groups and asking them to text him with details of the crops that were up for sale. He then put up the listings on Twitter under the banner of the Harvesting Farmer Network (HFN), not expecting responses at the massive scale that has come to define this community of buyers and sellers over the past year. Often facilitating packaging and delivery and negotiating on behalf of farmers, Garg, 42, also built an app with local language support through which they could post listings for free on the platform. Even as the community grew rapidly, there was buzz on social media about HFN's pilot project to mentor a handful of farmers and deliver their premium produce—queen pineapples from the Northeast, avocados from the Nilgiris, alphonso mangoes, cherries from Kashmir—directly to customers in metros despite the lockdowns in effect across the country. There are over 2.3 million farmers on the platform today, and Garg estimates it has so far facilitated between $1-2 million worth of sales, but not all transactions happen through HFN. "Our primary concern is to connect buyer and seller. We also work with a team of about 50 freelance agriculture graduates to do recces of crops put up for sale, and offer logistics, packaging and other services for a commission," Garg says. To get a sense of HFN's reach and scale, consider this: there is 77 million kg of product listed on the platform right now, from castor seed, chilli and black pepper to guava and mango. The website has 456 types of produce listed, a big chunk of it from Chhattisgarh and the southern states.
The hyperscaling of networked platforms, such as Jeevitam's and HFN's, is hard to match in healthcare, where building capacity usually entails massive capital outlays on infrastructure. There are countless ways to use available resources more efficiently, though. "If you think about diagnostics, it controls the course of healthcare at every step, but it is most often broken, inefficient and offline. In a metro, you make peace with the fact that radiology reports will take days; in Tier-2 and Tier-3 towns, hospitals and diagnostics centres don't have a radiologist for 70 per cent of the time that they are operating," says Kalyan Sivasailam, a 28-year-old computer scientist and law school graduate who cofounded Bengaluru-based 5C Network in 2016 with Syed Ahmed, 50, after the latter spent 48 hours in pain while waiting for MRI results. The company connects the five stakeholders of radio-diagnosis—doctor, radiologist, patient, technologist and hospital—on a single platform to deliver reports within 30 minutes, faster than pizza delivery. Over a thousand hospitals and diagnostics centres, including some of the largest chains in the country, are plugged into the platform, where they upload scans and have them instantly analysed by radiologists. With a pool of 400 freelance radiologists, who in turn are equipped with inhouse and aggregated AI models and assisted by a data analytics team, 5C Network processes 2,00,000 reports a month, with an average lead time of 29 minutes. "We connect demand with expertise for faster diagnosis at every step. Fifty-five per cent of our clients and 67 per cent of our business come from Tier 2 and Tier 3 cities—we have touched 180 cities. We service the far Northeast, for instance. In Nagaland, all eight CT scans are connected to us," Sivasailam says.
The business actually declined during the first lockdown, but as cases mounted and doctors began to use CT severity scores to take decisions on the prognosis of Covid-19 patients, new clients came on board—400-500 hospitals and clinics in the past year, according to the company—leading to a 5x growth in business. "It is not pulmonologists who are treating most Covid cases, but MBBS doctors and trainees, and CTs are helping them make decisions. Hospitals that were doing 10-15 CTs a day are able to do 150 because they leave the analysis to us," Sivasailam says.

Other startups have come up to address delays in hospital response time, triaging and ambulance arrivals. Five-year-old Hyderabad startup StanPlus takes reactive healthcare a step further. "Indian hospitals were able to answer just 5 per cent of the emergency calls they received during the pandemic. And since unlike 911, India does not have a reliable quick-response ambulance system, every hospital is forced to own and operate an ambulance," says Prabhdeep Singh, 33, Founder and CEO of what is today one of India's largest emergency health call centres and ambulance companies. StanPlus helps hospitals decouple administration and ambulance systems by setting up and answering emergency lines and managing triaging and ambulances. It also sets up and manages 1,800 healthcare emergency lines for corporations, including banks and Fortune 500 companies, and for high-profile politicians who have large families spread out across the country. "During the pandemic, hospitals that were our clients had an answer rate of 85-90 per cent," Singh says.
In just the past month, StanPlus serviced 10,000 cases—6,000 of them ambulances and 4,000 medicine deliveries and doctor consults. The company claims it can get a doctor on call within 7-8 minutes. "We want to be pillars in the emergency journey of a patient. We have grown 2x in the past year, and we expect to grow 5x this year. Our house of brands, which includes RedAssist and Red Ambulances, is piloting Red Clinics now," Singh says. StanPlus is not just an aggregator, though it works with partners—it has 150 ambulances of its own. With 500-plus employees—80 of them in a call centre, answering about 3,000 calls a day—and a pan-India presence, StanPlus turned profitable last year. Singh, a qualified pharmacist who also has an MBA from INSEAD, says only scale can bring sanity to the unregulated private ambulance market. "We need positive regulation. Today, anyone can become an ambulance operator in 24 hours. There are 30,000 operators in India with an average holding of two ambulances."
Even as India continues to battle the second wave, lives and livelihoods must go hand-in-hand, says Ravish Agarwal, 27-year-old cofounder and CEO of Able Jobs, a two-year-old training and placement tech company for entry-level jobs. "In times of crisis, grey-collar workers are the first to lose their jobs. But after they left, companies started to hunt for people again, and were forced to accept work-from-home models. A whole new talent pool has opened up for them in Tier-2 and Tier-3 cities. The need of the hour is to make our graduates employable," says Agarwal, whose company has free and paid learning modules to train graduates in basic skills like writing emails. It has placed over 5,000 graduates in brands like Byju's, HDFC and Axis Bank in the past year.
At a time when India's economic recovery from Covid-19 is still nascent, when our doctors are exhausted and our vaccination drive is hit by a temporary supply lag, it is comforting to know that some entrepreneur, somewhere, is thinking about solving problems that no one else will.