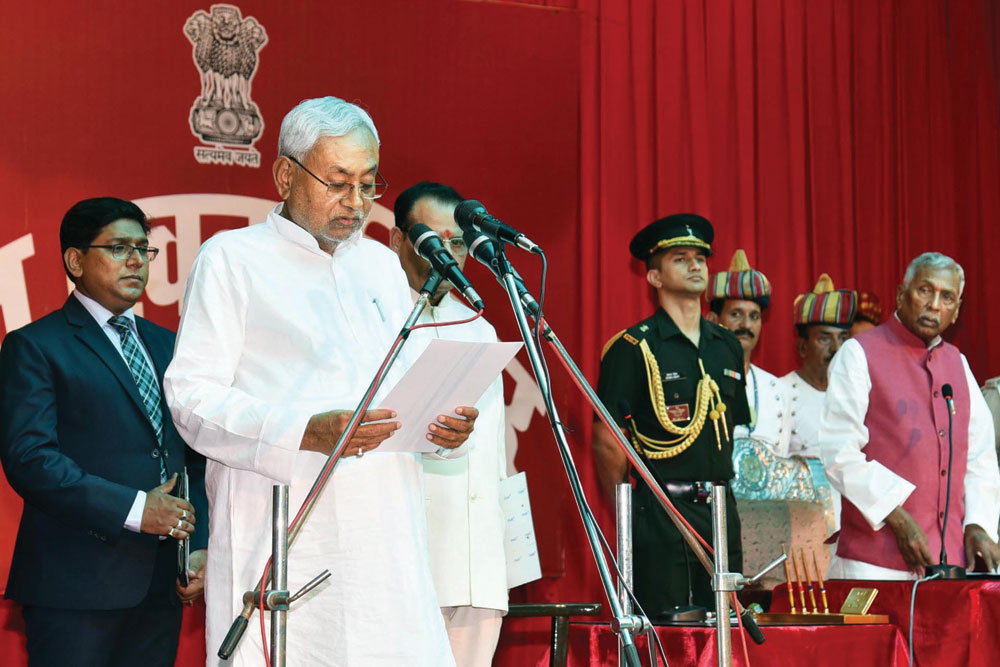 Nitish Kumar takes oath as Bihar chief minister in Patna on August 10, 2022 (Photo: Getty Images)
IN THE RUN-UP to the Bihar Assembly polls in late 2020, the Bharatiya Janata Party (BJP) had commissioned several surveys to gauge the popular mood in a tough electoral contest. All the surveys were unanimous in reflecting a sharp dip in the popularity of Chief Minister Nitish Kumar, so much so that Union Home Minister Amit Shah questioned whether there was something amiss with the methodology of the opinion polls. The election had become complicated with Chirag Paswan, the son of late Ram Vilas Paswan, parting ways with BJP and the Janata Dal (United), or JD(U), and contesting on his own in the light of his differences with Kumar while the National Democratic Alliance's (NDA) main rival, Lalu Prasad's Rashtriya Janata Dal (RJD), posed a spirited challenge having rallied its significant Yadav-Muslim base in alliance with Congress and Left parties. Even small shifts in caste loyalties or erosion of popular goodwill could result in serious reverses. As it turned out, the surveys did not lie. NDA made it back to office powered by BJP winning 74 seats even as Kumar's JD(U) fell to 43. Although Paswan's Lok Janshakti Party (LJP) won just one seat, its candidates hurt NDA, more particularly JD(U). On the other side, RJD won the most number of seats with a tally of 75, but its alliance fell well short of the majority mark in the 243-member House. Despite JD(U)'s reverses, BJP offered the chief minister's post to Kumar who was sworn in as leader of NDA, but things were never the same from that moment onwards. The hurt of the public diminution and the uncomfortable truth that he owed his seat to his ally's magnanimity made Kumar receptive to suggestions that he was the victim of a deep-seated conspiracy, that Paswan Jr had been set up by BJP to undercut JD(U) and reduce it to an appendage of BJP. Just how such a fine calculation could be made, and what could be BJP's possible motives to run such risks, were not germane to the argument. A nefarious plot was the best way to explain the humiliation.
The formal unravelling of the BJP-JD(U) alliance on August 9, when Nitish Kumar met Governor Phagu Chauhan after a party meeting unanimously resolved to break with BJP, does not seem such a surprise if viewed in the backdrop of the distrust that steadily grew between the allies. In Bihar's Mandalised politics, Kumar was seen as the key 'backward' face that gave NDA the heft to overcome RJD. Though the upper castes have a significant presence in Bihar, the chief minister's OBC (Other Backward Classes) credentials conferred a legitimacy to NDA's challenge and drew non-Yadav backwards, particularly those labelled ECBs (Extremely Backward Classes) who felt disillusioned with RJD, into the BJP-JD(U) fold. But the 2020 Assembly election had delivered disconcerting results that suggested that JD(U)'s base was shrinking. The fact that this trend did not apply to BJP made it even more unpalatable. Soon, JD(U) began to take positions in opposition to Central policies and struck a discordant note on important political issues of the day. After initially backing the Central farm laws (rolled back by Prime Minister Narendra Modi in November 2021), JD(U) began to urge the Centre to adopt an accommodative stance and said the legislation must guarantee a minimum support price (MSP) for farmers. The party was well aware that this was a demand raised by the Samyukt Kisan Morcha (SKM) and one that the Centre had ruled out. A former Union agriculture minister, Nitish Kumar could not have been unaware of how impractical such a demand was in terms of the fiscal burden it would impose on the Centre and the adverse impact on private trade to the detriment of farmers.
There were sharp differences on issues like the Supreme Court directions on a ban on the use of loudspeakers by religious places and the handling of protests over the new Agnipath scheme for recruitment to the armed forces. The Agnipath protests took a violent turn and BJP's state chief, Sanjay Jaiswal, slammed the state government for its "inability" to prevent attacks on the residences of party leaders. The state BJP's responses to JD(U)'s provocations were the other part of the Bihar story. After the 2020 elections, BJP replaced its experienced Bihar leader Sushil Modi, who had been deputy chief minister and held the finance portfolio, with Tarkishore Prasad and Renu Devi being sworn in as deputy chief ministers. The change of guard never really worked. The tempo of differences kept rising and the BJP leadership did not always show the patience or craft to step back when needed or find solutions discretely as required in an alliance buffeted by new uncertainties. The situation helped some JD(U) leaders who were never reconciled to the partnership and now found an opening to settle scores within the party and regain lost clout. The allegations that a "Shiv Sena-style" operation was in the works all appear as more grist for the mill worked by this section of JD(U).
After the Modi government won a second term in 2019, the formula devised for portfolio distribution saw JD(U) being offered one Cabinet berth. This created a dilemma for Kumar as he was faced with the competing claims of his long-time aide RCP Singh, who had been his private secretary at the Centre and principal secretary in Bihar, and Rajiv Ranjan Singh (Lalan Singh), also a strong contender. Lalan Singh is also a long-time political associate of Kumar and had the reputation of being an assertive politician. Kumar conveyed to the BJP leadership that JD(U) would like to remain unrepresented at this stage. RCP Singh's elevation as JD(U) national president in December 2020 did not help resolve the tensions, with Lalan Singh seeking his pound of flesh. Sometime later, in July 2021, RCP Singh joined the Centre as steel minister. Lalan Singh became the new national president as Kumar sought to balance the cart. Yet, it was an uneasy arrangement. Earlier, Kumar had to face flak for RCP Singh's appointment as party chief, with critics pointing out that this ensured the domination of Kurmis at the top. The same criticism grew stronger as the discontent of leaders like Lalan Singh (by caste a Bhumihar) peaked.
The story gets more intriguing from this point onwards. Senior BJP leaders, Sushil Modi and former Union Minister Ravi Shankar Prasad, say that the induction of RCP Singh had the clear concurrence of Kumar. The chief minister, for his part, says that it was not his choice and led to RCP Singh being removed from the Cabinet later. BJP leaders point to the impossibility of Singh's being made minister and continuing for any length of time without Kumar's say-so. If it were the case that Kumar had to reluctantly acquiesce in making RCP Singh a minister, the compulsions were for him to explain. BJP would have no say in deciding whom an ally nominates to the Union Council of Ministers. It did not take long for bad blood to emerge between RCP Singh and the chief minister and its intensity surprised many. Not only did Singh have to resign in July this year after he was not re-nominated to Rajya Sabha barely a year after becoming a Union minister, his fall from grace was stark. He was accused of being culpable to corruption and it was alleged that wrongful deals had been attributed to his daughters. Served a notice seeking his explanation, Singh quit JD(U) and said his one-time mentor was unfairly accusing him of manipulating a Cabinet berth. "I am being accused of garnering benefits…You are holding all the posts. When I reached [the Cabinet] you could not accept it," Singh told the media. Very damagingly, Singh accused Kumar of a lackadaisical, non-serious style of governance. "Why don't you check? He comes to office at 11AM, goes for lunch at 1PM and returns at 5PM…from 6PM a gossip session is on," he said. For those who had seen RCP Singh work with Kumar, it was clear that their differences had turned into a bitter personal fight. The eclipse of RCP Singh meant the rise of Lalan Singh to a dominating position in the affairs of JD(U). He quickly accused a small set of individuals of having "misled" the chief minister into breaking his 2015 alliance with RJD and re-allying with BJP in 2017. By all accounts, the Member of Parliament (MP) from Munger is likely to be a power centre in the new state government.
Nitish Kumar's decision to dump BJP and reunite with RJD is a major realignment of political equations, and defines the line-up for the 2024 Lok Sabha polls. The development is a setback for BJP as it breaks what has been—except for a short break—a stable and rewarding alliance. The combination has helped NDA sweep Bihar in Lok Sabha polls and, along with BJP's current domination in Uttar Pradesh (UP), made it a firm favourite for the General Election. On the face of it, the RJD-JD(U) caste math is powerful, with the added support of Left and smaller caste-based parties. It was just such a Mandal combination that defeated BJP in the 2015 state polls. Congress leader Tariq Anwar feels the opposition can make big gains at the expense of BJP. "There is a vote that is loyal to Nitish Kumar and this will make a difference," he said, adding that he did not accept that the chief minister's popularity among ECBs had plummeted to such an extent as to deliver the advantage to BJP, arguing that the opposition vote will be consolidated.
But Sushil Modi does not accept this assessment, saying that the ground has shifted under Kumar's feet. "The support of ECB vote can be seen in 2015, when JD(U) and RJD won. But in the 2019 Lok Sabha polls, the vote was for Modi. It was the same in 2020 and JD(U)'s poor performance is proof that ECBs do not back the chief minister as they once did," he said. Prasad says that in 2015, Modi had just about settled into office as prime minister. "Now things are much changed. His commitment to the poor and the backward has been established by the success of welfare programmes aimed at delivering housing, drinking water, financial inclusion, transfers to farmers," the former minister said. The outcomes are not easy to predict but the battle for 2024 is well and truly joined with Lalan Singh noting that the objective of the opposition is to reduce BJP's Lok Sabha tally by 40-odd seats in electoral battles in the states of Bihar, West Bengal and Jharkhand. BJP will bank on the prime minister's electoral appeal to overcome the caste hurdle, given his connect with rural communities and with women voters in particular. It was notable that in the 2020 Assembly polls, NDA did well in seats that saw a higher female turnout. The prime minister had stepped up his campaign after BJP received an adverse feedback after the first phase of polling. His rallies focused on delivering a sharp attack on RJD and Congress for corruption cases and for their criticism of the decision to rescind the application of Article 370 to Jammu and Kashmir. He deftly placed himself at the centre of the electoral mix by stating that he had been able to "work" with Nitish Kumar for a rather short while since becoming prime minister and would now get an opportunity to ensure that the benefits of a "double engine sarkar" reached the state. The pitch worked and RJD's charge faded while polarisation also worked in BJP's favour in the northeastern parts of the state. Compared to UP—where BJP has been successful in ousting caste outfits like the Samajwadi Party (SP) and the Bahujan Samaj Party (BSP)—Bihar represents a tougher challenge. The consolidation of Yadav-Muslim votes is more potent and the addition of Left support is significant. But the opposition vote is not all seamless. After losing the 2020 election, Lalu Prasad complained that giving 70 seats to Congress was a big mistake (the party won 19) as it simply had no vote in the state.
Interestingly, poll strategist-turned-politico Prashant Kishor, part of the successful RJD-JD(U) campaign in 2015, noted in television interviews that governance will remain a key factor despite the caste math. He suggested that the thirst for improved quality of life and livelihoods needs to be addressed by the new government. RJD heir apparent Tejashwi Yadav has indeed outlined a priority for job creation but the alliance faces a powerful Hindutva-plus-development plank that Modi has advocated with some success. At the heart of the contest is the tussle for the ECB vote which used to be Kumar's preserve but has now been assiduously courted by Modi. Although the advent of Nitish Kumar as chief minister led to immediate improvements in law and order and development picked up, Bihar remains bereft of industrial activity. Its power consumption is low and the recent NITI Aayog index pointing to 51 per cent multi-dimensional poverty in the state is a damning report card. The chief minister, who was sworn in for the eighth time, also faces the downsides to his political U-turns in the light of his success in retaining his chair irrespective of alliances. "He claims that BJP was out to unseat him. It was BJP leaders who ensured his projection as chief minister in the first place, thereafter ensuring he became chief minister five times," said Prasad. Just days before he pulled the plug on his alliance with BJP, Kumar received a call from a senior Central minister. Kumar's absence from meetings called by the Centre had become a talking point as was the increasing bellicosity of Lalan Singh's statements. Asked if something was brewing, Kumar is understood to have sidestepped the question and said the exchanges were nothing more than the sniping that took place between some BJP leaders like Giriraj Singh and JD(U). Whether the break could have been averted will always yield different answers, but the trust deficit looked increasingly unbridgeable. The starting bell for the 2024 General Election has been rung.