THERE IS PERHAPS NO better time to explain the divided legacy and contradictory public perception of Jawaharlal Nehru University (JNU), arguably India's best university. Indeed, nothing illustrates this as well as two events happening just 10 days from each other on its sprawling, shabby-genteel campus in southwest Delhi.
Earlier in the week, we had the business-as-usual 'high drama' of a protest-cum-gherao on campus. During an inter-hostel committee meeting, agitating students apparently barged in. The Dean of Students fell ill because his blood pressure shot up. An ambulance was called to take him to the hospital, but the students directed or diverted it to the campus health centre.
His wife pleaded with the students to let the ambulance be taken to the hospital, but the dean and his wife were barricaded for several hours inside the health centre. Late in the evening, the dean was allowed to be hospitalised. After a check-up and tests, he was declared out of danger and permitted to return home ('High drama at JNU hostel committee meeting', Hindustan Times, October 28th).
As usual, voices arose in the public sphere against JNU, fuelled by outrage on social media, on how wicked and fallen this government-funded university was. Some called for its callous and unruly students to be dismissed or even jailed.
Had I been on campus, I would have had a ringside view of the proceedings. On the other hand, I might not have bothered to go out of my house to find out what the ruckus was about. That is the reason I called the incident, reported as 'high drama' in the press, 'business –as-usual.'
The fact is that this premier Indian university, consistently rated among the best in the country, has been on the boil for the last several years. Indeed, in its short, chequered history, since its founding by an Act of Parliament in 1969, JNU has often been in turmoil.
But to revert to the incident mentioned above, any curious, let alone half-way intelligent observer, might rightfully ask, "But what were the students protesting?" A better way to frame the question might have been with the suffix this time. For it does not take much for students of this university to break into a demonstration, hunger strike, gherao, or boycotting of classes.
However, this time to be fair, the students probably had some, if not sufficient, cause, to come out and display their displeasure against the university administration. A whole set of new hostel regulations were to be discussed in that meeting of the inter-hostel administration which the students crashed. These included newly proposed curfew timings, restriction of entries of women into the boys' hostels, appropriate dress codes in the dining rooms and so on.
Many, if not most, students must perceive these as a huge encroachment on their freedom. Yet another of the draconian, anti-student measures by the administration aimed at changing the fundamental character and ethos of the university known the world over for its unencumbered liberty, not to mention sexual liberalism.
JNU is the site of the debate over the idea of India itself. If India is going though what I have termed an 'uncivil' war, then JNU is bang in the centre of it. JNU's nationalism debates thus go to the heart of the meaning of India itself
According to Vice Chancellor Mamidala Jagadesh Kumar, "The committee members requested the agitating students to go out and let the meeting continue. However, due to their unruly behaviour and sloganeering, the Dean of Students Umesh Kadam fell sick with high blood pressure. This kind of behaviour by a section of JNU students is highly condemnable and outrageous." On the other hand, Aishe Ghosh, JNU Students' Union (JNUSU) president, said, "The administration did not invite the student body to the crucial meeting. When the students reached there to submit JNUSU's letter against the hostel rules draft, the meeting was abruptly adjourned by the Dean of Students. We did not hold anyone captive and the students' were peacefully protesting. In fact, two of the JNUSU members accompanied him to the health centre."
It is not a question of whether the JNU administration is right or the students are. Matters are always more complicated than they seem. But in the drama that unfolded on campus, the former seems to have found a way to manage if not the protests of the students, at least the narrative surrounding it.
The students are portrayed as law-breakers in addition to being heartless. The attention of the media and concerned citizenry is thus diverted from the core issue to sensational and often absurd theatrics. The university thus lurches from emergency to emergency. Indeed, this particular eruption is likely to be soon long forgotten.
Vice Chancellor Kumar's term, since its inception in January 2016, has been turbulent and controversial. More significantly, it is under his tenure that JNU's character, from its longstanding Left-orientation, might be permanently changed. He has bravely weathered the worst forms of student abuse and agitation. He has also introduced new courses in engineering and management. These are welcome steps but turning JNU into or running it like an IIT or an IIM is not the solution.
Despite some positive efforts, the JNU crisis is not likely to be resolved soon. At its heart is something much more fundamental. JNU is the site of the debate over the idea of India itself. If India is going through what I have termed an 'uncivil' war, then JNU is bang in the centre of it. JNU's nationalism debates thus go to the heart of the meaning of India itself.

But first let's quickly consider the other, more positive, side of JNU's legacy and reputation.
Just 10 days before the gherao of the Dean of Students, on Saturday, October 19th, the new Nobel laureate in Economics, Abhijit Vinayak Banerjee, visited his alma mater. Banerjee did his Master's in Economics (1981-1983) from the Centre for Economic Studies and Planning (CESP), JNU. Though a consistently good student, Banerjee himself spent 10 days in Tihar jail for gheraoing, along with a bunch of other students, then Vice Chancellor PN Srivastava.
What was the reason? Srivastava had dismissed the JNUSU President, a move considered grossly undemocratic by the students. The protesters, according to Banerjee, were put in jail to please the then Congress Government of Prime Minister Indira Gandhi ('When Abhijit Banerjee was thrown into Tihar jail', Deccan Herald, October 15th). As Banerjee recalled, 'We were beaten and thrown into Tihar jail, charged not quite with sedition, but attempt to murder and the rest. The charges were eventually dropped—thank god—but not before we spent ten days or so in Tihar."
The JNU administration would scarcely have imagined what Banerjee's subsequent journey would be like. Not just from Tihar to Harvard for his PhD and thence to a prestigious professorship at the Massachusetts Institute of Technology (MIT). But to the very pinnacle of global renown and recognition—the Nobel Prize in Economics. A journey certainly more noteworthy and momentous than from Bihar to Tihar, the title of Kanhaiya Kumar's book. Kumar, the JNUSU President in 2016, charged with sedition, was also thrown into Tihar jail.
Accompanied by news director Rahul Kanwal who filmed the encounter for his show Jab We Met (When We Met), Banerjee freely reminisced about his time at the university. He said he remembered current Finance Minister Nirmala Sitharaman very well. She was a friend, a year senior. Sitharaman "was a very pleasant person and intelligent. Her political views were not dramatically different than mine." ('Nirmala Sitharaman was a friend in JNU, our views were not very different: Abhijit Banerjee', India Today, October 20th).
Given its current sorry state, it is difficult to imagine the university attracting the likes of Nirmala Sitharaman, S Jaishankar and Abhijit Banerjee today, especially in the humanities, social sciences and international relations that JNU was once famous for
In addition to Sitharaman, JNU also boasts of another member of the Union Cabinet, holding a portfolio as important as external affairs. S Jaishankar, India's External Affairs Minister, earned a Masters and an MPhil from JNU, and also a PhD in 1981. The latter, four years after he had joined the Indian Foreign Service in 1977. As it happened, both Sitharaman and Jaishankar were 'Free Thinkers' (FT), a non-Left political party, who were not right-wing either.
Jaishankar joined JNU in 1973 and was an active debater in addition to a topper. In an interview with the JNU magazine, Jaishankar described his years at the university as "the most impactful on my life." According to him, JNU "shaped my intellectual outlook and brought out an abiding interest in international politics." Like Sitharaman, who met her would-be husband, Parakala Prabhakar at JNU, Jaishankar made many friends there. It was also a place for "great ideological debates" for JNU teaches "you to think and to talk" ('Freethought, politics & love: Charting Nirmala Sitharaman & S Jaishankar's JNU days', The Print, June 17th).
BUT LET'S RETURN to Banerjee's visit. He not only went to the Brahmaputra Hostel where he had resided, but called on Vice Chancellor Kumar. What is more, he dropped in at the library canteen. Spending long hours in the JNU library, Banerjee often took a break by going to the canteen, where he drank endless cups of bad tea. But today, he was going to do something totally unexpected. He was going to cook up a storm in that very canteen.
The Nobel laureate proceeds to chop onions and rustle up a couple of eggs, which he later shares with the TV anchor interviewing him. He's supposed to be a legendary cook, but has no expectations of winning another Nobel for cooking! Instead, he plays ping pong (table tennis) with his host, Kanwal.
During the course of the interview, Banerjee comments on a variety of topics and, not surprisingly, the state of the Indian economy. We might pass over some of those remarks to focus more specifically on JNU. In 2016, Banerjee had criticised the Government for charging Kanhaiya Kumar and two other JNU students, Umar Khalid and Anirban Bhattacharya, with sedition and sending them to jail.
Returning to that theme, Banerjee says, "One of the jobs of an academic and intellectual is to be critical of the authority… I have no particular brief for bad policies. It is extremely important and it is our right to articulate constructive criticism. I think to be constructive you need to be allowed to be critical."
Banerjee, a few days earlier, had met Prime Minister Narendra Modi. Speaking to Kanwal, he refused to criticise Modi personally, clarifying, "I would value the country doing well over particular political biases of mine getting favoured." But the Nobel laureate emphasised just how valuable a culture of dissent was for a university in a democratic country. Clearly, it is not a matter of the ideological Left vs the Right, but of values far more important.
A defining moment occurred during Banerjee's visit to his former centre at the School of Social Sciences (SSS). Kanwal, waving the Nobel laureate's latest book, Good Economics for Bad Times (2019), asked the students gathered how many had read it. Not one hand went up. But soon after, when they realised who their distinguished visitor really was, several students scrambled around him for selfies.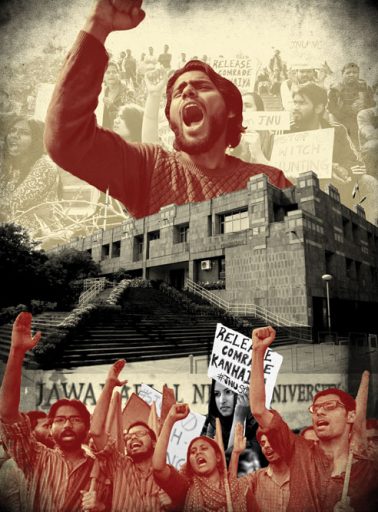 The contrasting stories about JNU that I have just recounted sum up its tragedy. On the one hand, it is roiled by unsavoury controversy and what seems like never-ending student unrest. On the other hand, no other university in India can boast of two senior serving Cabinet ministers as well as a Nobel laureate as its alumni. Between these two poles is the sad truth of deteriorating academic standards. Given its current sorry state, it is difficult to imagine the university attracting the likes of Nirmala Sitharaman, S Jaishankar, or Abhijit Banerjee today, especially in the humanities, social studies and international relations that the university was once famous for.
Sitharaman was the first woman to serve as either defence minister or finance minister of India. Both she and Jaishankar received the university's first ever 'Distinguished Alumni' awards in 2019. Similarly, Banerjee's JNU connection has come in for its just share of celebration, with the laureate himself contributing to it by writing about his student days here. It was in JNU that he learned so much about India, coming as he did from a much more limited and homogenous caste, class and linguistic cohort at his undergraduate Presidency College in Kolkata.
But no amount of tom-tomming or trumpeting its past glory is going to save JNU.
In 2016, following the tukde-tukde break-India-into-pieces episode, JNU was under severe attack. From within, by the leftist students and teachers. From outside, by irate and outraged citizens. I was very much a part of that history-in-making as a beleaguered insider.
FOR YEARS, I had been at odds with the dominant Left-dominated culture of JNU. I had faced repeated barrages of the 5-Bs, as I called them—or pancha b-kar. Brainwash, Bully, Browbeat, Boycott—and if all these four fail—Bullshit. But I did not hate JNU. It was a place of possibilities. Even if you were in a minority of one, you had space. Especially if you had academic standing.
Since I had joined as a full professor way back in 1999, I did not have to kow-tow to lobbies and vested interests that ruled JNU. The Centre for English Studies where I taught wasn't as Left-dominated as the other Centres either. Certainly not the faculty. Though I wasn't the beneficiary of the JNU gravy train, I hadn't fared badly either. In any case, my world was much larger than JNU.
As an outsider who had neither studied nor taught in JNU since the beginning of my career, I had always been astonished by the smugness and inbreeding that characterised the university. It was a land of lotus eaters in which few of those who entered ever wanted to leave. Some, indeed, stayed on forever, either securing employment or never leaving despite having no formal affiliation.
Many who entered as BA students in the School of Languages went on not only to do their MA, MPhil and PhD in JNU, but also to get married to fellow-JNUites, becoming assistant professors and staying on till their retirement at 65. Or even for a few years more on re-employment. It seemed like a cradle-to-grave deal. Almost too good to be true.

Makarand R Paranjape is professor of English at Jawaharlal Nehru University, New Delhi. Views are personal.