The video went viral.
Humanity trumped paranoia and hatred.
It is not a frequent occurrence but when it happens, it is splendid.
On November 9th, 2019, in Pakistan, the opening of the Kartarpur Corridor was the main headline, quietly tipping its hat to the media noise of anti-government protest in Islamabad and speculations about Nawaz Sharif's health and the right thing to do. Pakistan's Prime Minister Imran Khan kept his November 26th, 2018 promise to the Sikh community and his Indian friend, Navjot Singh Sidhu—the irrepressible politician who is as noticeable for his vibrant turbans as he is for his witty asides, emotional poetry and melodramatic oration. Inaugurating the Kartarpur Corridor a year ago, along with Pakistan's Chief of Army Staff General Qamar Javed Bajwa, Khan pledged to open it for the 550 birth anniversary of Guru Nanak Dev Saheb in November 2019.
The magnificence of the white gurdwara, resplendent in its simplicity, is the replication of Guru Nanak's—the founder of Sikhism—teachings that have as much relevance today as they did centuries ago. Guru Nanak highlighted the monotheism of God, stressing the expansiveness of direct access to God without the help of any intermediary and without the pomp of any ritual. One of his most important social teachings was denouncement of the caste system. Guru Nanak believed and taught that all human beings are equal, irrespective of their caste, status or gender.
Respecting the devotion millions of Sikhs have to Kartarpur for its status of being the last residence of Guru Nanak and the importance of paying homage to the founder of their religion, Prime Minister Khan has stayed true to his word even when Pakistan and India do not have many good words to say about one another since the Pulwama tragedy and its Balakot misadventure of an aftermath.
The 4.67-km-long corridor between Pakistani Punjab's Kartarpur and Indian Punjab's Gurdaspur is much more than a stretch of asphalt and concrete. The Kartarpur Corridor or Rahdari is a solid manifestation of the splendour of shared respect for religion acting as a unifying force even when normal avenues of bilateral dialogue and diplomacy become barbed cul-de-sacs. The images of Prime Minister Khan greeting one of the honourable guests from India, former Prime Minister Manmohan Singh, at the Kartarpur terminal, exchanging pleasantries and smiles, were a genuine expression of differences taking a backseat to collaboration for a religious celebration.
And that wasn't the video that went viral. The viral video was of a brief interaction between an Indian journalist and a Pakistani shuttle bus driver, Saddam Hussain, going from the Kartarpur terminal to the Gurdwara Nanak Saheb. The viral video is an encapsulation of the message of the Pakistan of all those Pakistanis who think of the people in their neighbouring country like the driver Hussain does. His heartfelt, glorious words reiterate the shared sentiments of a Pakistan that believes in the power of religions, even in their differences, playing the role of a unifier.
Pakistan's Prime Minister Imran Khan kept his November 26th, 2018 promise to the Sikh community and his Indian friend, Navjot Singh Sidhu – the irrepressible politician who is as noticeable for his vibrant turbans as he is for his witty asides
Hussain said: "My happiness is such it might be more than yours. My eyes have welled up with tears that you have come to your home, to your Guru's home. Allah knows. We have that feeling when we go for Haj. The way you are here, I swear I don't know how to describe it. I don't have words; I feel so much joy. Punjab has united again. May Allah keep you happy like you are now, and you keep visiting like you are now. Our arms are always open for you whenever you visit, Sir."
On November 9th, 562 Indian pilgrims were Pakistan's guests. The delegation included former Prime Minister Manmohan Singh and his wife Gursharan Kaur, Indian Punjab Chief Minister Amarinder Singh, Union Ministers Hardeep Puri and Som Prakash, former Punjab Chief Minister Parkash Singh Badal, his son and Shiromani Akali Dal head, Sukhbir Singh Badal, and daughter-in-law and Union Minister Harsimrat Kaur Badal. Akal Takht's Jathedar Harpreet Singh led the delegation. At the time, when regular diplomatic interactions between Pakistan and India are placed on an indefinite pause, religion became the common point of humanity that is beyond paranoia, beyond hatred.
Indian Prime Minister Narendra Modi, speaking at the Shikhaar Masiahan BSF camp, eight kilometres from the Guru Nanak Saheb Gurdwara, said: "I thank Pakistan's Prime Minister Imran Khan Niazi. He understood India's feelings on the Kartarpur corridor issue, gave respect [to it] and, worked keeping in view those feelings… I also want to thank the workers of Pakistan who worked at a fast pace to help in building the corridor on their side."
Pakistani Prime Minister Imran Khan, speaking to the visiting pilgrims said: "First of all, I congratulate the Sikh community on the 550th birth anniversary of Baba Guru Nanak and welcome you all. I am always so happy to see the Sikh community that has come here. God lives in the hearts of all of us. All the messengers who have come and gone only ever brought two messages, that of peace and justice. I'm happy we could do this for you. Believe me, I had no idea of the importance this place holds; I found out a year ago."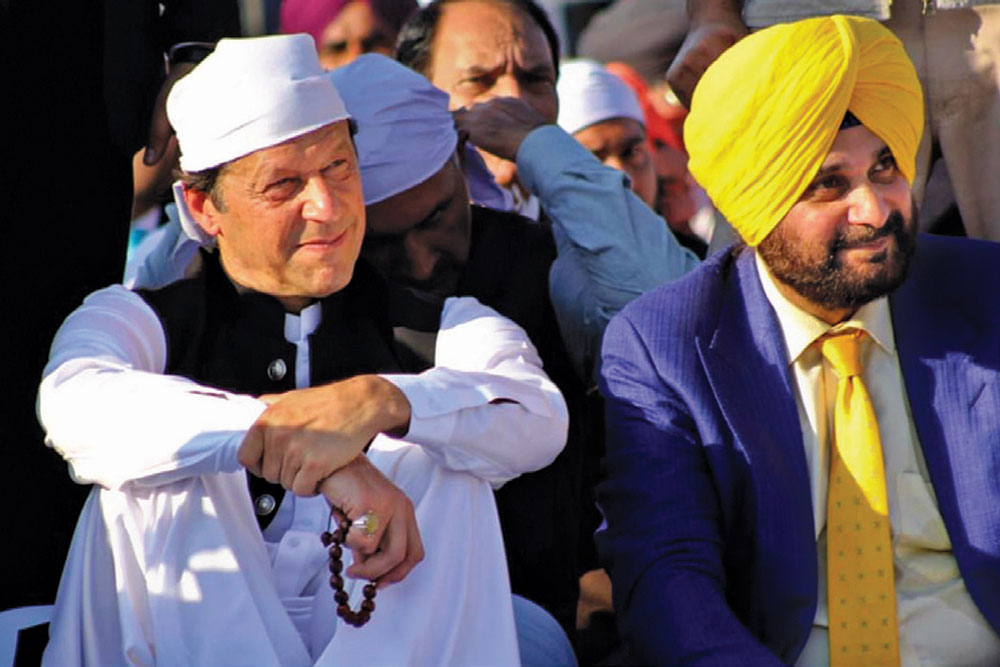 Khan, in his unscripted speech, said: "That is why I am happy to see you so happy and the way your hearts have nothing but prayers for us."
On November 9th, India's Supreme Court announced its Ayodhya verdict. The verdict reopened, in all its bleeding dread, for the 200 million Muslims of India, the memory of the irrevocableness of the demolition of the centuries-old Babri Masjid and its aftermath. The systemic, systematic and institutional alienation of the 'other' received a clinical court endorsement. As the Hindu India erupted into jubilation, the Muslim India went silent.
Jinnah was vindicated. He wasn't smiling.
As I write on this not-quite-November chilly day, the words of Pakistani bus driver to an Indian journalist collide in my mind with the post-Ayodhya verdict words of a Muslim Indian journalist, Rana Ayyub: "This silence is of fear, not happiness. It's only when you are intimidated that you are silent. We have been asked to shut up. Muslims are numb right now. The community has gone into a cocoon. People are just going about their routines because they don't want to think anymore. They don't know what is going to happen next."
What is happening in Muslim Pakistan: 400 Hindu temples are being restored and opened for prayer. Some of these temples had been closed for one reason or the other. The fear of the 'other' must have been one of them. Some of these temples had been closed for restoration as their structures became old and dilapidated. Most were forgotten.
THE ABSOLUTE REJECTION of the bigotry of Maulana Fazlur Rehman, of Jamiat Ulema-e-Islam-Fazl, is another indication of Pakistan's conscious and conscientious, much-needed awakening to not allow differences of faith be used as a political tool. During Maulana's anti-Khan 'Azadi March' protests, he accused, often and unabashed, Imran Khan of working on a 'Yahoodi (Jewish) agenda'; lambasted Khan's religious faith for the court-ordered release of Asia Bibi—a poor, Christian woman falsely accused of blasphemy and sentenced to death—and for allowing her to leave Pakistan; and targeted Ahmedi Muslims of Pakistan, calling them a threat to Islam.
Pakistan of 2019 ignored Maulana's rants. Still smarting under his newfound political irrelevance, Maulana realised that the religion card to divide Pakistan had finally reached its expiration date. It wouldn't be absolutely obsolete across Pakistan any time soon. But it would have few audacious takers in the Pakistan of 2019.
In Sialkot is the Jagannath Temple, already in functioning form. Also in Sialkot is the thousand-year-old Shivalaya Teja Singh Temple. The plan to start work on its restoration has been formed
On November 11th, Pakistan Tehreek-e-Insaf's (PTI) Central Secretary Information Ahmad Jawad, as he announced the opening of Hindu temples, stated: "This development is being made in line with the longstanding demand of the Hindu community that their places of worship be restored to them."
The initiative was a continuation of the Khan government's April 2019 declaration of its commitment to restoration and reopening of prayer places of Pakistan's Hindus, who live in their homeland with long-held genuine grievances that mostly go unheard. The restoration work, according to the Evacuee Trust Property Board of Pakistan, was to initiate with two historic Hindu temples in Sialkot in the Punjab province and Peshawar in the Khyber Pakhtunkhwa province. Khan's PTI is the ruling party in both these provinces.
In Sialkot is the Jagannath Temple, already in functioning form. Also in Sialkot is the thousand-year-old Shivalaya Teja Singh Temple. The plan to start work on its restoration has been formed.
In March 2019, as Pulwama and Balakot increased the bloodied distance between Pakistan and India, the government of Pakistan announced its inclination to open the Sharda Temple Corridor in Azad Jammu and Kashmir—the Pakistan-occupied Kashmir for India and Pakistan-administered Kashmir for the rest of the world—for Hindu pilgrims from Kashmir across the border and the rest of India. Respect for the other's religion connects when political overtures and diplomatic efforts fall like carelessly placed dominoes.
In October 2019, a visiting dignitary, the Thai monk, Most Venerable Arayawangso, echoing Pakistan's agenda to re-calibrate its philosophy apropos respect of the sensibilities of followers of other faiths, stated: "This sends a message to the world that peace existed on the land of Pakistan… This will be a gateway to peace and harmony."
In November 2019, Buddhist chief monks of South Korea prayed at the Bhamala Stupa in Haripur, Khyber Pakhtunkhwa, chief monk Dr Neung-her Sinim said: "Pakistanis and the world must realise the significance Bhamala holds for the spiritual community. Our ancestors chose this place. This is why we pray here for peace in the region and the world."
Today, on November 18th, the official account of the government of Pakistan has tweeted: 'We welcome the President of the Jogye Order of Korean Buddhism Most Venerable Won Haeng on his visit to Pakistan. The visit will help in the promotion of interfaith harmony and religious tourism in Pakistan.'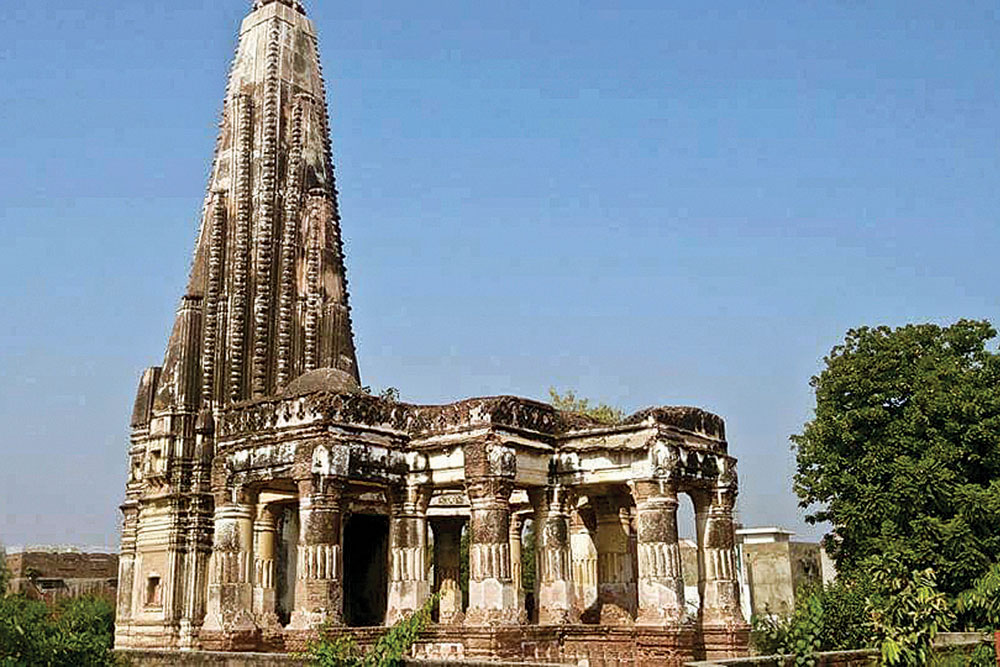 PAKISTAN IN 2019, in a humble acknowledgment of its excruciatingly long inattention to honouring the religious sensibilities of its 'others', has made a promise to make amends. A Pakistan that is for all is the Pakistan that Muhammad Ali Jinnah envisioned. Jinnah, in his first presidential address to the Constituent Assembly of Pakistan on August 11th, 1947, stated: "I cannot emphasise it too much. We should begin to work in that spirit, and in course of time, all these angularities of the majority and minority communities, the Hindu community and the Muslim community…will vanish. Indeed if you ask me, this has been the biggest hindrance in the way of India to attain the freedom and independence, and but for this we would have been free people long, long ago. No power can hold another nation, and specially a nation of 400 million souls, in subjection; nobody could have conquered you, and even if it had happened, nobody could have continued its hold on you for any length of time, but for this. Therefore, we must learn a lesson from this."
In the Pakistan of Muhammad Ali Jinnah: "You are free; you are free to go to your temples, you are free to go to your mosques or to any other place or worship in this state of Pakistan. You may belong to any religion or caste or creed—that has nothing to do with the business of the state. We are starting in the days where there is no discrimination, no distinction between one community and another, no discrimination between one caste or creed and another. We are starting with this fundamental principle: that we are all citizens, and equal citizens, of one state."
In the Pakistan of Prime Minister Imran Khan: "Opening of the Kartarpur Corridor was in line with the Islamic principles, Pakistan's policy of promoting inter-faith harmony, and the vision of Quaid-e-Azam of a peaceful neighbourhood."
For 1.5 billion Pakistanis and Indians, religion is the divine thread that links them to their Creator. Irrespective of the variance of the fundamentals of their faith and the differences of the outward manifestations of religions, there is one factor that unifies Pakistan and India: indispensability of their religious faith to their existence. Call Him by whatever name, pray to Him with folded hands, kneeling or in prostration, He is the One all human beings who believe in a higher power turn to. Devotion to God, in whatever name He is prayed to, is a unifier in today's divided world where people are in pursuit of unity by marginalisation of the other.
Pakistan in 2019, one act of religious cohesion at a time, is trying to be more empathetic, kinder, more inclusive. Rebuilding and opening of temples, invitation to Buddhists to visit their holy places, safe departure of a poor Christian woman whose suffering was long, and building of the Kartarpur Corridor for visa-free pilgrimages of Sikhs, Pakistan has opened its heart and arms to rehabilitate its damaged soul. Pakistan in 2019 embraces, shyly, cautiously, but dil se, the values that unite the shattered humanity into a beautiful mosaic of inclusiveness, acceptance, kindness and generosity of spirit.
Every day, Sikh pilgrims cross the border into Pakistan to pray at their most revered Guru Nanak Dev Saheb's Gurdwara—magnificent, full of life.
In Srinagar, the Jama Masjid waits, magnificent, empty, for its devotees, its namazis. Muslim Kashmiris are not allowed to assemble to pray. One hundred and five days of Gaza-isation of Kashmir. The BJP Government, in its mission to make Jammu and Kashmir a 'real' part of India, has placed on mute the lives of millions of people. Most Kashmiri political and religious leaders are either detained or jailed. It is not merely the dignity and honour of Kashmiris that have been taken away. It is not just their right to decide that has been snatched. It is not only their right to move and interact that has been suspended. It is not solely the internet that Kashmiris have been deprived of. It is their right to pray.
India in 2019 has stripped Kashmiri Muslims of their right to pray at Jama Masjid, Srinagar.
Jinnah wept.

Mehr Tarar is a well-known Pakistani columnist and author