THE MOON WAS AN ALIBI, entwined rosebuds an excuse. Comedy was functional, relief adapted from traditions of theatre. Contrary to congealed perception, the compelling constant of the best Hindi cinema during the creative 1950s was rooted in realism, in the merciless poverty of India.
Penury and its whiplash pain was a persistent motif of popular cinema because that was the pitiless truth about India, the pervasive reality. It was too much with us. Half the population lived on the brink of starvation, a quarter more on the edge of uncertainty. The daily meal came from daily work if and when it could be found. Hungry children slept fitfully; mothers ate if there was something left to eat. Medicine for the elderly was a luxury. Anxiety was the default mode of existence.
Popular films dwelt on this anguish in search of what the paying audience wanted, victory over circum­stance; heroes who stepped out of flappy long pants and into an upscale tuxedo using an array of weapons such as wit, charm, skill, guile, persistence and the periodic distance from middle-class morality. They admired a Raj Kapoor who could glide from slum to ballroom through a sleight of hand in Shree 420. The canon of poetic justice ensured, of course, that he eventually returned to the ethics of the birth community, wiser, but also richer. The true escapism that Indians sought was escape from destitution.
Movies which slipped into treacle, and turned poverty into a virtue, failed. Sometimes the genius of music saved such films but that was rare. Indians wanted liberation, not self-pity.
High-minded filmmakers, and there were many, knew that survival lay in market forces. Mehboob Khan, whether making Aurat in 1940 on a shoestring or Mother India in 1957 for around ₹50 lakh, the highest budget of the time. Box office was doctrine, written by an accountant who could be trusted at the till. Mother India earned ₹40 million. The industry listened to the street, the punters who threw coins at the screen as applause and booed when bored. The moon was all very well, but the pillars of the drama had to rest on lived experience.
Huffy critics, a squirming commentariat writing mainly in English, never themselves short of food, shelter or genteel drams of alcohol, caricatured popular Indian cinema as infantile. They inflated debris into the whole river. Junk might clog Italian cinema too, but Bicycle Thieves was a proper subject for conversation over hors d'oeuvres, while Baazi made by Guru Dutt and Dev Anand was below the salt. (Guru Dutt became respectable only after he died.)
Dextrous and nimble, Dev Anand and Raj Kapoor were field marshals in the great patriotic war against the third horseman of the Apocalypse, hunger. They had fun trampling over conven­tional morality, fully conscious that they were ripping up the status quo which kept the poor in poverty.
Six years before Baazi's release in 1951, an intense debate on free India's economic policy took place between Mahatma Gandhi and his chosen heir Jawaharlal Nehru. Both were sin­cere. Both understood that freedom was incomplete until the poor had been fed with sustenance and hope. They also knew, in 1945, that the moment had come for concrete decisions.
Gandhi had just seen his first film, in 1944, while convalesc­ing on Juhu beach from the ill effects of prison. He had been taken to a British jail for his last prison sentence at 5 in the morning of August 9, 1942, following his epic call to throw the British out in a "Do or Die" mass upheaval. The deleterious af­termath of his epic 21-day fast in February 1944 left him close to death. The viceroy, Lord Wavell, fearful of Indian reaction if the Mahatma died in a British jail, ordered his release, explaining to a furious Churchill that Gandhi would not survive very long. The indefatigable saint recovered with a speed that surprised Wavell and shocked Churchill.
The mavericks of mass entertainment, understandably dif­fident about the company of saints, were not in the Mahatma's social circle. And so the first film that Gandhi saw, a little after his release in the summer of 1944, was about Stalin.
Mission to Moscow was propaganda designed to reinvent Stalin, now an Anglo-American ally in the war against Germany, as "Uncle Joe". Gandhi was unimpressed. He abhorred class conflict, a central thesis of communism, and was appalled by dictatorship, the two bookends of Stalinism. Nehru, like all leftists of his generation, was profoundly impressed by Soviet investment in planning, infrastructure and state-owned industry.
Gandhi believed that the gigantic task of poverty allevia­tion did not have to wait for government. The poor could start changing their lives by spinning cloth, for which he ensured a market by turning khadi into the weave of nationalism.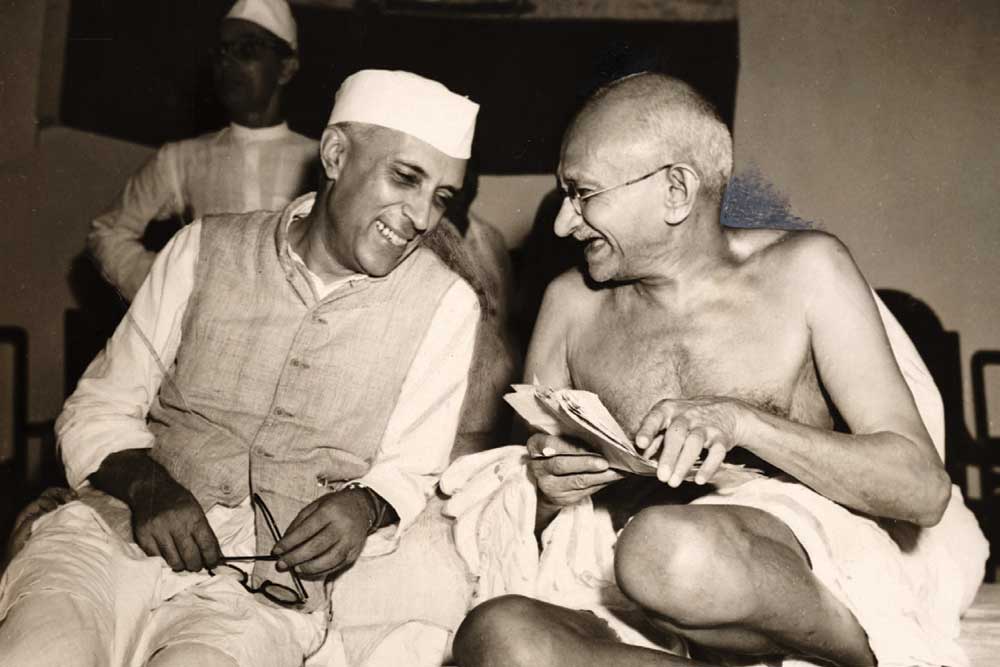 The individual was the fulcrum of self-empowerment, a village the springboard of economic regeneration. From the small emerged the beautiful, linked in concentric circles across the country for the common good. The state needed to concentrate on what it did best, through investments beyond the reach of individuals or corporates. But the cottage was also an industry.
Nehru was convinced that any serious effort towards eradi­cating poverty could start only after Congress had seized power, for only government could lead the change. In detailed letters to Gandhi, he dismissed the village as culturally, intellectu­ally and economically backward. Gandhi's Congress flag was adopted as the national flag with one significant difference: the spinning wheel became the wheel of dharma, a symbol of state synonymous with Emperor Ashoka.
Nehru looked at the world with the state's left eye. Gandhi looked at the economy from the mendicant's right eye.
The Mahatma would have been bemused, if he had been alive in 1955, to discover what can best be described as the Beg­gar's Index of Economic Emancipation.
POLITICS AND ENTERTAINMENT ARE mass phenomena. Both must be rooted at grass level, for neither thrives in an ivory tower. Ideologues have theory books; film­makers have story books. Politicians have policy. Filmmakers have alchemy. Films transform the star into a metaphor, and condense libraries of philosophy into a song. Lyrics often display courage beyond the reach of politicians, as in the song of the avuncular heart-of-gold-but-short-of-cash uncle who took an abandoned newborn home in Dhool ka Phool: "Tu Hindu banega na Mussalmaan banega, Insaan ki aulad hai insaan banega (You will become neither a Hindu nor a Muslim; you are the child of a human being and you will become a human being)". Gandhi would have approved.
Hindi cinema offered three solutions to poverty: prayer; insolence; violence. It gave each a chance.
In 1955, a Ballad of Despair from a deservedly forgotten film, Vachan, became a surprise hit: "Ek paisa de de… O Babu, O Babu, O jaanewaley Babu ek paisa de de". All that the wailing beggar wanted was one paisa, or pice as it was still known, the smallest unit of British Indian currency. The bargain was not bad: "Teri jeb rahe na khaali, teri roz maney Diwali; Tu har dam mauj udaye…"
The reward from God for one paisa to the beggar was a pocket full of money and the joy of Diwali every day. The prayers of a starving child would seal the deal: "Yeh bacha duaen dega, tera bigda kaam banega… Isey raaton for neend na aaye, bhook tarhpaye, O Babu ek paisa de de". If the Almighty ignored this prayer, belief in God would totter. The message was audible. Nearly a decade had passed since India had won freedom and the beggar was still pleading for a single paisa. The Beggar's Index was established.
This Ballad of Despair registered the prosaic realism of the old world, and left magical realism to fiction. The alms standard was one pice because demanding gold was stupidity. Karma had allotted gold to the fortunate. The beggar's chance lay in transference, as a supplicant for even more wealth to the rich. Beggars had to be practical, not sentimental. Daily bread was their lot. The poor were destined to be poor. God was the architect of destiny. QED.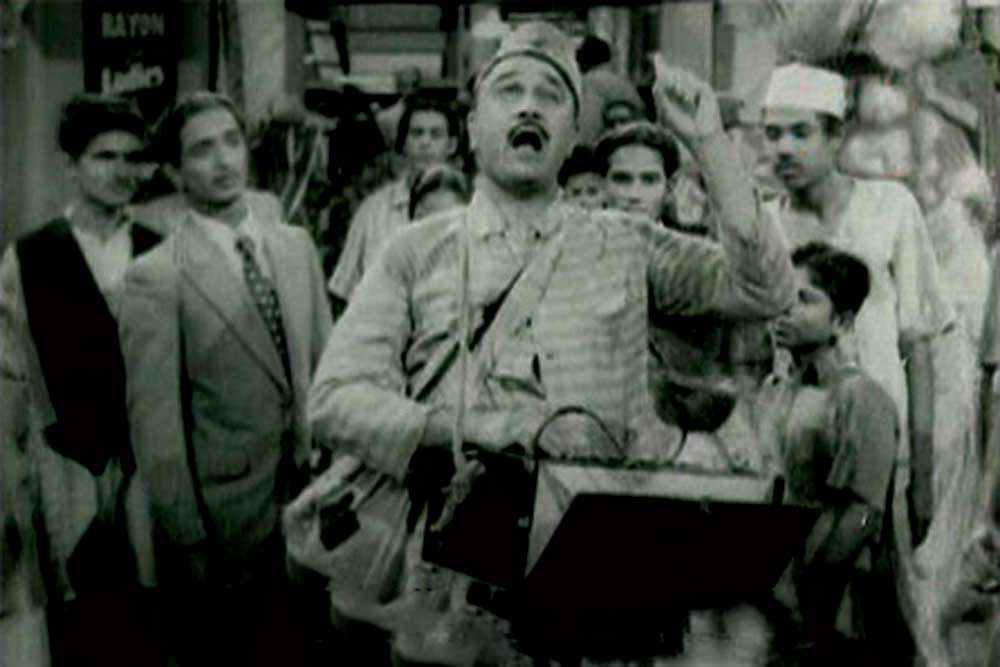 I often heard this beggar's aria as a small child at my birth­place, Telinipara, a workers' colony adrift of Victoria Jute Mill on the river Hooghly some 30 miles north of Calcutta. Nothing special there; the wail was part of Telinipara's environment. One beggar who dragged himself reprised Mohammed Rafi; he fancied his vocal cords.
The prayer thesis was uncomplicated. Salvation in the next life was not on the agenda. The odds were better on a driblet of money in this one. Insolence, already moving forward on a parallel track, found its anthem within two years in a film titled Miss Mary. Miss Mary put God in His place.
Pehley paisa phir Bhagwan, Babu detey jaana daan,
Detey jaana; attanni ya chawanni, Babu aana do aana.
A comedian, Om Prakash, replaced the beggar. His priorities were unambiguous. First money, then God. Om Prakash did not do teardrops; he was frisky. With harmo­nium in tow, he was part of a service industry, an entertainer. He raised the stakes.
One paisa was passé. He wanted eight annas, or 32 paisa; and if that seemed too high, a four-anna or two-anna coin would do.
He was the original theorist of dynamic pricing. He embel­lished the rates for this ticket to heaven because only a few more seats were available due to high demand: Ticket swarg ki bech raha yeh andhi aakhon wala/ Arrey thorhi see hai seatey baaki jaldi karna Lala. Arrogance was futile. Life was a two-day guest, so it made sense to purchase insurance for the afterlife quickly.
Nietzsche might not have replaced St Augustine in two years, but if God wasn't dead then some of the divine halo had certainly lost its shine.
The true booster rocket was Baazi. There must be lift-off for a genre to be recognised. Past efforts had generally withered where it mattered, at the ticket counter. It might surprise everyone but the historian to discover that an Indian film won the Palme d'Or at the first Cannes film festival in 1946. Neecha Nagar, or the lowly city, was made by Dev Anand's elder brother Chetan. It was about a poor man's rebellion against a rich landlord who diverted sewage into the village to clear space for a housing project, a definite claimant therefore for the insurrection category. But the film never found a distributor in India.
Baazi, the story of unemployed Madan, was a superhit. Madan lived in a shanty with his bedridden sister, earning a minimal living from gam­bling. Word spread in the underworld about his luck with cards. Where could it all lead but to the dens of dons like KD Singh, a maestro of menace when he squeezed his eyes and almost affable when he dilated them? For more, go to the net and find out how the gamble ends. SD Burman's music is superb. Geeta Dutt is in her element with songs like 'Suno gajar kya gaaye' and 'Aaj ki raat piya dil na torho'.
The underprivileged identified with an impoverished, handsome gambler who shifted the odds in his favour. Birth in a slum, after all, was not anyone's fault. They survived on crumbs, watched the rich gorge on sweets, ate a leftover if no one was watching, picked a pocket in teenage, sold tickets in the black market, and tried to double a rupee in a gambling den. They loved a hero who won the game.
Baazi put Dev Anand on a roll. There was the occasional variation; in Patita the heroine lived in a single room with her bedridden father and was forced to beg until the knight with shining wallet rode in to save her from despair as well as a wandering plot. That was 1953. Dev Anand followed this with Taxi Driver in 1954, House No. 44 in 1955 and Pocket Maar in 1956. The classic truck driver of Nau Do Gyarah came on-screen in 1957. A year later he traced the killers who had ruined his father in Kala Pani and untangled a mystery in Solva Saal. Dev could stand on any side of crime without slipping from high ground. The music in his movies was always superlative. That was also true of Raj Kapoor, who gave us Shankarsingh Raghuwanshi and Jaikishan Dayabhai Panchal, better known as Shankar-Jaikishan.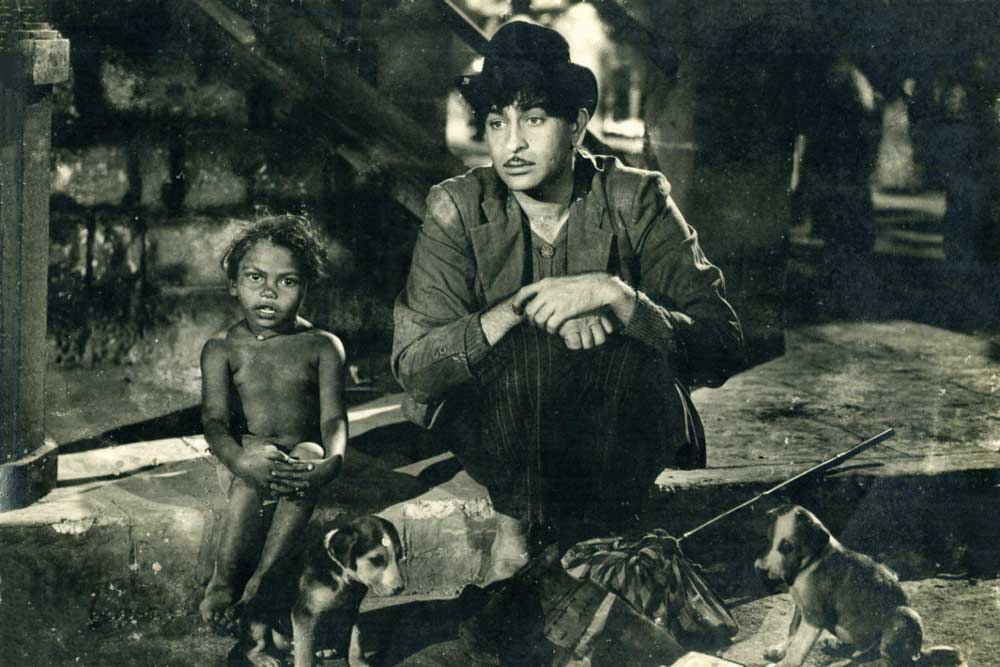 Dev Anand was too good-looking to be slotted solely into the dark side of life; sparkling musicals like Love Marriage, Tere Ghar ke Samne and Teen Devian kept the ticket counter busy. But the baggy trousers, tilted cap and working-class roots never went away. The year 1960 gave us Jaali Note. His persona changed but not his underdog destiny, whether in Bombai Ka Babu or the extraordinary Guide. When in 1967 the good-bad-guy became a snazzy fashionista in Jewel Thief, you knew that a post-Independence Indian middle class with a new sense of itself had arrived. Alas, the starvation had not gone. Twenty years after freedom there was famine in Bihar, Madhya Pradesh and Orissa. In 1972, the hungry were breaking rocks in the heat of Aurangabad in Maharashtra for a pittance.
The 1964 hit Dosti was the last suc­cessful "beggar" movie. It belonged to the 1950s, for it was an adaptation of the Bengali film Lalu Bhulu. Begging was becoming untenable in an India seething with the young rage of hopes betrayed. Prayer was history. Violence was ready for centrestage. By the mid-1960s a mil­lion frustrations erupted into a million conflicts over faith, community, caste, language. Naxalites drew a blood-red line across Bengal. They had a different proposition. Why beg, when you could kill?
HINDI CINEMA HAD pre-empted this question at least a decade before. Is the son who steals the bracelets that had been pawned to the rapacious moneylender a thief before God? And if he is, then what is the worth of God? Mother India lives in a quandary. Radha, the quintessential eponym, has suffered the loss of a husband, the machinations of a usurer, the depredations of nature. How can she assuage the violence of a son who breaks the law to avenge injustice? Radha, played by Nargis, has two surviving sons. One, Rajendra Kumar, is dutiful; the other, Sunil Dutt, an outlaw. No prizes for guess­ing which one turns the role into a career. In an unusual twist, Nargis married her screen-son Sunil Dutt and left films. No one has retired from such a summit. Born Fatima Rashid, Nargis passed away in a coma on May 2, 1981, and was buried at the Bada Qabristan in Mumbai.
Dacoits became a vogue. Dilip Kumar had questions but no answer in Gunga Jumna, while Raj Kapoor had a sermon but no real solution in Jis Desh Mein Ganga Behti Hai. That reflected the confusion of an India still struggling to find a meaning for nationalism in the continuing hunger of the impoverished.
The era of film brigands could not survive the best of them, Gabbar Singh, in the superlative grosser Sholay. The dacoit died with Amjad Khan. He had redefined the character; he was criminal for the sake of being criminal. There were no justifica­tions. This was 1975. India moved on.
Answers come and change, at their own pace in history, miniature tiles constructing an edifice. Questions reinvent themselves. Justice sits at the centre of a democratic polity. When justice is blind, all mistakes are forgiven for the mistakes are spread across fault lines; the law does not name-check for caste or faith. The death of a dacoit might stir a headline and then slip away to make space for another controversy. But if justice winks, law is debased. Mother India can always repair an error; a wound from prejudice is another story.
No one has written an adequate film song for the Dacoit's Index of Justice yet.