THE DEATH OF George Floyd, the black man who was killed in police custody in Minneapolis on May 25th, unleashed an assault on the monuments and flag of the Confederacy, when protesters damaged, among other Confederate symbols, and toppled a statue of Jefferson Davies, the president of the Confederacy during the American Civil War, in Virginia. What began as an attack on some of the most oppressive symbols of US history soon extended itself to America's Founding Fathers, as a statue of Thomas Jefferson was brought down in Oregon, a George Washington statue was vandalised in Chicago, and so on. Christopher Columbus, too, was not spared. In the wake of the protests in the US, some have begun talking about India's own impending 'George Floyd moment'.
But can something so intrinsically tied to one country's history and society be transplanted to another geography and polity, with its own, distinct and older, history and social structures?
Following the violence in the US, Gad Saad, the Canadian evolutionary psychologist, traced the tortuous course of the decline of a civilisation in the vice-like grip of "idea pathogens". In a podcast watched by millions, Saad bid his audience to close their eyes and perceive the chilling simplicity with which the seeds that destroyed reason and logic in cultures and, in a macrosphere, even civilisations, were planted, grew and thrived within societies. Often, society normalised and remained obstinately uncomprehending of how dangerous the epidemic of propagated beliefs, ideas and attitudes could prove, if not checked in time.
In simple tones, Saad painted this ominous picture of civilisations hurtling irreversibly towards decimation and implosion: "A child is taught that his country is racist, imperialist, evil and bigoted. The same child is taught that science is white supremacy and that we must de-colonize knowledge. He is also taught that capitalism is rape. He is taught that 'fixed binaries' defining biology is antiquated science. He is taught that national borders are racist. He is also taught that meritocracy is white supremacy. He is also taught that my truth is [more] important than the truth. And that's only Day 1 at Kindergarten. Now repeat this lesson all the way to his PhD. And produce millions of such indoctrinated individuals who then assume leading roles in academia, politics, media, Hollywood and hi-tech. This is how a civilization crumbles. Idea pathogens lead to a complete implosion of our culture, society and civilizations."
Saad, like many other thought leaders, has been talking about a "tsunami of lunacy" that has broken in various parts of the world after images of Floyd under the knee of a white police officer were seen in most homes.
LESS THAN 10 DAYS after Floyd died, India began reporting its own 'George Floyd' moments. An incident in Jodhpur on June 4th attracted controversy when policemen were seen pinning a person to the ground, somewhat like Floyd. Within no time, the clip went viral.
What no one bothered to say—and that part of the story emerged days later—was that the policemen were on lockdown enforcement duty. Rajasthan is one of the states with a high incidence of coronavirus cases and district administrations were enforcing measures like wearing of masks in public places. In this instance, the so-called victim, Mukesh Kumar Prajapat, was not wearing a mask. He was asked about this by a police constable.
Instead of answering, Prajapat abused and threatened the constable. A police vehicle was called as backup. Before it could arrive, the man began beating the constable. He did not stop even after the police reinforcements came. That the person had a prior
history of violence was conveniently ignored. In these charged times, prior violence and criminal behaviour count for nothing; these are subsumed under the rubric of 'injustice' that forces people to do what they do.
"Before the vehicle arrived, Prajapat started thrashing the cop. Even in the video, Prajapat can be seen slapping and punching the constable. He didn't stop even after the police vehicle arrived and snatched the mobile phone from a constable and tried to break it by throwing the device on the ground," Priti Chandra, Deputy Commissioner of Police, Jodhpur West, said after the incident.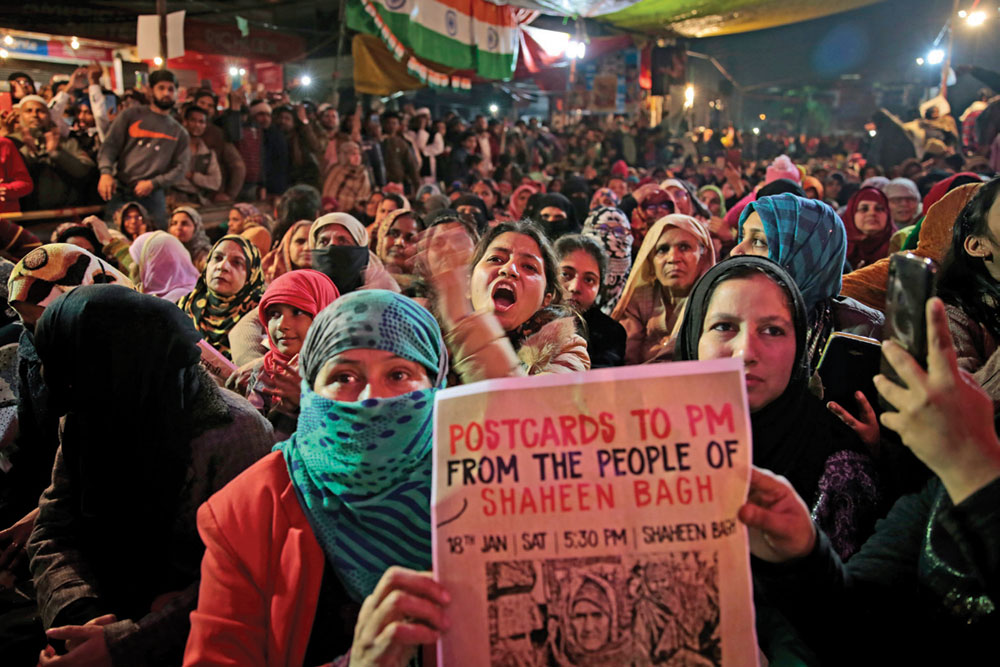 There is nothing comparable between the incident in Jodhpur and the one in Minneapolis. In one case, the use of force led to a person's death. In the other, no such thing happened: the police were actually trying to prevent what could have been a risky situation for the person in question and many others since he was not wearing a mask in the midst of a viral pandemic.
Two things were immediately apparent to observers. First, the timing of the Jodhpur incident permitted a false equivalence with the Minneapolis incident. In substance, particulars of the cases and their local histories, there was no similarity at all. Second, India has a history of handling disempowered and underprivileged communities, politically and socially. There is much that remains to be done but since the Poona Pact of 1932, Dalits have never rebelled against any government. If anything, Dalits, Other Backward Classes and other communities have been part of a wide-ranging affirmative action programme that has not only kept social peace but has actually helped incubate a middle class.
These historical legacies and efforts to undo past injustices, however, do seem to come in the way of those who try to find inspiration from foreign events for imaginary grievances in India. When the Arab Spring broke out in December 2010, there was plenty of wishful thinking about an 'Indian Arab Spring'. It is worth noting that in those years there was no social upheaval or even a subterranean feeling that pointed towards social churn. That did not prevent 'cross-fertilisation' when there was no possibility for it in Indian society.
The absence of space for indulging in a politics of grievance has led many leaders into futile sallies about intolerance and the growing 'deficit of democracy' in India. In recent times, Congress leader Rahul Gandhi has held a series of conversations with intellectuals, economists and others. In one such conversation with Nicholas Burns, a former American diplomat, Gandhi discussed a number of issues, including the deterioration of democracies. The focus was changes in the global order after the Covid-19 pandemic, but India and its democracy crept into the discussion.
AT ONE POINT, Gandhi said India was a tolerant nation. "Our DNA is supposed to be tolerant. We are supposed to accept new ideas. We are supposed to be open. But the surprising thing is that open DNA is disappearing. I say this with sadness that I don't see the level of tolerance that I used to see. I don't see it in the US and I don't see that in India." Later, he came back to the DNA theme and said: "I am hopeful. I know the DNA of my country and it has been like that for thousands of years." This effectively contradicted what he said earlier about tolerance disappearing in India.
In contrast, Burns did not once say India had turned intolerant or was among countries that had transitioned from democracy to authoritarian systems. When Gandhi spoke about the US-India partnership being a strong one in the past tense, Burns gently reminded him that even in the polarised political atmosphere in the US, the one issue on which there was bipartisan consensus was support for India.
"From an American perspective, Democrats and Republicans agree on very little in our Congress. But there is, I think, nearly universal support in both of our political parties that the US ought to have a very close and supportive, and an all-encompassing, relationship with India," Burns said.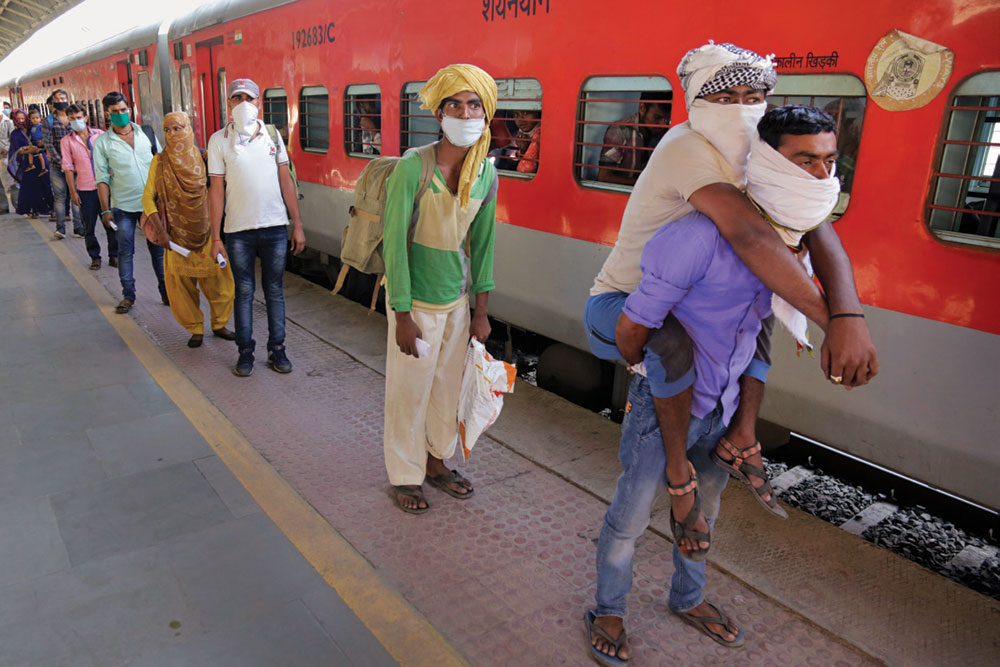 It is obvious that Indian politics finds itself in a freeze of sorts due to the pandemic. But equally, where do ideas about imminent unrest born of some event in a faraway country come from?
In December 2019, protests erupted in an outlying area of Delhi against the Citizenship Amendment Act that was duly passed by Parliament after a thorough debate. The opposition voted against the Bill but as it lacked the requisite strength in the two Houses, the Bill became a law. Accepting laws passed via due process is essential to the smooth running of a democracy. But matters do not stop there. If someone feels strongly that the law violates some substantive part of the Constitution, a judicial challenge is a course open to them. Moreover, protest by citizens is also an option.
For more than two months, this so-called protest continued at Shaheen Bagh in Delhi without let or hindrance from any law enforcement authority. The area was barricaded to prevent any violence. Yet, the idea was not to protest but to instigate others to rise up, indulge in violence and force the Government to rollback the law. The organisers and the intellectual backers succeeded. In the last week of February, riots broke out in the Jaffrabad locality of Delhi. Many were killed and many more injured. This embarrassed the Government as it took place during US President Donald Trump's India visit.
Since then, the template has been clear: find an excuse, rouse the 'people' and create a law-and-order situation and claim that Indians are unhappy at the 'authoritarian turn' of their country. The quest to find India's 'George Floyd moment' is part of this template. It has very little to do with solving any difficulty or hardship. The idea is political: if you cannot fight your rival or your object of dislike at the hustings, make it impossible for him to run the government. That, in sum, is the fons et origo of the protest machinery in India.
That this tactic has failed till date has not led to a reappraisal on the part of intellectuals who champion the idea. Rather, it has led to a redoubling of efforts to search for ever newer target groups to launch protests.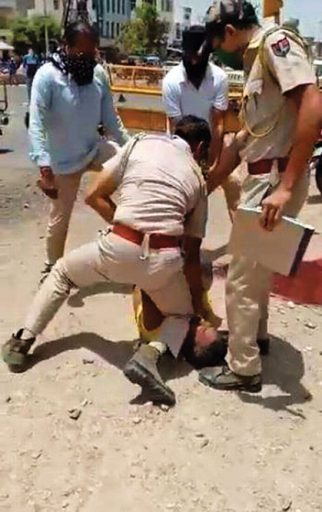 The latest such targets are migrating workers who had to abandon India's big cities for their homes after the pandemic broke out. The hardship of this already poor section of Indians is well-known and the Centre and states swung into action almost immediately after it became known that a reverse migration was underway. Packages that included food and financial help were announced by a number of governments as early as March. When the lockdown eased, the Indian Railways, in coordination with states, dispatched hundreds of trains to eastern India to ferry hundreds of thousands of these workers back home. Union Home Minister Amit Shah summed up the situation when he said there may have been shortcomings in reaching out to workers but the effort to help them was sincere.
None of that has washed with those who now see that migrating labourers can be 'mobilised' politically. There are three factors, however, which rule out this possibility.
First, for all the hardships faced by labourers, they realise that unlike the past, this time round, the effort to help them has been sincere. In a way, this was an unprecedented event: a viral pandemic of this kind has not been faced by India before. The last time a pandemic of this proportion was seen was the 1918 influenza when India was under colonial rule. There have been many instances of dislocations when Indians have been forced to move and migrate due to natural and other disasters. India did not have the resources or wherewithal to help its poor on such scale. The use of technology, leakage-free delivery of resources to those who need them the most and, most importantly, the will to do so have not been seen before. It is hard to see how social unrest is a possibility when the Government tries to offer a helping hand to the poor.
Second, even if the conditions for unrest existed, where are the politicians and leaders to mobilise the migrant workers? In Bihar, the state from where a very large number of these workers come, the opposition is missing in action. Except for some perfunctory protests by Rashtriya Janata Dal leader Tejashwi Yadav, there is no sign of any opposition activity. In Uttar Pradesh, the other state from where workers migrate to the industrial zones of the country, there has been no sign of opposition activity geared to organising workers. In both cases, state governments were pro-active, leaving little political space on the issue for the opposition.
Third, technically, collective action is easiest to carry out in small groups and gets progressively difficult as the size of the group expands. In the case of migrant workers, a huge group that numbers in millions spread over many states, mobilisation requires coordinated political action. This is difficult even in normal times as the communist parties realised decades ago. To organise such large numbers of people in a pandemic, when normal politics is in a state of suspension, is almost impossible. It is easier to do Zoom interviews than being on the ground when there is no political opportunity to do so.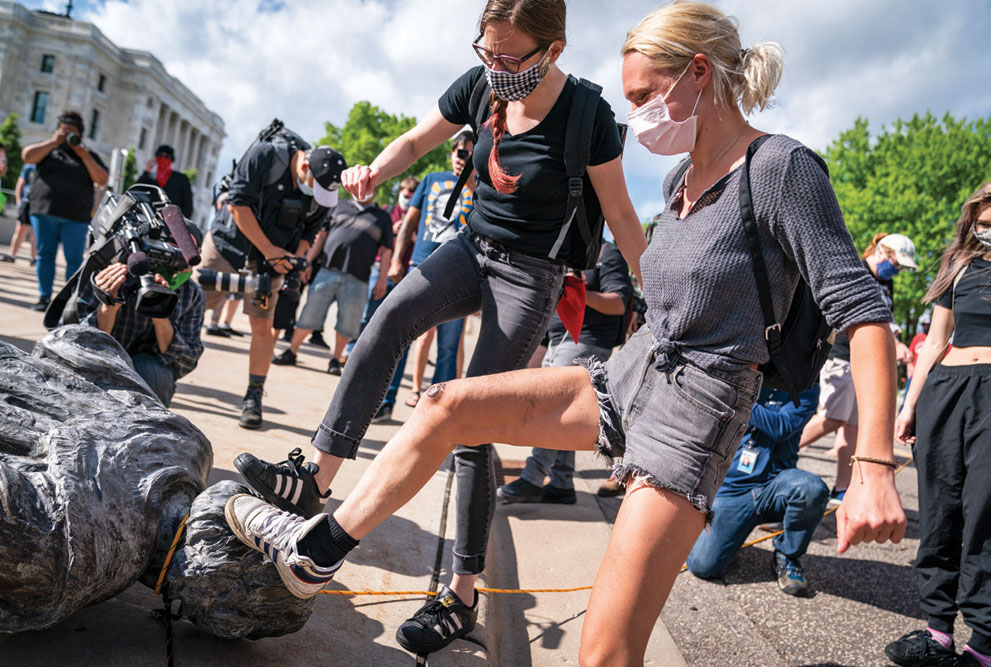 There is, however, one aspect of the situation that should worry everyone—especially liberals—in India. The fury over George Floyd's death now transcends the issue of police action and even race relations. The spate of vandalism in the US saw many statues of historical figures and other monuments defaced and toppled.
It is not clear why these acts were carried out except in the form of a vague chain of historical reasoning that blames the figures for issues like racism. The past, as historians say, cannot be changed. But the past does cast a very long shadow over the present. The events in the US, the UK and elsewhere should alert Indians about the dangerous potential of 'reconfiguring' the past.
TO CITE AN Indian example, we can take the case of the Qutb Minar in Delhi. The monument is under the protection of the Archaeological Survey of India. The complex hosts the minaret, whose construction began in 1199 under the Ghurid general Qutbuddin Aibak (1150-1210), and the Quwwat-ul-Islam (Might of Islam) mosque. The mosque includes pillars that were once part of Hindu and Jain temples. That claim requires no detailed historical investigation: a visual inspection is sufficient. Virtually all the motifs on these pillars, and in other parts of the complex, are of Hindu and Jain themes. They were vandalised, plundered and then used for constructing the mosque. That these constructions were carried out during a period of Islamic imperialism in India is also evident. There are many other structures with a similar history. What would happen if, some day, a group of Hindus demanded restitution and claimed that the destruction of these historical structures was necessary in the name of undoing 'injustice'? That could lead to a chain of unpredictable events probably no one would have any control over. It is best that such things never happen for the same reason everywhere: the past cannot be altered.
The problem is that India's historians have done their bit to muddy the past. Matters have reached a stage where history and myth are blended seamlessly. The silence on Islamic invasions and vandalism was part of the political interpretation of history for present political purposes. It has now become an article of faith and to question it is considered bad form at best and historical heresy at worst. Then, there is the issue of myth and history. In a video that went viral last year, historian Romila Thapar was seen arguing that Yudhishthira, one of the protagonists in the Mahabharata, drew inspiration from Ashoka (circa 304-232 BCE). This is just one example of the conflation of the real and the mythical. There is plenty in India's past that is unhappy. A proper reckoning with the past would have gone a long way in keeping the present peaceful. That was not done.
The George Floyd episode presents a strange moment for India. There are very good reasons why nothing of the kind seen in the US will happen in India. The last eight-odd months have seen enough instigation in the name of justice and rights. There have been protests and, worse, riots. But none of these turned into the kind of lawlessness seen in the US. There are structural reasons why this is so. India has taken care that past injustices meted to its underprivileged communities are handled properly, even if much more needs to be done. The danger lies elsewhere: in runaway demands for restitution. These are good reasons to be careful when thinking about India's 'George Floyd moment'.
Closely connected to and predating the George Floyd aftermath in the US, the 'Cancel Culture'—one of the core attitudes that thrive on the slippery slope to cultural and civilisational suicide—as Saad contends, is a behavioural posture of people who may be called "intellectual fascists". In a free world, people with integrity faced their interlocutors in the arena of ideas through discussions and debates grounded in reason. It is, Saad asserts, the "bedrock of free societies" and of academia. The cancel culture people should be fought back to protect the individual's right to free speech and thought, as well as the ethos of freedom, if civilisation's sense of balance in its core values is to be preserved.
You can erase a monument; you can't cancel the cultural identity of a people.