Dr Minakshi Bharadwaj, the first woman medical superintendent of Delhi's 88-year-old Ram Manohar Lohia Hospital (RML), is piqued by allegations, mostly politically motivated, that the iconic hospital is delaying test results of Covid-19 suspects. Following such charges by the Arvind Kejriwal-led Delhi government, RML decided that its screening centre, which had been open 24 hours since February 1st when the hospital was initially declared as the nodal centre for the treatment of Covid-19 cases, would be operational only for eight hours, with test results being given out within 48 hours. A Central Government-run hospital, RML, according to officials there, is certainly a target of "dirty politics" and a "blame game" being played out in the national capital, where panic has gripped people who are anxious that there are hardly any vacant beds to treat new Covid-19 patients amid projections that infections will peak only by July-end and that the cases in the world's second-most populous metropolis will touch 5.5 lakh.
Bharadwaj confirms the worst fears of the residents of Delhi, which has a population of close to 2 crore. "Since early May, on many occasions, there has been no vacancy in our hospital. Beds are filled up within minutes and we have to tell people to go to LNJP or Safdarjung Hospital or others," she says, emphasising that "we have been gradually adding up beds. We can add some 20 or 30 beds. That is about it." The pathologist adds that RML doesn't have standalone buildings to create separate Covid-19 centres. As of now, RML has 194 Covid isolation beds, 14 ICU beds, each attached with ventilators for Covid-positive patients and Covid-19 suspects, besides 72 normal beds for Covid suspects.
In the face of a political slugfest to apportion blame for Delhi's healthcare situation, Bharadwaj's worries have already come true. Patients and their wards are forced to run from hospital to hospital before seeking refuge elsewhere for want of state-to-state collaboration in fighting the pandemic. While the lockdown was not well-utilised to build capacities anticipating the trajectory of growth in Covid-19 infections elsewhere, there seems to be a lack of leadership in Delhi to help its residents avail of Covid facilities in nearby states. This is a model perfected in Germany by letting in Covid-19 patients from France. Even in India, many states are doing it within and without. "Inside Uttar Pradesh, since Lucknow has fewer infections that other districts, many patients from other areas are treated in Lucknow to share the burden of regions that are home to large numbers of infections," says Dr Able Lawrence, professor of clinical immunology and rheumatology at Lucknow's Sanjay Gandhi Postgraduate Institute of Medical Sciences.
Rashid Salmani's son is perhaps the victim of such neglect and poor governance. He is mourning the death of his 26-year-old son Salman. On May 30th, when the young man started running a fever and having breathing problems, Salmani took his son to a government hospital in a South Delhi locality, where he runs a beauty parlour. Since it did not have ventilators, he was referred to a Central Government-run hospital, where a chest X-Ray was done. Salman was diagnosed with chest infection. No Covid-19 test was conducted. He was then asked to go to Safdarjung Hospital or the All India Institute of Medical Sciences (AIIMS). Salmani took him to several hospitals in the capital—government and private—but Salman could not get a bed. Tired of making rounds of hospitals and trying helpline numbers, Salmani called up a relative and took his son to a hospital in Dehradun by ambulance. Salman required a ventilator, which the Dehradun hospital did not have. He was finally admitted to AIIMS, Rishikesh, 240 km from the capital, on June 1st. Salman's 22-year-old brother Arbaaz waited outside the hospital. On June 4th, Salmani got a call informing him his son had passed away. The body was handed over to the family to perform the last rites in Dehradun. "I have lived in Delhi for 27 years, but when I needed help to save my son, I got none. The Chief Minister says there are enough beds available. But where were they when my son needed one?" he asks, inconsolably.
Many epidemiologists that Open spoke to point out that the lack of what they describe as "granularity" in the planning of the lockdown is beginning to have adverse effects. "The shutdown should have been extremely stringent in areas with more cases and less stringent in places with almost no cases. Instead, we adopted moderate measures across the country. Which is why we failed in minimising infections and maximising economic activity at the national level," says one.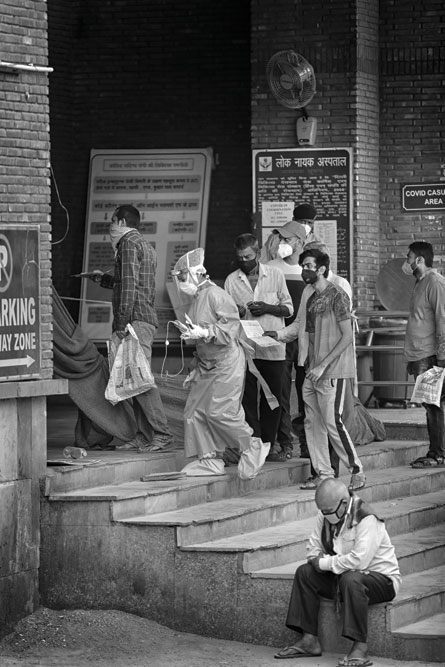 The situation in Delhi is certainly exacerbated by virtue of its being a nerve centre of activities wherein social contact is higher than in most other parts of India. But there are other reasons too, including the failure of administrations to anticipate the grave danger and to think out of the box. Harjit Singh Bhatti, former president of the Resident Doctors Association at AIIMS, New Delhi, says the current predicament in Delhi is due to the "utter failure of our health system to do primary prevention, which is to test and isolate people." He adds: "We are used to treating people when they are sick. We should have displayed some leadership when faced with a pandemic. ICMR mislead policymakers by suggesting that the virus had become less virulent, further adding to our woes." Bhatti says in some Delhi hospitals, frontline health workers, including doctors, are not paid their salaries for several months now, indicating that a strike may be on the cards. ICMR (Indian Council of Medical Research) did not respond to allegations that it had downplayed the extent of danger.
The tales of hardship of Delhiites do confirm an acute absence of preparedness.
When Delhi's first Covid-19 patient, Rohit Datta, recovered and was discharged from the government-run Safdarjung Hospital in mid-March, he had told Open that his hospital room was a "well-lit, clean, one-bedroom suite." But with the virus raging and numbers requiring hospitalisation spiralling, fears of shortage of hospitals beds, health workers, ventilators and other facilities have gripped the city, exposing its faultlines. Helpless relatives of patients who could not find beds in hospitals have used social-media platforms to reach out to authorities. Among them was a poignant message by Amarpreet, who tweeted, 'My dad is having fever. We need to shift him to hospital. I am standing outside LNJP Delhi and they are not taking him in. He is having corona, high fever and breathing problem. He won't survive without help. Pls help,' tagging Delhi Chief Minister Arvind Kejriwal, Health Minister Satyendra Jain and Aam Aadmi Party (AAP) spokesperson Raghav Chadha. An hour later, she tweeted, 'He is no more. The government failed us.' The tweet thread went viral.
A day later, Kejriwal denied there was a shortage of beds and issued directives to city hospitals against turning down anyone with moderate or severe Covid-19 symptoms, with or without a report. This, he said, was non-negotiable, even as he alleged that some private hospitals were "black marketeering" beds and exploiting their links with political parties. On June 6th, he tweeted: 'As of today, no dearth of beds. Against 8645 total available beds, 4038 occupied n 4607 vacant. These are real beds, not mere figures. As of today, sufficient beds available. But some of them refuse admission. We won't permit their mischief. Give us a few days. We r at it [sic].'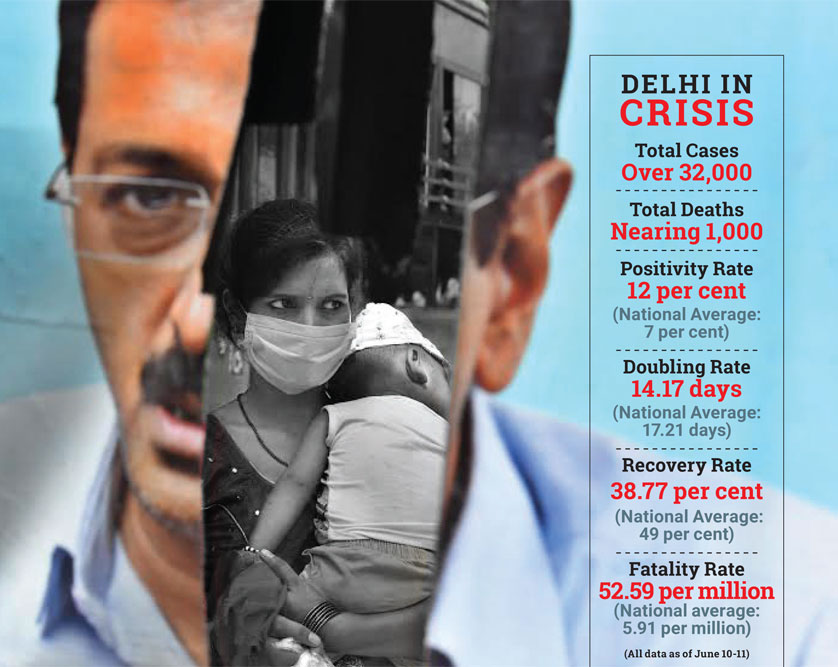 But Delhi, with the third highest number of cases in the country after Maharashtra and Tamil Nadu, is perhaps yet to see the worst. A five-member committee set up by the Kejriwal government has projected at least 1 lakh cases by the end of June in the city, which, as per Census 2011, has a population of 16.8 million. The panel has asked the government to arrange an additional 15,000 beds. The projection was based on calculations that Delhi's doubling rate for the infected is 15 days. The committee, chaired by Mahesh Verma, also said around 25 per cent of patients will require hospitalisation.
Everyone is uncertain how long it will take for the city to return to normalcy. From the first Covid-19 case detected in Delhi on March 1st, with a travel history from Italy, to the numbers rising by more than 1,000 each day now, taking the total to over 32,000 (as of June 11) and with deaths nearing 1,000, Delhi is fighting an unfamiliar war. The statistics are disturbing. The positivity rate is above 12 per cent, higher than the national average of around 7 per cent; the doubling rate over 7-day growth is 14.17 days as against a national average of 17.21 days; the fatality rate is 52.59 deaths per million people as against a national average of 5.91 per million. The recovery rate is 38.77 per cent as against a national average of 49 per cent. No longer can every case be traced to its origin. Almost every Delhiite knows someone infected—a friend, a neighbour, a colleague, a relative.
Delhi's civic body, the Municipal Corporation of Delhi (MCD) released figures on June 11th showing 2,098 Covid-19 deaths, over double the Delhi government's tally. "From March till June 10th, including all the three MCDs of Delhi, there have been 2,098 cremations of Covid-19 patients," Jai Prakash, Chairperson of the Standing Committee of the North Delhi Municipal Corporation said. However, the state government said the death audit committee, of senior doctors, constituted by it was assessing the deaths and doing an impartial job.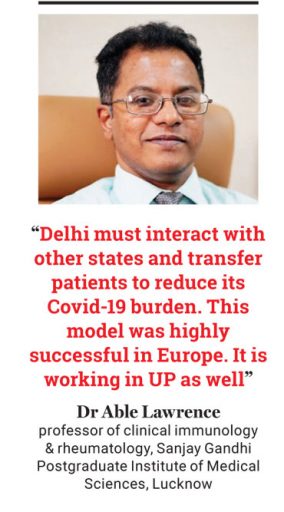 Delhi's rising death rate among Covid-19 cases amplifies the crisis, made gloomier by the ordeals of patients, Covid or non-Covid, being denied beds. Delhi and its health infrastructure seem to be on the verge of collapse as horror stories emerge of families running about for admissions and of the government restricting testing. Testimonials are being shared of families losing members in quick succession, ambulances refusing to come up to take the deceased even as families struggle with the disease. A South Delhi homemaker reported that her father, a 72-year-old businessman who had a heart attack two weeks earlier and was struggling with breathing, had lain unattended in a "super specialty" hospital's cardiac care unit for four days while awaiting his Covid test result, and had slipped into depression. "Because of the fear of corona, attendants did not come near him," she says. Even after testing negative and a week after returning home, he is struggling with hopelessness and trauma.
"Don't be mistaken. Delhi has funds and it has the infrastructure. This is the national capital of the country, if we won't have the capacity, who will? What is happening right now, therefore, is an absolute failure of planning and coordination. The lockdown was meant to buy us time to scale up our infrastructure and also perform stringent contact tracing and tests in huge numbers. But testing numbers remain abysmally low," says a doctor with a government hospital in the city who wishes to remain anonymous. Earlier this week, Delhi had conducted just 3,700 tests on a day, the lowest in the last three weeks, even as the AAP government stopped private laboratories from conducting tests.
"It is not enough to simply test though we did not even do enough of that. Contact tracing had to be the key in controlling, which Kerala did so well and to a certain extent Karnataka, Andhra Pradesh, even Odisha. Countries like Vietnam did contact tracing till the 4th degree," says Dr K Srinath Reddy, president of the Public Health Foundation of India (PHFI) and former head of cardiology at AIIMS. While vertical contact tracing looks at identifying persons the infected person met, horizontal tracing seeks the source of infection. Reddy says if there was even a system of community health volunteers in place where volunteers were assigned 50 or so homes, and they tracked the health of everyone there, it would have worked.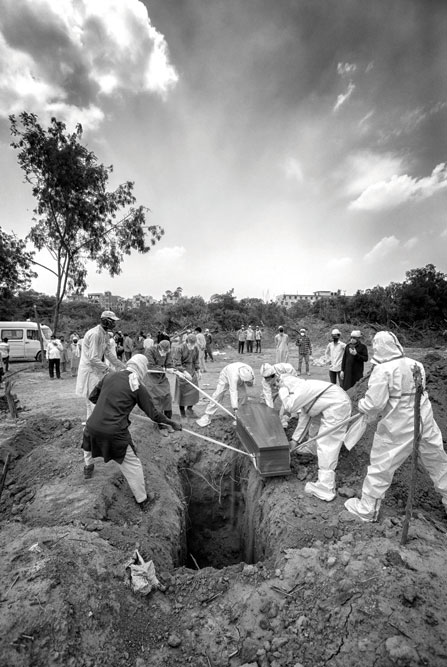 "There was such stigma around the disease and fear among people that they would be taken against their will to some facility that it led to reluctance in reporting. Communities should have been reassured. Right now, we need to have an estimate of how many beds will be needed. Previously, anyone who was diagnosed positive wanted to get admitted but now we know that most cases are mild and people recover at home. We have also been talking about ventilators and they too have been required in a few cases so, maybe, we need to look at setting up temporary low intensity hospitals. It is best if they have running oxygen supply otherwise cylinders can be arranged. These are the kind of basic things that we need to do right now in order to meet the requirements of the situation we are in," says Reddy.
As the toll rises in the city, Mohammad Shamim, supervisor at the ITO cemetery, is having a hard time trying to ensure physical distancing among relatives of Covid-19 victims. He says the number of bodies coming for burial have increased over the last 10 days from six or seven to 13-14 a day. The last rites are done a day after a body is booked. Shamim, 38, who works from 6AM to 9PM, has kept away from his three teenage daughters for over two months, quarantining himself when he gets home. "There are guidelines that only 10 people should attend a funeral but there are 50 at times and if we stop them they misbehave with us. We need police protection," he says.
The last time the city dealt with an epidemic on this scale was during the Spanish Flu of 1918, when it travelled to India via the ocean. Describing the situation in India, John M Barry wrote in The Great Influenza: The Story of the Deadliest Pandemic in History that trains left one station with the living and arrived with the dead and dying. 'One hospital in Delhi treated 13,190 influenza patients, 7044 of those patients died,' he wrote.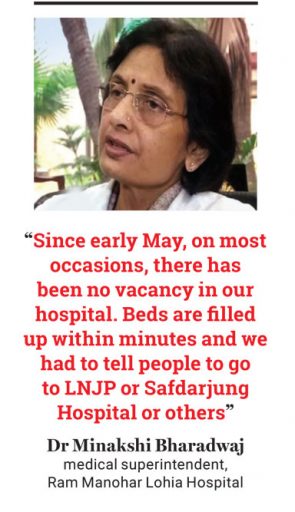 For Kejriwal, this is the moment of truth. As the numbers of positive cases rose, threatening to multiply, the Delhi government made a tactical shift, sparking off a row. The state government's recent decisions met with resistance from several quarters and led to a face-off with Delhi's Lieutenant Governor Anil Baijal, who is chairman of the Delhi Disaster Management Authority (DDMA). Baijal stepped in to overrule the order to limit beds in Delhi's government and private hospitals to the city's residents. He also expanded the scope of testing, reversing another order of the Delhi government, to enable contact tracing to contain the spread of the virus and cautioned against tweaking of guidelines set by ICMR.
At a time when Delhi's positivity rate was high, a sign that the city needed to expand testing, the AAP government altered the new Covid-19 testing guidelines under which only symptomatic contacts of Covid-19 patients would be tested. Union Health Minister Harsh Vardhan, a Delhi MP from Chandni Chowk, had asked the state government to ramp up testing, contact tracing and containment measures, implying it was not doing enough. Kejriwal, who himself had to undergo Covid-19 testing after a fever and sore throat, which turned out negative, has argued that if the asymptomatic start going to labs for testing, the system will collapse, at the expense of serious patients. But the new testing guidelines deepened apprehensions, as asymptomatic people who had been in contact with Covid-19 cases waited in fear because they could not get tested.
At a DDMA meeting chaired by Baijal on June 9th, officials from the Centre said there is no community spread, technically the third stage of transmission, of the coronavirus in the city. Delhi Health Minister Satyendra Jain, however, said the source of infection is "not known" in nearly half the fresh cases reported. After the meeting, underscoring the grim picture, Deputy Chief Minister Manish Sisodia said Delhi may have 5.5 lakh positive cases by July-end, prompting a demand for 80,000 beds by then. Baijal, however, refused to reconsider his decision to overrule the Delhi government's order reserving state-run and private hospitals for Delhiites.
Accusing the Kejriwal government of mismanaging the coronavirus crisis, the BJP's New Delhi MP Meenakshi Lekhi says it had failed to put in place the required arrangements during the lockdown to meet the needs of multiplying Covid-19 cases. "The testing has been curtailed so the numbers are not showing. Every home has been converted into a clinic because there are not enough places to quarantine people. Why couldn't the mohalla clinics be used for testing and quarantine? The infrastructure is crumbling," she says.
The Congress, too, joined the chorus in castigating the city's health system. Party leader Manish Tewari tweeted: 'My wife on written advise [sic] of her doctors was asked to test for COVID-19. Fortunately, she tested negative. Despite growing up on a hospital Campus and knowing every Medical Professional of consequence I had to move heaven & earth just to get her tested. Delhi's health systems are broken.'
"The Covid-19 outbreak has been among the largest such pandemics in human history, so naturally the limits of all healthcare systems are being tested. Delhi and Mumbai particularly have had to bear the maximum brunt, since majority of international flights in February and March landed here, despite our warning to the Centre to stop flights," AAP's Jasmine Shah, vice chairman of the Delhi Dialogue Commission, tells Open.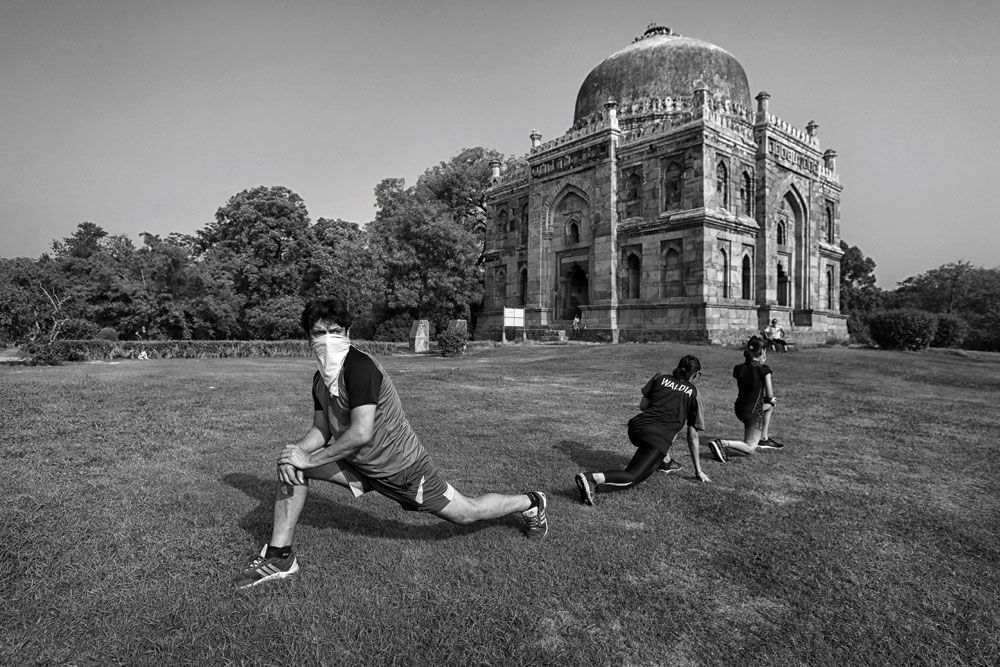 He denies there is a shortage of beds, saying that with 9,200 beds and 4,800 patients, around 50 per cent are vacant. According to him, the problem people are facing is difficulty in finding beds in private hospitals, not in Delhi government hospitals. "Despite giving adequate time to private hospitals to ramp up their facilities, they have been slow to respond. We are working with them to ensure this issue too gets resolved. They have assured that 2,500 additional beds will be added in the next couple of days. Meanwhile, we have 3,000 vacant Covid beds in Delhi government hospitals, so there is no need for people to panic. High-quality food and care is being provided in our government hospitals, and a dedicated team is monitoring each admitted patient 24×7 and reporting it to the Chief Minister's office."
Shah says states like Maharashtra and Gujarat are testing three to four times less than Delhi—around 4,700 and 3,700 tests per million respectively—while Delhi has been testing at the rate of 13,500 per million. On the number of tests decreasing over the last few days, he says the government had acted against some labs that were not following testing protocols. They were taking four, five or even seven days to give test results, though according to rules test reports have to be given within 24 hours. "If a patient is serious and needs to be admitted in a hospital, it would become difficult for him or her to do so without the test report. It is the government's duty to ensure that labs follow certain protocols. Now, when these labs are complying with the norms, they are again functioning."
For Kejriwal, the biggest test will be to ensure there are enough beds for patients, the sick get treatment on time and the death rate slows. And all of this, while the city reopens, struggling to revive the economy. He has before him an intricate task of balancing the two, mitigating the trail of disaster that the virus leaves behind. After his two-day isolation when he was unwell, Kejriwal, in a digital briefing, adopted a non-confrontational tone saying the coronavirus had to be fought unitedly, devoid of politics.
While restaurants and malls have opened in the city, hotels and banquet halls have remained shut as part of an exigency plan to convert them into hospitals if needed.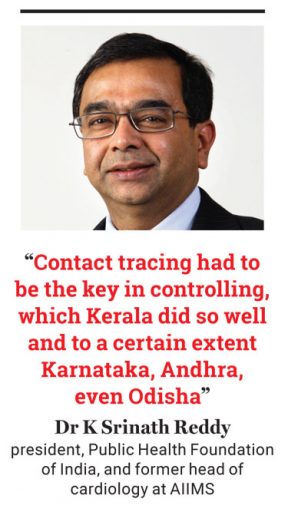 Currently, Delhi has 20,000 beds (combining private and government hospitals), but by the government's own projections, the city will need 80,000 beds by end-July. The government has already asked five big hotels to be converted into temporary hospitals. These include the ITC's Hotel Sheraton in Saket, Crown Plaza at Okhla, Hotel Surya at New Friends Colony, Hotel Siddharth at Rajendra Place and Hotel Jivitesh on Pusa Road. Each hotel in turn is attached to a nearby private hospital. These include names like Max Smart Super Speciality, Batra Hospital and Indraprastha Apollo. A Delhi government panel has suggested venues or stadia such as Pragati Maidan, the Thyagaraj indoor stadium, the Jawaharlal Nehru stadium, Talkatora Indoor Stadium, Indira Gandhi Indoor Stadium and the Dhyan Chand National Stadium be used as makeshift hospitals.
According to Anas Abdul Wajid, senior director, sales and marketing, Max Healthcare, which has been handling Covid-19 patients for over two months now, hospitals in Delhi are much better prepared to handle the crisis. "The systems and processes, the personal safety gear and the healthcare workers are available and are well trained to handle the patient load. The government of Delhi has also raised capacity by increasing the dedicated Covid facilities in public hospitals managed by them as well as by requisitioning more private hospitals to serve as Covid hospitals."
Max Hospitals will run these extended hospitals at the Sheraton in Saket and at The Jaypee Siddharth at Rajendra Place. Patients with minor symptoms will be managed in these hotels by the medical teams from Max. According to a Max Healthcare official, the hospital team has held talks with the Sheraton team on exploring the possibility of converting the facility into a temporary extended Covid hospital. The facility was evaluated from the perspective of creating isolation zones for Covid-19 patients. Besides, over the last few weeks, Max Hospitals have deployed 458 Covid beds across its network in the city. While at Saket's Max Smart Hospital, a dedicated Covid-19 facility, beds have been ramped up from 100 to 200, in its other hospitals at Patparganj, Shalimar Bagh, Rajendra Place (BLK Hospital) in Delhi, 20 per cent of the beds has been earmarked for Covid-19 patients, as per the directions of the Delhi government. The official, however, admits that looking at the global scale of the epidemic, it is difficult to say what is enough.
The biggest challenge in cities like Delhi will be to manage the crowds. "De-congesting will be a challenge, but countries have done it. Strict usage of masks, not opening up of religious places, increasing the frequency of public transport so that restrictions on numbers can be maintained, are just some of the things that we need to start doing," says Bangalore-based epidemiologist Giridhar Babu. Increased testing is a point even he stresses, saying it is key to controlling the spread of infection. Even as hospitals, both private and government, struggle with the caseload, there is increasing worry about non-Covid patients being left out of the loop. Doctors with private hospitals admit their institutions are struggling to accommodate patients on chemotherapy and dialysis, many of whom—like a 75-year-old community activist who contracted Covid-19 along with his wife while visiting the hospital for his long-term kidney treatment—end up with further problems. In many instances, hospitals identified as Covid treatment hospitals are refusing treatment of non-Covid patients.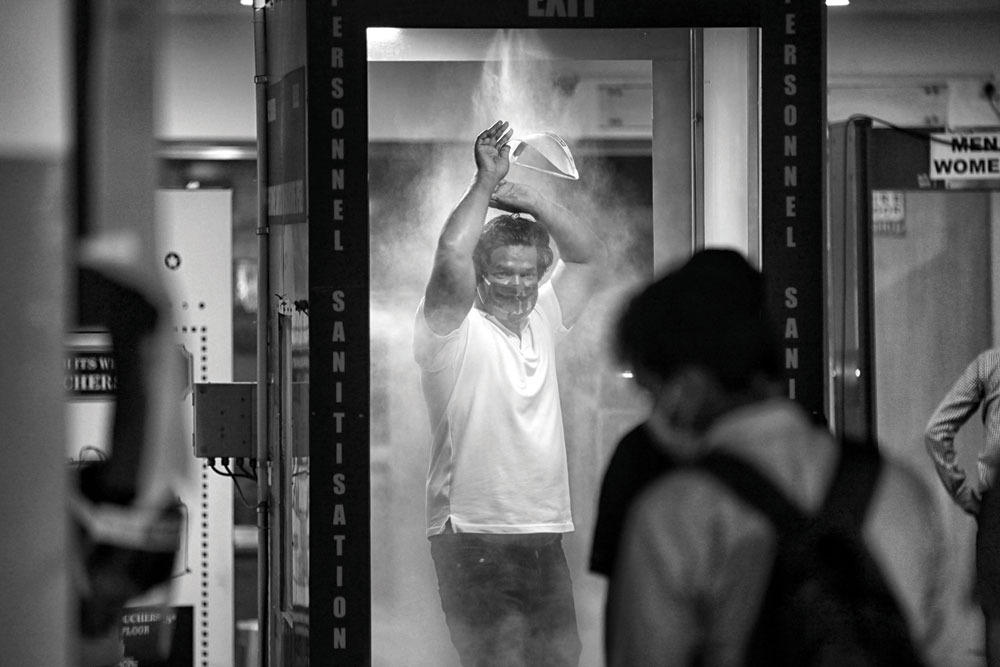 India is now among the top four countries with the highest number of infections. According to Babu, the spike was bound to happen. "A lockdown is not a magic pill that can make the virus go away. From an epidemiology point of view it is needed to reduce the speed of transmission. With the lockdown being eased and partial travel restored, this was going to happen. The lockdown was meant to buy us time to scale up our abilities and states like Karnataka have done it. There are problems with individual states, which have more to do with how the administration there has reacted." He feels comparing India's case load with countries like Spain is comparing apples to oranges, as in other countries lockdowns were imposed after people had died.
The only silver lining continues to be the country's low fatality rate. India's numbers in the worldwide tally don't really matter much because of this, according to Dr Suranjit Chatterjee, Senior Consultant, Internal medicine, Apollo Hospitals. With more and more healthcare professionals also falling sick, Chatterjee admits to being worried about his nurses, junior doctors and housekeeping staff: "Currently, the staff are on a six-hour shift, they can't stay longer than that otherwise they run the risk of falling sick. In the PPE [Personal Protection Equipment] suit they can neither eat nor drink and we can't afford to put any pressure on our healthcare workers right now." Maharashtra, for instance, has already sought specialist doctors and nurses from Kerala as its numbers increase and its healthcare system is stretched to its maximum capacity.
At AIIMS, a nine-day protest by nurses attending Covid-19 patients demanding that hours of work be cut from six to four, was called off after an assurance by the administration. Around 500 nurses attend to Covid-19 patients at AIIMS. "Wearing the PPE causes dehydration. Coronavirus will continue for some time. We have to take care of our health workers," says Harish Kajla, president of the AIIMS nurses' union.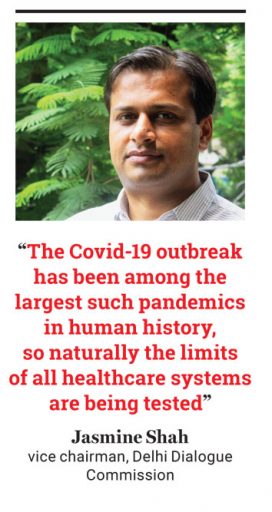 From the spacious corridors of power in Lutyens' Delhi to the congested bylanes in the walled city, the coronavirus has indiscriminately invaded the national capital. Yet, Delhi is opening up, freeing city dwellers from their confines at home to relive a semblance of normalcy. With masks, sanitisers and fears, some Delhiites are daring to step out, most treading cautiously. But the numbers are few.
Nearly three centuries after it is believed to have been built, the bells in Delhi's famous Hanuman Temple have fallen silent—as telling a testimony to the havoc Covid-19 has wrecked on everyday life as any. Tied up in neat bundles, the bells which are traditionally rung by worshippers while entering or leaving the temple will stay that way for the foreseeable future even as Delhi opens up. "This is going to be a no-contact temple for the time being," says Pankaj Sharma, one of the priests at the temple as he points out the sanitiser dispensers placed all over the main hall. Circles have been drawn on the floor to ensure people stand six feet apart and no offerings are to be accepted from devotees. To enter the temple, one has to pass through a sanitising booth with nozzles that squirt a solution. There are more temple personnel than devotees on the morning of June 8th, when religious places first started opening up, but Sharma is worried about the crowds that descend on the temple on Tuesdays. "Pre-Covid-19, we had a footfall of 50,000-70,000 on Tuesdays. I don't expect it to reach those numbers any time soon but there will still be a rush. We will have to see how we ensure adequate social distancing."
Delhi's chilling figures are bound to shake even the strong-hearted and Delhiites today are a worried lot. But they also feel the need to get on with their lives. For the Waldia family, it means picking up the threads of their workout routine, not just as a lifestyle choice but also because their older daughter Ishani is an under-15 national badminton player. The family has started visiting Lodhi Gardens every morning for their daily run and stretching sessions as Nehru stadium, their usual haunt, is yet to open. "At least in parks it is easy to maintain distance. Opening these up was a good decision because it is very difficult to stay cooped up inside apartments day after day," says Ravinder Singh Waldia, an Income Tax officer.
His words find an echo in the views of Ratish Nanda, CEO, Aga Khan Trust for Culture, which handles Sunder Nursery, a 16th-century heritage park in the city. "Open spaces, especially parks, are very good for both your physical and mental well-being, especially in times like this. World over, the outdoors are considered safer with regards to the spread of the infection; parks are actually healing spaces," he says. Both Lodhi Gardens and Sunder Nursery are dotted with signs to wear masks at all times; in Lodhi Gardens, significantly more crowded, the orders are followed more in spirit than action. Most faces were partially covered with quite a few even opting to simply rest the masks on their chins.
Restaurants also threw open their shutters on June 8th, although footfalls will continue to be a source of worry. In a bakery at Khan Market, an employee takes the temperature and contact details of every person entering. "Before we reopened we deep cleaned and sanitised every nook and corner of the outlet. Tables have been placed six feet apart and guests are allowed only after their temperature is taken and their hands sanitised," says Nitin Warikoo, head of the Cha Bar, the coffee shop at Oxford Book Store. On the first day, they saw some customers walking in but Warikoo is confident the pace will increase, saying people want to start picking up the threads of their stalled lives, albeit with precautions in place.
At Khan Market, the popular Full Circle bookshop and Café Turtle downed shutters as the owners could no longer afford the rent and decided to move to another market. Shadat, an employee at the parking lot, says there was a dip in the number of customers after five officials tested positive at the Enforcement Directorate headquarters right behind the market.
Gurwinder Sabharwal has been going twice a week, and that too for two or three hours, to his family-owned shop at Chawri Bazaar, Old Delhi. Even though the lockdown has been eased, he has been asked to stay away as locals fear the disease is widely spreading in the cramped bylanes. "Even if I were to open my shop every day, what purpose would it serve? Business has come to a standstill, there is no labour and every day a new market is shut down because of increasing cases." Sabharwal is referring to the scares at Gadodia Market, the wholesale spice market, and Bhagirath Palace, where traders tested positive.
At Bengali Market in the heart of the capital, boxes of Alphonso mangoes are piled up. They cost Rs 1,000 each, containing a dozen, says Sonu. A customer argues that it was just Rs 650-800 last year. The salesman insists it is Rs 1,000 now. "This year, we are selling just 100-200 boxes a day. Last year, we sold 500-1000."
Across the road, at the 60-year-old Bengali Sweet House, kulfi, a popular summer dessert, is no longer on the menu. "The man who made kulfi has returned to his village in Bihar. I don't want to ask anyone else to make it," says Lakshya Aggarwal, whose grandfather had started the shop, now divided into two parts. Limited items are displayed on the shelves. The footfall has reduced to 10-15 per cent.
Nearby Connaught Place stands testimony to the city's despair, dilemma and fears. Standing in a queue, maintaining physical distancing, outside Wenger's, the capital's oldest bakery opened in 1926, Mandi, a Delhiite in her 20s, says she has never seen "CP" so desolate. "It's always been so full of people and energy." The footfall has reduced by 50 per cent, says Aman Tandon, whose great-great-grandfather BM Tandon had bought the bakery in 1945 from a Swiss couple named Wenger. Other shops have also opened at Connaught Place, but there are hardly any customers. "Over 90 per cent of the vehicles you see parked here belong to shop-owners," says parking employee Rahul Kumar, a migrant from Darbhanga in Bihar. He decided to stay back in the city, which has witnessed an exodus of around 3 lakh migrants.
June in Delhi has rarely begun with temperatures below 40-degree Celsius. It's the time when several Delhiites pack their bags and leave for the hills. The hill states of Himachal Pradesh and Uttarakhand are yet to reopen their hotels to tourists from cities with high loads of Covid-19 cases. But then, this summer, nothing about Delhi is the way it was. There is enough space to park your car, there is less traffic on the roads, the shops are not crowded with customers, the air is not as polluted and the Yamuna looks cleaner. Yet, Delhi is gasping for breath to survive the soaring Covid-19 count and return to what it was.
Many factors are to blame for this turmoil and the list includes mismanagement, possibly lame projections and a scramble among leaders to make political capital out of a tragedy.