On Saturday, April 11th, his face draped in the gamchha, Prime Minister Narendra Modi held a video conference with state chief ministers. The gamchha, an eloquent symbolism of Everyman with a northeastern touch, carried a message from the patriarch: no matter what socio-economic stratum you come from, cover your face with a mask, even if homemade, and maintain a basic six-feet distance. This behavioural change was fundamental, on the threshold of a decisive Phase II of lockdown, for India to win the war against Covid-19. It was a critical stage in the lockdown procedure. On the agenda of that conference was a crucial issue: inputs for a phased exit plan, to extend the 21-day nationwide lockdown already in place to contain and flatten the curve of the spread of Covid-19. On the eve of Modi's address to the nation on April 14th, the last day of the 21-day lockdown, an address in which he would spell out his Government's decision on a further extension, 25 districts across India had shown no rise in the number of Covid-19 infections for the last 14 days.
It was not an easy decision, given the urgency in delicately balancing the need to stall the pandemic in a nation of 1.3 billion people and the demand to revive the economy to protect the livelihoods of millions of underprivileged and marginalised people, especially those who fell through the grid of socio-economic support. With one of the most stringent lockdowns in the world, India had, for three weeks, put almost a complete stop to all production activities by banning the movement of people, goods and transport, except for essentials. Agricultural activities needed to be relaxed as early as possible. The rabi harvest was almost upon us and the rural economy needed to be kick-started to also ensure the smoothflow of essential goods for an entire country under lockdown. The economy itself was in Covid19-induced doldrums. The Prime Minister's message was clear: from "Jaan hai to Jehan hai" (life has to take priority over livelihoods) it was time to move on to "Jaan bhi, Jehan bhi" (safeguarding lives is as crucial as protecting livelihoods). The new slogan implied readying ourselves for the next phase of action.
Since Modi's first address to the nation on March 19th on the coronavirus crisis, when he called for a one-day, people-driven 'janata curfew', his message has been evolving, continually emphasising the cooperation and pro-active participation of citizens in collectively battling the first-ever health emergency-driven lockdown the country has known. The message on March 24th, when Modi announced a 21-day lockdown till April 14th, was for citizens to aggressively follow social and behavioural norms imperative to combating the spread of Covid-19. More than a week into the lockdown, Modi's message to citizens was meant to boost their morale as they experienced hardships at home and the physical distancing that he urged them to strictly maintain. Apologising to the ordinary citizen, and especially to the poor and hungry, for what they were going through, Modi directed states to urgently tend to the needs of daily wagers and workers stuck without work, food or transport in various places due to the lockdown. Using the culturally appropriate "diya jalao" directive, Modi urged them to reach into their socio-cultural traditions of "karuna" and "sanskriti" to give generously to the less privileged in these hard times, as also to show kindness to animals.
The Centre had moved swiftly at a time when there were only a few hundred cases of the novel coronavirus in India. International travel was curbed, land borders were sealed, and a 21-day, nationwide lockdown—now extended for more than another two weeks—was imposed to break the chain of transmission of the virus. According to the Oxford COVID-19 Government Response Tracker (OxCGRT), India has been a better performer on the various indices compared to other countries. Modi appears to have received the unstinting support of an entire nation.
Praised for his early decision and decisive action to lock down the country by the very World Health Organization (WHO) that he had criticised at a G-20 video conference, Modi has become, both nationally and globally, the face of the firm measures a nation the size of India has taken to 'flatten the curve'. Compared to other developed countries, such as the US—currently with the highest number of positive cases and a high incidence of death—the UK, Italy, Spain, France, Germany and even South Korea, which has resorted to universal and aggressive testing to contain the spread of the virus, India has shown relatively fewer positive cases and has suffered fewer deaths. The bleak Phase III scenario of community spread, with no traceable infected contacts, highlighted by many epidemiologists, is yet to rear its head and Covid-positive patients have not been thronging hospitals by the hundreds. The lockdown decision was unprecedented besides being politically unpopular. It was a decision that only a leader with credibility could pull off successfully.
The OxCGRT, prepared by the Blavatnik School of Government at the University of Oxford, noted that data-based conclusions on 11 indicators—such as closing schools, cancelling public events, shutting public transport, curbing domestic and foreign travel, launching public information campaigns, fiscal and monetary measures, contract tracing, etcetera—showed that the Modi Government's track record has been remarkable on combating the spread of the coronavirus.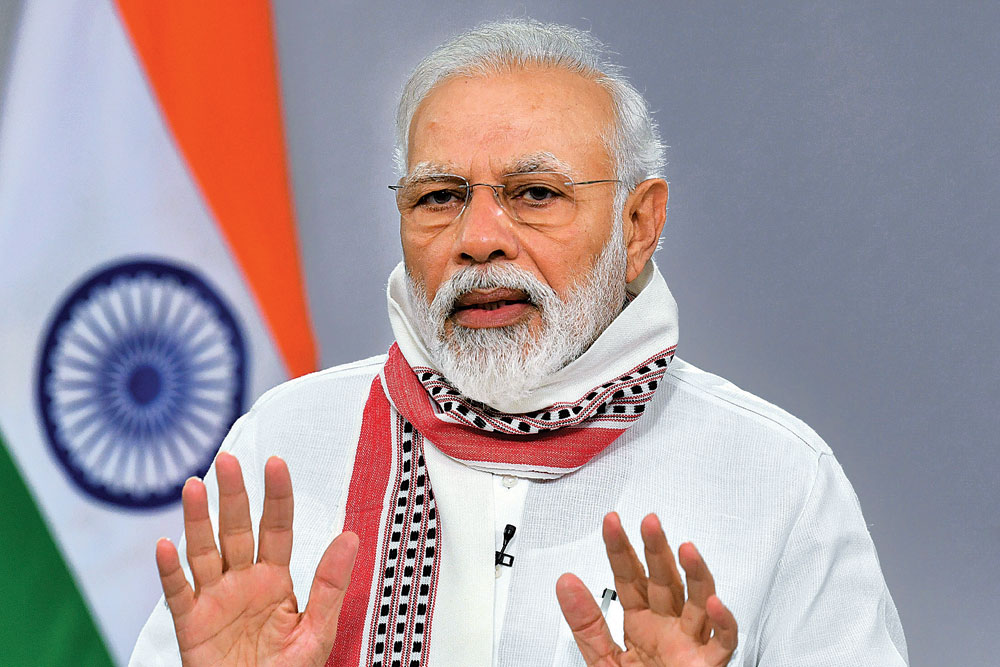 THE WHO's praise for Modi and his decisions was the preamble to what was to later play out on the global stage, with India receiving requests from the US, Brazil and Spain for immediate help with drugs such as Hydroxychloroquine (HCQ). On April 4th, Suresh Prabhu, India's G-20 Sherpa, received the following message from his Spanish counterpart: 'As discussed on the phone, Spanish PM Pedro Sanchez needs to urgently talk to the PM of India, Mr Narendra Modi. Mr Sanchez wants to explain the terrible health crisis we are suffering in this country because of the Corona virus outbreak. Spanish mortality rate is particularly high and our ICUs are under extremely high pressure. In this context, PM Sanchez wants to ask PM Modi for a waiver of India's export restrictions to certain active components of pharmaceutical products such as hydroxychloroquine, which are high need [sic] to produce the kind of medicines that Corona virus patients urgently need. This would be a humanitarian exception allowed under India's domestic legislation. An airplane is planning to leave Goa this weekend with long standing orders of HCQ, pending the export license. The price for this ingredient is fixed by the government and the final destination of these orders is the Spanish health system. An urgent action will make a big difference in the lives of many people. So, please convey urgently to PM Modi that he may spare a few minutes to speak on the phone with PM Sanchez to discuss this issue today. Please confirm the receipt of this message. Thank you very much, regards, Manuel.' The phone call happened that very night, followed by a grateful thank you message from Prabhu's counterpart for an amicable conversation between the two leaders of government. US President Donald Trump was another leader to request the Prime Minister to relax export restrictions on HCQ and to rush the drug to the US. India produces close to 70 per cent of the world's HCQ.
In his interactions with his core team, Modi has insisted that India help other countries in need of HCQ rather than opting for a blanket export ban—but only after ensuring a sufficient buffer stock and that there would be no shortage in meeting domestic demand. At the meeting with senior officials, whereby the decision was taken to ramp up production of the drug and to make it available to countries that had requested its supply, Modi had asked officials for statistics on India's projected consumption in a worst-case scenario. The Prime Minister seized the opportunity for India and the world. "This is an important moment [when] India can save lives and we cannot let it pass without acting," he reportedly told the officials.
The decision worked. It was a runaway foreign policy success at a time of global distress. Responding to Modi's reaction to his request, Trump asserted that his country would first share any vaccine for the coronavirus with India, followed by similar reactions from Brazil, Israel and other nations. Modi interacted urgently with pharmaceutical companies to learn about India's HCQ production capacity. "The PM motivated the industry by saying this is the chance for India to make a mark globally. He assured us help and the results are here for all to see. This month, our industry produced 20 crore tablets," said Cadila Healthcare's Pankaj Patel.
The international praise Modi has received, from both the WHO and developed countries, for helping other nations in need and the speed in decision-making to stem the spread of the coronavirus in India, was not surprising. Through the last three weeks, Modi's appeals have elicited widespread cooperation. Women and the middle class, especially, have been his biggest supporters in the lockdown, enthusiastically clanging cymbals and lighting diyas to show gratitude to the frontline warriors. The battle has engendered new social and behavioural mores for them, including increased use of social media for communication and for sustaining personal relationships in a changed world. To many from this social stratum, Modi's exhortations are akin to Netaji Subhas Chandra Bose's call "Give me blood and I will give you freedom!" That is, a renewed people's movement for social and personal sacrifice in lieu of freedom from the pandemic.
"It is difficult to manage with kids at home and essentials are difficult to come by or are more expensive. But when Modiji exhorts us to do this for ourselves and for all of India, we are totally ready for this sacrifice. It is an amazing appeal that demands respect and obedience," insists housewife Shashi, from suburban Ghaziabad. Like Shashi, thousands of Indians have found a new exhilaration and raison d'être, a stake in the welfare of the nation while battling Covid-19 at the personal level. They have not let a jarring debate—on the invasion of privacy or the suspension of rights—change their minds on the deferment of social and familial pleasures.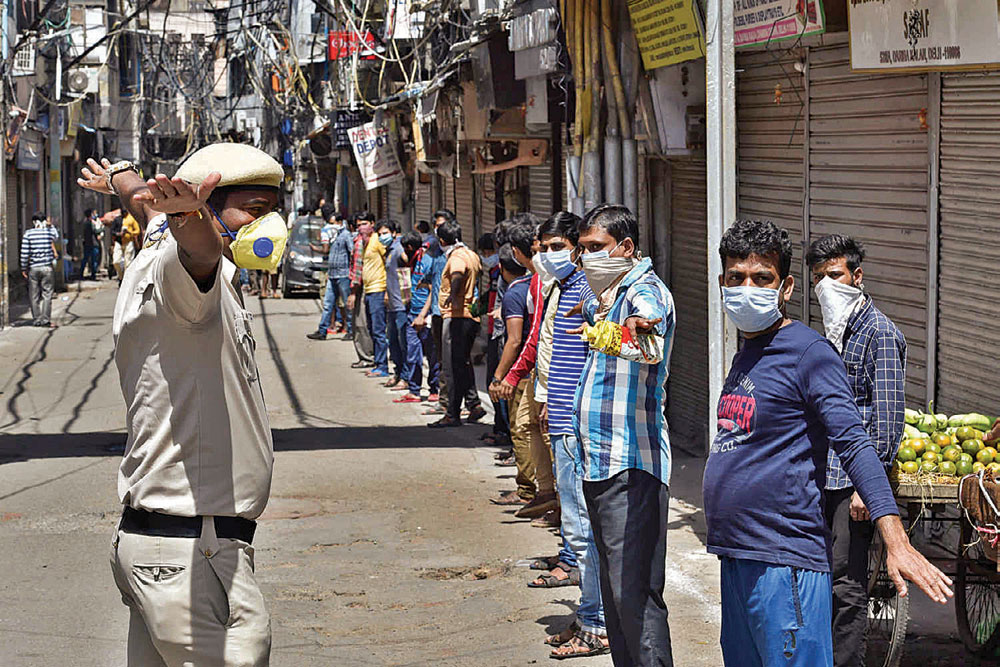 This was reinforced by Modi's address to Bharatiya Janata Party (BJP) workers on the party's 40th foundation day on April 6th, well into the lockdown. The country was just a couple of hundred coronavirus cases short of 5,000. The solemnity of his speech, which eschewed politics as commonly understood, underscored the magnitude of the challenge facing India. Modi exhorted party workers to ensure that the poor did not face any hardship in getting food and rations. It was a reiteration of his favourite theme: the role of community volunteers in nation-building, a Rashtriya Swayamsevak Sangh tradition of old. Praise for sanitation workers, paramedics, nurses, police officials and doctors was also the focus of Modi's address. Were it not for the pandemic, the speech would have been noted as a trademark Modi declamation and matters would have rested there. In the month gone by, politics as routine bickering among parties and scoring brownie points was under suspension. This was not just a matter of social distancing and the absence public political activity but one of an absence of political ideas in the opposition. Wherever opposition-ruled states have performed well in handling the crisis, it has been due to the local administration and not the national political leadership. With the exception of Bihar, no state Assembly election is due till May 2021, effectively putting the political opposition in quarantine.
That, however, does not mean politics has ceased. A crisis is when political activity and nation-building usually overlap to an extraordinary extent. This has been in evidence since the Prime Minister announced the "janata curfew" just days before announcing the national lockdown on March 24th. Since then, the energy spent on politics has gone wholly in the direction of executing projects to handle the viral outbreak.
The first task, which acquired a crisis-management level, was ensuring adequate stocks of food in different states, even as the lockdown was implemented with a firmness the execution of public policy has not known in India. For example, two days after the lockdown began—when human movement had effectively ceased—Punjab, the country's bread-basket, began loading 25 railway rakes every day. Each rake has a capacity of 2,500 tonnes of foodgrain. Loading such an amount onto railway wagons requires ferrying 300 truckloads to the railhead. Since then, an extra 10 rakes are being loaded daily. This is just a single data point in what is now a complex nationwide effort to match demand and supply through government agencies, a task normally left to the private sector and markets. But in the absence of free movement of goods and services, this task now belongs completely to the government. Now, considering the number of essential goods and services, a definition that has continued to expand practically every day in the lockdown—medical supplies, food, groceries, essential supplies and more—the task becomes more complex each passing day.
It is here that the Indian state is being 'reinvented'. Perhaps reinvented is too strong an expression. India never imbibed 'market fundamentalism' unlike the West. India continued to have a robust public sector, which has proved a boon in the pandemic. What did change was the emphasis on refurbishment and renewal of the state. This is a process bitterly contested right from the inception of the Modi Government in 2014. Today, the benefits of that revolution are all too visible, forcing critics to lapse into complete silence. None of this would have been possible if privacy concerns had been allowed a veto over every administrative decision. The wisdom of letting Aadhaar function became obvious after state governments hurried to transfer money to migrants and the poor within their jurisdictions. The task was complicated since migrants live in states different from their home states. The chief ministers coordinated with each other, even as district administrations ramped up the setting up of relief centres where migrants could find food and shelter in the lockdown.
These administrative measures would have come to nought had the electronic means of identification and tagging of accounts not been available. Contrary to apprehensions of a humanitarian disaster, none of that came to pass as the Centre and states quickly rallied to reach out a helping hand to people in distress.
In the first flush of criticism, the deluge of migrants that poured out of Delhi after the lockdown was announced was tom-tommed as the harbinger of disaster. Two days after the lockdown commenced, on March 27th, Finance Minister Nirmala Sitharaman announced an Rs 1.7 lakh crore package to mitigate the hardships of poor citizens. Critics did not bother to look around. On April 1st, the dashboard of the Pradhan Mantri Jan-Dhan Yojana (PMJDY) showed that 38 crore individuals had benefited from the scheme that allows the Government to directly transfer benefits to those with a PMJDY account.
A fortnight later, the effects of this package were beginning to be seen. By April 13th, more than 32 crore people had been handed out financial help to the tune of Rs 29,352 crore under the Pradhan Mantri Garib Kalyan Yojana package. Free rations, including foodgrain, were distributed to 5.29 crore people under this package. To alleviate rural distress, the first instalment of Pradhan Mantri Kisan Samman Nidhi (PM-KISAN), amounting to Rs 15,841 crore had been distributed to 7.92 crore of the eligible 8 crore farmers. Close to Rs 10,000 crore had landed in the PMDJY accounts of women. Construction workers who migrate from far-flung districts to rapidly growing urban areas—and probably the most vulnerable section affected by the pandemic and lockdown—were not left behind either. By the first fortnight of April, 2.17 crore such workers had received Rs 3,071 crore in financial support. Apart from these measures, nearly 98 lakh gas cylinders under the Pradhan Mantri Ujjwala Yojana had been delivered across the country. To mitigate the hardships of the aged, widows and disabled persons, Rs 1400 crore had been disbursed to them.
These are not small measures for a Government whose hands were already tied due to a stressed economic situation even before the crisis broke out. But the means were found to do what was necessary.
These were essential measures to overcome the immediate difficulties due to the lockdown. But far more help and direct economic action will be necessary to revive India's economic fortunes after the long lockdown. For instance, industry leaders like HDFC Chairman Deepak Parekh have advocated that the "Reserve Bank of India (RBI) should buy commercial paper, private sector debt to fund economic activity like other central banks."
Given the extraordinary severity of the crisis, which is now considered even worse than that the 2008-09 global financial and economic crisis, many central banks across the world have resorted to unusual tools to help governments. On April 9th, the Bank of England (BoE) allowed the government to borrow directly from the BoE as 'temporary measures,' a step that until recently was considered out of bounds among orthodox bankers and economists. The RBI also has the option of directly lending to legal entities under the RBI Act, 1934, an instrument it has not used until now.
DEMANDS HAVE also poured in from other sectors for support as well. The president of the National Association of Software and Service Companies (NASSCOM), Debjani Ghosh, has reportedly requested for help to the tune of Rs 3,600 crore for technology SMEs that are vulnerable at the moment.
With these sectoral demands and the need for an economy-wide resuscitation, what India may need in the weeks and months ahead could be unusual, compared to what has been done in the past.
Even these difficult days have their silver lining. In the run-up to the demands for HCQ across the Western world and China's lack of cooperation, the salience of India's pharmaceutical industry, until very recently at the receiving end of regulatory hurdles from the US Food and Drug Administration (FDA), has become clear and things have begun to look up. Four major Indian pharma companies—among them Dr Reddy's Labs and Lupin's manufacturing unit in Nagpur—received the green light. India's ability to manufacture generics, a known strength, was looked down upon by Western companies and governments. Now it is being viewed as a vital part of global pharma supply chains.
The possibility of multinational companies (MNCs) relocating away from China has not been lost on governments in India who now see an opportunity. The first state to react was Uttar Pradesh. Considered an economic and policymaking laggard, its government was quick. "The Chief Minister has directed the industrial development and MSME department to formulate a package for these companies, which could be offered in the second round of our investment garnering exercise," said the state's additional chief secretary, Awanish Kumar.
n this hour of distress, the Government had plenty of legal ammunition in case it chose to use coercive means to enforce the lockdown. From the Epidemic Diseases Act, 1897 to the Disaster Management Act, 2005, the state has enough instruments to force people when necessary. However, except for some transgressors, everyone complied with the directives. Contrary to the arguments about the state usurping vital space, this time round, there has not been a whimper from the usual quarters when the massive mobilisation of men and material was undertaken.
As a leader, Modi has been different. The crisis handed a bad deck of cards universally. Locking down a country was essential to check the spread of the virus but in doing so, one risked 'killing' the economy. In no country was the decision to lock down taken at such speed as in India. It was a stark choice that left the Prime Minister with no viable alternative. How does one check a pandemic in a country of 1.3 billion people that is among the most densely populated? Unless one took a tough decision early on, it would turn out to be too late. Projections show that if the lockdown had not happened, the number of infected people could have been four times higher.
If the wisdom of that decision is clear in hindsight, it was also successful in no small measure due to the willingness of the Indian people. It may be normal for intellectuals and pessimists to make fun of the 'clanging and banging' of utensils and the lighting of candle lights on the Prime Minister's urging, but what is clear is that Indians are willing to defer their pleasures. This requires leadership as much as heeding an enlightened self-interest.
There is, however, one dark spot. Since early March, more than 8,000 believers visited the Banglewali Masjid, or Markaz Masjid, in New Delhi's Nizamuddin area. When the gates of the mosque were shut on March 22nd, there were still some 2,500 persons within its tightly interlocking warren of rooms. The event was linked to the Tablighi Jamaat. Since then, the Union and state governments have mounted a herculean effort to track, test and isolate the visitors. Almost a month later, reports continue to come in from far-flung areas about preachers from Indonesia, Central Asian countries and other parts of the world being found in places like Korba (Chhattisgarh), small towns in Jharkhand, Mumbai, Andhra Pradesh, Karnataka and other states. Close to 20 Indian states have 'returnees' from that event who have infected local populations.
"Our doubling rate is 4.1 days at present. But if additional cases reported due to the Tablighi Jamaat had not happened, then the doubling rate would have been 7.4 days," Lav Agarwal, joint secretary in the Union health ministry, had remarked. But that was many days ago. Since then hundreds, now approaching thousands, of cases have been traced to that single 'super spreader' event. In the days after the initial discovery, the state government requested the individuals to come forward for testing and, if necessary, quarantine. That gentle persuasion did not work. In many cases, they evaded quarantine and endangered entire communities among whom they were hiding.
Both the Centre and states have since hardened their stand. It is now common to see police cases and coercive means being adopted whenever and wherever Tablighi Jamaat followers traced to the Nizamuddin event are tracked down.
The Tablighi event has polarised India. It is now routine to hear reports about the two sides at loggerheads. People associated with the Tablighi Jamaat, their sympathisers and apologists say the Muslim community in India has been victimised and ostracised. In contrast, the rest of the citizenry has fears—often genuine—of asymptomatic carriers of the coronavirus in their midst. The obvious way out was to pay heed to what governments had said: report for testing. That did not happen willingly. In places like Indore, doctors and paramedics were attacked when they reached certain localities for testing. Community leaders did not educate their followers about the necessity of testing and quarantine measures. In case of other communities—including Hindus—no similar 'permission-seeking' was necessary while imposing harsh measures like zoning-off affected areas and sealing them completely.
Much of the blame lies with the Tablighi Jamaat that had continued its activities. Ultimately, it took National Security Advisor Ajit Doval to intercede with the group's leaders to get them to empty their lodgings.
As India enters its fourth week in lockdown, there is something striking about what Modi could achieve and what other leaders in democracies could not. The difference has a lot to do with the nature of collective will—its abundance in India and its near total absence in Western democracies that are geared to individualism. With a few exceptions, India never had to make use of any draconian measure to keep people within the confines of their homes. Liberals in India mocked the 'clanging and banging' of utensils and the lighting of lamps. But these were markers of what a Prime Minister could do with a mere request without even hinting at coercive power available to the Government. This has no parallel. In his April 14th address, Modi signed off with a sloka from the Yajurveda (Vayam Rashtre Jagrutyaa), saying "We will all keep our nation eternal and awakened." A timely call for volunteerism and collective action.
Click here to read all Coronavirus related articles