IF DIPLOMACY WERE A FOOTBALL PITCH, Narendra Modi would be its Jürgen Klopp. In 2011 and 2012, the German took Borussia Dortmund to two con­secutive Bundesliga titles and in 2020, he ended Liver­pool's trophy drought in England by winning the Premier League for the first time in 31 years. He is one of the most successful managers of the modern game and widely re­garded as one of the best exponents of 'high press' football.
The high-press game is being adopted by an ever in­creasing number of teams and involves pursuing your opponents in their half of the field and forcing them to make errors to win the ball back. The strategy calls for all team members to press in sync with one another while adopting a high defensive line at all times. "Gegenpress­ing", or counter-pressing, invented by Klopp's fellow German Ralf Rangnick and perfected by Klopp himself, has revolutionised modern football.
Like Klopp, Narendra Modi used 'high press' on the diplomatic field in the run-up to the New Delhi G20 summit. India's presidency year was practically written off by the West and the opposition at home. This time, it was primarily on account of persisting acrimo­ny within the group over the Ukraine war. No one gave Modi the chance to clinch a consensus declaration without footnotes—or even a declaration at all. But Modi surprised all at home and abroad by managing a consensus on the first day of the summit itself, forcing even opposition leaders here to grudgingly acknowledge the triumph.
How did Modi manage such a historic achievement, knitting a consensus among the contradictory interests of Russia, China, the US and Saudi Arabia on issues as contentious as the Ukraine war? There was no magic wand but Modi is a leader of determination and perseverance, and had a clear vision for India's G20 presidency and what needed to be done. This was outlined to the men and women of Team Modi whom he assigned tough negotiating tasks.
Take the landmark admission of the African Union (AU) as a permanent member, for instance, a long-pending demand first raised by South Africa. As far back as June, Modi had shot off letters to all G20 heads of state/government, insisting that AU be­come a permanent member at the Delhi summit. When astute Indian diplomacy pulled off a speedy consensus on admitting AU, he described it as "a significant stride towards a more inclusive global dialogue." In the televised inaugural session, Modi an­nounced the move to make the 55-member African bloc the first new member of G20 since its creation in 1999. "We look forward to collaborative efforts that benefit not only our respective conti­nents but also the entire world," he said on X (formerly Twitter). One diplomat described the development as "a diplomatic coup, without a single shot fired." After Modi asked AU Chairperson and President of the Union of the Comoros Azali Assoumani to join the others at the high table, Assoumani said, "I was about to cry, it was a very emotional moment for me. We thought there would be a debate and then a decision. But at the very beginning of the summit, it was announced that there was a consensus on our membership…"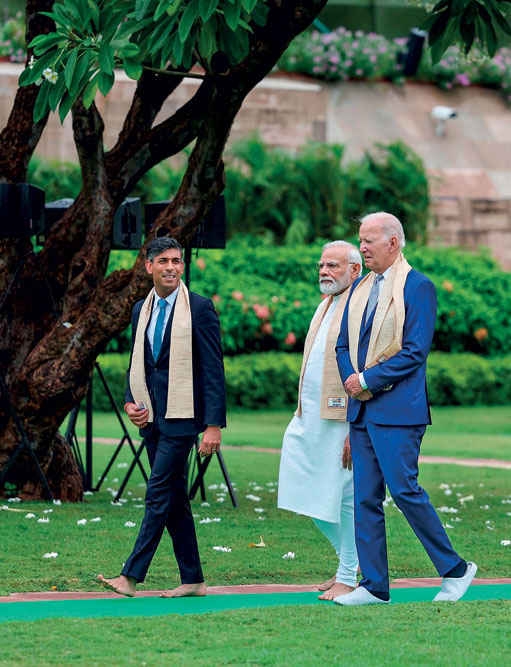 Sometime during the Bali summit in 2022, Macky Sall, presi­dent of Senegal and then head of AU, approached host and Indone­sian President Joko Widodo to bring up AU's long-pending perma­nent membership of G20. The objective was to expand the platform and bring the mounting economic problems of the Global South, often ignored, to the forefront. But Russia's war with Ukraine had cast its long shadow on the summit and edged other key issues off the menu. It was then that Modi promised Sall that, no matter what, he would ensure AU was admitted to G20 as a permanent member during India's presidency the following year. According to External Affairs Minister S Jaishankar, Modi told Sall at the end of the Bali meet: "I give you my guarantee on this. Modi ka guaran­tee hai". During the BRICS summit, Sall again reminded Modi of the promise and expressed his happiness at the commitment and speedy progress made by the Indian prime minister.
There's an interesting backstory to this. When G20 was found­ed in 1999 following the Asian financial crisis of 1997-98, it was then an informal forum for the finance ministers and central bank chiefs of the most important industrialised and developing econo­mies and meant to focus on economic issues so they would not spill across borders. For many of the developing economies, though, this meant developed nations used the platform to essentially lecture on how they should run their countries. Until the 2011 Cannes meeting on the eurozone sovereign debt crisis—that is, when it became clear there were sharp divisions within the European Union (EU) itself when it came to resolving the crisis. Emerging nations have been waiting a long time for payback time since. More recently, with the Ukraine war overshadowing the key economic agenda of G20, the Global South and more specifically Modi, were focused on wresting the G20 agenda back for key economic issues and preventing developed countries from hijacking the platform with their geopolitical concerns.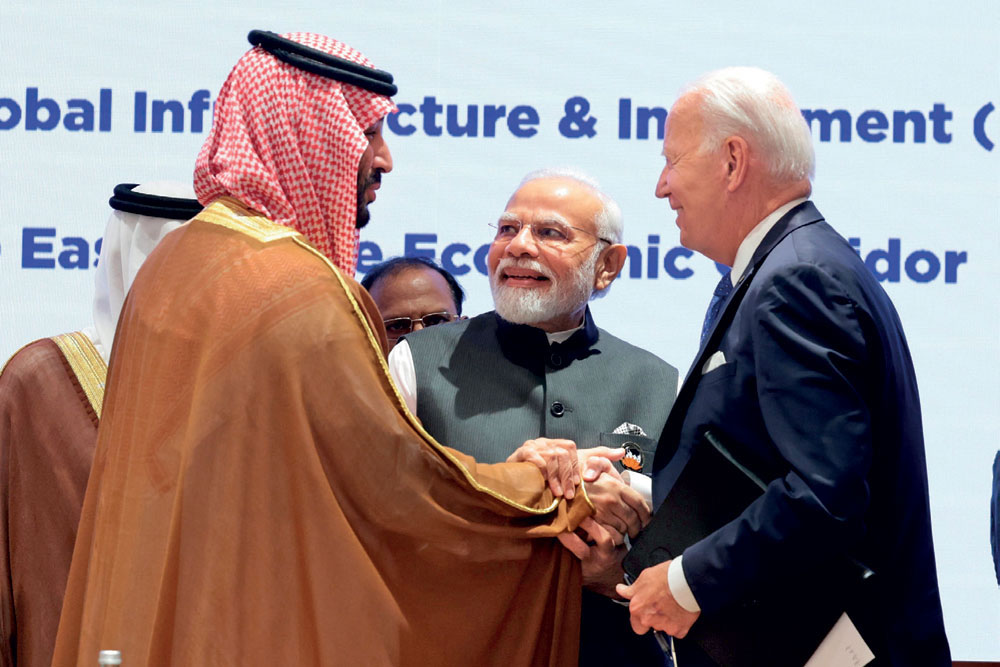 The admission of AU is likely to significantly expand the platform's concerns to include economic problems confronting the Global South, changing the balance between the erstwhile colonies and colonisers, with India leading the charge.
India's presidency of G20—a bloc that accounts for 80 per cent of global GDP and 75 per cent of international trade—has centred on issues like more loans to developing nations by multilateral institutions, reform of the international debt architecture, regu­lations on cryptocurrencies, and the impact of geopolitics on food and energy security. Modi, whose government runs on the inclusive theme of Sabka Saath, Sabka Vikas, was insistent that G20 work under India's baton on a very inclusive Indian theme, that of One World, One Family, or Vasudhaiva Kutumbakam.
IF ADMITTING AU was a positive start and a phenomenal achievement by India under Modi, there was more dem­onstration of the incredible negotiating prowess of the diplomats and ministers whom Modi trusted, handpicked and assigned key tasks to. Modi's coup—and it was definitely that—which appeared to most concern the developed nations was consensus on the wording on the Ukraine war. India has consistently stuck to the view that this is a conflict, if a distress­ingly escalating one, that is now threatening the food, fuel and fertiliser security of several countries.
Over the last days of the summit, diplomats from Team Modi worked hard to convince first the G7 nations, then Russia and then China, having first got countries such as Brazil, Indonesia and Saudi Arabia on board. According to Indian sherpa Amitabh Kant, it took Team Modi 200 hours of hard negotiations, 300 bi­lateral meetings, and 15 drafts to get a consensus on the wording after which he told his counterparts: "That's it. This is final; if you have any other problems, please tell your leaders to take it up with our prime minister. I pulled the weight of the prime minister with me and we clinched it last [Friday] night."
In the end, there was not even a mention of Russia in the consensus statement even when recalling the Bali declaration's position on Ukraine. It was clearly a win-win for all members. Russian representative and Foreign Minister Sergey Lavrov hailed it, maintaining that the West was unable to bully In­dia into naming and shaming Moscow as it intended. Incred­ibly, British Prime Minister Rishi Sunak and French President Emmanuel Macron, too, saw the declaration, with its emphasis on the territorial integrity of sovereign states (Modi himself had repeatedly underlined at various earlier meetings including in Uzbekistan that this "is not the era of wars"), as sufficiently reflec­tive of their concerns on the issue.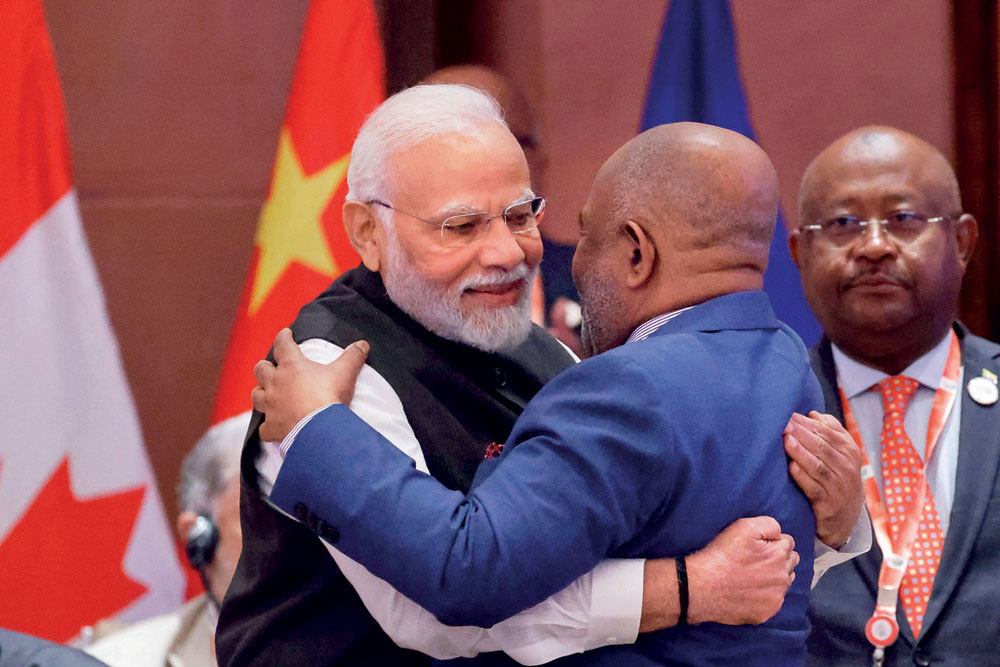 Crucially, the declaration may have demonstrated a lower priority attached by the US to the now prolonged war in Ukraine, something India and other nations of the Global South anyway view as a European problem inflicting its fallout on them. But the situation could likely work for US President Joe Biden, too. Biden is facing both an election year and diminishing popularity despite support on the Ukraine issue. As Jaishankar put it, "Bali was Bali and New Delhi is New Delhi," referring to the chang­ing perspective on Ukraine in the one year between the Bali and the New Delhi declarations. Diplomat Harsh Vardhan Shringla emphasised that Team Modi, going by Modi's own vision and his guidance for India's G20 presidency, achieved this success. It is momentous in terms of India's engagement with the world.
At the summit, it was not just the prowess of Indian diplo­macy that Modi demonstrated. His ambitious plans for India as a player on the trade and economic fronts were also best on display in the MoU on the India-Middle East-Europe Economic Corridor (IMEC) that will connect India with both Arabia and Europe. This will provide the most economically viable alterna­tive multinational infrastructural project that India had long been waiting for, one that would place the country at the centre of the flow of goods and services and energy from the East to the West, a position it historically held for traders and travellers. Al­though it is unlikely to happen overnight, once on track, it could revolutionise India's stature on both regional and global strategic levels and in terms of trade connectivity. Such enthusiasm was generated about this multi-nation, multi-modal infrastructure project that Italy, a signatory to the Chinese-led Belt and Road Initiative (BRI), plans to drop out of the latter while holding that its decision would not impact its relations with China. But it is indeed difficult to not read deeper into this. The IMEC could well be that game-changer to rein in China.
THE 'HARD PRESS' tactic Modi has adopted at home, with much success since 2014, has given him the heft to deal with global powers. On his watch, the Indian economy has con­tinued to break new ground; it lifted 450 million people out of poverty; 800 million have been supplied with free foodgrain from the government for the last three years; the implementation of JAM (Jan Dhan-Aadhaar-Mobile) saved the exchequer ₹3 lakh crore; infrastructure projects are booming, with airports, rail, road projects growing rapidly; the middle class is projected to grow to 730 million by 2030; per capita income is up from $1,500 to $2,500, and GDP is at $3.5 trillion; 2.24 billion vaccines were supplied to citizens through the world's largest vaccination exercise during the Covid pandemic; and no major terror attack has happened in the last four-plus years.
None of these achievements in public policy and welfare could have become milestones without the vision and drive of Narendra Modi. The "tide in the affairs" of India was waiting to be taken at the flood by an efficient leader at the helm.
The prime minister's personal appeal made possible the election of a stable government twice over, paving the way for decisive political, economic and socio-cultural policies which coalition governments just could not have pursued even if they were well-versed in the basic template of governance.
It was Modi who selected the tech-driven policies that were right for his government. He did not care where the seed ideas were from and generated on which government's watch as long as these could be scaled up and made more efficient to ensure targeted and leak-proof, corruption-free spending, thus freeing up more money for essential public infrastructure and welfare. Deng Xiaoping, the architect of modern China, famously said, "It doesn't matter whether a cat is black or white, as long as it catches mice." Modi worked on the same premise and every Central scheme and project that was assessed as imperative for overall growth was fuelled by technology and widened in scope and intent.
Imagine the upheaval in a country notorious for an economic model where subsistence-level wages were passed off as monthly pay. Thanks to the digital infrastructure, the government could ensure seamless transfer of cash and food. Transfer of food to hungry homes was regularised and made easy through the two crucial pandemic years. The foresight on building an efficient pan-India digital infrastructure also meant the spread of the coronavirus could be checked. Nor was there any big law and order situation of the kind seen in more prosperous countries like China or unpleasant scenes of people queuing at soup kitch­ens in affluent locales of the US. There was no largescale protest against vaccine shots by sceptics as in Canada, the US and Eu­rope, despite efforts by opposition leaders like Rahul Gandhi and Akhilesh Yadav to drum that up as an issue.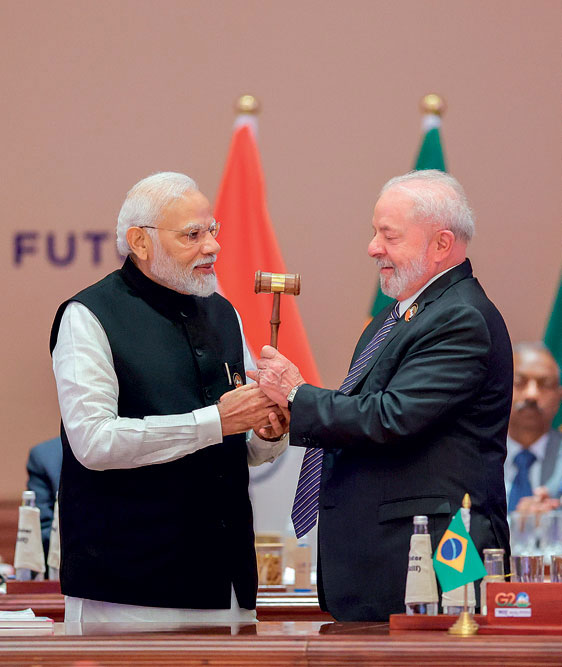 Under Modi, India emerged from the pandemic ready to do battle for economic recovery. He was under relentless attack for not loosening the purse strings to bolster the flagging economy. Pundits in newsrooms—and after the exposure of Chinese fund­ing for the Newsclick website , there is reason to suspect much of it was perhaps inspired by Beijing—attempted to embarrass him into spending more. But Modi refused to indulge in reckless spending. Here, too, he used well-tested counterattack tactics in politics. Those who went down the path of profligacy, includ­ing the US, not just paid a big price but also exported problems.
To the Modi government's credit, inflation has been lower than that in key developed economies. Notably, inflation in India was lower than that in Europe and the UK, especially since their figures were impacted by Russian oil and gas supply. Worldwide, the Ukraine war impacted many economies significantly on both the food and fuel fronts, sending prices and inflation soaring. Modi, however, leveraged India's traditional good relations with Russia and secured discounted prices for Russian oil in the thick of global sanctions against Moscow. That move may have earned India reproach from the West and the US initially, but Modi stuck to his decision, grasping an opportunity that would help Indians.
That earned Modi the admiration of Europe and Washington, allowing him to keep relations on an even keel with Russia and the US, one of the rare countries to do so. At home and abroad, however, Modi had to confront immense pressure to conform to the worldview of liberals to unquestioningly side with Ukraine. Despite that, his top priority was to secure safe passage home for Indians in Ukraine. Thanks to the efforts of the Modi government, even when Russia relentlessly pounded Ukraine, not discriminat­ing between civilian and military targets, it paused the offensive long enough to facilitate safe passage for Indians.
Today, India is the largest buyer of Russian oil because of timely moves by Delhi. But discounted oil from Russia is not the only thing that has kept inflation in check. The government has also been quick with price cuts and export restrictions on food and fuel. The government cut LPG prices by ₹200, banned the export of onions and non-basmati rice, clinched imports of pulses to keep in check rising domestic prices as a consequence of low supply.
India may have chaired key G20 committees under the Vajpayee government but 2023 will go down as the year India's chairmanship democratised the group and made it, as Modi as­serted, a "people's G20". This, not just in India but the world over, with food, fuel, inflation, climate change and other people-related issues getting top billing. Building on the basic foundation laid by the Modi government's achievements in the last nine years, New Delhi's hosting of G20 has sent out the message that this hitherto seemingly elitist platform is now led by a strong and popular leader of a country on the rise, with not just the largest population in the world but also a skilled workforce raring to experiment and take calculated risks. To a world that already knows that in India it is dealing with a new force aiming deter­minedly for a place at the global high table, it is no surprise that the man at the helm in Delhi is one who can leverage this op­portunity for his country's good. Modi has already ensured that the world's attitude towards India changed. India is now not one among the many emerging markets; it is at the top. It now has the power to set and steer the agenda.
Just how far India has come was em­phasised in a recent interview by the prime minister: "For a long time in world history, India was one of the richest economies. Later, due to the impact of colonisation of various kinds, our global footprint was reduced. But now, India is again on the rise. The speed with which we jumped five spots, from the 10th largest economy to the fifth largest in less than a decade, has con­veyed the fact that India means business. We have democracy, demography and di­versity with us. As I said, now a fourth D is getting added to it—development. I have said earlier too that the period till 2047 is a huge opportunity. Indians who are liv­ing in this era have a great chance to lay a foundation for growth that will be remem­bered for the next 1,000 years!"
That is the extent and the depth of India's transition. Even if the country had everything going for it, it could still fall behind. India needed a leader like Modi to instil the self-confidence in Indians that with so much going for them, they were on a golden launchpad to success and greatness. By insist­ing that what happened with India over the last one thousand years was an aberration that showcased only its backwardness and cultural diffidence, Modi made it clear that these were not qualities hereditarily and indelibly embedded in us as a people. Circumstances were against the subcontinent. The spells of backwardness and subjugation were the afflictions of foreign oc­cupation. Modi told Indians that they had irrepressible potential. The inferiority complex, the fatalistic approach to life, and the long humiliation were things of the past. The future belongs to India. And it is not just India but the world, too, which recognises the truth of his words.