MANOJ BAJPAYEE IS INSTANTLY AMUSED BY MY SUGGESTION THAT HE is India's Anthony Quinn, the late Hollywood acting maestro who could enhance a film's appeal even with a cameo. The West Champaran, Bihar-born Bajpayee is at his post-lunch break while shooting for a new film by Abhishek Chaubey in the lush green hill station of Vagamon, southern Kerala, occasionally accepting phone calls. He is relaxed and good-humoured despite the exhaustion of travel and work. "Man, I am humbled by that comparison. People like Anthony Quinn, Marlon Brando and Peter O'Toole! They are my all-time favourites," he avers. Then he guffaws, his eyes crinkling boyishly.
The 52-year-old regains his composure of excitement and responds, acknowledging that there's truth in that compliment: "See, that is because however short my role in a film, I get into a character with extreme sincerity, truthfulness and devotion. And I do it intensely, gauging what would be excessive and what would be less. I don't feel frustrated by bigger roles for others. It doesn't bother me. It will never," he explains, but stops short of disclosing what the new Chaubey film is about.
Rita Kothari, an English professor at Ashoka University and film critic, says Bajpayee's USP is his finesse in occupying the "liminal space", meaning somewhere between virtuous and villainous roles. She is enamoured of his skill at transitioning with tremendous ease from hero to villain and vice versa which, she says, is pretty rare for Indian actors who are obsessed with their star value.
His acting prowess, she argues, finds reflection especially in Rakeysh Omprakash Mehra's Aks (2001) where he worked with Amitabh Bachchan, who, incidentally, is one of Bajpayee's childhood icons. "Bajpayee captures the idea that evil is transient with amazing dexterity," notes Kothari. "He is such an exemplary actor that he manages to carry the shades of grey very well," she adds.

Nothing is just black and white for Bajpayee. The range he is comfortable with extends from serious and meditative to what Kothari terms a character with insidious designs. "You can see it even in The Family Man where he isn't exactly playing a villain," she stresses. It is what appears forced when most other actors in Bollywood attempt it, she says, referring to Shah Rukh Khan's role in Darr (1993).
Bajpayee, whose film career spans three decades, got a great new break in The Family Man, which is now in its second season and has been directed and written by Raj Nidimoru and Krishna DK. In this Amazon Prime Video series, one of the most popular shows in the world according to IMDb, Bajpayee plays Srikant Tiwari who works as an ace spy, unbeknown to his middle-class family that has to live with all the challenges of that income bracket. "One has to learn to respect those unsung heroes and what they do for our country," Bajpayee says pensively, full of sympathy for such individuals who place the interests of the country above their own.
This series announced Bajpayee's coronation as the undisputed king of the over-the-top (OTT) platform in India, argues film critic Subhash K Jha, a close friend of Bajpayee's. The OTT platform, which bypasses cable, broadcast, satellite TV platforms and big companies that preside over content creation and distribution thanks to the power of the internet, is all the rage among anyone who wants to create content without being interrupted and censored. It also helps tide over the red tape of traditional filmmaking.
IN SOUTH INDIA, ACTORS SUCH AS Parvathy Thiruvothu, who have defied male coteries and are part of a collective fighting gender bias in the movie business, vouch for OTT to replace what is the all-encompassing power structure in moviedom that favours the male. OTT is replacing star-obsessed filmmaking, offering a new crop of actors a golden opportunity to overcome such hurdles. It has lowered the entry barriers for actors without connections.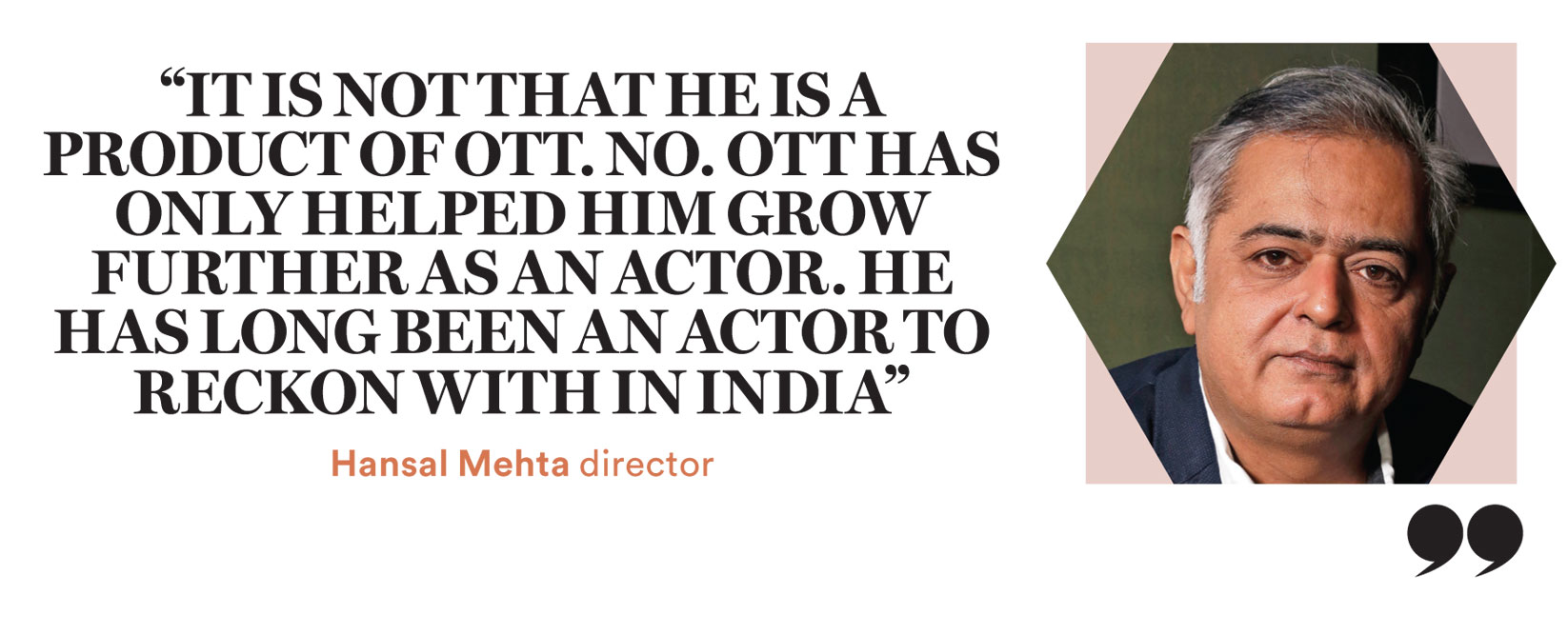 Jha tells Open that he is privy to the temptations Bajpayee resists these days as he gets myriad offers on the OTT platform, making him the most sought-after actor in the space. "I am very much aware of the size of the offers he gets, but I am glad that he is not falling for them. He remains rooted and is still choosy. That speaks more about him as a human being than as an actor," he asserts. "I have known him for over 25 years and he has always wanted to play roles that suited him, roles that he loved, characters that he wanted to play," Jha adds.
BAJPAYEE IS AT A POINT IN his career—which has been full of nerve-wracking struggles—that is perfectly designed to detach him from reality. His ascendancy in the OTT world has been dizzying, but then the actor says he just finds that the struggle has lessened because, according to him, this is a "great time for great storytelling" as "you have a real opportunity" to dream big and make it happen thanks to technology that bypasses traditional routes. Some of his friends say it is akin to how technology helped people, especially politicians and businesspeople, bypass the media in their outreach.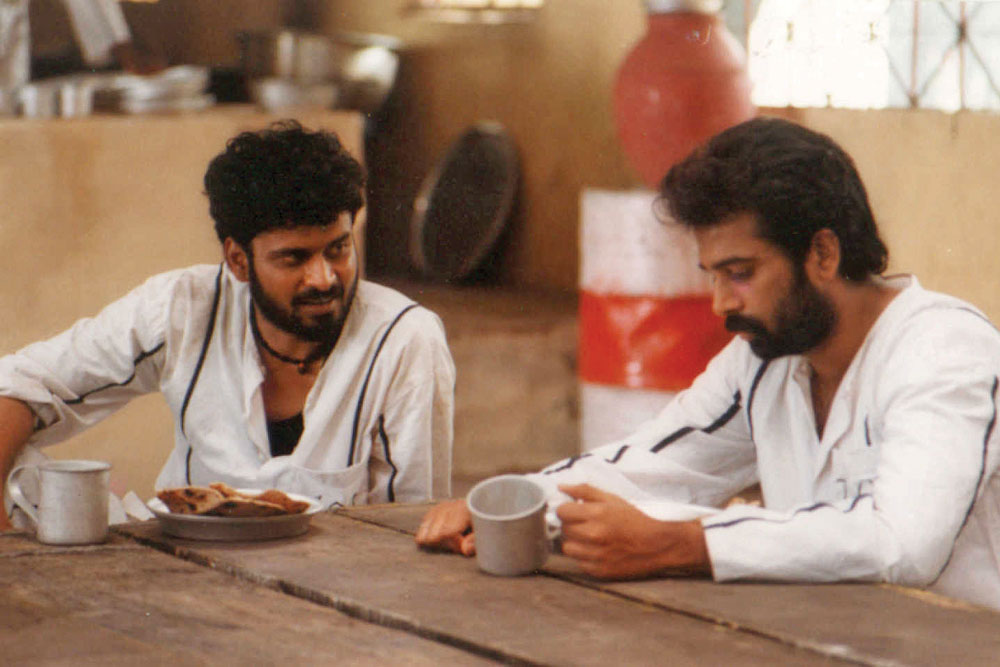 While no one challenges that Bajpayee has attained great heights in the OTT world, people who have closely watched or worked with Bajpayee insist that he has been around, and noticed, for a long time now. "It is not that he is a product of OTT. No," says Hansal Mehta, who directed Aligarh (2016). In that movie, Bajpayee played the lead role of a gay professor who loved whiskey and Lata Mangeshkar songs. Mehta says it is injustice by people—and he says there are too many of them—who celebrate Bajpayee as a mere OTT phenomenon. "OTT has only helped him grow further as an actor. He has long been an actor to reckon with in India."
Mehta, who has made critically acclaimed movies such as Shahid (2013) and Omerta (2018), says he wants people to pay close attention to Bajpayee's rise from Satya (1998) to Aligarh, including Raajneeti (2010), Zubeida (2001), Shool (1999) and The Family Man series, to see his evolution as an actor. Mehta credits Bajpayee with achieving something lofty, sort of the holy grail all actors chase, and paving the way for actors to be seen as actors, not stars. "He played a pivotal role in giving hope to such aspirants by inspiring diversion from purely star-driven casting to merit-driven casting," says Mehta.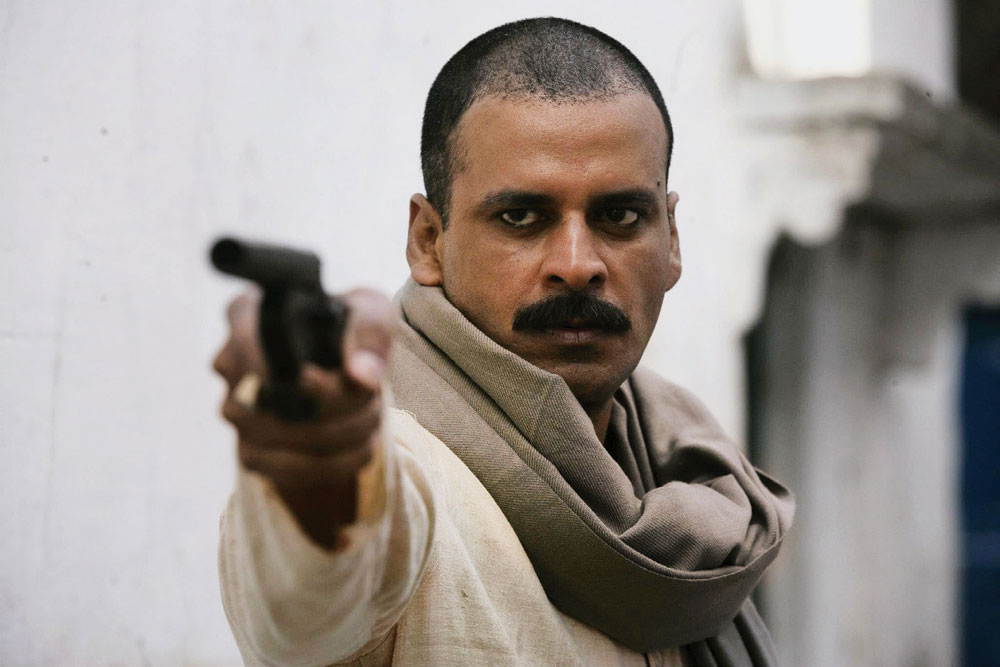 Kothari reels out a list of actors that includes Pankaj Tripathi, Radhika Apte and Jaideep Ahlawat who have benefited primarily from the OTT revolution.
"Bajpayee is not among them although it is true that OTT has helped him, too," she says.
Actors such as Tripathi, Kay Kay Menon and Nawazuddin Siddiqui have lauded Bajpayee for engineering a revolution that helped them make a foray into movies as he redefined the role of the lead character in the 1990s with his inimitable style and brilliance on the screen. Bajpayee however is self-effacing while placing himself in the historical context of the evolution of Indian films. "I have learnt a lot from these names. I may have come here before them, but I ended up learning a lot from them and their style of working," he tells Open.
But he is aware of his stature. "It all looks like a dream for someone from a small village in Bihar who left home aged 18. But my craving has always been [to be] 100 per cent sincere to the role I am given. Accomplishing that is bigger for me than any other competition. A few days ago, I was chatting with Makarand Deshpande about the craft of being an actor. It evolves with time. Earlier, I used to worry a lot about translating what I have in mind to performance. It was very difficult to do, but we still did it."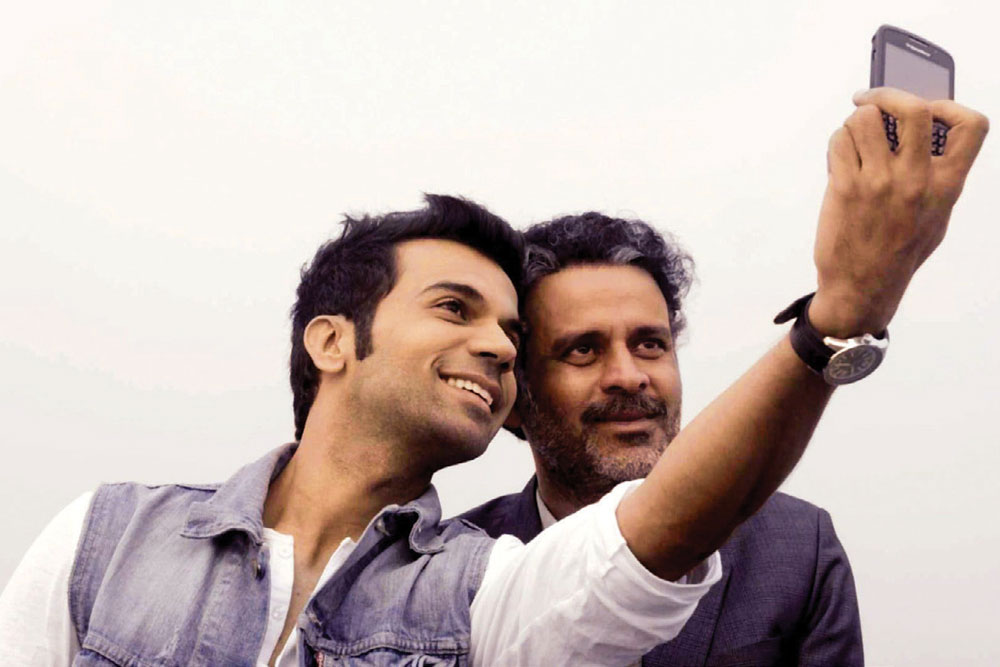 He goes on: "And then it slowly becomes easier because you are practising and trying to improve your craft on each and every occasion and for each and every role. You learn from books, and [from] people by watching them. All that determines your technique. Then it becomes part of your personality. Then I keep thinking about doing more difficult things all the time."
After Satya was released to critical acclaim in 1998, his character Bhiku Mhatre became such a massive hit that, Bajpayee remembers, many critics called him a "likely one-film wonder". He had acted in serials and few other movies until then, but that blockbuster movie by Ram Gopal Varma catapulted him to national fame.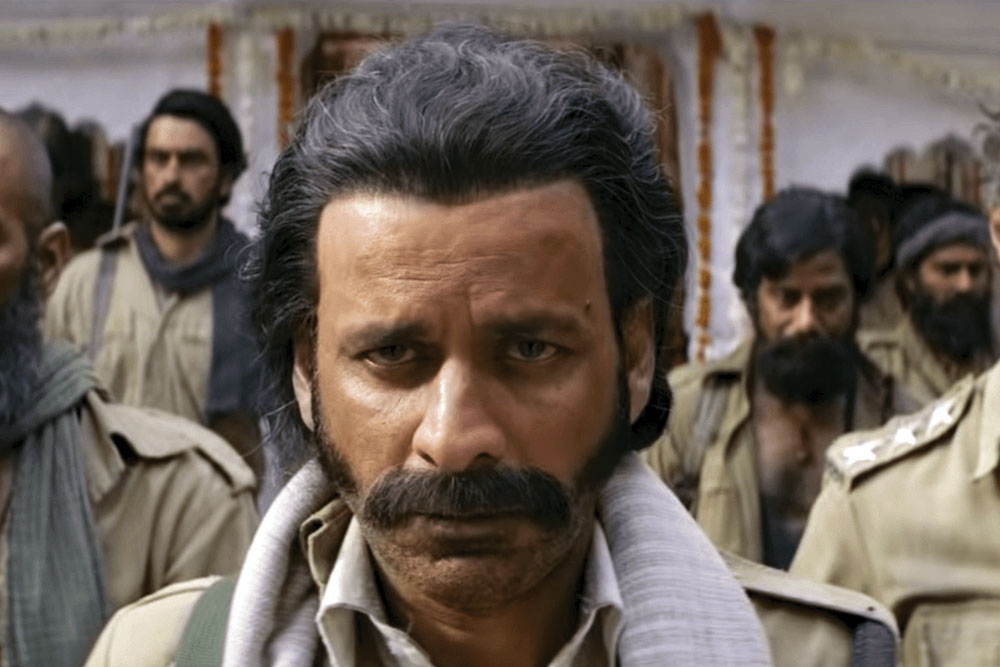 THE STRUGGLE, HOWEVER, had just begun, the actor recalls. He was then flooded with offers for playing similar roles all of which he rejected and kept approaching directors for new roles because he wanted to experiment and not be typecast. It wasn't easy, but he persevered, he says. Over the next few years, the going seemed good as he kept winning awards even when his films flopped. Kaun (1999), Shool, Aks and Zubeida followed. He also tried his luck in non-Hindi movies. Some of the films he acted in, in the noughties, are among his favourites although financial gains weren't up to expectation. Road (2002), Pinjar (2003), 1971 (2007), LOC: Kargil (2003), Veer-Zaara (2004) and Jaago (2004) are among the films that sealed his reputation.

Then came Prakash Jha's Raajneeti in 2010 which proved to be a stunning commercial success. Two years later, he played Sardar Khan in the Gangs of Wasseypur series directed by Anurag Kashyap. Sardar Khan may not have become as household a name as Bhiku Mhatre, but the character brought out a stellar performance by Bajpayee. Zeeshan Quadri, who wrote the script for the movie that tells the story of the coal mafia in Dhanbad, Jharkhand, tells Open: "Zeeshan Quadri has only one favouite actor in the world and his name is Manoj Bajpayee. He turned each scene in the film into a classic, my favourite being the one in which he keeps asking, 'Chaabi kahaan hai?' (Where is the key?). Not a single extra ounce of perfection can be added to that. It was an out-of-the-world performance."

Cinematographer Rajeev Ravi, who worked with Bajpayee in the first Gangs of Wasseypur, tells Open that a shot he took against the sunset with Sardar Khan in the foreground is one of his most memorable experiences of shooting with Bajpayee. It was a difficult shot, he says. "And I told him, bhai, you have to stay still, and he sat there frozen, not even showing signs of breathing. It was an amazing moment. Unfortunately, Anurag didn't use that shot in the movie." Ravi adds, "Manoj bhai is a cinematographer's delight. He floats in and floats out of the camera as a character. He is one of the finest actors I have worked with in Bollywood."
FOLLOWING THE TWO GANGS of Wasseypur films came ones such as Chittagong (2012) in which Bajpayee played the revolutionary Surya Sen of the armoury raid of 1930; Chakravyuh (2012); Tamil film Samar (2013); Satyagraha (2013); short film Taandav (2016); and many more non-Hindi movies. In this period, it was his role as Professor Ramchandra Siras in Aligarh that attracted most acclaim. Bajpayee tells Open that he focused more on other aspects of the professor than his being gay because, he says, he wanted to portray that characteristic as "normal" as normal could get. "The professor had other attributes. Whiskey, Lata and so on. He was also intensely personal about his life." Mehta recalls how some scenes just happened in that movie thanks to Bajpayee's genius. "I decided to let the Lata song, 'Aap Ki Nazron Ne Samjha', play and this was not planned that way. Manoj kept drinking whiskey in his inimitable style. It was so perfect that the camera did not stop for six and a half minutes," Mehta remembers, adding that Bajpayee has always tried to place character over everything else in films. Bajpayee's success therefore, be it on OTT or elsewhere, is a vindication that great characters are the most important thing in movies. Mehta points out that in every age of Indian cinema there were actors who paid greater attention to detail and slipped into characters with great passion—from Balraj Sahni to Naseeruddin Shah and Om Puri to Bajpayee, not to mention the many new names now.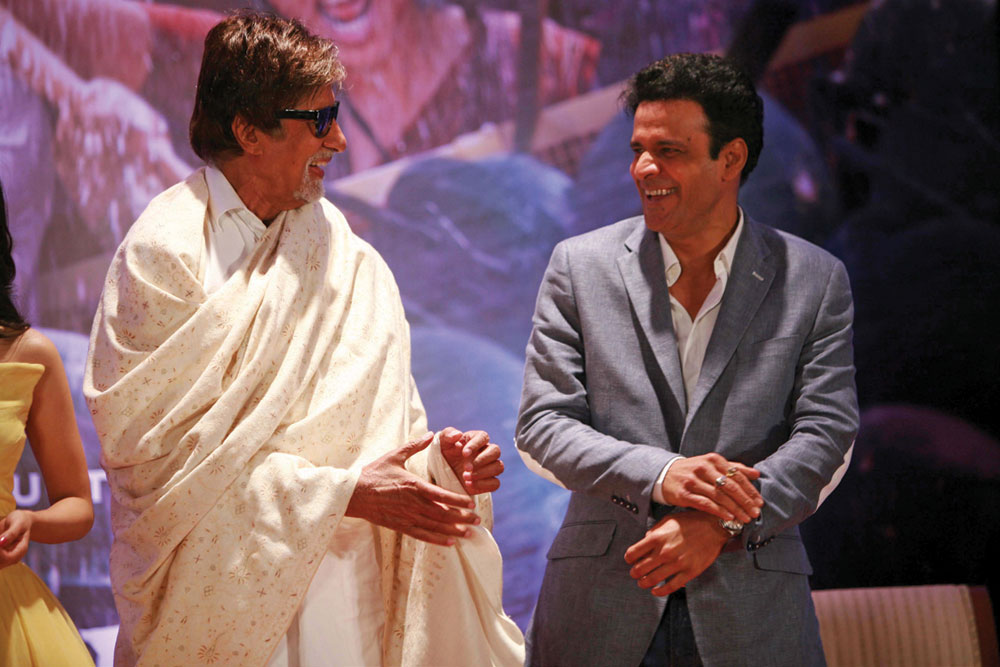 Bajpayee, who grew up watching Bachchan and later the likes of Puri and Shah, concurs. He says that like what Bihar means to him in terms of home, Bachchan is what he had picked up while growing up in his West Champaran village. "I had already assimilated everything about him. As with Om Puri and Naseer saab, I must say it is an acquired taste. I had to learn them later."
Something else he has acquired over time, he says, apart from his method, is the habit of not letting professional failures and successes affect him as an artist. "As someone who has seen ups and downs, I don't want such things to define me as an artist," he says, even as many in the film industry are excited about the Covid-19 pandemic levelling the playing field for everyone irrespective of one's stardom.
Many who know Bajpayee say that they respect him greatly as an actor and more so as a human being.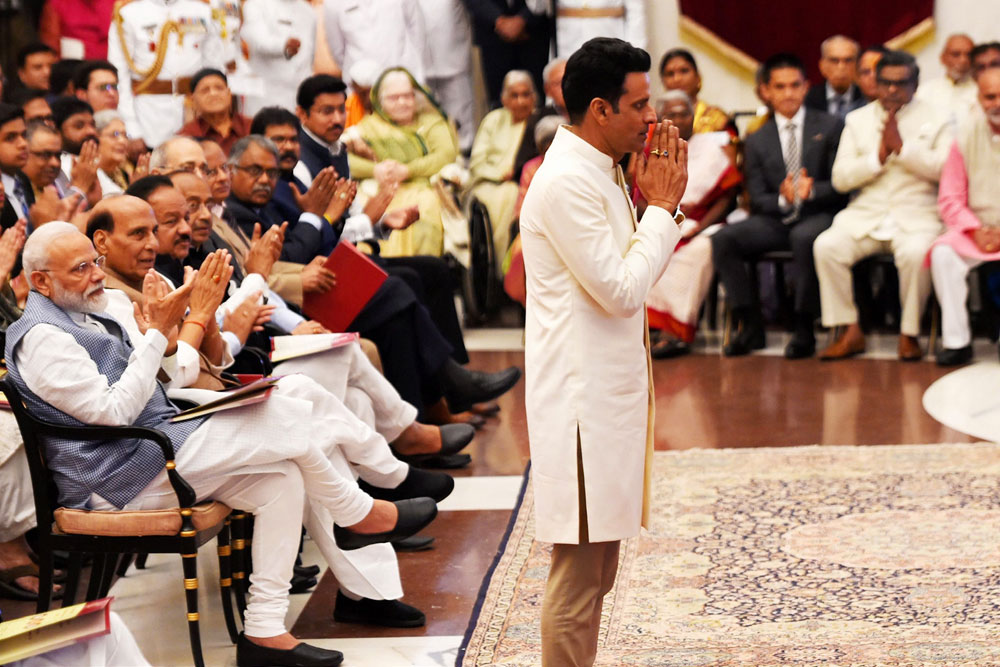 That sentiment runs deep in his hometown of West Champaran. Thirty-four-year-old Maqubool Alam is a manager with a local grameen bank and lives nine km from Bajpayee's home, which he calls Belwa kothi (bungalow). The actor's parents live there and Alam, who lives in Narkatia Ganj, has visited Bajpayee's home on many occasions when the famous local had come visiting. "We are all proud of him and his achievements. But we like him more because whenever he is home, he walks around in his lungi and shirt. He touches the feet of the elders and mingles with everyone going door-to-door. He treats children with great warmth. He is such a down-to-earth person. When he comes, his home gets visitors from early morning till night. We are also happy to know that he has won the Padma Shri," Alam tells Open. For the likes of Alam, what Bajpayee has given is, the Champaran resident says, "hope that we can also dream big and achieve many things in life. Until he happened, I don't think people here had big dreams."
TUFAIL AHMAD, NOTED former BBC journalist and director of South Asia Studies Project at the Middle East Media Research Institute in Washington DC, was born in the same year as Bajpayee and just 10 km away in Maldahia. He tells Open that his generation of youth in West Champaran always felt a special kinship with the actor for being the local boy as well as for the realism in his acting. Ahmad is glad that Bajpayee has earned international recognition. He says he has followed the rise of Bajpayee from the start. "He acted in many notable television serials and movies such as Bandit Queen, but it was Satya that gave him stardom and recognition as an actor of truth. Over subsequent decades, he has remained married to that truth through his art. But the truth that Bajpayee represents is not limited to his characters in movies. There are stories from Champaran of simplicity in his personal life. At heart, Manoj Bajpayee is the local adorable boy who has not forgotten his origins, a trademark of substantive personalities." He also calls him Bollywood's quintessential realistic actor.

It is time for Bajpayee to resume shooting in the hills of Vagamon. I ask him what he reads these days. "Scripts," he quips. William Shakespeare is among his favourite writers, he says. "I do find time to read despite my hectic schedule, because reading is important for personal growth. Just before I started speaking to you, I was reading a memoir by Girish Karnad," Bajpayee says.
I ask him what the next season of The Family Man is going to be about in the wake of speculations that it involves intel gathering and anti-terrorism operations linking China and Covid-19. "I have no damn clue about it although there are a lot of such reports. As far as I know, the directors haven't started working on it," he says.
He weighs the question again and repeats, "I have no damn clue at all." And then Manoj Bajpayee bursts out laughing. His laughter is innocent and, yes, contagious.