A TRIP TO THE interior tribal land of Attappadi in Kerala's Palakkad district is a lesson in humility when Rajesh, a young shopkeeper, asks you to be paid for his ware via Paytm or Google Pay because he doesn't have enough cash to return the balance. "Sir, you don't have GPay?" he enquires with a sense of utmost disbelief that soon turns into a frown, and then pity. He stares at the barcode pasted on the wall of his shop and murmurs something inaudible. For those who pat their backs in self-regard about being part of the so-called civilised world and being tech-savvy by force of habit or privilege, the forests of Attappadi are a place far out there, light years away from where "people like us" live, almost like the village of Holcomb that, in In Cold Blood, Truman Capote introduces as a simple and unexciting place, "a lonesome area".
This is when your inflated ego is punched the hardest. That you are not abreast of the latest uses of financial technology, or fintech, which is zealously embraced by people you consider nearly unwired. As much as ignorance, it is a grievous mistake. The first thing you must do—as this writer did—is to go straight to Google Play Store or the Apple Store on your phone and download the apps that even people in the forlorn areas of India use to make monetary transactions.
The rude awakening in Attappadi may, in fact, be a blessing because you will never have to feel embarrassed again, be it in the national capital of Delhi or in a far-flung village in a northeastern state, for not being up-to-date about app-based financial transactions.
For instance, Ashish Kumar in South Delhi and Tenzin Bhutia in Yuksom, West Sikkim, both want to be paid through mobile banking platforms. Both are car cleaners, apart from doing odd jobs to make additional incomes. Both young men have something in common: they are frugal because they want to save money for their nuptials and life afterward. And so, they refuse to accept cash, fearing that they will end up spending whatever they earn quickly. "You won't know until you are left with just ₹ 100," said Bhutia who these days saves a good sum of money doing multiple menial jobs. "I have a feeling that I have enough," he says in Hindi.
Kumar shares that sentiment. "Most of my customers also prefer to pay me this way. I don't have to wait to meet them to get cash for cleaning their cars. I just send a reminder on SMS on the first of every month, and they credit to my account right away," he told me recently, adding that he prefers being paid through the United Payments Interface (UPI), which was developed in 2016 as an instant real-time payment system by the National Payments Corporation of India. UPI helps users receive and make payments through multiple platforms from BHIM to PhonePe and Paytm to Google Pay, among others. The system facilitates inter-bank peer-to-peer and person-to-merchant transactions. Some Indians working abroad argue that the Indian services are as good, if not better, than those in advanced countries.
US-based entrepreneur and behavioural science practitioner Ram Prasad tweeted recently: "Was driving to Bangalore. Low on fuel. No Indian currency. None of my US cards work on the highway. The petrol pump attendant explained how PhonePe works. Called my brother since I don't/can't set it up on my phone. It was a breeze. Better than Zelle/Venmo." While Venmo is an American online payment service owned by PayPal, Zelle is another digital payment network controlled by Bank of America, Truist Financial, Capital One, JPMorgan Chase, PNC Bank, U.S. Bancorp, and Wells Fargo.
That people in remote locations and from the bottom of the country's socio-economic pyramid are able to use such financial technology, is no mean feat. It is an outcome of a raft of efforts to put in place a system that works, that too in a country where even the educated elite was averse to using credit cards for fear of being cheated. These efforts have included offering people bank accounts, and digital biometric cards, developing and collaborating with financial technology providers, and so on. Things have progressed at a surreally fast pace, so much so that those who seemed most unlikely to ever use such technologies, are now experts at it—and are among the biggest beneficiaries too.
AFTER THE COUNTRY launched Digital India, the ₹ 1.13 trillion flagship programme of the Centre kickstarted by Prime Minister Narendra Modi in July 2015 to transform, according to its mission, the country into a "digitally empowered society and knowledge economy", things have moved at a fast clip. Alongside, we have seen certain trends that made digitalisation, especially in financial transactions, a huge hit: At least 123 crore people in India now own Aadhaar digital biometric cards as part of a drive launched in 2009. More interestingly, according to industry figures, 44.6 crore Indians use smartphones, and as high as 56 crore citizens have access to the internet, thanks to a slew of initiatives, collaborations, and perhaps, people's own will to make the most of the fintech surge. The Indian craze to own smartphones is renowned—to the extent that pundits had begun to say that more Indians have access to mobile telephony than to the toilet. Numbers attest to the fad, accentuated by a government push: the country has the highest fintech adoption rate globally, at 87 per cent compared with the global average of 64 per cent. And as of March 2022, Indians made 5.4 billion monthly transactions worth over $128 billion through UPI. The government estimates the figure to touch $138 billion next year. The value of transactions through UPI was only $66 billion in 2019, confirming a CAGR growth of 20 per cent.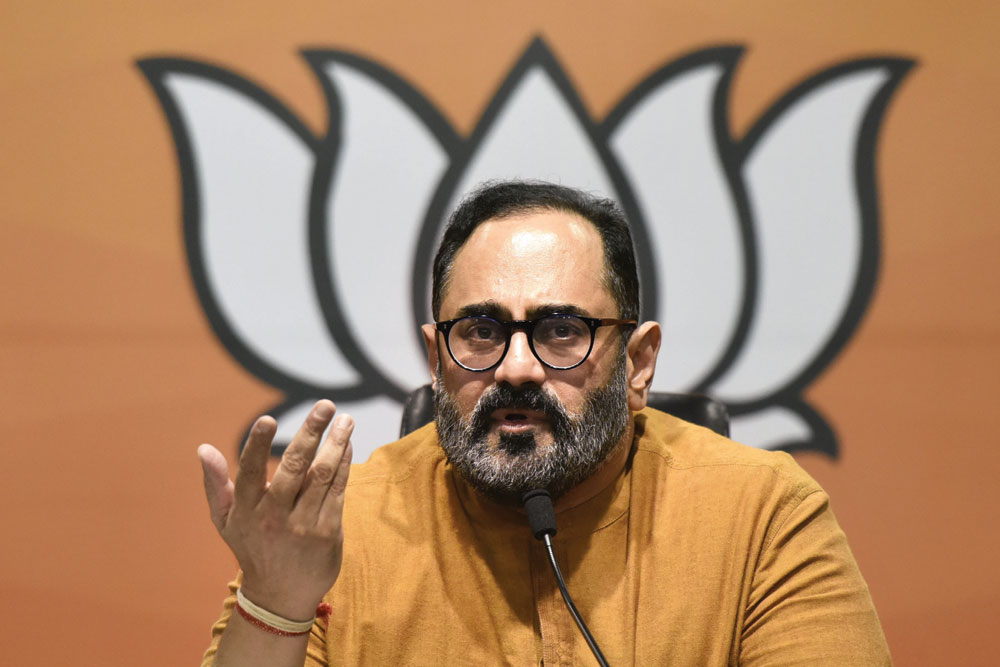 The government is clearly thrilled about the prospects. Minister of State for Electronics and Information Technology Rajeev Chandrasekhar's comments on digitalisation reflect that enthusiasm. He tells Open that the Narendra Modi government's vision for digitalisation is all-encompassing and therefore won't leave out anyone, especially small and medium businesses. "Digitalisation in SMBs is meant to enable each one of them to find their entry into global markets through various marketing platforms available," he avers. Chandrasekhar, himself an entrepreneur and engineer with specialisations in computer sciences and electrical engineering, notes that the government's goal is to enthuse small companies to dream big and not merely to sell in their neighbourhoods and suffer the volatilities of those markets. "We want small and medium businesses to go global and then go through an evolution and adapt to a new ecosystem through greater market access and symbiotic relationship with international players," says the minister, an alumnus of Manipal Institute of Technology and Illinois Institute of Technology, who was once the poster boy of India's mobile revolution. He gives the example of the Benarasi saree as a product from a small business that has the potential to go global and capture markets elsewhere. The Central minister also dwells on the need to attract investments for semiconductor fabrication plants in the country. He had stated before in an interview that he expects India to be a hub for semiconductor design.
"We want small and medium businesses to go global and then go through an evolution and adapt to a new ecosystem through greater market access and symbiotic relationship with international players," says Rajeev Chandrasekhar minister of state for electronics and IT
Chandrasekhar, who is also the minister of state for skill development and entrepreneurship, had once worked as a chip designer in Silicon Valley.
Kochi-based Ashfaque KP, CEO of IT services and consulting company Bluecast Technologies, is gung-ho about the growth of fintech because it increases opportunities for software developers like himself, suggesting that the economic opportunities, thanks to the fintech boom, are humongous. He says, "Just as you hear the payment notification messages through GPay or Paytm at any mom-and-pop store around you, even in the remotest village, the sign is loud and clear that fintech is on an aggressive growth path. The number of startups that entered the unicorn and decacorn clubs in India is an indicator." According to Anjana Menon, CEO of Content Pixies, a content strategy, and marketing firm, the digital payment revolution has brought in multiple advantages. "It has made it a lot faster to do banking transactions from anywhere, any time. And the record-keeping is instant." She adds, "Ease of use, widely available on mobile platforms, the lack of human interface, and the relatively high degree of security have made it easy to adopt."
Meanwhile, Ashfaque, who is a former TCS senior executive, notes that the entry of "ESG [environmental, social and governance factors] into fintech is something to watch out for in the next few years." According to international asset manager Robeco, ESG stands for using environmental, social, and governance factors to evaluate companies and countries on how advanced they are with regard to sustainability.
A video ad for Digital India shows that it has covered various aspects of people's lives from urban to rural India through a flurry of schemes such as Common Services Centres (CSCs), Government e-Marketplace (GeM), DigiLocker, and various others, especially targeting the poor sections of society. CSCs are
access points for the delivery of various e-governance and business services to citizens in rural areas, says the government website. GeM is a contactless, paperless and cashless online marketplace that replaced the Directorate General of Supplies and Disposals in 2016.
DigiLocker, for its part, provides an Aadhaar user an account in the cloud to access certificates and documents like driving licence, vehicle registration, mark sheets, and so on, in digital format from original issuers. "All these initiatives not only make the lives of the common folk less cumbersome, but they also open up enormous scope for businesses," says a government official based in New Delhi who is involved in various government digitalisation schemes.
The upshot of such schemes is that they have cemented India's position globally as a hub for technology startups. India currently is at the third position on that count, besides its IT and BPO industries contributing 8 per cent to the national income, compared with much less earlier. The number of banks that are linked to UPI is rising at a fast pace and it is estimated that the Indian fintech industry will be valued at $150 billion in 2025. Currently, it stands at $31 billion. As a cascading side effect, the demand for high-speed internet is soaring and so is the need for cyber security companies to meet new challenges. With digital entrepreneurs stepping up even in rural areas to meet the growing demand for services, the country will be on a path to enhancing its phone and electronics manufacturing capabilities. Officials say the digital adoption will rise dramatically, thanks to several initiatives by both the government and the private sector. The Pradhan Mantri Gramin Digital Saksharta Abhiyan envisages making 60 million candidates digitally literate in two years. The government says it is working tirelessly to extend the benefits of digitalisation to various segments, especially fintech, agriculture, healthcare, skilling,
learning, and even in helping the informal sector with social benefits, and likely transition to the formal sector. According to reports, the government has set a target for bringing 50 per cent of the farms in the country under cultivation into precision farming in 25 years. Already, the government has signed deals with private companies, including Microsoft, and agri-tech companies like AgriBazar, among others. Precision farming stands for a plethora of offerings to enhance produce. They include data analytics, the use of drones, remote sensing, and so on. Similar efforts are made to help the fisherfolk receive weather alerts and coordinate with others in the vicinity to land a better catch. The government has also vowed to enlist the support of the private sector to provide hi-tech services to farmers.
NUMBERS TELL THE tale of gains that the country has made. Of the mergers and acquisitions in India, despite the lockdown owing to the pandemic, in fiscal 2021, 90 per cent were made towards growing digital capabilities. Digital revenues grew five-fold compared with the rate of overall services growth, which grew at 28-30 per cent in the last fiscal. Parallel to all this, there has been a growth in people investing money in stock exchanges and cryptocurrencies online, spurred by a huge surge in the number of financial influencers (also called finfluencers) like Ankur Warikoo, Rachna Ranade, among others. In the crypto world, there are numerous YouTubers who have made a mark in multiple Indian languages. With cybercrimes rising due to greater internet adoption, the likes of Mumbai-based cyber security veteran Ritesh Bhatia and various other ethical hackers have also hit paydirt. As such, the ecosystem in India for digital entrepreneurs and those in allied sectors remains robust due to the cumulative benefits of this growth. The Centre says all this has also helped India take giant leaps as a democracy and in ensuring transparency in governance.
RS Sharma, the first director-general of the Unique Identification Authority of India, which created the world's largest biometric ID system (Aadhaar), is now the CEO of the National Health Authority, which implements the Ayushman Bharat Yojana (ABY) health protection scheme. As former chairman of the Telecom Regulatory Authority of India and a civil servant, he has closely tracked the growth of fintech in India. He prescribes steps to be taken to help small and micro companies transition from the informal sector to the formal ones. "As of now, the processing charges for availing of loans are very high. They have to come down to low levels. If you have to spend ₹ 1,000 as a processing fee for a loan of ₹ 2,000, it doesn't serve the purpose," he says, emphasising that to lower processing charges, transactions have to be made digital and algorithmic to eliminate costs associated with employing humans for the task. Only then will the informal sector firms make a transition to the formal segment, thanks to the steady availability of funds. As part of improving the conditions of workers in the unorganised sector, the government has also formulated several measures, including the integration of the e-Shram portal with the One Nation One Ration Card scheme. The portal registers workers in the informal sector and helps them access social security benefits. But much more is in order to help with the transition of their firms.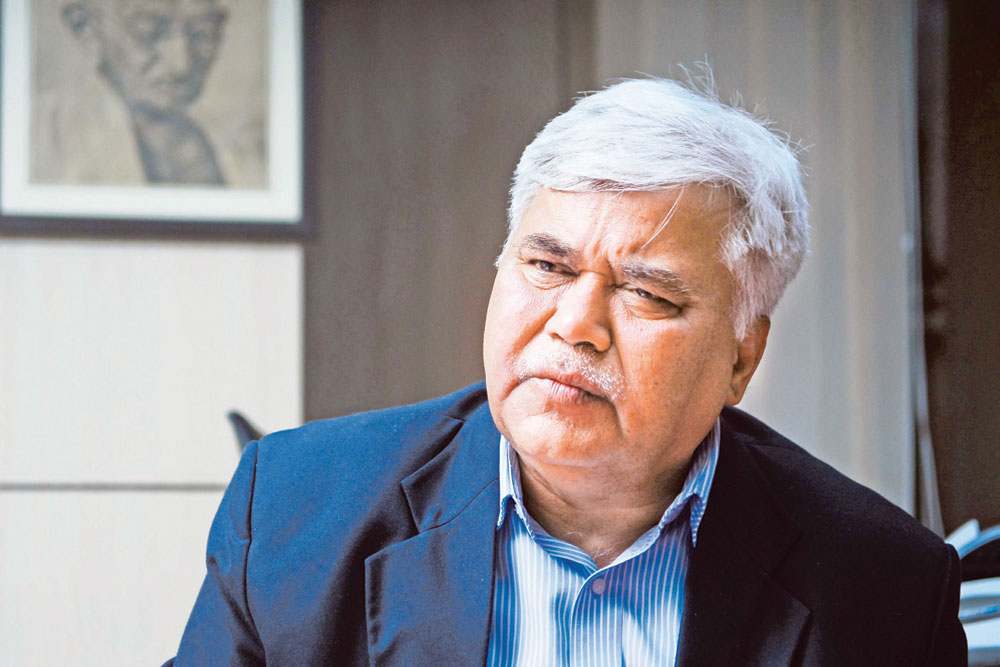 Sharma, an alumnus of IIT Delhi and IIT Kanpur, credits Aadhaar for playing the role of an Indian citizen's "universal financial address" and also for being an "authentication service" that doesn't discriminate based on anyone's income or class. This is why many analysts say that it made sense to make it mandatory to link the Pradhan Mantri Jan Dhan Yojana bank account to one's Aadhaar card. Sharma is glad that during the lockdown, millions of rupees could be transferred to the needy through these accounts. He says that the swift spread of fintech to pay for goods and services in India is due to two reasons: one, most are low-value transactions that people don't mind taking a risk for. Two, the ease of transferring or receiving money with minimal infrastructure is tempting. After all, cash has been problematic for Indians in the past few years—first due to shortage after the demonetisation drive of November 2016, and then due to the pandemic and fears of passing on the coronavirus through notes. "The big boost is certainly the fact that the government decided that there won't be any transaction charges," Sharma says, referring to the success of India's famed digital financial inclusion.
"As of now, the processing charges for availing of loans are very high. They have to come down to low levels. If you have to spend ₹ 1,000 as a processing fee for a loan of ₹ 2,000, it doesn't serve the purpose," says RS Sharma CEO, National Health Authority
Digital health services in India are also expected to be a huge hit because of the need for telemedicine services and other digital technologies for people in rural India. According to a McKinsey study titled 'Unlocking digital healthcare in lower- and middle-income countries', "India benefits from a flourishing digital-healthcare private sector and strong country action to develop a national healthcare ecosystem. The country has a thriving start-up landscape in digital healthcare—for example, healthcare-technology start-ups in India raised a total of $504 million between 2014 and 2018—strengthened by government investment in digital infrastructure that enables digital interoperability." During the pandemic, digital tools proved to be of tremendous potential in responding to infectious disease threats, and also in strengthening primary healthcare, the study adds.
Chennai-based techie RK Iyer says he was able to save the life of his long-time help who had gone to his hometown in Uttarakhand on vacation, thanks to WhatsApp. His employee, whom he calls Bahadur, had just gone on holiday when Iyer called him on his WhatsApp video and found the latter's composure to be "weird". Iyer immediately patched a call with his neurologist friend who asked Bahadur to rush to a hospital. "He was with a relative near Shimla before taking the trip to his village at least 100 km from there. He had a stroke on reaching the hospital but got good treatment. Within a week, he recovered, and then for weeks, he was monitored by my doctor friends in various parts of the country. His son would send screenshots of the medical reports that would immediately be shared widely with the doctors and one of them would talk to him and suggest a change of medicines, and so on. All this would not have been possible without internet penetration and the digital boom in India," he asserts. India set up BharatNet, a state-owned broadband infrastructure provider, in 2012 with the aim of providing broadband connectivity to all 6.25 lakh villages countrywide. The first phase, covering 3 lakh villages, was completed in 2017 and the next phase, covering 3.25 lakh villages, is anticipated to be completed by March 2023.
FOR MANY OTHERS in India's villages, it is some new government health schemes that have turned out to be a boon. In his capacity as CEO of NHA, Sharma tells Open about the plans the government has for e-health delivery for all. He says that under the Ayushman Bharat Digital Mission (ABDM), NHA is developing the Unified Health Interface (UHI). He explains, "UHI will enable health service providers to deliver healthcare seamlessly by reducing entry barriers, and users will be able to discover health services across various digital health applications. Currently, we are building UHI to deliver services such as teleconsultations, OPD appointments, lab test bookings, and ambulatory services. UHI as an open protocol will allow all participants to innovate freely and the service offerings will only grow as the ecosystem matures."
Sharma points out that ABDM provides a "sandbox" for various digital health players such as largescale hospitals and laboratories, health-tech startups, IT firms, and other stakeholders to integrate with the various building blocks of the ABDM. "Some of these building blocks include ABHA or Ayushman Bharat Health Account, HPR or Healthcare Professional Registry, HFR or Health Facility Registry, and PHR or Personal Health Records," he elaborates. ABDM envisages the use of advanced and emerging technologies such as Artificial Intelligence (AI), Machine Learning (ML), and blockchain to increase the effectiveness of digital health solutions. ABDM has recently launched a new web interface along with an all-new revamped ABHA mobile application on the Android platform where users can sign up for an ABHA address on the ABDM Health Information Exchange and Consent Manager (HIE-CM). Consent management is a system that allows patients to choose the health information they are ready to let their care providers know. "This will enable Indian citizens to do easy registration of the ABHA address [username@abdm]. ABHA mobile application provides individuals with a longitudinal view of their health records with an option to link and share, post the consent of the user through the ABDM network of different health facilities and providers," he adds.
Alongside such benefits for the common man, Minister Rajeev Chandrasekhar foresees stellar markets for even small and micro firms across sectors, thanks to the digital push by the government.
It's indeed good news for the economy and the common man, virtually and actually.